Whether you're traveling solo, with your partner, or with your family, Scotland has much to offer.
From historic castles to beautiful natural landscapes, here are some of the must-sees and things to do in Scotland that you won't want to miss.
Top 6 Must See and Things to Do In Scotland
Check out our list of the best activities to do when in Scotland. Add these ultimate must-sees and things to do to your Scotland itinerary, perfect activities for a long weekend city break or a longer Scottish holiday.
1. Explore a Royal Castle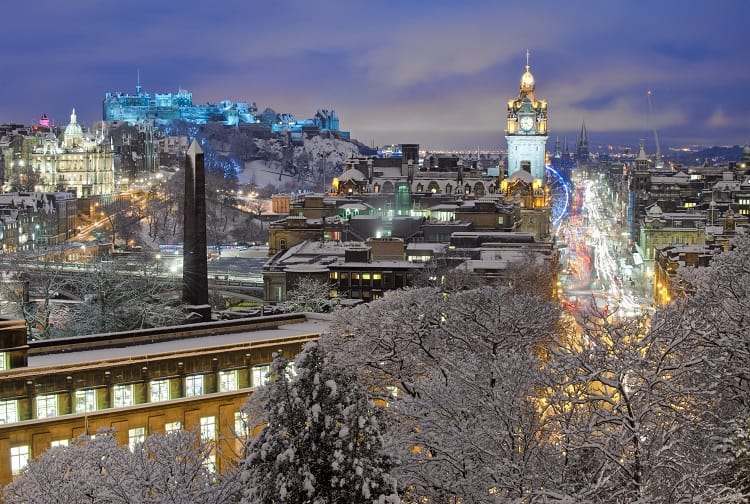 Standing proudly atop Castle Rock is Edinburgh Castle.
While most of the castle dates from the sixteenth century, the site has served as a home for royalty since the twelfth century.
To enter the castle, you'll cross over the drawbridge that spans the moat, in typical fairy-tale-castle fashion.
Inside, you can explore the beautiful architecture and statues of famous Scots like William Wallace and Robert the Bruce.
From the top of Edinburgh Castle, you'll be greeted with amazing views of Princes Street and Holyroodhouse Palace in the distance.
And if you visit during August, you can enjoy the famous Edinburgh Military Tattoo.
Scotland is home to lots of incredible castles, so you might like to visit Scotland and tour historic castles like Balmoral Castle, Stirling Castle, Glamis Castle, Inverness Castle, and Tantallon Castle in addition to Edinburgh Castle.
2. Try the National Dish
This may be a little clichéd, but when in Rome, or, er, Scotland…
You should definitely taste local haggis, which is the national dish of the country.
Don't let the fact that the savory pudding of haggis contains the heart, lungs, and liver of sheep put you off. When it's mixed with minced onion, oatmeal, suet, stock, and spices, it's truly delicious.
Some of the best places to sample haggis in Scotland are The Royal McGregor in Edinburgh, Ubiquitous Chip in Glasgow, and No. 10 Bar & Restaurant in Aberdeen.
3. Discover Whisky Wonders at Clydeside Distillery
Seeing as single malt whisky was invented in Scotland, if you're a fan of whisky, you'll undoubtedly want to visit Clydeside Distillery, which was the first dedicated single malt whisky distillery.
Located in the old pump house building, which was once the entry point to Queen's Dock, at Clydeside Distillery, you can take a tour to see how single malts are brewed and try a few samples of specially selected single malt whiskies.
4. Walk to Arthur's Seat
Arthur's Seat in Edinburgh is the most iconic hill peak in Scotland.
Long ago, it was a volcano. Today, it's the epicenter of Holyrood Park.
At the peak, you can see the remains of the medieval St. Anthony's Chapel. You'll also be rewarded with stunning views of the city and beyond.
There are a number of paths and trails you could walk, some of which are wheelchair accessible.
5. Take a Hike Up Ben Nevis
Ben Nevis is the tallest mountain in the British Isles.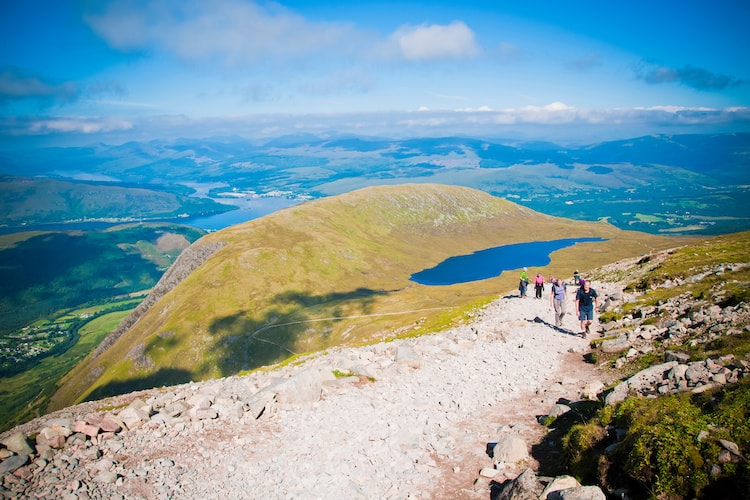 Hundreds of thousands of people climb the majestic mountain every year, and you could be one of them.
Alternatively, you may prefer to marvel at the beautiful mountain, the summit of which is 4,411 feet above sea level, from the ground. Both positions provide spectacular views.
So, if you want to see Scotland's natural landscape in all its glory, you should head to the mighty Ben Nevis.
6. Explore the National Museum of Scotland
At the National Museum of Scotland, which is located in the heart of Edinburgh, you can view a whale skull and a giant deer skeleton in the Grand Gallery, explore exhibits that tell you everything you could want to know about Scottish history, and look at artifacts that belonged to Mary, Queen of Scots.
You can also get up close to stuffed creatures like arctic foxes and polar bears in the Animal World area, explore centuries of fashion in the Fashion and Style Gallery, and view many other permanent and temporary exhibits.
If you only go to one museum in Scotland, make sure it's the National Museum.
Final Thoughts
Scotland has many great sights that make a vacation to this destination in the UK well worth a visit. From historic castles to hikes up famous peaks like Ben Nevis, your Scotland vacation will be filled with a variety of activities and must-see places.