What began as a vacation to the Tropical Island Resort on Malolo Island, Fiji, turned out to be a soulful experience with the warmest people that we have ever met.
We witnessed beautiful sunsets, and every photo we took was a sight we had to share on Instagram.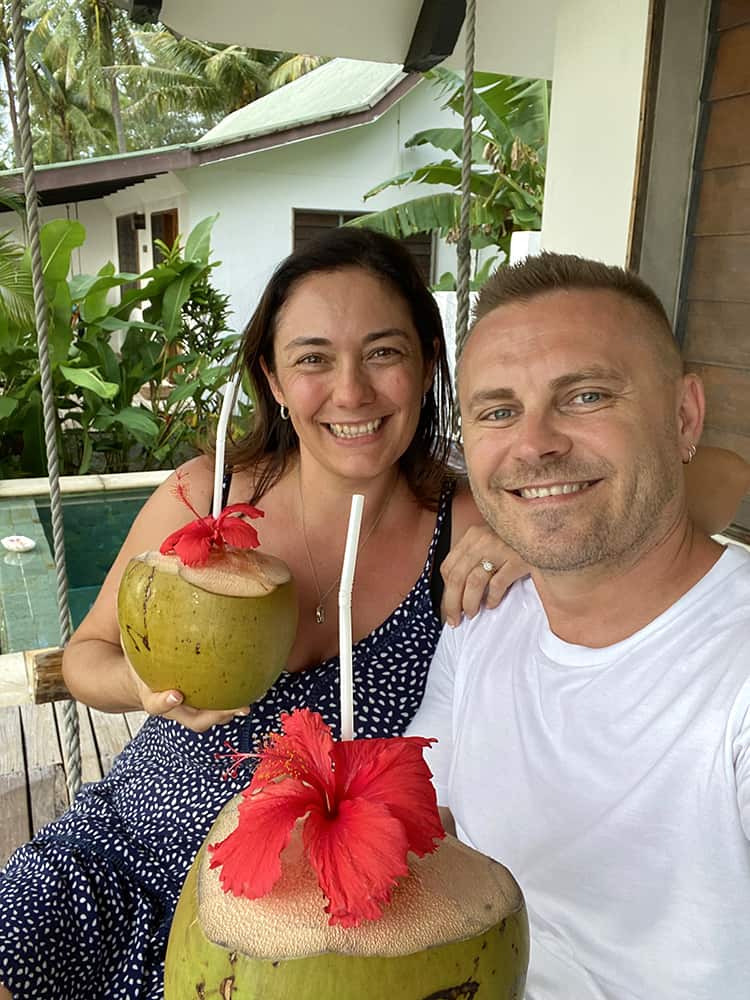 As we stood there by the palm trees with the wind in our hair and the most welcoming people by our side, we knew it would be difficult to say goodbye.
How To Get To The Tropica Island Resort Port Denarau
We took a ferry from Denarau Island Port to Tropica Island Resort — the entire journey took 55 minutes. And although we reached our destination safe and sound, there were a couple of mishaps on the way.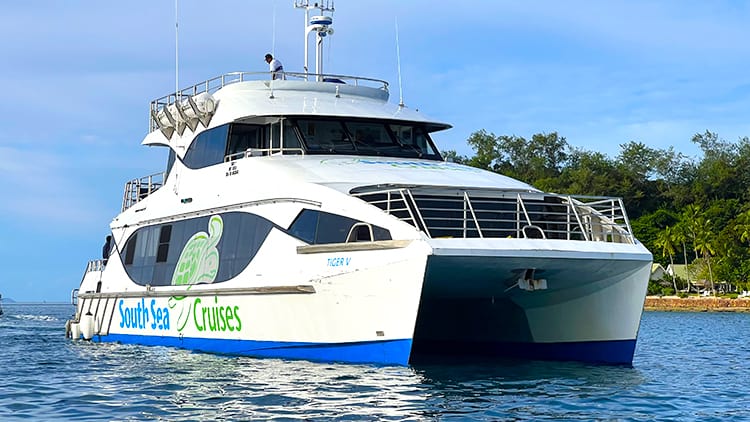 For starters, we booked the ferry with South Sea Cruises and were ready to set off. However, the driver forgot to pick us up from Hilton Fiji Beach Resort and Spa, which is where we were staying.
Luckily, we were able to hire a cab, which dropped us at the port on time. But we were met with another roadblock — the new booking system at the port missed some of our booking details.
Despite the issues, everyone was helpful and went the extra mile to get us to our destination safely.
Tropica Island Resort Review
Yes, this is going to be a good review. Why? Keep reading:
Tropica Island Resort Accommodation | Bure 8
We stayed at a Bure, which in itself was a striking combination of elegance and humility — the Bure had a traditional straw roof with a very high ceiling.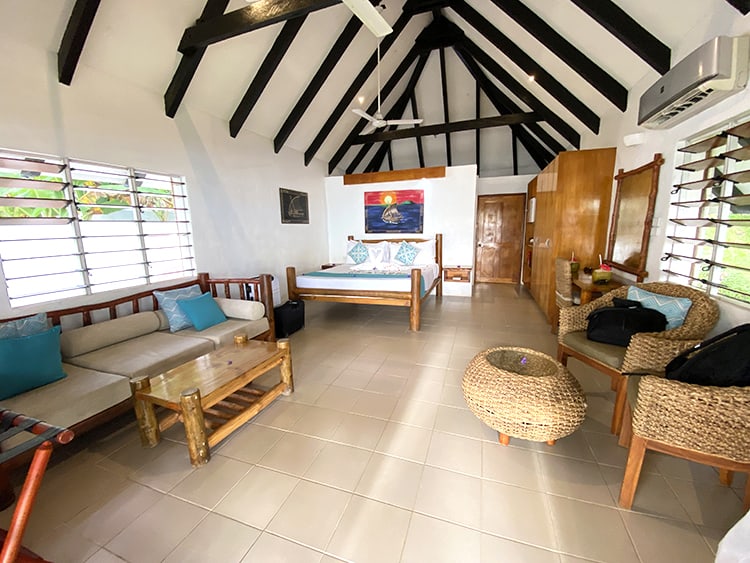 Our Bure had a spacious room with a king-sized bed with a nice firm mattress and good pillows. Aside from that, we had a blast playing and relaxing in the plunge pool and cooling off in the outdoor and indoor showers.
Moving on to the toilets, there was a leak, but the staff fixed it immediately and we had no problems at all.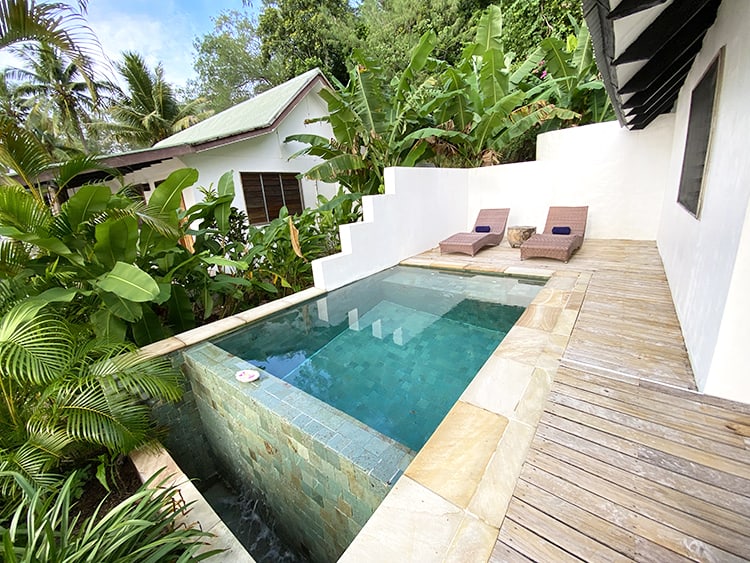 Our Bure came with a super-relaxing two-person swing. The only issue was that the beach view was obstructed because of a low palm tree. Yes, normally we love the palm trees right in front of our accommodation, but not right in front of an amazing sunset.
Needless to say, if you are looking for a sunset chillax at your Bure, don't book Bure 8.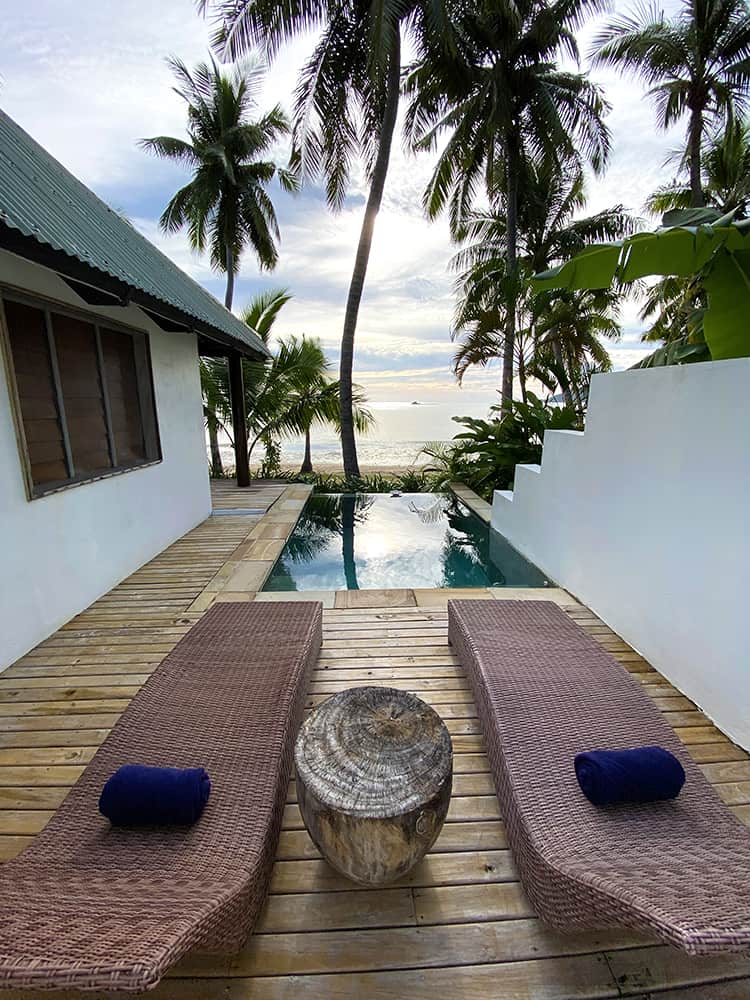 It is worth noting that there was no TV or Wi-Fi connection in the room. This is due to the fact that the resort is geared towards total relaxation and peace.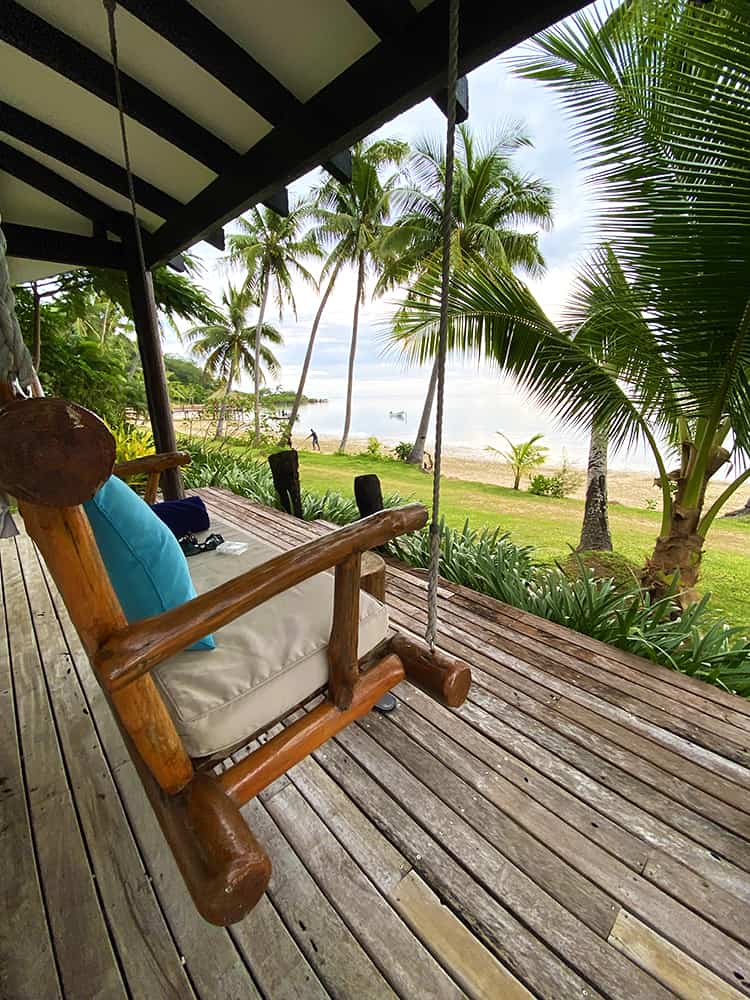 However, you can get Wi-Fi connectivity near the reception and sometimes catch a weak Wi-Fi signal near the pool and the dining area.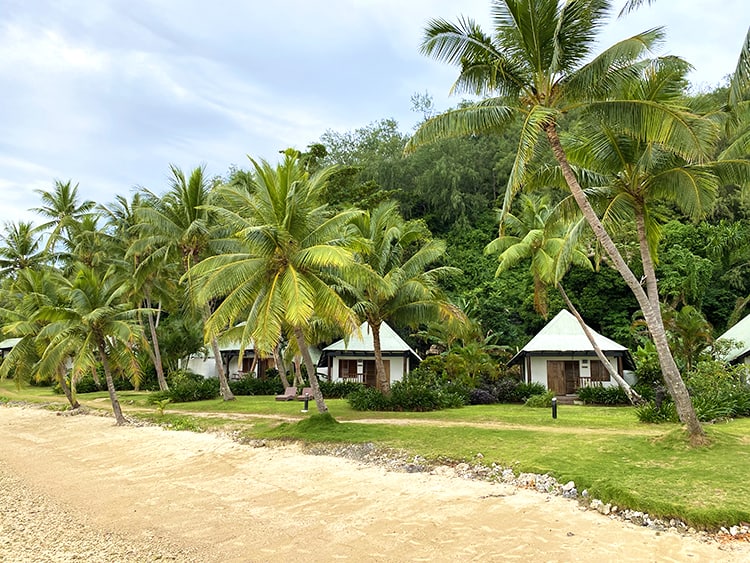 Tip: If you are like us, and love to watch your favorite shows at night, you can easily download them to your iPad (or other devices) at the reception area where the signal is the strongest. Or do it before you arrive on the island.
Amenities
Check out what's on offer at the Tropica Resort when it comes to amenities:
Pool
The poolside had a relaxing atmosphere, and welcoming servers were ready to serve you cocktails at a moment's notice.
There were comfortable sun-loungers all around with throw pillows and soft mattresses to lay on and comfy towels to go with it.
Complete with the beautiful view of the infinity pool, the soft Fijian and country music playing in the background drowned out all our worries.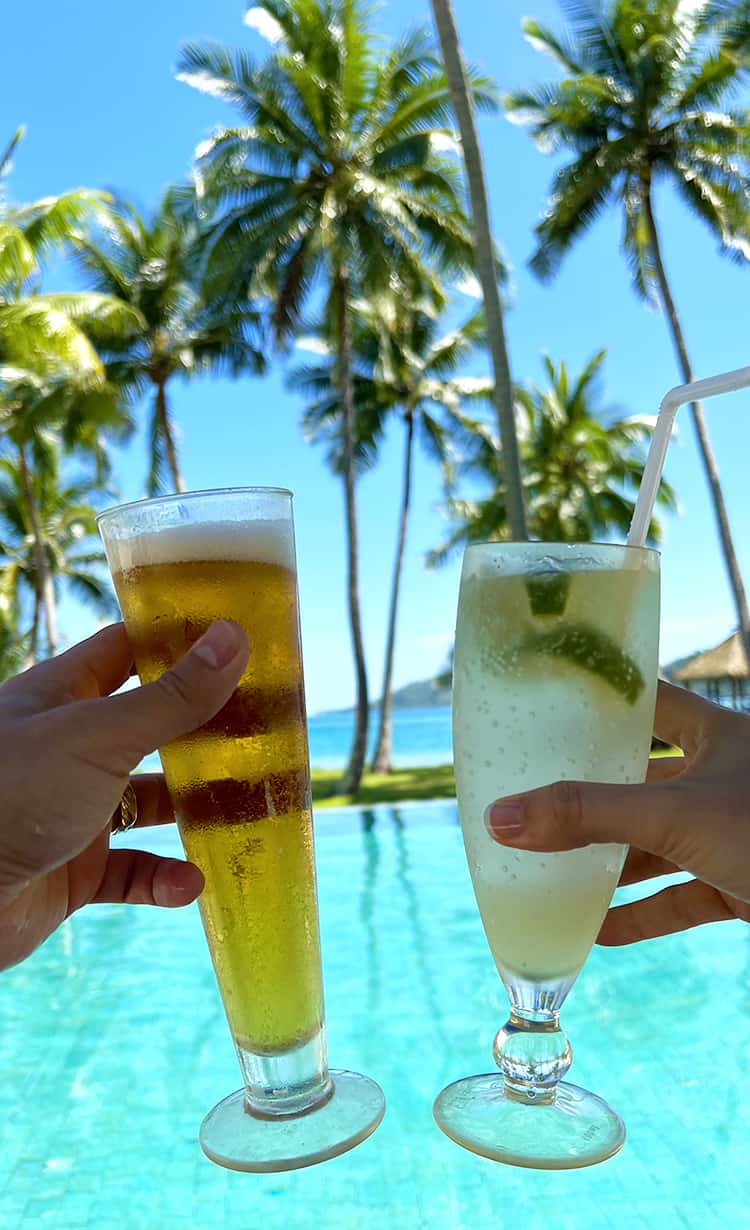 Also, the infinity pool gives you a complete view of the beach from between palm trees. So, one can take a luxurious dive while feeling close to the ocean and nature. Very romantic and relaxing.
Please note that at certain times of the afternoon, there might be games in the pool, such as pool volleyball, etc.
Spa
Be sure to try out the traditional Fijian massage at the resort spa — if my wife is to be believed, the exhilarating experience will leave you feeling like a new person.
Sunset Drinks Bar
After a long day of swimming, wind down at the Sunset Drinks Bar, which offers a small selection of wine and beer.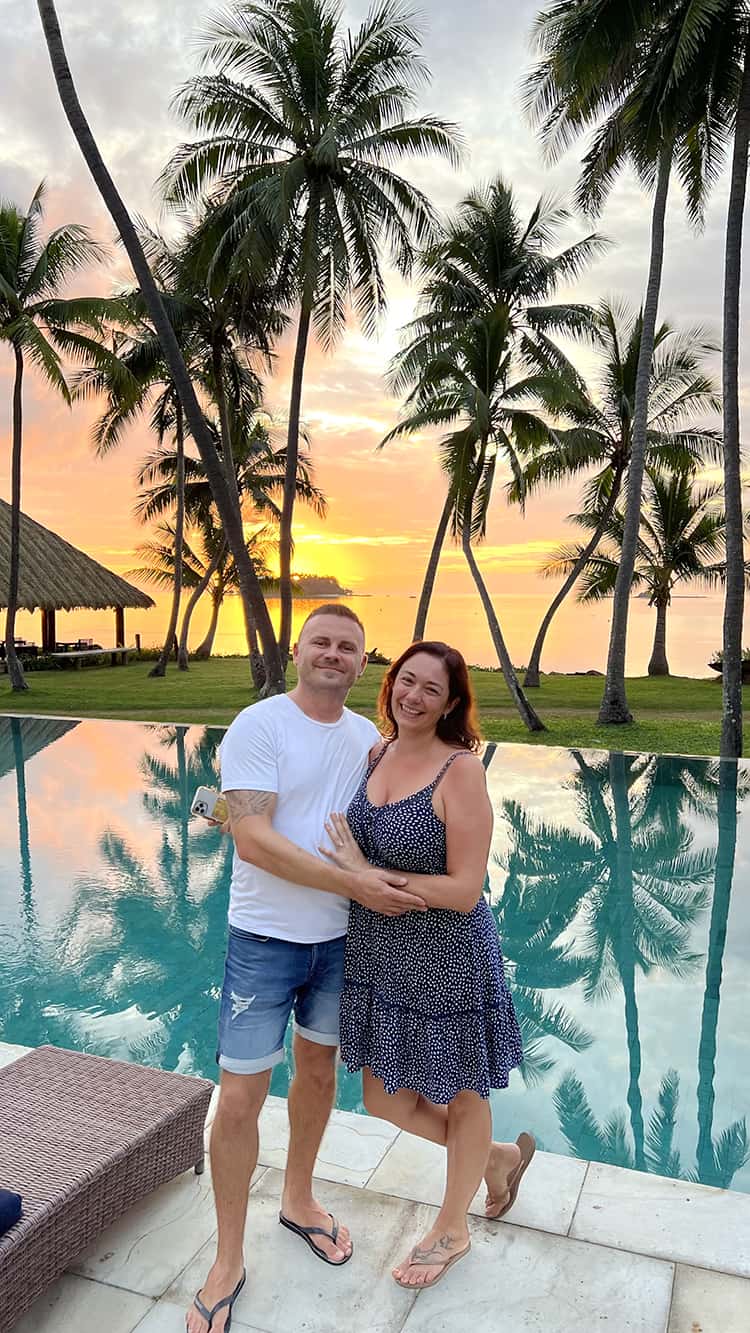 While it was not the most well-stocked bar I've seen, the rates were reasonable.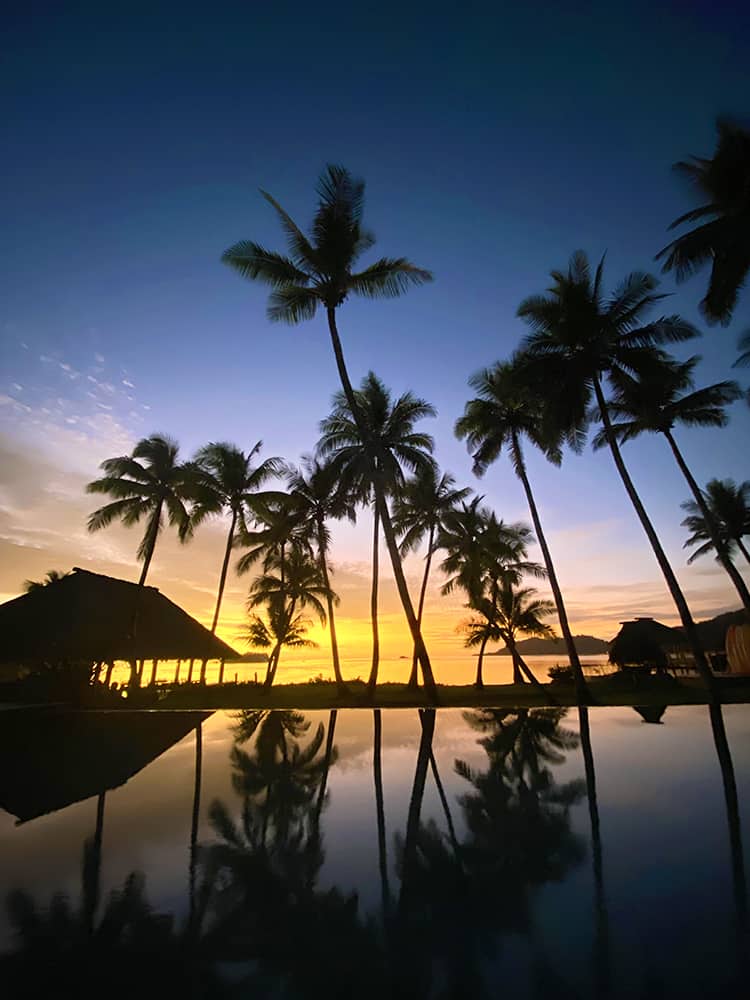 That said, the beer was available at a discounted price, while the cocktails were available at standard rates — as of April 2022, the cost per cocktail was $20.
Tip: Bring your own preferred mosquito spray here. While the sunset time is absolutely amazing, the little biters come out to play in numbers.
Activities
No vacation is complete without a few exciting experiences, and this resort offered us plenty of options.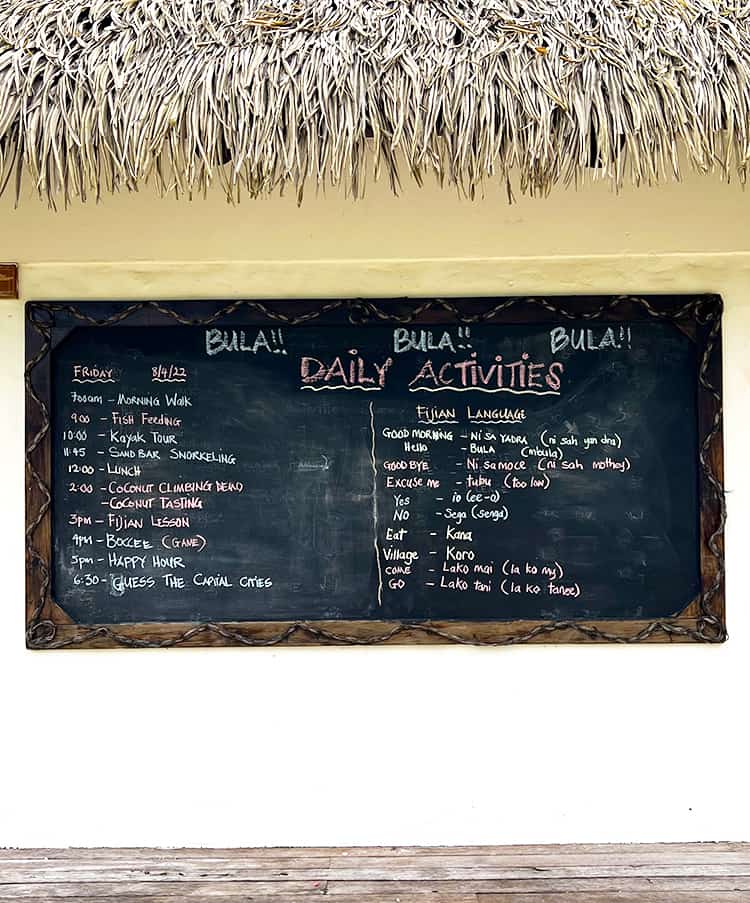 And if you're an adventure junkie, you can choose between a few water sports, including kayaking and etc, or simply chill out whilst watching coconut tree climbing.
Snorkeling
Our choice was to go for the snorkeling tour to the Castaway Island Wall, a sheer-drop wall dotted with beautiful corals and marine life for everybody to see.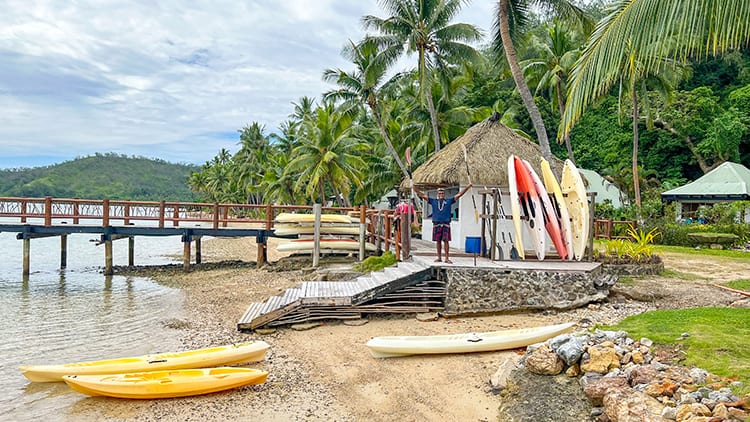 We were slightly disappointed to see a lot of dead corals, but our escort told us that locals had been planning to plant new corals to revive the reef.
Nevertheless, the exhilarating sight of colorful fishes and spotting two small sharks were close to becoming the highlight of the trip.
Although we brought our own snorkeling gear, that was not needed here as the water sports shack is well stocked up.
Coconut Climbing Demonstration
This was an exciting experience that we had and gave us a glimpse of the local life. We watched with astonishment as one man effortlessly climbed up a coconut tree and brought down almost a dozen coconuts.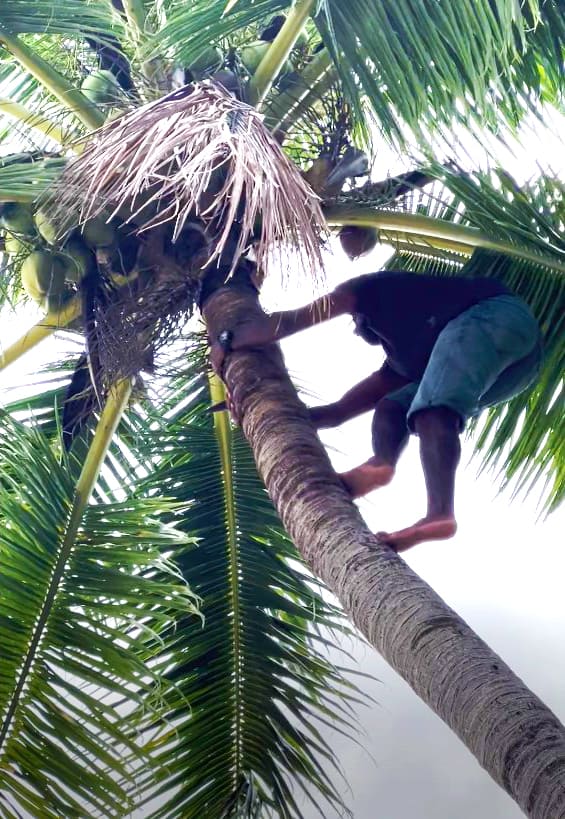 Then, another fellow cut up two coconuts for us to drink from and then eat the flesh within.
Living in cities, we have always bought coconuts from supermarkets, and this process was almost dream-like to watch.
Where To Eat
There was a single restaurant at the resort where we had all our meals. But, we aren't complaining as all the dishes were top-notch in terms of flavor and quality.
Breakfast
The resort offers a small buffet every morning, but you will find enough choices to pick from.
These include hot food options along with sweet fruits. Plus, there are two types of bread to gorge on.
We started each day with a very nutritious plate of breakfast that kept us going through a busy day of adventure sports and more activities.
Lunch
The lunch menu at Tropical Island Resort was available throughout the day, and you could order whenever you wished.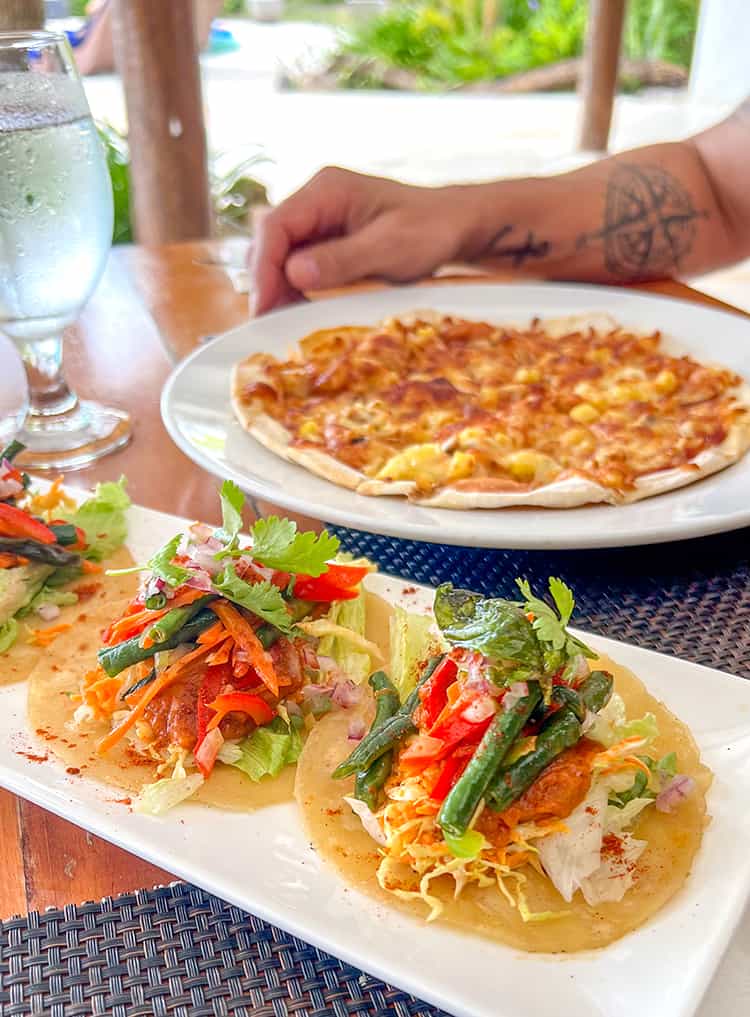 And whether you are in the mood for tacos, fried fish, burgers, salads, pizzas, etc., — the chefs could rustle up delicious meals every time.
Dinner
We are vegans back home, but we decided to stick to a vegetarian diet here in the resort and whilst on a vacation. The vegetarian options were limited, and initially, we only found one.
However, the chef met with us and curated two new dishes on the spot. He offered to make any dish that we wanted, and we chose to go for Fijian cuisine, which turned out to be just as dynamic as the country.
On a side note, there are other options like braised lamb shank, chicken curry, etc., but do note that this menu changes daily.
Packages
In case of occasions like birthdays or anniversaries, the hotel offers additional services. So, if you're planning to visit the resort for a special day, consider going for the Celebration or Rejuvenation Package.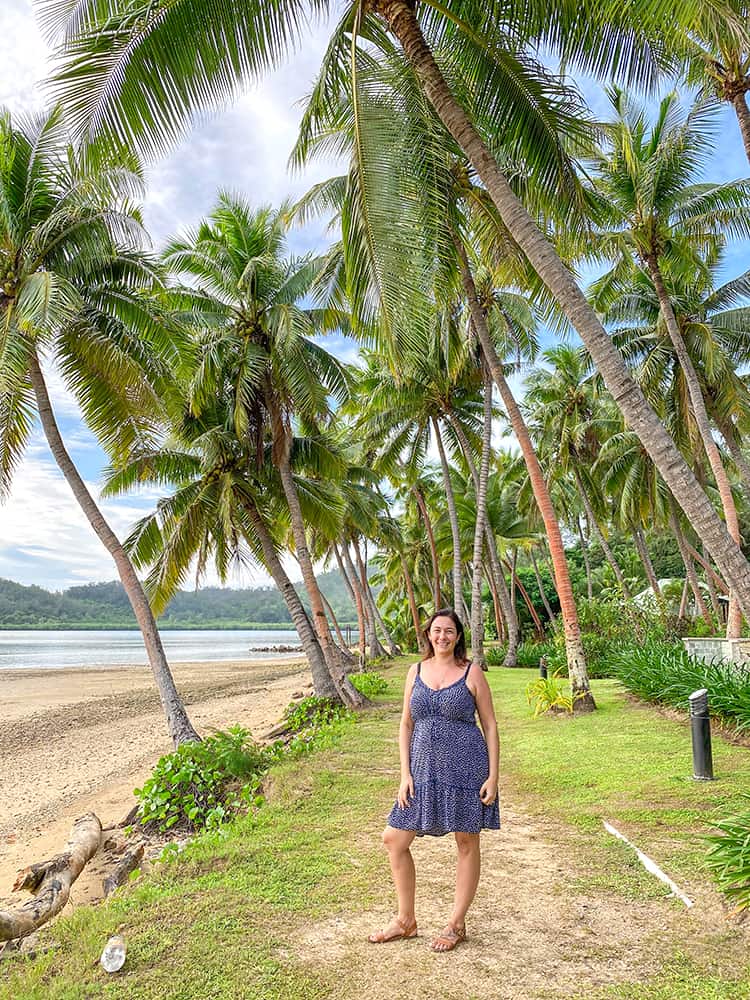 The Celebration Package includes Champagne Moet and Chandon MV Brut, a private pier dinner, and a 200-minute spa treatment.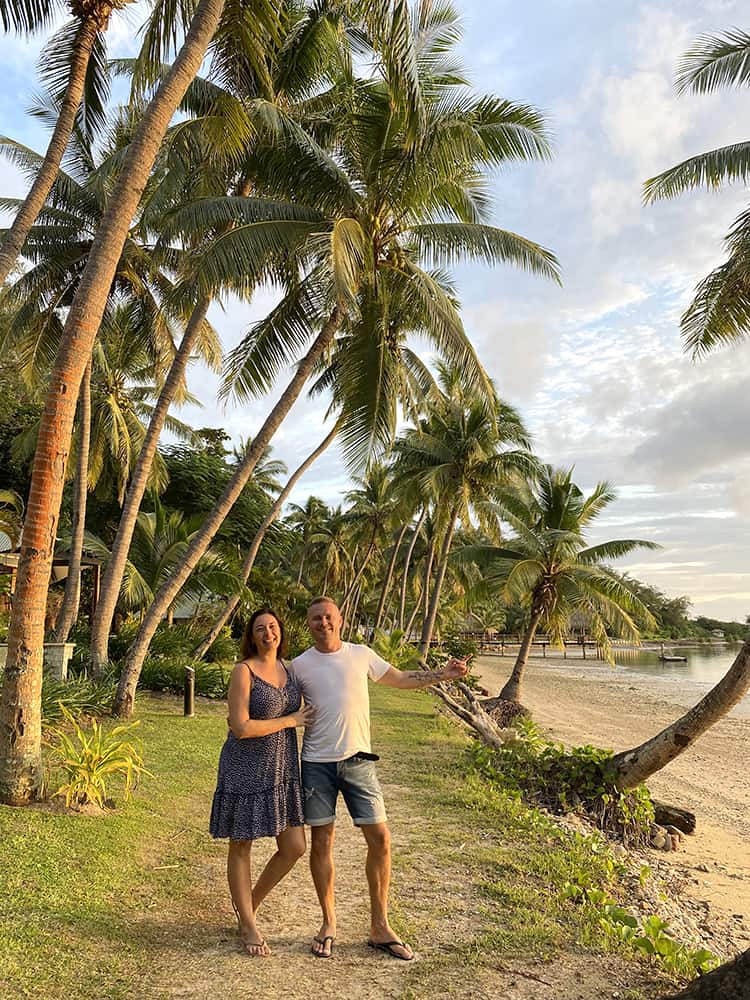 On the other hand, the Rejuvenation Package involves a 6 x 1-hour spa treatment, Champagne Moet and Chandon MV Brut on arrival, a private snorkeling trip along with a beach picnic.
Our Likes and Dislikes
Here are our personal thoughts when it comes to likes and dislikes:
Our Likes
The staff was very friendly, super welcoming (singing songs for welcoming and fair-welling guests), and made our stay really awesome
The food was great and had plenty of flavors (the chef made us very happy by making our food to suit our vegetarian choice)
The pool was awesome! Super relaxing, perfect views, nice and warm salt water, throw pillows, comfy mattress.. pool-side service, palm trees, awesome!
Nice Bure with plunge pool (only some Bure have a private pool), cool swing, and sun loungers)
Our Dislikes:
Sun-loungers at the Bure had no shade during the day
Leaking toilet in the Bure (but was fixed)
No wifi at the Bure (we prefer to have a choice of wifi in the room)
Limited options for vegetarians for lunch and dinners on the menu (the chef did make us happy with creating new dishes on the spot, so make sure to ask)
No side tables at the main pool-side sun-loungers
Final Words
Overall, we had a wonderful experience at the resort, which finally provided us with a peaceful oasis away from the chaotic world that we live in. The cherry on top was the people we met, who almost became like family in just a few days.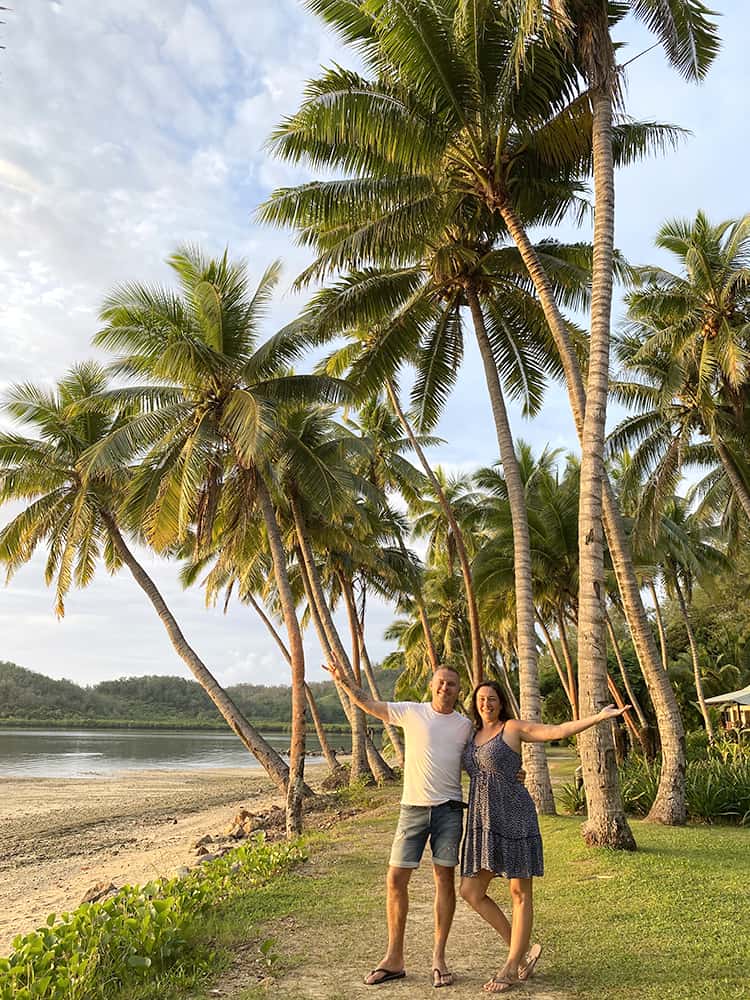 And although we are back home with a phone filled with pictures for Instagram, no camera can capture the beauty of the Fijian sunsets.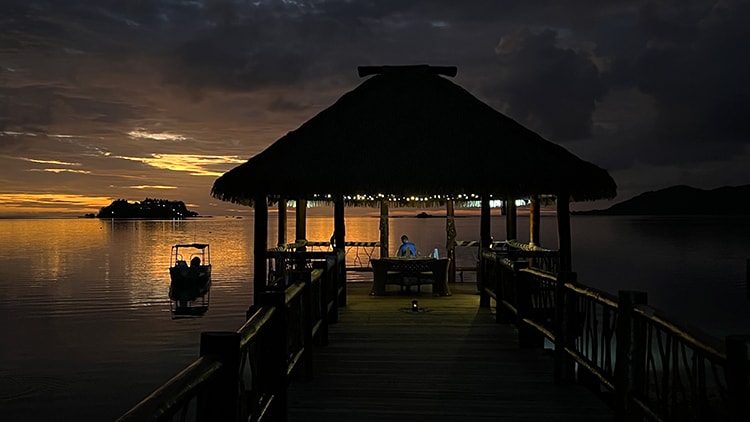 In fact, every palm tree we saw was Insta-worthy, and it was almost impossible to cover all the picturesque locations.
All in all, we had a blast!
Additional Reading About Fiji
Here are some of our personal recommendations and detailed reviews of places we stayed at: