As this is my third pregnancy and I'm currently nearing the end of my third trimester (see you soon my baby!!), I think it is fair and safe to say that I officially have a love-hate relationship with the third trimester.
The start and end to the third trimester is so diversely different to each other and it is important to keep this in mind if you are thinking about planning some pregnancy holidays.
I mentioned in my previous post that I truly believe that the second trimester is the best time to travel (see a list of babymoon destinations here), whilst the third trimester is time to slow down and 'put your feet up'.
Traveling pregnant, especially toward the end of your third trimester, might just not be as much fun (or recommended).
In this post, I'll give you my third trimester travel tips and hints that should help you make the right choices for travelling whilst pregnant. (You can find my travelling in first trimester post here and the travelling in second trimester post here)
–
Travelling Pregnant | Third Trimester travel Hints and Tips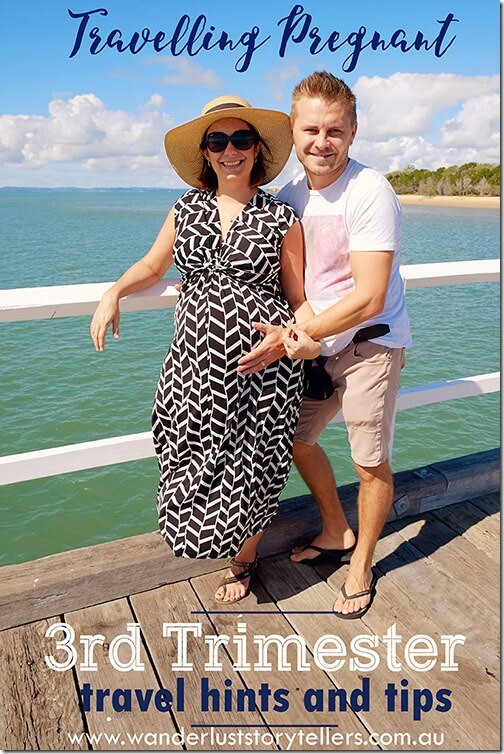 –
Third Trimester Travel & Typical Third Trimester Symptoms
Whilst we all experience pregnancy differently, these are the third trimester pregnancy symptoms that I believe will have an impact on your holidays:
Backache: As your belly grows bigger and bigger AND BIGGER, the pressure on your back to keep you balanced will result in various degrees of backache. As this is my third pregnancy, my lower back started aching early on in the third trimester and this really does make it tricky to sit down for long periods of time, especially if you are cramped up on small seats such as for example on a plane! I also found that walking on uneven surfaces such as a hiking trail or walking on sea sand would result in a bit of pain for a day or so after in my back. So my third trimester travel recommendation will be to start travelling with a warm pack, so you can ease the pain a bit when need be and to limit the length of time that you are sitting or standing for!
Fatigue: Yes, whilst you had energy in the second trimester, the third trimester will slowly start sucking the energy back out of you. As you grow bigger and heavier, you will find that you get tired more easily. I know that when we went on holidays (at 31 weeks), after a morning of exploring, I was 'buggered' and needed to just relax and breathe. So try not to overdo things, balance is key in this trimester!
Swollen ankles and Sore Feet: Again, with a lack of great circulation and all that extra weight on your feet, you might experience some pain in your feet! Mine got especially bad if I went for long walks. So try to put your feet up as much as you can and get hubby to give your feet a bit of a rub every now and then.
Sleeping becomes increasingly more uncomfortable. As you grow, you will find it harder and harder to settle into your normal sleeping positions. Pillows will be your friend, I like popping a pillow in between my knees for a bit of back support. I also travel with my 'wedge' pillow that I wedge under my belly, I find this pillow a lifesaver and it is small enough to travel with. (You can check the prices on these here – they are pretty affordable!)
–
Whilst there are obviously more pregnancy symptoms in the third trimester, I think these are the major ones that will have an impact on your third trimester pregnancy travels.
Pregnancy Travel in the Third Trimester | Choosing the Right Destination!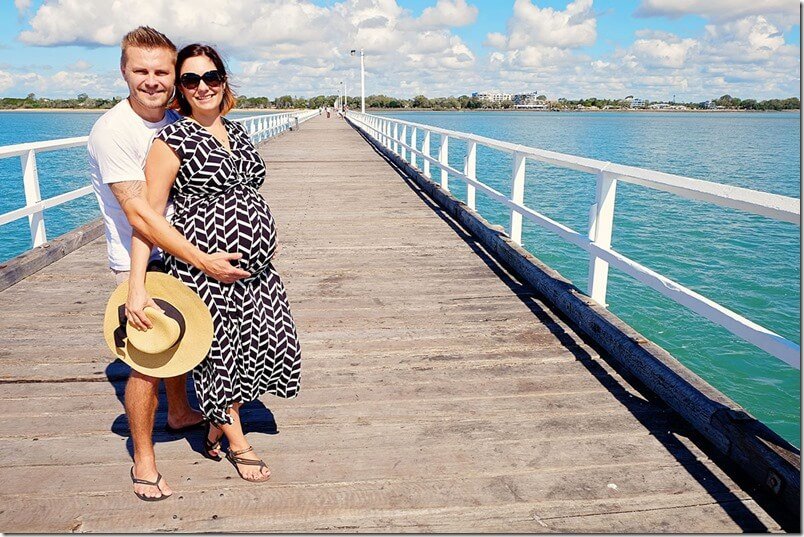 Choosing the right destination in your this trimester is even more important than in the previous two. Whilst at the start of the trimester you are free to roam further away from home base, towards the end of the trimester, you really want to be within driving access to the hospital that you want to deliver in. My honest advice for pregnancy travel in the third trimester is to avoid long trips. Forget about that plane flight and forget about road trips! There is no way that I would want to be stuck on a long haul flight at this stage! If you do feel like some adventure, maybe limit it to domestic flights. Of course that doesn't mean you shouldn't travel overseas, I just truly honestly don't recommend it.
Important to keep in mind: By the time you reach the third trimester at around 28 weeks, if for any reason you would go into super early labour, your baby would have an 80-90% chance of survival if (and only if) advanced medical care is available. That alone to me proves that I need to stay close to a decent medical facility!
For our third trimester travels, we chose to explore our coastline a bit more! We headed up on a 3 hour drive to a little town called Hervey Bay. The 3 hour drive was not that kind on my back, but it was doable and it was nice to get away for our last 'parent-escape' before the little munchkin arrives! We had never been to this little coastal town before, so the trip was exciting and we were keen to explore the region, but honestly our main focus was simply on relaxing before our life becomes more than a little crazy busy with a newborn baby!
As you might find that you become more clumsy as the trimester progresses (after all, your balance is completely different to normal and you probably can't see your feet anymore!!), I also suggest you avoid boat trips and cruises.
Find a destination where you can explore a little and relax a lot more! If you are in the US, it might be best to stay within your country. You can find a list of the best places to babymoon in the US here.
Air Travel during the Third Trimester
Can you fly in the 3rd Trimester? Well yes you can, up until a point.
With a doctor's certificate:  If you've had a straightforward pregnancy, you can fly on most airlines until you're 36 weeks pregnant. If you're carrying twins, this will usually be up to 32 weeks.  The doctor certificate will merely state what your due date is and will need to specify that you are safe enough to fly.
It is important though to check your specific airline carrier as I found that many differed on the timeframe they allow pregnant ladies on. On AirAsia for example, they accept travelling pregnant ladies up to 27 weeks pregnant without a certificate and up to 34 weeks pregnant with a medical certificate.
–
Before you decide to go traveling overseas while pregnant at this stage, maybe have a think about how important this trip is. Can you find an exciting holiday destination that doesn't require air travel? And if you really need to, can you get away with a shorter domestic flight? If you do decide to travel on a plane at this stage, I think it is fair to say that you will need to expect that it will be a fairly uncomfortable flight, so try to prepare yourself as best you can for this:
take an extra pillow to support your lower back,
think about paying more money for those extra leg room seats,
drink loads of water and
don't forget to get up and walk around regularly to keep the circulation flowing.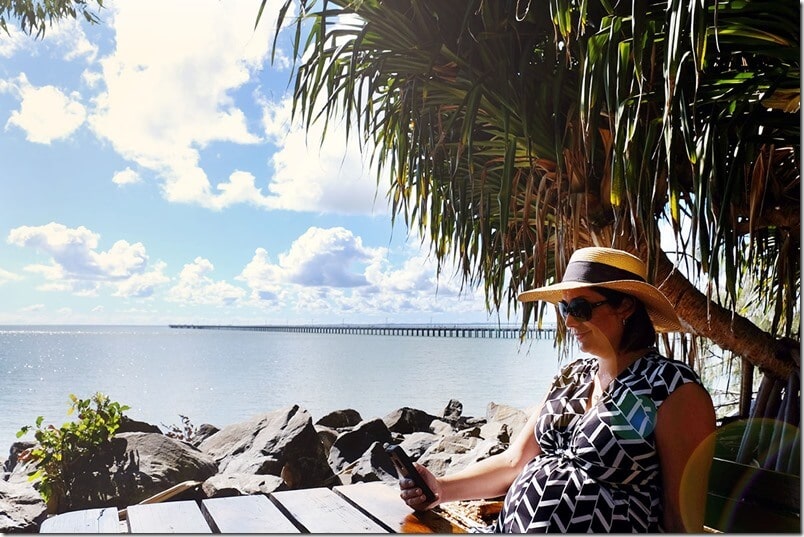 There will come a point in this trimester where you will find yourself realizing that travel might just not be as much fun anymore! For me that happened at around 35 weeks. Trust me, my wanderlust is still calling my name LOUD AND CLEAR! but I am so uncomfortable and I get pretty exhausted quite easily. Bending over is tricky and walking usually results in either abdominal pains or lower back pains. So I have kinda settled into a 'house arrest' sort of lifestyle where i can make myself more comfy, not have to work so hard and just try to survive the last few weeks as I count down to bubby's arrival. I am having fun planning more trips and we have already booked our little baby on her first flight in a few months time.
Wherever you do decide to travel in the third trimester, do at the very least familiarise yourself with the medical care in that area, as well as how to access emergency services if needed. Try to enjoy your last few months of being pregnant, soon there will be a little baby in your arms and you can get back to a more active travel lifestyle!!
Did you travel during your third trimester? Did you travel internationally? Can you add any tips or advice to this post?
All content here should be considered as opinion only. Always seek the direct advice of a professional in connection with any questions or issues you may have regarding whether you should be traveling while pregnant.