There is not even a single doubt that Antarctica, the world's frostiest freezer is the definitive once-in-a-lifetime destination.
Apart from being the fifth largest continent in the world, there is actually no colder place on planet earth than this tremendously great white continent of snow, rock and of course, sophisticated wild animals. The adventure to Antarctica indeed stands alone as a truly remarkable experience for adults and kids alike.
In fact, there is arguably no other place on this planet earth that can offer you the experience of an unravelled natural landscape than Antarctica. That is why for those of us who love traveling and sharing our passions with our children, as well as exploring new places together as a family unit, it is only natural that we would greatly want to travel to Antarctica with kids in tow to show them this part of the world!
Not Just an Average Family Holiday
We all know that going for a holiday with the kids is actually a very different experience to going for a holiday with your partner or friends. However, taking your kids with you will surely be cherished for the rest of your lives and will unquestionably enrich both you and your children's lives in a million ways.
Even though taking your kids on a voyage to the frozen landscape of Antarctica cannot be considered an average family holiday, it is one that both you and your kids will never forget. That is because they will be in for a totally different experience; an expedition to the last pristine and most untouched wilderness on the face of this planet earth.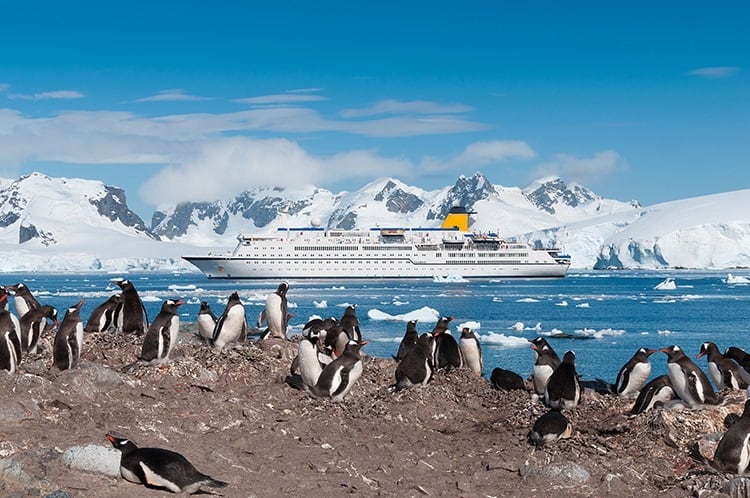 And because a journey to Antarctica with your kids will be like no other that you have experience as a family, you might perhaps be wondering whether it is a good idea to take your kids for this once-in-a-lifetime expedition. Any parent would be pleased to know that their kids are more than welcomed to go on Antarctica expeditions, especially if they have been longing to do it as a family.
General Guidelines for your Trip to Antarctica with Kids
As a parent, it is crucial to always bear in mind that your kids should not only be old enough to appreciate such a unique journey but should also be old enough to enjoy the experience that comes with going through this special adventure.
Generally, parents would be advised to take kids who are 8 years old or older. At such an age, kids will not just entertain themselves aboard the cruise ship, but will also appreciate such a voyage. They will also be interested on the educational elements of the trip, which is crucial for their studies and for the experience that they may want to share with their friends and peers back at school or at home.
Again, any persons under the age of 18 cannot go on Antarctica voyage alone and must have a legal guardian and so it would only be natural for any parent to take their kids to such an adventure when they are old enough to enjoy and appreciate it. While the kids will pay the same rate as any adult traveler and would cost on the north of $9,600, it still remains a unique experience that any kid or adult for that matter, would not want to miss.
Why Antarctica?
When thinking about a family trip together, many families will often think about Disney World. However, many millennial families and kids will agree that a trip to Disney World has become so ordinary that it no longer makes any sense or is simply, not a mind-blowing trip or idea. That is why many families and kids would choose a rather peculiar destination such as Antarctica, which is arguably the most beautiful place on earth.
Believe it or not, Antarctica is a marvellous destination that your kids will enjoy to the fullest and cherish forever. This is an extremely incredible adventure; an adventure that will make you and your kids grow closer and feel like a real family unit with each passing minute.
Traveling to Antarctica with kids will be a powerful family vacation full of educational adventures. It goes a long way to confirm that travel is the best education that any loving parent should give to their children. While you may have taken your kids on many vacations, going to Antarctica with them is on a whole new extraordinary level and is a multifaceted journey like no other.
Beginning the Journey in Ushuaia, Argentina
No matter which part of the globe you come from, a vast majority of cruise ships begin the journey to Antarctica from the Argentinian port city of Ushuaia. It is the southernmost city in the world and can be accessed via various cities in South America including Buenos Aires and Santiago.
Located in the Tierra del Fuego region, Ushuaia is an adventure hub full of cultural sites and it would only be proper if you devote some good time for you and your kids to learn a thing or two about this unique port city before embarking on the awaiting journey to the world's last great
wilderness; Antarctica.
The Journey South on the Cruise Ship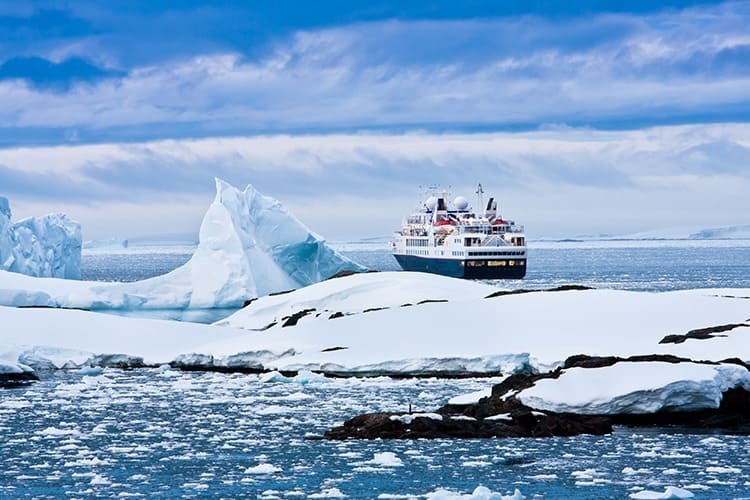 Even though Antarctica had not been explored up until the late 1800s, it offers an impeccably rich history as the most untouched wilderness that was a chosen destination for many explorers and scientists alike. So as the cruise ship takes on its course going towards the South Pole, you and your kids will follow a path carved out by many great voyagers such as Sir Robert Falcon Scott, Roald Amundsen and Ernest Shackleton.
With all the anticipation of reaching Antarctica, you will first have to battle and conquer the mighty Drake Passage.
Conquering Drake Passage
The mighty and the dreaded Drake Passage is the point where the Pacific, the Atlantic and the Southern Oceans converge to create one of the roughest points in the ocean. For close to 36 hours, waves that can cover the top-storey windows of the cruise ship will be violently ravaging against the ship as you try to sail through this turbulent stretch of water that is located between the tip of South America and your ultimate destination; Antarctica.
Literally speaking, Drake Passage is some sort of a rite of passage. Just like we all have to endure the difficulty of the desert to find an oasis or withstand the rain to see the beautiful rainbow, both you and your kids will have to travel through Drake Passage to reach the immaculate land of Antarctica.
While it is true that traveling through Drake Passage might be a really tough adventure and both kids and adults might suffer from seasickness, it is crucial to note that you should not let the fear of sailing through this infamous point prevent you from achieving your dream of visiting Antarctica. Apart from the Bermuda Triangle, there is no other ocean crossing that brings more fear in people than the turbulent Drake Passage.
Honestly, conditions at Drake Passage do vary greatly. Not even the captain will ever know whether the ship will experience the Drake Shake or the Drake Lake. In other words, Drake Passage can live up to its legendary rock 'n roll status or turn out to be as flat as it could get depending on the weather and many other unpredictable factors at the time of your crossing.
All in all, you and your kids should be prepared both physically, psychologically and emotionally for this treacherous part of the Antarctica journey. Having seasickness meds on-board often helps and keeping you and your kids busy with other activities such as watching exciting movies is highly recommendable during such times. In short, this is that time of the journey that you should really appreciate doing nothing as lying down on your bed and cuddling with your kids will do wonders.
Antarctica!
As you draw closer to the continent, you and the kids will be hit with the magical glimpse of the pristine land of Antarctica. The bluish-white and huge icebergs will begin to appear. They are of astonishing mass and you and the kids will probably wonder how they get to float. Apart from the massive icebergs, the land of Antarctica is breathtaking in every imaginable sense. Both you and the kids will enjoy the extraordinary calmness that it exudes despite having snow cliffs and icebergs that will probably dwarf your cruise ship.
For the next several days, you and your kids will enjoy traveling around the Zodiac boat while sampling the famed Antarctic Peninsula. Observing and learning more about the gigantic glaciers and icebergs up close and personal will be crucial in their studies.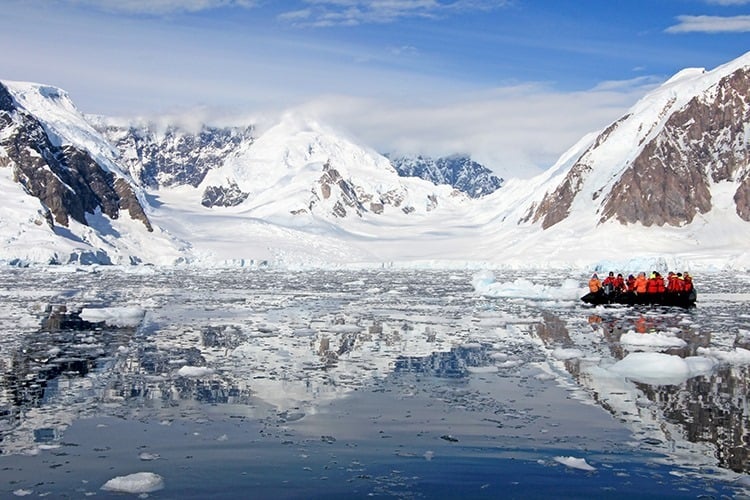 Even more important will be the close encounters with the wildlife of Antarctica. From huge clusters of penguins that naturally coexist with different types of seals to the killer whales that marvellously display their true power and grace, there will be a lot to be learnt in Antarctica.
From an educational perspective, the kids will gain a lot of knowledge about Antarctica. For instance, they will learn that Antarctica contains around 60% of the world's fresh water. But unfortunately, the water is frozen solid so it not easily accessible.
Verdict
To this end, there is no doubt that Antarctica is a truly unique destination that any kid aged 8 and above should be offered a chance to visit at least once in a lifetime. The adventures that come with visiting Antarctica are boundless and kids will not only enjoy themselves but will also gain a great deal of knowledge and experience. There are a lot of immersive activities that both kids and adults can joyfully participate in.
Remember; never forget to carry your camera with you. It is the trip of a lifetime; one that you will cherish for many, many years to come, especially if you have the photos to remind you that Antarctica is the last great wilderness on planet earth.