Most people who think of South Africa conjure up images of wild, safari adventures, large animals, and beautiful landscapes.
Well, we can tell you it's all true! And, what makes it even better is that you can experience all of South Africa with kids.
From spending time in Cape Town and seeing the famous Table Mountain to up close and personal encounters with wildlife.
Your family will make memories that last a lifetime. Trust us, our kids loved it.
---
Travel South Africa with Kids Guide
Here, we share some of our favorite things to do and places to visit while traveling in South Africa with kids (also perfect for those visiting on their familymoon!).
Pick a few options from this guide for your next family vacation and you will not be disappointed.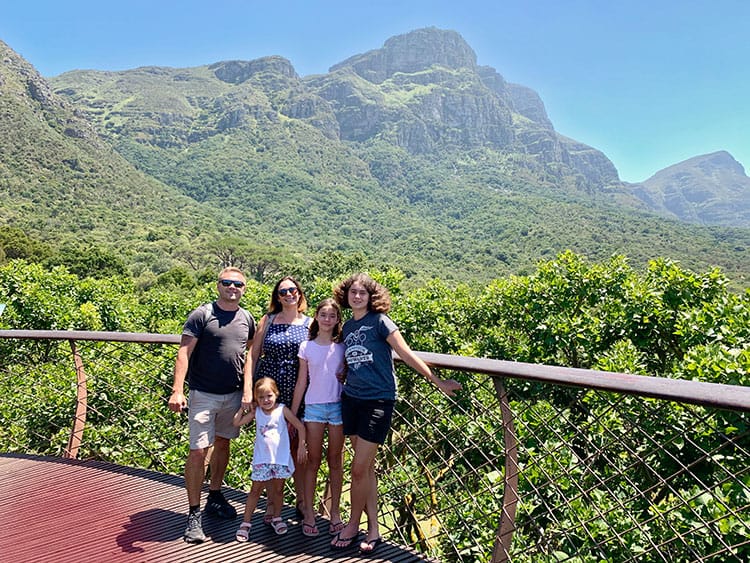 ---
4 Best Things To Do In South Africa With Kids
There's so much in South Africa kids will enjoy doing. It has a lot of family-friendly activities and attractions on offer. We've lined up a few of the most beautiful and exciting things to do in this country to help you decide.
1. South Africa Safari With Kids
No trip is complete without a safari. At first, you might be a little hesitant about taking your little ones to see the wilder side of this continent. But, for kids, it's super exciting.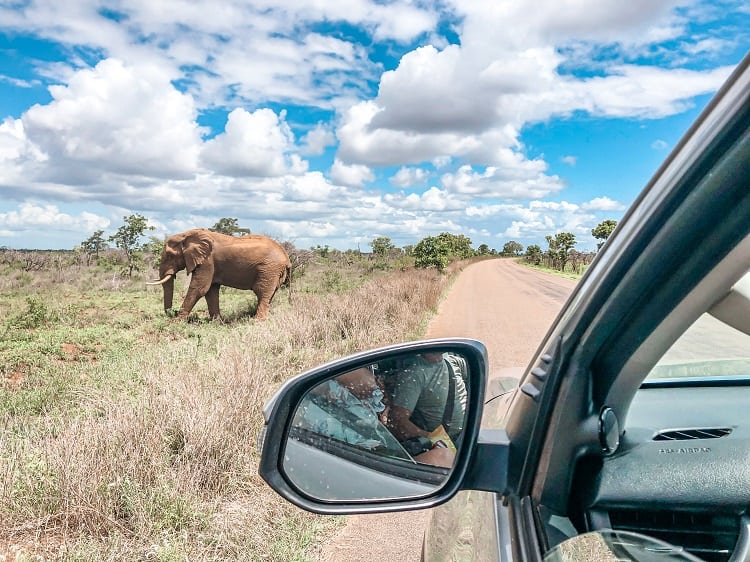 There is nothing more satisfying than seeing your kids teetering on the edge of their seats, their eyes peeled for wildlife.
You'll laugh at the number of rocks that are called out as Buffalo or Rhino. And at your kids' happy expressions when they see the real thing.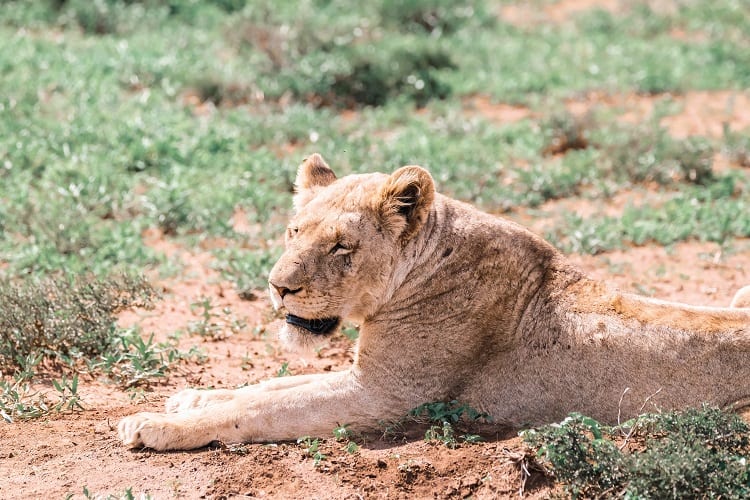 There are a number of different safari parks you can visit – many of them have the famous Big Five and amazing, diverse landscapes.
One of the greatest things about traveling in South Africa with kids is that it's so easy. Renting a car (with a child's seat) is simple, so you can enjoy your own freedom and set your own pace.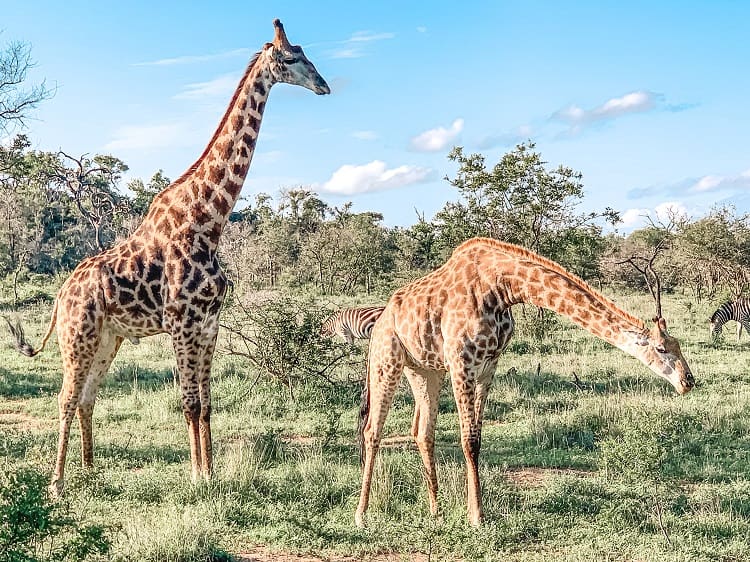 This is great if you want to pop into a park for a few hours for a self-drive safari.
Another family-friendly option that promises a real African experience is a guided walking safari.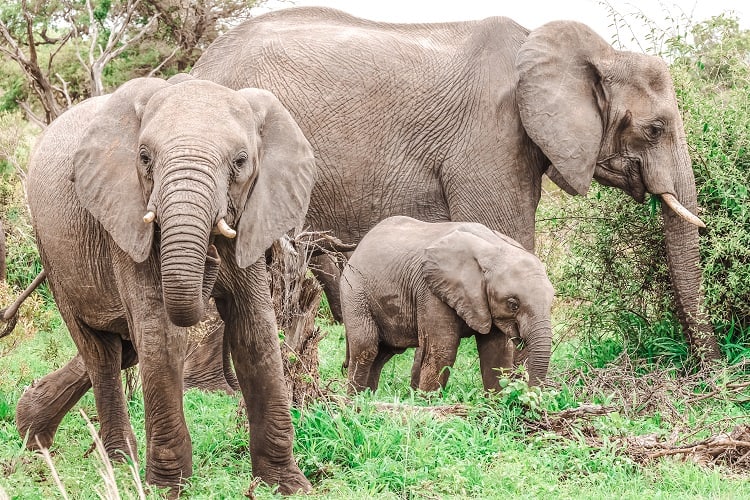 You can enjoy a safe walk in the bush with your children. They're conducted in an area without the "scarier" animals, ensuring your family's security.
Click here to check out a price for a walking safari in Mtubatuba South Africa!
---
2. Check Out Table Mountain With Kids
Next up in child-friendly South Africa is the famous landmark, Table Mountain. It's located in one of our best places to visit on a family vacation in this country: Cape Town.
It offers incredible views of the city, mountains, and the ocean.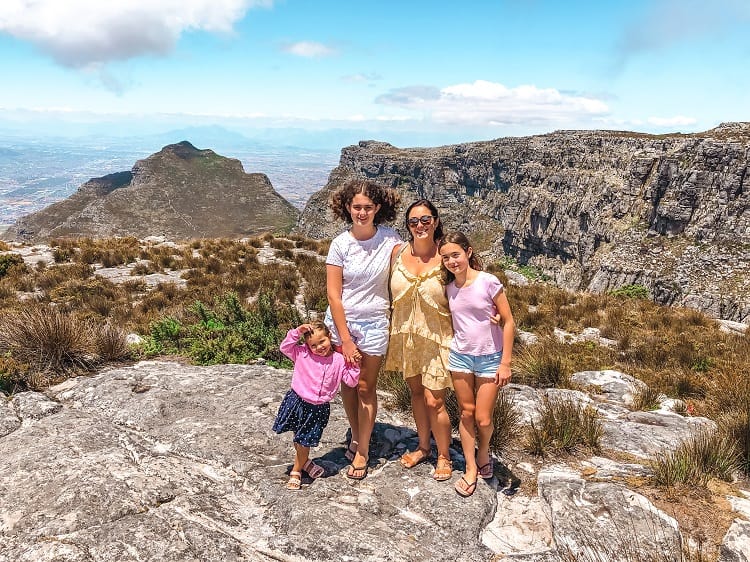 You haven't visited the Mother City unless you've captured a picture with this flat-topped beauty in the background.
If you have kids who have excess energy to burn, then walking up the mountain can be great fun.
But, if you all have varying degrees of fitness, a ride in the cable car might be a better option.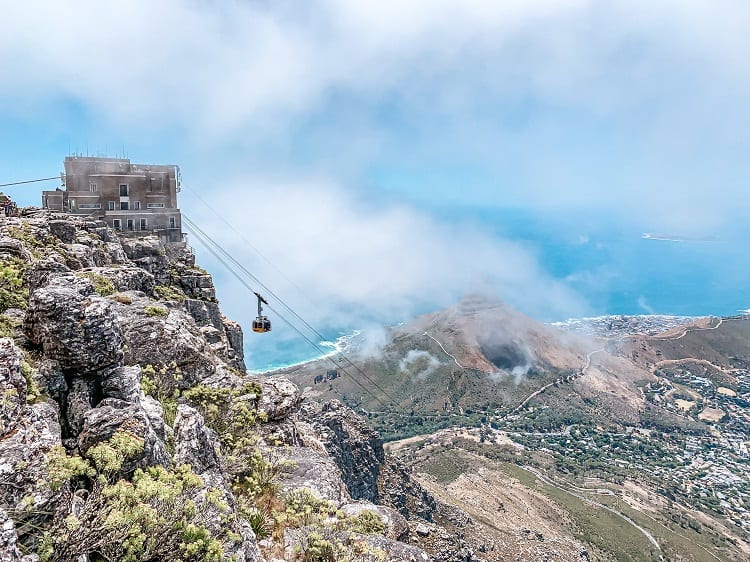 You can also mix and match – hike up the mountain and ride the cable car down. This way your family gets the best of nature, exercise, and the views.
Once you reach the summit, you can enjoy the flat trails and scenery. And grab a bite to eat at the restaurant, if you can get a seat.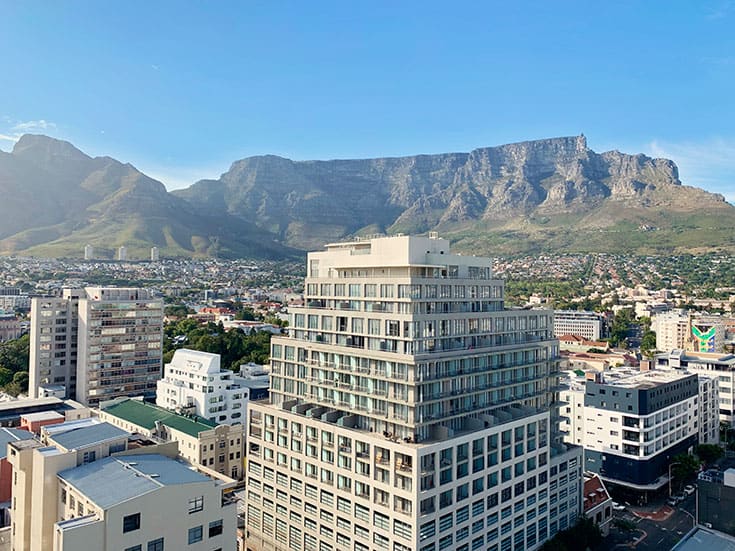 If you have a youngster under 5, you'll need to organize a carry pack if you intend to hike.
You may also want to book a private hike if you're traveling with kids in this age range.
Click here to book your tour in Cape Town to do a Table Mountain hike with a local expert!
Tip: Are you interested in wine? Check out our blog post on the best Cape Town wine-tasting tours.
---
3. Garden Route With Kids
The Garden Route is a gorgeous 190 mile stretch of coast that extends along the south-eastern coast of South Africa.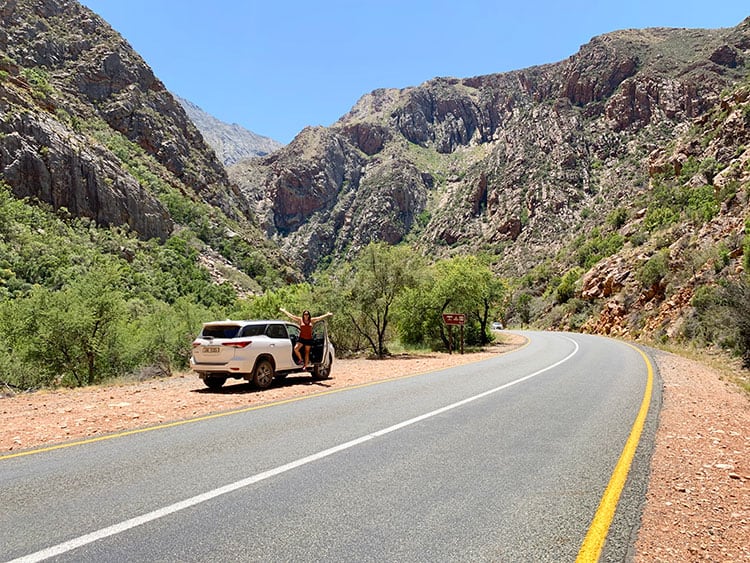 The best thing about this stretch of road is the wealth of eco-diversity. You'll see lush forests, tropical beaches, and some great attractions, including Addo Elephant Park and the Bloukrans Bridge.
It's a great family destination as there is so much to do and see. For the more adventurous family, you can explore Tsitsikamma forest from the tree-tops 30 meters in the air.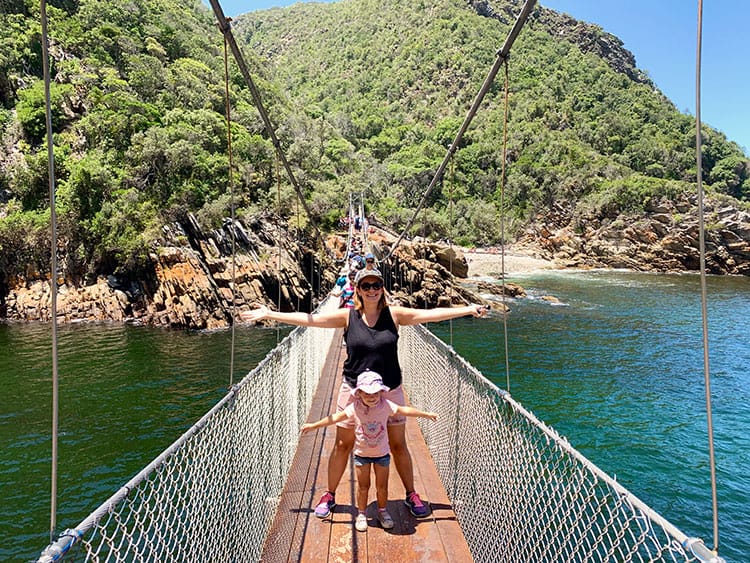 Click here to book your tour in Tsitsikamma to do your Zipline Canopy Adventure!
The Garden Route stretches between Mossel Bay and Storms River, but we recommend checking out the route between Cape Town and Port Elizabeth.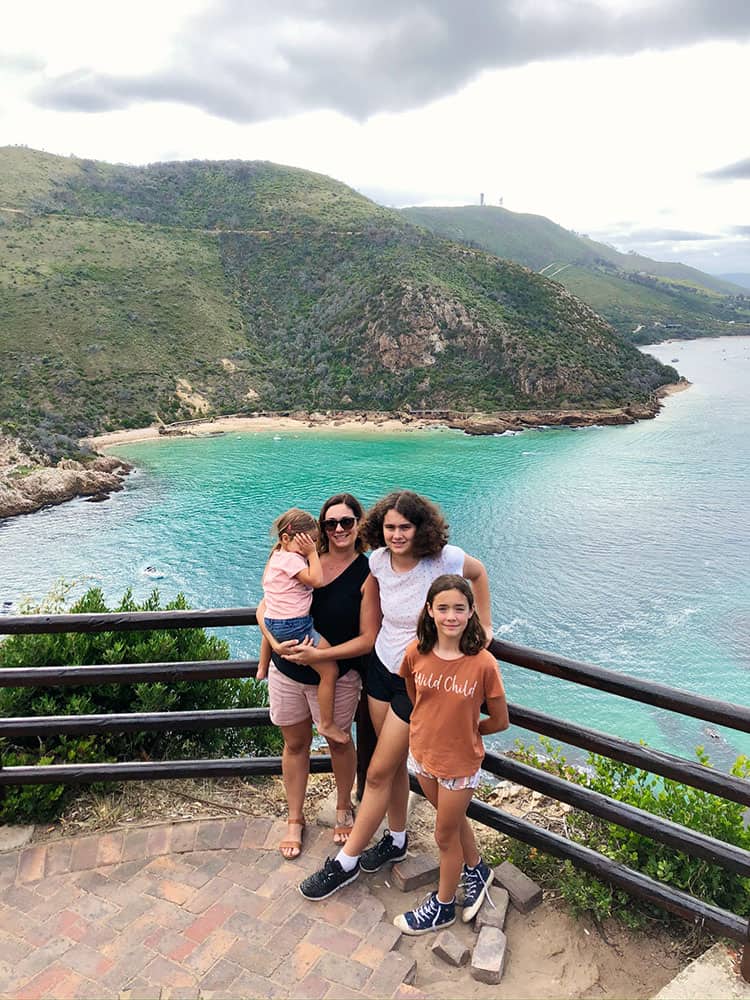 It's a matter of convenience as both these cities have airports. So, you can start by flying into one city as a starting point for your road trip.
Then, end your road trip with a flight back home out the other. The Garden route is perfect for kids of all ages, so if you are planning on visiting South Africa with a baby (or toddler), make sure to include the Garden Route on your itinerary.
Check out our Best Garden Route Itinerary to help you plan your trip!
---
4. Panorama Route With Kids
If you like a vacation with a bit of culture and history, the Panorama route is great for traveling in South Africa with kids. This route connects several points of interest and beautiful viewing points on one scenic road.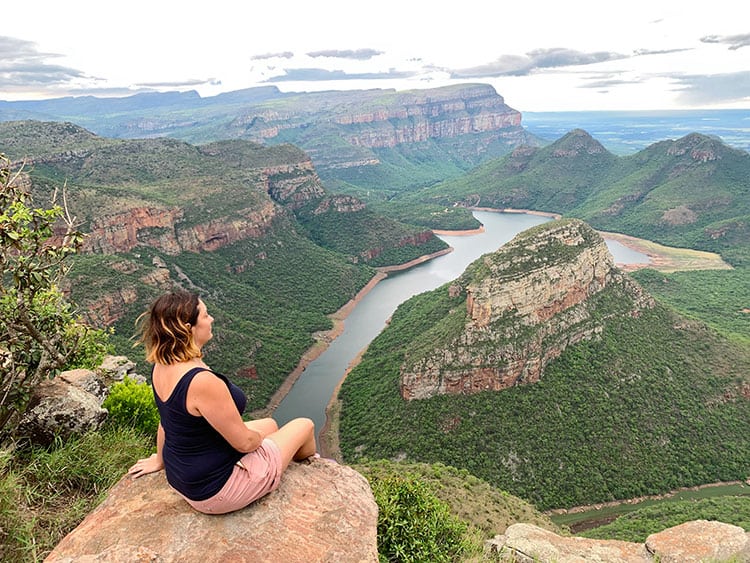 The road begins close to Nelspruit and ends near the Kruger National Park in the Limpopo Province. It's a stunning drive – ideal for nature lovers and history buffs.
The route has some impressive waterfalls dotted along its course and lots of landmarks.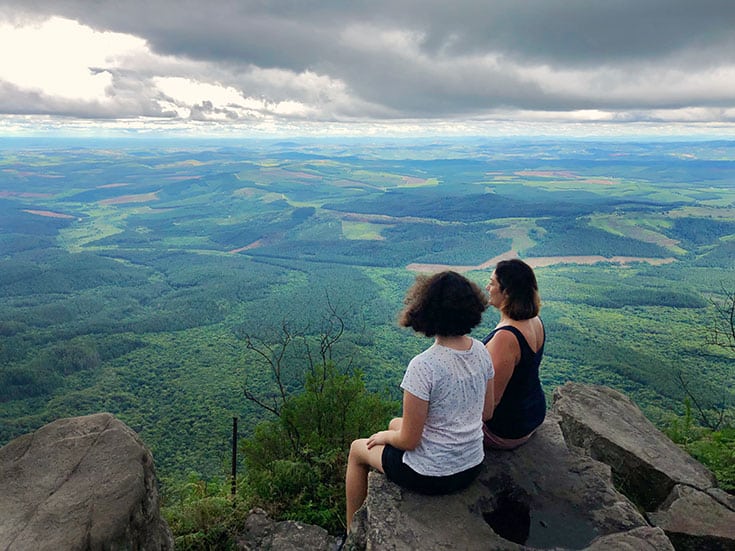 Hazyview is a misty and romantic town along the route that serves as a gateway to Kruger Park. This town is positioned well to make the most of the Park. It's also nearby attractions along the Panorama Route, such as Mac Mac Falls, God's Window, and Pilgrim's Rest.
Click here to book your tour in Hazyview to see the Panorama Route.
---
4 Best Places To Visit In South Africa With Kids
We've looked at the best things to do. Now, let's dive into the best places to visit in this amazing country. You'll see that there is so much in South Africa for kids.
1. Kruger National Park With Kids
We've said it before and we'll say it again: Kruger Park is one of our top family adventure spots.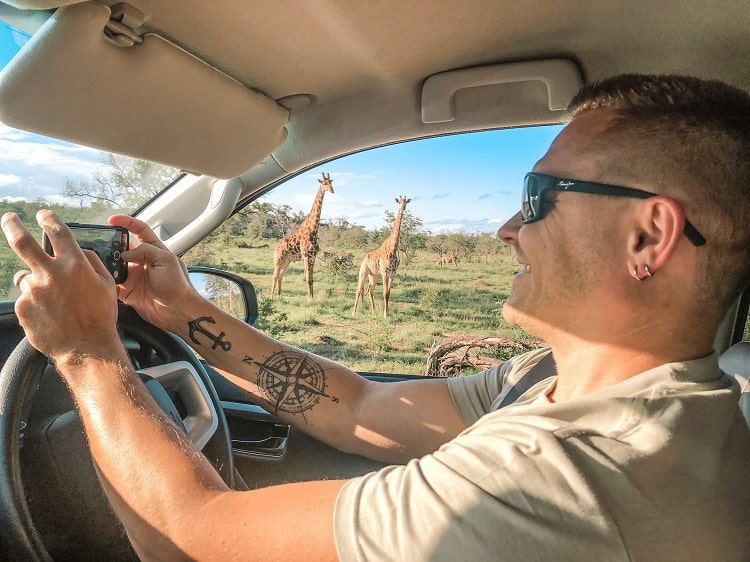 Here are some tips on what to do and where to stay for your safari trip!
What to do in Kruger with kids:
Follow a game ranger as he guides you through the sounds and sights of the bush on a walking safari.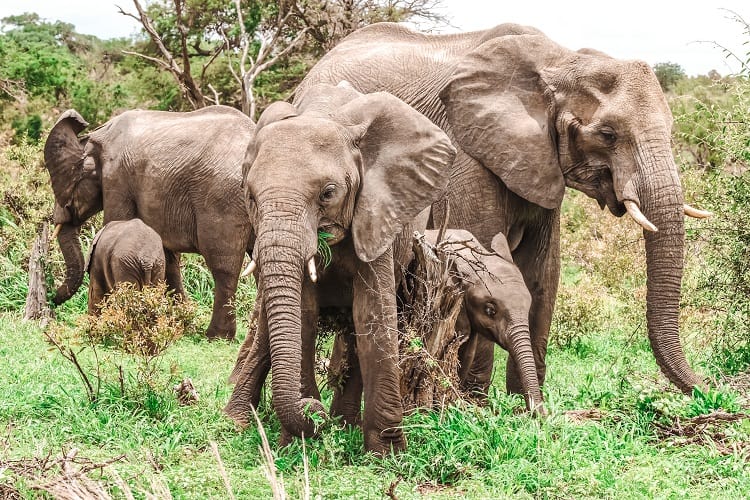 Enjoy an open-top game drive while your kids ooh and ah at every four-legged creature. Or, indulge in some 4x4ing and mountain biking before camping out for sundowners and lemonades at sunset.
For some real family quality time, try a DIY safari. See our self-drive safari guide for the Kruger National Park.
Where to stay in Kruger with kids:
The Park has a vast range of accommodation for you to choose from. Whether it's glamping, lodges, or self-catering chalets you prefer, there's something for you.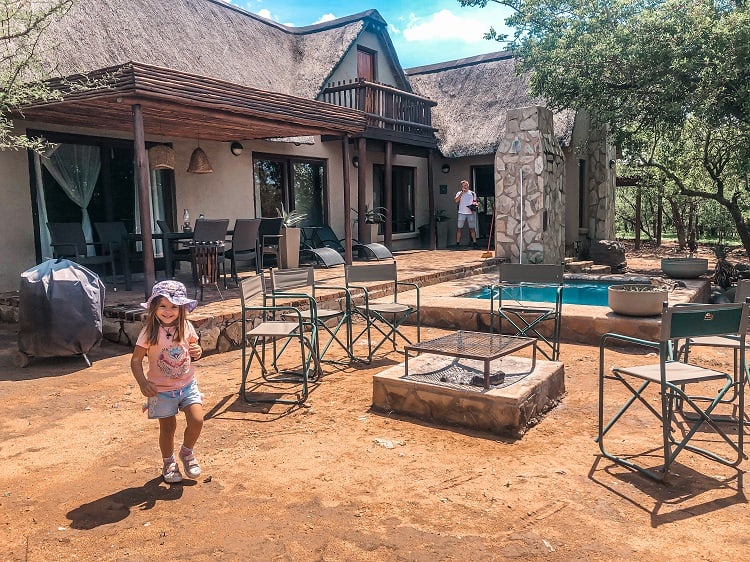 We love Rio Dos Elefantes River Camp with its family-friendly features, swimming pool, restaurant, and incredible breakfast buffet.
Check out the current prices for the Rio Dos Elefantes River Camp here!
---
2. Drakensberg With Kids
Fresh air and breath-taking views of the stars – these are just two of the reasons why the Drakensberg is one of the best family getaways in South Africa.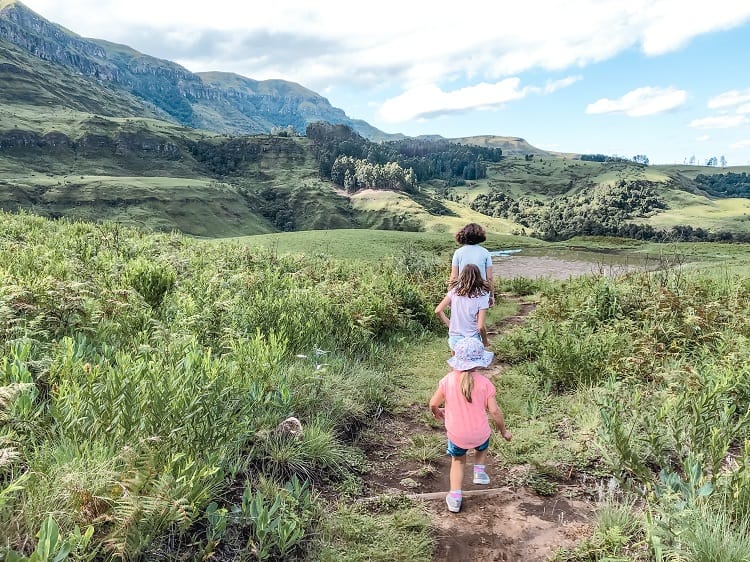 Located on the border of Lesotho and South Africa, the mountain range is a natural wonder.
What to do in the Drakensberg with kids:
There are plenty of fun activities to do in the Drakensberg with kids.
Visit the famous three-mile-long Amphitheatre, one of the country's most spectacular cliff faces. Hike to the Tugela Falls and soak up the sight of the world's second-largest waterfall.
And, tell your kids stories in front of a campfire before falling asleep under the star-studded sky.
Where to stay in the Drakensberg with kids:
Emafweni is located in Dragon Peaks in the central Drakensberg mountains. It offers a true mountain experience complete with a small private lake and magnificent gardens.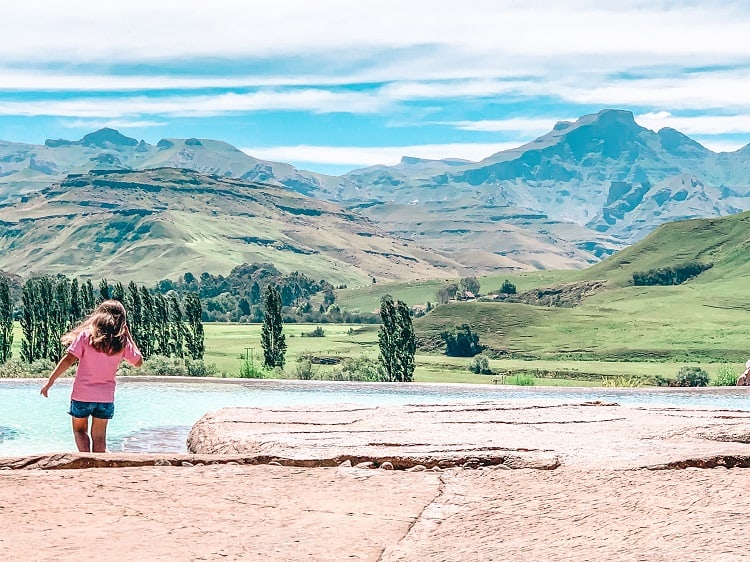 Check out the current prices for Emafweni here!
---
3. Addo National Park With Kids
Addo Elephant Park is in the Eastern Cape of South Africa and is filled with the world's largest land animals.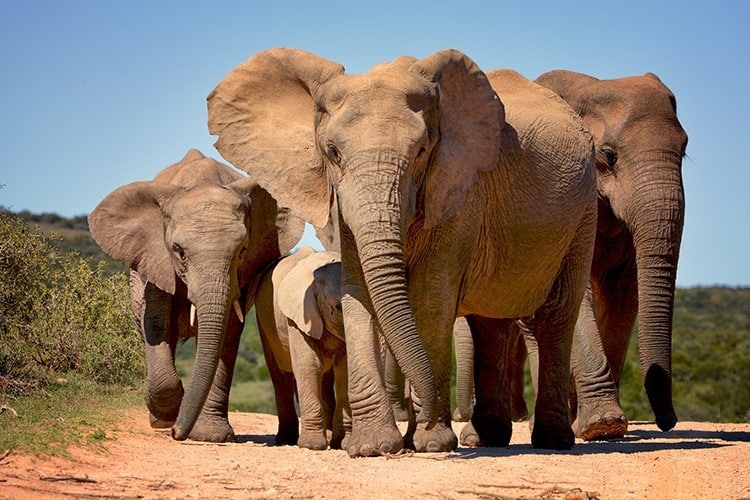 Taking your kids to see elephants is such a magical experience because they have such strong family values. It's a meaningful experience to watch these herds interact and see how they look after one another – it's something all families can strive to do.
What to do in Addo with kids:
Go on an exhilarating hike up the Zuurberg Mountains. Check out the birdlife by taking a quiet 20 minutes in the Red Bishop Bird Hide.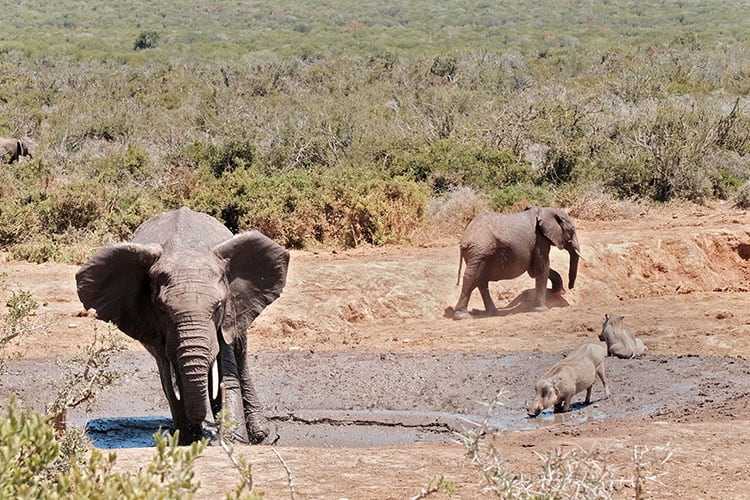 Our family had tons of fun playing Addo's animal sightseeing game while on a self-drive safari tour. Be careful though, things can get heated when you're spotting animals for points!
Where to stay in Addo National Park:
When traveling with kids in South Africa, you'll want to stay in a malaria-free area. River Bend Lodge meets that condition and also provides space and all the great-to-have facilities you could need.
The lodge even has a games room and kids' club so your young ones will be entertained.
Check out the current prices for the River Bend Lodge here!
---
4. Cape Town With Kids
You'll never have to wonder: what is there to do in Cape Town for kids? Cape Town has a great number of child-friendly attractions and places to visit.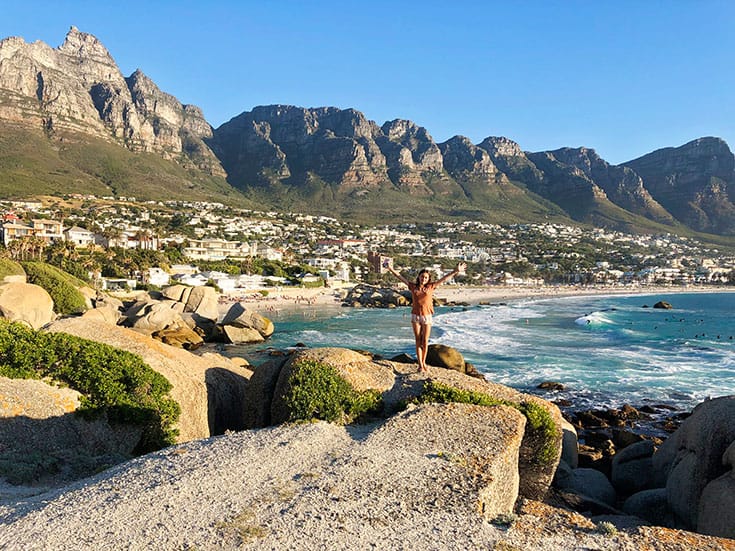 From marine life and watersports to Ferris wheels and wine farms, your family will have the time of their life. The greatest part is that it's a place both parents and kids enjoy.
What to do in Cape Town with kids:
The stunning white sand of Camps Bay is a must-visit for the family. Dip your toes in the water and check out the lively beachfront strip.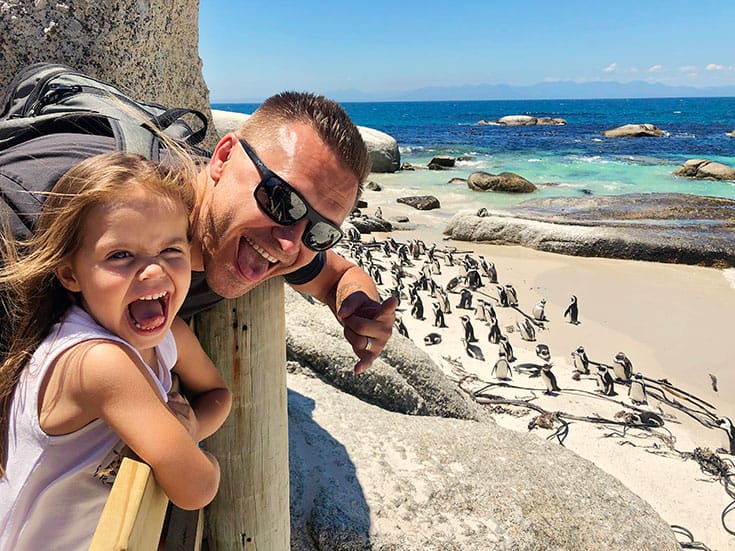 Cape Town also has some incredible markets (which are free to enter). Some of these have kids' play areas. You can also cycle along the Sea Point Promenade and breathe in the fresh sea air.
Check out our Ultimate 4-day Cape Town Itinerary here!
Where to stay in Cape Town with kids:
For uninterrupted views of Table Mountain, the famous Robben Island, and the Atlantic ocean, the Bliss Boutique Hotel is a wonderful option.
It's nine miles from the city center and close to Cape Town International Airport. Your family can also take part in windsurfing, golfing, and hiking nearby.
Check out the current prices for the Bliss Boutique Hotel here!
---
Best Time To Visit South Africa
South Africa is a great destination to visit at any time of the year. But, if you have some preferred activities in mind, these might be better suited to a specific time of year.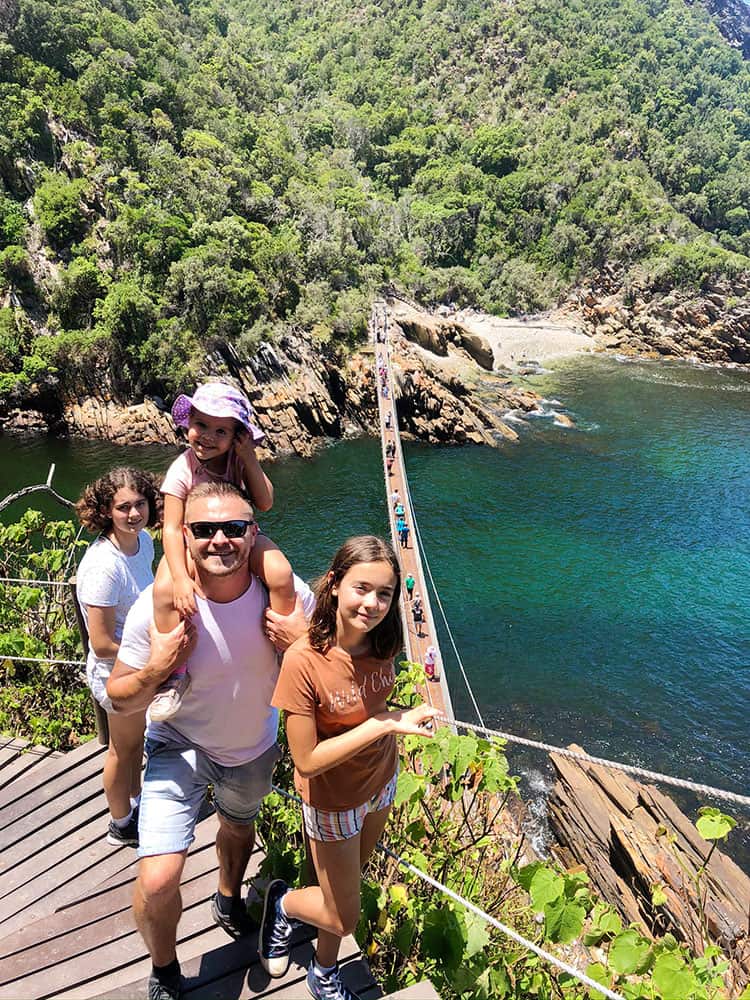 For instance, if you're looking at getting the most of the sun and splashing around in the ocean with your kids, then summer will be your best bet.
Although be careful, the African sun is very harsh so take sunscreen and long sleeves to protect yourselves.
Keep in mind that summer is the peak season for tourism, especially in the national parks. It falls between December and March. Accommodation and other things will be more expensive at this time.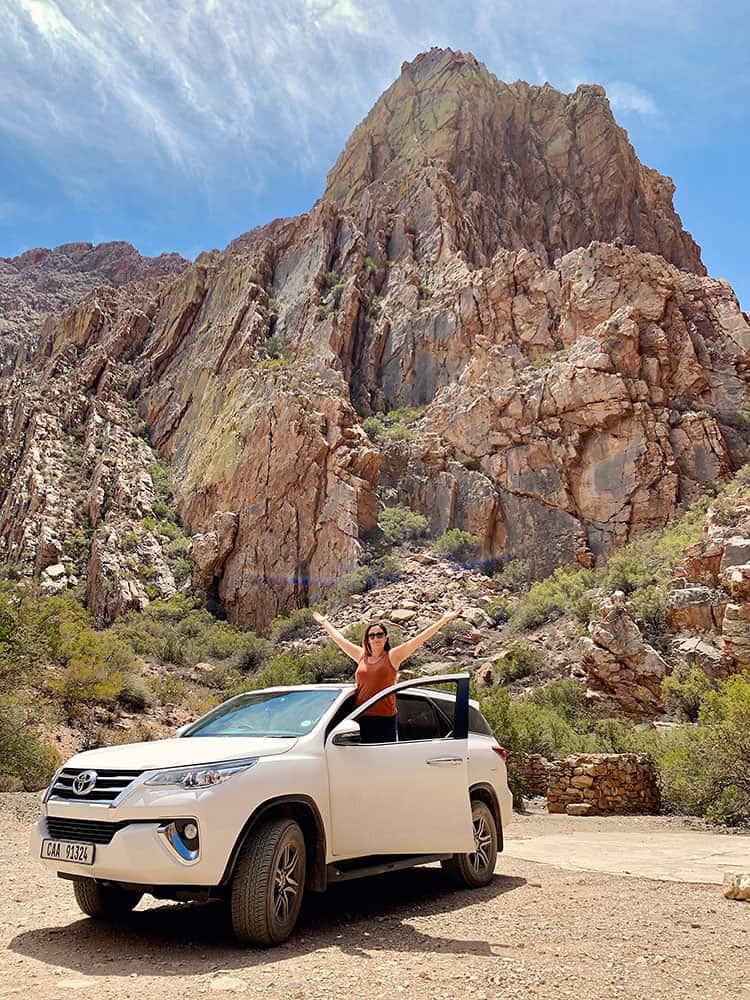 If your family is leaning more towards safaris than beaches, then May to September would be a better time to plan your trip. This is the dry season when animals are more likely to crowd around the waterholes.
This makes for some excellent game viewing. If you plan your trip for June or July, pack some warmer clothing as these are South Africa's coldest months.
Tip: Check out how to get a South African visa here.
---
Enjoy Your Family Vacation In South Africa
There are plenty of family-friendly places to visit and things to do in sunny South Africa. You and your kids will have a blast in this lively and diverse country.
Whether it's sandy beaches (in Cape Town, the Dolphin Coast, or beaches such as Uvongo and Margate on the Hibiscus Coast), mountain hikes, or wildlife spotting that takes your fancy.
Grabbing a rental car makes traveling to South Africa with kids surprisingly easy.
All you need to do is pick a few fun activities from our travel guide to make your trip a hit.
Wondering how to get to South Africa? Check out our handy guide on the safest airlines in Africa.
And if you are traveling to see Victoria Falls, make sure to check out our blog post on when to visit South Afica and Victoria Falls here.