Located along the coast in northwest Sicily, Trapani is a gem worth visiting. This lively port town is steeped in visible history and Sicilian culture.
This town might not be one of the most beautiful towns in Southern Italy but it sure is a brilliant central point to base yourself on for some of the best day trips in Sicily!
If you are planning a trip to Sicily, Trapani should definitely make it onto your itinerary. From here you can enjoy a visit to the sparkling Sicilian coastline, see salt flats, visit Erice and so much more!
Here is our guide on the top 10 things to do in Trapani, Italy.
Top Things to do in Trapani, Sicily
If you are planning a trip to Italy, then be sure not to miss out on Trapani. Wondering what to do here? Check out these top attractions around Trapani Sicilia. We also included some of our favorite day trip suggestions!
1. Explore Trapani Old Town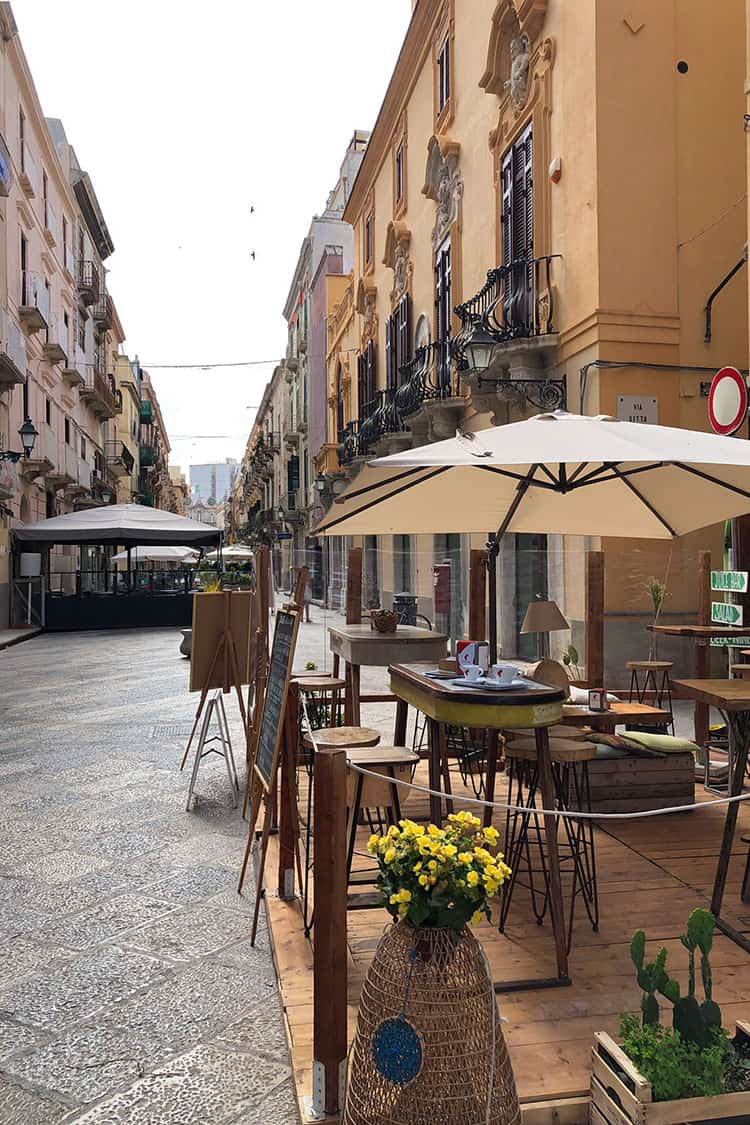 Trapani Old Town sits gloriously alongside the blue Sicilian coast. Wandering through the ancient alleys and winding streets of this town is such a pleasure. You will get to soak up the unique architecture, and pass all kinds of charming little shops and cafes.
While walking through the old town, be sure to pop into the impressive cathedral. This is one of the most stunning buildings in the town.
Whilst there isn't much more to Trapani than the Old Town, we love basing ourselves in Trapani because you can enjoy some spectacular day trips from here.
2. Head up to Erice via the Cable Cars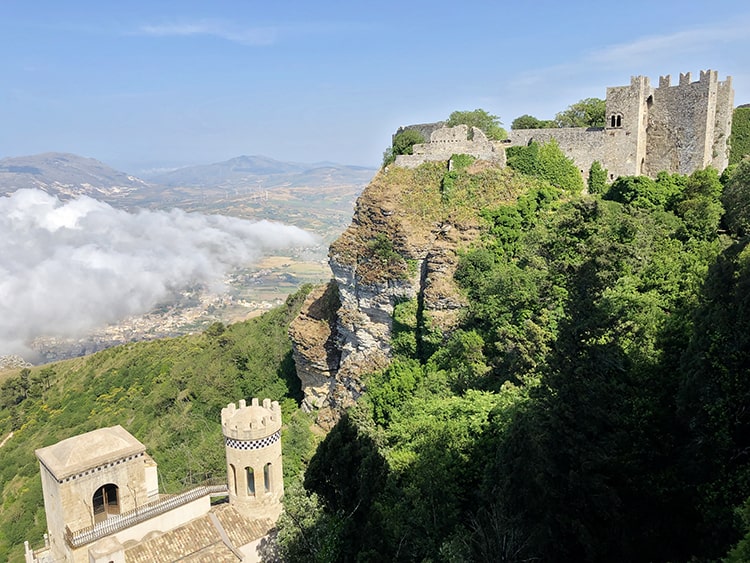 Erice is one of the most stunning villages in the province of Trapani. Set on top of a hill, Erice offers breathtaking panoramic views over the surrounding landscape.
This is a historic destination, loaded with ancient architecture and many beautiful old churches. Venus Castle is the most recognizable building in Erice.
To get to Erice, you can take the cable car up from the outskirts of Trapani. This offers incredible sweeping views as you head up to the town. There is also the option to travel between Erice and Trapani by bus if the weather is not up to standard.
3. Bicycle Around the Salt Flats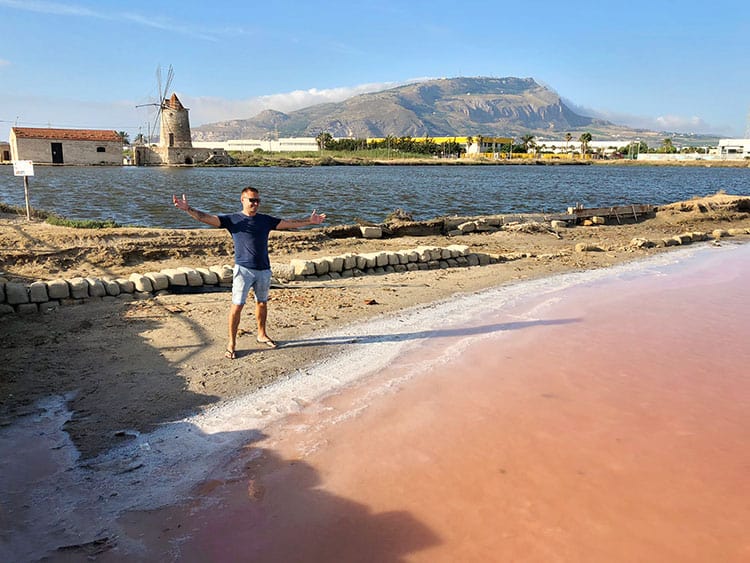 The Trapani salt flats are giant fields in front of the town gates. Salt production in Trapani dates back to the 15th century – being the town's main industry for centuries.
The Trapani salt fields and iconic windmills are a spectacular sight to behold. We would suggest renting a bicycle from the museum and cycling around these peaceful flats. This offers some amazing photo opportunities.
4. Visit Favignana & Levanzo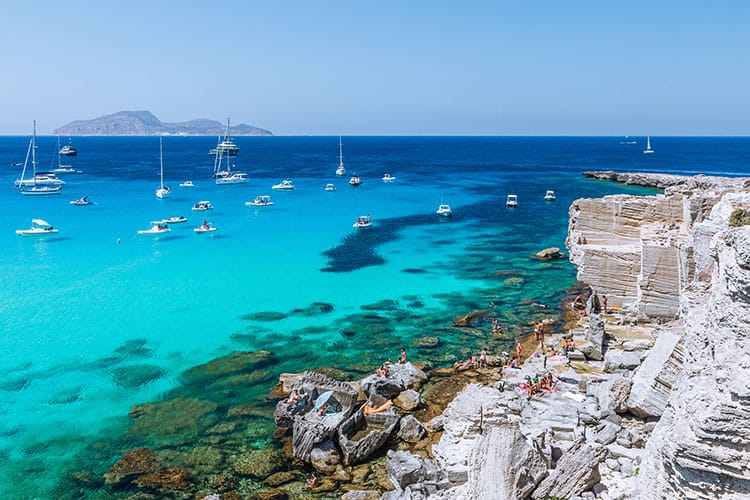 There is a group of three Aegadian Islands floating in the Mediterranean sea just west of Sicily. Favignana and Levanzo are two of these islands, and they are well worth visiting.
With sparkling turquoise waters, white beaches, and rocky shores, these islands are truly magnificent. You can explore the old port towns here – offering a unique insight into Sicilian island life.
Favignana and Levanzo can be reached by ferry from Trapani port. For a faster option, you could also catch a hydrofoil speedboat.
Click here to book this wonderful boat tour to these islands for a great guided experience.
---
5. See Greek Ruins at Segesta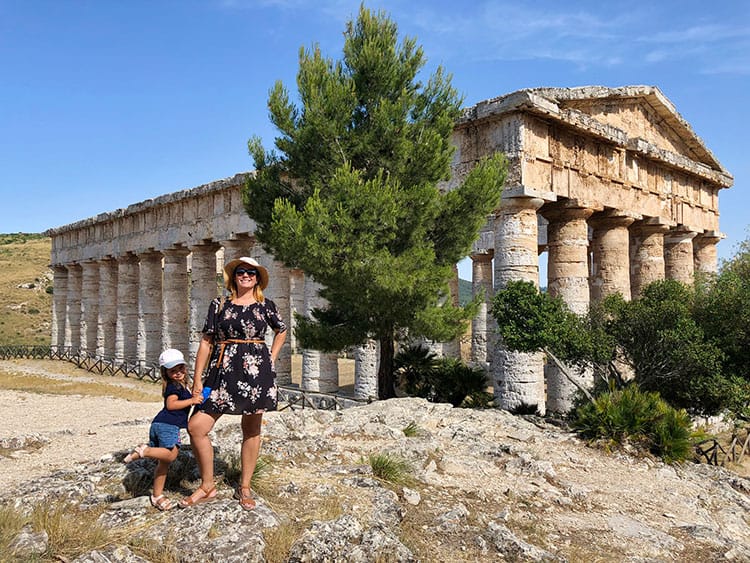 Visiting the ancient Greek ruins at Segesta is a must-do in Sicily. Segesta is found on top of a Monte Barbaro in the Trapani province.
These ruins include an incredibly well-preserved Doric temple – which is the main attraction here.
The ruins are believed to have been built in the 420s BC. This is a truly fantastic site for history lovers.
Grab your Archeological Park entry tickets online here.
---
6. Spend a Day on the Beach at San Vito Lo Capo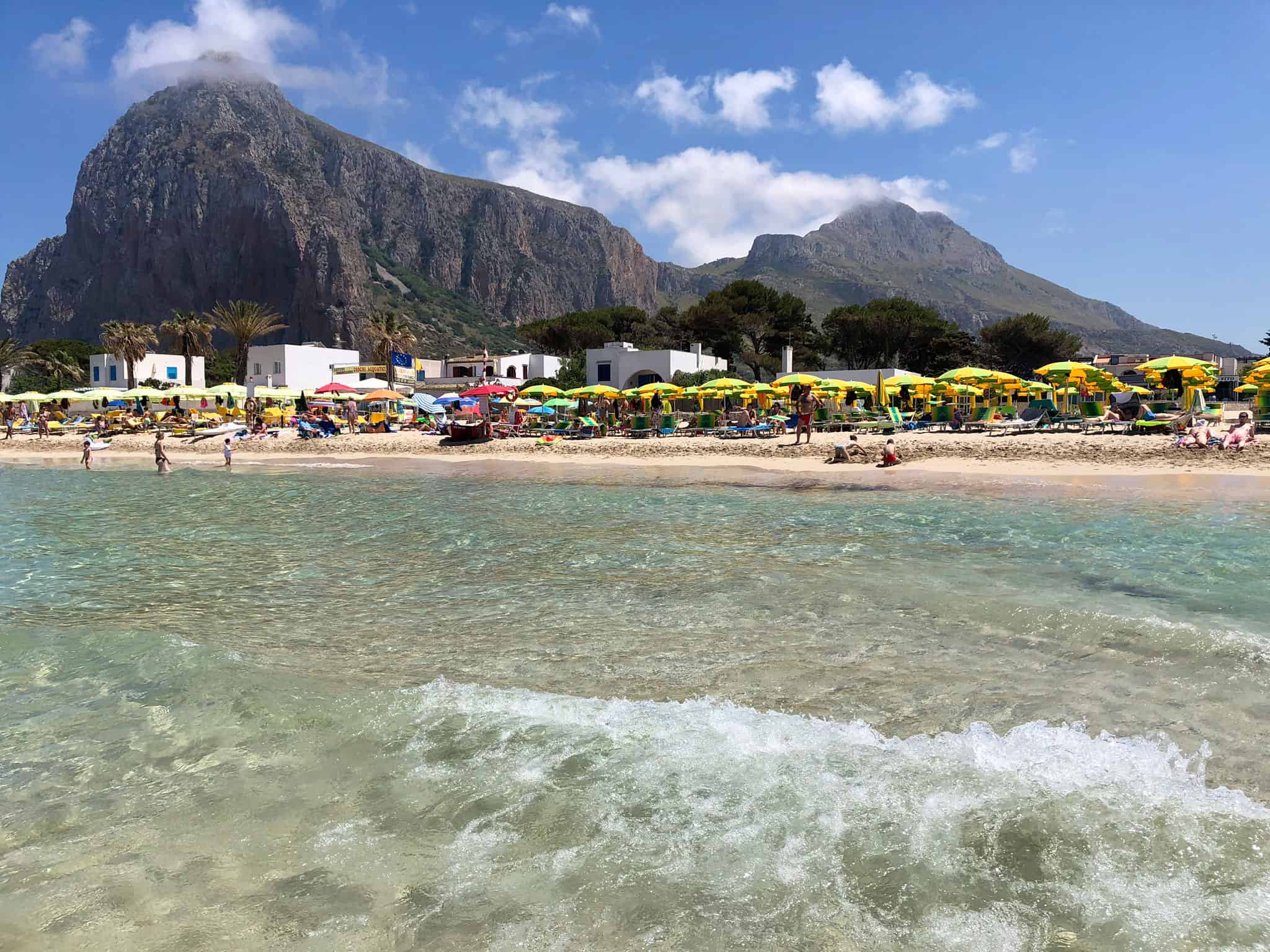 Looking for the best Trapani beach?
Head to the seaside town of San Vito Lo Capo for the ideal beach day. This little town features a spectacular long white sandy beach. With calm, clear waters and plenty of space – this is the ultimate Italian beach destination.
You could spend an enjoyable day soaking up the sun, sea, and sand in this pretty Sicilian destination. You can easily rent some beach chairs and umbrellas here.
Be aware though that this beach can get crazy during the high season, so best to turn up early to secure a spot!
7. Explore Castellammare del Golfo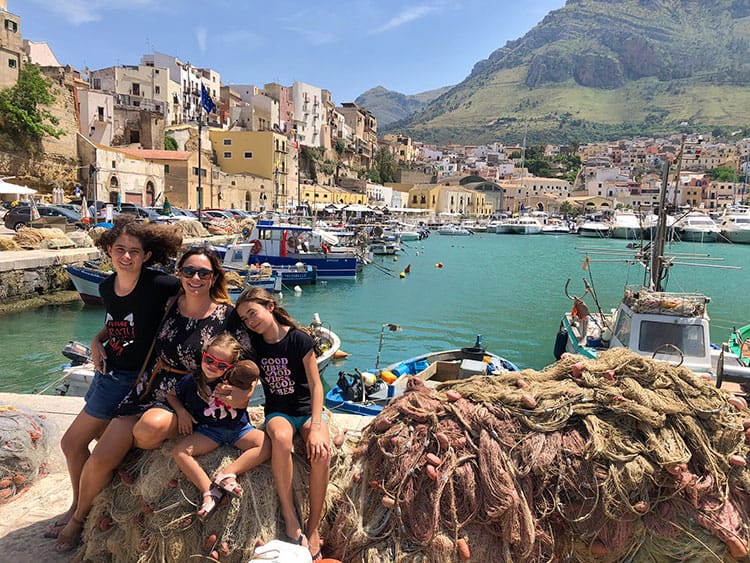 Castellammare del Golfo is one of the most picture-perfect towns in the Trapani province. Spending some time exploring the harbor where you can get the most impressive views.
Visit one of the lovely trattorias or cafes here, and admire magnificent views over the Mediterranean coast.
8. Visit the Famous Beach at Scopello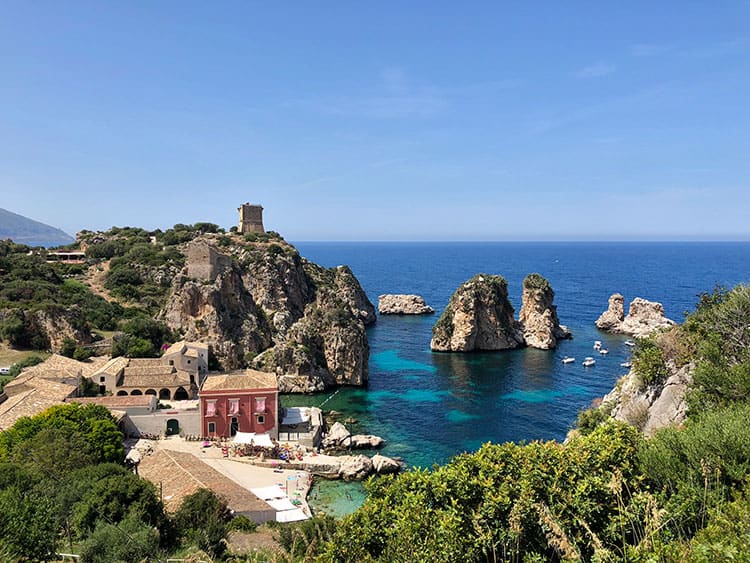 Another beautiful coastal village near Castellammare del Golfo is Scopello. With a few wonderful old buildings placed around the dramatic rocky landscape, this is a worthy destination to visit. The main drawcard here, though, is the picturesque beach.
This really is one of the best beaches in Italy. With warm clear water, stunning rocky scenery, and some pretty old buildings alongside the coast, Scopello beach is well worth paying a visit.
Tips:
There is an entrance fee if you wish to visit. They also take limited numbers due to their small beach so best to turn up earlier rather than later.
If you wish to skip the fee, you can also grab a FREE view from the top over the beach (as seen in my photo above).
The beach is not ideal for younger kids, but there are plenty of sandy beaches for the little ones in the area.
---
9. See Greek Ruins at Selinunte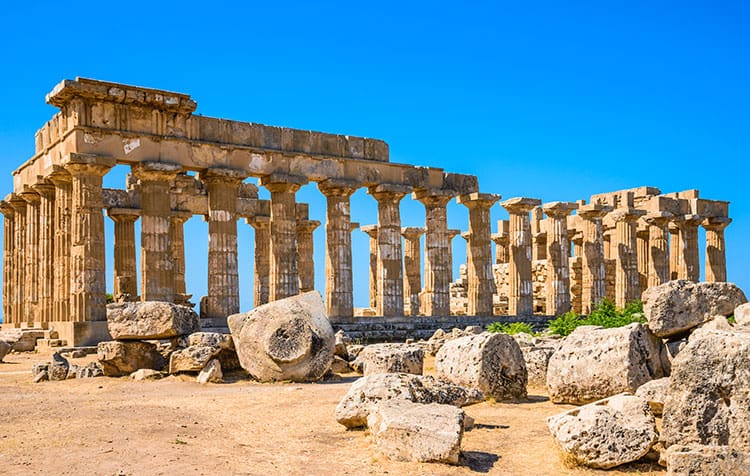 Located along Sicily's southwestern coast, Selinunte was another ancient Greek city in the area.
You can visit the archaeological park here to explore the temples, acropolis, and agora which date back thousands of years.
These ruins are fairly well-preserved and as good as any that you would see in Greece.
Purchase your archeological park entry tickets online here.
---
10. Day Trip to Sciacca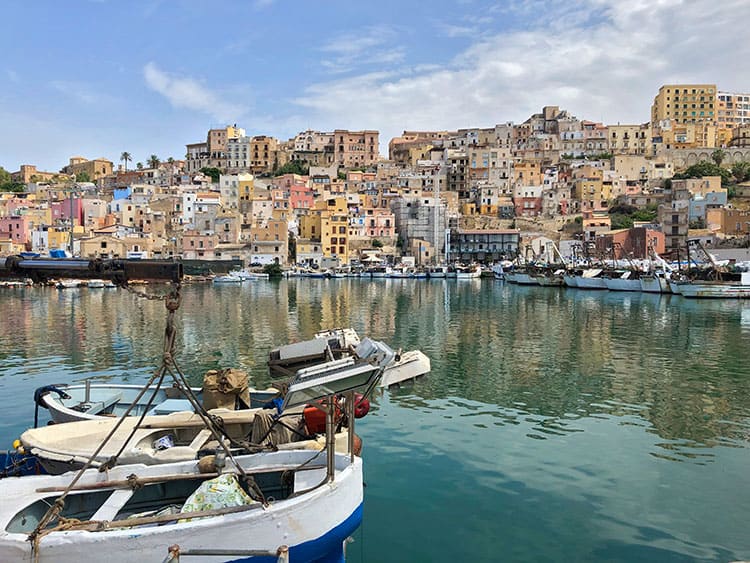 Sciacca is a historic fishing port on Sicily's southern coast. If you are staying in Trapani and have a few days to spare, you can take a day trip to this town.
Whilst it isn't our favorite Sicilian town, it does offer some interesting sights. While here, you can visit the Enchanted Castle, the Porta Palermo, the Museo del Giocattolo, or pop into the many little cafes.
Final Thoughts on Trapani, Italy
Trapani is the perfect base from which to enjoy a Sicily trip. While the town of Trapani is an amazing destination in itself, there are all kinds of other brilliant places to visit in the surrounding province.
From beautiful Trapani beaches to historic buildings, ancient ruins, and delicious food – this is an area of Sicily that should definitely be seen! When visiting Italy, we hope that you get to add some of these destinations to your trip.