Shinjuku! By far our favourite district in Tokyo! Why? Because this is where you will find the madness of Shinjuku night neon lights. You will find hidden alleys of bars and restaurants. You will find an incredible buzz of people. Which is no wonder seeing as Shinjuku houses the busiest railway station in the world!!! Yep!
In our Shinjuku travel guide we share with you the best things to do in Shinjuku as well as the top places to see in Shinjuku. We let you in on the secret of the best Shinjuku restaurants and we give you a handy list of hotels in Shinjuku; because after all, in our opinion, this is the district that you should choose to book your hotel in!
Shinjuku interesting places to see
​
Tokyo stretches much further than your eyes can see! The city is immense and you will need at least 3 days here to get a small feel of what this city has to offer!! To make it easier to plan your days, we have decided to create a series of posts on Tokyo attractions, accommodation and day trips.
1. What to do in the Shibuya District
2. What to do in the Shinjuku District
3. What to do in the Asakusa District
4. Day trip from Tokyo to Nikko (Coming Soon!)
5. Best places to stay in Tokyo (Coming Soon!)
---
The Top Things to do in Shinjuku Japan
| Our Favourite District in Tokyo, Japan! |
Below you will find our list of our personal favourite Shinjuku points of interest. Let's face it, each district in Tokyo is large enough to be a 'city', so it is easy to get lost. Make sure you have working WiFi so that you can manoeuvre around to the Shinjuku attractions more easily, trust me, a paper Shinjuku map won't help you here!
-
________________________
Did you Know:
You can actually pre-buy a 4G SIM card to use in Japan? So easy, you arrive at the airport and you can simply collect it at Narita Airport (Tokyo), Kansai Airport (Osaka) or Namba Station (Osaka). No more getting lost trying to find the right store that sells travel SIMS! Only US $24 for an 8 day 3G SIM or US $39 for an 8 day 4G SIM!
________________________
-
1. Kabukichō
The Entertainment and Red Light District of Tokyo!
Kabukicho in Shinjuku Tokyo
Shinjuku Kabukichō is one of the more popular of the red light districts in Tokyo! It happens to be the location of many love hotels, host and hostess clubs, restaurants, theme clubs and nightclubs. The streets in this area truly come alive at night and is often called the "Sleepless Town" as a result.
Whilst Kabukichō is an entertainment and red light district, due to the discretion in the clubs and hotels, we were comfortable enough to visit the street in the early evening with our kids in hand! They loved staring at all the brightly coloured lights of Shinjuku at night surrounding them. We had dinner at one of the tiny restaurants in the area, before leaving to head back to the hotel.
Night Scene in Tokyo Shinjuku District
​
If you are wondering what to do in Shinjuku at night, then this is it! The lights, the atmosphere, the buzz was simply incredible to see!
​
2. Omoide Yokocho (Piss Alley)
For an Atmospheric Collection of Teeny Tiny Bars & Restaurants!
I think this must be one of the more unique things of what to do in Shinjuku and definitely our recommendation of one of the top things to do in Shinjuku at night (although I think it would be loads more fun without kids here).
Piss Alley can be found on the West side of Shinjuku station. It is a pretty tiny little alley that is lined with the smallest bars and restaurants that you have ever seen! I think ultimately though the little eateries are only there as means to keep up the healthy drinking habit in the little bars! haha!
Our favourite of the Shinjuku points of interest!
​
If you love the idea of scouting out all the super cool Tokyo alleyways, we highly recommend you check out this comprehensive guide.
​
3. Government Building for Views
Free City Views!
Top free Shinjuku things to do activity
​
I don't think that many tourists are aware that you can get a free panoramic view over Tokyo from the Tokyo Metropolitan Government Office. The building is located 10 minutes from Shinjuku station by foot. From the top you get to enjoy views over many famous Tokyo landmarks, such as the Tokyo Tower. There is also a souvenir shop as well as a restaurant on the top floor level!
If you feel like you would prefer to have someone guide you from the station to the government building, you can hire a local guide for only US $12. See more info here.
Alternatively, you might want to get a birds eye view from a helicopter. It will be a 15 min ride that you will never forget, what an unforgettable experience! Get more info on the helicopter tour here.
​
4. Shinjuku Gyoen National Garden
One of Tokyo's Most Beautiful Parks
Shinjuku sightseeing to see one of the most beautiful parks.
​
Wondering what to see in Shinjuku Tokyo that is a bit more calm and natural? The Shinjuku Gyoen National Garden must be one of the more beautiful of the Shinjuku sights to see. This park is a very popular park in Tokyo, which is located close to the Shinjuku Station.
The park features a Japanese Garden, an English Garden and a French Garden. It is a great place to view the Cherry Blossom trees whilst in bloom too! If you are after an escape from the busy city vibe, then this is a great place to go and catch a breather!
​
5. Shinjuku Golden Gai
More than 270 Tiny Drinking Dens in Narrow Little Alleys!
Photo Source:
Flickr
by Big Ben in Japan
​
Located in Shinjuku's Kabukicho you will find a collection of narrow streets that are filled to the brim with unique little bar dens!
Not only can you enjoy a night of bar hopping but you can also enjoy different bar environments. Some are all about hard rock whilst others are more refined and offer cocktails. Be aware thought that some of these bars will charge you a pretty steep cover fee. Definitely a great night out!
​
6. Shinjuku Robot Restaurant
The Most Bizarre Show Ever!
Photo Source:
Flickr
by FRESHCOLD
Witness the multi-colored laser lights, flashy dancers, and extravagant robots putting on a show at one of Tokyo's famous themed dining spots. I think this must be the most famous of the attractions in Shinjuku, I know you have all heard about this crazy show right!? If you are after interesting places in Shinjuku to check out .... well it doesn't come much more interesting than this!
Cost: US $73 (Important to Pre-Book this one as it fill up super fast!)
BOOK TICKETS FOR THE WEIRDEST SHOW YOU WILL EVER SEE
​
7. Shinjuku Shopping
Shopping in Shinjuku is a pretty big thing! You will quickly notice that almost everyone looks pretty fashionable. For some, entertainment involves heading to the Shinjuku shopping street for a little social shopping of clothing and accessories!
A typical Shinjuku department store has multiple levels of various Shinjuku shops. The most popular of these include Isetan, Takashimaya and Odakyu.
If you prefer to enjoy some Shinjuku cheap shopping, then we suggest you head in to one of the 100 yen shops! The daiso Shinjuku shops are pretty small, but if you are after cheap shopping in Shinjuku then you will enjoy the experience! You can find a list of the best 100 shops in Tokyo here.
---
Cherry Blossom Season in Shinjuku
Cherry Blossom Season tends to be End-March till Mid-April in Tokyo. Timing Varies on the Weather so Best to Check the Cherry Blossom Forecast.
During Sakura you can see some beautiful Cherry Blossom trees in bloom in the Shinjuku area. We happened to come across these trees by chance, so if you are hoping to see some Cherry Blossom trees in bloom. We highly recommend you join a tour so that a local guide can take you around to the best parks and gardens where you can enjoy the wonderful view of the blossoming cherries. Check out prices and more info on this tour here.
Cherry Blossoms just outside the Japan Shinjuku Train Station
---
Best Restaurants in Shinjuku
If you are a lover of Japanese food, then you are probably looking for a list of the best places to eat in Shinjuku. There are plenty of good restaurants in Shinjuku, but if you are after the best of the best then we would like to warn you that you might have to expect waiting queues at the entrance.
Some of our favourite restaurants in Shinjuku include:
Fu-unji

for a delicious bowl of ramen (the hot favourite is tokusei tsukemen)

Mentsu-dan

for freshly made udon noodles

Kyubey

for more traditional, high quality sushi

Hajimeya

for yummy yakitori (if you are brave try the toriwasa, raw chicken on the inside with a toasty grill on the outside)

Nakajima

for cheap but impressive 1 star Michelin dining
---
Popular Shinjuku Tour Options:
Here is a list of the most popular tours in and around Shinjuku.
Kabukicho and Shinjuku Golden Gai Night Tour
Go and check out what Tokyo night life is like for local people. Visit Kabukicho, Shinjuku Golden Gai and eat some Japanese local food for dinner.
CLICK HERE TO CHECK PRICES AND INFO
---
Customize and Enjoy a Private Half-day Tour in Tokyo!
Have some fun and create your own half-day tour! You can either choose their Custom Shinjuku tour which includes Shinjuku Gyoen, Southern Terrace, Shinjuku Office District (skyscraper buildings) and Shinjuku Tocho Observation Deck or you can simply tell them which places you would like to see and their professional tour organizer will arrange the itinerary for you!
CLICK HERE TO CHECK PRICES AND INFO
---
Shinjuku Great Photo Spots Walking Tour in Kabukicho
This is a 4-hour walking tour around the highlights of Shinjuku and Kabukicho area with an English-speaking guide. Check out some fabulous photo spots and enjoy an Izakaya (Japanese style pub) with a light meal and one drink.
Best Hotels in Shinjuku
Below you can find a list of the top 5 best places to stay in Shinjuku! Shinjuku is our preferred district in which to base ourselves. Below you can find selections of a choice hotel near Shinjuku Station, a hotel near Takashimaya Shinjuku as well as other conveniently located hotels.
---
Hotel Gracery Shinjuku
One of the newest hotels in the Shinjuku district, this hotel only opened up a few years ago. Hotel Gracery Shinjuku is located right smack bang in the Kabukicho area of Shinjuku. This top rated hotel has everything in close proximity, restaurants, entertainments, small hidden alleys to explore and more! The rooms are small (typically Japanese sized), but they are elegant and comfy. You will love your stay here.
Cost of Rooms: Rooms start from around US $145 p/n
Perfect For: Single, Couple & Small Family Stays
You Will Love: The perfect location right inside the popular Kabukicho area.
Location: This hotel is located in the Kabukicho area of Shinjuku. It is only a 5-minute walk from JR Shinjuku Station's east exit and only a 3-minute walk from Seibu Shinjuku.
---
Shinjuku Granbell Hotel
Shinjuku Granbell Hotel is a perfect choice for your Tokyo stay! This hotel not only comes with an incredibly affordable price tag, but it also offers modern rooms. Expect the cheaper rooms to be pretty small in size (which is typical for Japan's hotel rooms), but there are some beautiful rooms that are spacious for those that have a few extra dollars to spend. Overall an excellent hotel situated in a brilliant spot!
Cost of Rooms: Rooms start from around US $135 p/n
Perfect For: Single & Couple Stays
You Will Love: The Panoramic views from the rooftop bar!
Location: This hotel is located in the heart of the popular Kabukicho area. Higashi-shinjuku Subway Station is just a 4-minute walk away, while JR Shinjuku Station East Exit is a 15-minute walk from the hotel.
---
Shinjuku Prince Hotel
The Best Place to Stay in Shinjuku
The Shinjuku Prince Hotel is not only a top Shinjuku hotel but it also happens to be one of the best selling 4 star hotels in all of Tokyo. It is the perfect choice for single, couple or small family travelers. Prices are very competitive and you will appreciate the friendly English speaking staff!
Cost of Rooms: Rooms start from around US $200 p/n
Perfect For: Single, Couple & Small Family Stays
You Will Love: The Panoramic views from the restaurant as well as the brilliant location.
Location: This hotel is situated right next to the lively Kabukicho area. It is also one of the best Shinjuku hotels near JR station (only 400m away). The Isetan Department Store and Shinjuku Gyoen Garden is easily accessed from this hotel as well.
---
Shinjuku Sunroute Plaza
The Shinjuku Sunroute Plaza Hotel is a top choice for those who are after hotels around Shinjuku Station. From this hotel you can easily access all the areas and districts in Tokyo. The hotel is very popular due to its very affordable price tag. The rooms are on the smaller size but they are clean and comfy.
Cost of Rooms: Rooms start from around US $150 p/n
You Will Love: The soundproofed rooms as well as the excellent location.
Perfect For: Single & Couple Stays
Location: If you are after a hotel near Shinjuku Station, then this is the one for you! Situated right across the street from the station and close by to Tokyo Metropolitan Government Building.
---
Shinjuku Washington Hotel
The Shinjuku Washington Hotel is one of the best 3 Star Shinjuku Hotels. If you are after a cheap hotel room, then this might just be the one for you! Do expect your room to be super compact in size. Rooms come with the basic essentials, everything else such as Wi-Fi comes at an additional cost. The room is perfect though because after all, you will be out and about exploring the city, this is simply a place to rest up before the next day of adventure!
Cost of Rooms: Rooms start from around US $100 p/n
You Will Love: The cheap-as-chips price tag!
Perfect For: Single, Couple & Small Family Stays
Location: This hotel is connected to Shinjuku Station; you can't get a hotel closer than that! The popular Kabukicho area is a 10-minute walk away.
---
How to Get Around Tokyo:
The easiest way to travel around Tokyo is to get hold of a metro pass! You will be hopping on more subways in the space of one day than you can count and the last thing you want to do is to have to queue up for one of the machines each time!
You can purchase a Metro Pass for 24, 48 or 72 hours. The pass offers unlimited access to 13 different routes and over 250 metro stops, including most of the Tokyo Metropolitan area. You can buy it today and simply pick it up at either Narita or Haneda Airports.
CHECK PRICES AND GRAB YOUR PASS HERE
---
How to get from Tokyo Airport to Tokyo City:
NRT Airport Limousine
Hop into a comfortable bus that has everything you need: from soft seats to WiFi
Cost: US $28 (One Way) or US $57 (Two Way)
---
Private Transfer from Haneda or Narita Airport
We all know that Taxi's are simply way too expensive from the airport. You can however organize this private transfer for only a fraction of the taxi cost.
Cost: US $158 (Narita) or US $89 (Haneda)
GRAB YOUR NARITA PRIVATE TRANSFER | GRAB YOUR HANEDA PRIVATE TRANSFER
Over to You:
Can you add any items to our list of 'What to see in Shinjuku'?
Would you like to visit Shinjuku?
Which attractions have you popped on you sightseeing in Shinjuku list?
Enter your text here...
–
Related Post:  10 Helpful Things to know about Tokyo by Kid Bucket List
Shinjuku travel guide with info on the best things to do in Shinjuku; the best Shinjuku restaurants and a handy list of hotels in Shinjuku.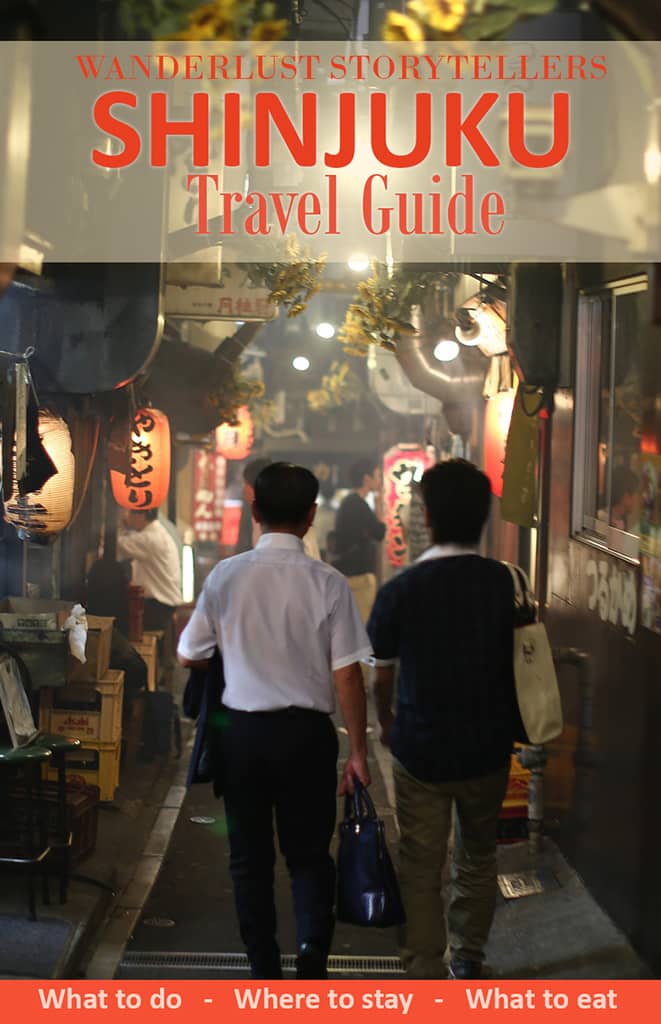 * This post contains affiliates links. Using our links costs you nothing extra but helps us stay in business. Thanks for supporting us!!