San Gimignano is a small Italian town perched on the top of a Tuscan hill, and surrounded by 13th-century walls. A visit to the quaint historical location will bring you up close to towers, incredible historic architecture, and breathtaking views.
Your options are varied when deciding what to do in San Gimignano, Italy. To help you get started, we've put together a list of our top five things to do in the ancient town.
Getting to San Gimignano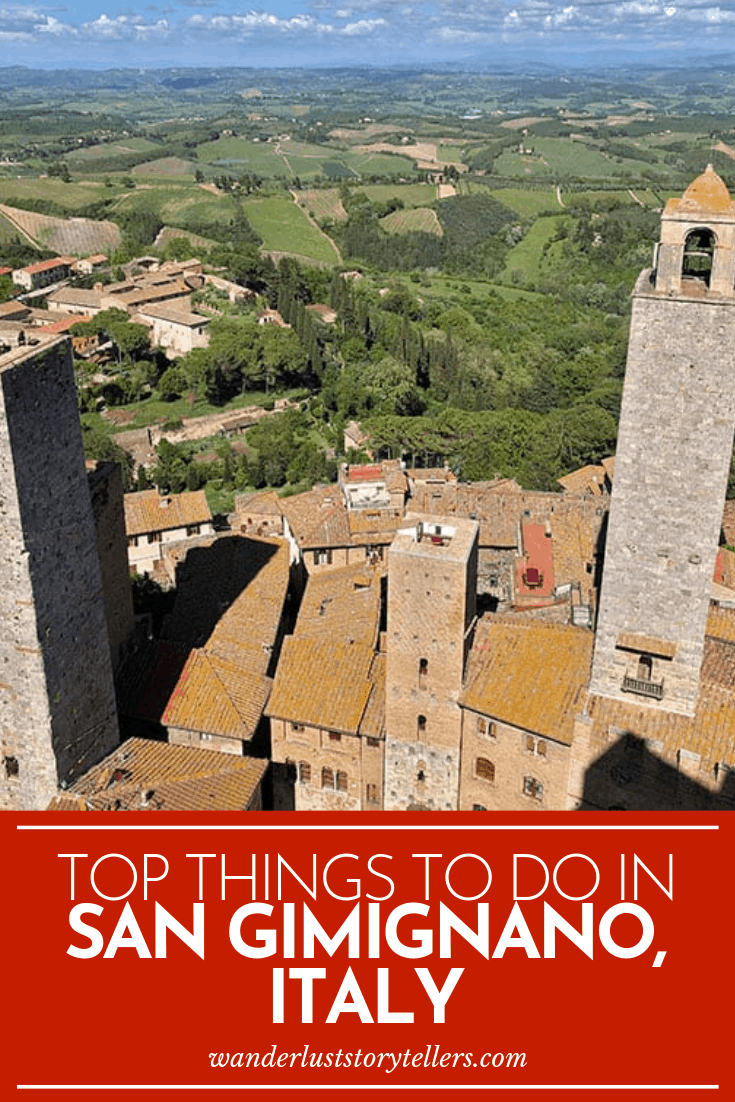 If you are planning a trip to Italy, a visit to San Gimignano should definitely be on your itinerary. If it isn't, not to worry. There are various ways to get there for a quick visit.
1. Book a Day Trip to San Gimignano
There are several efficient and reliable tours to San Gimignano from various cities across Italy. If you are nearby, you can get a great all-round trip from Siena to explore the Tuscan countryside and visit San Gimignano and Montalcino, or a full day trip from Florence.
You can book your day trip from Siena with GetYourGuide here, or the trip from Florence here!
Our favorite trip, however, is the day trip from Rome to Tuscany and San Gimignano. The tour offers travelers the perfect opportunity to discover the wine regions of Italy while exploring Italian history as they walk through cobblestone streets.
Find out more about this incredible tour package with here.
2. Rent a Car
The other option is to rent a car and drive to the beautiful village. You can easily rent a car from any major Italian city. While a car offers a little bit more flexibility, you can expect to have hassles with parking (we struggled for 30 min to find a park and then our car got major scratches whilst we were exploring) and so we would definitely recommend the tour. Besides, a tour is far more informative and social.
Find affordable car rentals in San Gimignano here.
San Gimignano: Things To Do
Once you are in the town, you can easily get swept away by the beauty and culture. I think that the best thing to do in this beautiful Tuscan town is to simply stroll around the streets. There is a reason why this is one of the most beautiful Tuscan towns in Italy.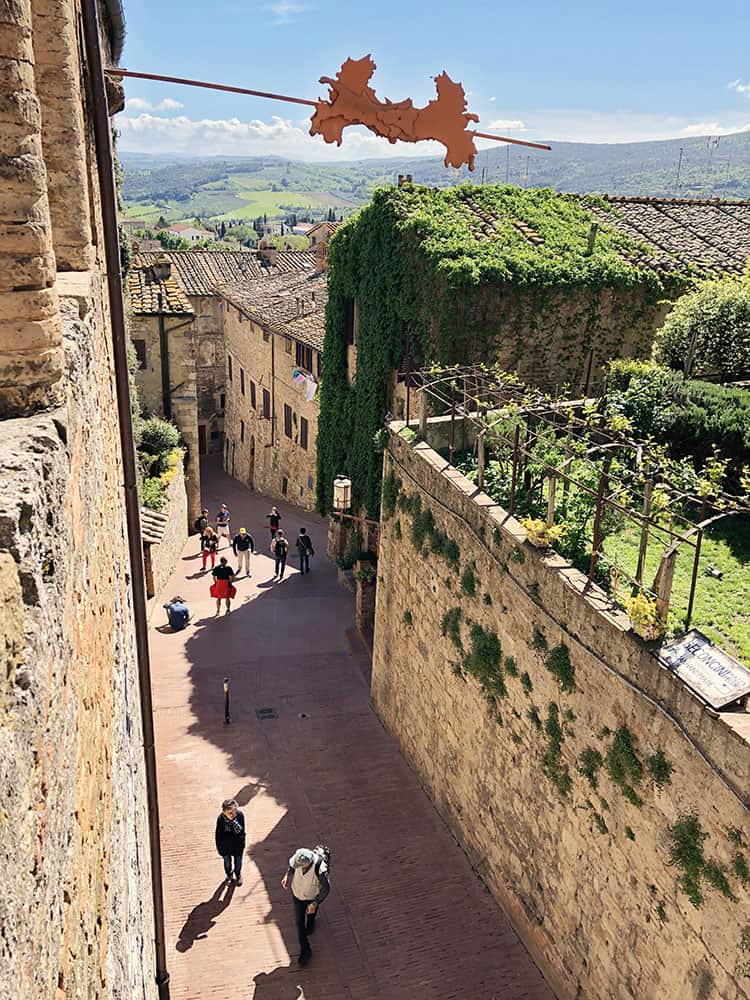 But for those of you who do enjoy a list of things to do, here are our top five things to tick off in between absorbing the views.
1. Piazza Della Cisterna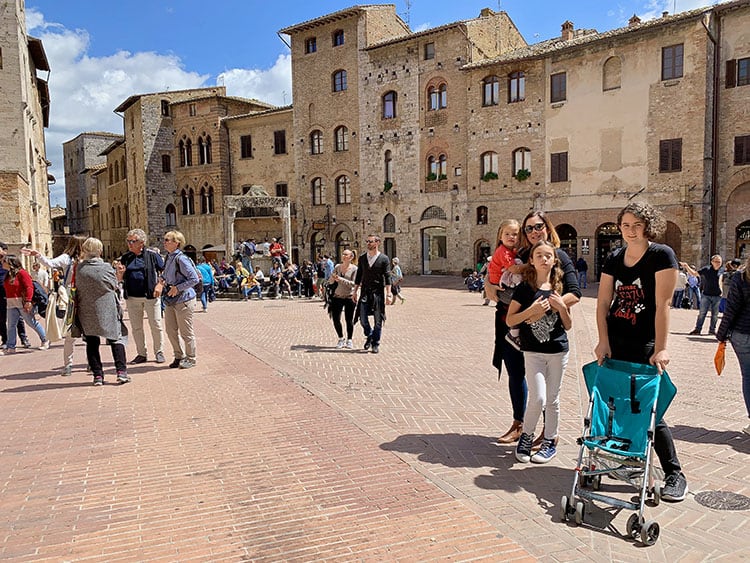 The Piazza della Cisterna is one of the main piazzas in San Gimignano. Italy is known to have many of these as bustling centers in their towns across the country. Previously used as a market and a stage for festivals and tournaments, walking through the piazza can conjure many feelings of nostalgia.
Look out for the towers in the "square" and listen out (or ask around) about the legends that surround them. The Piazza della Cisterna is triangular in shape and connected to the town's main square, Piazza del Duomo.
2. Torre Grossa for a Spectacular View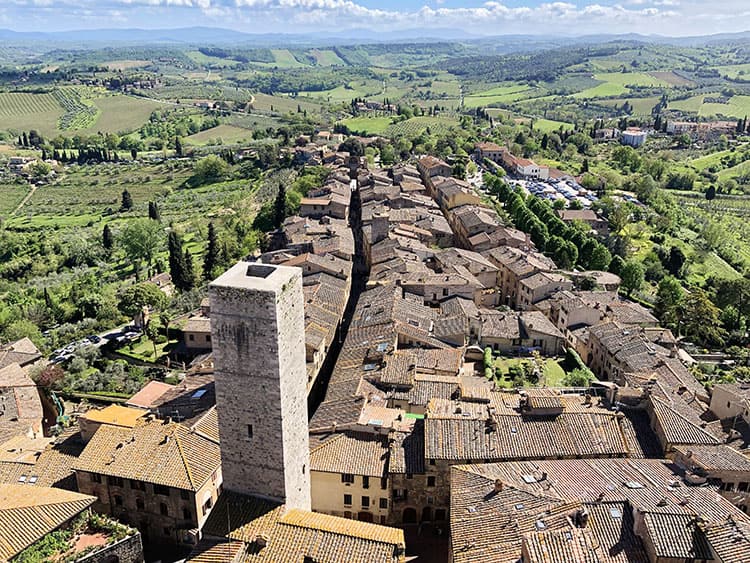 Imagine the most incredible view over the Tuscan town, and you have the top of Torre Grossa. Standing at a majestic height of 54 meters (just over 177 feet), Torre Grossa is the highest tower in San Gimignano.
As you can imagine, a view from the top of this tower is breathtakingly beautiful. One of Tuscany's prized medieval towers, Torre Grossa was built in 1310 and is visited by countless travelers every day.
Climbing the tower offers a bird's eye view of the rolling countryside and tiled roofs. Make sure that you pack your camera to capture the spectacular view – although no lens can freeze what the eye can see from the viewpoint!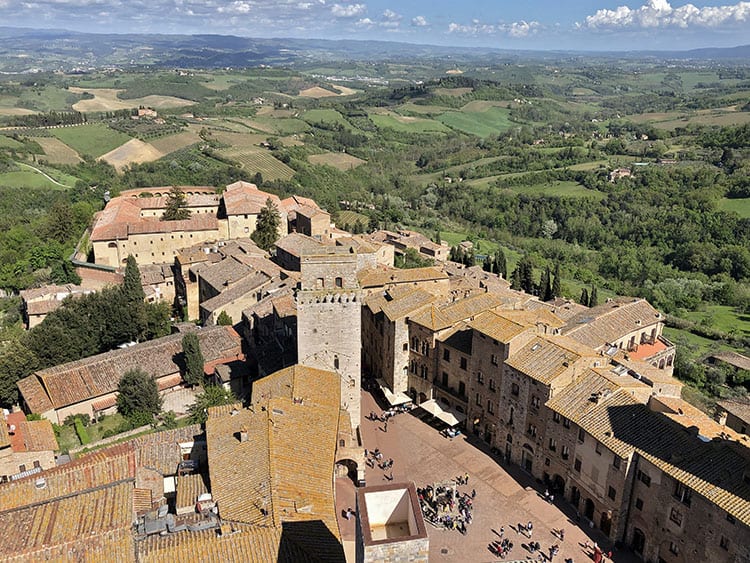 While the view is the main attraction, take your time to absorb the history as you climb the metal staircase to the viewpoint.
3. Collegiate Church of San Gimignano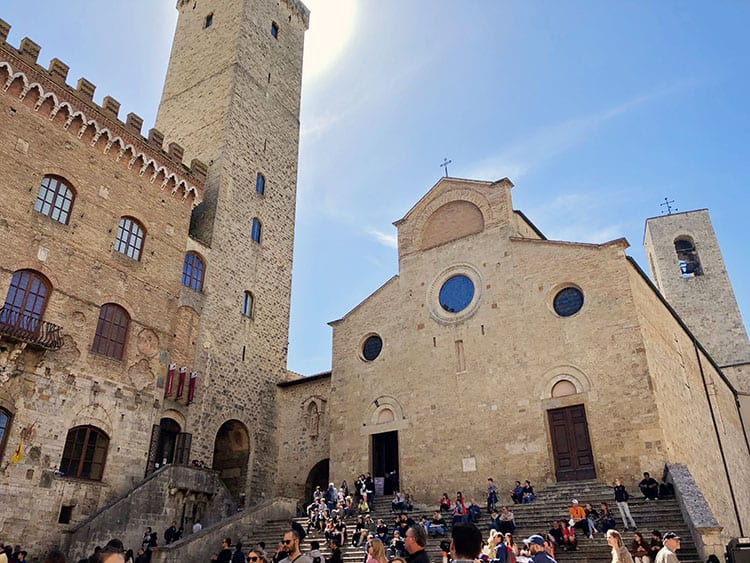 It's hard to miss the Collegiate Church of San Gimignano as it is located in the heart of the town, in the historic center of San Gimignano. While the exterior of the church is fairly humble, the interior boasts magnificent frescoes which date back as far as the 14th century.
These wall murals paint incredible images depicting biblical scenes by famous artists such as Domenico Ghirlandaio and Lippo Memmi.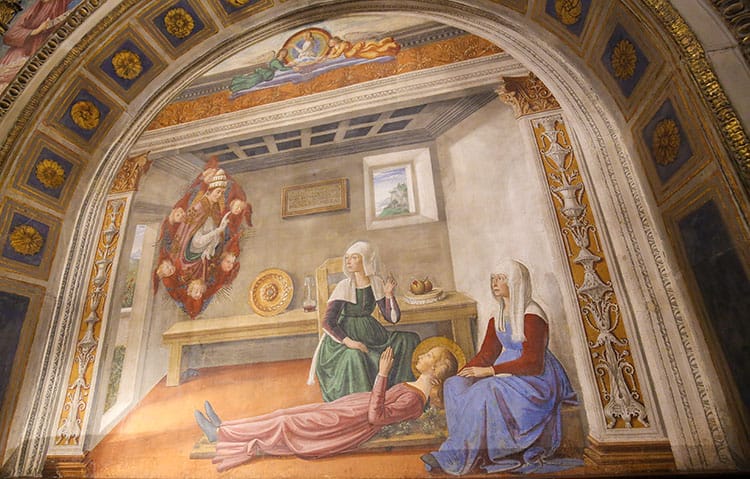 Adjoined to the church is small Museum of Sacred Arts which is also well worth a visit for anyone interested in history and culture. Much like the rest of the town, the church is steeped in history and promises a memorable and moving experience for all.
4. Piazza del Duomo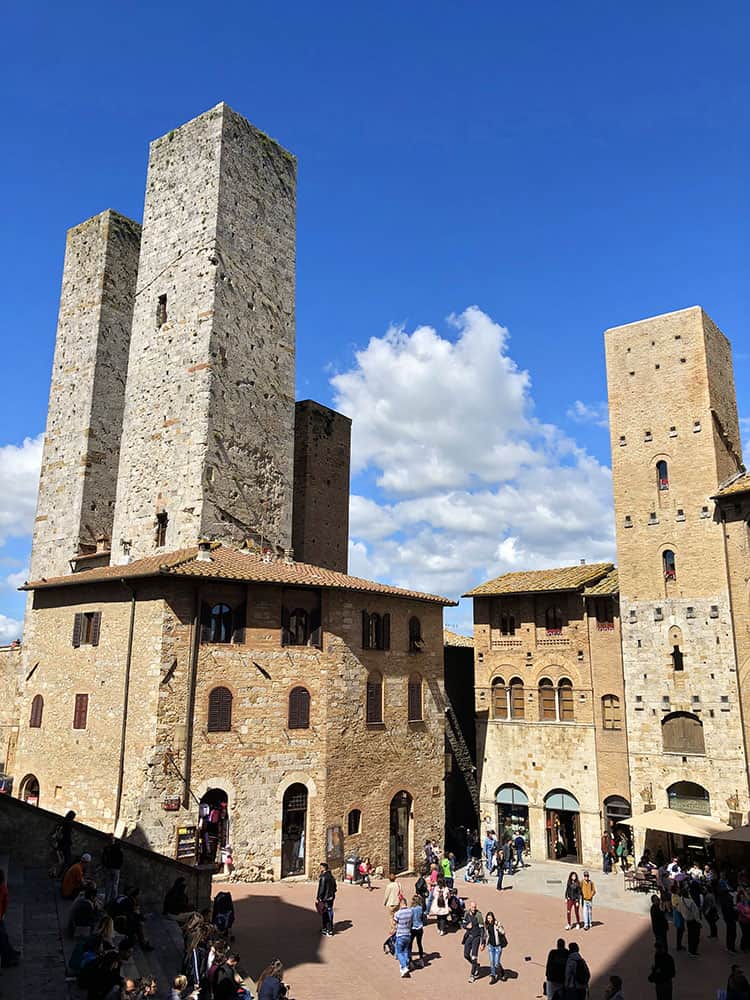 You can not visit San Gimignano without making a stop at the iconic Piazza del Duomo. Constantly bustling with activity, Piazza del Duomo is the main square in San Gimignano. It remains the center of the city, much like it was in the medieval era. The square is connected to Piazza della Cisterna, allowing you to tick off two attractions in one go!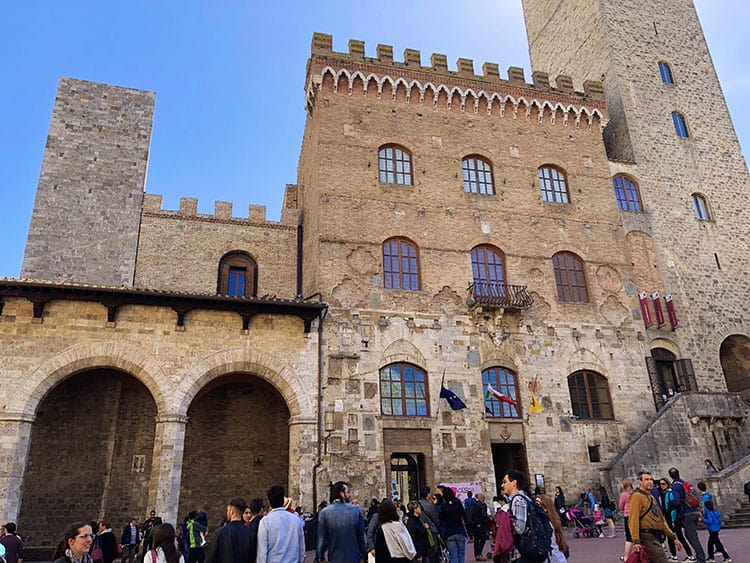 If you stand in the middle of the piazza, you will see three medieval buildings facing each other: Torri Gemelle dei Salvucci, Palazzo Nuovo del Potestà and the Loggia del Comune. The square is framed with cafes and traditional Italian ice-cream shops to give you a literal taste of the city as you take in the surroundings.
5. Museum of Torture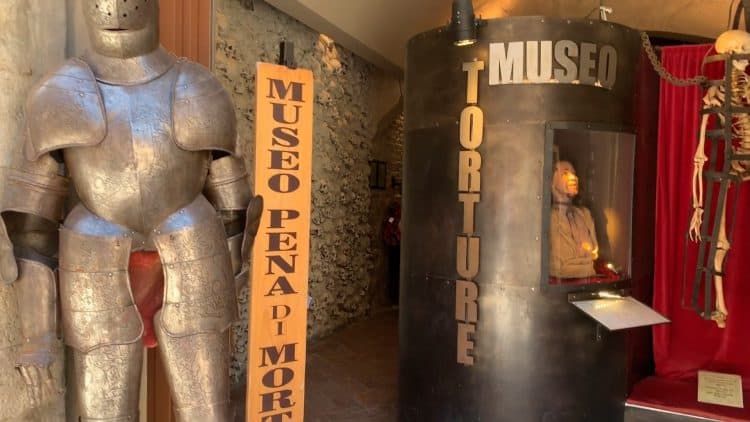 While the name doesn't conjure images of joyful moments, the Museum of Torture in San Gimignano is definitely one for the books. The exhibition is historically powerful and offers a unique experience exploring historical torture techniques and the role that they played in medieval times.
Best Lunch Stop in San Gimignano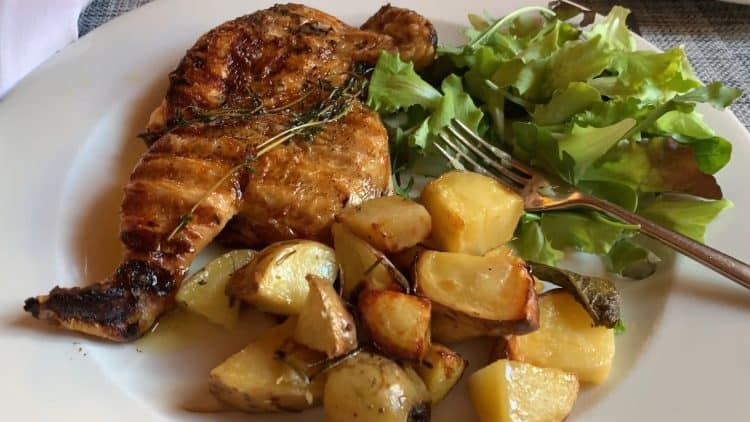 If your stomach manages to survive the museum, then you should enjoy a delicious lunch at Locanda La Mandragola which is a short walk away. By now, you should have worked up an appetite and the restaurant serves the most incredible meals. Try to get a seat on the patio for the full Tuscan experience.
Final Thoughts
San Gimignano is the picture-perfect Tuscan town that still breaths out an atmosphere of medieval times, transporting travelers way back to the time of towers, festivals, markets and yes, even torture.
So whether you are planning a family trip to Tuscany, or looking for a romantic Tuscan escape to the region, it is definitely worth adding San Gimignano to the itinerary. Easily accessible by one of our suggested tours, or even by car, a day spent in San Gimignano will leave you feeling wonderfully enlightened.