New Zealand is a heaven on Earth destination for families with kids. Why exactly?
The country boasts a mild and comfortable climate year-round and even winters are not too cold. Magnificent mountains, mighty ocean, and untouched nature are just a few reasons why tons of tourists fly to New Zealand every year.
When it comes to vacations with the family, you'll benefit from the highest level of security, the absence of dangerous animals and insects, and lots of activities suitable for kids of all ages.
---
Top 7 Kid-Friendly Activities to do in New Zealand
Here is what you can do with your bundles of joy in New Zealand.
1. Beach Holidays
Does your little one love swimming or playing in the sand? Then it's a must to take them to a beach in New Zealand.
No matter where you are in this country, you'll never be too far from the ocean. However, you should keep a couple of things in mind to ensure your holiday goes as you planned.
Firstly, it might be hard to find a coast furnished for little beach-goers, unless you opt for a private hotel beach. Secondly, the ocean's water is mostly cold, the currents are strong, and the bottom isn't particularly safe due to rocks.
However, city beaches, which are regularly cleaned from litter and sharp rocks, are much friendlier to vacationers with children. Alternatively, you can find a secluded cove protected from wind and strong waves; luckily, there are plenty of those on both islands.
One more alternative is one of the numerous lake beaches – gorgeous landscapes framing turquoise waters will take your breath away.
---
2. Hiking
If you have teens who don't mind a bit of movement, then exploring New Zealand on foot is definitely an option!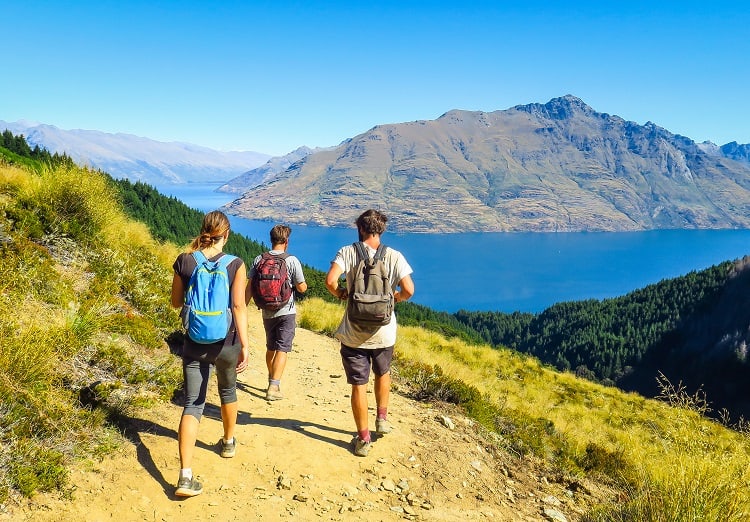 The country is literally strewn with a network of hiking trails. Short but picturesque Curio Bay Trail is a great way to enjoy the unique nature of the South Island.
Besides stunning views, you can peep at nesting yellow-eyed penguins and come in contact with giant marine inhabitants including Hector's dolphins and Southern whales. If you're on the North Island, don't hesitate to check out the Bay of Plenty.
The coastline stretching about 160 miles lures with panoramic ocean views, juicy fruits, and geothermal pools.
Do you wish to see some of the most spectacular landmarks but don't want to spend the whole day driving? Then consider New Zealand's small group tours to enjoy every amazing sight the country has to offer without any hassle.
---
3. Amusement and Theme Parks
Cities like Auckland and Rotorua are bristling with amusement parks, attractions, and all kinds of entertainment places for kids of all ages. For example, the Rainbow's End in Auckland is the country's most iconic amusement park filled with tons — really, tons! — of activities.
If your kiddo is less than two years old, inflatable castles, slides, and trampolines will keep them busy hours on end. Older kids will be thrilled to try out rides, carousels, water boats, and simulators.
Those who love spine-tingling sensations cannot miss the free-fall tower, roller coasters, and the Stratosfear ride. If instead of land activities your children prefer water slides, then the Splash Planet theme park in Hastings is a perfect place to spend a day or two.
---
4. Matakana Country Park
Located about an hour's drive from Auckland, Matakana Country Park offers lots of activities for the entire family. Gorgeous vineyards, a nice beach, delicious food, and a zoo – plenty of options for everyone.
The youngest visitors will surely enjoy playgrounds sprinkled around the park, as well as horse rides, either in a saddle or in a cart.
Teens who appreciate culture and art will be happy to visit the local art and/or car museum.
---
5. Air Safari
If you're not going to skimp on your New Zealand vacation, why not try something extreme, exciting, and never-to-be-forgotten? Air safari is one of these experiences.
A small aircraft will take you a mile above the ground to show you two national parks, the highest mountains in the country, and breathtaking glaciers. It's a once in a lifetime opportunity to take a look at the most impressive natural treasures of New Zealand from a new perspective.
Dark patches of land, dense forests, emerald lakes, dazzling snows, and bluish glaciers will unfold before your eyes from a bird's eye view. Your kids will never forget this breathtaking experience!
---
6. Farmers Market
If you're planning to visit Matakana Country Park on a Saturday, feel free to drop by the famous Village Farmers Market, as it was created for visitors with children.
While adults purchase tasty, natural foods and unique things created by local craftsmen, children can frolic in a huge playground. It has a lighthouse, pirate ship, several buildings, and two huge gaming towers.
Local cafes offer a special menu for little bundles of joy while parents can take a break with a cup of aromatic coffee.
---
7. Play with Animals
It's hard to find a kid who isn't in love with animals. Head to Highfield Garden Reserve and the Donkey Sanctuary sitting between Algies Bay and Snells Beach to get your fill of these stubborn yet charming animals.
This is the place where your little ones can see, pet, and feed donkeys to their heart's content. When you're done playing with the animals, you can check out the nearby beach, or climb a hill and admire the stunning panoramic views of the bay.
---
Final Thoughts
New Zealand is one enormous playground for children of all ages. And the good news is that parents won't be bored either! If you're an adventurous bunch, take your kids to rafting, zorbing, trekking, skiing, boating, and even diving.
If you prefer safer activities, watching wildlife in one of the dozens of national parks can be a fulfilling experience in itself. New Zealand is worth visiting, so pack your bags, grab your kids, and see what adventures await you!