Where do your daydreams take you? What destinations do you see when you close your eyes?
We all have these magical places in our minds, that we eventually want to get to, to see them with our own eyes. Those incredible places light up the excitement in our hearts and create the spark.. The spark to travel!
This is our top 5 dream destinations on our travel bucket list.
1. Santorini
''Immerse yourself in golden sunsets and indulge in Greek culture''
Santorini – the incredible centuries old jewel of the Aegean Sea (are we there yet?) – (Photo Source: Yoann JEZEQUEL)
The majestic island of Santorini has captured our hearts long before we have even started thinking about travel. This post-volcanic, colourful like a giant layered cake Greek island shines brightly in the Aegean Sea. With cascading Cycladic houses decorating the hillsides, this place is one of the most famous of all the Greek destinations.
Santorini is first on our parent escape bucket list, not only for its magnificence and popularity but for the sparkling in gold like a jewel in the sunsets hillsides. This place just draws you in. Over 4000 years of history, storytelling, poems, and movies, just make you want to experience it for yourself. Stay at the hotel on the edge of the caldera (crater), sip on the world famous wine whilst looking at one of the earth's most spectacular sunsets from the town of Oia or sail on a yacht on the Aegean. Walk those narrow pathways, eat at the restaurant featured in the above picture, whilst feeling instantly richer with memories inside your mind and heart.
Don't know about you, but as I'm writing this, I am already planning when it's the best time for us to go. Greek summer on the island of Santorini, love of my life by my side and nothing else matter.. hmm.. nice.
2. Paris
''The famous and intriguing city of wonders''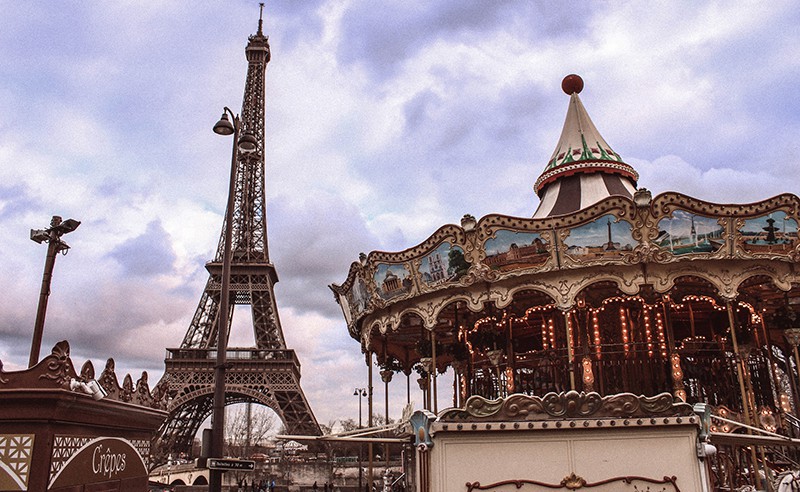 Paris – the city of love, art, fashion and croissants. (I'm hungry!!) – (Photo Source – Lui Mendes)
Ohh Paris! The city of romance, passion, and love… Well, that's what I think.
When I think of Paris, my mind travels to a place filled with art, fashion, food, and architecture. Find yourself strolling in the footsteps of some of the most talented and extraordinary artists that ever lived, like Picasso, Renoir, Monet, Dali, and Van Gogh, or just visit Louvre and the Musée d'Orsay's, the world famous museums of Paris.
Paris is well known for its coffee culture, glorious bakeries, amazing cheese shops, street markets and picnics in the many parks. Tell me, that you don't want to enjoy a bit of French cuisine, while relaxing on the green grass, sipping on a vino with a view on to the Eiffel Tower. Hmm…
So many places to see in this fascinating city. The gargoyled Notre Dame cathedral is high on my list, together with the resting place of Jim Morrison (The Doors vocalist) at the Pere-Lachaise Cemetery. You can climb to the top of the iconic Eiffel Tower, shop till you drop at luxurious boutiques, vintage shops or flea markets. You can enjoy dinner at the Moulin Rouge theatre or simply loose yourself wandering around the many quarters and discover some hidden secrets.
3. Igloo Village
''Arctic Resort for ultimate romantic parent escape''
Stay in an igloo. Now that is simply enough to get me excited to go there. Next topic thanks, haha.. ok ok.
Kakslauttanen is a unique arctic resort located in the north-east corner of Finland. High above the Arctic Circle; it is an ultimate romantic destination. Here is the place, where you can stay the night in a snow or an ice igloo. How cool is that!! It will be a one of a kind experience to look up through the glass roof and gaze on the starry sky and wait… spreading across the night sky the Northern Lights!! The colourful display that stretches overhead I think is enough to make anyone soften up inside and relax with the significant other.
The Igloo Village, in winter months, also has a Bar made of Ice, Ice Chapel for the romantics and the World's Largest Snow Restaurant. You can choose from one of the available safaris by snowmobile, husky or reindeer.
On this ultimate getaway, you can relax by the fireplace in your own cabin, unwind at one of the smoke saunas and go ice swimming. The last one, I think I'm going to have to try. What about you?
4. Preikestolen or "The Pulpit Rock"
''The must see with your own eyes''
Preikestolen – On the edge of your senses (Photo Source: Thomas Pollin)
We have never been to the tallest mountains, or trekked for days to get to the snowy peaks, yet! However, to feel like you are on top of the world does not require weeks or months of training. Here at the Preikestolen or "The Pulpit Rock" anyone can feel invincible if only for a moment.
Well, pack your bags, tighten up your shoelaces and go on a 2 hour journey to this towering 604 metres above the Lysefjord giant rock. This 25 by 25 metres rocky plateau is one of Norway's most popular destinations, receiving over 200,000 visitors each year and you want to be one of them. This one should be on YOUR travel bucket list for sure!
5. Bora Bora
''The jewel of the South Seas''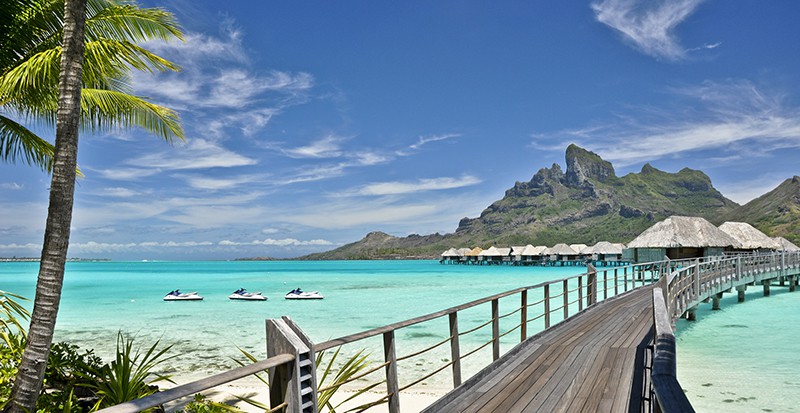 Bora Bora – the movie star and honeymoon style sun kissed relaxation (Photo Source: David & Nicole Moore)
Bora Bora has been on my mind ever since I can remember. It is one of the small South Pacific Islands close to Tahiti in French Polynesia.
This one of the earth's best holiday and honeymoon destinations will leave you breathless, totally relaxed and never wanting to go back to your normal life.
Turquoise lagoon protected by a coral reef it is a perfect place to relax and daydream. Stay at the amazing on-water Four Seasons Resort Bora Bora built on its own tiny island and enjoy the local cuisine at one of the restaurants. They say try legendary Bloody Mary restaurant, hmm.
If you want to be active, snorkelling, diving, fishing, kite surfing, jet skiing or shark feeding should get you busy. Here is an adrenaline junkie's guide to Bora Bora.
Unless it is enough for you to simply kick back with your bum in the sand and feet in the water.
Either way, this is yet another place that is a must-see on your Parent Escape travel bucket list.
What are your ultimate dream destinations to put on your travel bucket list?
Leave a comment below.