With 2019 not far away, now is the time to start planning your getaway for the coming year. However, if you will be taking a partner and offspring with you rather than travelling solo, deciding on a holiday destination that the entire family can be happy with may be difficult.
After all, individual members of the family inevitably often like very different things. That's why, when you're trying to choose the ideal family destination, it's probably best to aim for somewhere with plenty of variety.
So, here are just four places that we reckon very much fit the bill.
Top 5 Family Friendly Destinations
1. Orlando, Florida
Just imagine your kids gleefully pushing their spades into the soft surface of a beautiful golden beach as they build sandcastles. It's a traditional family holiday scene, made complete by the image of you sunning yourself while they play. Well, that's precisely the kind of vacation that the Floridian coast can offer you.
However, the Sunshine State is most definitely not just about sunshine (or beaches). After all, there's no shortage of fine attractions to discover further inland – not least several of the world's best-known theme parks, such as Walt Disney World and SeaWorld.
Furthermore, Orlando is situated right at the center of it all, making it a great stop-off point from which to explore the rest of Florida. Oh, and there are also so many great deals available for Orlando accommodation, as you can snap up as part of a holiday package from a reputable holiday specialist such as Ocean Florida.
The travel agency is currently accepting bookings for 2021 Florida getaways. Whether you would like to schedule a holiday for next summer or the half term break the following October, Ocean Florida's highly rated packages make it easy for you to plan a Florida family holiday in 2021.
Another big advantage of choosing a complete holiday package deal is being able to rest easy, in the knowledge that everything has been taken care of. This, in turn, frees you up to enjoy the Orlando area's many charms, which also include Universal Orlando Resort.
2. San Diego, California
Another part of the United States that gets a delightful amount of sun is San Diego. Furthermore, the city has a highly cosmopolitan character, with plenty of American, Spanish and Hispanic influences. In short, it really is the ultimate American 'melting pot'.
The city's rich and varied history is also apparent in its buildings – and if it's history you're after, you couldn't choose a better area to explore than the Old Town, which is what remains of the West Coast's first permanent Spanish settlement.
As for the Hispanic influence, that's got a lot to do with downtown San Diego's location a mere 16 miles north of the border with Mexico. A strongly Hispanic vibe continues to make itself felt in the 21st-century San Diego, with the city's Hispanic population having grown into one of the largest in the United States.
You probably won't be shocked, then, to discover a wealth of opportunities to enjoy Mexican food in the city, with U.S. News & World Report reporting that especially authentic fare can be found in the artistic Barrio Logan district.
Are your kids fussy when it comes to food? That's no problem, because Mexican cuisine is amazingly varied. You might be surprised by just how much your little ones adore the Californian burrito, for instance, especially when accompanied with guacamole and fries. As for satisfying everyone's sweet tooth, sorbet mixed with chamoy and mangos is another must-try.
3. Jamaica
It's one thing to play some reggae music while cooking in the kitchen for your children to do a little jig to, and quite another thing to take them to the home of reggae itself! We are, of course, talking about the Caribbean island country of Jamaica, where the finest ska, rock steady and Bob Marley music plays on a regular basis.
However, that's far from the only thing making Jamaica a strong candidate as a place to go on holiday with your family in 2021. For example, if your kids like splashing about, Jamaica has plenty of pleasing water in which they can do exactly that, all while authentic Jamaican music plays in the background.
Given that Jamaica is the third largest island in the Caribbean, it's probably a good idea to know your specific itinerary well ahead of time. In any case, it might be a struggle for you to cover the entire island in a single trip. If you do focus on just one area, though, we'd suggest that you head west, to the especially family-friendly Negril.
The area's particular suitability for families is ensured by its good supply of beaches and plush accommodation. Other tourist hot spots on the island include Ocho Rios in the northeast, which tends to be most popular with more adventurous visitors, while – if surfing and hiking are your passions – Port Antonio in the east is another great destination to check out.
So, when is the best time of year for you and your family to visit Jamaica? We'd suggest November to mid-December, which may seem a long way off if you're planning to visit in 2021, but it also means you can enjoy the weather at its pleasantest, as well as a broad choice of available hotels and flight deals.
What's so bad about booking a Jamaican vacation for the summer? Well, it's true that rates are cheap then, but in the words of U.S. News & World Report, you'll also be risking "the wrath of hurricane season" – and even Bob Marley music may not distract you much from the horrors of that.
4. Vienna, Austria
Yes, family holidays can be expensive. Costs can accumulate very quickly during your trip, leaving you struggling in the final few days of your break.
It's therefore great that Austria's capital city makes things easier for budget-conscious families, due to so many of its tourist sites being within walking distance of each other.
The city also has a fabulous choice of free walking and cycling tours, while you can access more than 60 top attractions at no extra charge with a Vienna Pass. They include the internationally-renowned wax museum Madame Tussauds, as well as Tiergarten Schoenbrunn, which is the oldest continuously operating zoo in the world.
Both single-day and multiple-day validity is available for a Vienna Pass, thereby helping you to get even more out of your break in the city, depending on the specific preferences of your family and how much time you are set to spend there.
Austria is a such as fabulous destinations to visit with kids, we loved our time there so much that we even included it on our list of the best family vacations in Europe – go see which other countries made it to the list!
5. Lisbon, Portugal
Not many of us even thought about Lisbon as a destination to go to especially with kids, right? Well, the following list is about to change your mind! Lisbon is filled to the brim with activities that your kids will love, and that are sure to surprise you.
If you are after an adventure, then you can choose to check out the Adventure Park at the Jamor sports complex in Cruz Quebrada and test your skills at the challenging obstacle course, or you can take your kids to the Passeio Maritimo de Alcantara and have some fun on bicycles, roller skates or even on one of the hired carts.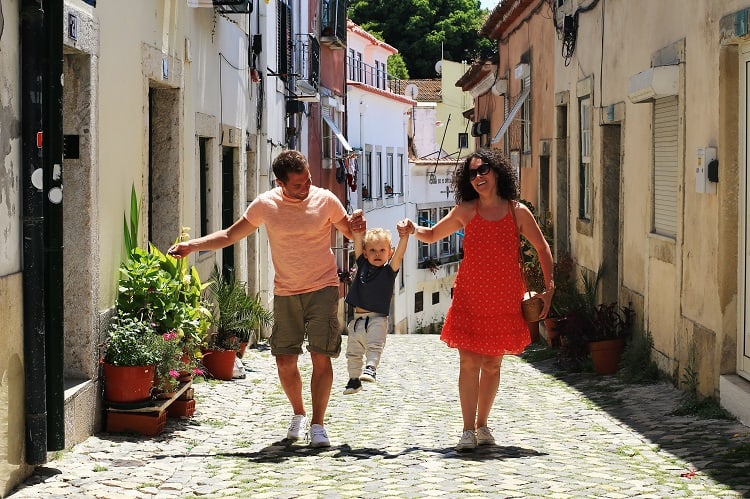 And if you are after a more of a peaceful activity, you can of course venture out to a St George's Castle. Here, you and your kids can have a go at some of the traditional Portuguese and medieval games, such as combats with the nights.
This place also offers a special night-walk session with castles biologists, where you are able to search for bats that were an inspiration for creating Batman. Yes, you heard me right! Batman himself! If that doesn't get your heart pumping, then I don't know what will!
Tip:  The best way to travel around this city is by a local Lisbon Taxi, which you can book online before you go.
Over to you: what are your own thoughts on the family-friendly destinations that we have picked out, and what others would you recommend? Feel free to let us know in the comments section below.