What does romance mean to you?  I think it is a very personal, subjective kinda-thing!  For some romance might be found in a beautiful captivating candlelit dinner, whilst others might find romance in the cherry blossom streets of Kyoto.
Some see romance in small gestures such as a wink from the one you love, whilst others are after a grand affair, a bold declaration of love and devotion.  With Valentines Day around the corner, we scoured the internet to compile a list to feature the top 10 most romantic getaways around the world!
I'm sure there will be a destination in here for everyone, no matter how you like to define the concept of romance!  Who doesn't like romantic vacations once in a while!?
–
Top 10 Most Romantic Getaways around the World!
1.  Ass

isi,

Italy
Assisi lies in the heart of the Umbrian countryside in Italy.  This gorgeous little town is nestled in the arms of a magnificent mountain!   How can one not find romance in this medieval cobble street town?
Along the walkways, you fill a multitude of flower pots, decorating the steps and entryways to homes; the fresh fragrance filling the air with peace!
From every second corner, you will find spectacular views over the lush countryside; views seemingly stretching forever!
If that is not enough, the magnificent Basilica di San Francesco is sure to impress even the strongest of hearts!  If you would like to read our full post about this adorable town, visit our post here.
______
2. Paris, France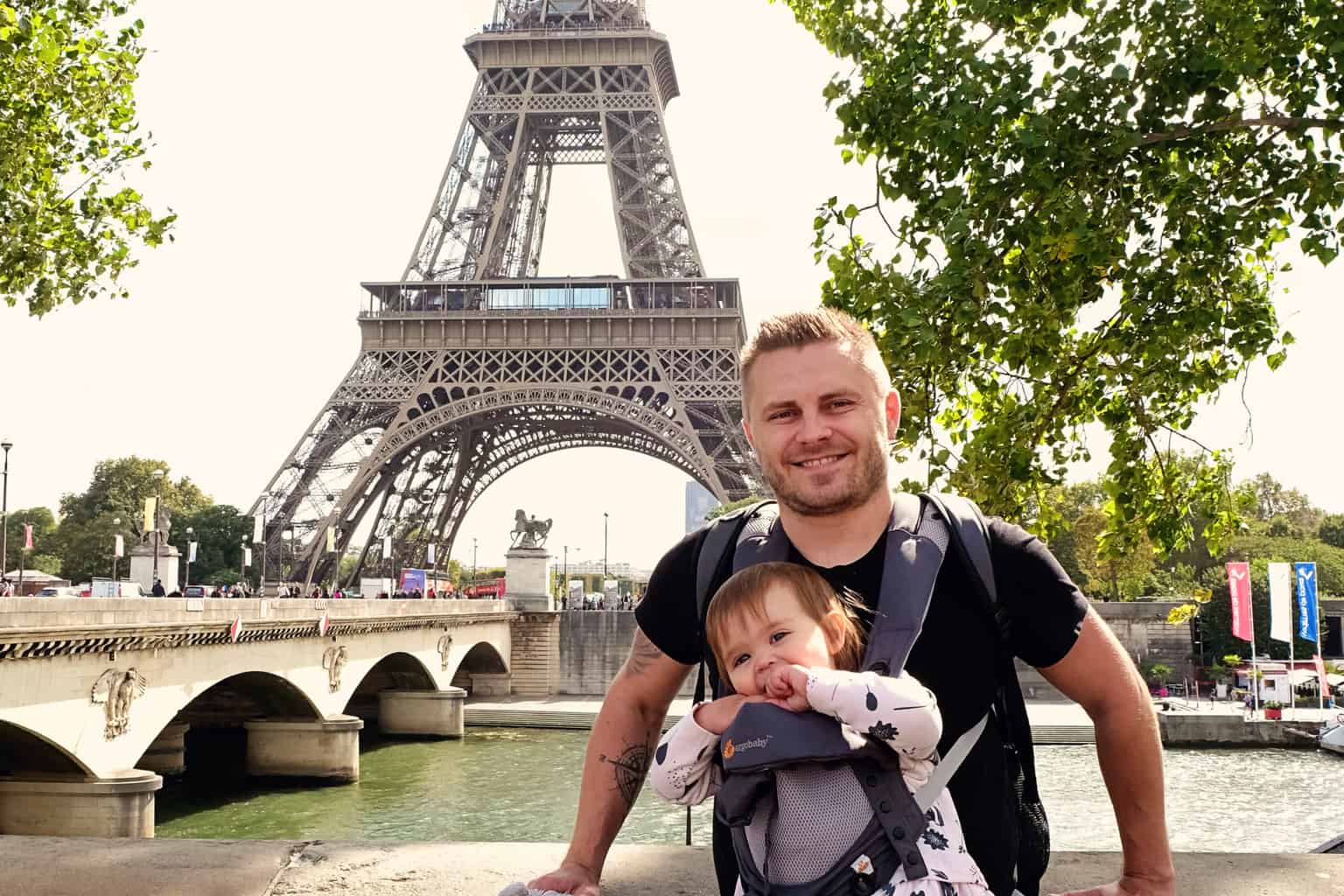 Ah, I think we need no introduction here, THE city of love!!  A city of lights and eternal love!  Perfect name for a romantic getaway if you ask me!
Why not take your loved one here and enjoy a stroll along the Seine.  Enjoy sipping coffee at one of they never ending selection of cafe's.  Why not delight in a picnic in front of the Eiffel Tower as the sun sets?
Relish some tranquil time with your love at the Palais-Royal, or get a bit down and naughty with a show at the Moulin Rouge.
For spectacular views of the city, climb the steps to Sacré-Coeur; a perfect setting for some romantic sunsets whilst in France!
We travelled to Paris with our kids, and even with them in hand, the city still oozed romance and love.
Further Reading:
______
3.  Cappadocia, Turkey
Image Credit: Moyan Brenn (Flickr)
Cappadocia is a romantic getaway for those with an embedded adventurous spirit!  This region is filled with otherworldly natural sites.
Popular explorations here take you to visit the homes that have been carved out of the valley walls.  In this destinations you will find an earthly raw romance!
The best yet is taking flight to the sky in one of the colourful hot-air balloons and enjoying a romantic sunrise or sunset flight across the Cappadocia sky!
Make sure you have the right travel gear for a hot air balloon journey!
Want to explore more of Turkey?  Alanya is only a 2-hour drive away.  Here is a list of the top things to do in Alanya, Turkey.
Image Credit: Moyan Brenn (Flickr)
______
4.  Greek Isles, The Cyclades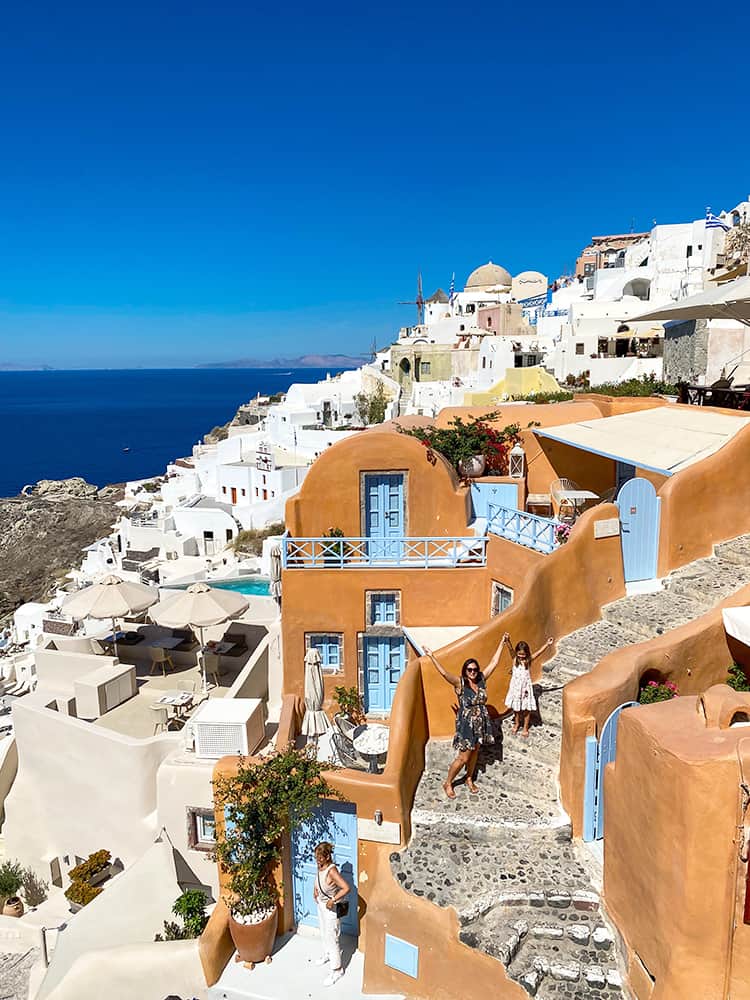 I don't think you can go to Greece and not visit the Greek Islands. They are after all some of the most beautiful places to visit on your first trip to Greece.
What is not too love about the Greek Isles?
How much more romantic can it get than strolling down dramatic white stone walled buildings delightfully positioned in contrast against those perfect blue shimmering waters?
Up and down the staircase and winding alleyways, there is heaps to explore here!  Enjoy a cocktail whilst watching the sunset!
Best thing yet, hop on a boat for a cruise or sail around the islands found here!  Sounds relaxing, peaceful and divine doesn't it?  A recipe for romance in the making I say!
______
5. Positano, Italy
Positano, Italy is one of those romantic getaways that might make you fall in love without even realizing it!
There is a rustic, almost run-down beauty to be found in these colourful buildings climbing the walls of the mountain behind!  Individually they might not be impressive, but as a collective, you cannot help but stare in awe.
There are also plenty of romantic hotels that will most likely blow your mind!
Here the most romantic thing to do is to hop on a boat and enjoy a lazy day on the water, simply enjoying your impressive, colourful and dramatic surroundings!
Don't forget to go for a wander along the winding alleys to discover some local art and handmade goodies!  Enjoy dinner from one of the gorgeous, romantic, beautifully lit cafe's lining the streets!
I cannot recommend Positano and the whole of the Amalfi Coast highly enough!  To read about our post of this gorgeous town, click here.
______
6.  Kyoto, Japan
A romantic wonderland!  With historic shrines, temples, quaint tea houses and palaces to explore.
Organise the trip to Kyoto in spring and organise a romantic stroll underneath cherry blossoms in bloom!
Traditional and tranquil, this city is filled with romantic gestures and designs. The country is the holder of loads of other romantic destinations too, so why not stay for longer and see what else is on offer.
______
7. Bruges, Belgium
Image Credit: Wolfgang Staudt (Flickr)
Now, this city is a true medieval fairytale getaway and which lucky lady does not wish to find herself in a fairytale romance?  It's charming, timeless, and sweet as can be.
Enjoy the soft dusk light around the city whilst you stroll hand in hand with your love.  Take a boat ride through one of the many canals.
Why not completely go all out and treat yourselves to a carriage ride past the gold-topped buildings?  Apparently, this city is even more of a wonderland at Christmas time!
And what a perfect excuse to snuggle up tight during some cooler snowy weather.  Ah yes, perfect!!
Image Credit: PRO Jacob Surland (Flickr)
______
8. Venice, Italy
Venice, a romantic getaway for a complete lovers' affair. No surprise that this destination made it to the best romantic getaways list!
There is so much to be said about the romance that lies within Venice. We fully realize that this city has been labeled as being a bit of a romance 'cliche', but there is something to be said for the colors and rustic features of the buildings and palazzos lining the streets and canals of this glorious city.
Forget about the fact that it is a bit touristy and why not just completely and totally fall in love with the notion of what is.
Enjoy a glide around the canals whilst the gondolier is dreamily serenading to you and your love.
Enjoy getting lost in the many alleys that make us this historic city.  Treat yourself to yes, a slightly overpriced and expensive, light snack in the St Marco square whilst listening to the orchestra playing away.
A romantic city? We think so!  Hop over an read our story of our time in Venice on our Romantic Things to do in Venice Italy post here!
______
9.  Budapest
Image Credit: DomiKetu (Flickr)
Stunning 19th-century architecture with a splash of old-world charm. An ancient city but a gorgeously romantic getaway destination for sure! You can easily see most of the best attractions in Budapest in 2 days.
Why not go for a walk in the castle district where gas lamps at night will keep you and your loved one company? Treat yourselves to some luxury at one of the ancient spas.
Enjoy an early morning stroll next to the river and enjoy plentiful nights at one of the adorable cafe's lining the streets of this magnificent city!  Looking for more ideas of what to do? Here is a list of 50 things that you should do in Budapest!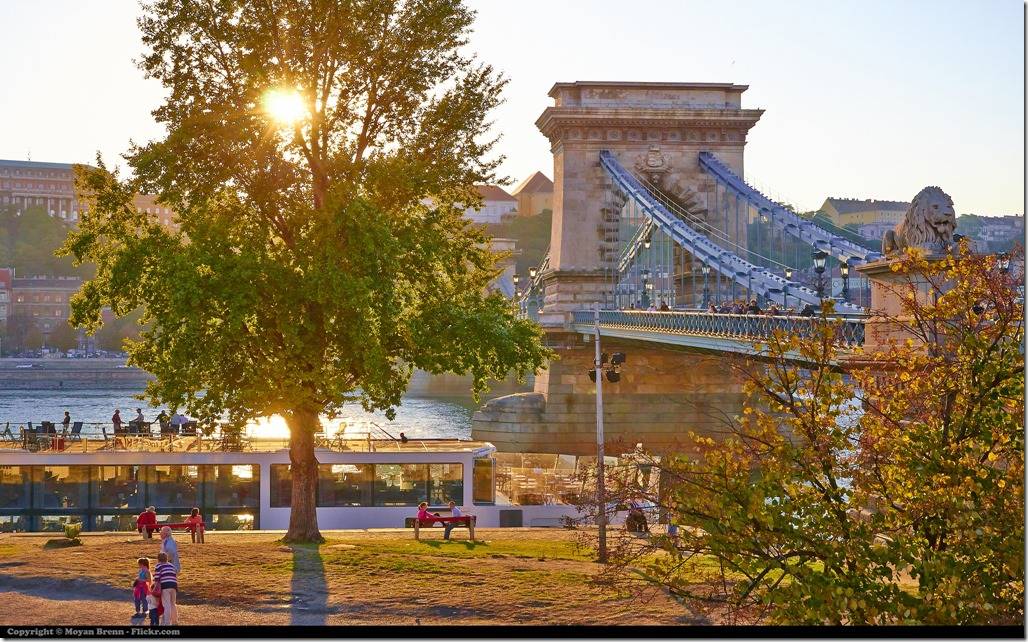 Image Credit: Moyan Brenn (Flickr)
Tip: If you are thinking what is the best way to get around this beautiful city, then we got you covered here. The best way is to book your Budapest taxi online. You can also grab info on how to use a taxi service when you are abroad here.
______
10. Bora Bora, French Polynesia
Image Credit:  Hervé (Flickr)
Bora Bora is the classical, swoon-worthy romantic getaway!  Everything you could wish for wrapped into one!  Sunny blue skies, gorgeous blue water!  Palm trees lazily swaying around!
Water activities galore or lazying around on the beach, this destination is sure to spark up the romance between you and your loved one!  Hop on a sailboat and watch the sunset from out on the ocean.
Overwater bungalow to spoil him or her in total luxury!
I can imagine lying under these palm trees with my other half, can you??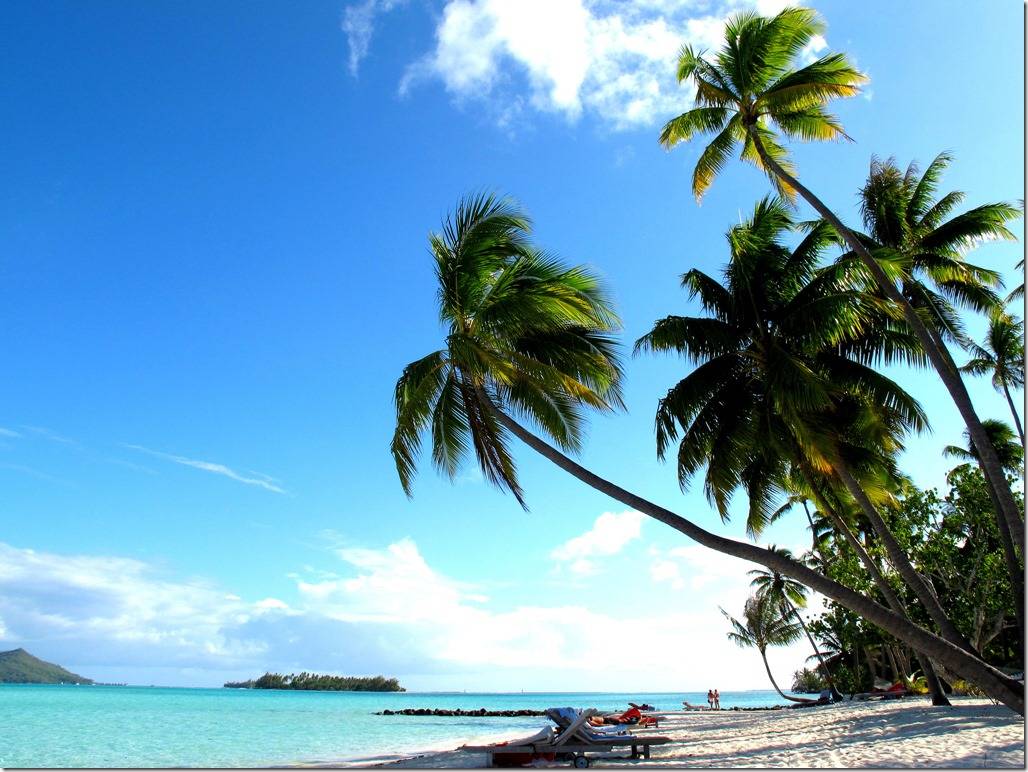 Image Credit: gengish skan (Flickr)
A list of the top 10 most romantic getaways around the world!  Whilst all of those might not appeal to your picture of romance, I'm sure you can find at least a few romantic getaways in this list that you absolutely can agree on!!  So let us know:
Which of these destinations takes your fancy as the most romantic vacations?

Which romantic getaway did we skip?  Can you add any to our list?

Where are you going for Valentines Day?
Thank you for reading!  If you loved our post, please help us grow by choosing to SHARE it on your favorite social platform!  We will be forever grateful!  Thank you!
I wish to be Pinned!  Thank You!