Are you looking for the best and the easiest way of how to get from Tokyo to Nikko Japan?
In this post, you will find all that you need to know on how to get to Nikko from Tokyo!
Majority of travelers that are visiting Japan venture out to all the usual hot spots of Japan, like Kyoto, Osaka and other big cities that are on everyone else's lists.  However, there are places like Nikko that simply cannot be missed
–
Where is Nikko?
Nikko is a city in Japan that is located in the western side of Tochigi.  It prides itself on having amazing autumn leaves during fall and beautiful landscape like Kegon Falls.
–
How to get to Nikko from Tokyo?
The ideal option is to travel using public transport. There are different public transport options that you can choose, including Tokyo Nikko train and or by bus. If you choose to travel by train from Tokyo to Nikko, it should take you approximately 2 hours.
Train
Time
Cost
Transfer
Editors Tips
1. From Tokyo Station
Tohoku Shinkansen to Utsunomiya Station

2. From Utsunomiya
JR train to JR Nikko Station
1hr 40 mins
Free with JR Pass
1 transfer
Best choice if you are planning to explore Japan with a JR Pass.
From Shinjuku
Tokkyu Limited-Express to Tobu Nikko Station
1hr 40 mins
2620 JPY
(Reservations Required)
Direct
Make sure to ride in the last 2 cars as the cars separate at an intermediate step.
From Asakusa
Tobu Railways to Tobu Nikko Station
1hr 45 mins
2720 JPY (one way)
or
2670 JPY Tobu Nikko Pass
(includes return tickets, local bus tickets and 2 Day Nikko Pass)
Direct
Popular if you are staying in Asakusa District.
Tokyo to Nikko Day Trip
For those who wish to take an easier option of hopping on an organised Nikko tour from Tokyo, we have found two affordable options for you:
Private Nikko Day Tour:  Visit the famous Toshogu shrine and Futarasan shire for good luck in friendships and partnerships.  Taste the local yuba or tofu milk (bean curd sheet) for lunch.  On this day trip to Nikko, you will enjoy a tea or coffee in the temple precinct, which are made from sacred water (great for eyes and skin).
Group Nikko Day Tours from Tokyo: A very popular tour! Enjoy a full-day trip to Nikko National Park from Tokyo. See the impressive wood carvings and ornate structures of Toshogu Shrine, a UNESCO World Heritage site. Enjoy a Japanese lunch, followed by a visit to the natural landmark of Kegon Waterfall. This tour offers hotel pick-up and drop-off at Shinjuku or Ginza stations. Click here to check prices.
–
Train from Tokyo to Nikko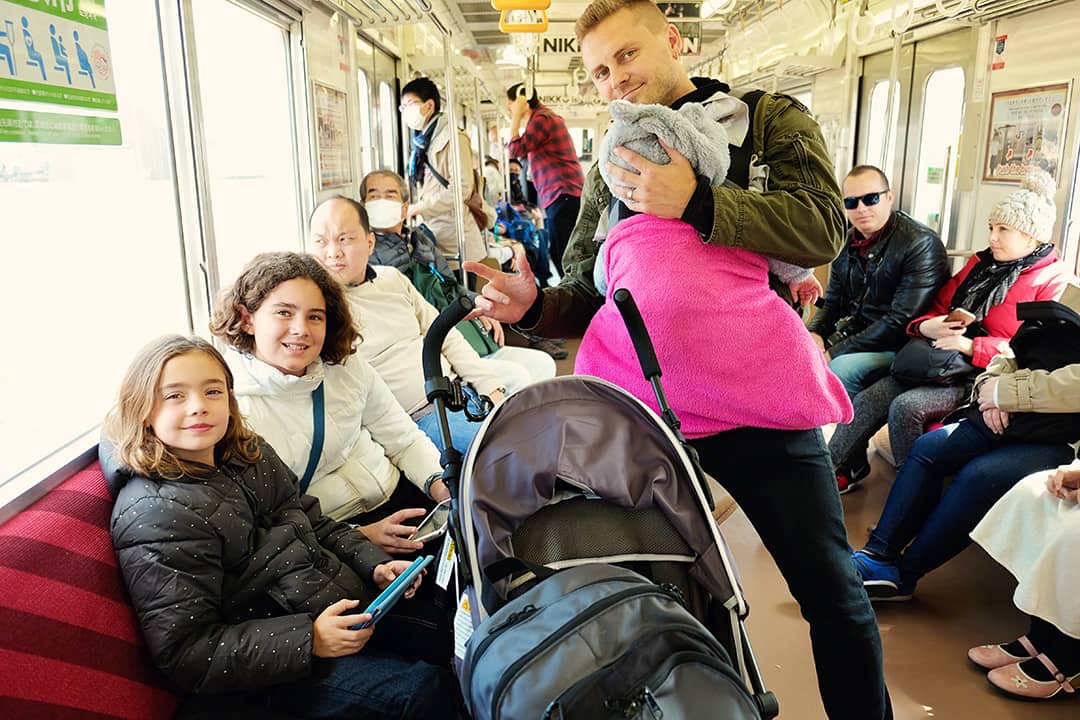 There are three Tokyo To Nikko train options
Option 1:
Shinkanse
n
plus
Local
Nikko Line (Our Preferred Option) from Tokyo Station
For most tourists visiting Japan, the best way to travel throughout the country is with a Japan Rail Pass.  Pre-purchasing the tickets before you go on your trip, will save you an immense amount of money.  This way, when you travel through Japan, all of the JR trains are free and you can hop-on-hop-off to no end and as many times as you please!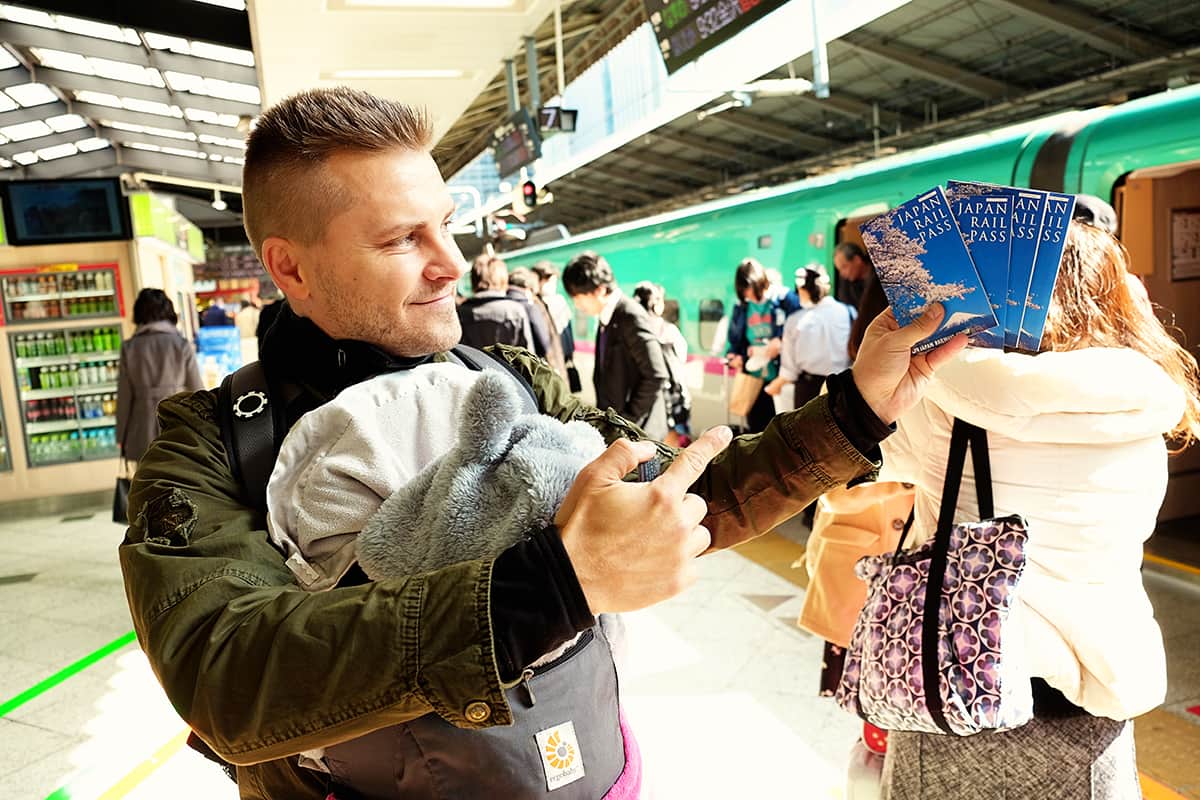 You can use this pass to travel on the Tohoku Shinkansen from Tokyo to Utsunomiya to Nikko train station. When you use the JR train from Nikko, you can find four trains that depart from Shinjuku everyday. However, most of them require a train change before proceeding to Nikko.
From Utsunomiya station, you can use the Nikko Line to reach Nikko station. Using this route should take you approximately 1.40hr.  The trip will be 'free' if you own a JR Pass or would cost you a whopping 5780 yen without.
If you are not sure if the JR Pass is for you, you can read more about it in our post Tips & Info on buying and using the Japan Rail Pass.

–
Option 2:  Tokkyu
Limit
ed-Express
from Shinjuku
The second route you can use to travel by train from Shinjuku to Nikko is to choose the Tokkyu Limited-Express train. This train is a direct train, however, a reservation is required.
The train will take around 1.45hr and will cost you 2620 Yen one way.
–
Option 3: Tobu Limited Express from Asakusa
One of the fastest and most luxurious way to reach Nikko from Tokyo, is by using Tobu Line's Limited Express owned and known as Spacia. This train is privately ves Tokyo every hour from Asakusa Station to Nikko. This train's seats are usually reserved in advance before departure to Nikko, meaning you will have to purchase your ticket in advance.
If you are travelling one way from Tokyo to Nikko using Tobu Line's Limited Express, it will cost you 2720 yen and will take around 1.45hr. For English speaking tourists, this line has a hostess who speaks in English. Therefore, if you have any questions regarding your destination in Nikko, the hostess will be ready to give you answers.
Tobu Nikko Pass combines discounted train return tickets to Asakusa, Nikko bus pass and trains in the Onsen Nikko and Kinugawa Onsen areas (exclusive to overseas visitors). You can choose from 3 types of passes, depending on your travel preference:
Nikko All Area Pass:  Visit all the attractions including the world heritage site shires, Lake Chuzenji, Okunikko are and the Kinugawa Onsen as well.
Nikko City Area Pass (formerly known as the 2 Day Nikko Pass):  Nikko 2 day pass is a no rush pass and gives plenty of time for sightseeing at the UNESCO site and enjoy the hot springs as well.
Theme Park & Nikko City Area Pass:  Visit the world heritage site and the shires.  Check out the famous theme park at the Kinugawa  Onsen Area.  Something here for everyone!
–

–
Hot Tips:
The best way that we saved money on our public transport was by using Tokyo to Nikko JR pass.  We purchased the 2 week pass for our whole family and saved thousands of dollars in the process!!
You can take a bus from Nikko train station up to the temple precinct for only 190yen, or you can take a 20 minute uphill walk and check out the town in mean time. (We took the walking option on the way back and stopped for a snack mid-way for some delicious crapes filled with lots of yummy calories!)
What to do in Nikko?
It is common in Japan to find tourists who travel from Tokyo to Nikko, because Nikko is a UNESCO, World Heritage site.
Among other tourist attraction like Nikko National Park, this amazing city is known for historical temples and shrines like Nikko Toshogu, which is Japan's most beautifully decorated shrine.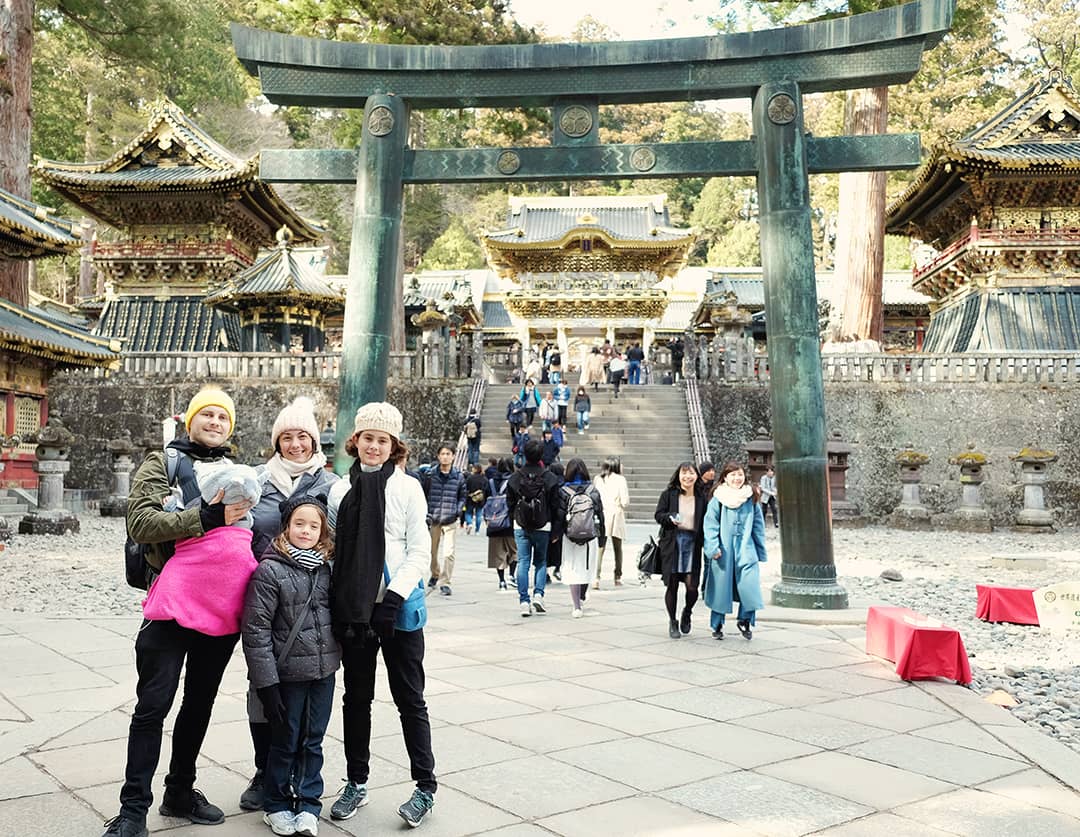 For tourists who want to experience the beauty that Nikko has to offer, the big question is whether to use public transport or a private car to travel to Nikko from Tokyo.  If you own a car it might seem ideal to use it to travel from Tokyo to Nikko.  However, it is expensive in terms of fuel to travel by your own car.–
________________________________
Tokyo stretches much further than your eyes can see! The city is immense and you will need at least 3 days here to get a small feel of what this city has to offer!! To make it easier to plan your days, we have decided to create a series of posts on Tokyo attractions, accommodation and day trips.
1. What to do in the Shibuya District
2. What to do in the Shinjuku District
3. What to do in the Asakusa District
4. Day trip from Tokyo to Nikko
_______________________________
–
For more information about things to do in Nikko Japan and what are the best spots to put on your Nikko sightseeing list, subscribe to our blog. –