– GUEST POST –
by Priyadarshini from Glorious Sunrise
Andaman and Nicobar islands is an idyllic paradise nestled in midst of the Bay of Bengal and the Andaman Sea. It is one of the Union Territories of India and is a blessedly unspoiled tourist gem.
White beaches with sparkling clear blue waters, majestic coconut trees swaying along the coast, amazing wildlife in the tropical rainforests, this Indian archipelago is sure to keep you mesmerized throughout your stay.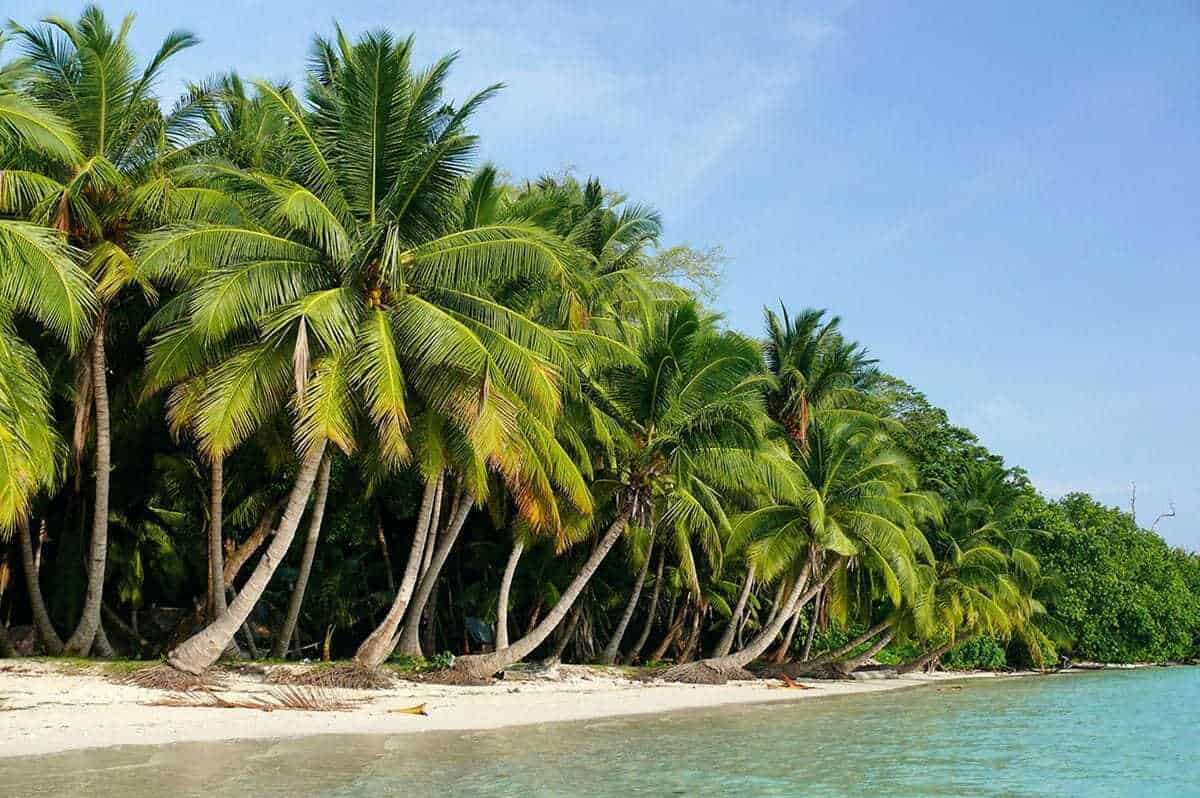 Though it is touted as a top romantic destination for honeymooners, this gorgeous group of islands has a lot to offer to every traveller.
In this post, I have listed the top things to do in Andaman and Nicobar Islands. As we travel with two little ones under 4 years of age, I included kid-friendly tips too!
Andaman & Nicobar Island Travel Tips
Here are the things that you need to know about Andaman & Nicobar Island:
Best time to visit
The best time to visit Andaman and Nicobar Islands is from late October to mid-April. December to March is the popular tortoise nesting season.
Be warned, the Christmas and New Year season are very popular with tourists, so plan accordingly.
Popular beaches such as on Havelock Island will especially be packed. I personally do not like sight-seeing when it is too crowded and avoid visiting this place late December.
Tip: Did you know that Andaman is one of the top places to visit in July in India?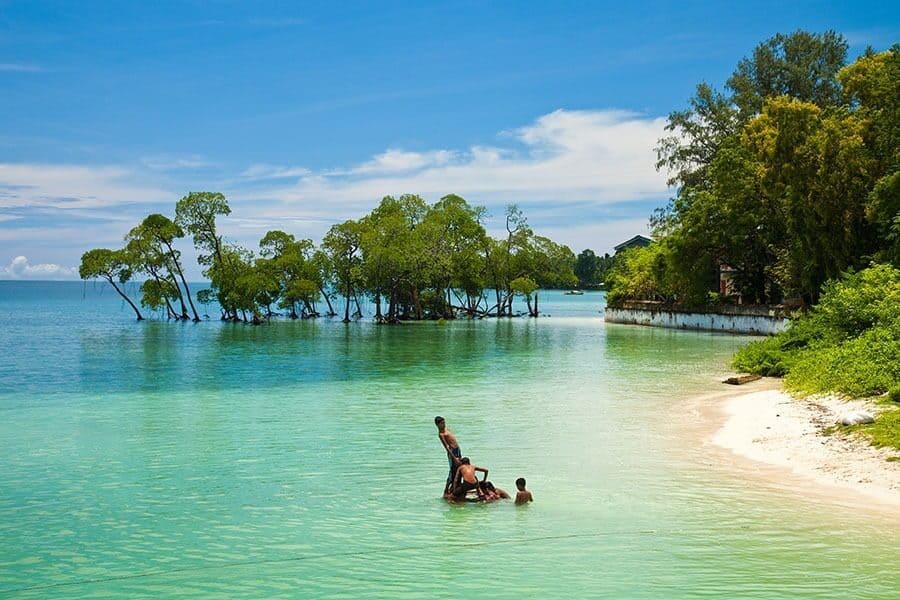 Weather in Andaman & Nicobar Island
As the islands have a tropical climate here, it is always warm year-round. There is no winter season on the islands. Summer is from late February to mid-June and it would get unbearably hot and humid in these months.
There are two rainy seasons here. One influenced by the Southwest monsoon from May to September.
Next rainy season influenced by the Northeast monsoon from November to mid-January.
But this second spell of showers does not deter sight-seeing activities too much.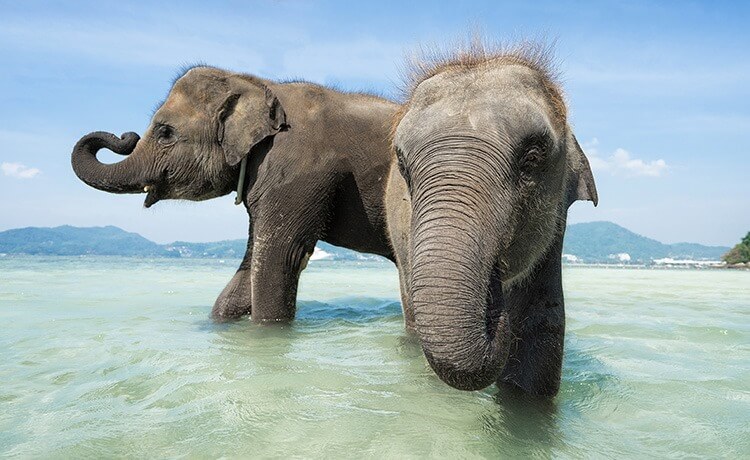 How to Get to Andaman & Nicobar Island
You can either fly or sail into these islands.
Port Blair, the capital of these islands, has the most major airport on Andaman and Nicobar.
Flights to Port Blair start from Delhi, Kolkata and Mumbai in North India and also from Chennai, Bangalore and Vishakapatnam in South India.
Next option for the adventurous souls is to travel by sea. The ship voyage is roughly 70 hours and you can start from either Kolkata or Chennai on pre-scheduled dates. Ideally, not an option when you have young children below 7 years of age with you.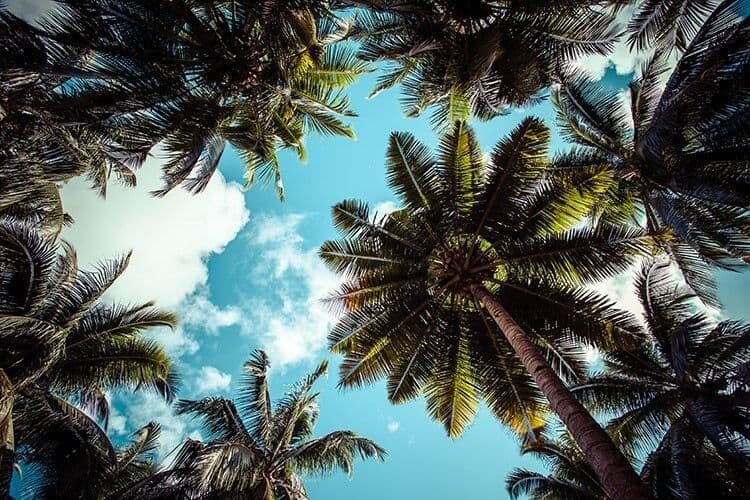 What to pack for your Andaman & Nicobar Island Trip
Always carry a good sunscreen lotion with a high SPF. Carry your swimsuit, sunglasses, hat, raincoat, light clothing and your adventurous spirit 🙂
If you are travelling with kids, it is a good idea to have all the basic medication with you at all times.
Port Blair is the only place where you get advanced medical care. Other islands have just basic medical care, so bear this in mind when planning your itinerary.
Where to eat in Andaman & Nicobar Island
While many pit-stops seem fine, seafood is fresh where you find more crowds. Ask the locals for advice, you can't go wrong there. Here are a few options.
Ocean Tree Restro – good for kids (Havelock)
Golden Spoon – for fat-free options
Icy Spicy – for vegetarian food (Port Blair)
Full Moon Cafe – for cheap eats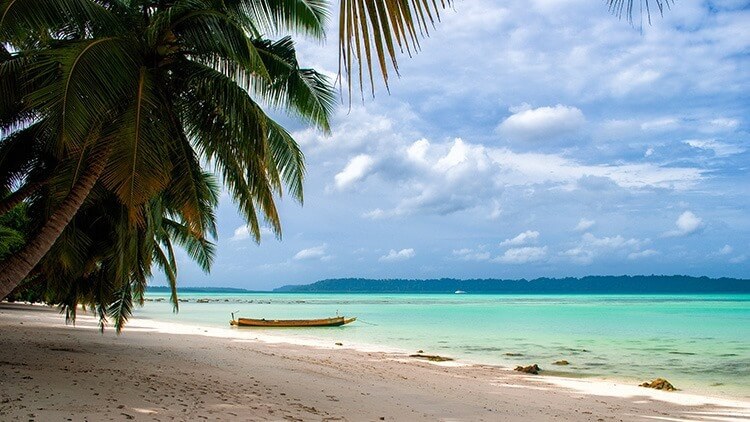 Where to stay at Andaman & Nicobar Island
There are many good places to stay with prices ranging from luxury to backpacking options. Below are a few stay options.
Barefoot at Havelock – Luxury option
Summer Sands Beach Resort – Medium budget option
Pearl Park Beach Resort – Budget option
Getting Around Andaman & Nicobar Island
Local ferries, hourly bus, private cruises and helicopter rides take care of the transportation on these islands. You can rent private cars and even motorbikes too.
Things to do in Andaman & Nicobar Island
There are tons of fun things to do in Andaman and Nicobar Islands that you will not find enough time to do it all unless you spend at least a good seven days on this archipelago!
With roughly 300 plus islands in this cluster, Andaman sure has got it all. Hiking, surfing, snorkelling, scuba diving, swimming, island hopping, lazy beach walking, glass boat riding, cruises, museums, you name it – you got it!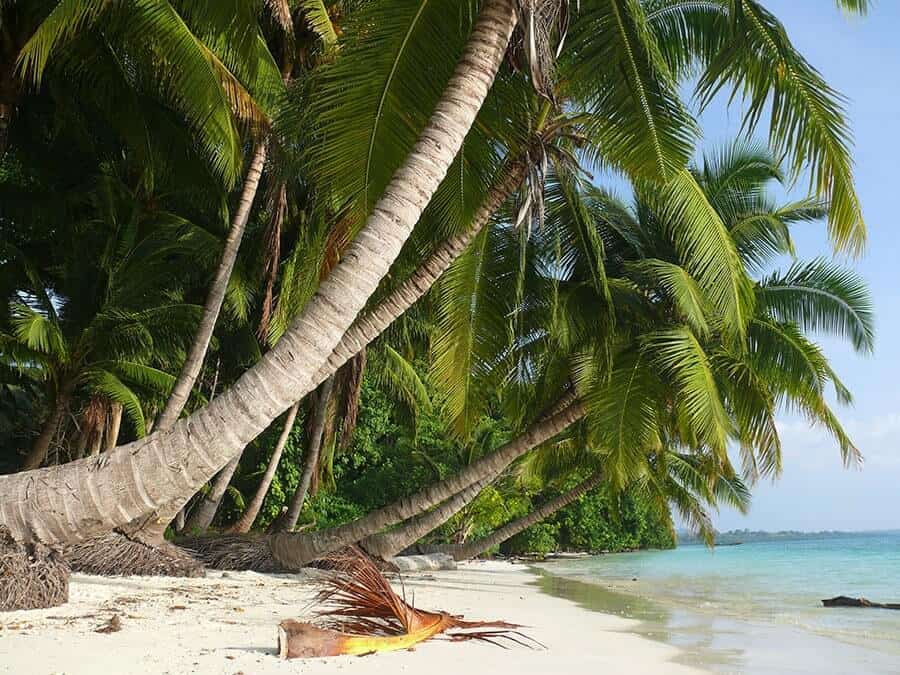 Top Spots to Check Out!
Havelock Island for Radha Nagar beach (Voted the best beach in Asia), Elephant beach, Kalapathar beach, bird-watching; Neil Island, Cellular Jail, Ross Island, North Bay Island, Aberdeen Bazaar, Corbyn's Cove beach, Mount Harriet National Park, Samudrika Naval Marine museum, Viper Island, Jolly Buoy Island, Limestone Caves, Red Skin Island.
Please Note: As the Barren Island was active a few months ago (February 2017), I am not adding it to the list for safety reasons. But, if you are very interested in visiting it, please do more research just before your trip for the latest conditions.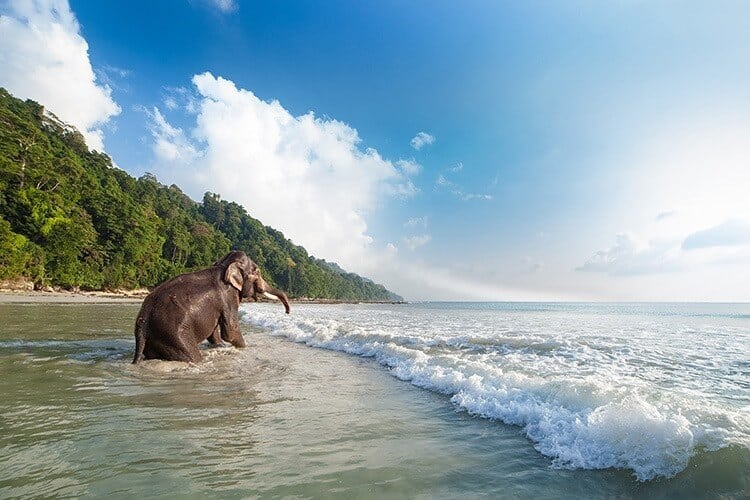 Travel with Kids Tips:
When you travel with kids, travelling between beaches on boats can get bumpy unless it is a clear day. Just be mindful of this when planning your trip.
With kids, a glass boat ride is a must in the clear turquoise waters. And kids above 10 years of age can enjoy sea-walking too!
India is blessed with picturesque beauty on these islands and tourism is one of the major sources of income for Andaman. Though tourists are appreciated for contributing to the livelihood of locals, plastic waste left behind by them seem to pose a major issue here.
Let us all be mindful of our environment and contribute to restoring balance to our Mother Earth by travelling responsibly. This will leave a beautiful place for our future generations also to explore and be happy.
Now, go on and enjoy 🙂
For more wonderful locations to check out in South India, please read Top 16 places to visit in South India.
___________________________________
More about Priyadarshini
Glorious Sunrise
Priyadarshini Rajendran is a travel, food and books blogger at Glorious Sunrise.
She is a passionate globetrotter who now travels with her husband and two young children all around the world. Priya has got two published books under her belt and is currently writing more travel books.
___________________________________