I remember the days when we used to stroll down the Noosa main beach staring at the happy people occupying the luxurious beach resorts with magical pools… Yes, now we are those people and it does feel good!
How to Get to Tingirana Noosa from Brisbane Airport
Although there are a number of ways to get from Brisbane Airport to Noosa, including shuttle, bus and/or taxi, the most comfortable way and probably the quickest is to hire a car right at the airport and drive it yourself.
The drive will take you just under 2 hours, with a few slower patches of "never-ending" roadworks. By "never-ending", I mean that they have been working on that stretch of the highway for over 20 years with no end in sight.
Tingirana Noosa Review
Here is one of the most luxurious resorts on the Noosa main beach, located on the famous touristy strip called Hastings Street. This is our personal experience and the honest Tingarana Noosa review.
Check out more info about available apartments at Tingirana Noosa here.
One Bedroom Beachfront Apartment
What to say about the beachfront apartment, but to praise it. Yes, there is pretty much nothing bad to say about this place.
Our apartment was a one-bedroom one, and it was located on the 1st level of the building. Although it was not a high level, we did have perfect views of the poolside and over to the ocean.
There's simply nothing better than the sound of the ocean waves crashing, the smell of the sea breeze moving around in the air and the vibe of vacation all around you.
OK, back to the apartment.
This is a fully self-contained space, with King size bed in the bedroom, a large bathroom with a shower and a bathtub for choice. There is a fully fitted out kitchen with all the necessities such as a microwave, stovetop, large fringe and all of the glasses that you might need.
Although we ate out most of the time, we did indulge in some yummy pop corn whilst we relaxed with our favourite show on Netflix at night time.
The Resort Facilities
Here are the resort facilities that we used and observed.
Pool
The pool is the obvious plus for this resort. And with a view like this, what else do you need to really ad to this.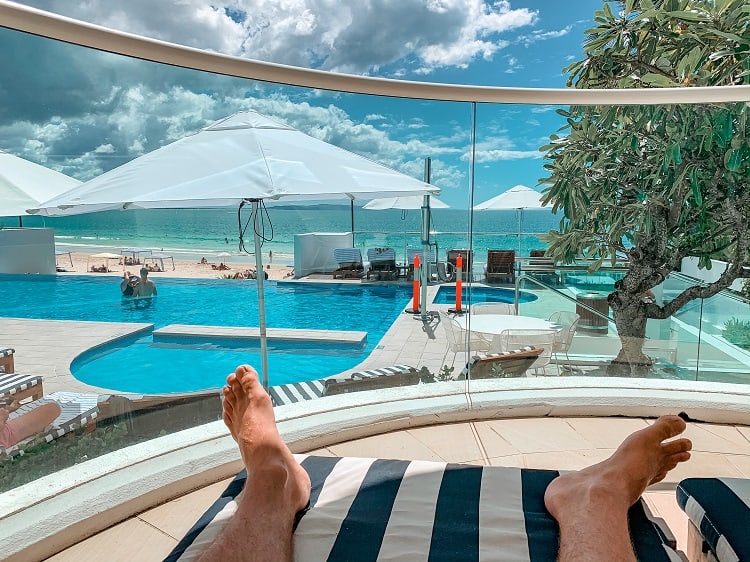 The pool has all that you need, including a heated spa and a kids pool as well.
One hint, make sure to pop your towel on the selected beach chair early enough so that you can actually have a place to lazy around. With a full house of tourists, there are simply not enough day beds to share.
That being said, I am used to waking up at the crack of dawn, so I had our towels securing our spot way earlier than anyone else. This meant that we had a pretty awesome and super-relaxing time.
Gym & BBQ
I did say that we have observed some of the facilities, right? My idea of the vacation is definitely not enjoying the gym or cooking.
Although there was a BBQ on our balcony (and on every apartment balcony), we did not use it at all. That also applied to the gym located on the ground floor.
There were plenty of people using the gym, but we opted out for pure relaxation and a couple of wines instead.
Shops
Tingirana Noosa is located right on Hasting Street. This is the street where you go for amazing international food choices, deserts and there are also plenty of shops to spend your hard-earned cash.
Where to Eat in Noosa Hastings Street
As I mentioned before, Hastings Street is the food hub with tonnes of choices of where to eat. Here are our personal recommendations: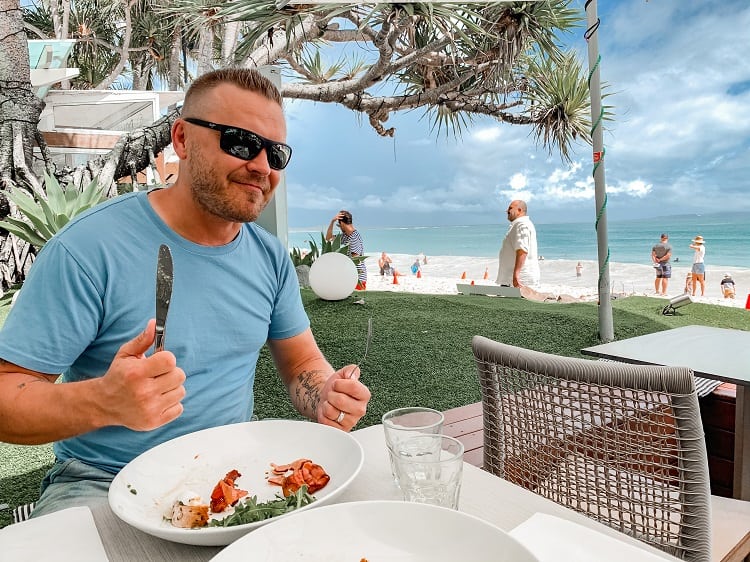 Breakfasts:
Here are our personally tested recommendations for where to eat breakfast:
Cafe Le Monde
This restaurant, like all of the restaurants in the street, is located only a minute or two from the resort. And we liked it so much, we ate here twice.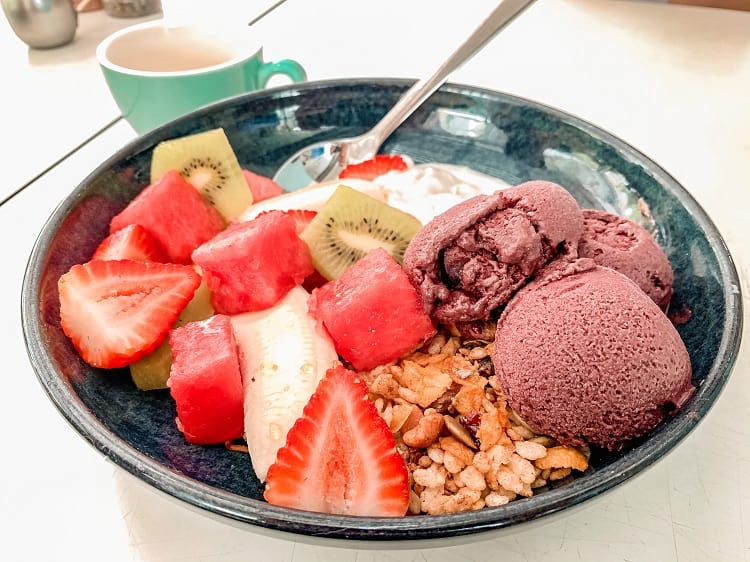 Here you will find a large selection of the usual breakfast choices, such as bacon and eggs, they also cater to vegans. Yes, I said the word.
Since we have recently decided to go plant-based, we also had a good choice of yummy treats.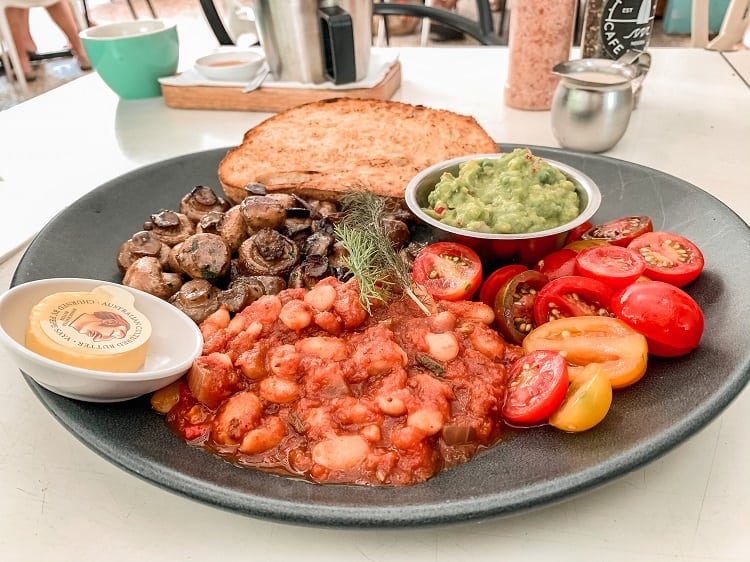 Check out Cafe Le Monde here.
Lunch
Yes, we had a lazy relaxing time here at the Tingirana, so our lunchtime was spent by the pool. Although we had an option of choosing some food from the in house menu at the Seasons restaurant, we simply opted out for the Domino's Pizza delivery.
Did you know, these guys also look after the plant-based taste buds?
Dinners
For dinner, we visited the following two locations on consecutive days:
O-Ren
This restaurant is one of our favourites now. It is because anything Asian with buckets of flavour is good, right? I think the picture speaks for itself.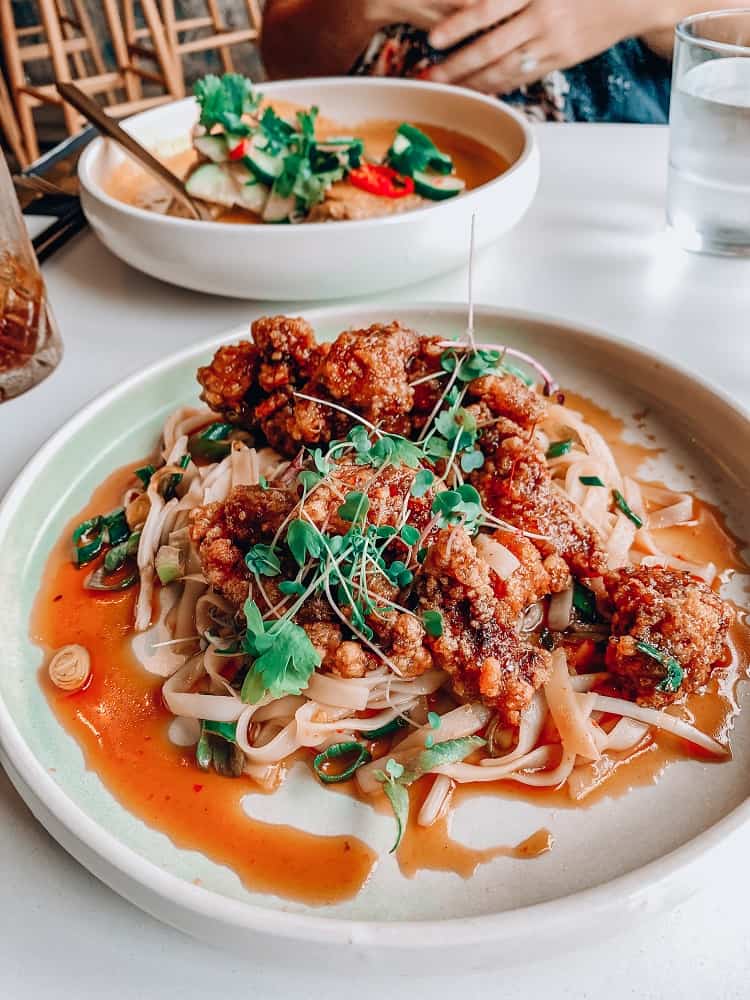 Check out O-Ren here.
Light Years Noosa
Yes, we do have a soft spot for Asian food and that is why we decided to have our second dinner at the highly recommended restaurant called the Light Years.
This restaurant is located about 20 minutes walk from the resort, in the Noosa Junction. Although we could've strolled there with easy, a more relaxing way was to drive for 3 minutes.
I know what you thinking, but when in Noosa…
Check out Light Years here.
What to do with Kids in Noosa
Noosa has a tonne of things that you can do with your kids. There is a spectacular family-friendly beach, sensational coast walk in the Noosa National Park, take a boat on the Noosa River and so much more.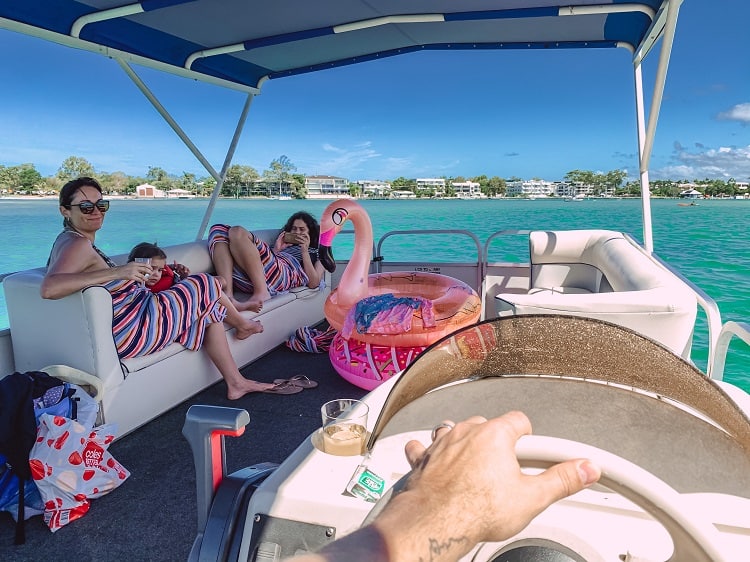 Find out more information about the things to do in Noosa with your kids here.
Final Words
Tingirana is a super-relaxing place to chill out and there is really nothing bad to say about this place. People are friendly, rooms are clean, spacious and have beachfront views. What can I say? We recommend it!