Australia, the land of Kangaroos, is a great place to travel. You can find everything in Australia from fabulous beaches, delicious foods, to informational museums.
The climate in Australia is usually hot, but it depends on where you travel and also the time of the year. Carry a rain jacket along with a regular hoody to tackle an unexpected rain or a sudden change in temperature.
Aeromexico airlines make it hassle-free to travel to Australia, and all you need to do is get a visa and book a ticket with them to fly to this beautiful country. While booking, consider Faremart.com which is a user-friendly platform, providing satisfactory Air travel services.
I'm sure that you must have made a decent plan about what to do when you are in Australia, but you might miss out on some adventurous things.
Are you aware of these adventurous things that you can do in Australia?
Once you reach Australia, take some time to sit back and relax in the hotel that you are staying. Wander around the area of your hotel and interact with locals in the area.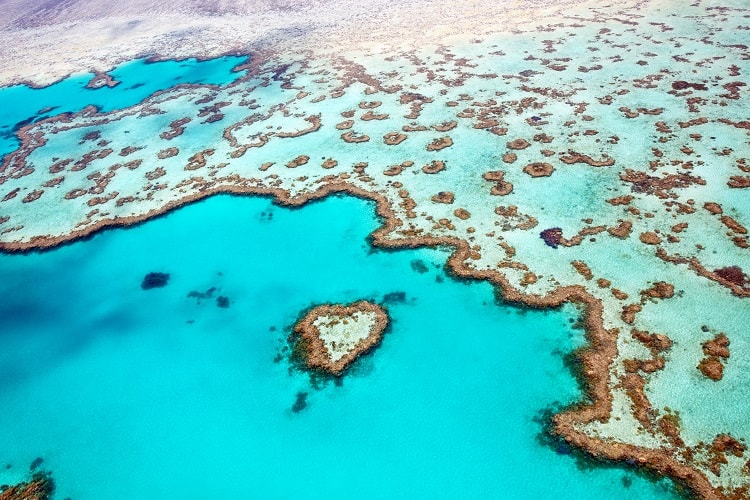 After you take some rest, allocate some time for the activities that I'm about to mention below to add excitement and thrill to your tour.
1. Relax and drive to explore Great Ocean Road
Do you like driving? If yes, you would be thrilled to drive around the Great Ocean Road. It will give you a whole new experience and open up your mind about the potential of fun that you can get while driving.
If the image of the place is so amazing, imagine how great of an adventure it would be to drive on the Great Ocean Road.
Here is one cool thing about this place, and that is you do not have to travel miles down the road to reach here. It is 243 km ride, filled with mind-boggling scenic spots.
This place is near the city of Melbourne, and you will observe plenty of great sights throughout your journey.
It is a unique driving experience for people, as you do not often get a chance to take a ride in between stunning beaches and beautiful swells.
Once in a while, you can get off the car and walk around the area to enjoy the scene of wildlife and rainforests.
Missing out on this adventure, even if you are in Australia will make you regret later.
2. Scuba Diving in the Great Barrier Reef
Scuba Diving in the Great Barrier Reef is unlike any other scuba diving, as you will be performing this act on the UNESCO World Heritage site.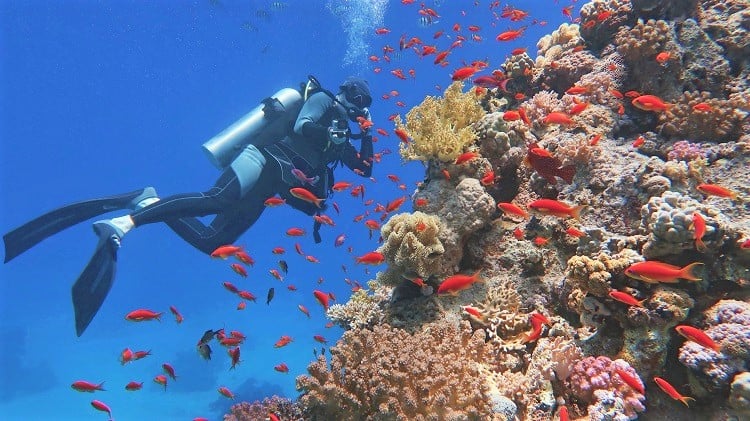 It is a lengthy 2300 km scuba diving experience that will give you out of this world experience. If you're a scuba diver, this place must be on your bucket list.
As you go on exploring the area, you will feel stunned by observing numerous types of marine life here. There are well over 1625 fish species, 30 species of whales and dolphins, six kinds of marine turtle, and more.
You must bag this experience if you want to see what underwater paradise in this world.
3. Skydiving at Mission Beach
Do you want to experience a magnificent beach from above? If yes, skydiving at Mission Beach in Australia is the thing to experience.
Skydiving at Mission Beach is among the most iconic Australian adventure.
The air rushing at your face, while you are enjoying the scene is something that you must experience. Yes, and there is one more thing.
Do not forget to take a selfie when you are in the air that you can save as a memory and also share with your friend circle.
4. Get near Great Whites with Cage Diving
Have you ever wondered how it is like to be surrounded by deadly sharks all surrounding you? I bet none of you would want to be in that situation, but you have a chance to be in that scenario without being in trouble.
Although you still need to be brave, you can feel how it would be like to be surrounded by hungry sharks.
There is a chance for you to hop into a cage and be inside the water that is full of sharks. You get an opportunity to see the most dangerous predator of the ocean closely.
For some of you, itis not the right activity. However, the ones who are brave will treasure this experience. In case some of you want to face your fear, you do not need to worry, as this activity is safe.
5. Dune Bashing at Fraser Island
You would love trying 4X4 driving on Fraser Island, which is the World Heritage Site. It is 120 km long, which makes it the largest sand island in the world.
Some of you might be thinking that this island is all about sand, but that is not the only thing that you are going to see here.
When driving on this beach, you will get to observe the technicolor sand cliffs along with SS Maheno shipwreck.
There is also an amazingly clear Lake Mckenzie where you can go for a swim. Also, you can check out the lovely scenery of the place from Indian Head lookout.
6. Be Thrilled by Experiencing the Cage of Death
What else can give you a thrilling experience besides a shark? Well, a shark is not the only deadly creature that you can find on water and Aussies are well aware of this creature. It is the Saltwater Crocodile.
You can get close and personal with crocodiles by putting your foot on Crocosaurus Cove in Darwin.
It is home to some of the giant reptiles in Australia. Some of you who are seeking for more adventure can get into the cage of death and look into the eyes of this deadly creature.
It is true that this sounds scary, but you will be experiencing a moment of a lifetime if you take a leap of faith and take on this challenge.
7. Bushwalking in Kakadu National Park
Bushwalking is rather common in Australia, but the bushwalking across the Kakadu National Park stands out. It is one of the iconic places and also listed by UNESCO as the world heritage site.
The half of the land of this national park is aboriginal land that is wild and untamed.
A visit on this national park will help you know about the rugged outdoors of Australia. There are lush forests, creeks, grand mountain canyons, waterfalls, and more on this park.
In addition to hiking and observation of fantastic scenery, you can also go around and interact with aboriginal native for seeing their culture.
Wrapping Things Up
Adding emotions to your travel will help you remember most of your travel experiences. Adding the seven things that I've mentioned in your travel package will add spice to your holiday trip and will give you moments to preserve in your heart and share with your loved ones.
The things that I've mentioned are a few must-do activities, and there are a lot more things to explore besides these seven things. Are there some more insights that you want to add to our piece of content? If yes, do share your opinion below with our readers.