Traveling to Japan is a fun and exciting adventure, and while some people might picture the busy city of Tokyo when they think about where they should visit, there are other amazing areas you should consider as well.
The beautiful and historic Takayama deserves a place on your list of what to see in Japan.
Takayama in the Gifu Prefecture is an authentic, traditional older Japanese village with tons of low-key and rustic charm.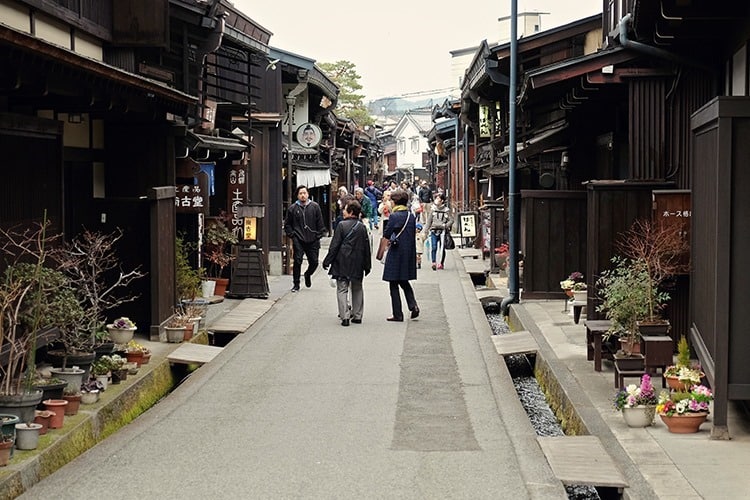 Nestled deep within the beautiful Hilda Mountains, the towns well-preserved history and buildings make it both relaxing and fun.
In fact, many of the towns latticed wooden buildings date back to between 200 and 300 years ago!
We love how easy it is to explore Takayama as all the top things to do in Takayama are within walking distance from each other.
This guide to Takayama, Japan will help you figure out all the great things you can do in the city as well as just outside of the city.
–
What you will Find in this Takayama Blog Post
Because our Takayama blog post is pretty lengthy, we thought it would be helpful to let you know what you can expect to read about in our guide. Please feel free to scroll down to the section that you are most interested in.
You will the following content:
A video to show you what Takayama is like
Handy travel information that will help you plan your trip
Top 10 things to do in Takayama
Day trip recommendations
Takayama 3-day itinerary suggestion
Where to stay in Takayama
Watch our Video of Takayama, Japan
Watch our video to see what Takayama is like, where you can find all the main things to see in Takayama itself. We also share suggestions of some popular day trips in our Takayama guide below.
>>> Click Here to Subscribe to our YouTube Channel
Takayama Travel Guide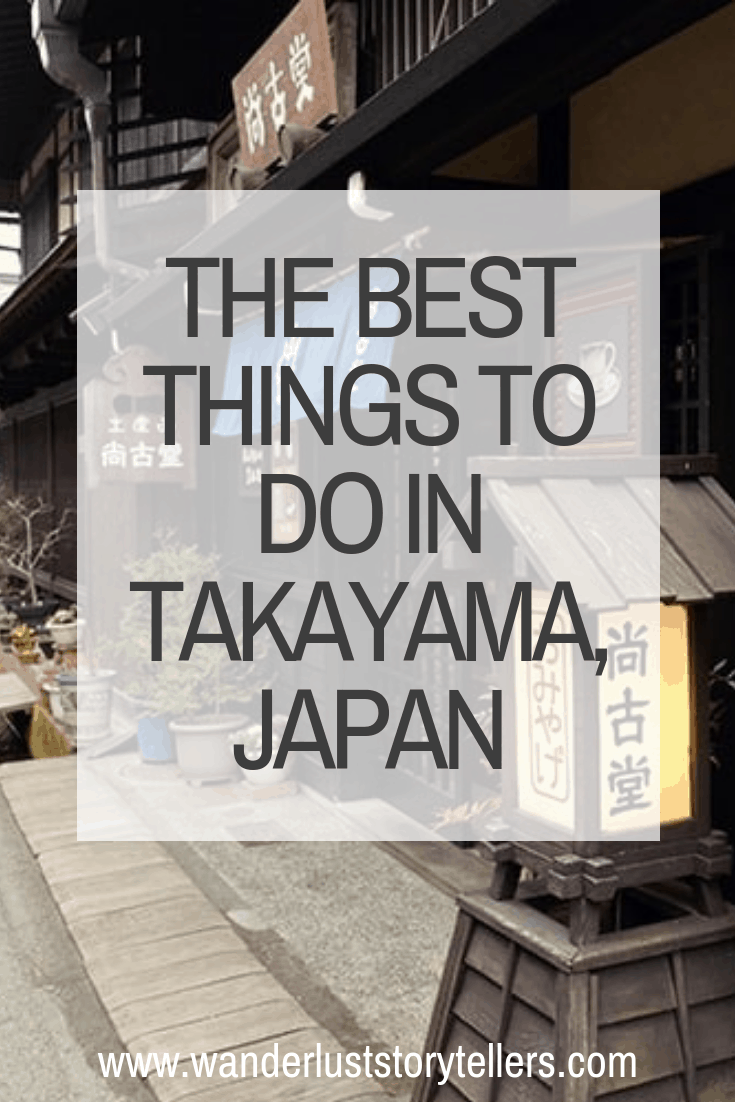 Before we have a look at what there is to do in Takayama, let's have a look at how long you should spend in the city as well as how to get there, and other useful information that will help you plan your Takayama trip.
Where is Takayama in Japan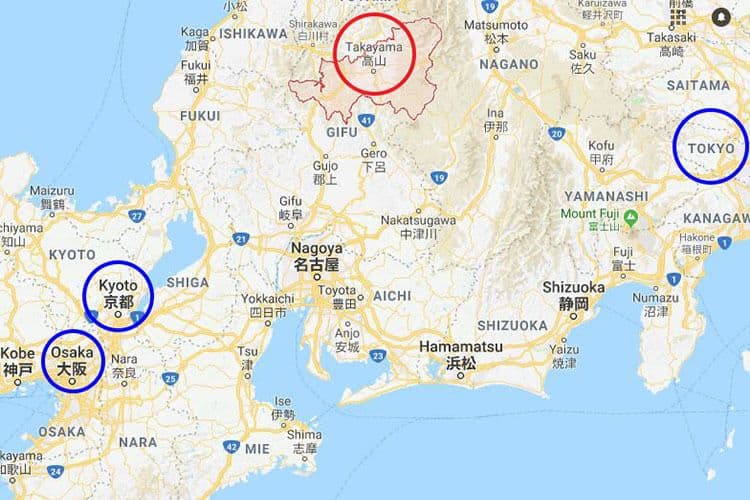 Takayama is a city in the mountainous Hida region of Gifu Prefecture, among the beautiful Japanese Alps. The city is also commonly referred to as Hida-Takayama.
How to Get to Takayama
Find below info on how to get to Takayama via either train or private transfer.
1. Getting to Takayama by Train
The easiest way to reach Takayama from one of the main cities (Tokyo, Kyoto or Osaka), is to take a shinkansen on the JR Tokaido Line to Nagoya.
At Nagoya, you will have to switch to a Hida Wide View Express Train. This part of the journey from Nagoya to Takayama will take you around 2 hours and 30 minutes.
We highly recommend that you grab a 5 Day JR Takayama-Hokuriku Area Tourist Pass. Your 5 consecutive days rail pass covers unlimited rides on JR conventional lines running between Takayama – Hokuriku, in addition to Bus between Shirakawa-go and Shin-Takaoka Station. This includes train rides connecting Nagoya with Takayama and Toyama, and trains from Osaka to Kanazawa and Tomoya. It also includes a ride on the bus to Shirakawa-go (which is the most popular day trip from Takayama).
>>> Click here to grab your 5 Day JR Takayama-Hokuriku Area Tourist Pass online.
Once you have purchased your ticket online, it is really easy to get your physical tickets. Simply head to the JR ticket office with your passport and order and they will help you out.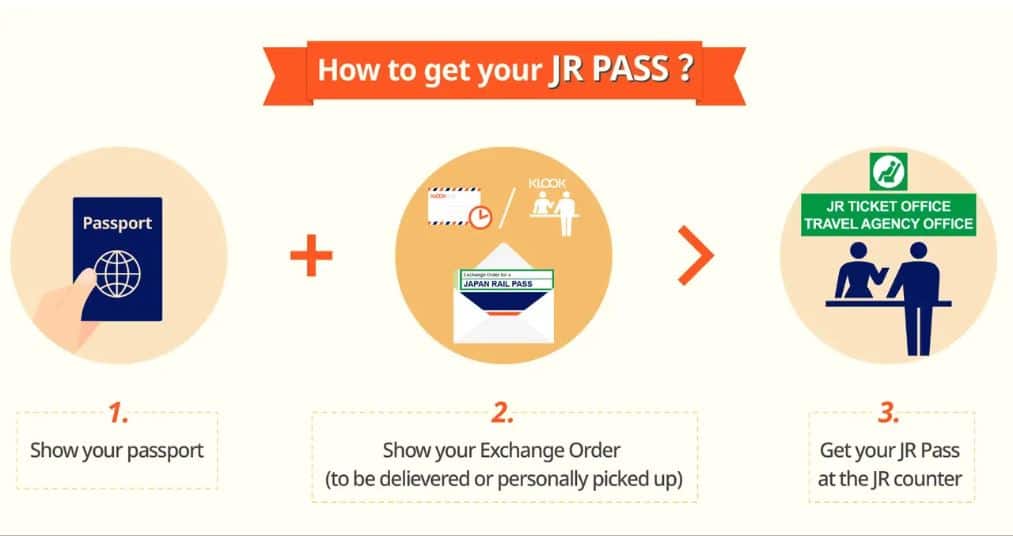 For more information about how to save money with a JR pass, click here.
2. Getting Takayama By Private Transfer
If all of that sounds WAY too complicated for you, or maybe you simply wish to get going at your own leisure rather than rushing for trains, you can also grab a private transfer from Nagoya. This option might even work out cheaper for you if you aren't planning on using the trains and busses frequently.
>>> Click here to book your private transfer from Nagoya
How to Get Around Takayama
We can also highly recommend this fabulous value bus pass which will save you 35% if you grab it online. This 3 or 5-day bus ticket is a convenient way to navigate around the Takayama, Shirakawago, Kanazama, Toyama and Nagoya areas. It is especially handy if you didn't end up purchasing the 5 Day JR Takayama-Hokuriku Area Tourist Pass mentioned above.
>>> Click here to grab your bus tickets at 35% discount
_____________________________
STAY CONNECTED WHILST IN JAPAN
Stay connected in Japan with nationwide coverage on a 4G traveler WiFi router.  If you buy it online, you can simply collect it at any major airport in Japan and you are ready to go.
So much better than searching forever for a store that sells them!
GRAB YOUR 4G ROUTER ONLINE TODAY
_____________________________
Is Takayama Worth Visiting?
Wondering why people visit Takayama? Takayama is one of the best Japanese destinations to visit for first-timers.
Takayama is a great destination because it is in total contrast to the modern, 'new' culture of Japan's larger cities. We love that Takayama still has a big focus on history, tradition, and culture.
Add in the fact that the Sanmachi Suji (Takayama old town), is an easy-to-explore area filled with gorgeous narrow streets that are lined with gorgeous dark-wood merchant houses.
You can also enjoy learning more about the ancient customs found here such as sake brewing, pottery, lacquerware, and furniture making.

Takayama is a lot more laid back in comparison to the other popular tourist destinations in Japan, and it is a great inclusion on your itinerary to give you time to just slow down, soak up the beautiful scenery and enjoy leisurely strolls through the Old Town.
Still not convinced? Check out his fantastic post that outlines 5 reasons why you should visit Takayama.
Best Time to Visit Takayama
Due to its temperate climate, Takayama is a great destination to visit during any time of year.
Takayama in the summer months (June -August) is typically pretty hot, so dress appropriately and take your sunglasses.
Takayama in winter (December – February) is typically snowy and cold.
For the best weather, October might be your best bet, as the temperature is warm (but not hot) and you will have plenty of sunny days. October also has fewer crowds in comparison to November.
We visited Takayama in April and as you can see we are wearing nice thick jackets and our days typically included short showers and cloudy weather.
How Many Days Should you Spend in Takayama?
If you wish to only explore within the city itself, you can easily see Takayama in only 1 day/2 nights.  However, our recommendation is that you give yourself at least 3 full days so that you can include some day trips to the beautiful villages close by as well.
–
Best Things to do in Takayama
If you're wondering what to do in Takayama, things to do are in no short supply!
We share 6 Takayama attractions that we highly recommend you include in your itinerary, and we have made suggestions towards the bottom of the post.
1. Stroll Around Takayama Sanmachi (Takayama Old Town)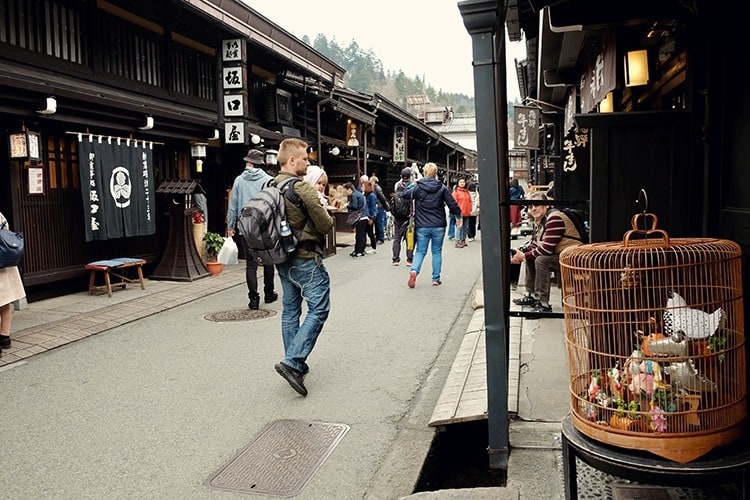 This incredible medina is probably our top recommendation of what to see in Takayama!
Close to the shopping district and morning markets is Takayama Old Town, and the second you get to the area you will understand why it has that nickname. The streets are lined with rows of 200 to 300-year-old wooden latticed buildings!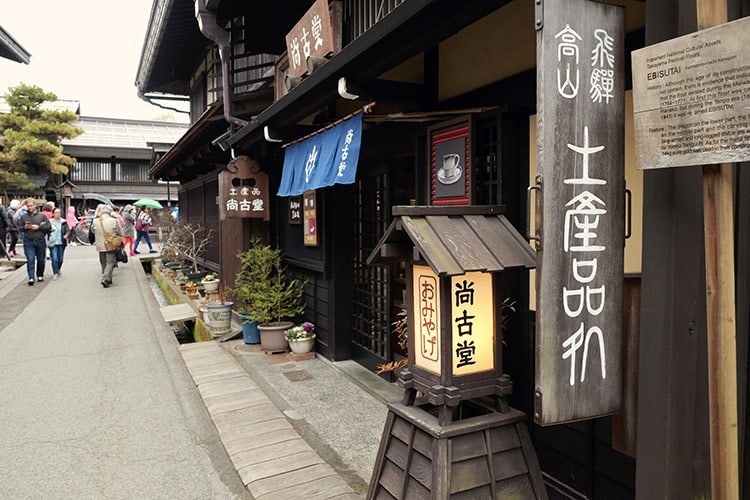 Although Takayama has been made a Nationally Recognized Important Historical Building Preservation Area by the Japanese Government, you will find that Sanmachi is not as overrun with tourists as some other historic areas tend to be.
This doesn't mean it isn't worth visiting, Sanmachi is full of wonderful areas to explore!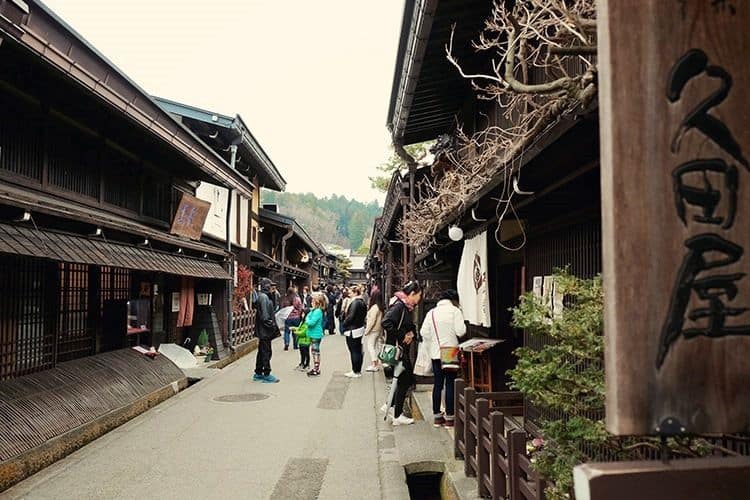 Venturing south in Old Town will bring you to Sannomachi Street, which is one of the loveliest streets in the area.
It is filled with shops, beautiful homes, delicious restaurants, and even sake breweries.
Talking of sake, you might also like to join this great tour to visit one of the sake breweries and to enjoy a bit of sake taste testing.
>>> Click here to grab more info and sign up for this tour.
Most of the shops in the area are open from 9:00 AM to 5:00 PM.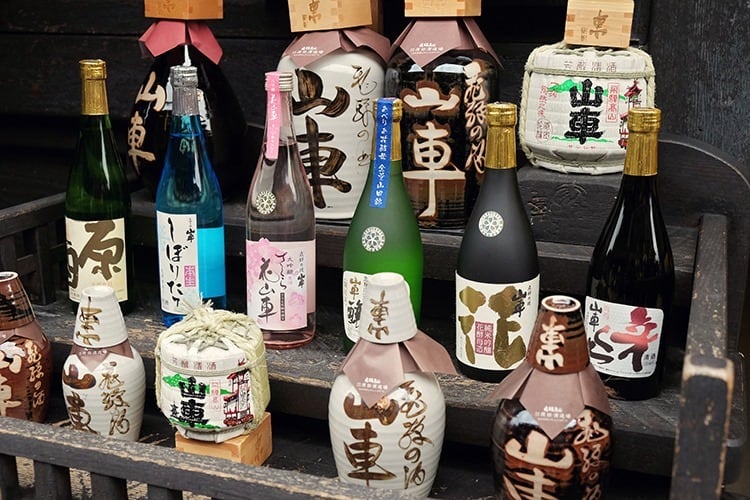 There are a few exceptions that open at 10:00 AM like Hida Kotte Ushi restaurant which makes delicious 'sushi' from Hida beef. Gyuman Kihachiro also opens at 10:00 AM and serves tasty Hida beef buns.
Hida is a Japanese beef that is on par with Matsuzaka and Kobe. Make sure to try this delectable treat when you are in the area!
2.  Visit Takayama Jinya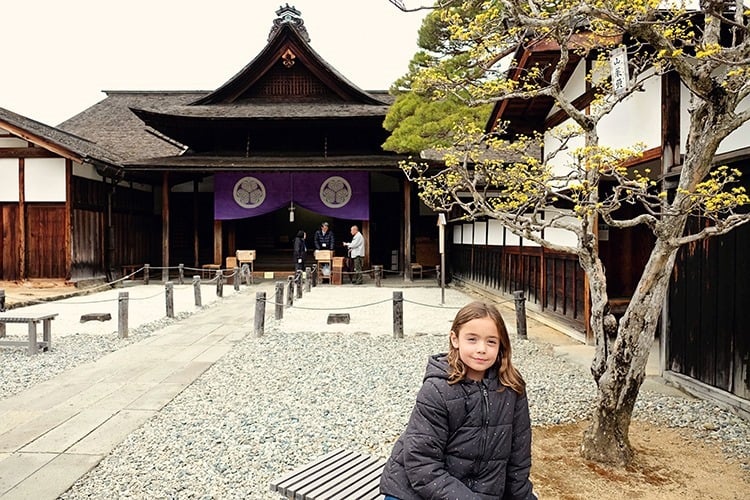 The Takayama Jinya is a really interesting site to visit and is one of the top Takayama tourist attractions!
Interestingly, up until 1969, the Takayama Jinya served as the local government office.
These days it is open to the public as a museum!
So grab your tickets, take off your shoes and check out the various tatami mat rooms that once served as offices, conference rooms, guest rooms, and a residential space.
3.  See the Sakurayama Hachimangu Shrine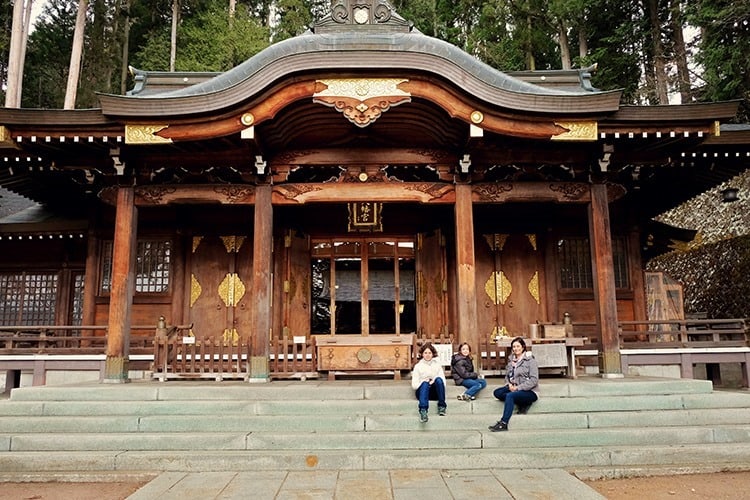 The Sakurayama Hachimangu Shrine is just a short walk from the Takayama Station and a must-see during your trip. Sakurayama Hachimangu is the oldest shrine in Takayama, dating back to the 4th century.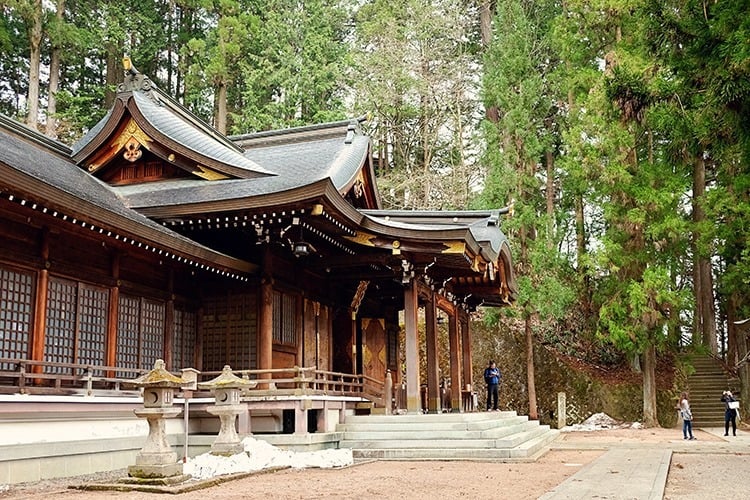 It is a small wooden shrine surrounded by large trees, making it a very quiet place, regardless of how many people are visiting. You will also find loads of O-mikuji (paper prayers) tied to ropes around this beautiful Takayama temple.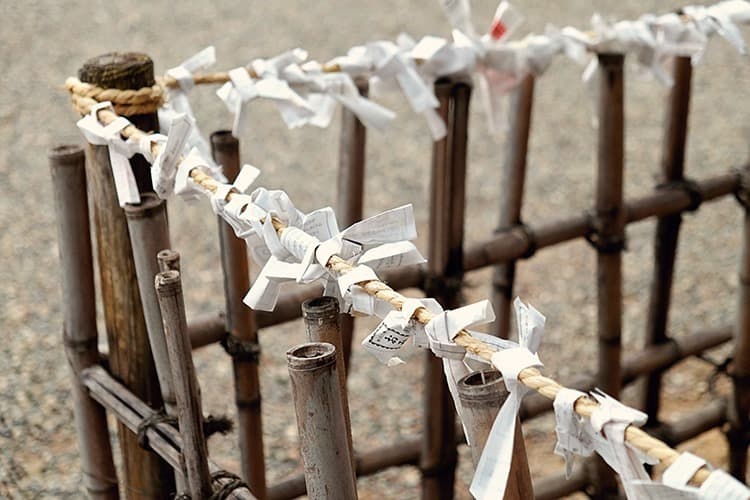 Every October, Sakurayama Hachiman sponsors the Takayama Autumn Festival. The festival has large floats covered in lanterns and about a million people will visit the Takayama shrine during the festival.
4. Try the Local Delicacies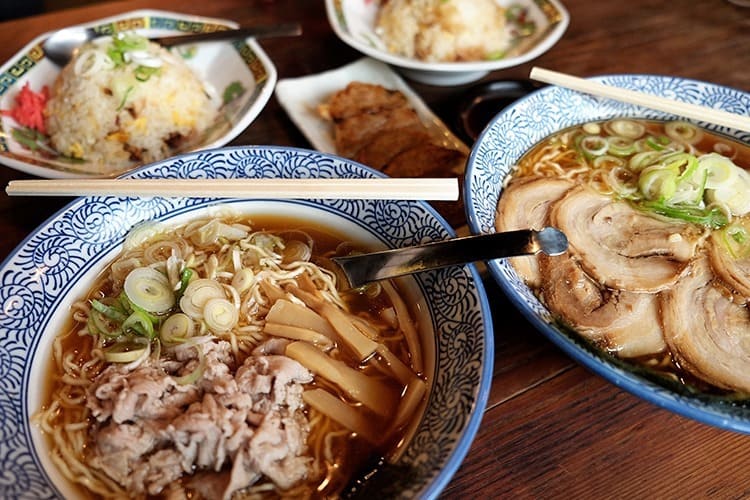 The food scene in Takayama is known for its high-quality Hida beef which is taken from black cattle in the area (we LOVED the Hida beef, but never grabbed photos of it!).
Although that might be the first thing foodies think of when visiting Takayama, they also have amazingly fresh fish and seafood. The fresh fish is received daily from ports in the Toyama Prefecture and is found in pubs and restaurants all around town.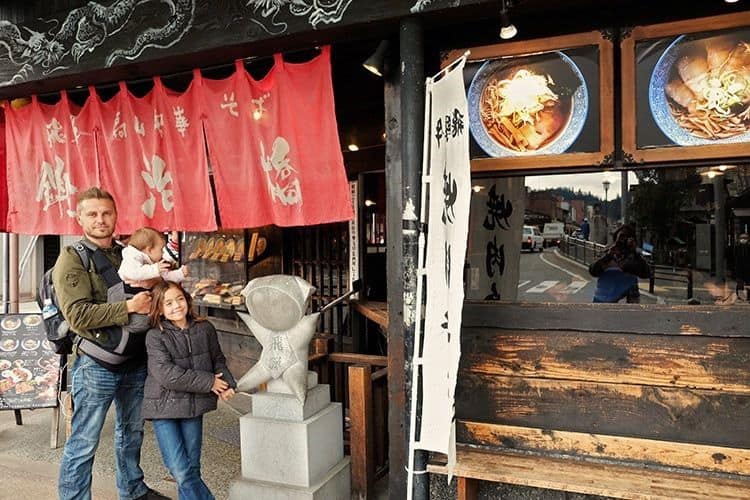 The food you will find in Takayama is unique to the area because it gets its influences from both the Kanto and Kansai regions of Japan.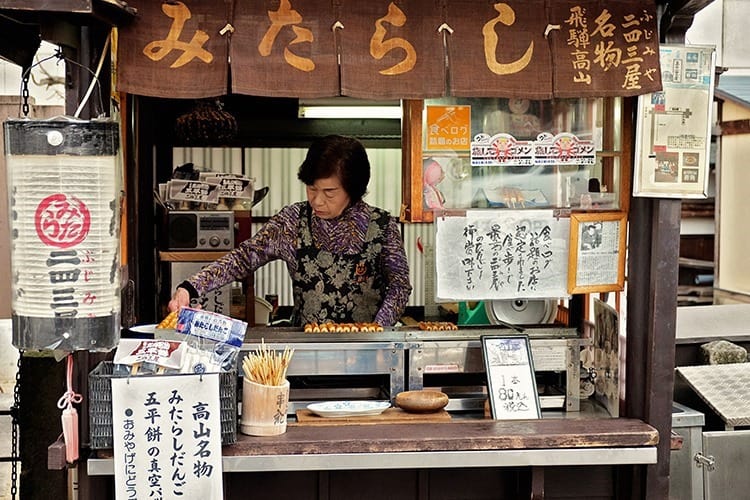 One of the most popular and fun local delicacies is Okonomiyaki, which is a savory Japanese pancake. The pancake is like a savory crepe filled with tons of meat, seafood, and cabbage and then topped with ham and an egg, many places will also offer you the option of adding noodles to it as well.
If you love food, you will definitely need to sign up for the very popular 2.5-hour Takayama food and walking tour. Learn about the distinctive culture that developed in Takayama due to its isolated location, while you taste a variety of delicious food and sake at local shops.
>>> Click here to see prices for this wonderful tour.
5. Visit the Matsuri no Mori Museum
This Takayama 'must see', Matsuri no Mori, is located outside of the city center. The museum showcases the key aspects of the popular Takayama Festival. There is a large exhibition space and hallway that is line by eleven miniature festival floats. You can also learn more about the festivals from the folded screens on the opposite side to the floats.
6. See the Floats at Takayama Matsuri Yatai Kaikan
One of Japan's three most beautiful festivals is held in Takayama every year.  And here at Takayama Matsuri Yatai Kaikan, you can see four of the festival floats (yatai).
These floats are several hundred years old and are stunning examples of the elaborate craftsmanship that is found in Takayama.
7. Learn Some History at the Heritage Houses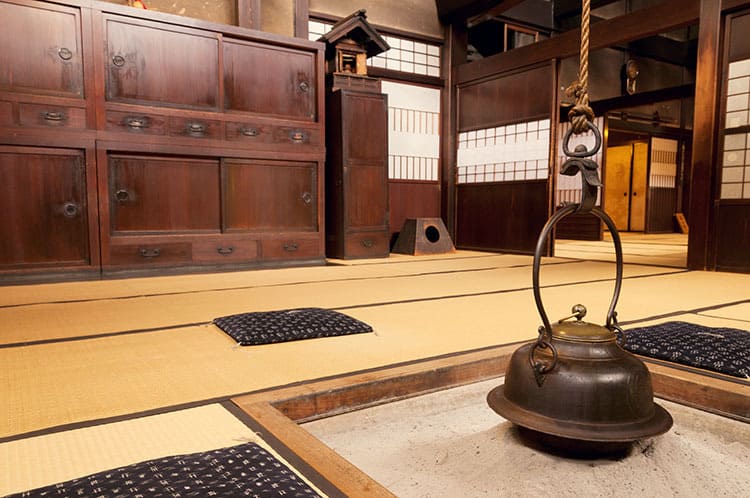 There are two beautiful heritage houses located close by to the Old Town. Both are worth a visit: the Yoshijima Heritage House and the Kusakabe Folk Crafts Museum (which combines the heritage home with a museum).
8. Enjoy a Stroll along the Higashiyama Walk
Enjoy a 3.5-kilometer walk to see some common temples and shrines.  You will also see the ruins of Takayama's former castle, Shiroyama Park and see the city's rural 'suburbs'.  Whilst this is a lovely walk to enjoy if you have the time, if you are in more of a hurry, this is one of the activities that I would skip-out on.
9. Morning Markets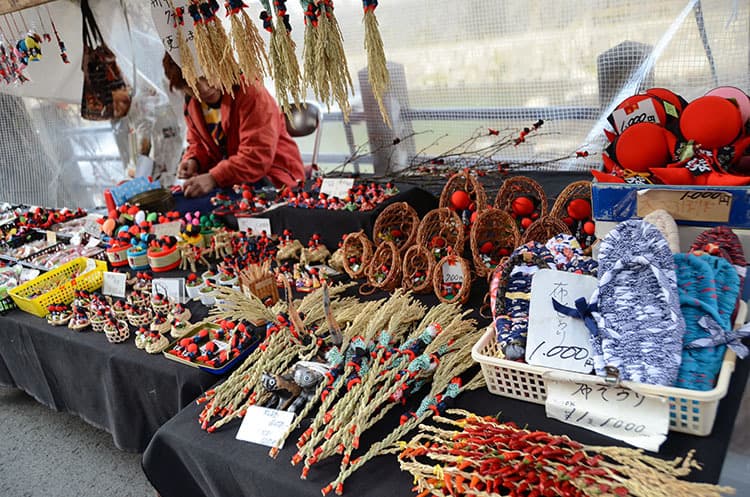 When visiting Takayama you will want to make sure that you wake up early enough so that you can head to the Jinya-Mae morning market.
The morning market started out more than 30 years ago and is still one of the biggest morning markets in Japan. It started as a market for farmers who sold mulberry tree leaves, and to this day only farmers are allowed to sell their items there.
You will find dried foods, homemade pickles, fresh green vegetables as well as potato stems, carrot leaves and various kinds of wild vegetables.
The market is open from 6:00 AM to 10:00 AM. Get there early for a chance to mingle with the locals!
10. Learn more about the Sarubobo Dolls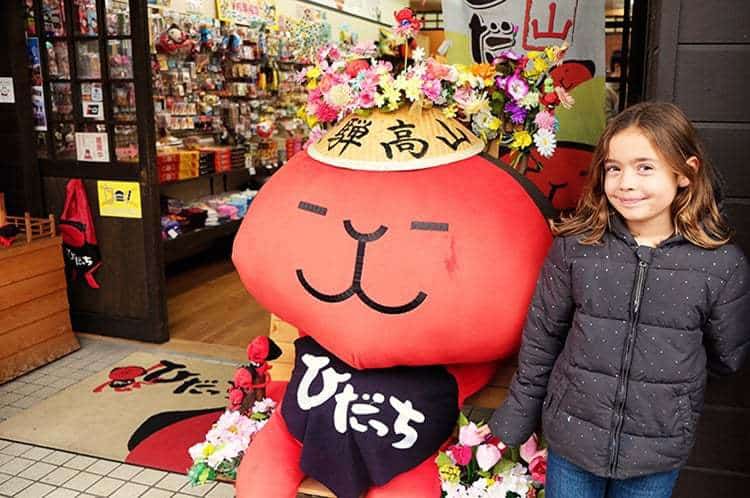 When visiting Takayama, you will definitely come across the regions popular sarubobo dolls. The dolls were traditionally red and shaped like a human, but with no facial features.
The giving of sarubobo dolls started as gifts that grandmothers would make for their grandchildren, as well as gifts that mothers would give their daughter as a charm to bless her daughter with good children and a happy marriage.
Sarubobo dolls and their meaning have changed a little over time, and are now a very popular souvenir that is sold in many Takayama shops. They now come in six colors, with each color representing a different wish!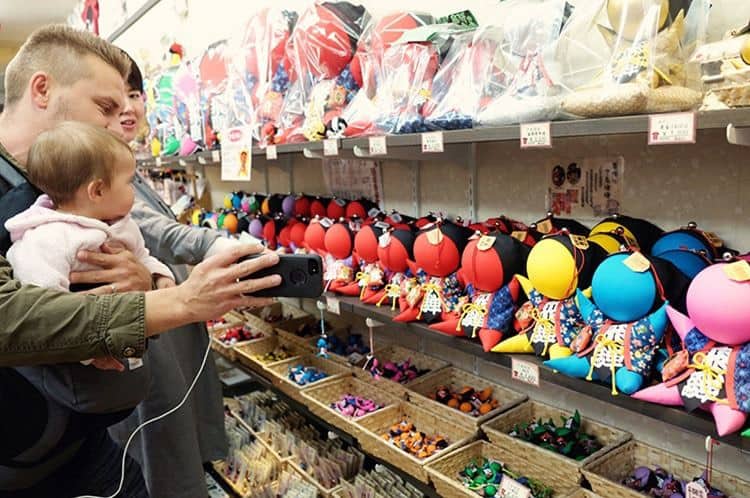 A blue sarubobo is said to give luck in areas of school and work, a green sarubobo is said to bring good health, a black sarubobo removes bad luck, a pink sarubobo is to aid in areas of love and a yellow sarubobo is supposed to help someone attract money.
Top Things to do Around Takayama
Here is a list of some of the best day trips to enjoy from Takayama.
1. Enjoy a Shirakawa-Go Day Trip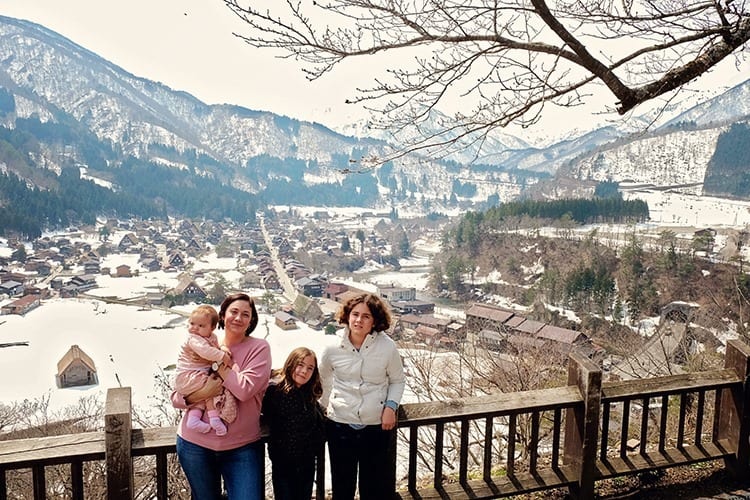 While you are enjoying Takayama, it is a good idea to take a day trip to Shirakawa-Go. Shirakawa is a UNESCO world heritage site that is only a short bus ride away.
The small village is known for the traditional gassho-zukuri farmhouses that are dotted along the landscape.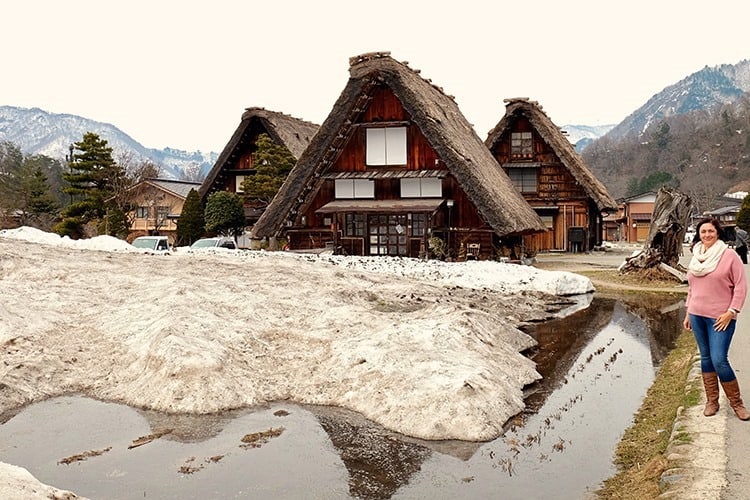 Since Shirakawa is such a small town, exploring it on foot is very easy to do.
Make sure to visit the viewing area where you can see what the town looks like from a bird's eye view. The houses' the thatched roofs are a beautiful sight in summer or in winter. Also, make time to visit the farmhouses as some of them are open for tourists.
Here is our video of our visit to Shirakawa-Go. You might also like to read our full guide about Shirakawa-Go.
It is one of the best day trips from Takayama and truly a trip that you should not miss out on.
We rented a private driver for the day to get to Shirakawa-Go, but you might prefer the cheaper option and grab the bus from the Takayama Station Nohi Bus Center.
2. Day Trip to See the Popular Resort Town: Kamikochi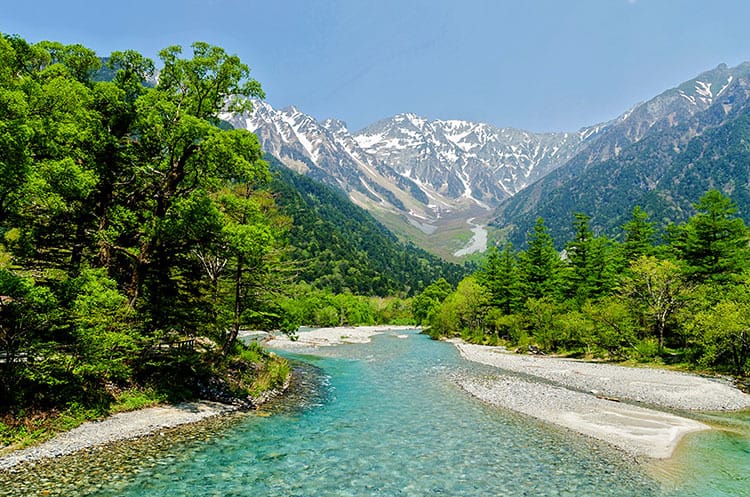 Kamikochi is a really pretty and popular resort in the Northern Japan Alps. The quaint town is famous for its spectacular mountain scenery!
We recommend you grab your hiking boots and set out on a hiking day.  Start the trail along the Azusa River from Taisho Pond to Myojin Bridge.
The resort town is closed for winter, so you will only be able to enjoy this day trip from mid/late April until mid-November (make sure to check the dates as they change slightly each year).
Private cars are banned from Kamikochi so the best way to get there is via public transport. Catch the bus from Takayama Station Nohi Bus Center via the Hirayu Bus Terminal.
3. Day Trip to Shinhotaka Ropeway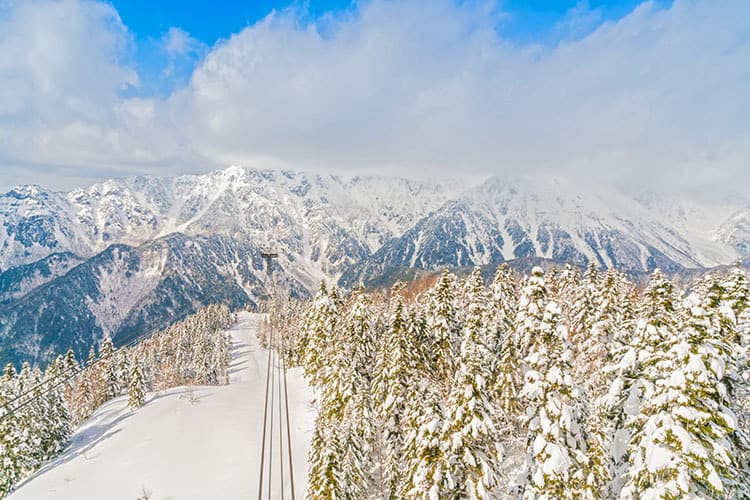 Are you after some sensational views of the Japanese Alps? The Shinhotaka Ropeway (cable car) takes you up to 2156m in 11 minutes. The ride will cost you a lot of money, but the spectacular views are definitely worth it.
Whilst you are in the area, make sure to stop in at Shinhodaka-no-Yu onsen (which is free).
To get there grab the bus from Takayama Station Nohi Bus Center.
–
Takayama Itinerary Blog
Below is a suggested 3-day itinerary where you can see the main Takayama sights as you explore the city.
Day 1:
The plan of action for day 1 is to explore all the top places to visit in Takayama. You can easily do this tour either by walking or on a bicycle.
9:30 am: Takayama Old Town District
Enjoy a stroll from your lodging to the Sanmachi Suji District (the map on your phone can guide you). It is important to get here earlier in the day to avoid all the day trip crowds that will fill up the area with tourists later on. Enjoy strolling up and down the narrow lanes, pop into some of the shops to find some of the local products, and enjoy a cup of coffee or tea in one of the many local cafes.
11:00 am: Heritage Houses
There are two beautiful heritage houses located close by to the Old Town. Both are worth a visit: the Yoshijima Heritage House and the Kusakabe Folk Crafts Museum.
12:00 am: Lunch
Have a bit of a break and enjoy a delicious lunch. You can find restaurants easily, but I recommend that you find one around the Old Town area. Have a look at this great post on some of the best places to eat in Takayama.
1 pm: Visit Takayama Jinya
Grab your tickets, take off your shoes and check out the various tatami mat rooms that once served as offices, conference rooms, guest rooms, and residential space.
2 pm: Sakaurayama-Hachimangu Shrine
After a wander through the hall to see the floats, head over to the nearby grounds of Sakurajima-Hachimangu Shrine. Explore the grounds, which won't take long, but beautiful to see.
3 pm: Higashiyama Walkway 
After visiting the shrine, complete your day of explorations with a leisurely stroll along the temple-line path called the Higashiyama Walkway.
Day 2:
Day 2 can be filled up with a day trip to the Hika Folk Villages (Shirakawa-Go and Gokayama).
Day 3:
the Japanese Alps from the Shinhotaka Ropeway. Stop in at Shinhodaka-no-Yu Onsen on the way back for a unique treat.
Where to Stay in Takayama
Wondering where to stay whilst visiting Takayama? Here is a list of the most popular accommodation options to make your planning easy.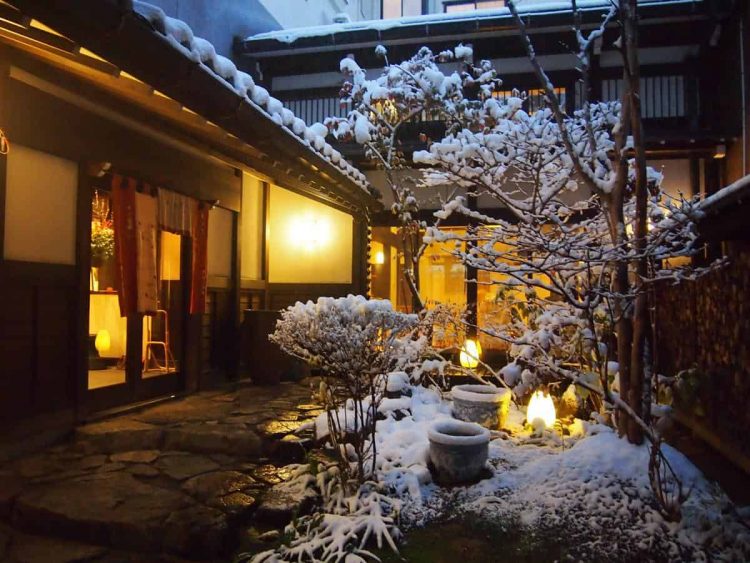 Situated in the real heart of Takayama, this ryokan is not only beautiful but is also the most popular. Rooms feature Japanese style tatami-mat flooring and traditional futon bedding. Guests can soak in both an indoor or outdoor hot-spring bath, or if you prefer to be more private, there is a semi-outdoor hot tub as well.
If you can find a room available at this ryokan snap it up as it is by far the most popular ryokan in all of Takayama.
>>> Click here to see if they have a room available for your dates of travel.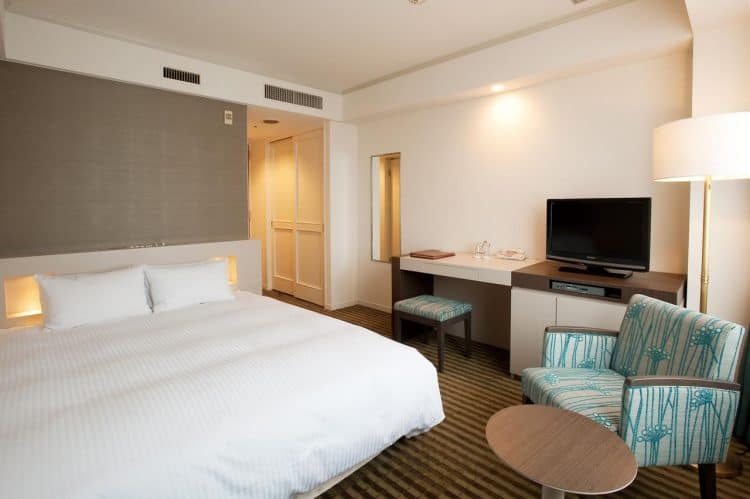 After a 4 star experience? The Best Western Hotel has beautiful, sophisticated decor and its rooms are air-conditioned and soundproofed. Why not enjoy the luxury of a hotel stay at a pretty decent price (much cheaper than ryokans). Location is fabulous and breakfast is great as well.
Click here to see if they have a room available for your dates of travel.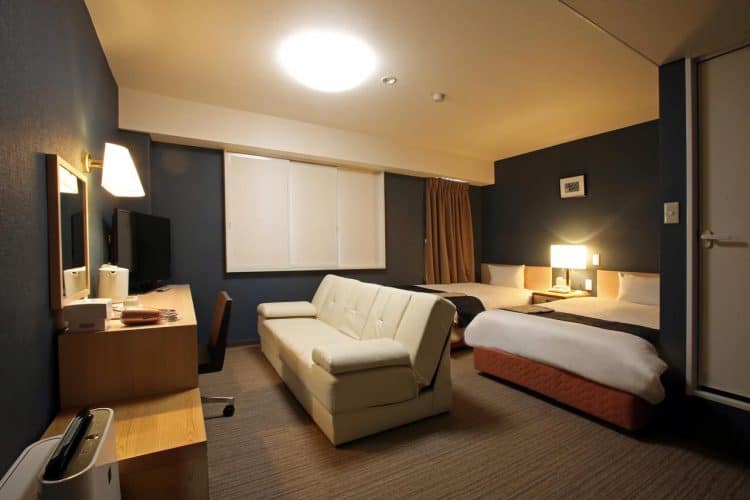 The Country Hotel is one of the best sellers when it comes to hotel stays in Takayama. Whilst the hotel is pretty standard, it is the affordable price tag on the rooms that make this hotel so popular.  So if you don't mind going without luxury, and prefer to find cheaper accommodation, then this is the one for you.
Click here to see if they have a room available for your dates of travel.
If you are looking for the authentic Japanese experience with an incredible history, quaint streets to explore then Takayama is the perfect place to visit. Whether it's for a weekend or a week, there are some amazing things to do in Takayama, and we hope this in-depth travel guide has been helpful in planning your trip!
Connect with Wanderlust Storytellers!
Be sure to follow us on our social media, so you never miss a post!
Facebook | Twitter | Pinterest | Instagram 
Over to You:
Which of these sights would you like to see on your visit to Takayama?
How many days are you setting aside for your Takayama sightseeing?