Are you looking for the best list of things to do in Noosa with kids?
We love living on the Sunshine Coast and one of our favourite ways to spend time with our kids is to spend our days in Noosa.
Noosa is one of those places where you instantly feel like you are on holidays. This is the place where you can be as busy as you want to be. You can go hiking, exploring and swimming. You can shop till you drop, fill your belly with delicious multicultural cuisine and taste some of the best deserts in the world. This is the place where you come to unwind, recharge and relax to the max!
Welcome to the best things to do with kids in Noosa written by the Sunshine Coast's local.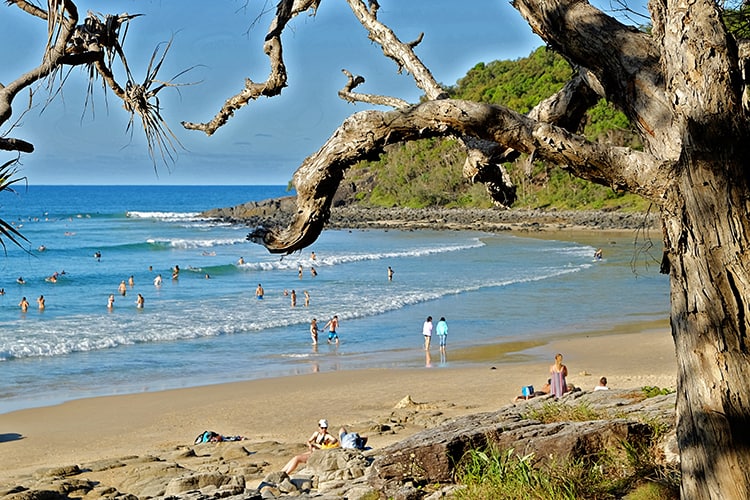 If you are looking for what to see in Noosa, where to go in Noosa or you're chasing Noosa kids activities, then you came to the right place. You can also find a pretty incredible recommendation of where to stay close to Noosa as well!
–
Where is Noosa:
Noosa is located approximately 2hrs drive from Brisbane or 40 mins drive from the Sunshine Coast Airport in South East Queensland, Australia.
–
What to do in Noosa with Kids
In this post you will find the best free things to do in Noosa with kids, plenty of kids friendly Noosa sightseeing ideas and much more!
1. Enjoy relaxing on the gorgeous Noosa Main Beach
Noosa Main Beach is one of the most popular beaches in the whole of the Sunshine Coast. This beach attracts masses of tourists and locals alike, regardless of season, time of the day or the weather. Yes, it is one of the busiest sandy beaches in the area and you must experience it for yourself!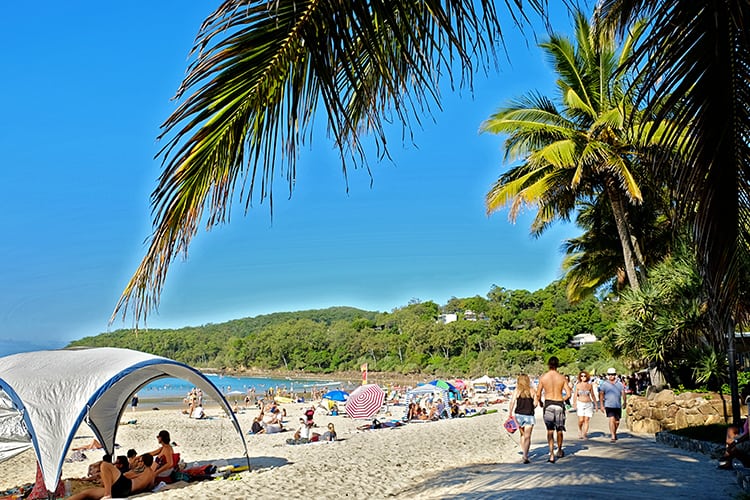 Although this beach is usually crowded, there are plenty of spaces to find your own place and join in on the sunbathing as well. Noosa Main Beach is sheltered from the winds and the waves are usually quite calm here, allowing you to swim without difficulty.
We love chilling out on the warm sand, however, we always try to find a bit of shade along the tree line. That way we can spend more time relaxing, whilst watching our kids playing in the sand right in front of us. As space under the trees is limited, we do suggest that you take along a good quality baby beach tent, as well as all your beach necessities for baby.
Our kids also always enjoy the popular local artist to build his sandcastle every day.
Sourced from Flickr – by Julien
–
2. Enjoy an early morning or late afternoon walk through the Noosa National Park
Our kids love going on hikes with us to discover some beautiful new places. Yes, Noosa National Park is one of those places for sure and if you are looking for one of the best Noosa walks, then you got it all here!
There is around 15km of walking tracks here and all of them are classified as easy or moderate. That makes our kids happy and we don't have to listen to the typical "Are we there yet?" or "How far is it?" whinges.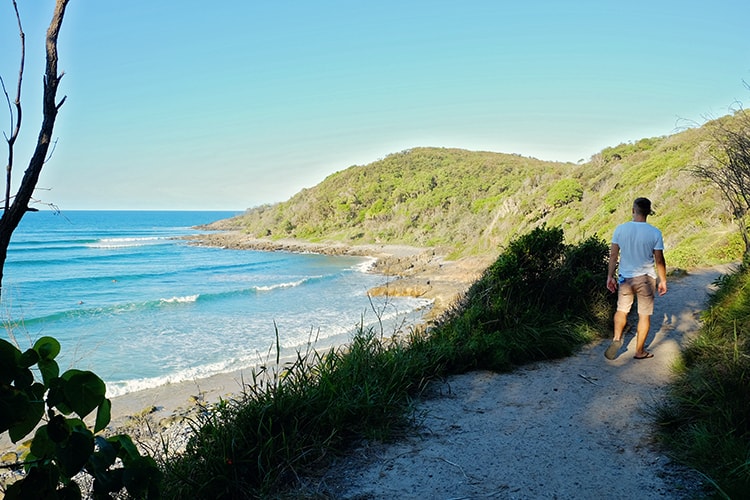 The main walk takes you along the ocean side pathway and past many picture-perfect spots, so make sure to have your camera handy! Some of our favourite spots include the Granite Bay, Hell's Gates, Boiling Pot and the Dolphin Point, where you can spot the dolphins playing around in the distance.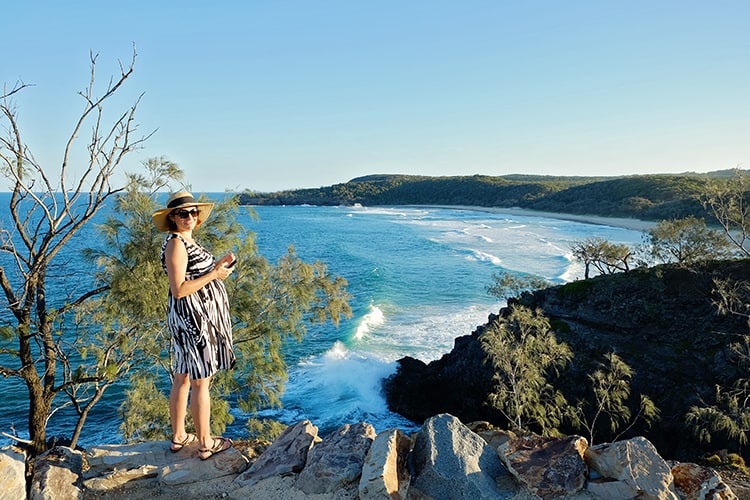 Granite Bay is a perfect spot to veg out and go for a swim away from the crowded Main Beach. Hell's Gates is a great place to observe the turtles battling the waves that crash against the dramatic and rugged cliffside. Quite a spectacle!
–
3. Enjoy the luxuries of boutiques and gorgeous restaurants and cafes in Hastings Street
Ahh, Hastings Street. The wonderland of boutiques, amazing hotels and delicious cuisine. Let me advise you here. If you are looking for high end clothing, pricey trinkets or upmarket souvenirs, then you have come to the right place.
Sourced from Flickr – by daisy.images
Every time we come to Noosa, Hastings Street makes you feel like you are on holidays. People walk slower here like it's Sunday every day. It's the vibe that attracts everyone to this place. It is a happy place and for me brings lots of memories.
Although there are high priced beachside resorts everywhere and the boutique shops price tags are high on a scale, the restaurants are kid-friendly and full of delicious and affordable food. Our most favourite restaurant is Bistro C. This restaurant sits right on the beach with spectacular views whilst you enjoy a yummy lunch or a romantic sunset dinner. Can't wait to go there again!
–
4. Enjoy a Cruise on the Noosa River or the Everglades
There are two relaxing cruises available in Noosa that we absolutely loved! It just depends if you would like to cruise around in a small group of 5 or together with a larger crowd.
The Exclusive Noosa River Dreamboat Cruises takes you on a personalised cruise around the Noosa River system and a bit further, if you please. This one is my top pick for sure! What a truly unique experience it is to head out on a 19 foot mahogany old school power boat with twin open cockpits!
>>> Click here to see more information and prices on this cruise
Sourced from Flickr – by writenq
Our second favourite cruise is definitely the famous Noosa Everglades BBQ lunch and afternoon cruise option. This is one of the most relaxing cruises that I have ever been on and in comparison to the one above, it is far more affordable when you are travelling with kids.
This cruise will take you on an unforgettable adventure into the heart of the Noosa Everglades. The journey is filled with sightseeing and picture perfect moments. You will witness a variety of environments, such as forested dunes, beautiful beaches, multi-coloured cliffs, majestic headlands and, my favourite, the deep dark crystal clear waters of the narrow river system. Very pretty scenery and a cruise that you simply should not miss out on!
>>> Click here to see more information and prices on this cruise
–
6. Hire a boat and cruise on the Noosa River just with your family
Cruising on the Noosa River can only be made better when you drive the boat by yourself and enjoy the day in privacy with your own family.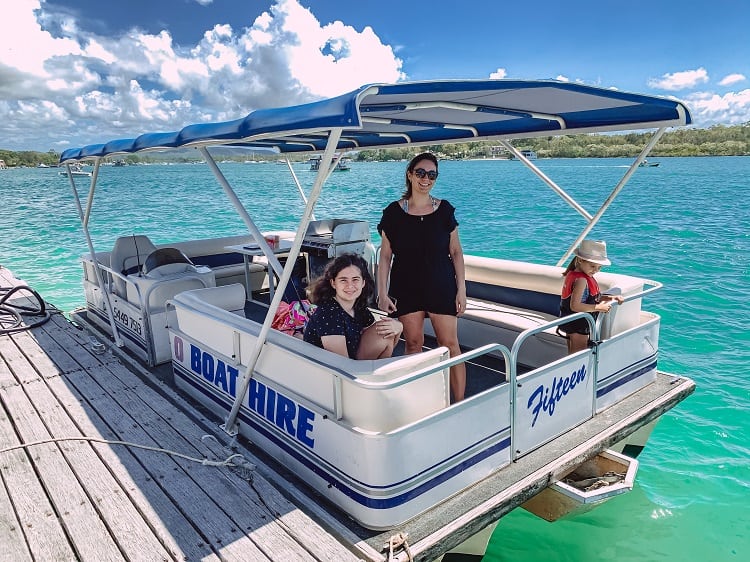 Yes, we hired our boat from the company called O Boat Hire. The whole process was super easy, the stuff was very friendly and we were on our way in no-time.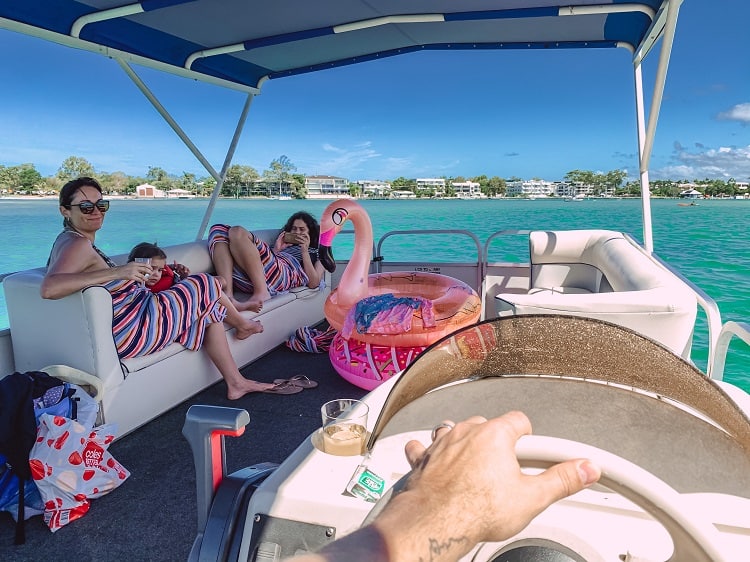 On board, you have tonnes of space so that you and your kids have plenty of room to move around. There is also a Bluetooth connection to the speaker, BBQ and of course the boat comes with a nice shade to protect you from the Queensland sun.
>>> Click here to check out the prices for your next trip with O Boat Hire
–
6. Check out the local Noosa Markets
Who doesn't like markets? I love taking our kids to the Noosa Farmers Market. This Sunday market is filled to the brim with yummy things both for the parents and the kids! It is only open from 7am till 12pm, so you have to be there on time or you will miss out.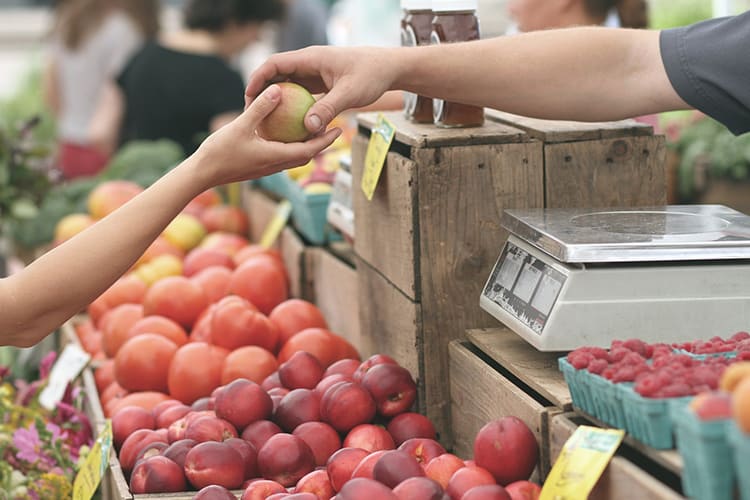 Noosa Markets are all about organic and fresh local produce. You can stock up on your everyday yummy goodies, or you can enjoy the holiday vibe with a refreshing freshly squeezed juice or a delicious cup of coffee. Mmm… coffee!
There are also plenty of stalls with a variety of exotic food, local hand crafted souvenirs and much more!
7. Test out one of the Noosa playgrounds for kids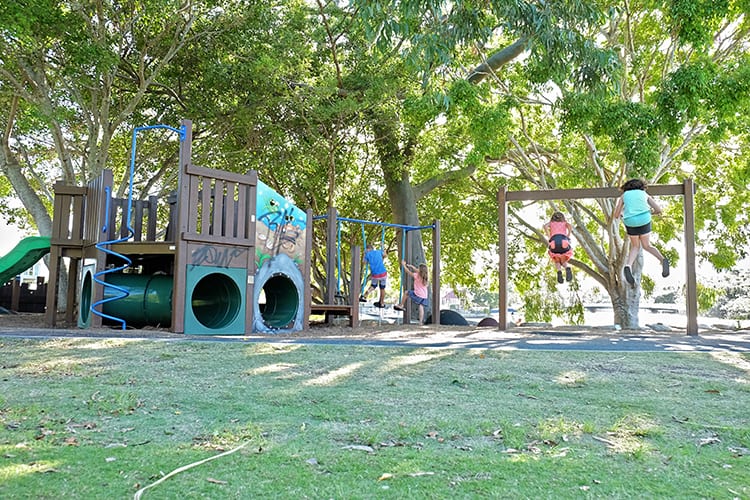 In case you need a bit for relaxation and your kids are running on an excessive amount of energy, why not visit one of the playgrounds from our list of the best Noosa playgrounds for kids?
Pirate Park – located near to the Noosa Yacht Club
Lions Park – located close to the Hastings Street in Noosa Heads
The Sound Park – located next to Rickys River Bar & Restaurant in Noosa Heads
Tewantin Splash Park – water park located near the Noosa Marina in Tewantin
8. Head out on one of these day trips from Noosa
There are plenty of places to see in Noosa, but these day trips from Noosa are definitely worth an effort. Our favourite day trips include:
Visit Carlo Sandblow and see the beautiful Rainbow Beach.
Enjoy some spectacular views from the best lookout points on the Sunshine Coast.
Head out to Coolum, which is lovely by itself, but we recommend you get your exersize gear on and enjoy a climb up Mt Coolum for some glorious views from the summit!
–
Our Favourite Place to Stay in Noosa
If you are looking for the best place to stay in Noosa with kids then you will need to try this one out! Why stay in just another hotel, when you can take your kids to experience nature at its best? Our kids love camping, don't yours? But we love glamping more!! A combination of the raw camping experience of stars and fire, but sleeping in a tent oozing luxury? Uhmmm yes, please! The lovely people at the Glamping Hub can organize all of this for you!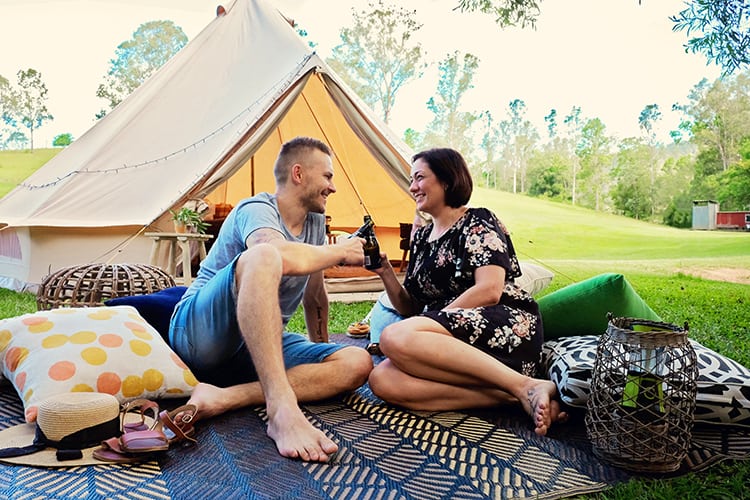 The best part is that you can get to experience this without even lifting a finger. You get to choose your camping grounds (anywhere from Noosa to Byron Bay), simply tell the owners at Pitch Luxury Camping where they should pitch the tent and voila!
They have tents to suit either couples or families of up to 5 in size. These tents are charming, luxurious and oozing in comfort. Enjoy turning up to your campsite where everything is set up and ready to go. They have your linen, towels, kitchen utensils, BBQ & more set up for you! Simply bring your food, firewood, ice and maybe even your kids, if you want, haha!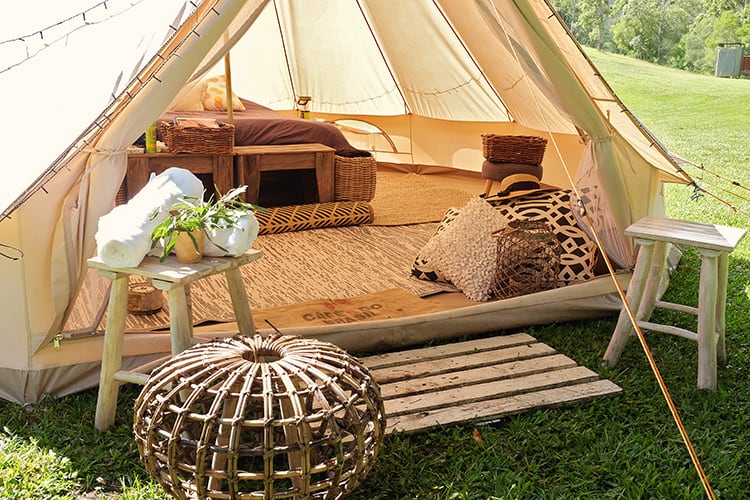 Glamping is truly a unique experience and something that you need to try at least once in your life! So what are you waiting for?
Book your Glamping Experience today!
–
– Please note we were guests of the Glamping Hub and Pitch Luxury Camping for our amazing stay. This review post contains our honest reflections from this amazing experience.