While Melaka, formerly called Malacca, is not often thought of as one of the top holiday places in Malaysia, it's actually quite a stunning place to visit. Especially for those interested in historic and cultural attractions.
The city is a melting pot of cultures, scattered with pieces of history from cultures including Portuguese, Dutch, Chinese, and more.
So, if you find yourself in this city – be it for a day or a week – here are the top 10 things to do in Melaka. In no particular order.
Watch our Video on What to do in Melaka in One Day
Only visiting Melaka for one day? Watch our video to find a plan of action to make the most out of your Melaka sightseeing.
Best Things to do in Melaka, Malaysia [One Day Itinerary]
Our List of the Top 10 Things to do in Melaka
Wondering what to do in Melaka? Here is our list of the best places to visit in Melaka. There is more than enough to keep you busy for at least a few days. If you are traveling with kids, you will also enjoy our list of what to do in Melaka with kids at the bottom of the post.
1. Spend Some Time in Jonker Street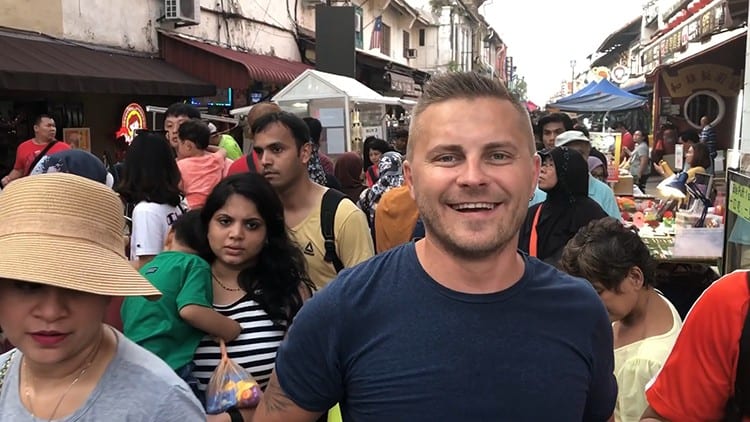 Jonker Street is the main street of Chinatown and is the heart of the harmonious blend of cultures in the city. It's quite a favorite on the Melaka tourist map. Here, you will find many attractions and interesting landmarks.
Some of the fabulous things to keep you busy in this street include:
Jonker Street Library
Mamee Jonker House
Baba Nyonya Heritage Museum
Cheng Ho's Cultural Museum
Hard Rock Cafe
Sri Poyyatha Vinayagar Moorthi Temple
Masjid Kampung Hulu
Kampung Kling Mosque
Cheng Hoon Temple
Weekend Night Market
>>> Click here to book a guided tour through Jonker Street!
2. Experience an Amazing Melaka View from the Taming Sari Revolving Tower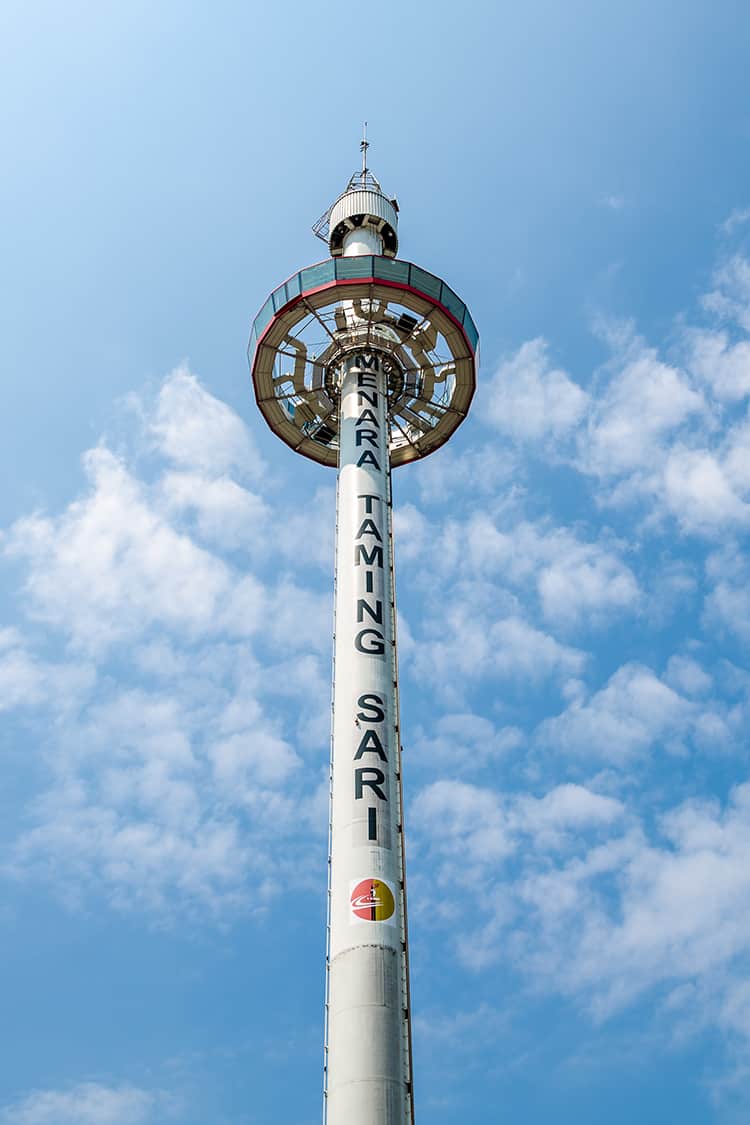 This 110-meter high tower gives amazing views of Melaka! The tower has a motorized platform surrounding it, which works as a ride up and down the tower.
The platform can hold 66 people in it. You enter on the ground, and the ride takes you up as high as 80 meters. Once at the top, the platform will then rotate for five minutes. So you can stay in your spot and still get to take in 360-degree views of the city.
>>> Click here to book a full day tour including a trip up the tower
3. Take a Walking Tour of the Many Interesting Places in Melaka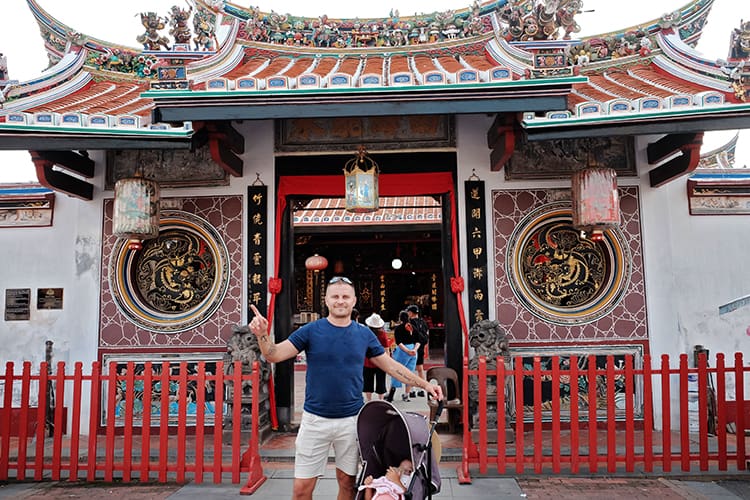 Walking tours of Melaka are quite popular, and are a great way to see the many famous tourist attractions. A guided tour will give you the benefit of a live tour guide, who will undoubtedly shower you with knowledge and wisdom.
>>> Click here to book a historical guided walking tour of Melaka.
4. Enjoy a River Cruise Through Melaka, Malaysia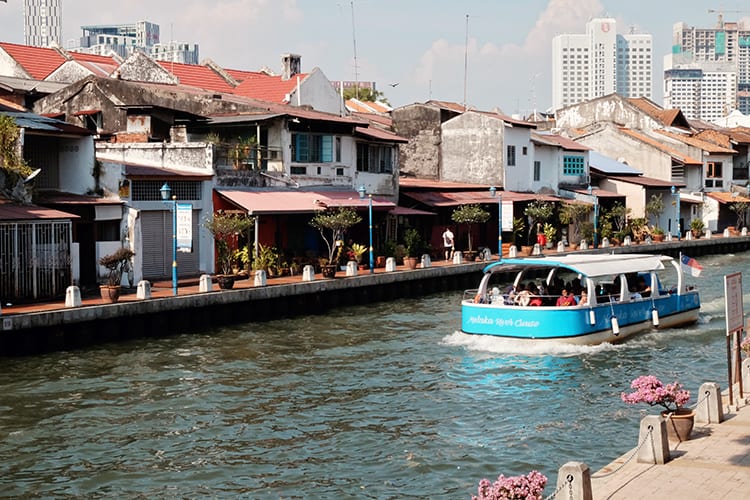 While you're in the city, be sure to take a relaxing cruise down the river. Calmly float down the Melaka River and enjoy a 45-minute ride as you take in the Melaka sights.
Cruises run from 9 am to 11 pm, and arrive every 30 minutes or so. While a nighttime cruise is as magical as it sounds, it is no less magnificent during the day.
5. Visit One of the Fascinating Melaka Museums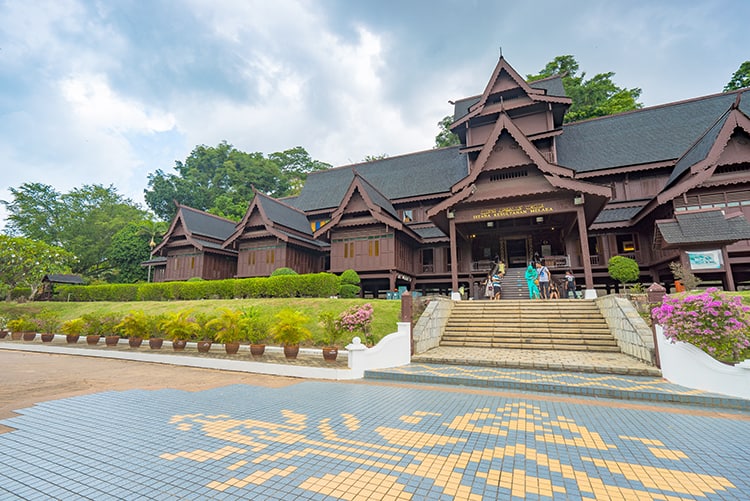 The many museums throughout the city make up a large majority of Melaka, Malaysia tourist attractions. It would seem that there is a museum for almost everything. You can visit the museum of stamps, a museum of kites, or even a museum of jewelry.
Some other museums you can find in Melaka are:
Army Museum
Submarine Museum
History and Ethnography Museum
House of Museums
Malay Living Museum
Flora de la Mar Maritime Museum
6. Check out the A Famosa Fort [Arguably the Most Famous Place in Melaka]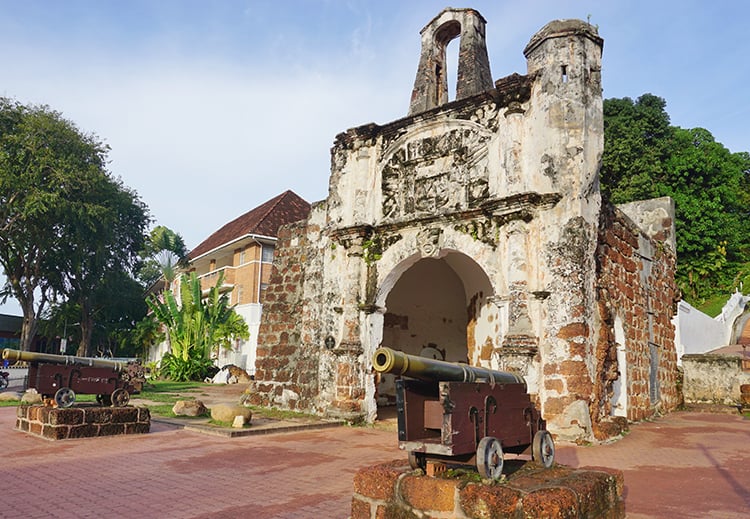 The A Famosa (or The Famous) fort is a popular attraction in Melaka. The fort dates back to the 15th century and is full of history. The site is made up of mostly ruins, but there are still many points of interest, and so much to learn about the history of Melaka.
The fort is located close to other intriguing places of interest in Melaka. So it's a great place to start if you're hoping to visit other museums and historical places in Melaka.
7. Visit One of the Many Religious Melaka Places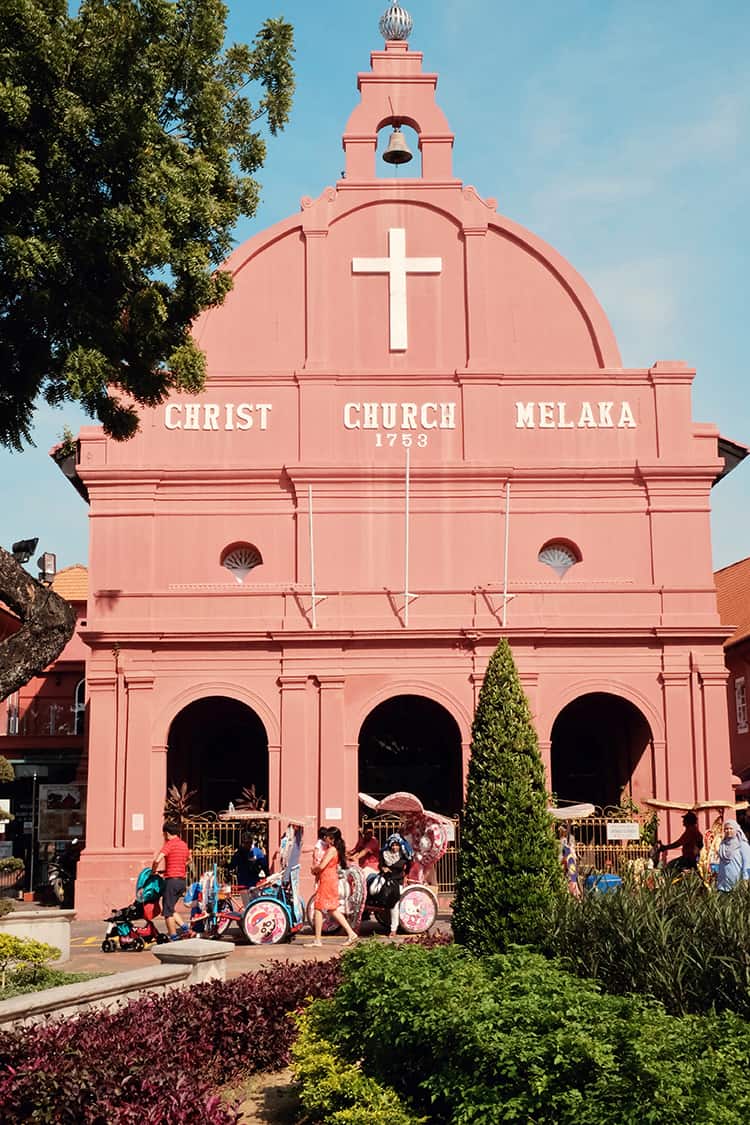 Melaka has many temples and churches scattered throughout the city. With such religious and cultural diversity, you'll find everything from churches to mosques and, of course, temples as well.
Some of the must-see places to visit in Melaka include:
St Paul's Church
Christ Church
Tranquerah Mosque
Melaka Straits Mosque
Mosque Kampung Kling
There are also a few mentioned above to be found in Jonker Street – so you can double up on your activities for the day.
8. Go to the Butterfly and Reptile Sanctuary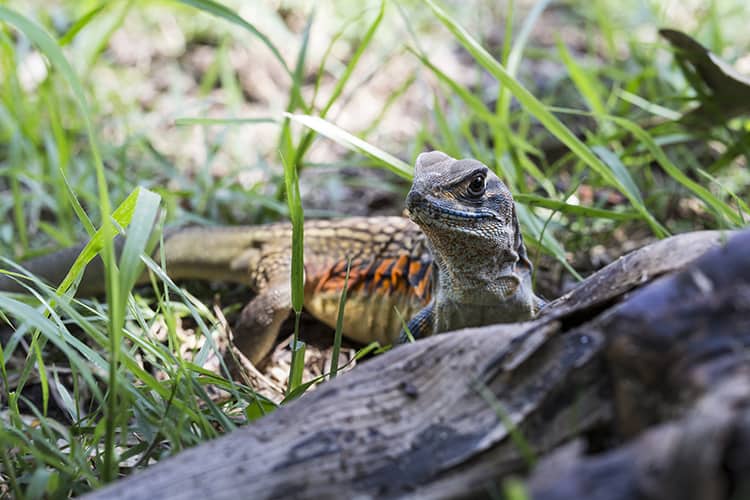 The Malacca Butterfly and Reptile Sanctuary is exactly what it sounds like – sanctuary for butterflies and all sorts of reptiles.
Located in Ayer Keroh, the center is made up of different areas, namely:
The butterfly aviary
The reptile walk
Wild photo lane
Koi Garden
Each area holds its own wondrous sights. From butterflies floating past your eyes to magnificent snakes and lizards crawling across your arms. This is a fun family-friendly activity, even teenagers are sure to love the wild photo lane – where they can take pics with the slithery residents.
9. Try the Delicious Melaka Food!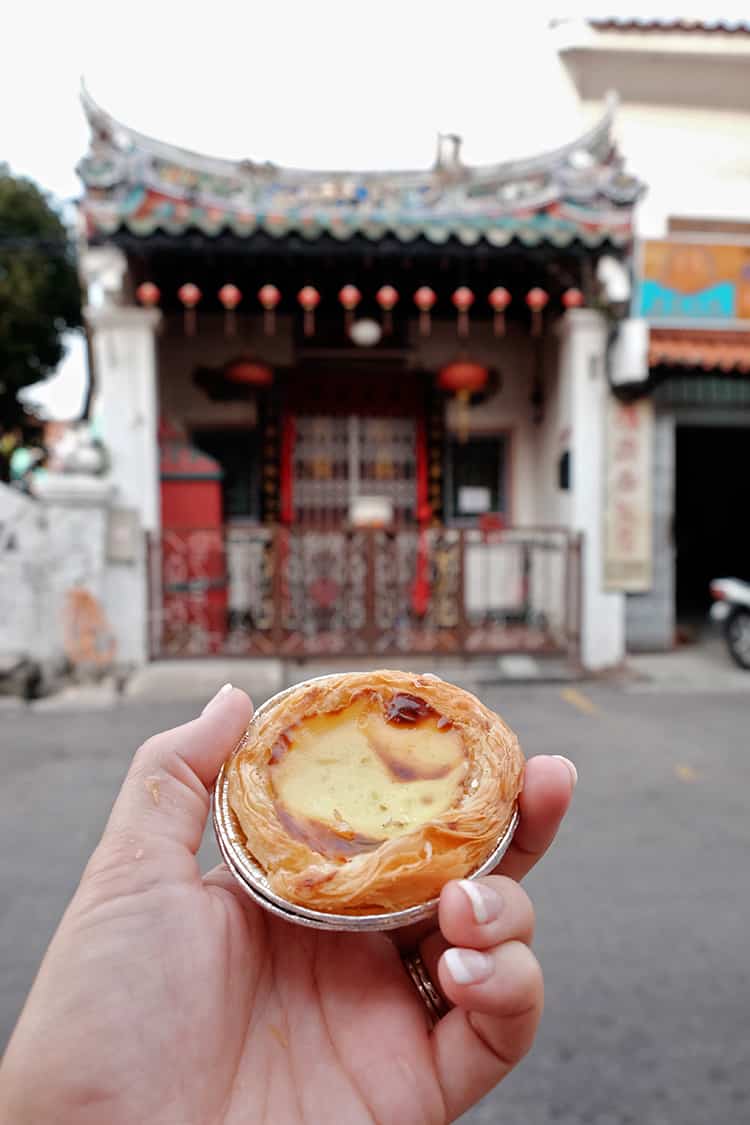 There is an abundance of taste bud happiness to be found in this city. Thanks to its diverse cultural mix, you can find almost any cuisine you crave. From the local food stall vendors to the fancier, but still welcoming, cafes and restaurants. You'll never go hungry in Melaka.
We loved the Portuguese Tarts, the satay meat sticks, the coconut shakes and also the sugary sweet Kueh Keria Gula.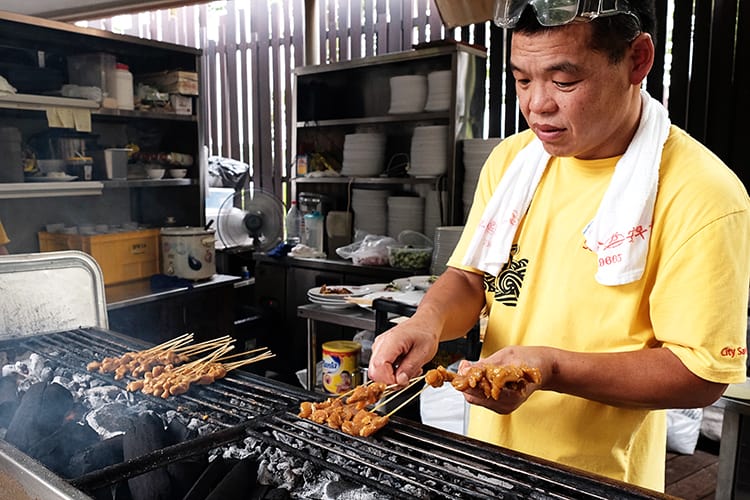 One of the best ways to try out as much food as possible during your Melaka trip would be to take a food tour, where you'll be guided by a real tour guide, and not just your hungry stomach! You could also take a cooking class, and return home with some of the delicious recipes to share with friends and family.
>>> Click here to book a Melaka cooking class and learn to make delicious Asian food!
10. Go on a Trishaw Ride for your Melaka Sightseeing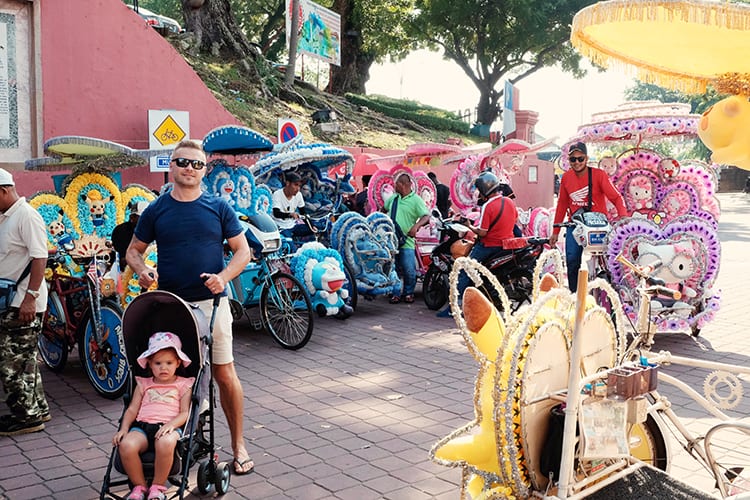 Trishaws, light three-wheeled bicycles, are quite common in Asia, and a popular representative for Melaka tourism. If you only have time for a Melaka one day trip, this is the best way to see the city!
You'll be zipped and zapped through the busy streets, with pit stops at all the most interesting places in Malaysia's fascinating city.
Visiting Melaka with Kids?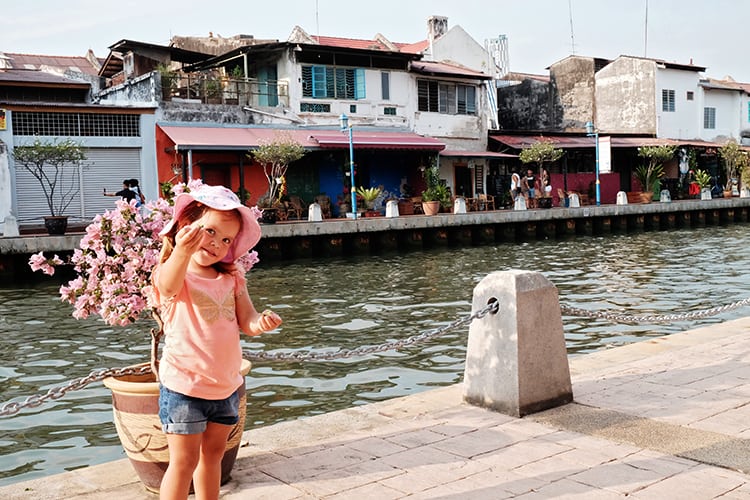 Are you heading to Melaka with kids? You might like to check out the following fun attractions.
Planning to Stay in Melaka?
If you are interested in staying in Melaka, you might find the right accommodation choices here on our best Melaka hotels post.
Conclusion
If you've seen the rest of Malaysia, and haven't yet made your way to Melaka, we hope these activities have convinced you to put it on your list. Even if you haven't yet traveled through Malaysia, if you're heading to Asia, you should definitely try and get to Melaka, and Malaysia as a whole!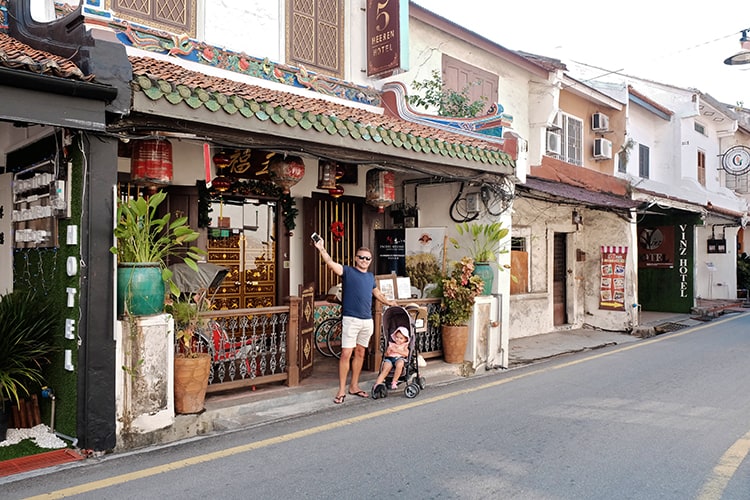 Once in Melaka, we're sure you will love the diversity found in the city. History buffs are going to fall in love with the historical ruins and museums, and foodies are going to be in their own heaven!
Kids, teens, and even couples in love can truly find a magnificent holiday in Melaka. Whether you have an entire vacation planned, or you're just doing a Melaka day trip, there is more than enough for you to do.