Matera is an ancient town in Italy, famous for its vast cave networks, which have been inhabited since the Paleolithic era. These caves are referred to as the Sassi, which means 'stone' in Italian.
The Sassi caves are among the most stunning architectural structures in the world, making Matera one of the most interesting and unique tourist destinations in Italy.
So where is Matera? It's located in the region of Basilicata, in southern Italy. There are quite a few interesting attractions and hotels in Matera, so we thought we'd make a list and share the highlights!
Grab the Matera Smart Pass.

The smart pass is a ticket that allows you to visit, at a reduced price, the best 4 attractions of the city of Matera and you can reach the Parco della Murgia Materana with a panoramic bus.

Click here to purchase the Smart passSMART PASS.
Best things to Do in Matera, Italy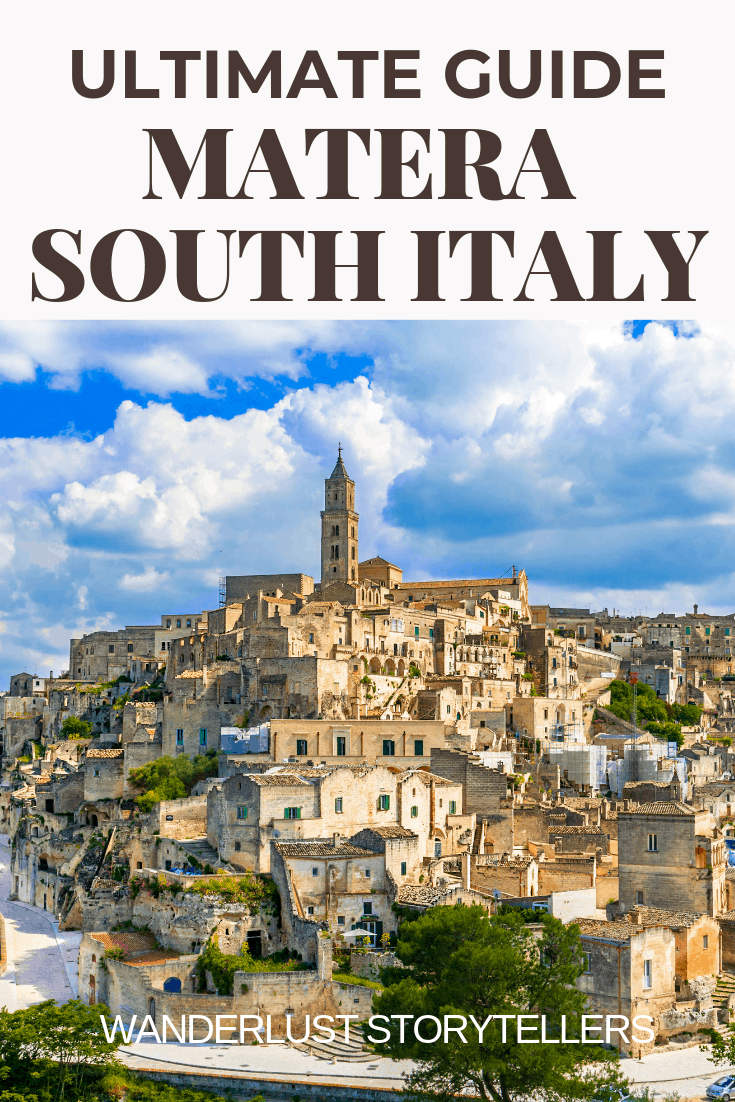 Matera, Italy is one of the hidden gems of Italy (plus it is one of the prettiest Italian cities to visit). It has a unique history dating back to the Palaeolithic era, and its ancient cave dwellings are remarkable to behold.

Walking around this city feels like taking a step back in time.

Here are the top 10 things to do in Matera, and cool places to stay!
1. Visit Casa Noha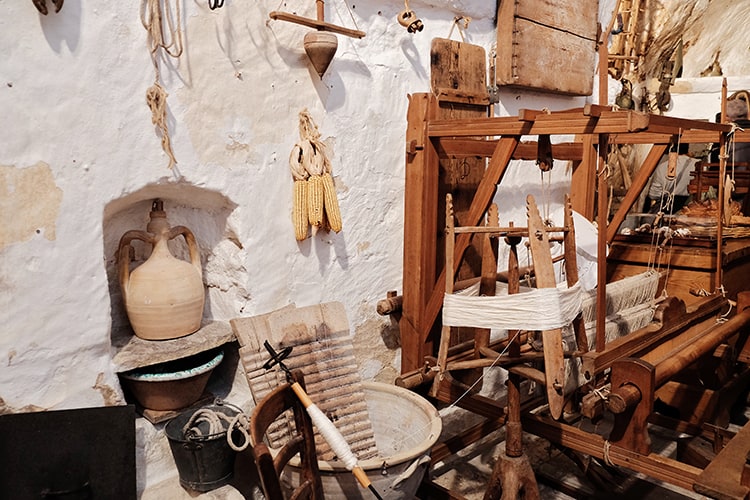 Casa Noha is a museum that showcases the history of this unique Italian town. A 25-minute video exposition helps visitors better understand the Sassi, Matera, and its people.
Casa Noha offers an excellent introduction to Matera, Italy, and is a great place to start your trip!
Click here to get your tickets for Casa Noha!
_____________________
2. See the Matera Cathedral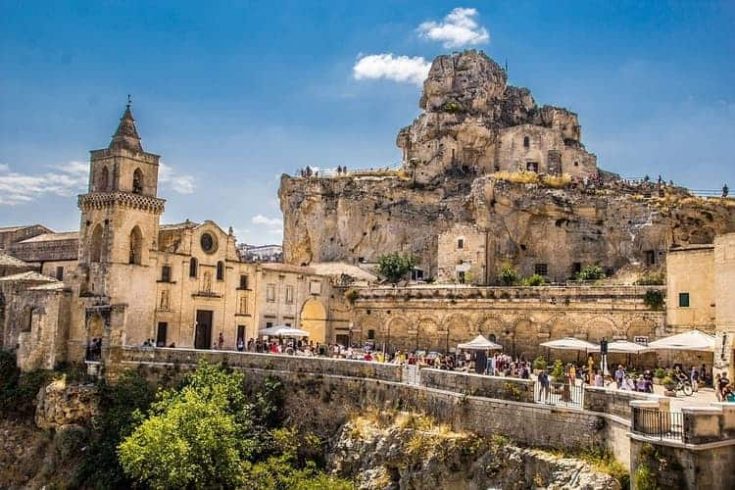 The Matera Cathedral is a 13th-century church built in Romanesque style. It sits atop Civitas Hill and offers stunning views of the Sasso Barisano, one of the most picturesque areas in Matera.
The exterior of the church is simple yet elegant, whereas the interior is an architectural splendor, with gilded fixtures and ornate religious painted ceilings.
_____________________
3. Church Madonna de Idris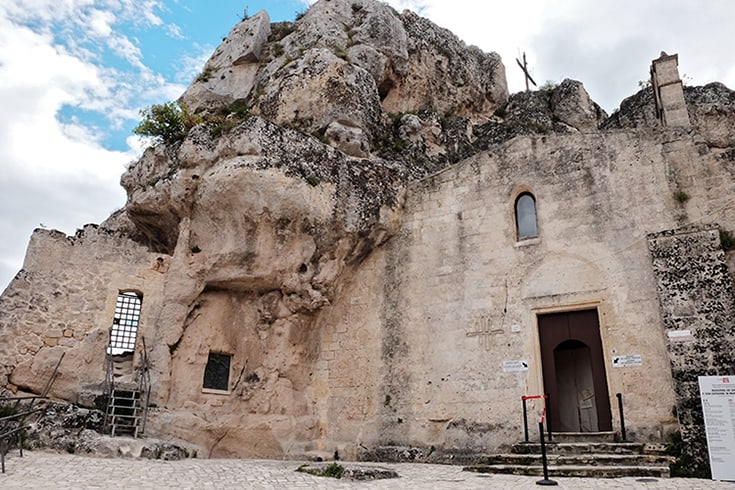 The Church of Madonna de Idris is a small church cut into a large rock. What makes this church so unique are the beautiful fresco paintings on the walls, dating from the 12th – 17th-centuries.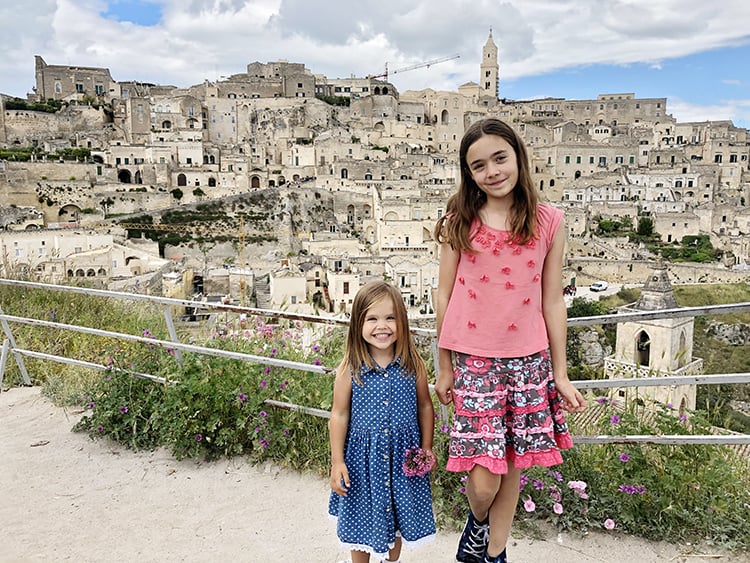 It also offers an enchanting view of the city down below.
_____________________
4. Casa Grotta di Vico Solitario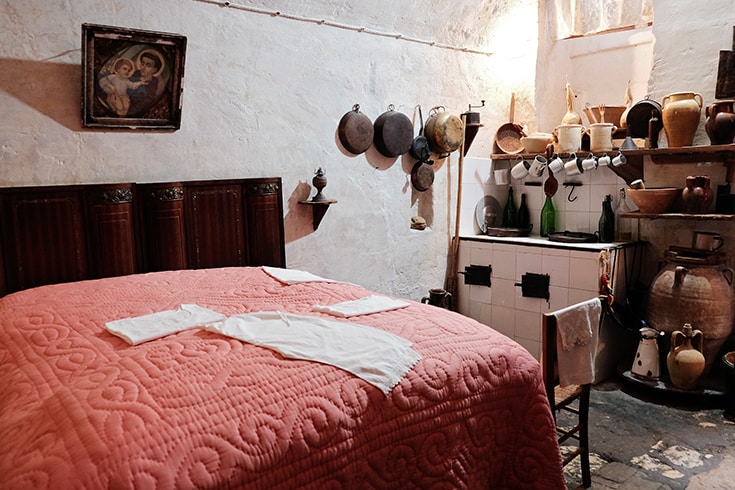 Among the Matera Italy caves, Casa Grotta stands out for being a former cave home. The inside is still furnished and made to reflect the living conditions of the past. It offers an interesting glimpse into what life would have been like living in the Sassi.
We much preferred visiting this Casa Grotta over Casa Noha, because it was a much quieter experience (we were absolutely packed with other people into Casa Noha).
Click here to book your tour of Matera, where you'll visit Casa Grotta!
_____________________
5. Palombaro Lungo Tour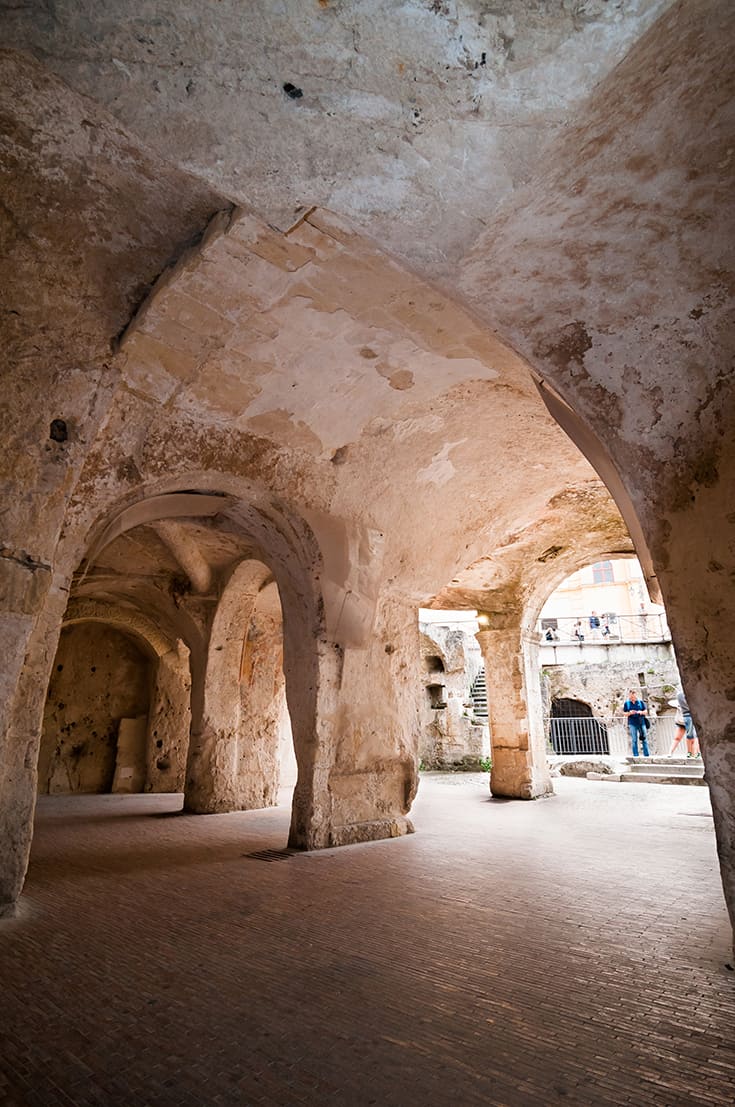 In ancient times, the Palombaro Lungo was the biggest water tank in Matera. Take a tour of this underground water cistern, located under the main square in Matera. Learn how water was managed and see the ancient architecture of water storage.
_____________________
6. Hike to the Crypt of Original Sin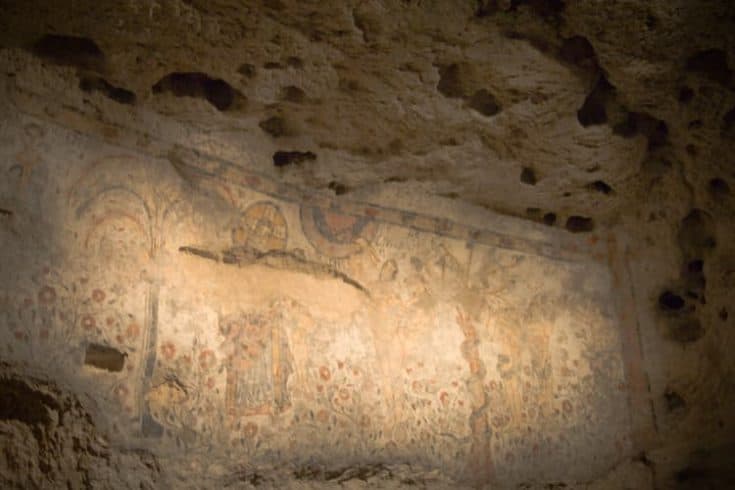 The Crypt of Original Sin is a cave in southern Italy filled with thousand-year-old biblical frescoes. It acquires its name from one fresco in particular; that of Adam and Eve eating the fruit from the tree of knowledge.
It is nestled inside a natural cavity on the Murgia plateau, on a private vineyard 15-minutes outside of Matera. It is available to visit with advanced reservations only.
Click here to book your tour for the Crypt of Original Sin!
_____________________
7. Admire the Views from Multiple Lookout Points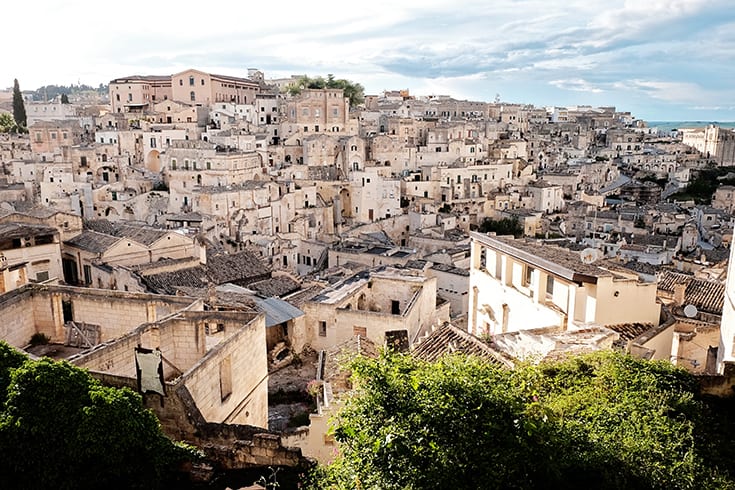 Head to the "Viewpoint of Matera and the Sassi in Murgia Timone" for excellent views of the caves from across the valley.
Another great place to snap some selfies is the Convent of Saint Augustino Church in Matera. This high vantage-point offers spectacular views of the city.
_____________________
8. Get Lost in the Streets of the Sassi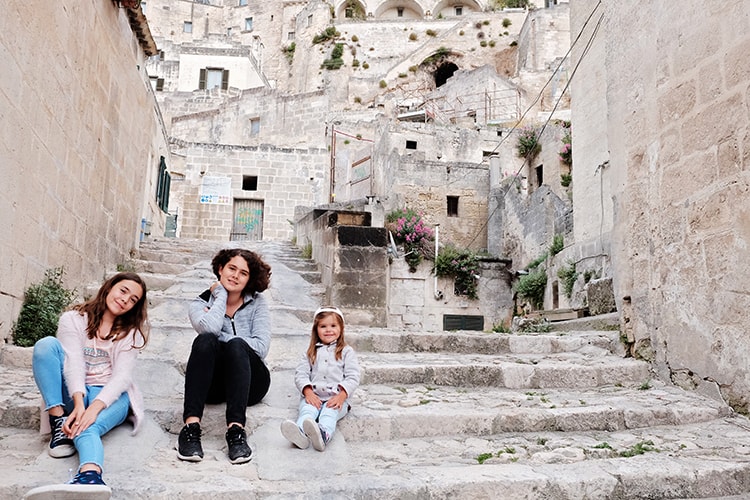 Matera is divided into two districts, the Sassi Barisano and Sassi Caveoso. You could spend a whole day exploring the Sassi on foot!
Sassi Barisano is more developed, with cafes, restaurants and hotels. Sassi Caveoso is the more historic side of Matera, more known for its cave dwellings and rupestrian churches.
Enjoy a 2-hour walking tour of the Sassi
_____________________
9. Natural History Park of the Matera Cave Churches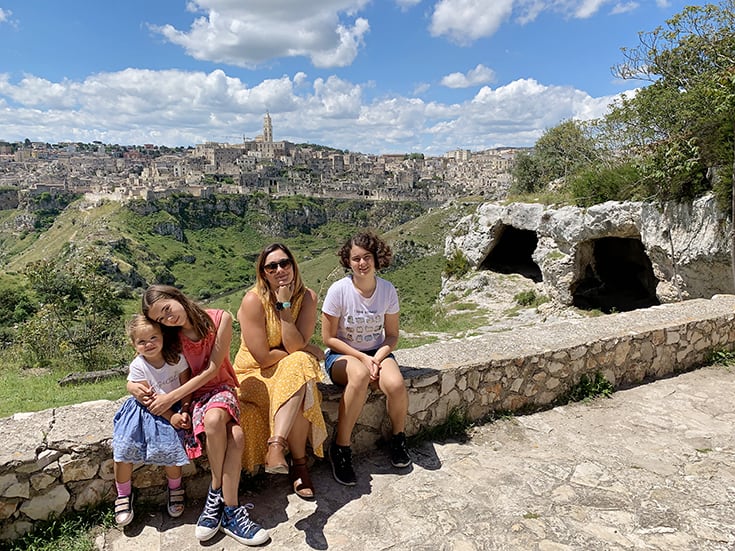 The Park of Matera's Cave Churches is located across the ravine from Matera. Discover ancient caves and crevices as you walk around the unchanged landscape, still amazingly preserved. It is rich in Palaeolithic villages, rupestrian churches, and well-preserved frescoes.
The panoramic views are magnificent and it's a great viewpoint to admire the Sassi from above.
Click here to book a spot on the Parco Murgia tour.
_____________________
10. Day Trip to Castelmezzano and Pietrapertosa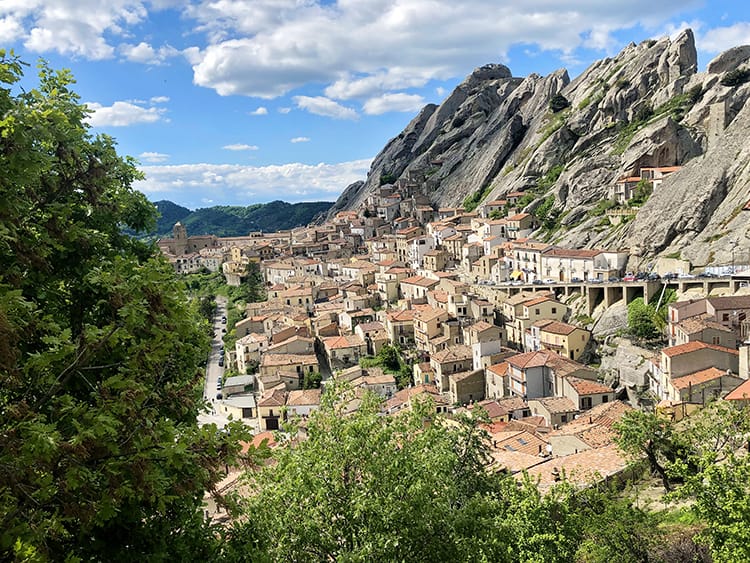 Take a day trip from Matera and discover the charming Italian villages of Castelmezzano and Pietrapertose. Both of these towns are located in the province of Potenza, in the Southern Italian region of Basilicata.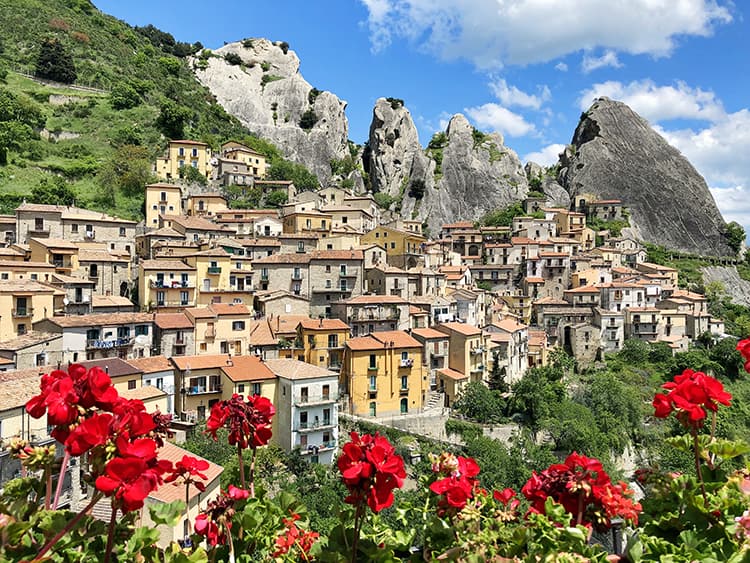 The villages are surrounded by a mountainous landscape and have preserved their medieval appearance. The houses are strung along the mountains following the natural curve.
They are considered some of the most beautiful villages in Italy. You can also walk from Pietrapertosa to Castelmezzano via the Le Sette Pietre Trail; it connects the two villages and is only 1.25-miles long!
Click here to book your 2-hour village tour of Castelmezzano!
Click here to book your 2-hour walking tour of Pietrapertose!
_____________________
Where to stay in Matera
There are some really cool hotels in Matera. These are the most lavish, accommodating, and family-friendly hotels in town!
1. Locanda Di San Martino Hotel & Thermae Romanae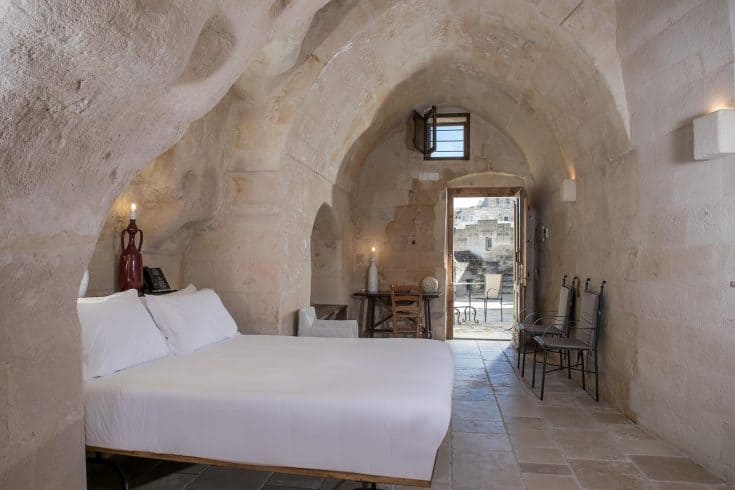 Locanda Di San Martino is a hotel set inside the Matera Italy caves! All rooms feature vaulted ceilings and a balcony with views of the Old Town.
Why should you stay here?
Hydromassage indoor swimming pool
Spa and wellness center
Superb breakfast
Book a room at this lovely hotel here!
_____________________
2. Hotel San Domenico Al Piano
Hotel San Domenico Al Piano is located in Matera's historic center. This modern hotel is clean and comfortable. All rooms have free toiletries, satellite TV channels, free WIFI, and more!
Why should you stay here?
Located just meters from the Sassi
All of the city's landmarks can be reached on foot
Room service is available
Book your stay at this property here!
_____________________
3. Corte San Biagio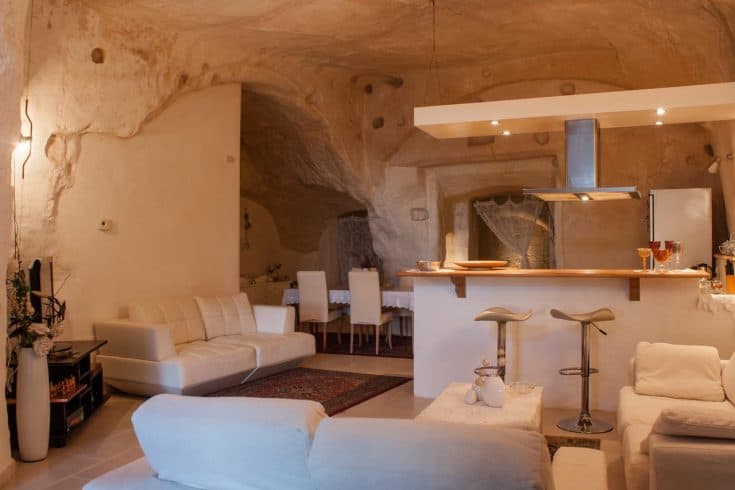 Corte San Biagio is located inside Matera's Sassi. This home is carved out of stone and equipped with all modern amenities. This is where we stayed as a family of 5 (Avalee was in a cot). It was one of our favorite 'homes' from our 3 month trip around Italy.
It is spacious, it oozes luxury and the cave is just so awesome. It has a brilliant kitchen and some basic breakfast goodies were included as well. But most of all, we absolutely loved the sun terrace which offers wonderful views of the city and the National Park of Murgia.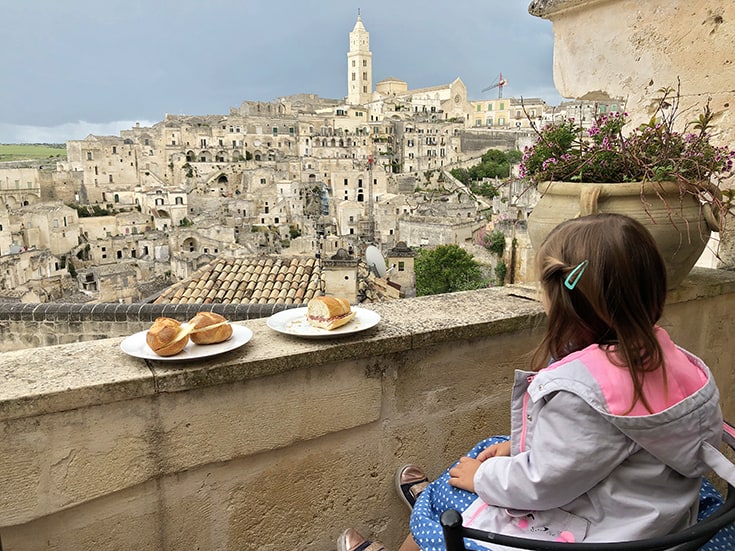 Why should you stay here?
Large rooms equipped with kitchens
Family-friendly but also great for couples and solo travelers
Breakfast included and great coffee
Book a room at the Corte San Biagio here!
_____________________
Conclusion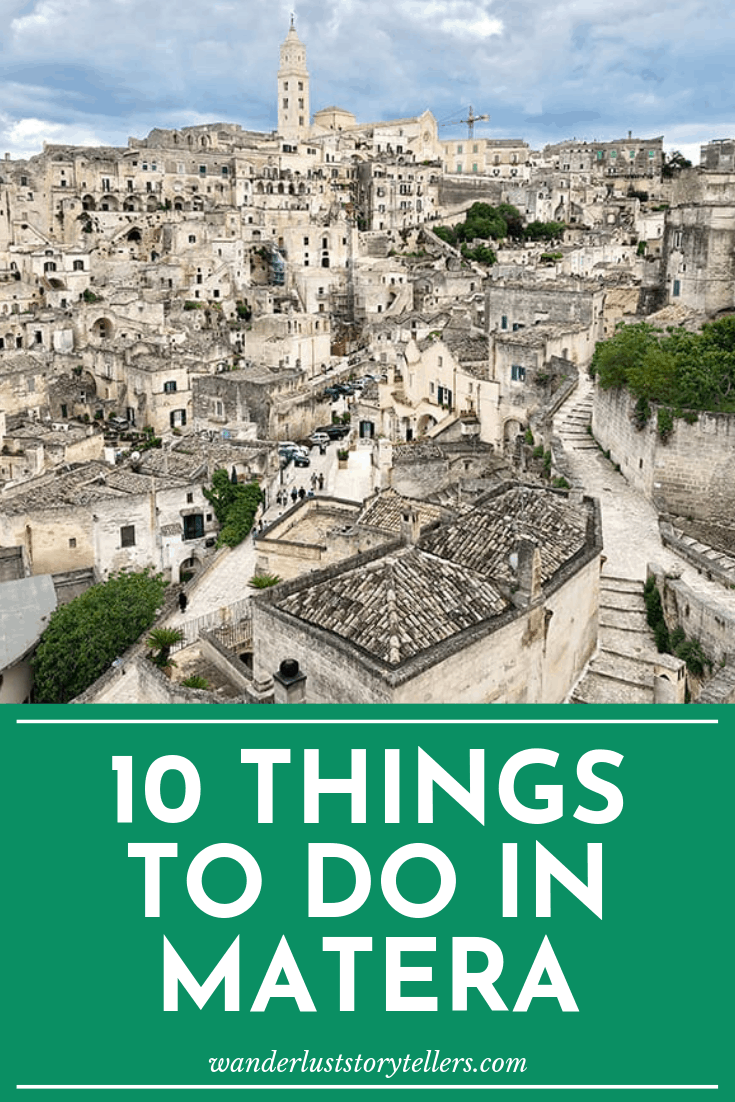 Matera, Basilicata's hidden gem, is a great place to take your next vacation. This magically unique land offers a lovely mix of art, history and culture. A visit to this fascinating city of caves is sure to make for a memorable trip! Journey back in time with a trip to Matera Italia!
If you're spending more time in southern Italy, make sure to check out our list of the 15 must-visit cities & towns of southern Italy!