Kuala Lumpur is a fabulous city in Malaysia, known as an amazing cultural melting pot. This city is perfect for families looking for a culturally-rich vacation.
There are some great things to do in Kuala Lumpur for kids, making it an incredibly family-friendly city to visit.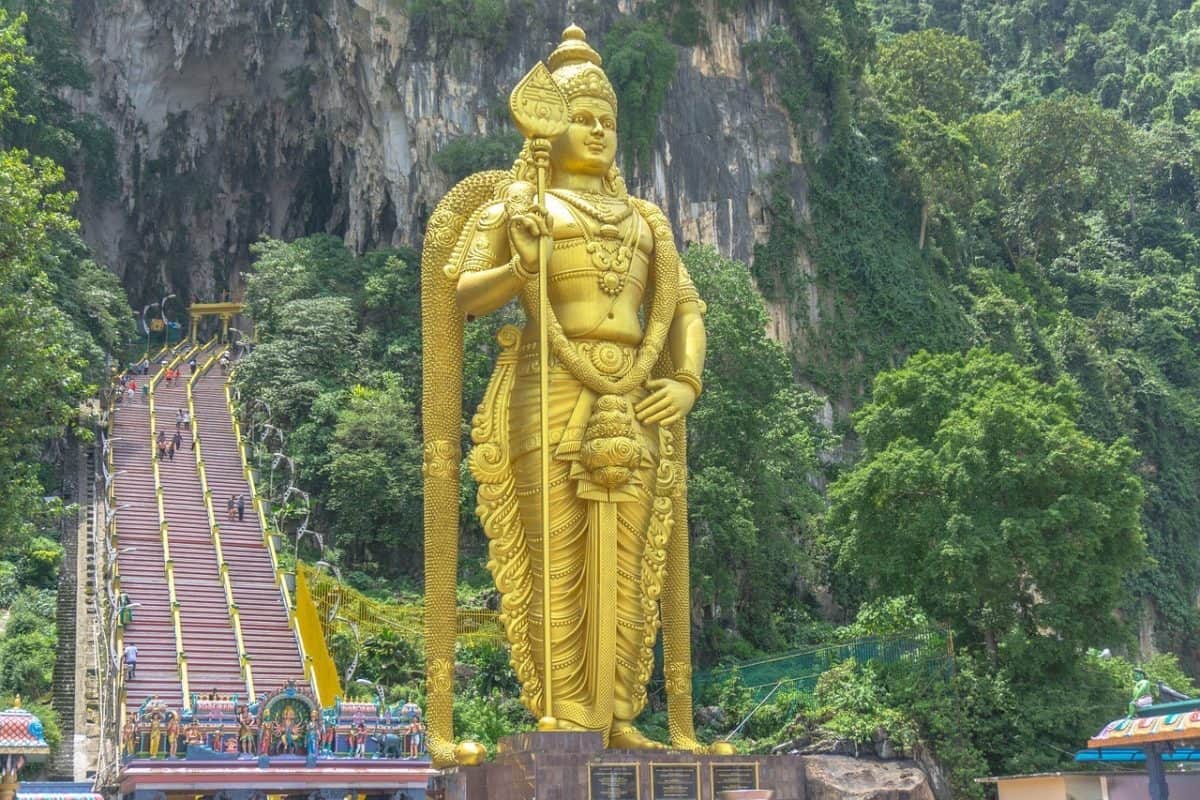 Since there are so many beautiful attractions and activities in this city, it can be hard to narrow it down! To help you decide, here are 20 of our favorite kids' activities in KL! Tried, tested, and approved by the tiny humans themselves.
_____________________________
STAY CONNECTED WHILE IN KL
Stay connected in Malaysia with nationwide coverage on a 4G traveler SIM card.  If you buy it online, you can collect it at either KLIA or KLIA2, and you are ready to go.
So much better than searching forever for a store that sells them!
GRAB YOUR SIM CARD ONLINE TODAY
_____________________________
–
Our Favourite Things to do in Kuala Lumpur with Kids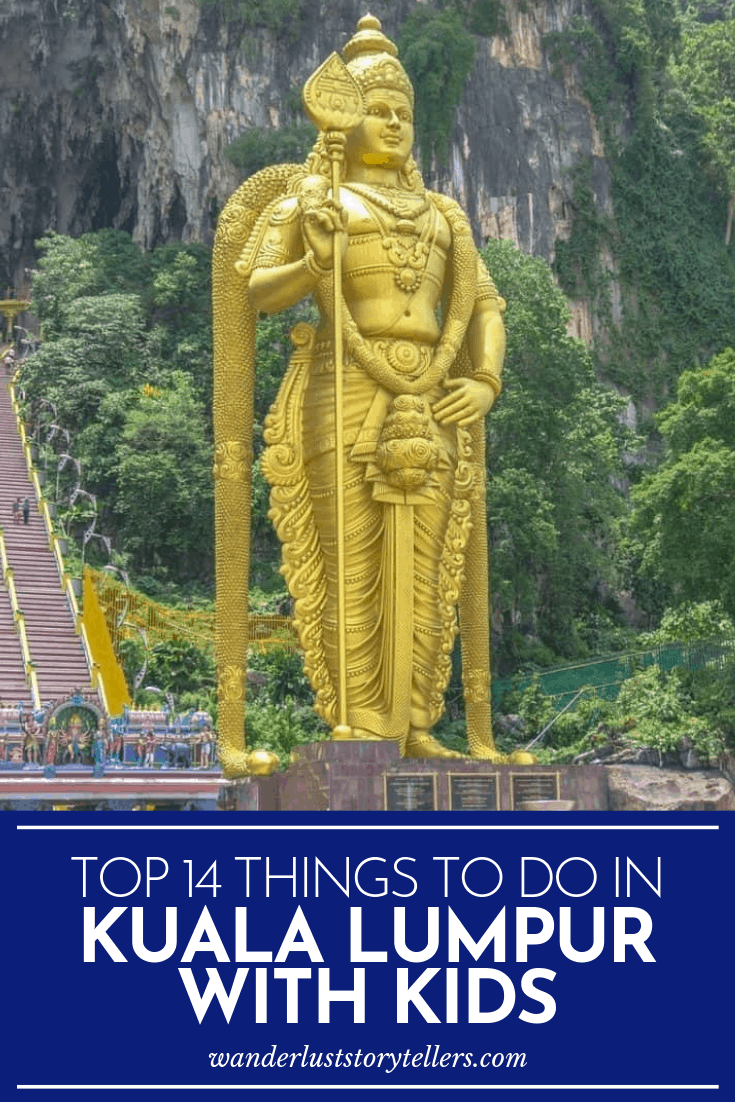 Traveling through Asia as a family can be the experience of a lifetime. The continent itself is full of wondrous adventures, there is something for the whole family, and the list of attractions and activities is endless.
Whether you're in Kuala Lumpur for a quick visit or plan on spending your entire vacation here, we've found the ultimate list of kid-friendly things to do.
---
Things to do in KLCC (Kuala Lumpur City Center)
While there are loads of Kuala Lumpur points of interest, it can be a bit of a pain to get to each of them. If you want to keep life simple, then we suggest that you base yourself in KLCC, and simply focus on the activities located within this area.
The city center is great for kids, the streets are all stroller-friendly, and all attractions are easy to access with kids both big and small. In this area, you can enjoy visiting:
The Petrosains Discovery Center (science museum)
The Petronas Towers
The Large KLCC City Park
KL Aquarium & more.
Find more information on these things to do with kids in Kuala Lumpur City Center below.
____________________________
1. Petrosains Discovery Centre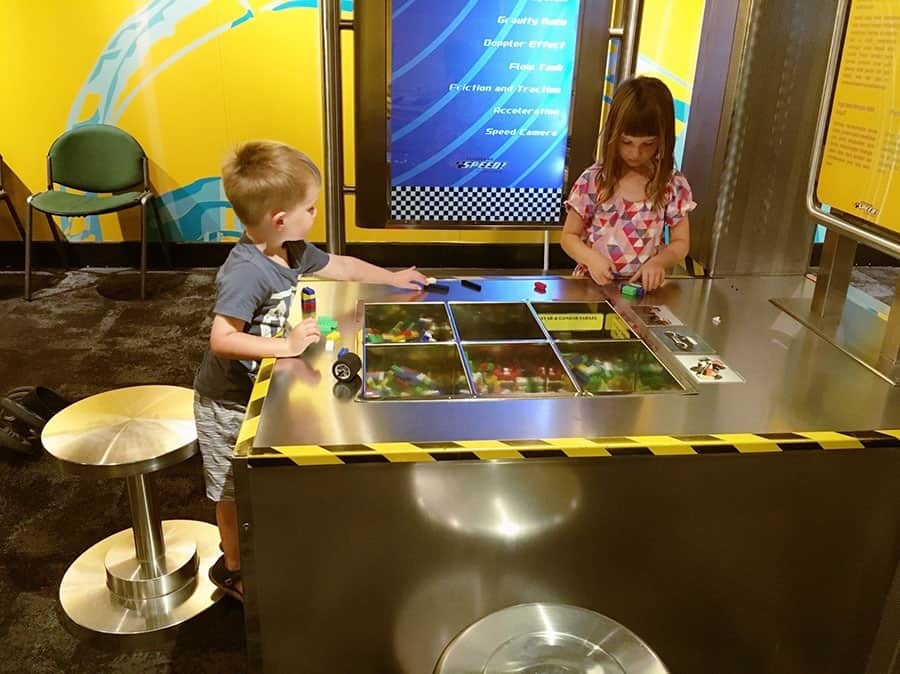 The fantastic Petrosains Discovery Centre is one of the best places for kids in KL. It is one of the best hands-on science museums you'll come across anywhere in the world! There are exciting exhibits to engage kids of all ages.
Try walking into the real-life hurricane simulator, pretending you're on board the international space station or building a model car to learn about speed. With such great programs on offer, it is clear why the center is one of the top kid's attractions in Kuala Lumpur.
The center is located on Level 4 of the Suria KLCC shopping center, and the entrance price is very reasonable for a fun day out.
You can read more about the attractions on offer at Petrosains Discovery Centre.
____________________________
2. Gaze at the giant Twin Towers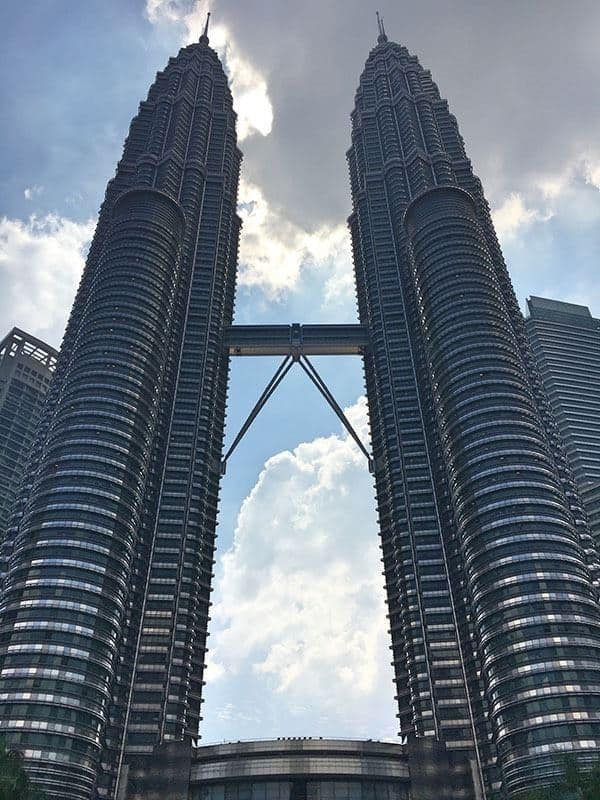 Another of the best places to visit in Kuala Lumpur, the Petronas Twin Towers was the tallest building in the world from 1998 to 2004, and still, today has the tallest twin towers in the world.
Kids love gazing up at the 88-floor towers and if you're after a panoramic view of Kuala Lumpur, head up to the Skybridge and Observation Deck. Maybe not the most obvious of Kuala Lumpur attractions, but if your kids are like ours, then they will enjoy the thrill of the view from up high!
>>> Grab one-way transfer and skip-the-line tickets by booking your tickets online.
____________________________
3. KLCC playground and waterpark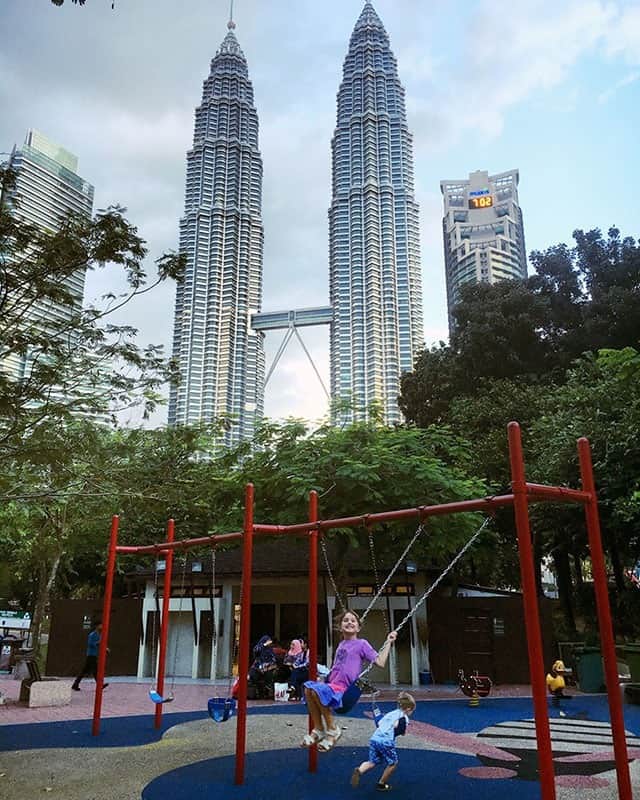 Our family rates the KLCC playground and waterpark as one of the best in the world – and it's free! It's a giant playground with many different play areas suitable for all ages and stages. There's also a shallow wading pool with a waterfall perfect for kids to cool off from the KL heat.
The playground is situated in the beautiful KLCC park beside the entrance to the KLCC shopping mall. It's a great place for wandering around, and there are plenty of walking and running paths around for the more energetic. One of the top things to do with kids in KL!
____________________________
4. KLCC fountain by night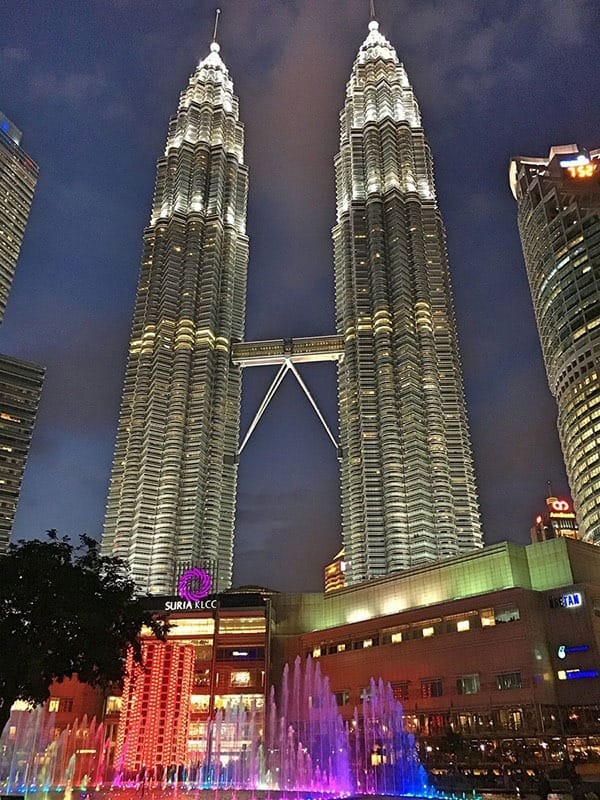 If you've got jet-lagged kids and are up a bit later, then head down to KLCC to watch the nightly water fountain light show that takes place outside the shopping mall next to the playground. It's quite a fantastic sight watching the choreographed fountains change color to the music, and our kids loved it.
____________________________
5. KL Aquarium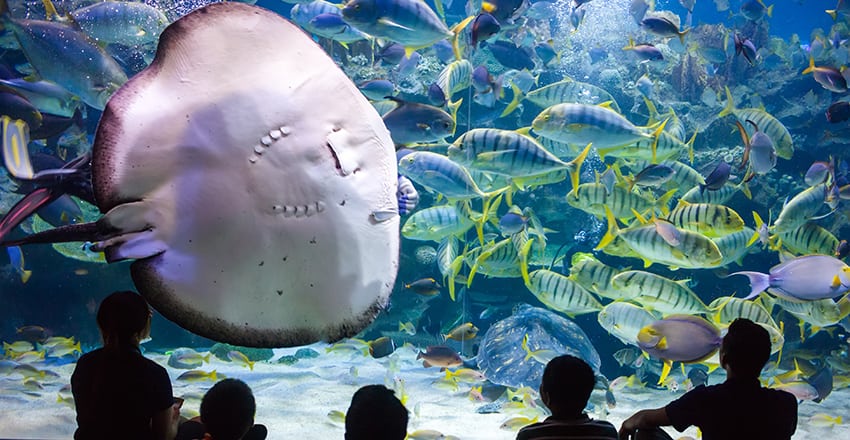 Possibly the best place for kids in KL!?
And we told you that all of these first activities would be located close together. The KL Aquarium is next to the Petronas Towers, in the KL Convention Centre.
For all of the KL attractions for family, I really feel like this one is the one that everyone in the family will enjoy. We loved the 90m tunnel where you can see some sharks, turtles, stingrays, and of course loads of fish.
>>> Grab skip-the-line tickets by booking your tickets online.
____________________________
6. The Lake Gardens 

aka Kuala Lumpur Perdana Botanical Gardens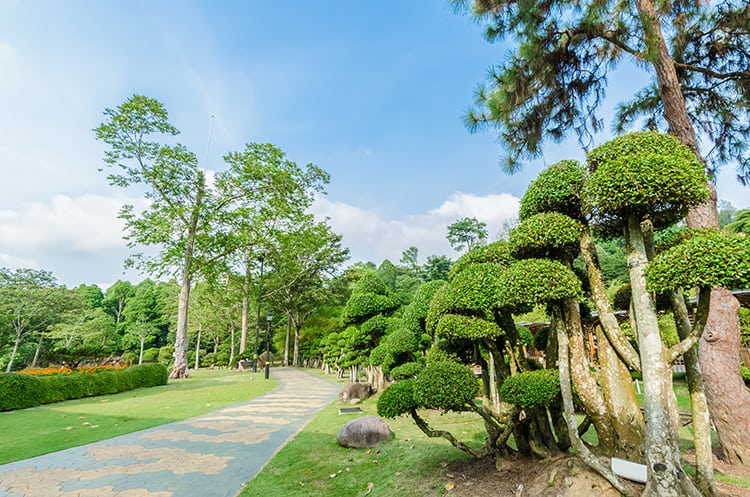 This is a fantastic pick if you want to enjoy some fun outdoor activities for kids in KL! You can pack a picnic and play games under the shade of a tree. Your kids will love it here, and so will you! This is one of the best things to do in KL with kids!
Entrance into the garden is free to view and explore the Lake Gardens.
This adventure is well worth checking out during your vacation in Kuala Lumpur. The kids will love seeing all of the plants and playing in the landscaped gardens! This is something that the whole family can enjoy together.
____________________________
7. KL Butterfly Farm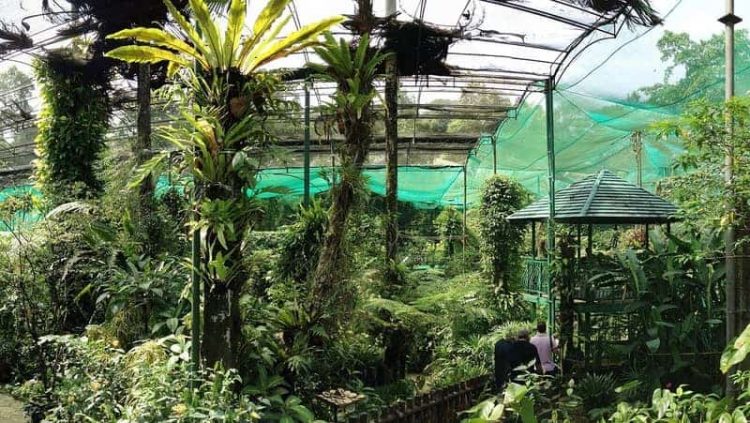 Enjoy the many species of butterflies at the KL Butterfly Farm, where you will interact and have up-close encounters with the local specimens. They fly wildly, so there are no tanks or cages, but a huge aviary with an exotic landscape.
The butterfly farm is located just opposite the Lake Gardens, and is a beautiful adventure for the whole family during your trip to Kuala Lumpur! Kids are sure to be entertained and enjoy all of the different kinds of butterflies.
If you're looking for things to do in Malaysia with family, this is a fabulous place and an absolute MUST if you are wanting to try out fun things in KL with kids!
>>> Grab yourself a tour with the family by booking online!
____________________________
8. Sunway Lagoon
Fun in the sun just got taken to a whole new level! The Sunway Lagoon offers clean, safe and exciting water games for the kids in KL. Your children can play for hours, and, like all kids, they won't get enough of the water! This is one of those must-see places to visit in Malaysia with family.
The Sunway Lagoon is suited to kids of all ages, but best for children under the age of 16. There is even a relaxed and shallow mini version of the slides for toddlers to enjoy! You can easily grab your tickets online here.
If you have little adventure junkies, then there is also a safe and exciting zip line that the kids can try out! There are tons of rides and slides, making this the perfect place for a full Kuala Lumpur day trip.
This theme park is massive, so pack sunscreen, a good book, and kick back whilst your kids go nuts. You can find onsite food stores and incredible attractions to keep you all busy for hours upon hours making amazing memories as a family!
>>> Make your life easier by grabbing this fabulous entrance ticket and transferring from the KL combo ticket.
____________________________
9. Star Light Kids Indoor Play Gym
Head on down to the Star Light Kids and experience something fun and new with your littlies! This is one of the best activities for kids in KL! This space-themed wonderland if perfect for all kids under the age of 12. We know that you and the family will enjoy visiting, and your kids will be fascinated.
Star Light Kids center provides a safe and exciting indoor playground in Kl and it overflows with a bunch of well-designed facilities. The indoor center prides itself on its innovative environment, where kids all have the freedom to learn, exercise, and have a blast all at the same time!
This is one of the must-see activities for kids in KL!
---
What to do in Kuala Lumpur with Kids – Outside of the City
Have more days on your hands to explore? Here are some ideas of what to do in Kuala Lumpur with kids outside of the city centre.
10. Kidzania
One of the top kids' activities in KL is Kidzania.
Our kids adore Kidzania and the Kuala Lumpur version is our favourite one so far. Kidzania is a mini-city that's designed and run by kids. They get to try their hand at many adult jobs like being a pilot, firefighter, beautician or fast-food worker!
Children are fully supervised by Kidzania staff, and parents are encouraged to relax and let the kids explore on their own. It's a full day experience that leaves everyone happy!
Kidzania is located on the outskirts of KL and is not the easiest of places to find, but we found a great travel hack to get you to Kidzania KL.
>>> Save money and time, grab your Kidzania tickets online.
____________________________
211Try a curry in Little India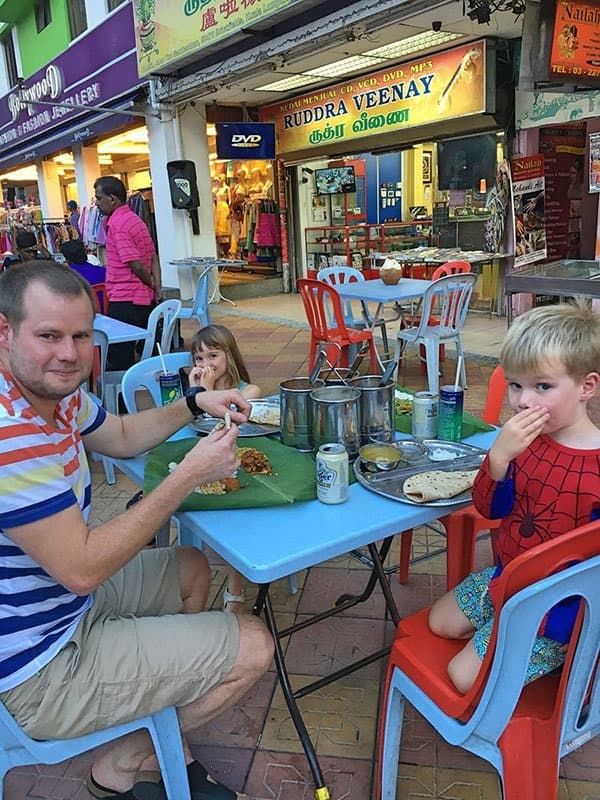 Kuala Lumpur is known as one of the great melting pot cities of Southeast Asia.
The Indian enclave is a great place to explore with kids, and if they're adventurous eaters then pull up a pavement table and try one of KL's famous banana leaf curries.
Little girls will be enraptured by the beautiful saris and bling bangles that are also on sale in the stores there.
>>>If you love food, you might like to taste the best of Malaysian cuisine on a food discovery tour in Kuala Lumpur.  Click here for all the details.
____________________________
12. The Islamic Arts Museum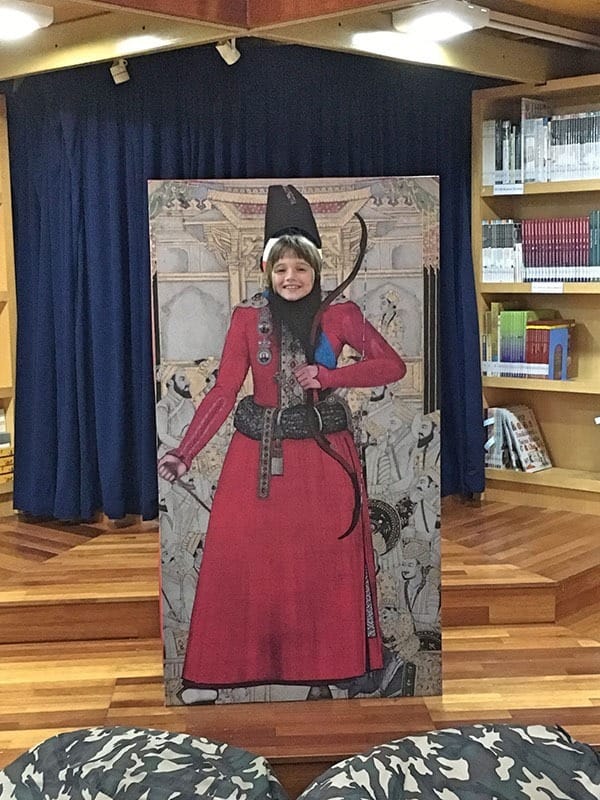 Another one of the best kids activities Kuala Lumpur has to offer is the Islamic Arts Museum. The museum is such a great destination to head with kids – the museum is fabulous and a treasure trove of Islamic Art. But the real gem for families is the Children's Library that's located on the ground floor of the museum.
It has a fantastic selection of books in a variety of languages for all ages, and a hands-on space for kids to create art and craft. A great time to visit is on the weekends when they hold workshops and activity sessions.
____________________________
13. Kuala Lumpur Bird Park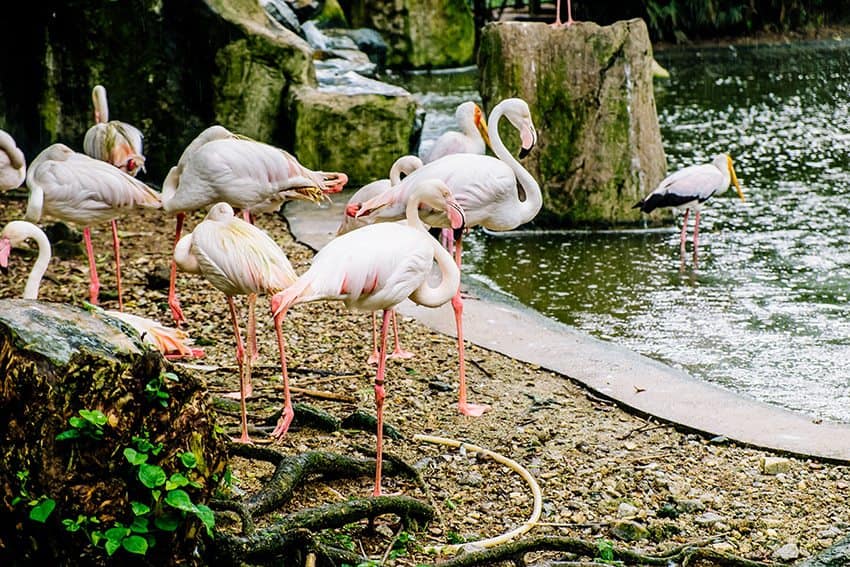 The Kuala Lumpur Bird Park is the world's largest free-flight walk-in aviary. It's situated in a beautiful setting in the Lake Gardens and next to the Islamic Art Museum.
You'll find over 3,000 birds from more than 200 species, so it's one of the best activities for kids in KL if you were after an educational excursion where they can learn more about native Malaysia flora and fauna.
____________________________
14. Batu Caves
Public transport in Kuala Lumpur is excellent, so it's easy to jump onto the train and head out to the Batu Caves, which house one of the most popular Hindu shrines outside of India.
The shrine is dedicated to Lord Murugan, and the first thing you see on arrival is his giant golden statue at the entrance to the caves. Bring your walking shoes because it's a climb of 272 steps to reach the entrance. Kids will love wandering around inside, marveling at the 400 million-year-old limestone caves.
They'll also enjoy the monkeys that play around the stairs and entrance to the cave, but be careful not to bring any food with you as they'll snatch it off you in a second!
You should also dress modestly given this is a religious site. (Find a list of more Kuala Lumpur etiquette rules here).
>>>Explore the mystery of limestone Batu Caves and immerse yourself in rural KL by joining this very popular tour.
Further Reading:
Batu Caves is one of the most popular tours from KL, but you can find our full list of the top 10 best day trip ideas for KL here.
____________________________
15. Cool off in one of KL's shopping centers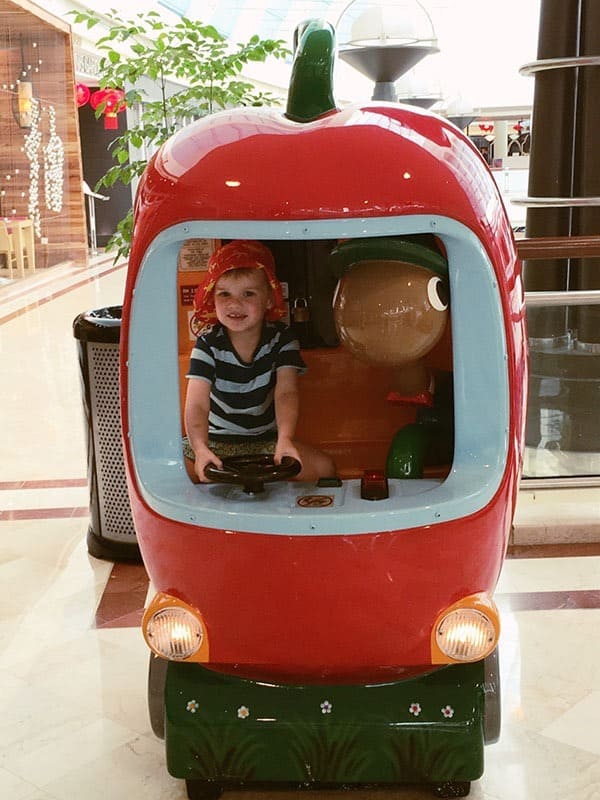 Unless you're from the tropics you're likely to find KL hot and steamy, so inside one of the many air-conditioned shopping centers is a great place to cool off.
The shopping malls are very modern and have great facilities for kids, including essentials for traveling with a baby like change tables and spaces for feeding. You'll find lots of kid-friendly restaurants for eating, along with kids play areas if everyone needs some downtime from exploring.
____________________________
Other Fun Things to do in Kuala Lumpur for Kids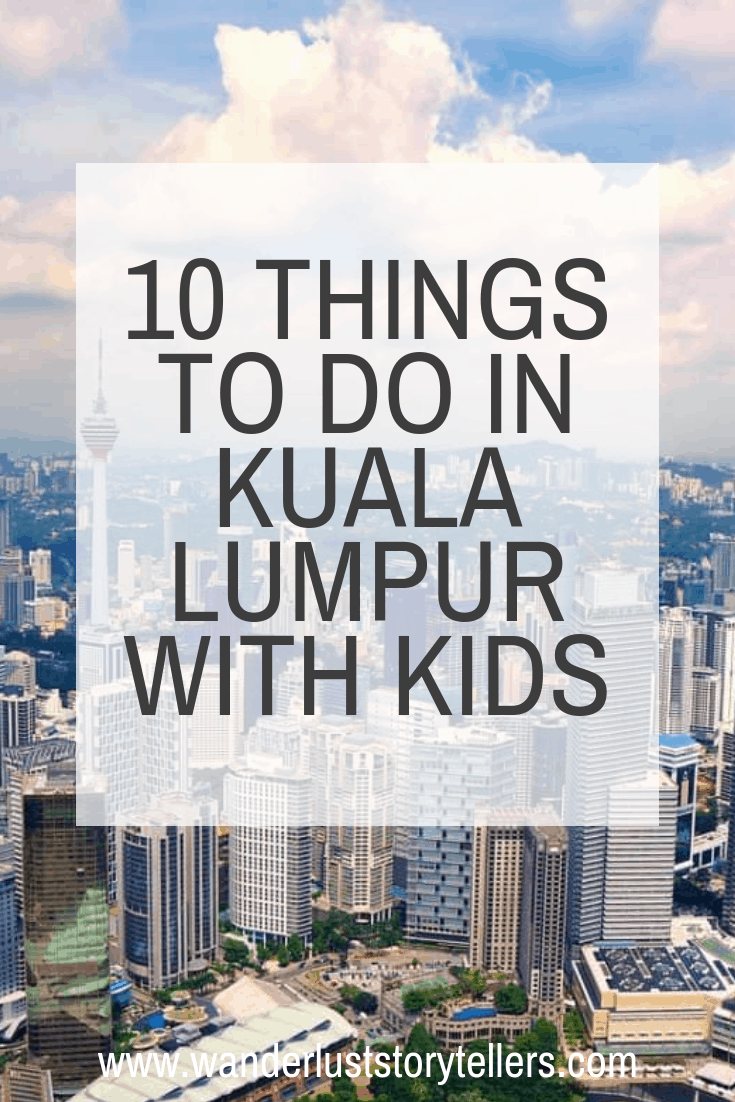 ---
There are plenty of things to do in Malaysia for kids, but if you wondering where the best place for a holiday in Malaysia would be, then we highly suggest you book enough time in the beautiful KL.
With such a large array of kids' activities in Kuala Lumpur, it is no surprise why KL is one of the best family-friend destinations in Asia.
___________________________________
Article by Kylie
Our Overseas Adventures
Kylie Gibbon is a passionate traveller and foodie who's been to over 45 countries around the globe. The Our Overseas Adventures blog chronicles her family travels with her husband and 5 and 7 year olds in tow, including an 8-month sabbatical through SE Asia, Europe, and the Middle East in 2016. Now based back in New Zealand, the family is continuing to travel as much as possible and are always planning their next adventures!
___________________________________
Leave us a Comment:
Is a holiday to Malaysia with kids on the card for your family?
What is your top pick of things to do in KL with kids?
Which of these kids attractions KL would you kids enjoy the most?