Halong (or Ha Long) Bay is a stunning oasis on the northeast coast of Vietnam.
Its unbelievable landscape is made of limestone formations and islets that fill the bay with endless possibilities for exploring.
The bay of the descending dragon is as spectacular as its name and worth a spot on your travel itinerary!
Top Picks For What to Do in Halong Bay
Halong Bay is sprinkled with stunning outcrops and islands of limestone, topped by lush rainforests. As a UNESCO world heritage site, Halong Bay has no shortage of amazing natural wonders.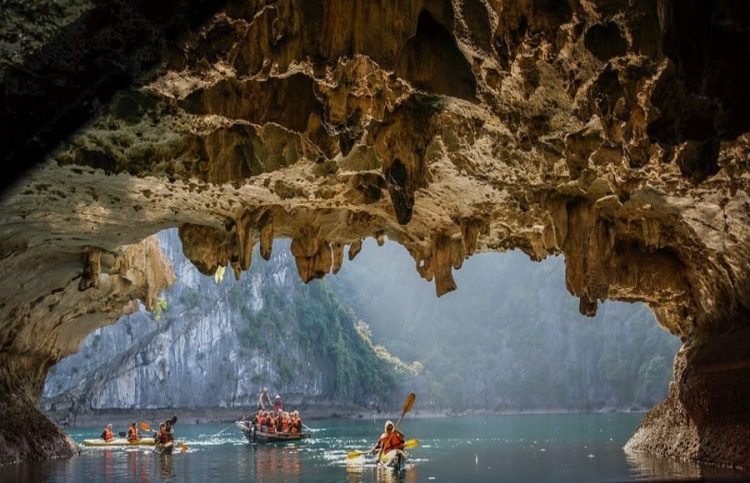 It is fairly easy to get from Hanoi to Halong Bay. So much so that you can even visit this beautiful area of Vietnam in one day.
However we really truly would encourage you to set aside at least 3 nights to truly enjoy all the sights of Halong Bay.
Exploring this breathtaking seascape on one of the iconic junk boats or a luxurious cruise boat is 100% the best way to see Halong Bay.
We personally loved our cruise on Indochina Sails Junk Boat, but you can also find our list of all the best Halong Bay Cruises here.
But without further ado, here is the list of the best things to do in Halong Bay.
1. Visit the Halong Bay Islands
There are literally thousands of islands (no relation to the sauce) in Halong Bay, each with a unique atmosphere and stunning beaches.
Many of the islands also have fantastic names based on their shapes, like Pelican Grotto and Turtle Rock!
Here are a few favourites:
Tuan Chau Island has 6 km of pristine, white beaches, which are fringed by a gorgeous pine forest.
Take in the amazing sights of the island as well as the storied royal architecture of beachside restaurants.
The island is perfect for some super water activities, including:
Kayaking
Canoe parachuting
Fishing
Jet skiing
Ti Top Island is a little piece of history as it is named after the Russian cosmonaut, Gherman Titov, who visited the island in 1962.
The island also offers some of nature's finest with an unbelievable panoramic view of Halong Bay, and its idyllic coast is ideal for swimming and kayaking.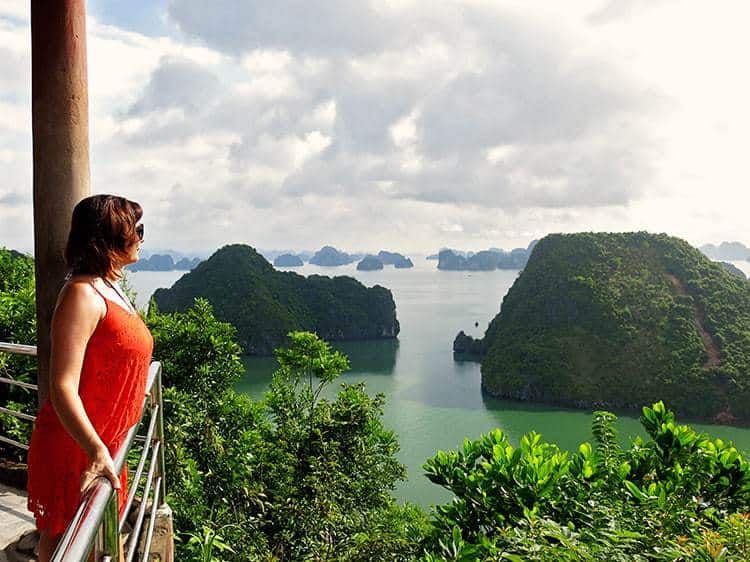 Named after its prominent resident, the rose myrtle, Soi Sim Island puts on the ultimate display of flora and fauna.
Its stunning forest is filled with ancient plants, and the island is surrounded by mountains with a spectacular view of Halong Bay.
Soi Sim is famous for its emerald waters, which are painted green by the surrounding foliage.
There are a variety of amazing tours to explore the bay, including a trip to the Red River Delta: Check out one of the most popular full-day Halong Bay tours (transfers included) here. 
2. Explore Sung Sot Cave
In a place filled with natural wonders, Sung Sot Cave has earned its spot as one of the best Halong Bay caves to visit. Its name means Surprising Cave because of its unbelievable beauty.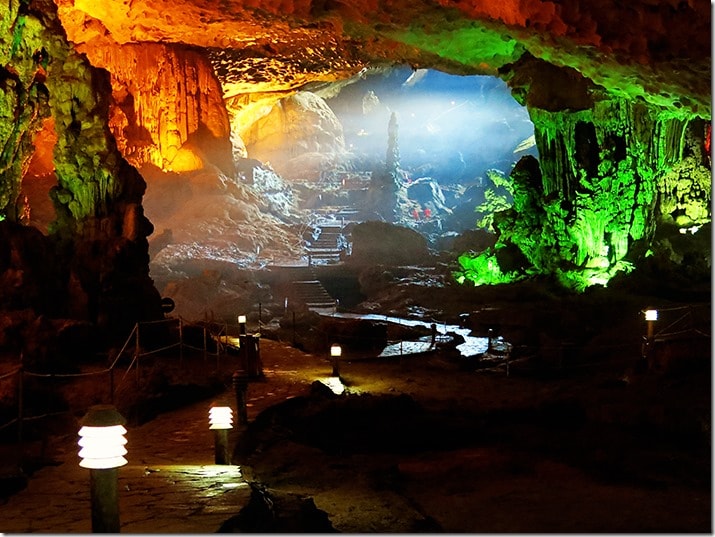 The cave has two inner chambers, which form a piece of Ha Long's treasured tradition, in which many of the rock formations tell stories of their own. In Sung Sot, a general surveys his troops, while sentries look on.
Kids will love the adventure of this experience just as much as you do. In actual fact, I loved it so much that I included it on a list of the reasons why you will love your Halong Bay trip so much.
–
3. Hiking in Halong Bay
If you're looking for a great hiking spot, Cat Ba National Park is a perfect choice.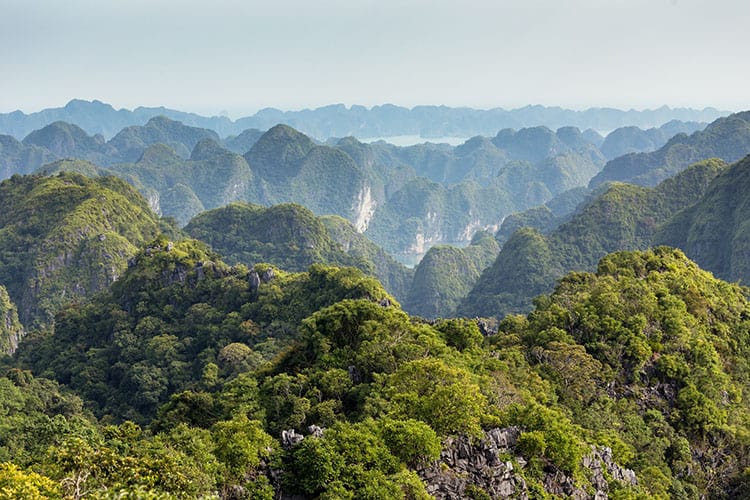 It is the home to a menagerie of wildlife, such as civets, macaques, and most of the world's remaining golden-headed langurs. Keep a lookout for an amazing selection of birds as well, including hawks, hornbills and cuckoos.
Access to Cat Ba costs 40 000d and the park is open from sunset to sunrise.
It's possible to hike through it without a guide but for an easier experience, there are a number of tours you can join to explore the park, including an amazing 2-day tour of the area: Click here to grab more info on this popular tour.
The Bai Tho Mountain is also a Halong Bay hiking staple.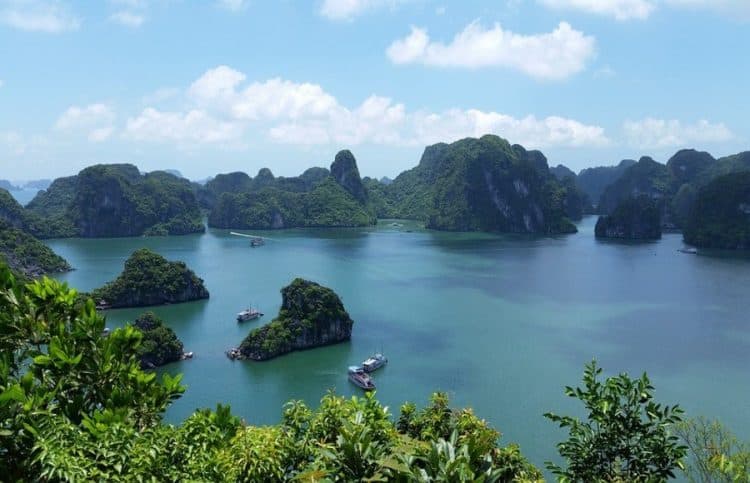 Its name means Poet Mountain and it fits the description perfectly. Surrounded by endless turquoise waters, the mountain offers hikers an amazing view of Halong Bay.
With just a 30 to 45-minute hike to the top, it's an easy but unmissable activity for you and the family.
–
4. Sail to the Cua Van Floating Village
Enjoy a boat ride to the largest floating village in Halong Bay. The amazing water-based collection of houses is surrounded by stunning natural landmarks and plays a major role in their protection.
The village forms part of Ha Long's ecotourism and is a wonderful picture of the blend between the fishing market and conservation.
The ancient fishing village makes for an unbelievable sight amongst the chalky islets and is a 'must-see' on your Halong adventure.
The Best Things to do in Halong City
The bay and its amazing natural wonders are what make this area so famous but Halong City still holds its own.
5. Visit the Quang Ninh Museum
Located in the Hong Hai Ward of Halong City, the museum is a great way to experience centuries of Vietnamese history and the development of their cultural identity.
Inside the museum, you'll find attractions like a whale skeleton, sailboat models and fascinating artefacts depicting Vietnam's storied past.
The architecture of the building is also amazing to see because it is designed to function like a massive mirror reflecting gorgeous views of the Halong Bay coastline.
6. Take a Stroll Over Bai Chay Bridge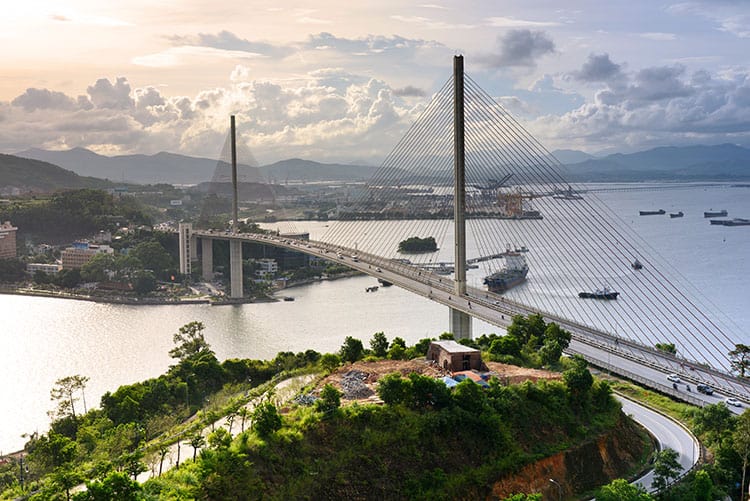 If you're wondering, "what's so special about a bridge?". The answer is: the view at night.
Take a stroll through the city and along the bridge, where you can watch a spectacular light show as Halong is bathed in colour. The bridge is also wonderfully decorated and provides the perfect family photo spot.
Bai Chay Bridge connects the bay area and the city, making it a major landmark in Halong Bay.
See the best of Halong City with a private half-day tour: Click here to grab more info on this tour.
7. Enjoy the Sun World Ha Long Park
If you're looking for one of the best things to do in Halong City with your kids, this coastal fun park is amazing.
The entertainment complex is made up of the Dragon Park, Typhoon Waterpark and a sea-crossing cable car that makes for the ultimate view.
Visit the ferris wheel, which is a fantastic sight as it changes colour during Halong City's light show. Enjoy running around to ride after ride, while taking in the sounds and sights of the city.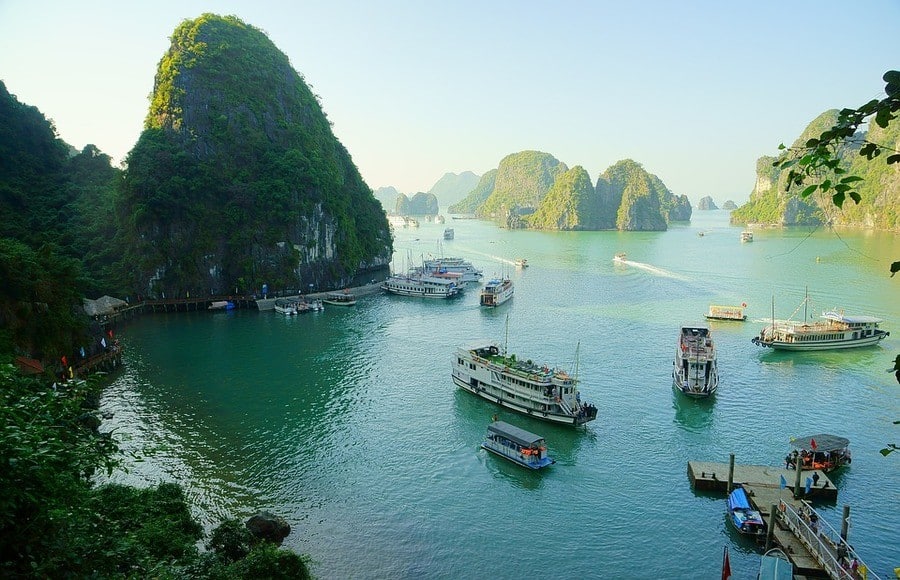 Fill your days in Halong Bay with stunning views and adventures to local treasures, for an all-around unforgettable experience.
If the idea of endless fun and activities on the gorgeous Vietnam coastline sounds good to you, why not book your own trip to Halong Bay!
Further Reading: