I think fear and worry often take over when it comes to packing a travel diaper bag can be a bit of a daunting task!
It can be so hard to figure out how much of what you need in your baby travel bag when you are flying with a baby!
If you are like me, you might even try to take everything in sight, just for in case! But who wants to carry all of that around all the time? NOT ME!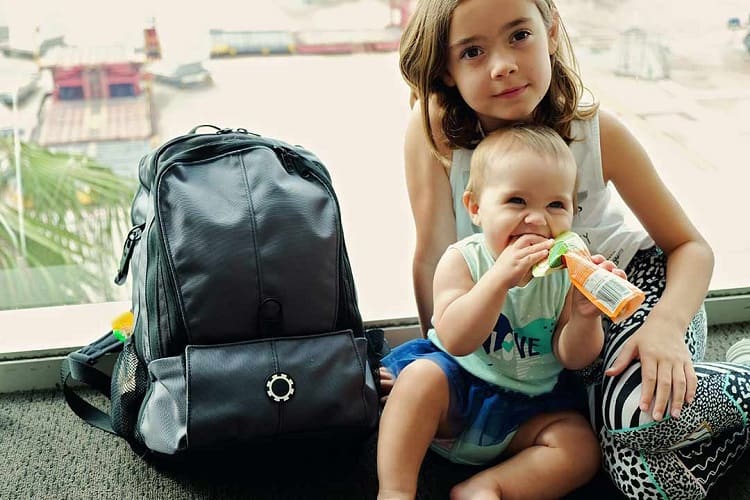 Our little bubba has already been on countless flights, so after multiple trips of traveling with baby-love, I think I have managed to figure out a good balance between packing the essentials plus a few extras.
This is my personal flying with a baby checklist as it helps keep my anxiety at bay whilst I'm trying to pack and get organized for our vacation.
What's in my Travel Diaper Backpack – Some of the items on our Baby Diaper Bag List
So if you are wondering what to pack for baby's flight, fear not because we have you covered in our baby travel list! Below is my personal list of what's in my travel bag for baby. It is a perfect mom and/or dad travel diaper bag checklist.
And don't forget to download and print out that baby carry-on checklist below!
Our Airplane Diaper Bag Checklist
So What is in my Carry-On Baby Travel Bag? Well, I'm glad that you asked. Here is our flying with baby checklist!
We consider all of these items on our diaper bag list below as true diaper bag essentials. You cannot possibly attempt to venture out into the world without them.
They are definitely handy baby items to have on hand at all times. So make sure to tick them off your diaper bag packing list as you go!
1. Diapers
Definitely pack 1 diaper for every hour that you will be at the airport and on the plane
Check out the price for these baby diapers here.
2. Baby Wipes
I love to take a nice large packet of wipes when I travel as I use them everywhere!
Check out the price for these baby wipes here.
3. Diaper Cream
Try to find a small pod of diaper cream that can live in your bag. I just refill my little pod from the big jar I have at home, which works out cheaper.
Check out the price for this baby diaper cream here.
4. Burp Cloths
I love using the old-school reusable cloth nappies as my burp cloths, cheap and super absorbent too! We recommend you pack 2 x burp cloths for smaller babies, 1 x for older babies.
Check out the price for these burp cloths here.
5. Disposable Diaper Bags
Again an essential, so handy to chuck all your dirty nappies in to, but I also find them handy for popping dirty or soiled clothes into as well. These are a great buy if you are after the disposable kind.
Check out the price for these disposable diaper bags here.
6. Changing Pad
I love having a changing pad in my bag, so much so that I recommend you invest in a great changing station, one of my favorites is this Skip Hop Duo Portable Changing Stations. I use the changing pad no matter where I change my baby.
Check out the price for this changing pad here.
7. Spare Clothes for Baby
At least 2 sets of spare clothes are probably the save way to go. We love to take one hot and one cold as you never know what temperature the plane with me!
8. Pacifier (If Your Child Uses One)
And a truly great accessory if your diaper bag doesn't have an allocated pacifier pocket is this JJ Cole Pacifier Pods (Aren't they bloody handy!)
Check out the price for this baby pacifier here.
9. Muslin Wraps
You can use it to cover your baby or as a changing pad, nursing cover, sheet, bib, shade, or burp cloth. I'm a huge fan of the Muslin wraps, they are so handy and don't take up much space at all!
Check out the price for these muslin wraps here.
10. Thick Blanket
Because a lot of planes don't have baby blankets for the bassinet! So, take a nice thick one!
Check out the price for this baby blanket here.
11. Hand Sanitizer
No brainer here, the best way to keep your baby's hand clean is with a good kid-friendly hand sanitizer.
Check out the price for this baby hand sanitizer here.
12. Toys for Comfort and Distraction
Yes, yes and yes! Anything that can comfort and/or distract your little one whilst traveling with definitely help to make your journey that much more pleasant.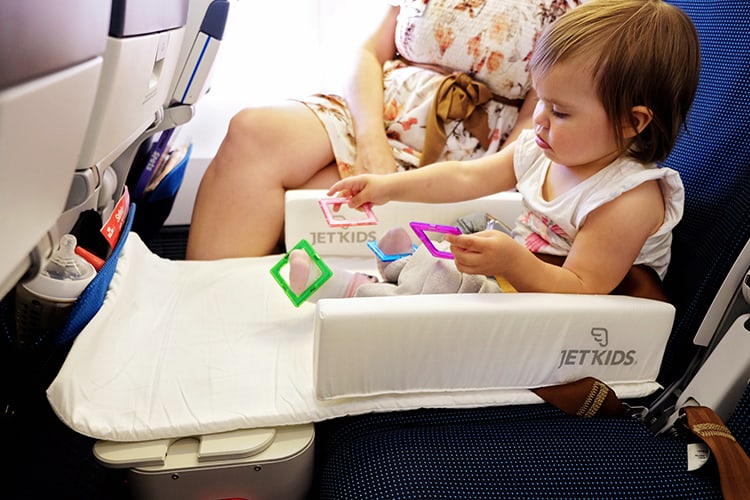 Check out the best toys for babies and toddlers for the plane here.
13. A Shirt for You
Because whether you want to admit it or not, at some stage, you will have boob leakage (if you are breastfeeding), or you will have baby spit-up all over you or even possibly some drips from that baby poop-explosion.
14. Nursing Cover (If You Breastfeed)
When a baby is little you can get away with just using a muslin wrap or blanket to cover up whilst breastfeeding. However as bubby grows and gets more handy with their hands, there is no way that that blanket will stay put.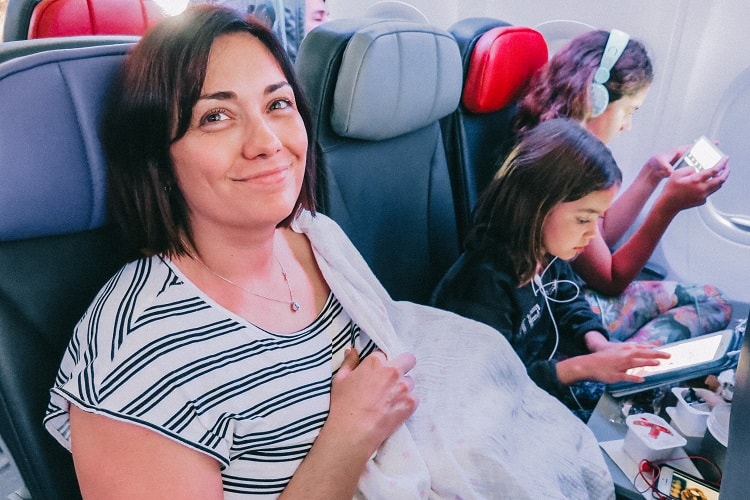 An incredibly handy invention is the Nursing Covers and they become almost an essential item. We truly love the style, design, and functionality of the Udder Covers.
Check out the price for this udder cover here.
Age-Dependent Items on the Checklist for Flying with Baby
You will also need various other items depending on what age your child is at. What goes in the diaper bag that truly depends on the age of bub?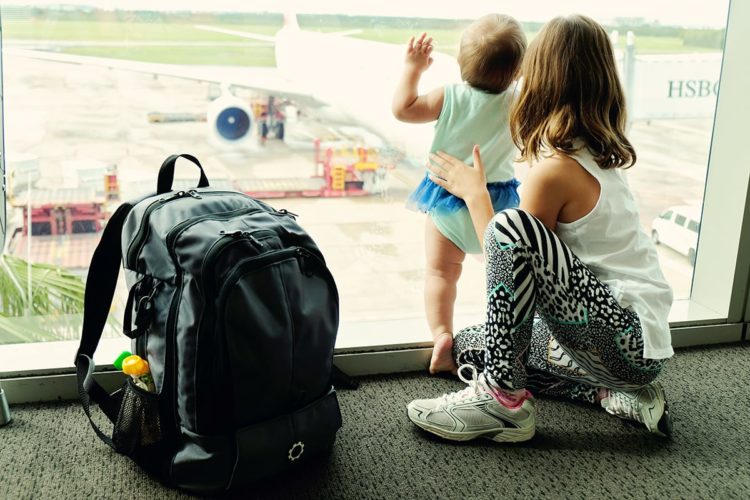 A bib or two
Portable baby wipes warmer, which are great for newborns
Bottle(s) or expressed breast milk – These travel baby bottles are pretty innovative! You pop the formula in the bottle and when you are ready to use it, you twist it and shake the bottle to release the powder into the water!
Baby formula on the plane
Baby Formula dispensers – These are brilliant when you are flying with baby formula in hand. We use the containers that have 3 sections to store formula. I have three of these on the plane which gives me 9 bottles if I need it!
Sippy cup of milk, water, or juice
Snacks – Take snacks that take time and effort to eat, such as sultanas in a box.
Jar of baby food and a spoon – Also, make sure you ask for an infant meal for baby!
Teething gel or rings
Age Appropriate Toys – We love to buy brand new toys to take along
4 Extra Suggestions for Flying with Baby Travel Packing List:
The following goodies are truly handy to pack if you happen to have space, but they are by no means ESSENTIAL on your travel checklist for baby.
1. Wet Bag
These wet bags on Amazon. They come in various different designs, colors, and patterns. Truly handy for popping any item inside that happens to be wet.
2. Insulated Bottle Bag
These are super handy if your diaper bags don't have insulated pockets. We are especially fond of the Skip Hop Duo double storage bag as it also comes with stroller straps WHOOOP!!
3. Bottle Brush and Liquid Soap
Some mums love flying with a baby bottle brush and liquid soap and only one bottle. I love flying with enough bottles so that I don't have to bother washing them.
4. Lollipops
Lollipops are great as it takes a while for older babies or toddlers to suck on them. Time buster plus it helps with the take-off and landing.
What is the Best Travel Diaper Backpack?
Our go-to travel diaper bag backpack is the DadGear Diaper Bag Backpack! The backpack is perfect for traveling and all the handy pockets and compartments make it super easy to organize all your goodies!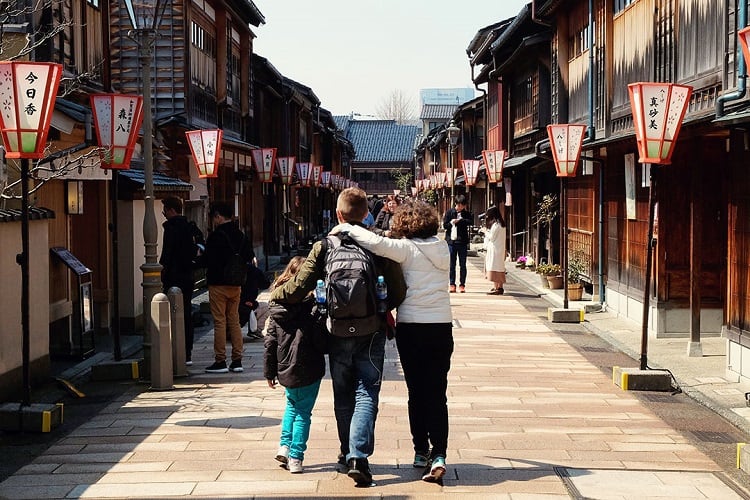 We seriously haven't traveled without it since Avalee was born.
Additional Tips
If you are one of those mums that like to have things printed out and handy when you are packing your bag, you might like to click on this travel list for baby that we created for you. This list contains the diaper bag essentials list as well as age-related items for bubs! It is perfect as both a mommy or daddy diaper bag checklist!
Tip: You might also want to check out other baby gear here as well as which are the most popular and best selling FAA approved car seats here.
Final Words
And there you have it, all our recommendations of what should go in a diaper bag for travels. Add in your own personal items that you can't live without and you are ready for the big wide world outside. Have fun packing and do make sure you check back over your bag once in a while to restock and refresh your supplies.
I loved showing you what's in my travel diaper bag.
Till next time!