Darling Harbour is one of the coolest places in Sydney and has a permanent, very soft and cushy, spot in my heart.  Haha… I love this place!  Why?  It is because it is awesome!  Because when you stay there you are assured to have a great time.  
Wondering what there is to do in Darling Harbour?  Everything!  There are dozens of restaurants where you can indulge in some of Sydney's finest cuisine.  There are shops to satisfy your need to purchase those new shoes.  And there is so much more to do; that you can easily spend more than just a few days there!
In today's story, I will not focus on the shopping and the restaurants or the street performances that create wonderful spectacles for us to marvel upon.  Today I will give you a list of some of our favourite Darling Harbour attractions.  These are the most popular things to do at Darling Harbour.  So, strap yourself in the chair, notepad in hand and let's go on an adventure to one of the most iconic areas to see in Sydney!
–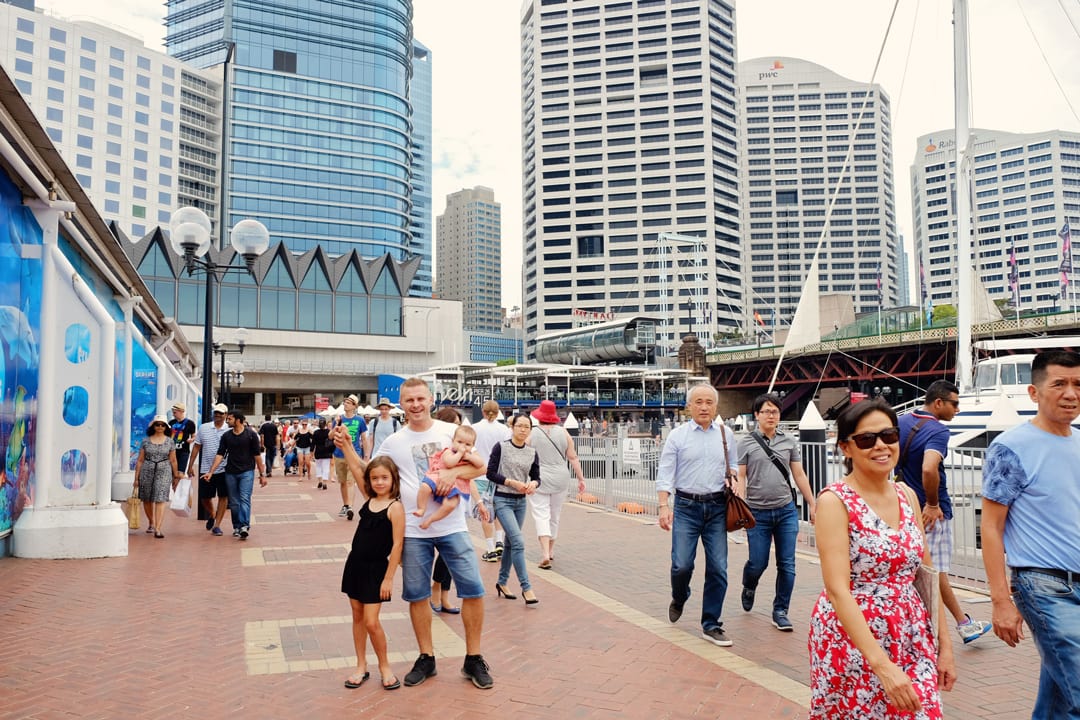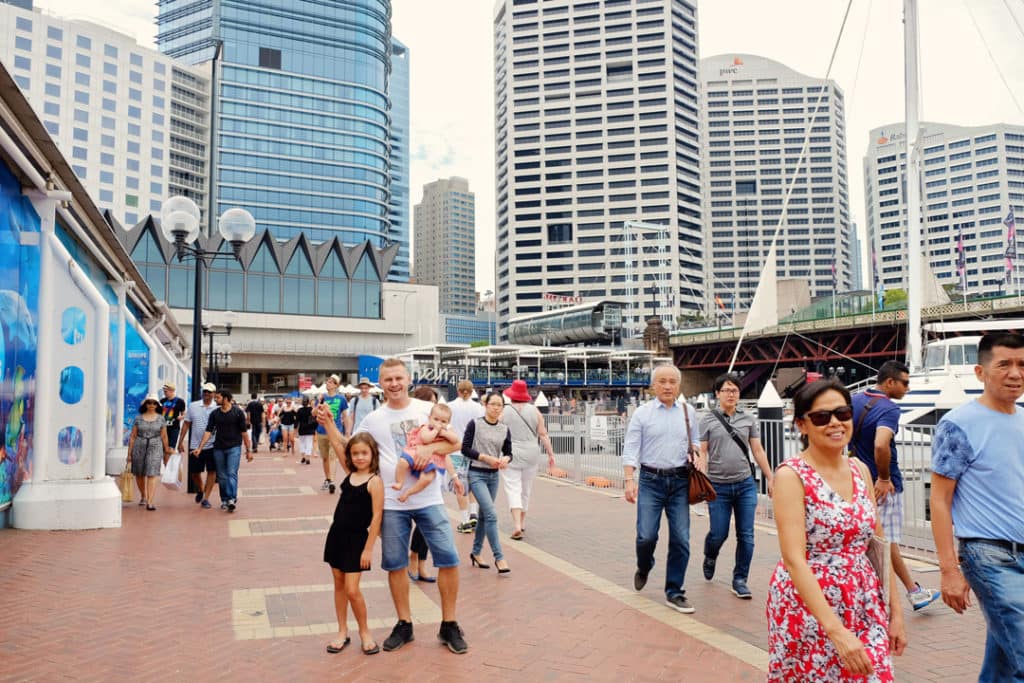 These are the most popular things to do in Darling Harbour.  So, strap yourself in the chair, notepad in hand and let's go on an adventure to one of the most iconic areas to see in Sydney!
–
_____________________________________________________________
To read more about what to do in Sydney and where to stay, follow the links:
Still wondering where to stay in Sydney?
Have you seen the 'Top 3 Landmarks in Sydney'?
Venture out on this beautiful full day road trip from Sydney to Kiama
Scout out the Best Beaches in NSW
_____________________________________________________________
=-
Things to do in Darling Harbour for Kids & Adults | Adults can be Kids too!
Here is our list of the best things to do in Darling Harbour for families. If you're traveling during Australian school holidays, you can also browse this post listing the school activities in Sydney to find some additional fun activities to slot into your itinerary.
—
Cockle Bay Wharf
OK, so you arrived at the harbour on the ferry and your tummy is screaming "I need food!", well, then you came to the right place!  Cockle Bay Wharf is the spot for you.  Here you will be faced with perhaps too many choices of where to eat.  Which one will I try today, or should I come back tomorrow?  I am always hungry!  I plan what to eat for breakfast, lunch and dinner; actually, I already plan it all out the night before.  Haha… Anyways, back to the story!
Of course, it took us a while to choose the right restaurant but got to say, all of them were pumping with a happy and cheerful atmosphere.  Relaxed smiles and slow motion of the holidays can be felt everywhere!  Cockle Bay Wharf is a happy place!  A place to hang out; a place to go for a stroll with your loved ones; a place to eat with a view over the Darling Harbour; and at night, it is a place to party!  Boy oh boy, I have attended a few crazy parties here in the past.  Haha…
–
Tip:  One of the best things to do in Darling Harbour is to take a ferry as the preferred transport to this awesome place.  That way, you can view the harbour from a different perspective.  The panoramic view from the ferry opens up over the Cockle Bay Wharf and it is a truly great opportunity to capture the scene with your camera.
Sydney Sea Life Aquarium
The Sydney Sea Life Aquarium is a sea creature wonderland; not only for the kids but for us adults as well.  Our little ones ran around like crazy spotting all the marine wildlife.  Katie was a little scared of the razor-sharp teethed sharks swarming around over the underwater tunnel; which I had to capture on the video of course!  Haha…  Are you scared of sharks?  This one, for example, photobombed us with an awkward shark smile.  Adorable isn't he!  Haha…
There is something here for everyone.  If it is the famous dugong that you came here to see, he is floating around the main pool like a king of the place.  If it is the cutest little penguins that got your attention and you want to check out the two-minute boat cruise into their super chilled habitat, then this place is perfect for you.  As for me, the attraction was of course …. yup… the sharks!  Sharks are awesome!!  What do you reckon; in the photo above – do we have the same smile?  Haha…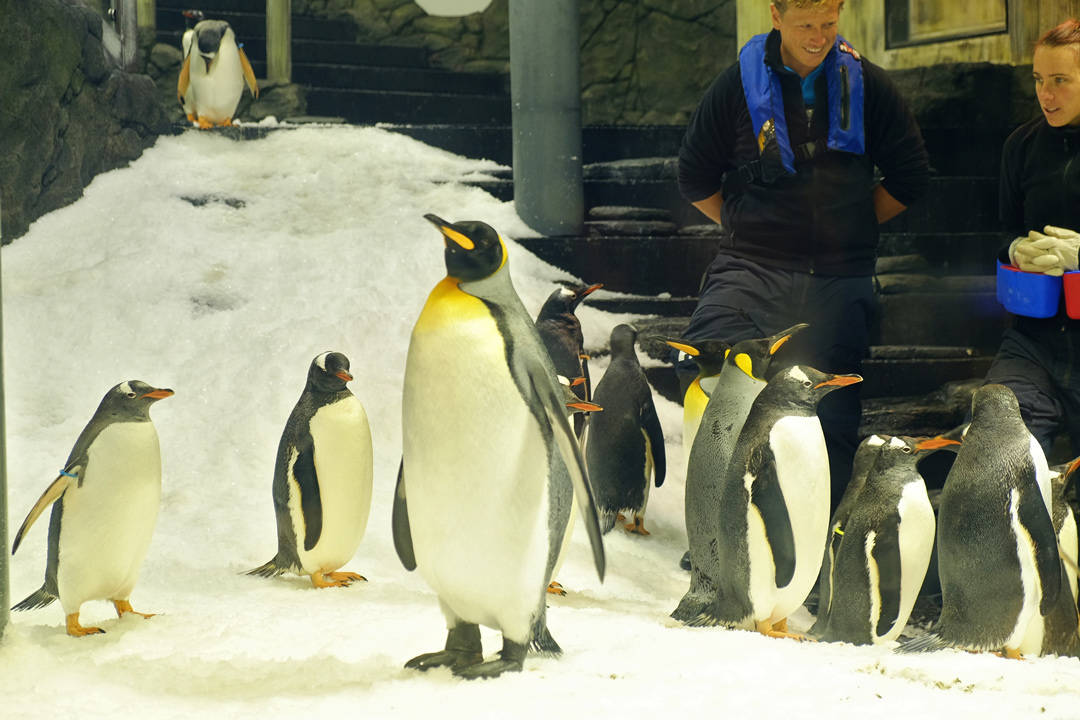 –
Sydney Aquarium Tickets
If you know the date and time of your visit, you can book your ticket online for great savings!  This will bring the normal Sydney Aquarium Ticket price of $42 down to only $29.40.
Sydney Aquarium Opening Hours:
· Monday – Thursday: 9:30am – 7:00pm (last entry 6:00pm)
· Friday – Sunday: 9:30am – 7:00pm (last entry 6:00pm)–
Sydney Aquarium Location:
· SEA LIFE Sydney Aquarium is located on the city side of Darling Harbour, in the heart of Sydney.  Find out various options of how to reach the Sydney Aquarium's location here.–
Parking at Sydney Aquarium:
· If you are visiting the Sydney Sea Life Aquarium by car;  you will find the cheapest parking at Wilson Parking (100 Murray Street (Harbourside) Car Park) – Enter & Exit off Murray Street, Pyrmont. If you show both the parking ticket and your Sea Life ticket to the staff at the gift shop, they will activate it for the $17 special rate.
Tip:  Try to get to the Sydney Aquarium as early as possible, in order to avoid the masses of people viewing the habitats at snail-pace.

Leave the big bulky stroller behind as the walkways are pretty narrow and can get super congested.
–
Wild Life Sydney Zoo
Do I even have to say anything?  I think the photo of Lily with the animals says it all!  We love getting amongst nature and meeting with the furry creatures face to face.  Not only can you have a little play with an extraordinary Quokka, but you can also hold a large snake on your shoulders for a photo or two.  I personally enjoyed the fun of holding a reptile.  This one, of course, wasn't venomous, but still, to be able to hold a snake in your hands gives you a bit of a boost of fearlessness!  Haha…  I know, I will do anything to appear like a hero to our kids!
The majority of the animals at the Wild Life Sydney Zoo are behind glass, but our kids didn't care one bit.  They still enjoyed wandering around and visiting all of the displays.  There were butterflies, birds, koalas, lizards, snakes and much much more to see.  They were also preparing an enclosure for some giant crocodiles.  Now, that's something that I would like to see!

What I found interesting was that both the Sydney Aquarium and the Wild Life Sydney Zoo are in the city.  One minute you are walking down the alleys of one of Australia's biggest cities and the next minute you are amongst Australia's native wildlife.  Very cool, if you ask me…  It's like you can lose yourself for a while in the wilderness and then come out and have lunch in an awesome restaurant.  Best of both worlds!
–
Wild Life Sydney Zoo Tickets:
· If you know the date and time of your visit, you can book your ticket online for great savings!  Single adult tickets start from only $28.
Sydney Wild Life Zoo Opening Hours:
· 9:30am – 6:00pm (last entry strictly 5:00pm)
Wild Life Sydney Zoo Address:
· Wild Life Sydney Zoo is in Darling Harbour, right next to the SEA LIFE Sydney Aquarium.  Find out various options of how to reach the zoo here.  The Wild Life Sydney Zoo's address is 1-5 Wheat Road, Darling Harbour; however, if you are arriving by car, you will need to find parking elsewhere.  You can find cheap parking options on the Zoo website here.
–
Chinese Gardens of Friendship
Escape from the busy city life and transport yourself into the magical wonderland of Chinese Gardens.  Lose yourself in the harmony of traditional Chinese philosophy and garden design.  There are beautiful walkways, gorgeous lakes filled with koi carp, pretty waterfalls and exotic plants everywhere.
Source: Flickr | Stephen Rees
If you would like to relax just a little bit more, you can also chill out with a Chinese tea and a dim sum at the Teahouse.  Sounds good to me!  They say that it is a secret garden!  I think that sounds pretty cute.  Especially when you visit with your kids, then you can pump a little magic to the adventure and let the little imaginations run wild.
-s
Chinese Gardens of Friendship Tickets:
· Adult: $6, Child: $3 (under 12 years), Family: $15 (two adults and two children), Concession: $3 (Australian pensioners and students only), Senior: $4.50 (Australian seniors only)
Chinese Gardens Opening hours:
· 9.30am – 5pm (April – September)
· 9.30am – 5.30pm (October – March)
How to get to the Chinese Gardens:
The gardens are easily accessed from Harbour Street.  There are numerous pathways including some hidden, secret paths for those who love a bit of mystery.  Wheelchair access is limited, due to some walkways that are stone-built.  The stone pathways add to the experience but might be hard to get to with prams as well.
–
Darling Quarter Kids Playground &
Darling Harbour Carousel
Lastly on our list of things to do in Darling Harbour; and something Lily was looking forward to the most; we have the Darling Quarter Kids Playground and the famous Darling Harbour Carousel.
The Darling Quarter Kids Playground is awesome!  There are swings, balancing ropes, a big slide, a tangled web and much much more!  Katie's favourite feature was the giant octane.  She climbed to the top for the best view of the park, whilst Lily enjoyed her favourite attraction, the flying fox!  Yup, as kids love saying: "Can I go again?" … and again …. and again!  Haha…  Love it!
The Darling Harbour Carousel is the second oldest carousel in Australia and one of only a handful in the world that was built in the 19th century.  It is truly unique and a historical masterpiece.  The kids don't realize how special it is to go for a ride on the hand-carved (by the master craftsman from London) horses.  It is really great to see things like this preserved so well.  By the looks of it, even our children's children will enjoy a ride here as well.  Got to collect memories, right?
–
Darling Harbour Carousel Opening hours (non-holiday periods):
· 5pm Sat-Sun–
School holidays hours:
· 10am-5pm daily
–
After More Ideas of What to do With Kids in Sydney?
Christine Knight has a really detailed post on all the multitude of things you can do in Sydney with your kids.
As you can see, there are plenty of things to do at Darling Harbour!  Whether you are travelling solo, as a couple or as a family, there is something there for you!  All you got to do is to decide how many days do you need to explore this area of Sydney!
–
Over to you:
Which of the Darling Harbour attractions caught your eye and which will make it to your list of things to do in Daring Harbour?
Are you scared of any animal?  If yes, which one is it?
Feature Photo Source: Flickr | Norman Z