Being a popular tourist spot, finding a place to stay in Phuket in Thailand can get challenging.
Despite traveling to the island multiple times, we've always struggled with finding accommodation, too. Well, thankfully, this time around, we chose to stay at The Village Coconut Island Beach Resort, which promises to bring the best of both worlds- privacy and luxury.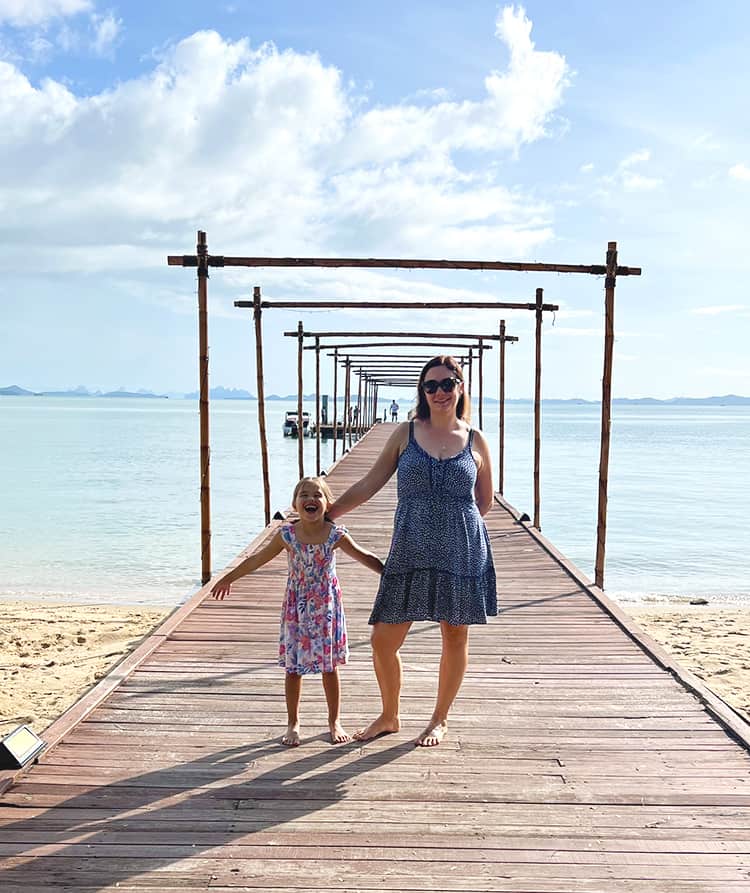 But like every other resort out there, 5-star or not, there were some drawbacks here as well. So, before you book the tickets and look for accommodation, make sure you read our review till the end to know what to expect…
The Village Coconut Island Beach Resort Review
Here is our detailed and honest The Village Coconut Island Beach Resort review:
How To Get From The Phuket Airport To Coconut Island
One of the main reasons why we chose the Village Coconut Island Beach Resort was its proximity to Phuket Airport.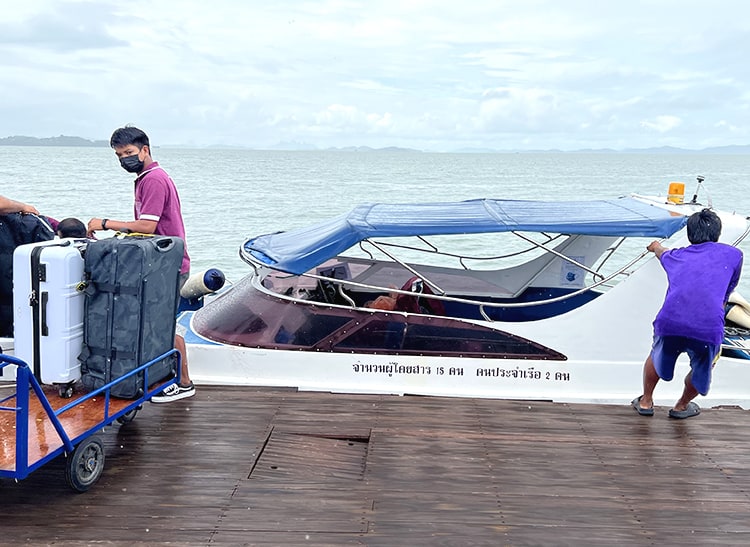 It takes 35 minutes by taxi from the airport to Laem Hin Pier and then seven more minutes by boat to the resort. The taxi ride cost us 650 Baht, while boat transfers were complimentary.
Alternatively, you can organize your own private transfer from the airport to the pier here.
A pro tip here would be to hitch a ride yourself on departure as well. The hotel will try to organize a taxi from the Laem Hin Pier to Phuket Airport for 1200 Baht, while you can get one for merely 700 Baht if you arrange a taxi.
The Village Coconut Island Resort Pool Villa 76 | Garden View
We were lucky to get the pool villa, which is known to be spacious with a private pool. Coupled with an outdoor terrace, we were in for a relaxing and fun family vacation!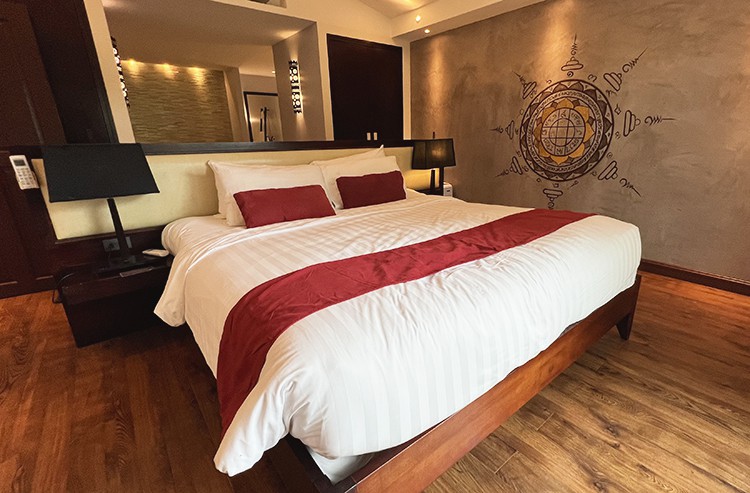 The villa consists of two separate rooms and bathrooms, which were sufficient for the kids and us. And thanks to the free Netflix subscription and WiFi connectivity, we could enjoy some of the latest shows, movies, and music.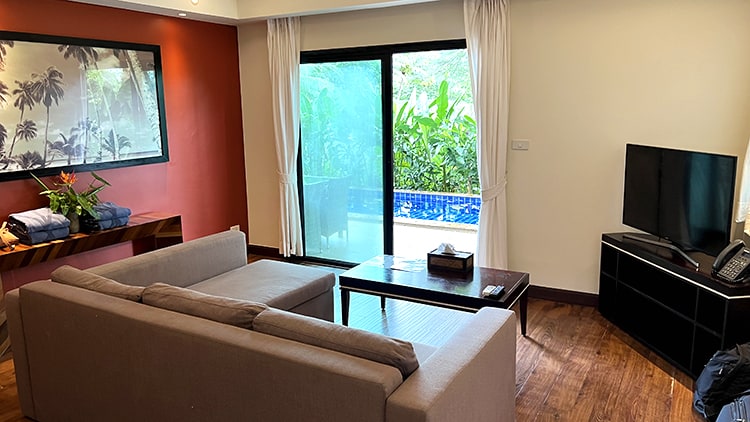 However, one thing that disappointed us was the super lumpy bed that made it difficult to fall asleep, even after an entire day of walking.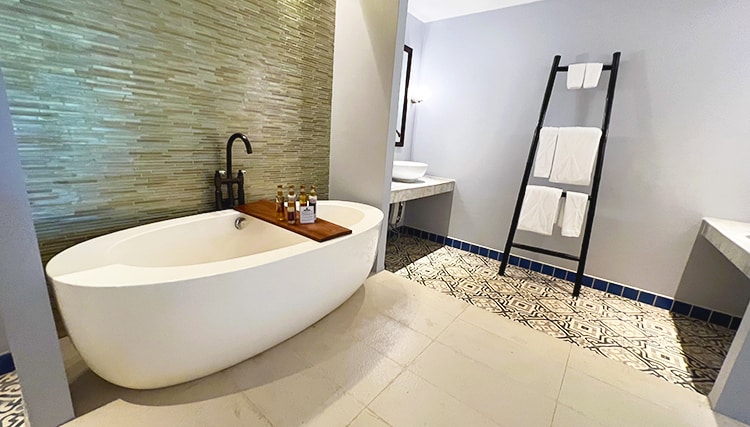 Plus, there was not enough hot water to fill up the bath, and to make things worse, our bath had a leak too.
Amenities
Here are The Village Coconut Island Resort Amenities:
Pools And Slides
Every time we set off for a summer vacation, our priority is the pool!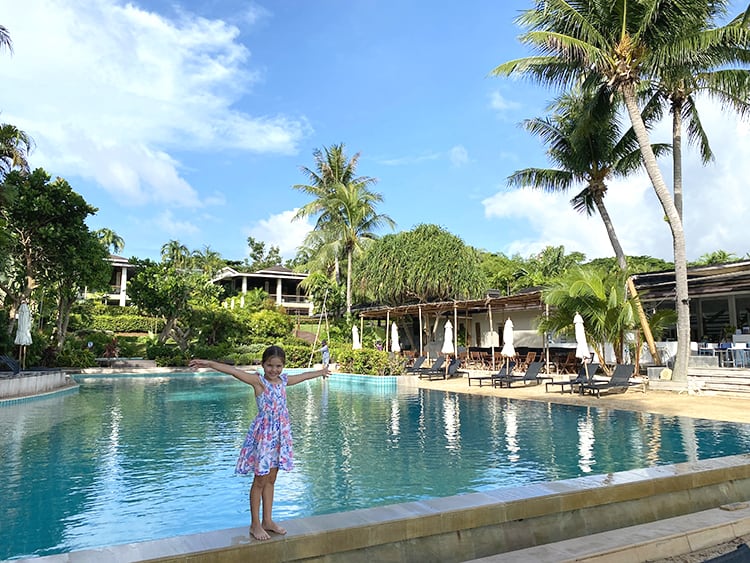 After all, who doesn't love splashing in the water under the sun? We certainly do, and we enjoyed every bit of it at the pool.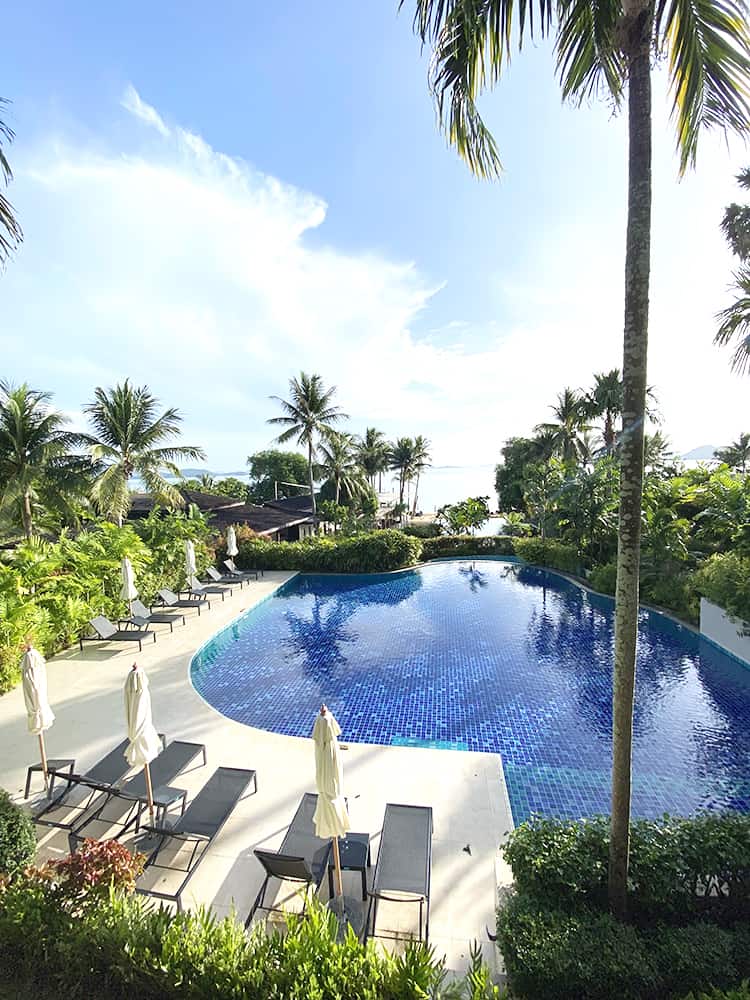 Especially our little one, Avie, loved the slower slides. She was scared, or rather smart enough to stay away from the faster one!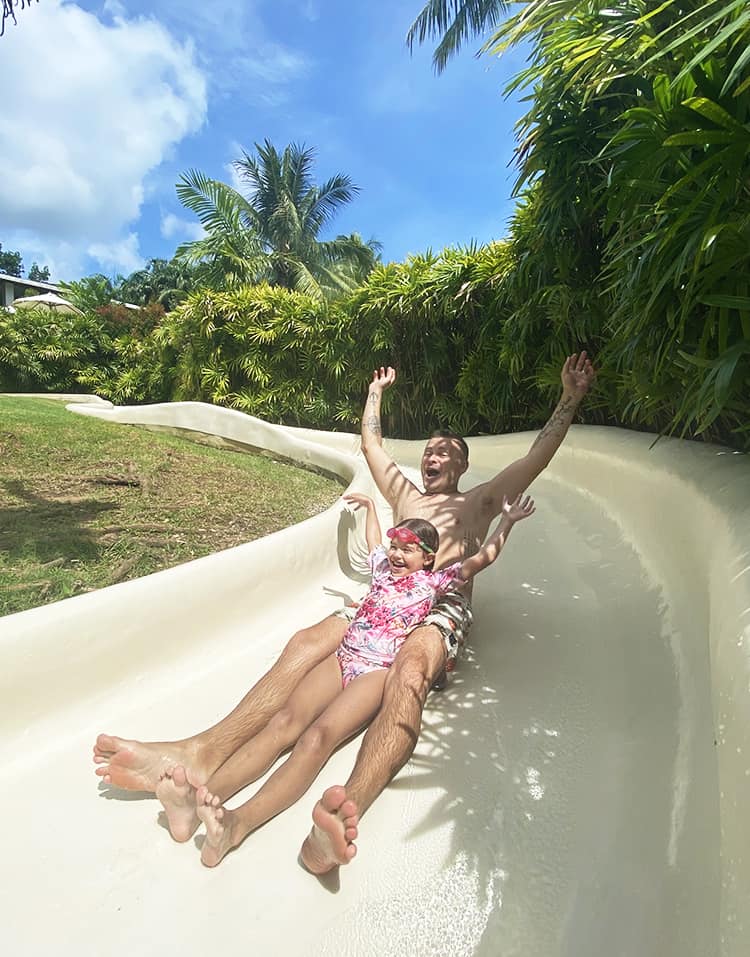 The beachside pool was another highlight for her, as she spent her time jumping and swimming around while we lazed around and got a tan on the beach beds.
Kabang Restaurant and Bar
Unfortunately, only one restaurant was open during our stay, but we were still lucky to choose from an extensive menu.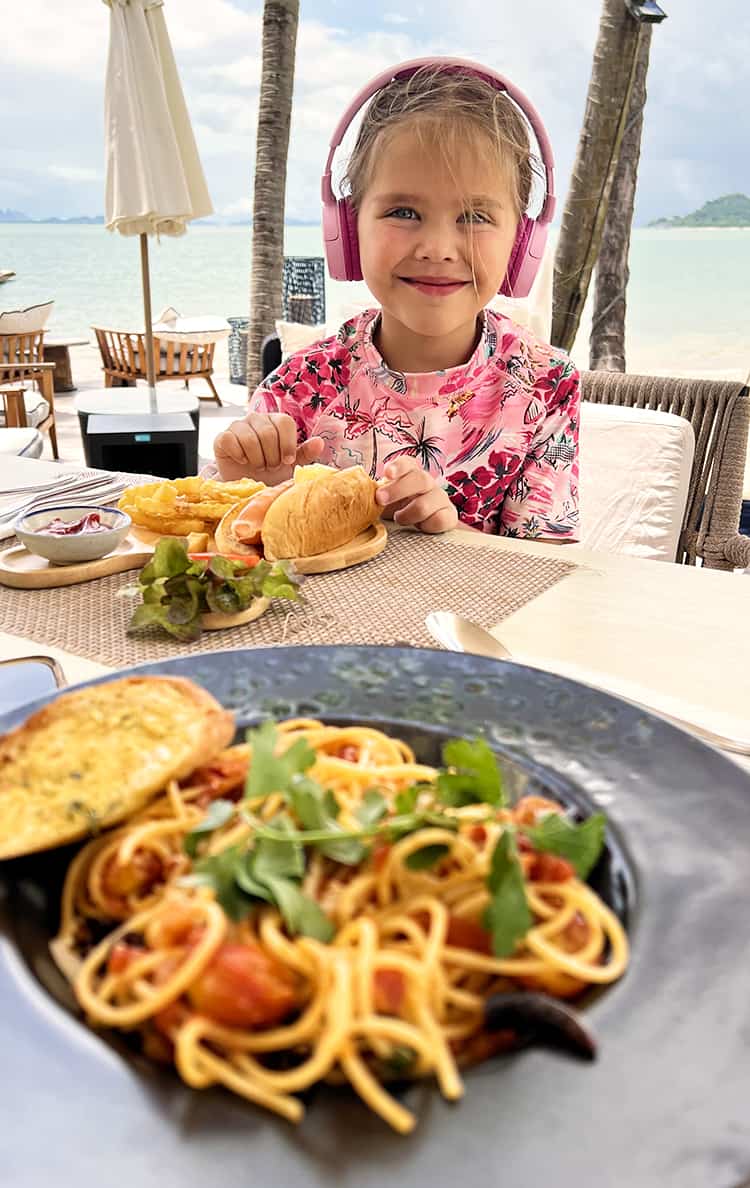 Though, we'd like to add that the food was a hit and miss. While some items on the menu were lip-smacking, others left us disappointed.
Andrzej, especially, ended up loathing the 5-hour braised pork belly that tasted like it was kept for a decade and felt hard and chewy like a shoe sole! What was disappointing, was that we were still charged for it.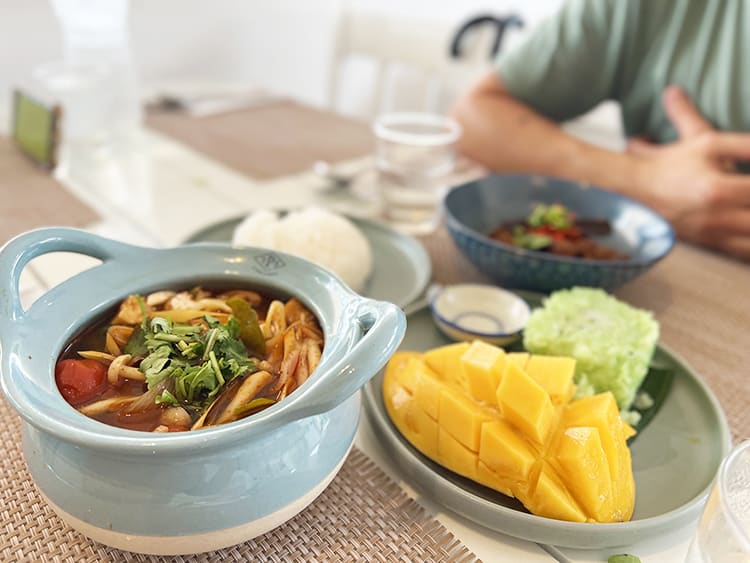 Other than that, the view from the restaurant was impeccable as it is situated right on the beachfront. There's also a pool and a bar next to it, so if given a chance, we'd definitely come back for an adults-only trip here!
The Village Coconut Island Beach Resort Phuket Activities
Last but not least, the resort offers a convenient bike hiring service for free for exploring the local village nearby.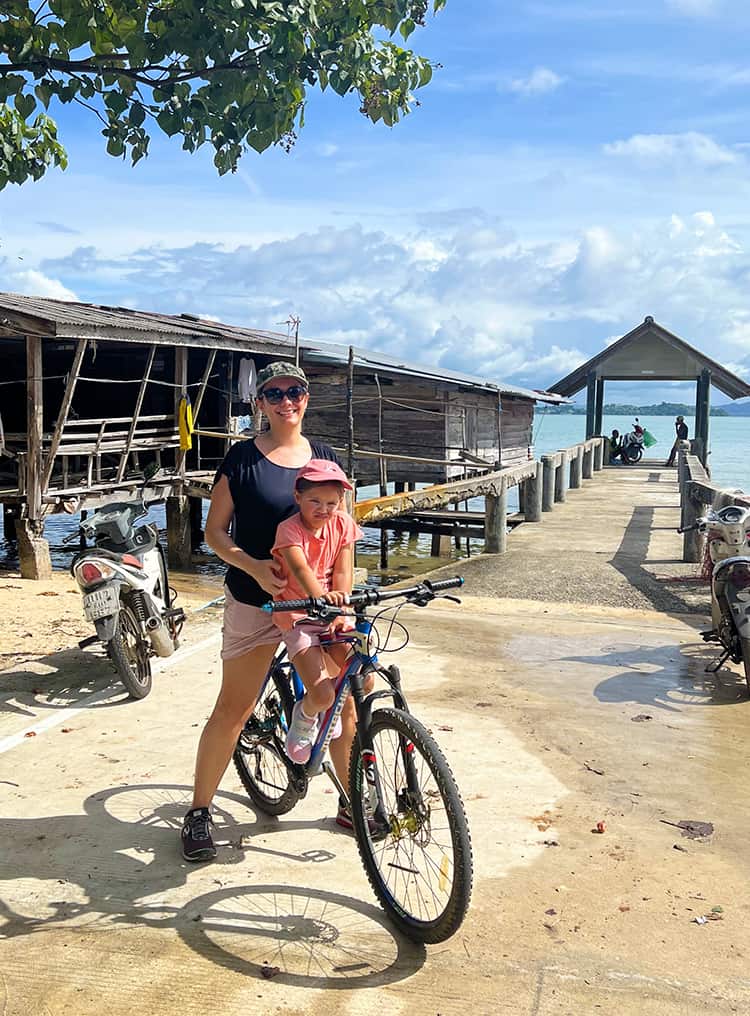 You can even take advantage of the free stand-up paddle boards and small sailing boats (one one-sail and one two-sail catamaran) to check out nearby tourist attractions.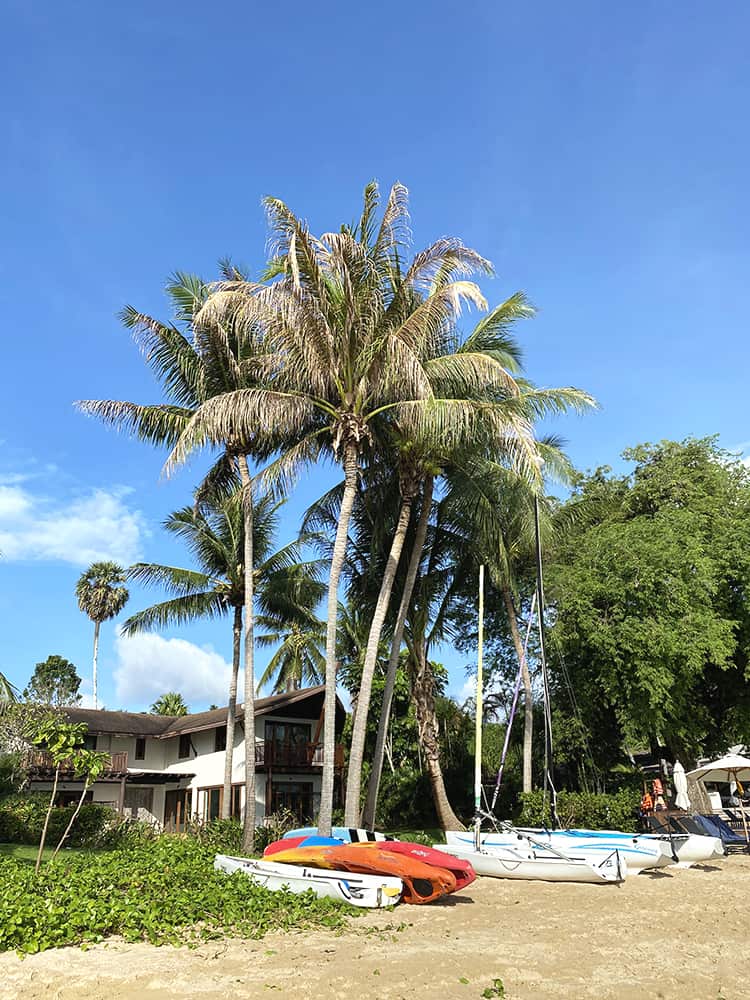 Other amenities include the pool table, which we didn't use, and neither were the kids very excited about it.
Our Personal Likes and Dislikes
Here are our personal likes and dislikes:
Our Likes
Right off the bat, the beach setup looked gorgeous, and the overall ambiance felt nothing short of luxurious – exactly what we wanted for this long-due family vacation.
The cherry on the cake was, however, the kid's pool and water slides.
The nearby commute was super convenient, thanks to free stand-up paddle boards, catamarans, and bikes.
Plus, the buggy service up to the rooms helped make it easier to reach different floors with tons of luggage.
Moving on, there was never a dull moment at the restaurants and cafes with happy hour drinks and live music.
Not to forget, the free Netflix and WiFi connectivity ensured entertainment at every spot.
Coming to the accommodation, the most important aspect according to us, the villa was spacious and comfortable – perfect for families.
Mornings in Phuket are slow and sunny, and it was only made better by the extensive and delicious buffet breakfast here!
Lastly, the friendly and helpful staff made our trip a lot more comfortable and enjoyable.
Our Dislikes
Here are our personal dislikes:
Though we love some sun and sand, we wished the room had some black-out blinds to avoid the early morning sun. After all, we were on vacation, and waking up early wasn't our plan!
The fact that the bed was super lumpy and uncomfortable didn't help either.
As mentioned earlier, the bath had a leak, and there wasn't enough hot water for us.
Other than that, we were disappointed at how some of the food items were a struggle to eat, like the braised pork.
Also, the staff provided us in our villa with everything in threes – glasses, cups, etc. This was quite frustrating, as we had to constantly clean dishes to be able to use them for other things.
Moving on, it could be our bad luck with the weather, but the fact that the resort did not provide any umbrellas when we arrived left us bummed. By the time we reached the venue, we were drenched, and our suitcases were left in the rain on the boat as well.
Overall, the resort may be a 5-star, but the villa was 4-star at best.
Not to forget, the Kid's Club looked terrible and uninviting, so we didn't take the risk of leaving our kid there.
We'd also like to offer a head's up for non-smokers – smoking is allowed at the bar side of the Kabang Restaurant and Bar. So, expect some passive smoking while eating your food!
Final Words
There you have it – the good, and the bad sides of The Village Coconut Island Beach Resort!
Despite the few unpleasant aspects, we must say that the trip was memorable overall, so we'd definitely go back in a heartbeat.
However, other than the kid's pool and slides, there's not much to explore for the little ones.
For adults, though, there are a lot of scopes, considering the enjoyable services, happy hour prices, free Netflix, and live music.