Nothing quite compares to family vacations at Walt Disney World.
With four theme parks, two water parks, dazzling resorts, amazing dining options, shopping, sports, nightlife, and more, there is really something for everyone at Disney!
Here is a great post to help you find the 10 bucket list experiences that you definitely should do at Disney World.
But with so many great choices comes plenty of indecision: vacationers often find packing for Disney to be an overwhelming task because there are so many of variables to consider and potential items to pack.
In order to alleviate some of this stress, I have created the ultimate Disney packing list with some really helpful Disney World packing tips to help you pinpoint the essential items of a Disney World vacation.
Disney Packing List Essentials
A packing list for Disney will vary depending on the season you visit, your daily itinerary, and the people you will be traveling with.
However, the following items should be on the top of everyone's Disney World packing list.
Grab your Disney Packing List PDF here!
_________________________
Luggage

Any luggage you take should have sufficient room for essential items like clothing, toiletries, electronics, swim gear, snacks, and more.
I find that luggage with internal separators and zippered compartments work best for keeping everything organized just how I like it. 
Packing cubes come in really handy as well to keep contents neat and tidy. And, of course, you want something that is either comfortable on your back and shoulders or has wheels to roll along the ground. 
We love getting cute rolling kids luggage for the girls so that they can pull along their own bags.
So be sure your luggage is up to speed before you even think about packing for Disney!
>>> Click here to see a great selection of Disney-themed luggage.
_________________________
Backpack / Daypack

That leads us to the next essential item on our packing list for Disney World: backpacks and daypacks.
One important thing you should be aware of is that Disney does allow guests to bring backpacks and daypacks inside the theme parks.
The smaller-size daypacks are probably your best bet simply because they are lightweight and comfortable but still large enough to hold essential items like maps, tickets, rain gear, water bottles, sunscreen, snacks, etc. 
We love traveling with a backpack diaper bag.
If you find that daypacks aren't quite roomy enough, you can certainly bring a larger backpack and store it in a rental locker for the day if you need to.
>>> Click here to see a great selection of Disney-themed backpacks.
_________________________
Wallet, Tickets, Reservations, Etc.
It probably goes without saying but this one is crucial: be sure you bring identification (passport/driver's license) and all your methods of payment (such as credit cards, Disney gift cards, and some cash for emergencies).
Also remember to bring your MagicBands (if they were mailed to you), hard copies of your tickets and hotel reservations, any maps/directions you may need, and an itinerary.
I like to draft a detailed itinerary a few weeks before my departure just to have a rough plan for what I want to see and do.
_________________________
Comfortable Shoes
While Disney transportation is free and abundant at Disney World, most visitors end up spending a large portion of the day on their feet.
Whether it's walking around the resorts or theme parks, waiting in lines, or heading off to see the fireworks at night, your feet will surely get a good workout.
Therefore, a good pair of comfortable walking shoes is one of the most important items on a Disney packing list.
_________________________
Refillable Water Bottles

Florida is known for its warm climate. After all, the state is nicknamed "The Sunshine State."
With this in mind, I like to be within arm's reach of water during those long and humid summer days at the theme parks.
As for refilling your bottle, any Disney counter service restaurant will gladly give you a refill for no charge.
Also note that the bottled spring water at Disney is pricey, so bringing your own refillable water bottle can save you lots of cash over the course of your trip.
>>> Click here to see some cute Disney-themed water bottles.
_________________________
Snacks/Lunch
Another easy way to cut down on your Disney spending is to buy your snacks ahead of time and pack them in your luggage to enjoy on the plane, in your hotel room, or inside theme parks.
And yes, Disney does allow you to bring snacks, lunches, and non-alcoholic beverages into the theme parks.
Make life easier by grabbing a cute snack pack bag. Simply pop the leftover snacks in the bag to keep things mess-free.
>>> Click here to see some cute Disney-themed reusable snack bags.
_________________________
Poncho (or Rain Jacket)
While the sun is plentiful at Disney World, you just never know if there will be a rain shower to dampen your spirits…and your clothes.
I recommend packing either a rain jacket or – better yet – a poncho.
So make sure to check the weather forecast on your phone to see if rain is predicted.
Ponchos are lightweight, barely take up any space inside daypacks, and will ensure that you and your clothes stay dry in the event of rain.
Just be aware that ponchos are much more expensive at Disney World than if you were to buy them online – so come prepared!
>>> Click here to see adorable Disney-themed ponchos.
_________________________
Electronics
Laptops, iPads, and cell phones will keep you connected to the outside world. I also like to bring a Kindle for those long flights to Disney World, and a digital camera to capture every moment of my trip.
As you pack, make sure you have all of your adapters, chargers, cords, batteries, and memory cards for your electronic devices.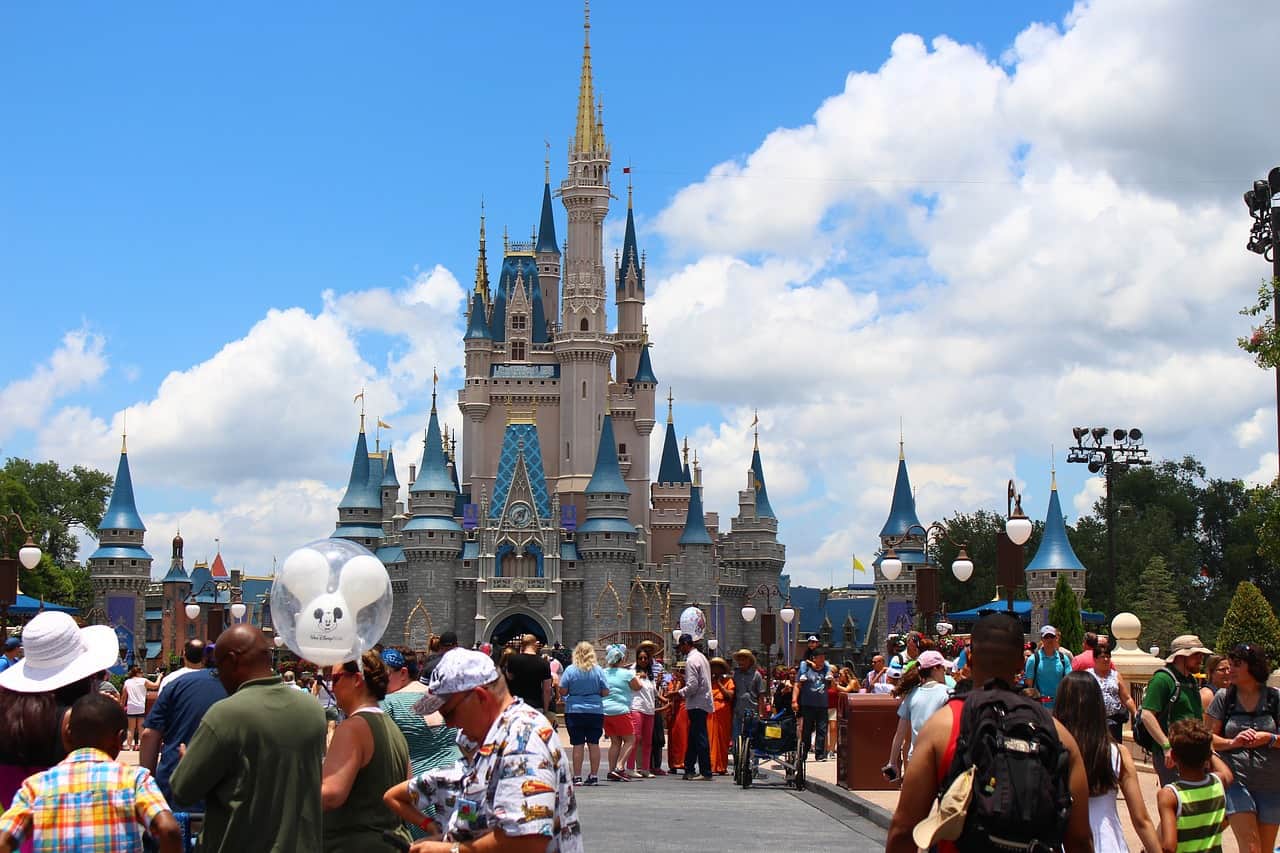 _________________________
Portable Phone Charger
Cell phones serve many purposes at Disney World. For one, they allow us to communicate with our travel companions if we get separated.
But cell phones can also be useful for other reasons: researching Disney attractions, viewing park maps, checking and confirming reservations, and – of course – uploading selfies to social media.
All of this usage can quickly drain our batteries. One easy way to prevent your phone from dying inside the theme parks is to pack an external battery charger in your daypack.
Portable phone chargers can really be a lifesaver at Disney World!
_________________________
Clothes for Any Weather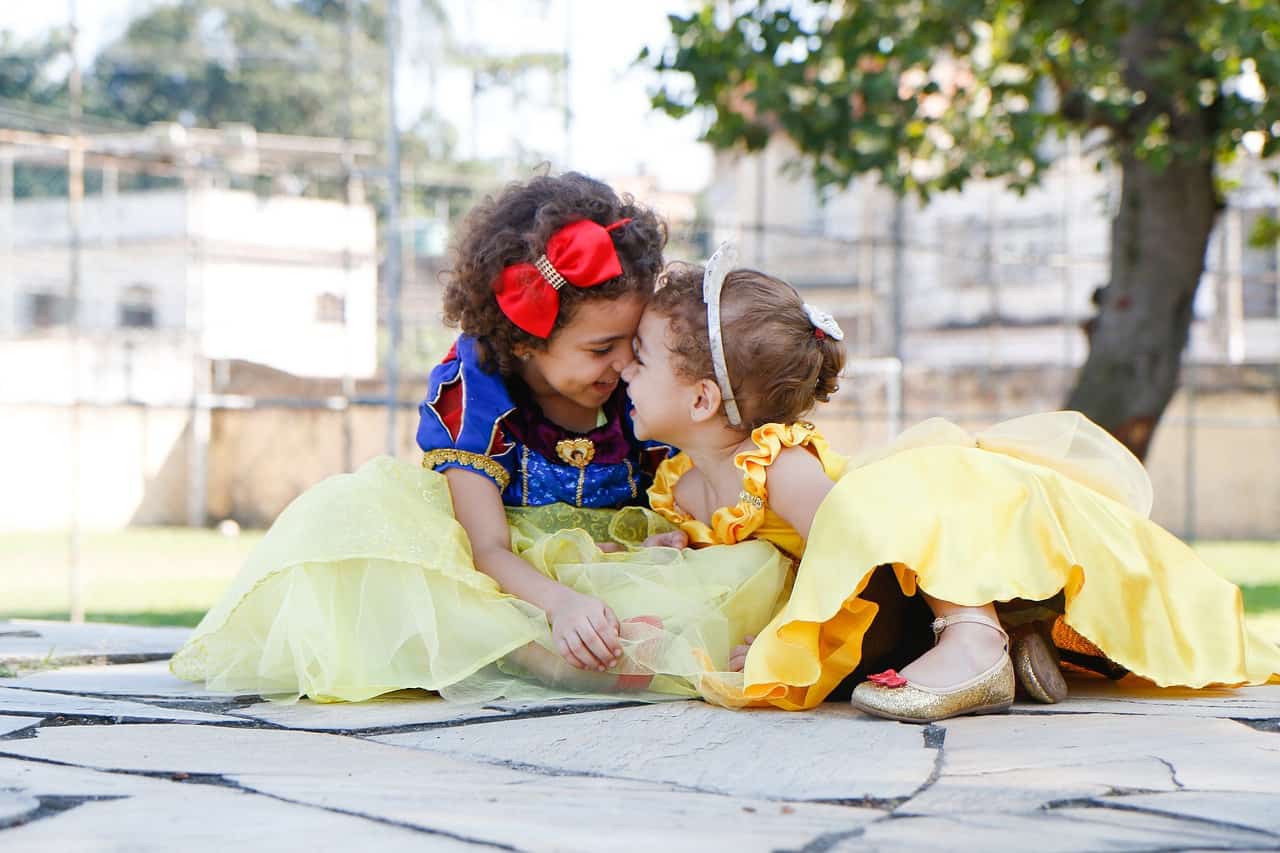 To give you a sense of the temperature you can expect, Disney World has a hi/low of 92° / 75° during July and 74° / 53° during February.
That said, you will most likely pack a variety of casual warm-weather clothes (t-shirts, shorts, etc) but also remember to pack jeans, sweatshirts, and maybe even a jacket, depending on the season you go.
If you plan on enjoying table service dining, lounges, or other nightlife, you may want to pack a nicer outfit or two.
You might also like to go all out and pack some matching Disney family shirts as well.
_________________________
Sunscreen/Sunglasses
In keeping with the sunshine theme, remember to protect yourself against harmful sun exposure during your long afternoons at the theme parks or by the pool.
I always pack sunglasses, a bottle of sunscreen, and a hat to shield my face from the sun.
_________________________
Swimsuits, Swim Gear, Beach Towels
Disney's 2 water parks (Typhoon Lagoon and Blizzard Beach) offer you a fun way to stay cool during your vacation.
In addition, each of the 26+ Disney hotel resorts boasts one feature pool, while many offer additional "quiet" pools scattered throughout the properties.
If you are anything like me, chances are you and your family will head to the pools (and jacuzzis) at least once during your trip, if not every day.
Remember to pack your swimsuits, beach towels, beach bag, flip-flops, and other swim gear.
_________________________
Ziploc Bags
Chances are that you won't be doing laundry during your vacation. Great news! But keeping dirty laundry separate from your clean clothes – and your room looking tidy and organized –  can be a chore.
I always bring several large Ziploc bags to keep my clean, dirty, wet, and dry clothes separated and orderly.
_________________________
Toiletries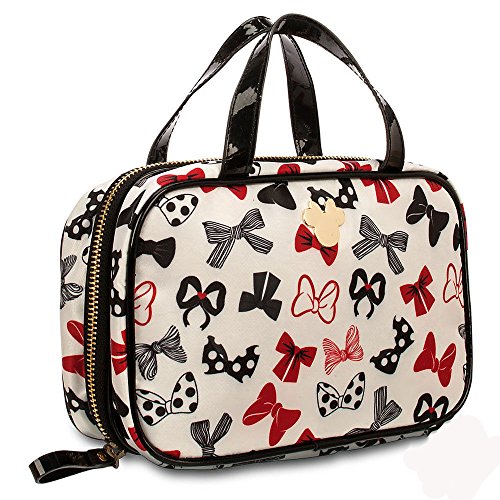 There is nothing worse than unpacking to discover you forgot your toothbrush. Well, maybe there is but it's annoying nonetheless. 
Disney resorts provide you with soap, shampoo, and towels, but you are on your own for the rest.
Make a checklist of all the toiletries you may need and then pack them in a toiletry case. If you are traveling with toddlers, remember to pack your baby wipes, diapers, etc.
If you forget something at home, don't fret: Disney most likely sells what you need somewhere in the park.
However, you can expect Disney prices to be higher than you would pay normally.
_________________________
Medications
I never leave home with my ibuprofen, and neither should you. Be sure you pack all of your prescription and over-the-counter medications. Good health is key to a great vacation!
Well, there you have it. My article covers the essential items of a Disney packing list, but your list may vary depending on the season you travel, the people you travel with, and your personalized itinerary.
Remember to plan your trip as early as possible so you don't run into any last-minute snafus, and buy your packing list items beforehand rather than waiting to purchase them (for more money) at Disney World.
I hope you have a magical Disney World vacation!
Tip: You might be also interested in checking out the best travel car seat for a toddler here.
Over to You:
Did you find Jonathon's Walt Disney World packing list helpful?
Do you have any Disney packing tips to share with our readers?