Never heard of Telunas before? Neither had we until we googled where to go for a relaxing short island getaway from Singapore.
When we looked at the pictures, we were immediately convinced that this is where we can truly relax, unplugged from everyday reality and work.
Check pricing and availability at Telunas Private Island Resort
Telunas Private Island Resort Review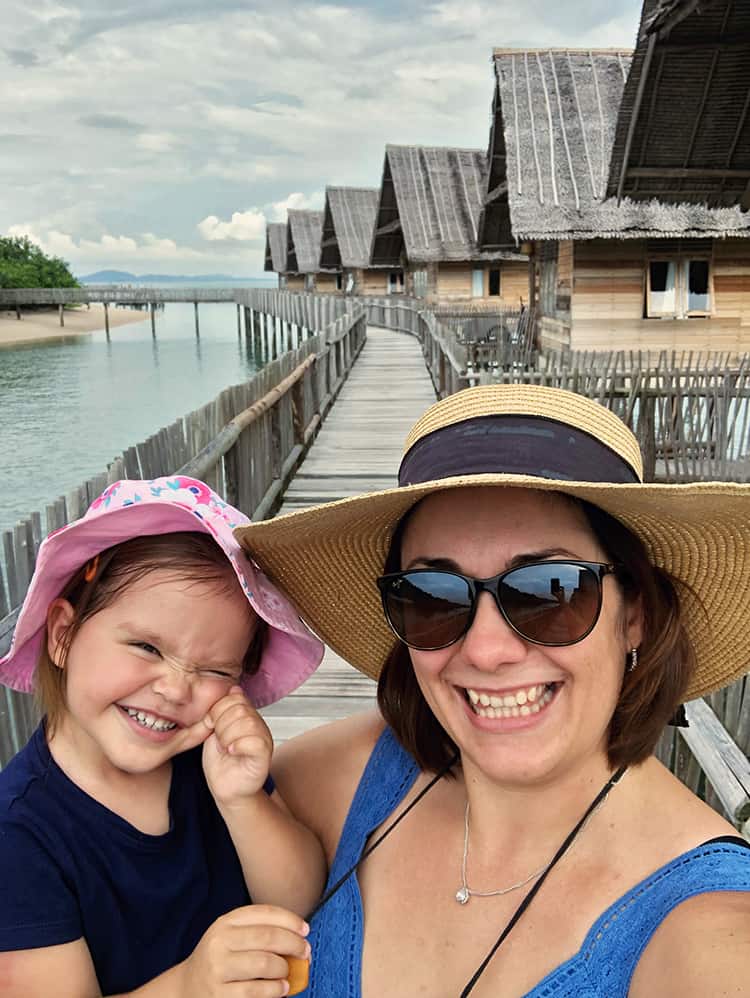 Telunas Private Island has been somewhat under the radar as it is relatively new. Being opened only a couple of years ago, it is not over-run by tourists making this place a perfect getaway destination for couples and families.
The bright blue water and the starry night sky, are an ideal mix of nature's best gifts to detoxify and rejuvenate anybody.
Telunas Private Island Overview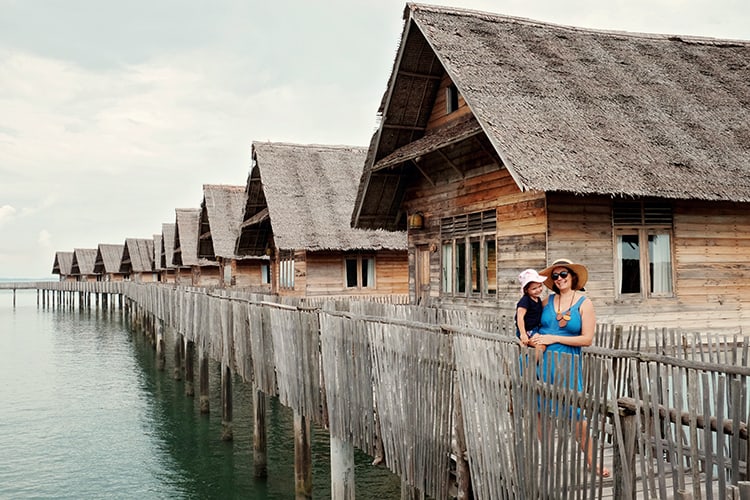 Telunas Private Island was opened by the same people who opened Telunas Beach Resort over a decade ago.
The new sister resort, Telunas Private Island Resort, is a significant improvement from the original beach resort.
The founders aim to provide an unforgettable holiday experience to the guests while offering sustainable benefits to the nearby local communities.
We went to the resort with our two-year-old daughter, and it seemed like she had an excellent time. She had a blast playing with all the toys provided, running around the pool, and playing games at the kids club.
Where is Telunas Private Island Located?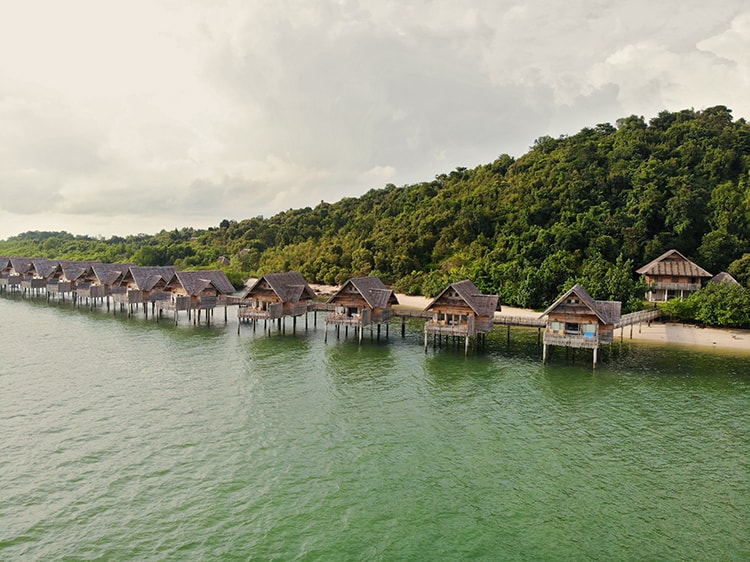 First things first – if you want to plan a serene family trip to the Telunas, you need to know exactly where you'll be going and how to get there.
Telunas Private Island Resort is an exotic island in southeast Asia. Telunas Private Island is located in the Riau Islands Province of Indonesia. It is just over 30 miles south of Singapore.
The resort is situated opposite Sugi Island. It is just across the Telunas Beach resort that was opened a decade ago.
You can reach Telunas Private Island from the beach resort in a mere 15 minutes by boat.
How do you Get to Telunas Private Island?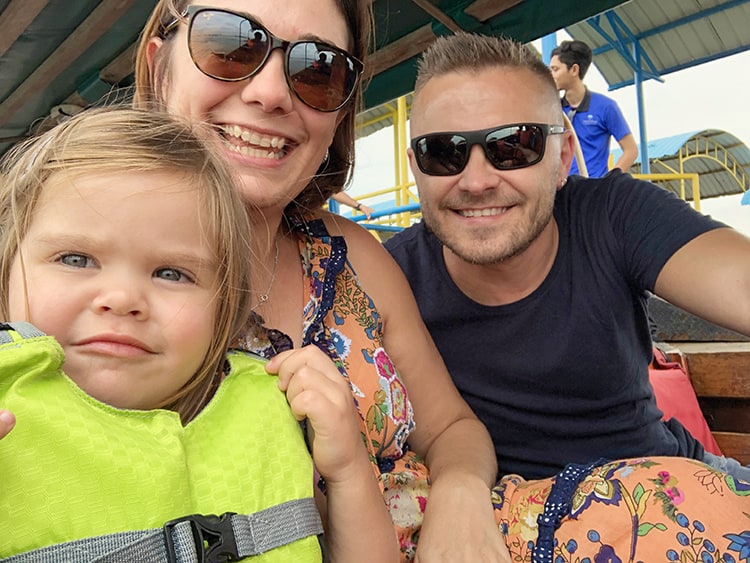 Now that you know where you'll be going, how should you get there?
You'll need to take a ferry from Harbourfront Ferry Terminal in Singapore to get to Batam. It takes about 50 minutes on the ferry.
It is a short walk from the Sekupang terminal to a local ferry pier. You then take a wooden long-tail boat to get to Telunas Private Island. It takes about 90 minutes to get from the local ferry in Batam to the resort.
What we loved is that the Telunas resort sends a host to meet you at the Sekupang terminal in Batam and escort you to the island. We quickly recognized our host in the blue Telunas shirt.
On arrival at the island, we were greeted with a cold towel, and a cucumber welcome drink by the friendly Telunas staff.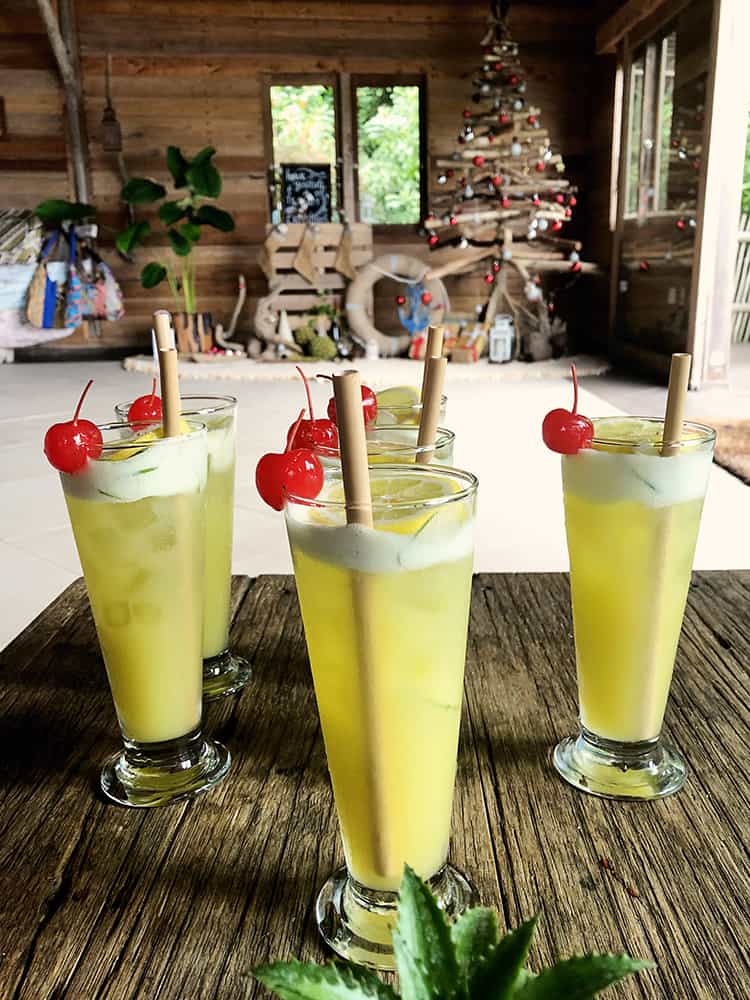 Our ride to the island was a pretty bumpy one. We were told by the staff that we were visiting them in the windy season so the water wasn't as calm as normal. So if you are like me, and tend to feel motion easily, I would highly recommend that you take some motion sickness tablets – just in case.
Stay in Overwater Sea Villas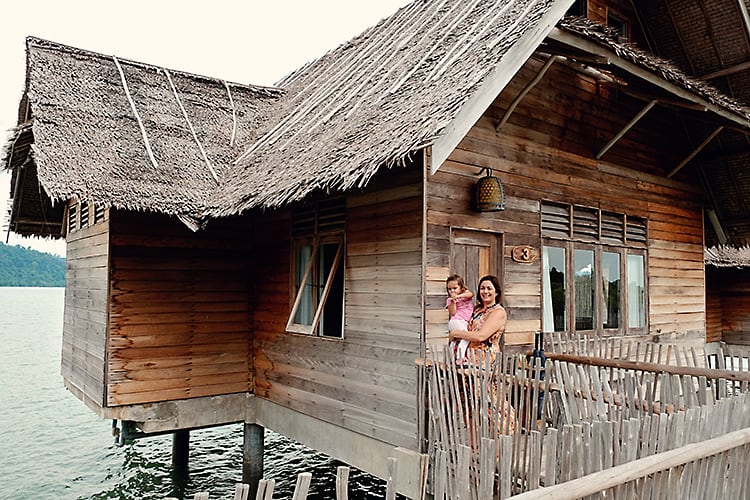 When we reached the island in the private boat, we did not have to go through any formal and complicated check-in process.
The resort has a laid-back vibe overall, and the villas look stunning!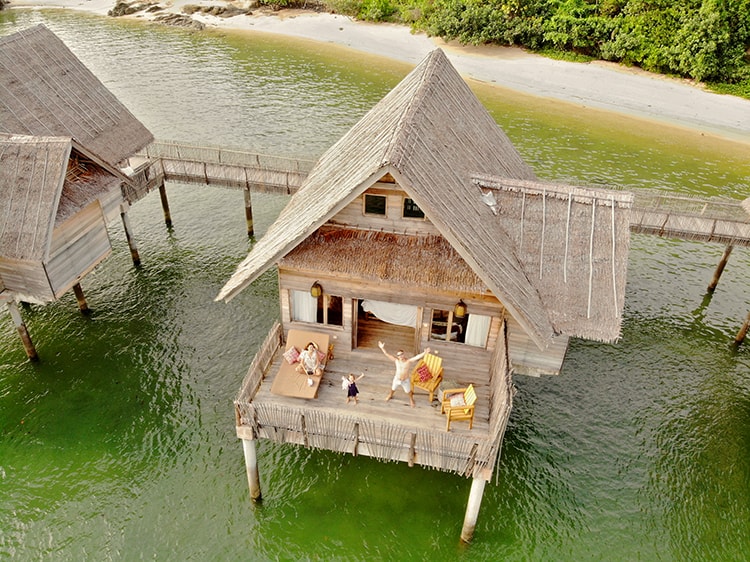 The resort features 15 eye-catching overwater sea villas, each of which includes a king size bed, a private balcony, a sitting room, and a children's loft that can accommodate up to three kids.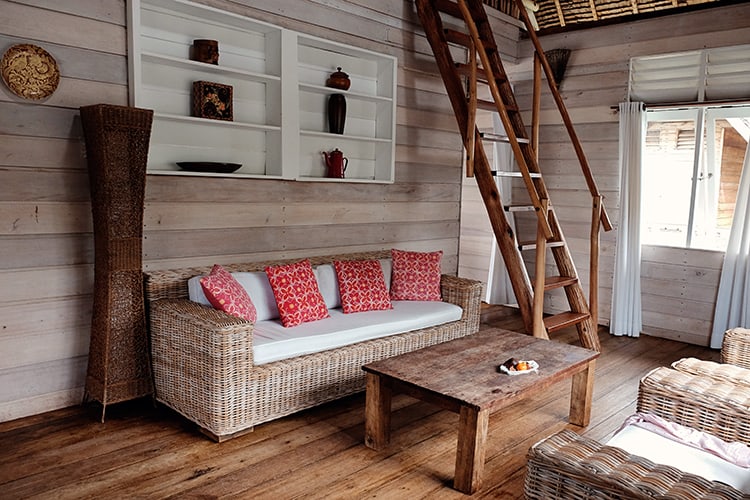 Each Malay-inspired villa has two stories – the adults sleep in the master suite on the ground floor, and the kids sleep in the treehouse-style loft.
The villas are spacious at 90 square meters and offer majestic wide-angle views of the azure sea in daylight and of the infinite starry sky at night.
The rooms are not air-conditioned but have a good and quiet-enough ceiling fan.
During the day we had all the windows open, so we could get breeze cooling down the villa. However, at night we resorted to the fan only, as there are mosquitoes eager to spend the night at the villa as well.
We loved the natural, at-home feel of the villas – colorful cushions, furniture made from upcycled boats, and local handicrafts.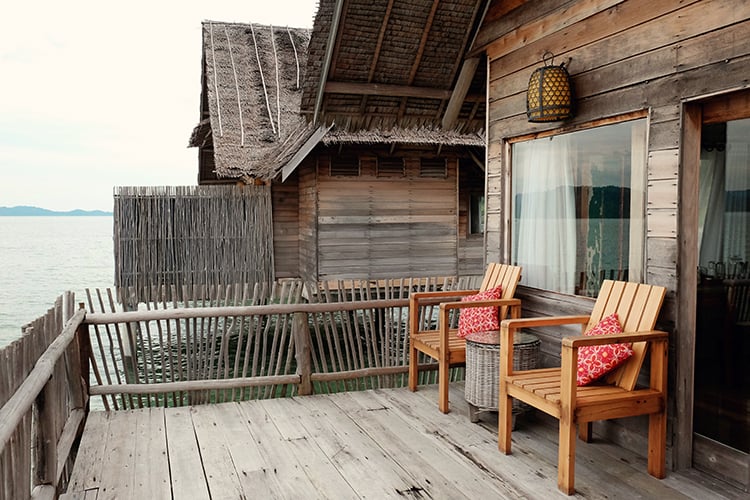 In your villa, you will be provided with a water fountain, where you can get hot water for coffee and chilled drinking water as well. You will also find beach towels, umbrellas, tea and coffee supplies, and all the in-house essential toiletries.
Please note that there are no phones in the villas. This way you will not be disturbed, but you will need to walk over to the main building if you need any additional things.
Check pricing and availability at Telunas Private Island Resort
Dining in Telunas Private Island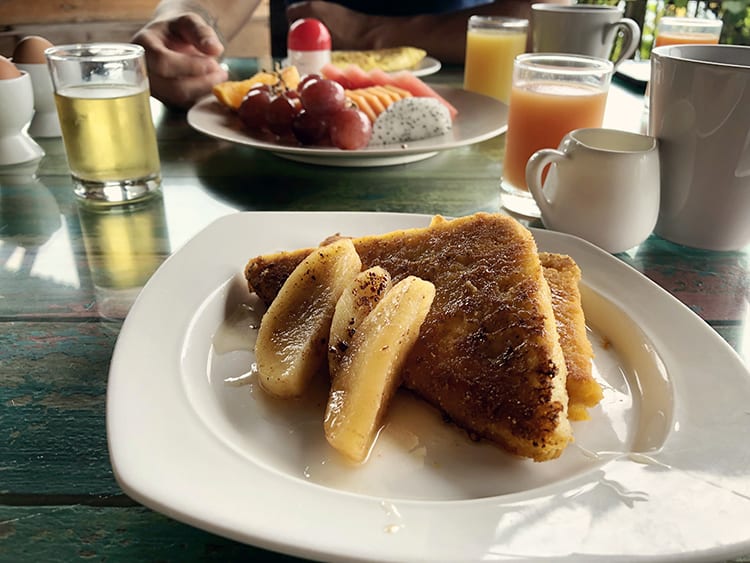 Food is served in the enormous open-air restaurant, and you can read the daily menu on old-school blackboards. We got a buffet breakfast, a fixed Indonesian meal for lunch, and three options for dinner, including a vegetarian option.
They also have a thoughtful kids menu that includes healthy options like pasta, salads, soups, grilled chicken, and more.
If you do have any specific dietary requirements, Telunas will provide you with special catering to your needs, so no worries here.
The Sand Bar serves snacks and drinks by the infinity pool, and they can arrange a candlelit dinner for you and your significant other.
Please note that the daily a la carte style meals are a mandatory additional charge charged at a flat rate of IDR 940k++ per adult per night. The child dining rate is IDR 580k++ per child per night.
Check pricing and availability at Telunas Private Island Resort
Activities in and around the Resort
Telunas provides an array of fun activities like paddle boarding and kayaking. For us, however, the biggest attraction was the infinity pool overlooking the beach, and we spent considerable time relaxing there.
They also have a whole crate full of kids' sand and water toys to grab as well – perfect!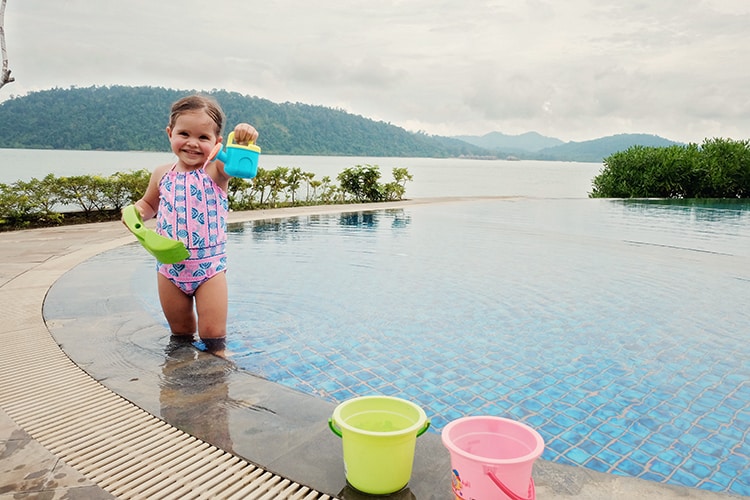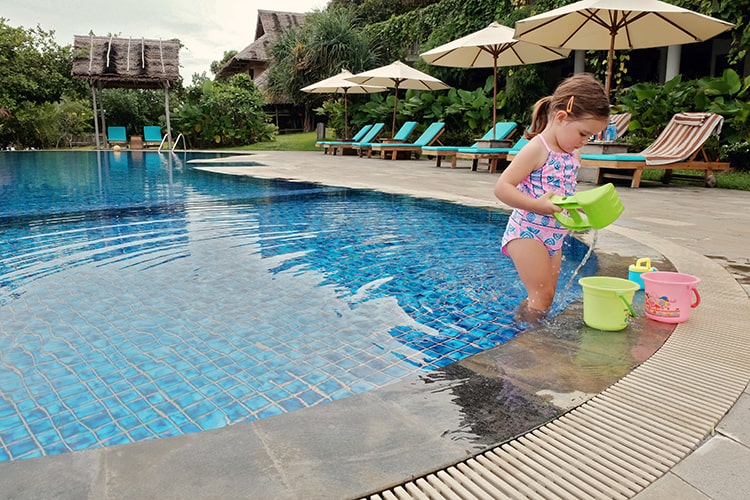 Apart from the usual water-related activities, you will also enjoy the daily activities that the resort organizes for the guests. These include low rope courses, cooking classes, treks, and bonfires.
If you need a little bit of "you" time, Telunas has an awesome Kampung Kids' Club. The staff managed to keep our daughter occupied for a couple of hours with games and movies, which was much appreciated!
And when you do have a bit of time to yourself, we strongly recommend that you get a massage at the spa in Telunas Private Island. The spa facility is built in an overwater structure, and as the masseuse works on your body, you hear the strongest wind and can even look at the water crashing on rocks below.
Whilst we didn't get around to having a massage, we did really enjoy wandering around the beach area.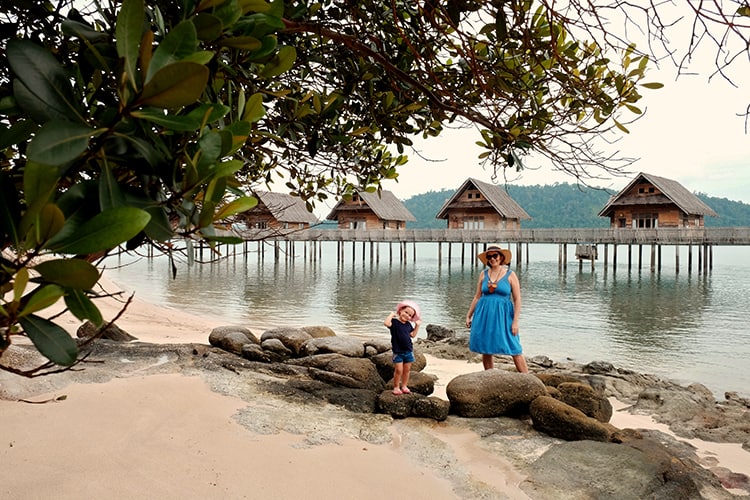 Before you pack your bags!
You need to know that Telunas Private Island has a strict policy of not providing any electronics like television or video players and WiFi – they want their guests to take a break from routine life and reconnect with Nature.
If that is something you do not like, Telunas is not the best option for you.
For us, it was just amazing to unwind from all our connections to the world and spend some quality time.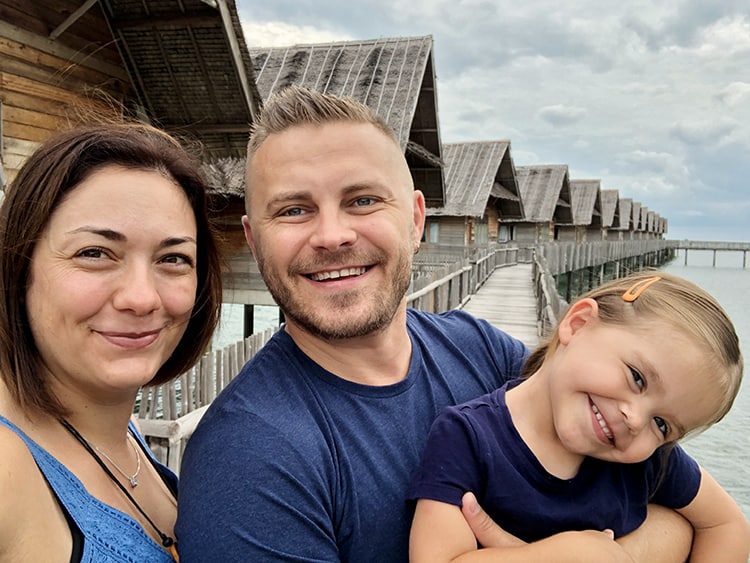 We were so engrossed in everything the resort offers that we did not even miss watching TV or surfing the internet.
Final Verdict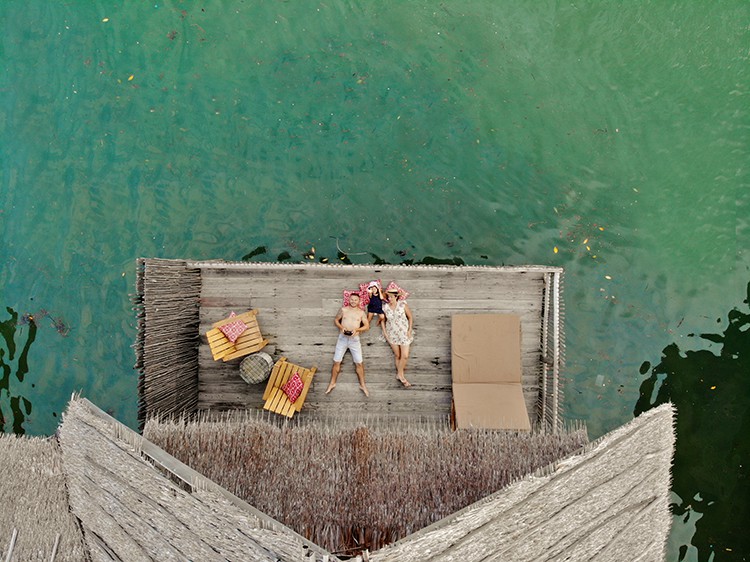 In our opinion, Telunas Private Island is the perfect vacation destination for families and couples who love to spend time amidst nature.
We found the location of the island to be perfect – away from the hustle-bustle of our regular life.
Enjoy your digital detox here! "

Connect with nature and humans, at this charming rustic-luxe resort, just 3 hours away from Singapore! The crew there, especially Aldo, Dewy and Shayrul, went out of their way to make us feel comfortable! The rest of the crew were always smiling and full of energy too!

Wendy from Singapore (See more reviews)
The staff at Telunas is super friendly and gave us plenty of time to ourselves, whilst entertaining our daughter with songs, balloons other games.
Our only negative?
Unfortunately, there was a fair amount of rubbish washing past the resort on a daily basis. I realize this is a problem across most of Indonesia and I was grateful that Telunas does a spectacular job of cleaning its own beach area. But you will most likely see trash floating by your villa.
Regardless, we loved our stay at Telunas and would love to return for another visit.
Telunas is a perfect place to unwind, totally disconnect yourself from the busy world we live in, and have an awesome holiday!
Booking Information
Rated 9.1/10 on Agoda
Check pricing and availability at Telunas Private Island Resort