Who doesn't love the idea of exploring the third largest sand island in the world, snorkelling around the shipwrecks and enjoying the relaxation that only a beachfront resort can provide?
I think the answer is a simple giant YES!
But where should you stay? The most obvious answer is booking a stay at Tangalooma Island Resort because that is where the passenger ferries arrive – but what can you expect from staying there?
We stayed at Tangalooma Island Resort for 4 nights as a family of 5. We travelled with our teenager, a tween and a toddler. And overall we really enjoyed our stay, but not everything was as great as we wanted it to be.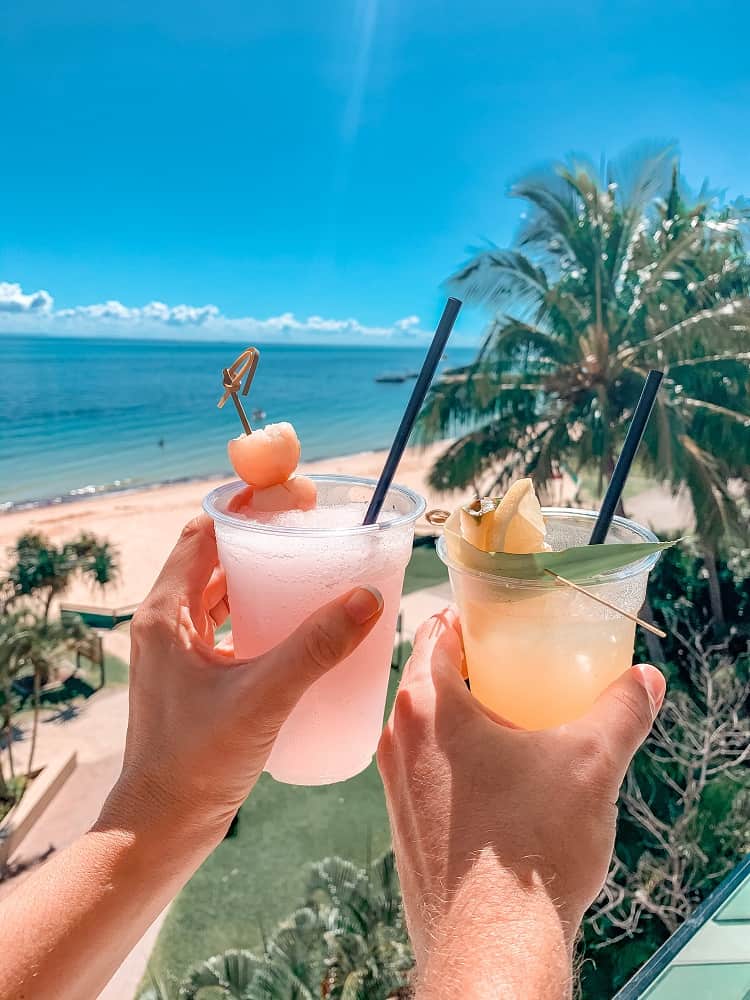 Read on to find out all about our personal Tangalooma Island resort review.
Our Personal Tangalooma Resort Review – Is Tangalooma Worth Visiting
Today, we are excited to share our comprehensive review of Tangalooma review, covering both its positive and negative aspects with absolute transparency.
Tangalooma Island Accommodation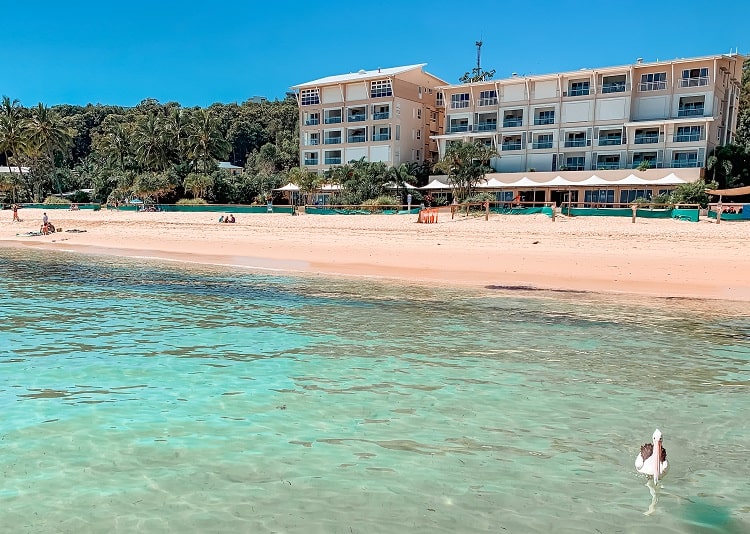 It is important to note that you can either choose to stay at one of the rooms through Tangalooma Resort itself, or you could choose to stay at some owner-owned apartments and villas that they rent out on Booking.com.
It can be super tricky to find accommodation for 5 people at the Resort as they book out really fast! So we decided to book a 3-Bedroom Deep Blue Apartment.
These apartments are still part of the resort grounds and give you access to all the pools and resort facilities, but you book it directly on Booking.com through the owner.
As we have exclusively occupied one of the apartments, our review will be based solely on our personal experience with it. With that being said, here is our detailed review of the room we booked.
There are currently three of these Deep Blue Apartments for rent on Booking.com.
Tangalooma Deep Blue Holiday Apartment Review
The Deep Blue Holiday Apartments are very spacious sea-view family-size apartments with 3 bedrooms and it sleeps 5-6 people with ease. Needless to say, it was perfect for our family of five.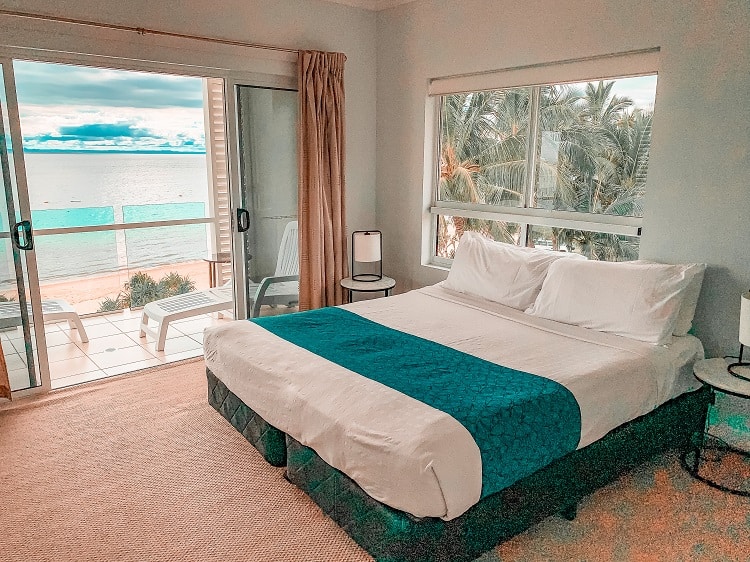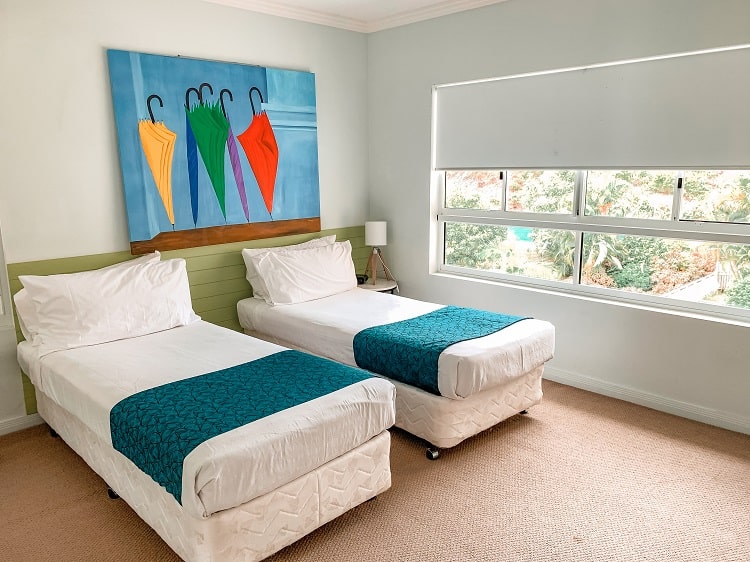 There are two bathrooms, one for the kids and one for the parents.
The apartment comes with a fully contained kitchen including a large fridge and 5 burner gas stove, microwave and a dishwasher.
And there are plenty of pots and pans to cook with as well.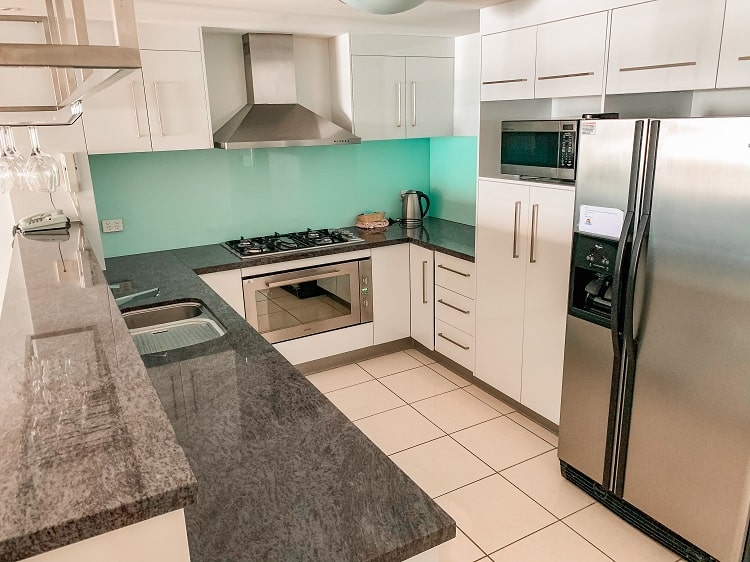 On the private balcony, you will find a 6-seater outdoor table, a larger BBQ and 2 plastic day beds to veg out on.
Although the view is a little bit distracting with the ferry coming and going, it is a good place to check out the sunset with a drink or two.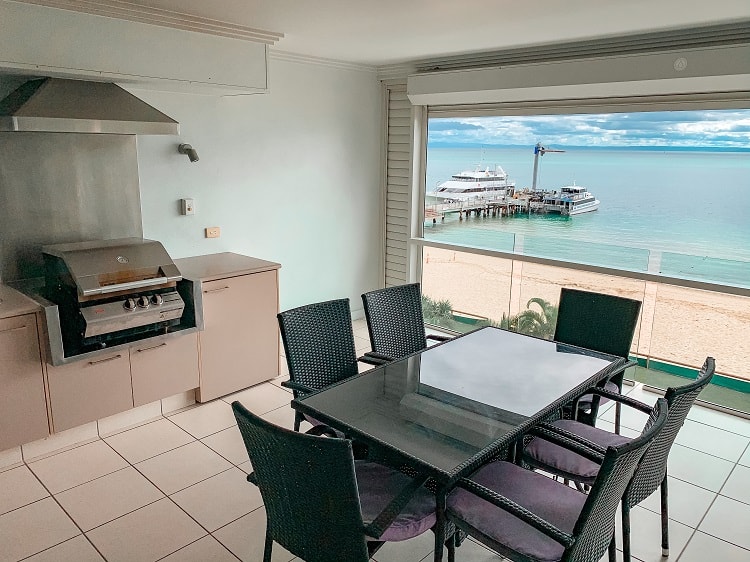 We had fun watching the people line up for the dolphin feeding each night.
Overall, we really relaxed and just settled into our room really well for the duration of the stay. But there were some negatives to the room (which we share further below).
It is important to note that because the apartments are owner-owned, they will all look different, so make sure to check out the photos of the apartment you are looking to rent.
Of course, alternatively, you can choose to stay at the rooms or villas that Tangalooma Island Resort has on offer as well. We really liked the look of the Beach Front Villas.
Negatives About The Apartment We Stayed In:
Unfortunately, we had some issues with how clean (or not so clean) the apartment was when we checked in. Fortunately, we could call up the Resort staff and get them to come and correct these issues for us.
There was some food on the carpet
BBQ was sprayed with cleaning foam, and just let like that.
The fridge smelt like fresh seafood (this smell is almost impossible to get out of)
There was a rapidly flickering light in the living room
The TV remote control buttons were not working properly
WiFi is not good, you need to connect the TV through your own hotspot to make Netflix or other apps work
*Please note that the resort staff was super friendly and very helpful. Our accommodation manager organized the clean-up swiftly and got the light fixed in no time as well. Big thumbs up to the staff!
As you can see from checking out the Tangalooma Island Resort prices for accommodation, you are paying top dollar here. In our case, we paid $729 AUD per night.
Certainly, while the resort maintains a respectable 3.5-star rating, one might reasonably expect near-flawless experiences with such a high price tag.
That being said, the resort although very popular, is quite dated and is not as luxurious as it looks on the photos advertised online.
Despite the issues we had at the start, we certainly did manage to make this apartment feel like a home with a gorgeous view for the duration of our stay.
Or if you are traveling as a couple, I suggest you look at the accommodation at Tangalooma Island Resort directly.
Other Tangalooma Resort Accommodation Options
We walked around the grounds to check out other hotel and villa options that you can book at Tanglooma Island Resort.
Tangalooma Hotel Rooms: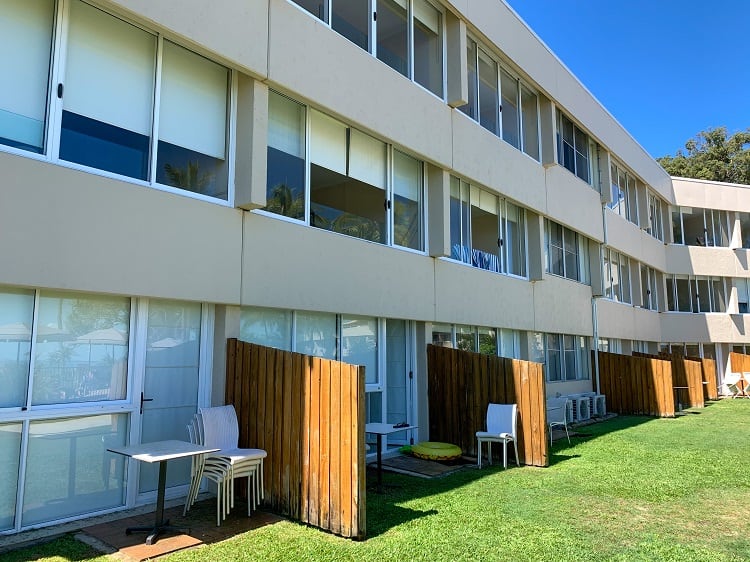 The most basic rooms that you can book are the hotel rooms. Surprisingly these rooms can sleep 4 people, however, the space is pretty small.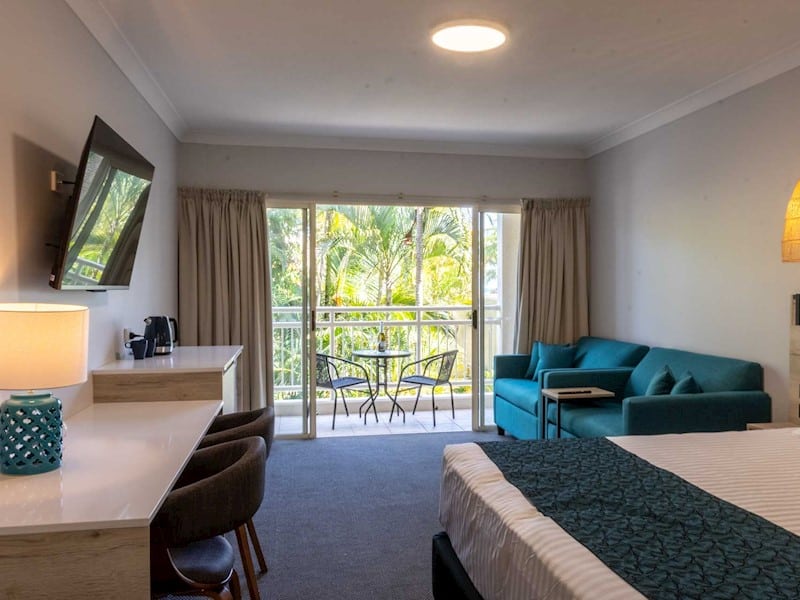 As you can see, this building is dated and really pretty standard, but it works great for those who are on a budget and who just want somewhere affordable to stay whilst still being able to enjoy the resort grounds and of course, get time to explore the island.
Tangelooma Resort Rooms:
The next step up in accommodation is the Resort Rooms. You can choose between the resort room that can sleep 4 pax, or the Family Suite that can sleep up to 6.

These rooms are located only 50 metres away from the iconic Tangalooma beach, all of the resort's units have a kitchenette so that guests can prepare their own meals if they choose.
Rated at 3.5 stars, these rooms are a great choice for those who don't want to spend a fortune but still enjoy a comfortable stylish room only steps away from the pools and the beach.
Tangalooma Beachfront Villas: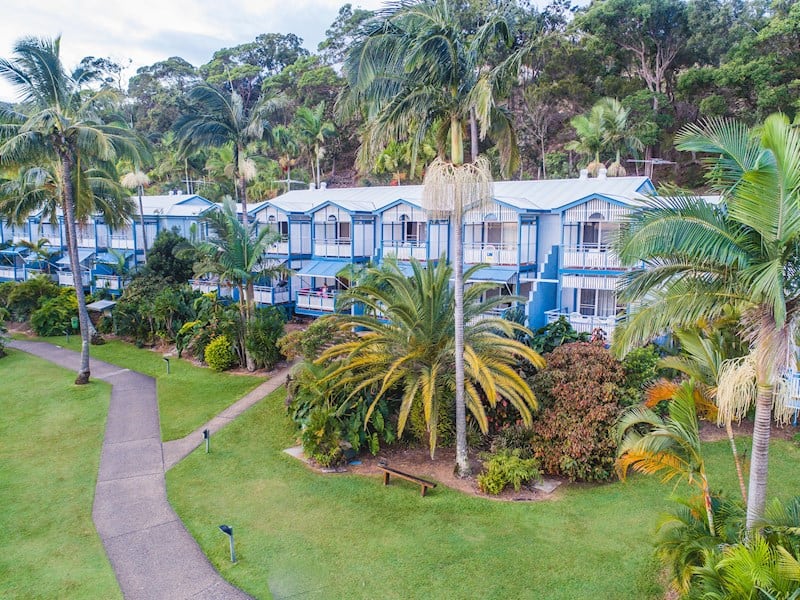 Tangaloomas beachfront villas are a great option for those looking for a quiet, family-friendly getaway.
With the ability to accommodate up to eight guests, they're ideal for larger families, group getaways and longer stays.
The villas are fully self-contained, making them perfect for those who want to experience the convenience of home away from home.

You can choose between the standard villas or the deluxe villas. The deluxe beachfront villas at Tangaloomas have recently been refurbished and feature modern furnishings and amenities.

These villas are the most popular option to book so it can be hard to find availability during peak times – so don't wait too long before booking your next holiday!
Tangalooma Island Resort Facilities
Tangalooma Resort offers plenty of free activities to choose from, including swimming pools, a tennis court and a kids' playground, to mention a few.
Tangalooma Resort Pools Review
There are three pools on the resort grounds, including one private one at the back of the Deep Blue Apartment building. Although it is a nice idea to have the pool in the back of the building, it was deserted and not really inviting.
Beach-side pools do sound better after all, right?
Pool number three, located furthest from the Deep Blue Apartments was pretty dated with some bricks missing from the jacuzzi area (not to mention that one for them didn't actually work).
That being said, our kids had a fun time nonetheless. We were swimming around and playing the "hold on to daddy all the time for no reason" game, whilst some of us relaxed on the plastic day beds.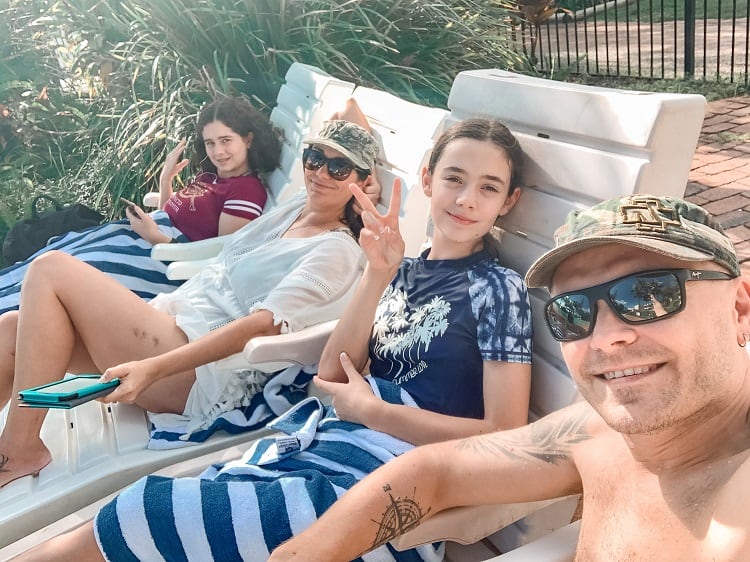 Tip: Please note that there are limited day beds and hardly any shade. We recommend that you pop out to the pool area early to snap up your spot and keep an eye on the Australian scorching sun.
All in all the pool areas really could do with some fixing up and a few additions such as umbrellas could make it much more inviting.
Tangalooma Island Resort Activities
The resort offers a number of activities to choose from. Here is a quick list of some of the activities on offer.
1. Land-Based Activities:
Here are some of the land-based activities on offer by Tangalooma Resort:
ATV Quad Bike Tour
Desert Safari Tour with Sand Tobogganing
Helicopter Scenic Flights
Kookaburra Feeding
Massage at the Massage Hut & Beauty Room
Northern or Southern Safari 4WD Bus Tour
Segway Beach Tour
4WD Car Hire

On our stay, we decided to hire a 4WD and zoom around the island at our own pace and it was awesome!
For more details, scroll down to the next heading.
TIP: Check out our recommendations for the 7 Best Moreton Island Tours.
2. Water-Based Activities
Here are some of the water-based Talngaloom Resort activities on offer: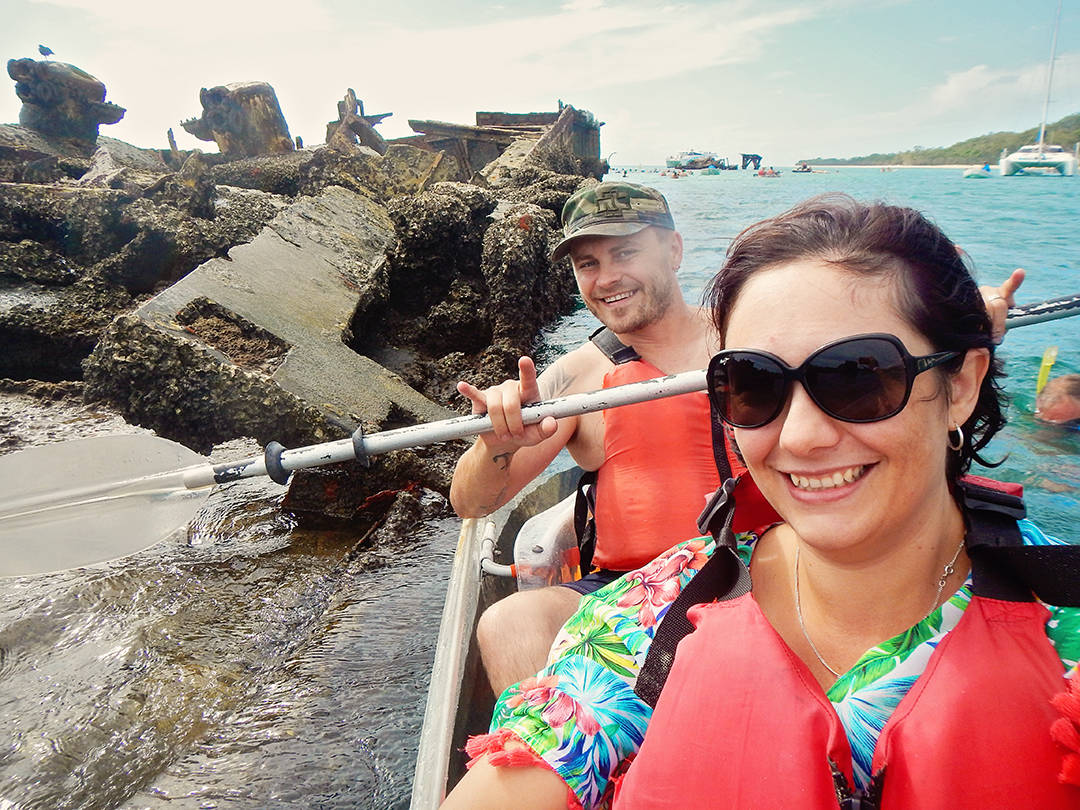 Catamaran Hire
Clear Bottom Day or Dusk Kayak Tour
Fishing Tour (Catch and Release)
Illuminated Wrecks Tour
Snorkelling the Tangalooma Wrecks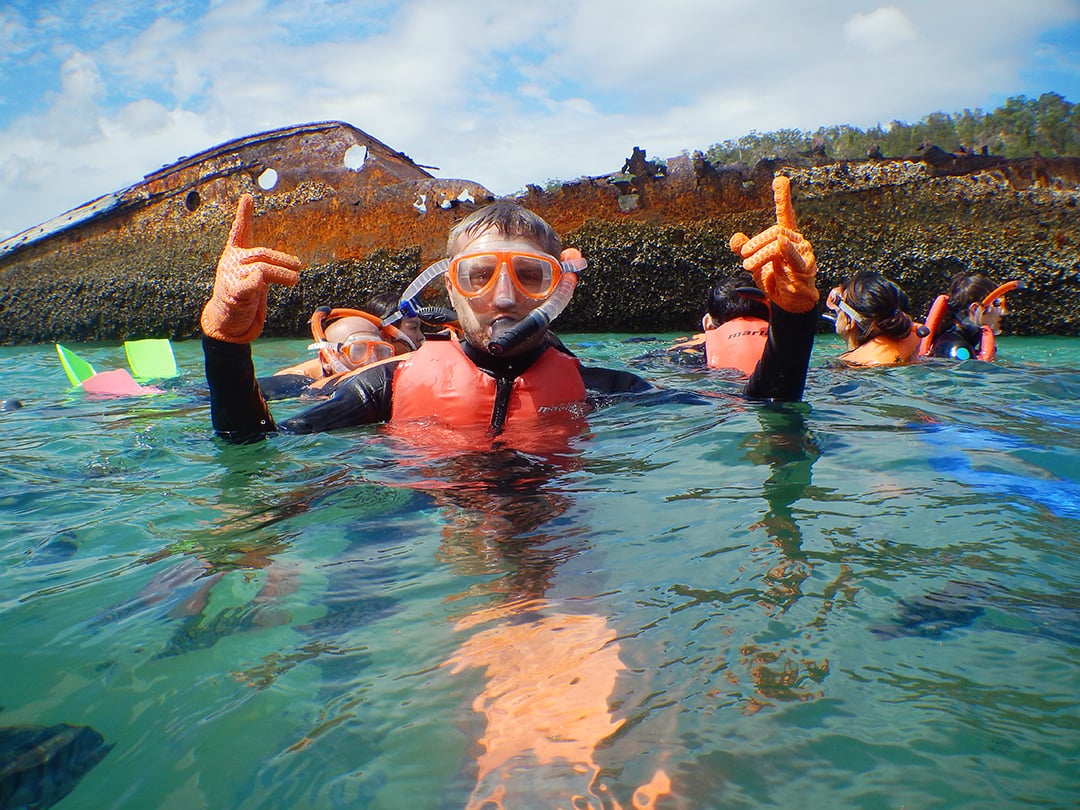 Kayak, Stand Up Paddle Boards or Boat Hire
Marine Discovery Cruise
Parasailing
Sunset Cruise or Whale Watching
Scuba Diving and Sea Scooter Safari
I mean, we are all willing to put up with accommodation that could be a bit better when you get to enjoy so many activities (which definitely keeps you busy and away from the resort grounds anyways).
Things to see on Moreton Island in a 4WD
We hired a 4WD for a day through Tangalooma Resort and it was pricey but also so worth it!
We loved driving around in the 4WD through the sandy tracks across the island and zooming on the beaches all whilst checking out the everlasting ocean next to us.
What an amazing and relaxing way to check out all the best things to see on Moreton Island.
4WD Moreton Island Day Trip Itinerary:
Leave the resort no later than 9 am
Drive across the island on the Middle Road to the East side (slow going here on some deep sandy parts, FUN!)
Drive up the beach North to the Lighthouse and have a stroll around.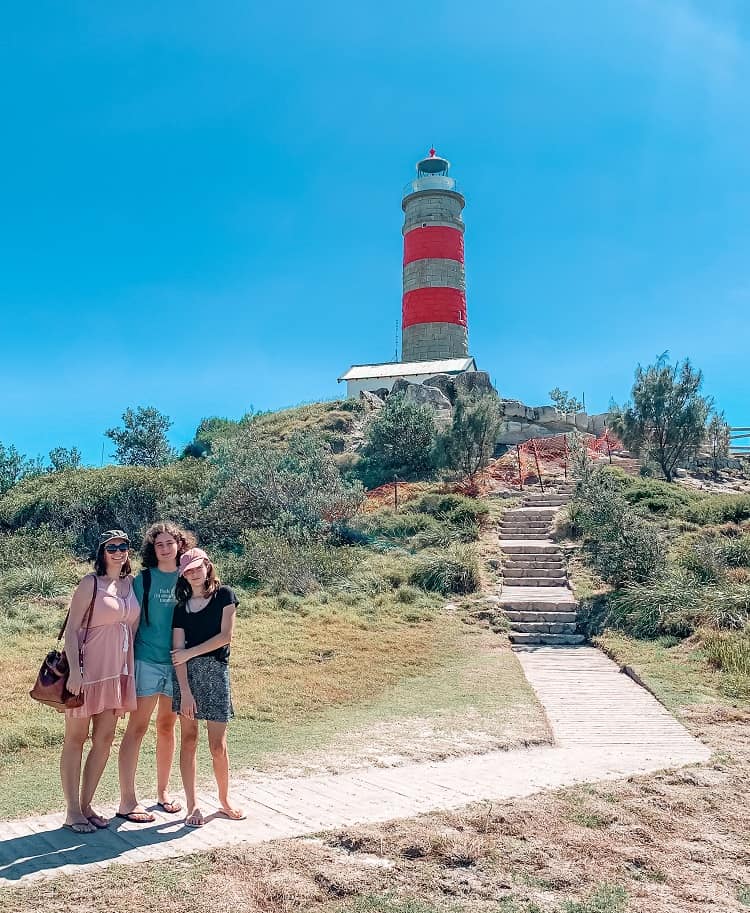 Next, stop at the campground for a toilet break and take a short walk to the Honeymoon Bay.
Follow the track to the Champagne Pools (you can spend a little while here).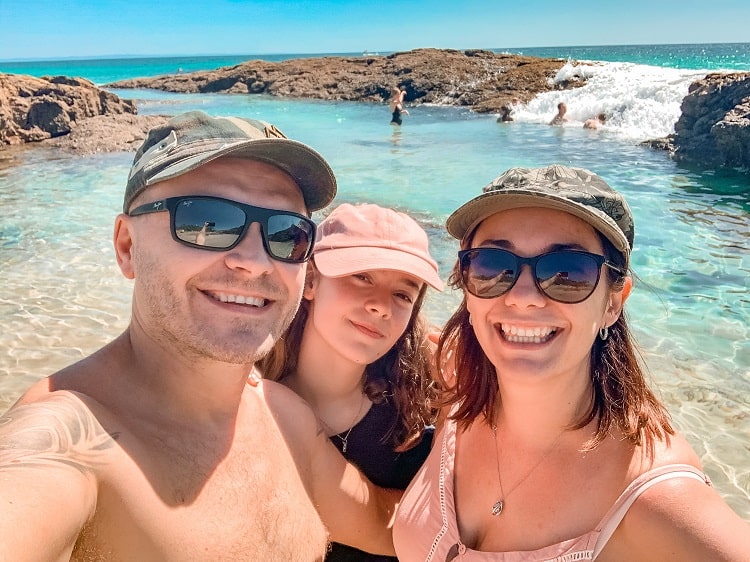 Drive back down the East side and stop at the Blue Lagoon (a relaxing spot, but it's more of a lake than a typical blue lagoon you see in Asian countries)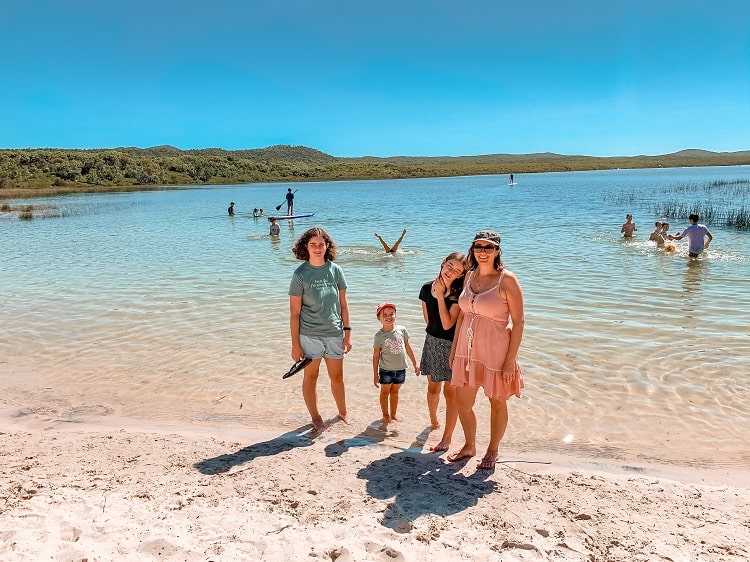 Drive all the way south and take a road across the island to Westside and stop for lunch at the Gutter Bar (good pub food and beers)
Get back to the East side to drive towards the Middle Road
Cross the island to the Westside
Stop at the Tangalooma Island Ship Wrecks for the afternoon look
Back up the Middle Road to the turn-off to Tangalooma Resort, and back to your accommodation
Tangalooma is such a great handy base in order to fit all the above activities in on one single day!
Tangalooma Food Review
Well, here is the thing. The Tangalooma Island Resort food that we had was pretty average. I suppose it's to be expected from the 3.5-star resort.
Fortunately, many of the accommodation options do have kitchenettes where you can cook your own food, so I suggest you bring some easy-to-cook meals along with you!
Breakfast at Tangalooma Restaurant:
Breakfast was typical buffet-style continental, hot and cold breaky with a selection of the usual bacon, eggs, sausages, mushrooms, bread, cereals and others.
Nothing too exciting here, but ticks the boxes for a hungry traveller.
Lunch and Dinner: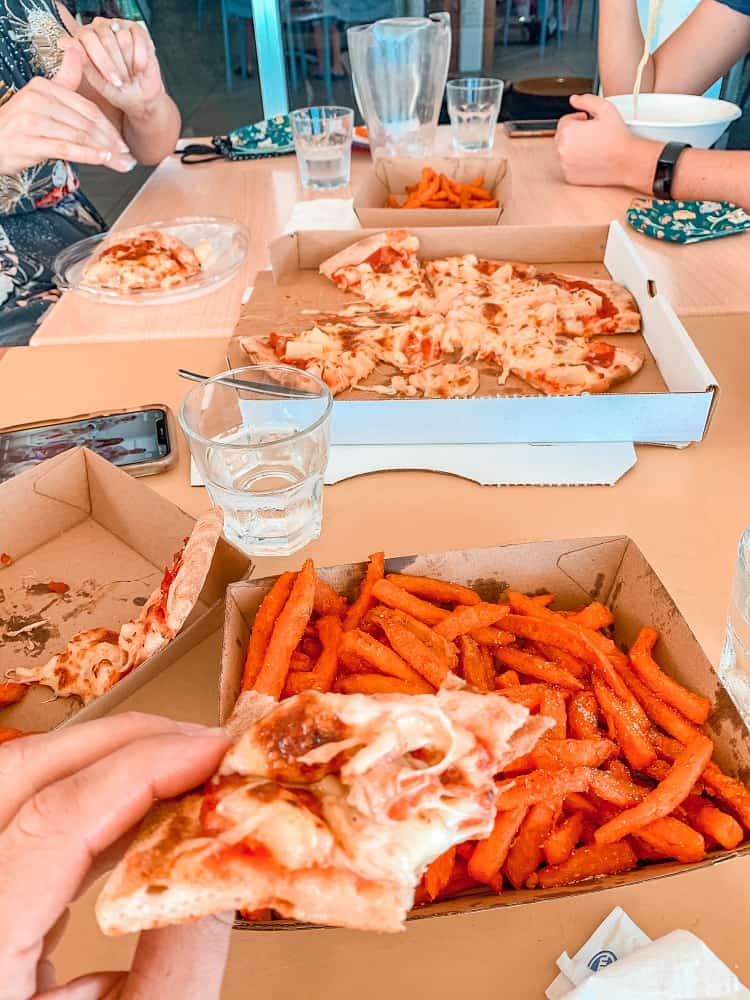 Although there are a few choices of restaurants, including a Beach Cafe, Bistro, Japanese and a Lounge, these offer pretty standard things, such as meat with veg, chips, pizzas, sushi etc.
Yes, there is a variety of things to eat, but (as you can tell by my excitement) the food was doable, but not exciting.
Maybe it seems like I am complaining here, but wish that this resort would have at least one great restaurant that would have really good food. I'd be happy to pay the price if there was a great restaurant.
How to get to Tangalooma Island Resort on Moreton Island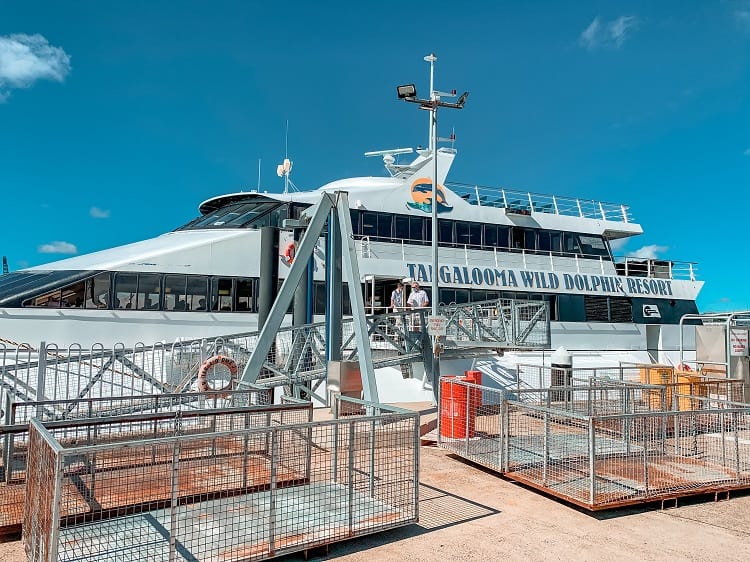 If you are travelling from Brisbane Airport to Tangalooma Island Resort, you are only a short 10-minute drive to the Tangalooma Island Resort ferry terminal (at Brisbane Wharf located at 220 Holt Street, Pinkenba QLD 4008) that will take you directly to the resort on Moreton Island.
By Car from Brisbane Airport to the Tangalooma Island Resort Ferry:
If you are travelling directly to the resort by car, as we did, you will need to leave your car at the secure parking located on the mainland.
This will sting you anywhere from $15-$60+ AUD depending on the length of stay.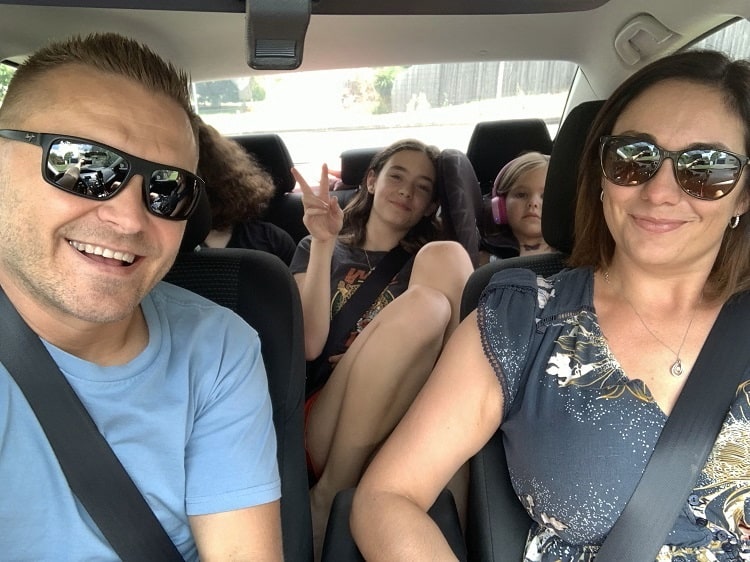 In our case, we decided to stay on the island for 4 nights, which cost us $60 AUD.
You can, however, hire a car and 4WD Moreton Island in style, you can do so directly from the resort. Check out the prices for 4WD Hire Moreton Island here.
By Taxi:
If you are travelling internationally or interstate within Australia, then probably the easiest way to get to Tangalooma Island Resort Ferry from Brisbane Airport is by taxi.
Since the ferry is only a 10-minute drive away, this is the best option for travellers and the most direct.
By Ferry from Brisbane to Moreton Island:
From there it is only a 75-minute easy, and usually not bumpy, journey from the Tangalooma Island Ferry Terminal directly to the Tangalooma Resort.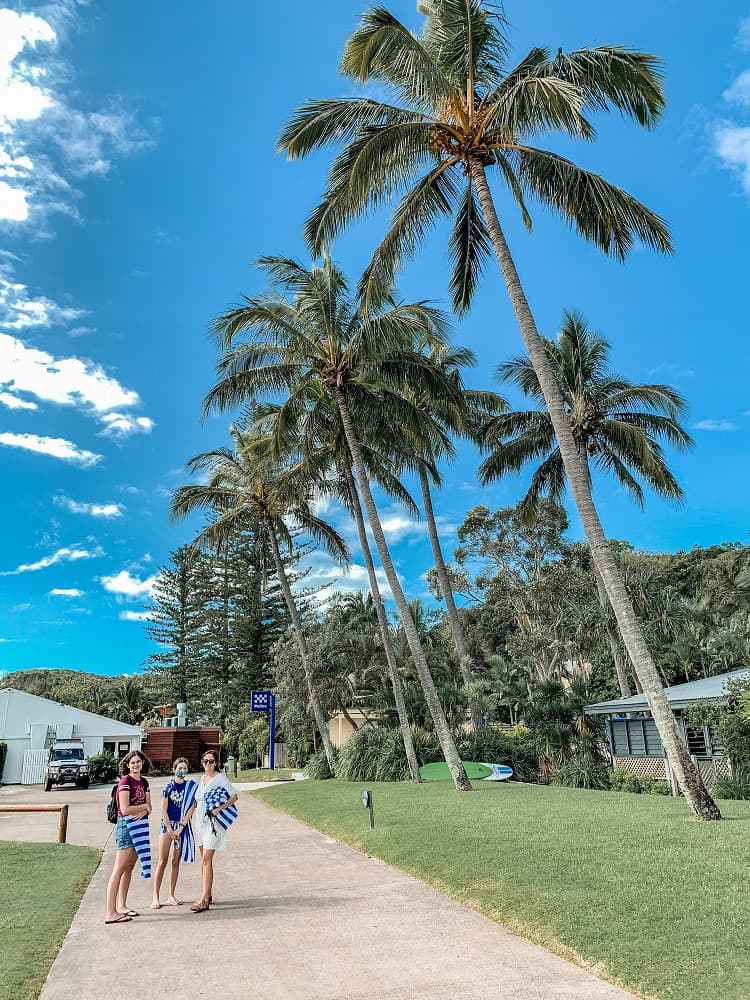 Check out the timetable and book your Tangalooma Island Resort Ferry Timetable.
Final Thoughts on our Tangalooma Review
Overall, our stay at Tangalooma Resort was a great experience.
True, the place could use some updates and the cuisine isn't quite as top-notch as we'd hoped, but that didn't stop us from having a wonderful time!
We can't wait to come back and enjoy another holiday at Tangalooma Island Resort.
I think it is just important to keep in mind that it is a 3.5-star resort – a really pricey 3.5-star resort but it does have some incredibly unique once-in-a-lifetime type of activities on offer!
Of course, alternatively, you can choose to stay at the rooms or villas that Tangalooma Island Resort has on offer as well. We really liked the look of the Beach Front Villas.
Moreton Island Day Trips from Brisbane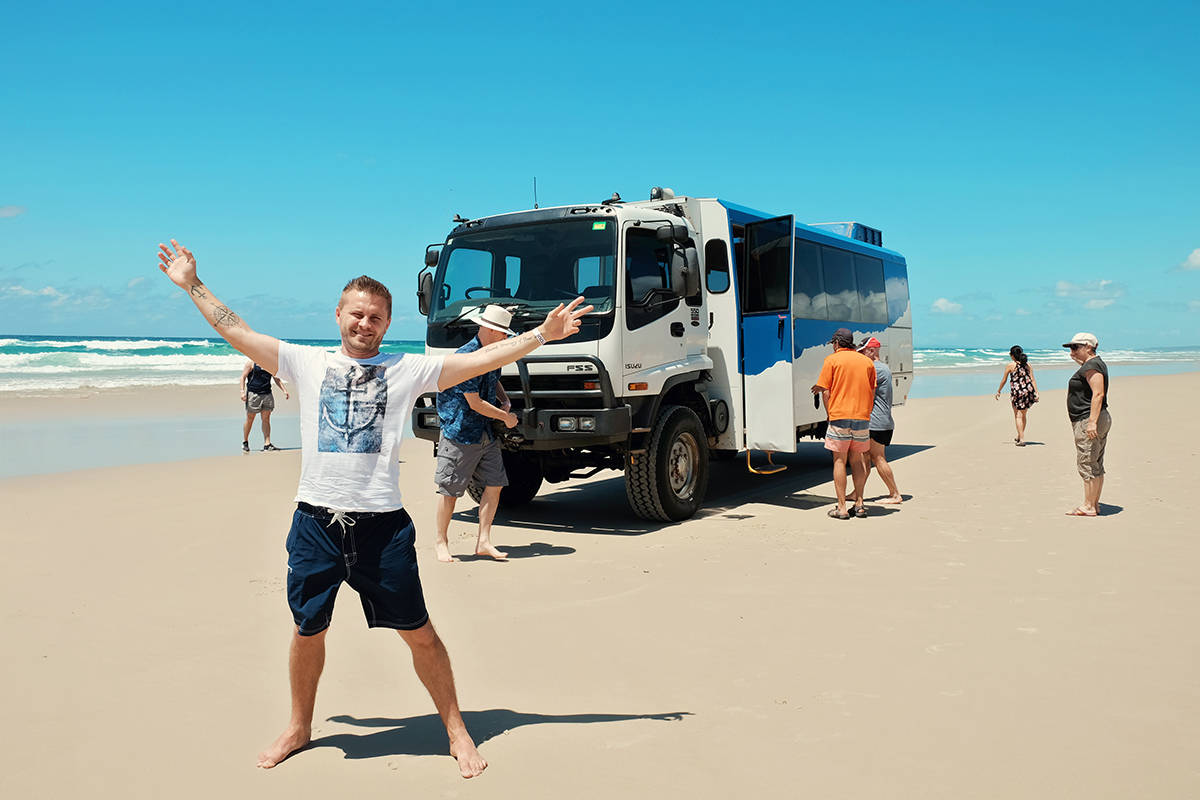 Now before we go, it is worthwhile pointing out that you could also visit Moreton Island on a day trip or even on a day tour.
We have some resources to help you with your planning if you want to go ahead with this option.
Here are 3 of our favourite options for a Moreton Island Day Trip: