Who doesn't love the idea of exploring the 3rd largest sand island in the world, snorkel around the shipwrecks and enjoy the relaxation that only a beachfront resort can provide? I think the answer is a simple giant YES!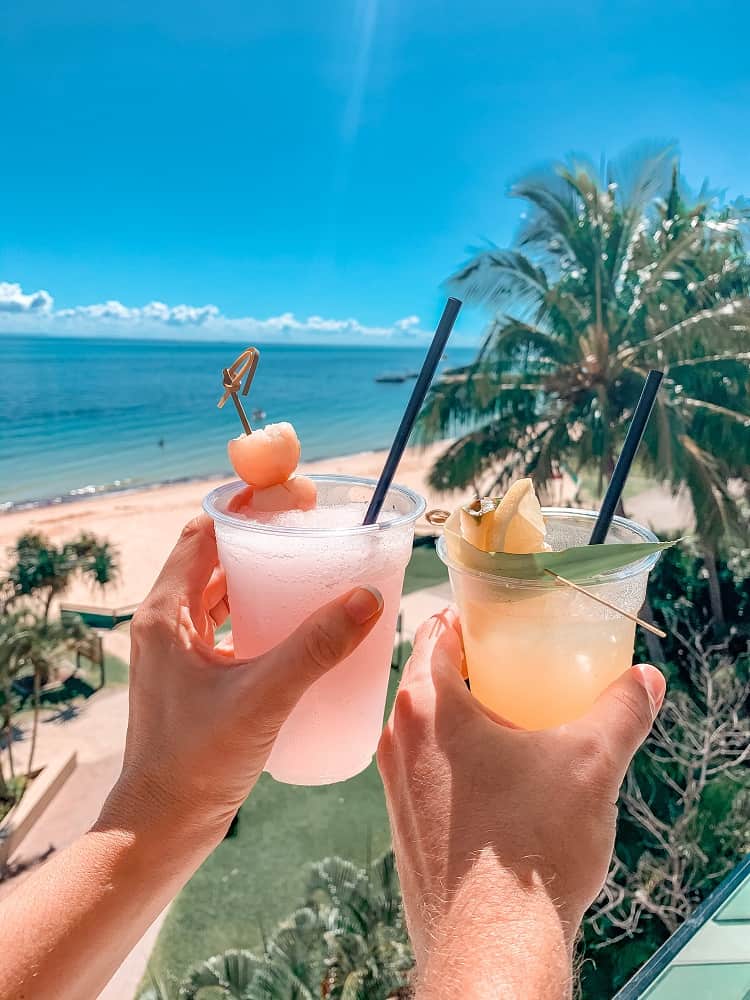 How to get to Tangalooma Island Resort on Moreton Island
If you are travelling from Brisbane Airport to Tangalooma Island Resort, you are only a short 10-minute drive to the ferry that will take you directly to the resort on Moreton Island.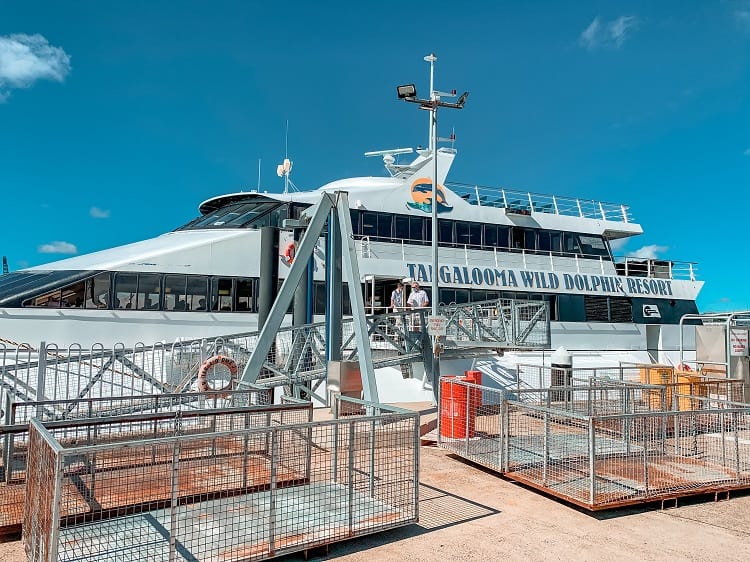 By Car from Brisbane Airport to the Tangalooma Island Resort Ferry:
If you are travelling directly to the resort by car, like we did, you will need to leave your car at the secure parking located on the mainland. This will sting you anywhere from $15-$60AUD depending on the length of stay. (prices current for 2021)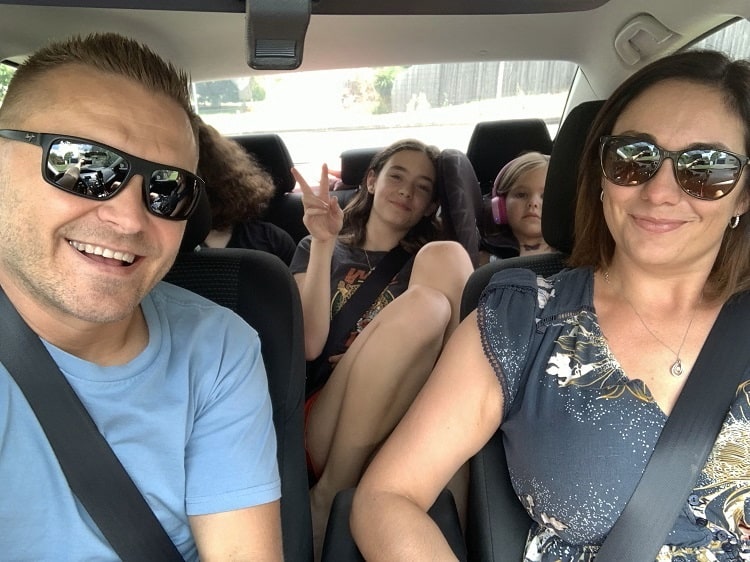 In our case, we decided to stay on the island for 4 nights, which cost us $60AUD.
You can, however, hire a car and 4WD Moreton Island in style, you can do so directly from the resort. Check out the prices for 4WD Hire Moreton Island here.
By Taxi:
If you are travelling internationally or interstate within Australia, then probably the easiest way to get to Tangalooma Island Resort Ferry from Brisbane Airport is by taxi.
Since the ferry is only a 10-minute drive away, this is the best option for travellers and the most direct.
By Ferry from Brisbane to Moreton Island:
From there it is only a 75-minute easy, and usually not bumpy, journey from the Tangalooma Island Ferry Terminal directly to the Tangalooma Resort.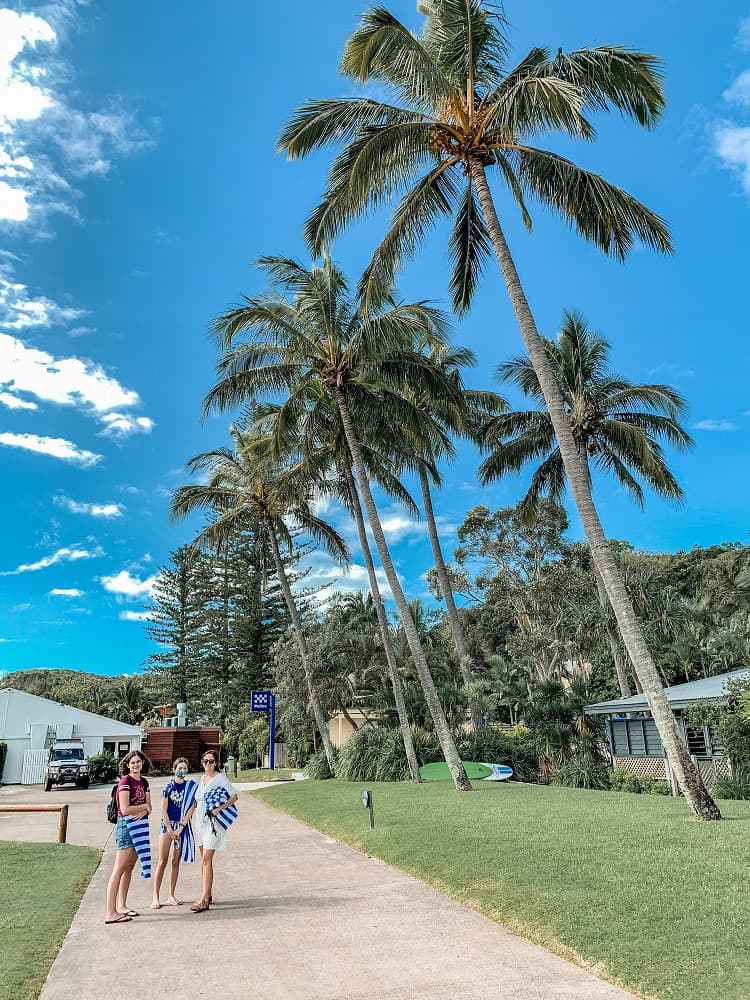 Check out the timetable and book your Tangalooma Island Resort Ferry Timetable.
Tangalooma Island Resort Review | Our Personal Experience
Today we are going to tell you about all of the good and the bad in our honest Tangalooma Island Resort Review.
Tangalooma Island Resort Accommodation
Since we have only stayed in one of the apartments, we are only able to review the one that we have a personal experience at. So, here it goes: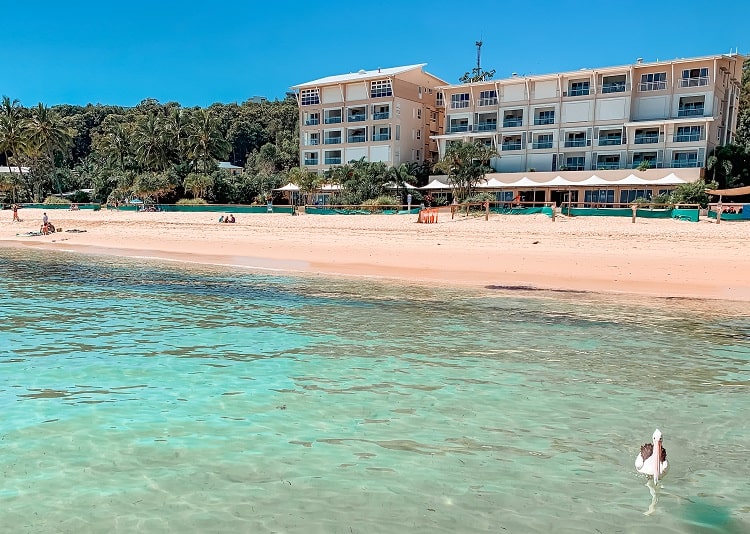 Deep Blue Holiday Apartment 21
This is a very spacious sea view family-size apartment with 3 bedrooms and it sleeps 5-6 people with ease. Needless to say, it was perfect for our family of five.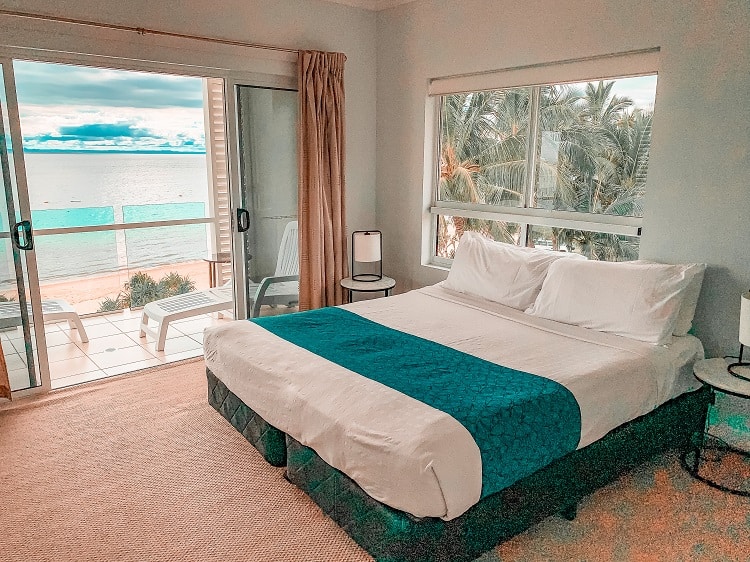 Everyone got to have plenty of space to play around and not step on each other's toes.
There are two bathrooms, one for the kids and one for the parents. Although, there is a large size spa bath (jacuzzi) in the ensuite it is unfortunately not connected for some reason.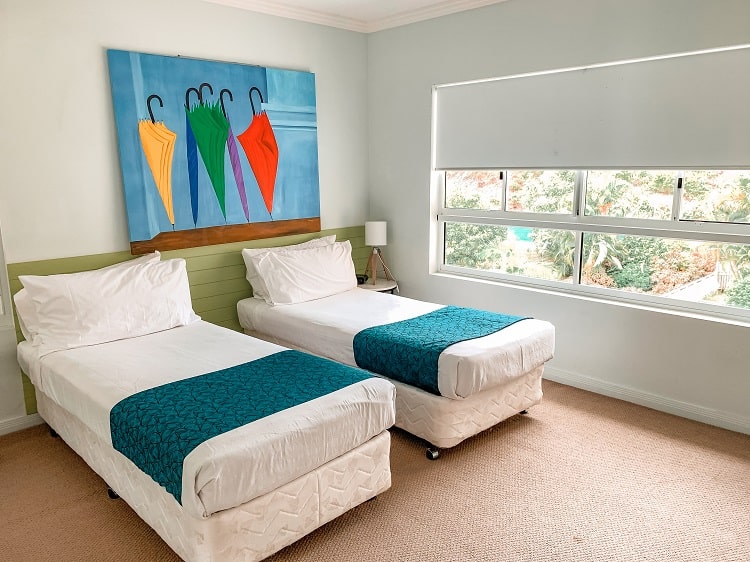 Yes, it is disappointing, but it is mentioned on the resort website in bald letters, so cannot complain here.
The apartment comes with a fully contained kitchen including a large fridge and 5 burner gas stove, microwave and a dishwasher. And there are plenty of pots and pans to cook with as well.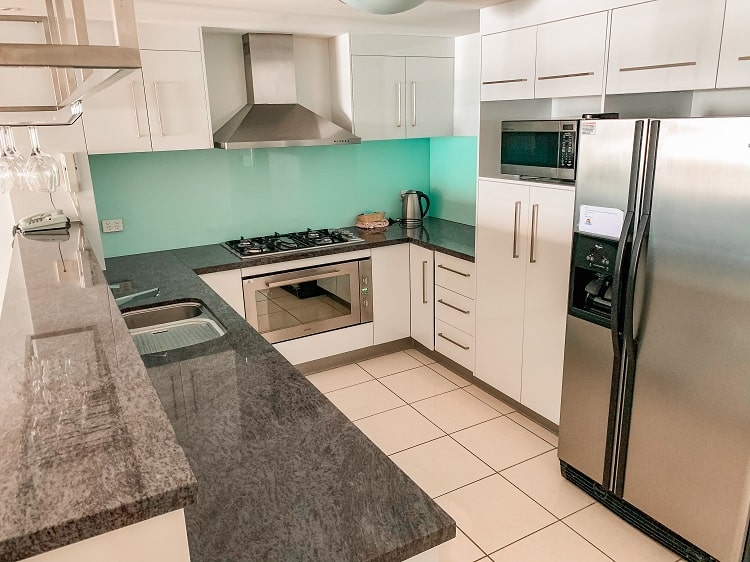 On the private balcony, you will find a 6-seater outdoor table, larger BBQ and 2 plastic day beds to veg out on. Although the view is a little bit distracting with the ferry coming and going, it is a good place to check out sunset with a drink or two.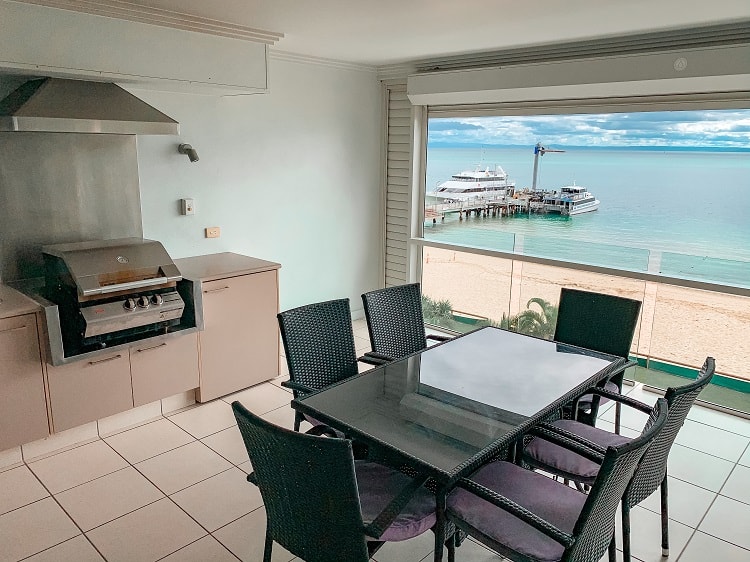 Check out more information on the Tangalooma Island Resort apartment 21 here.
What we didn't like:
Although we were waiting for a few hours for the room to be cleaned, we found the apartment still not up to scratch.
There was some food on the carpet*
BBQ was sprayed with something foamy, which looked like a half-done clean up job*
The fridge smelt like fresh seafood (this smell is almost impossible to get out of)*
There was a rapidly flickering light in the leaving room*
The TV remote control buttons are not working properly
WiFi is not good, you need to connect the TV through your own hot-spot to make Netflix or other apps work
*Please note that the resort staff was super friendly and very helpful. Our accommodation manager organized the clean up swiftly and got the light fixed in no time as well. Big thumbs up to the staff!
As you can see from checking out the Tangalooma Island Resort prices for accommodation, you are paying a top dollar here. In our case, we paid $729AUD per night.
Yes, it is a 3.5-star resort, but really… for such an expensive accommodation, things should be pretty much perfect straight away, right?
That being said, the resort although very popular, is quite dated and is not as luxurious as it looks on the photos advertised online.
Other Tangalooma Resort Accommodation
Everyone can take great photos from good angles and tweak editing to make the resort look great. Here is a close up photo of another apartment building, this time without filters: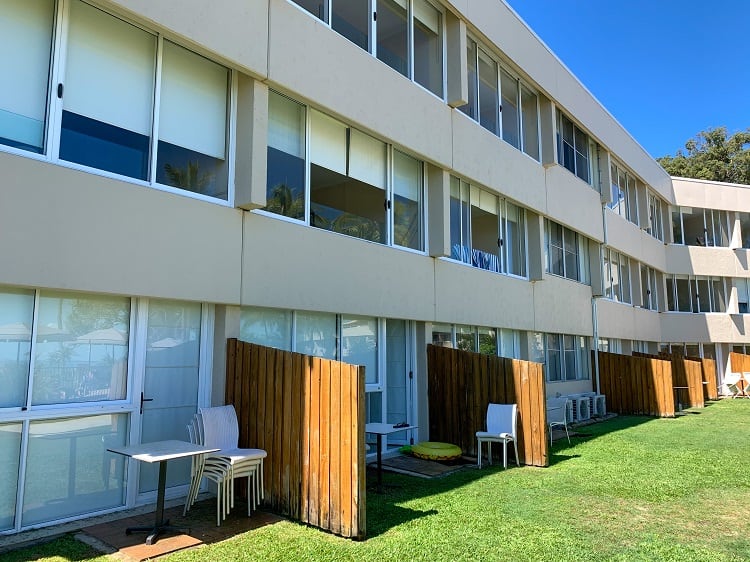 As you can see, this building is much more dated and it doesn't offer any kind of relaxation space.
This kind of unfinished and dated spaces are scattered around the whole resort. CONTINUE
Tangalooma Island Resort Facilities
Tangalooma Resort offers plenty of free activities to choose from, including swimming pools, a tennis court and a kids playground, to mention a few.
Tangalooma Resort Pools
There are three pools in the resort, including one private one at the back of the Deep Blue Apartment building. Although it is a nice idea to have the pool in the back of the building, it was deserted and not really inviting.
Beach-side pools do sound better after all, right?
Pool number 3, located furthest from the Deep Blue Apartments was pretty dated with some bricks missing from the jacuzzi area (not to mention that one for them didn't actually work).
That being said, our kids had a fun time nonetheless. We were swimming around and playing the "hold on to daddy all the time for no reason" game, whilst some of us relaxed on the plastic day beds.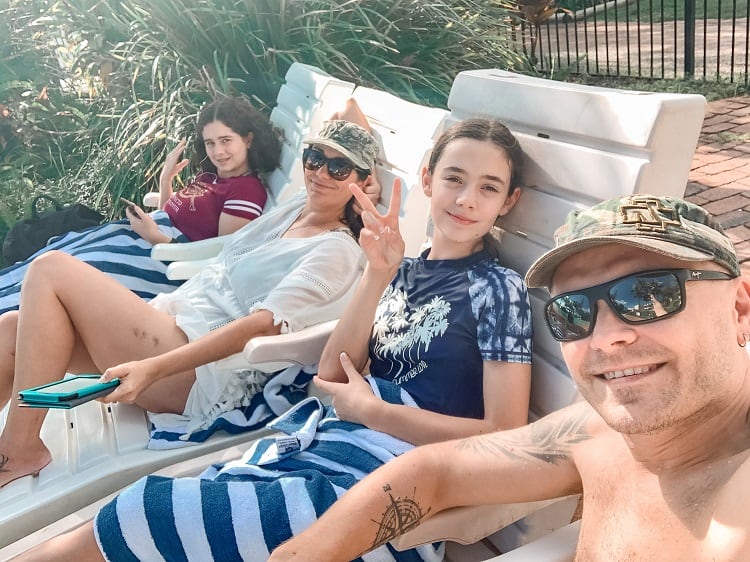 Tip: Please note that there are limited day beds and hardly any shade. We recommend that you pop out to the pool area early to snap up your spot and keep an eye on the Australian scorching sun.
Tangalooma Island Resort Activities
The resort offers a number of activities to choose from. Here is the quick list and/or click to check out the activities and tours for your self:
Land-Based Activities:
Here are some of the land-based activities on offer by Tangalooma Resort:
ATV Quad Bike Tour
Desert Safari Your with Sand Tobogganing
Helicopter Scenic Flights
Kookaburra Feeding
Massage at the Massage Hut & Beauty Room
Northern or Southern Safari 4WD Bus Tour
Segway Beach Tour
4WD Car Hire

On our stay, we decided to hire a 4WD and zoom around the island at our own pace and it was awesome!
For more details, scroll down to the next heading.
Water-Based Activities
Here are some of the water-based Talngaloom Resort activities on offer: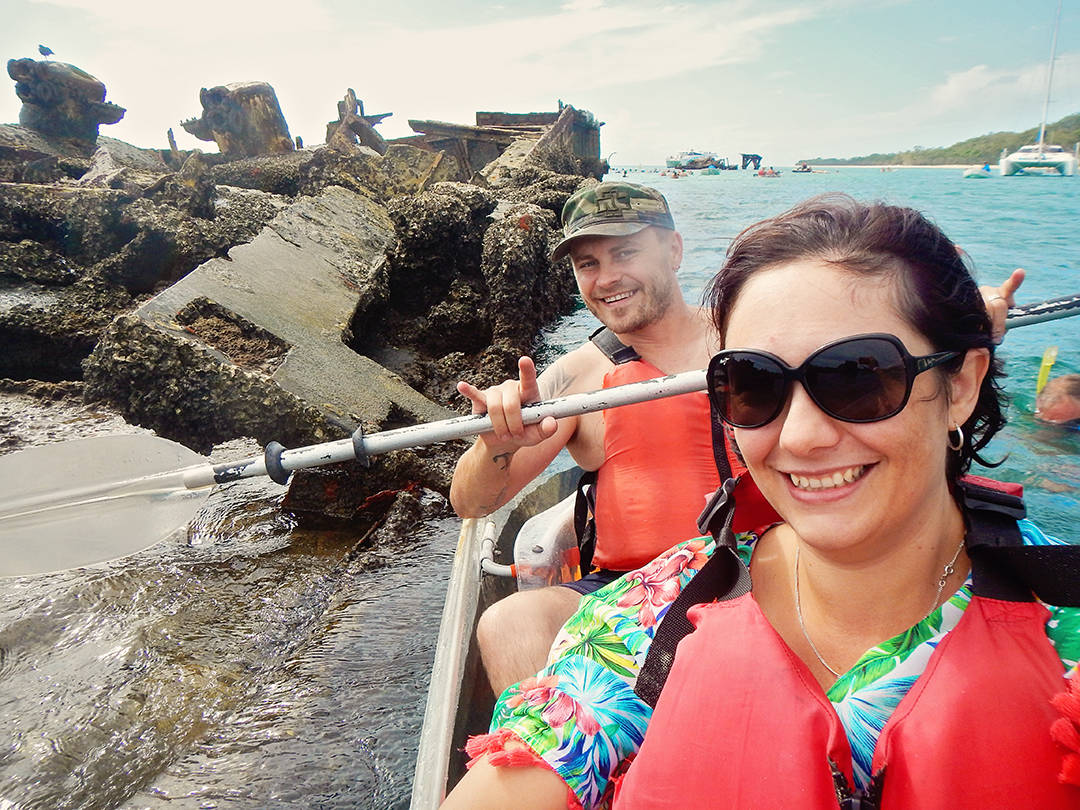 Catamaran Hire
Clear Bottom Day or Dusk Kayak Tour
Fishing Tour (Catch and Release)
Illuminated Wrecks Tour
Snorkelling the Tangalooma Wrecks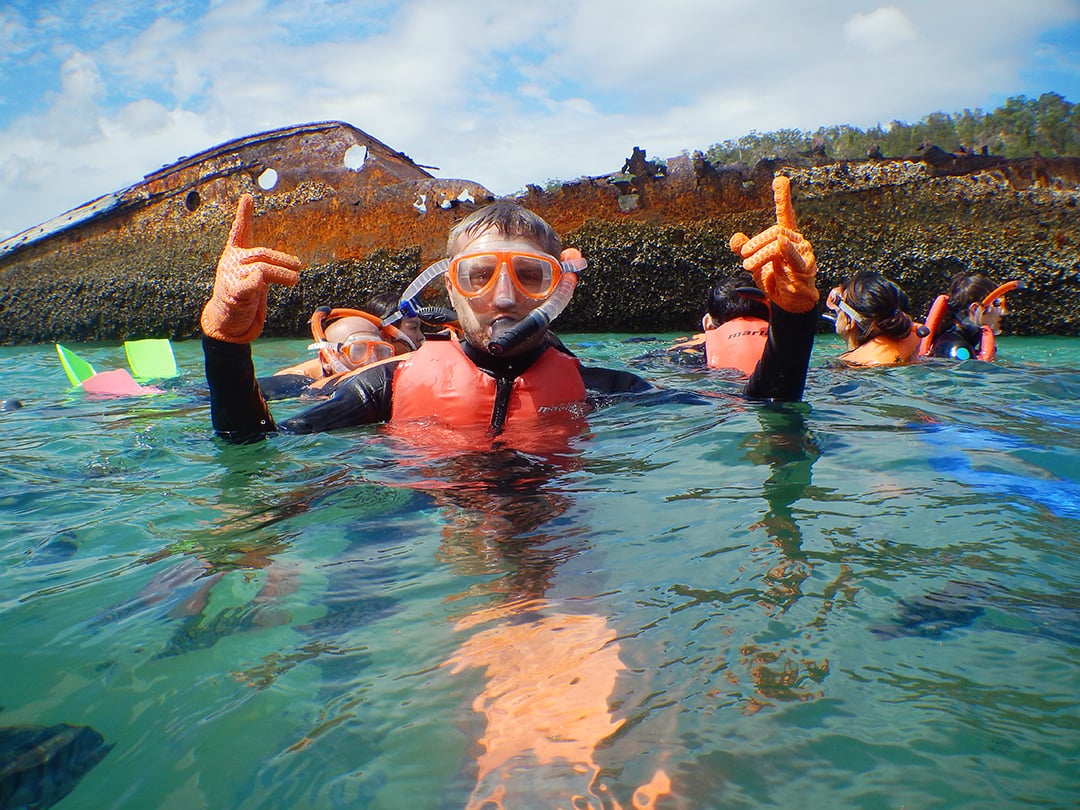 Kayak, Stand Up Paddle Boards or Boat Hire
Marine Discovery Cruise
Parasailing
Sunset Cruise or Whale Watching
Scuba Diving and Sea Scooter Safari
Things to see on Moreton Island in a 4WD
We loved driving around in the 4WD through the sandy tracks across the island and zooming on the beaches all whilst checking out the everlasting ocean next to us. What an amazing and relaxing way to check out all the best things to see on Moreton Island.
So, we took hired the car for the day, starting at 8 am till 5 pm. This is enough time to follow the schedule suggested by the resident mechanic.
Moreton Island Day Trip Itinerary:
Leave the resort no later than 9 am
Drive across the island on the Middle Road to the East side (slow going here on some deep sandy parts, FUN!)
Drive-up the beach North to the Lighthouse and check it out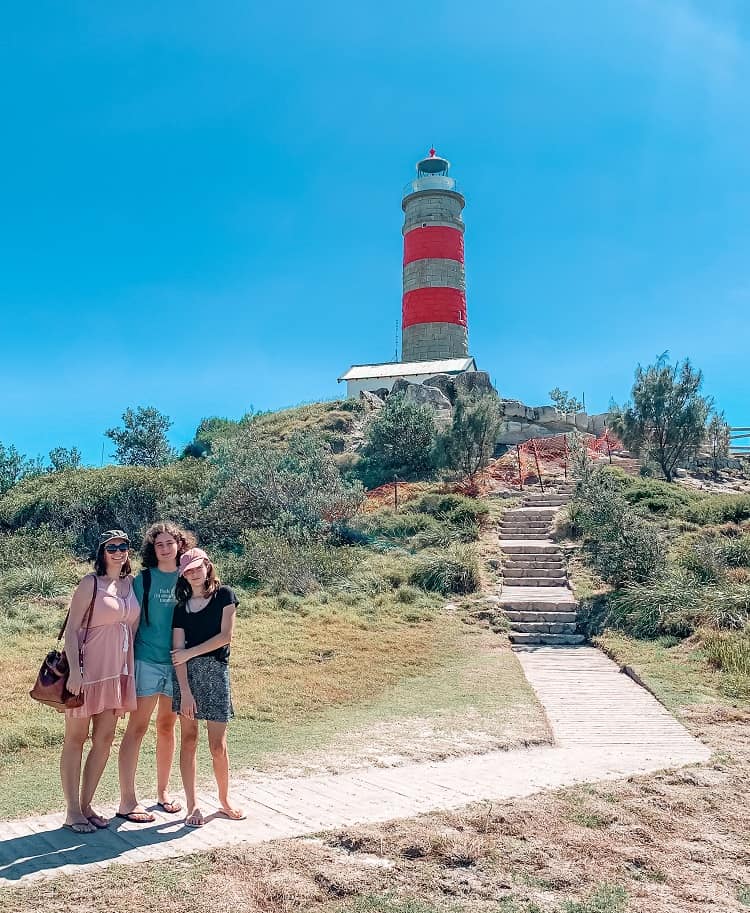 Next stop at the campground for a toilet break and take a short walk to the Honeymoon Bay
Follow the track to the Champagne Pools (you can spend a little while here easy)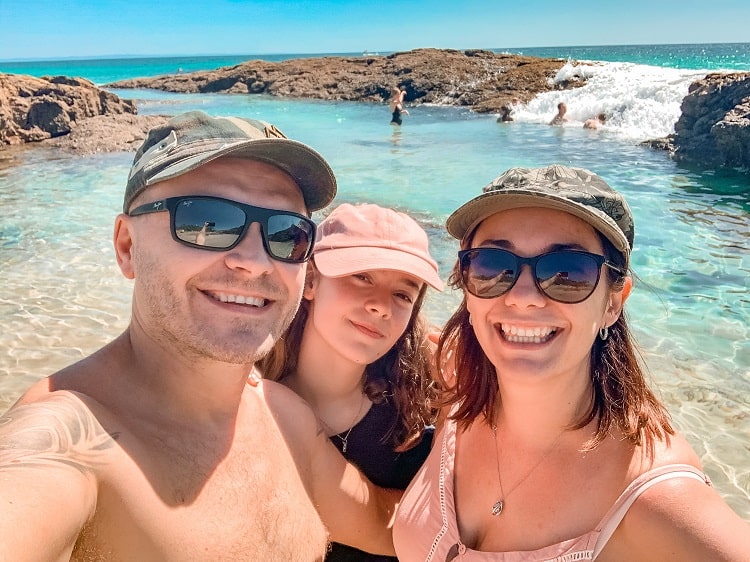 Drive back down the East side and stop at the Blue Lagoon (relaxing spot, but it's more of a lake than a typical blue lagoon you see in Asian countries)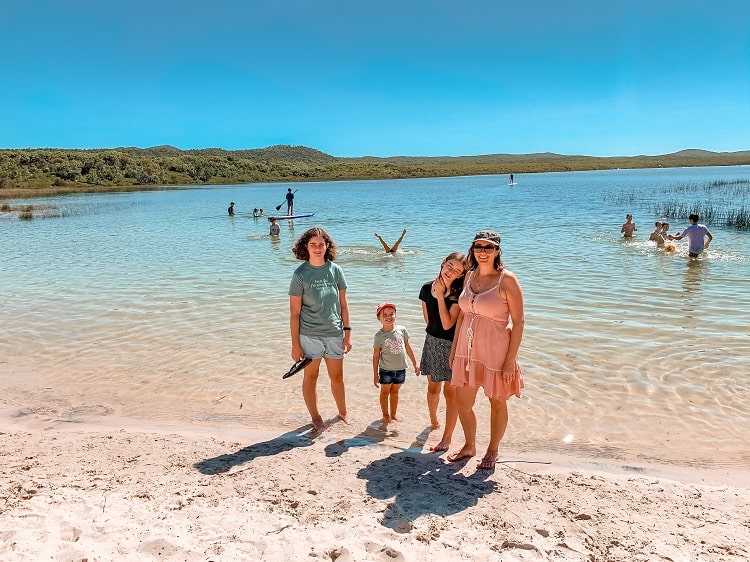 Drive all the way south and take a road across the island to Westside and stop for lunch at the Gutter Bar (good pub food and beers)
Get back to the East side to drive towards the Middle Road
Cross the island to the Westside
Stop at the Tangalooma Island Ship Wrecks for the afternoon look
Back up the Middle Road to the turn-off to Tangalooma Resort, and back to your accommodation
Where to Eat in Tangalooma Island Resort
Well, here is the thing. The Tangalooma Island Resort food that we had was pretty average. I suppose it's to be expected from the 3.5-star resort.
That being said, with the ridiculous price that you pay for the accommodation, you would expect to have a higher standard of restaurants, right?
Breakfast at Tangalooma:
Breakfast was typical buffet-style continental, hot and cold breaky with a selection of the usual bacon, eggs, sausages, mushrooms, bread, cereals and others. Nothing too exciting here, but ticks the boxes for a hungry traveller.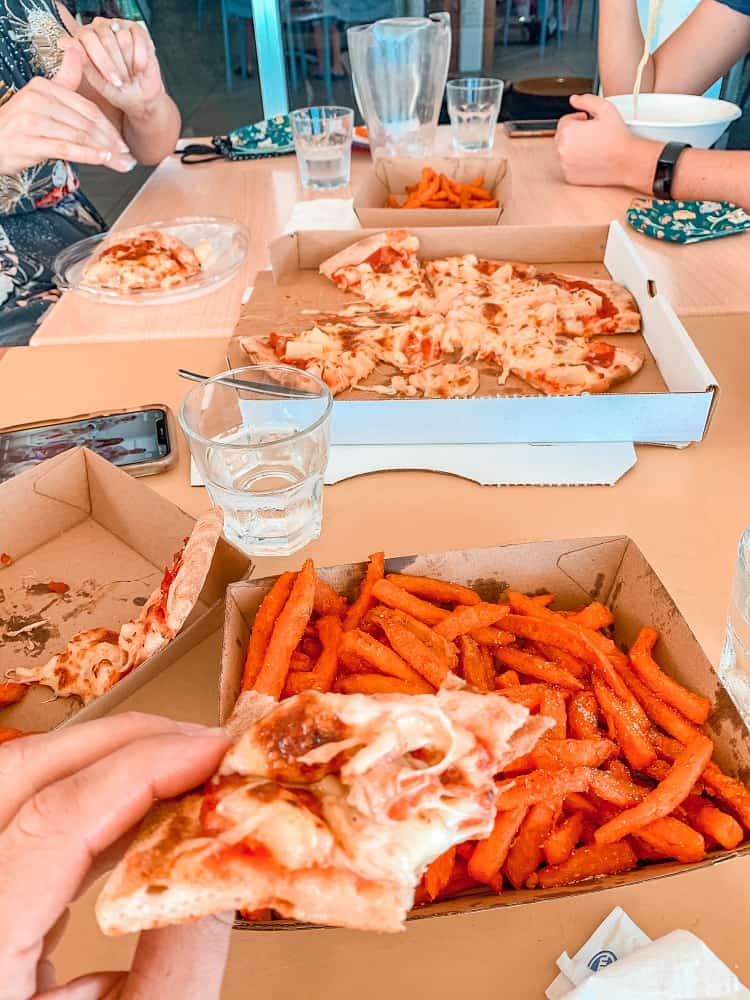 Lunch and Dinner:
Although there are a few choices of restaurants, including a Beach Cafe, Bistro, Japanese and a Lounge, these offer pretty standard things, such as meat with veg, chips, pizzas, sushi etc.
Yes, there is a variety of things to eat, but (as you can tell by my excitement) the food was doable, but not exciting.
Maybe it seems like I am complaining here, but wish that this resort would have at least one great restaurant that would have really good food. I'd be happy to pay the price if there was a great restaurant.
Moreton Island Tours | Moreton Island Day Trips from Brisbane
Moreton Island is a destination in itself with a tonne of extraordinary activities. If you are searching for the best things to do on Moreton Island and/or Moreton Island Day Tours then you certainly need to clear more of your schedule.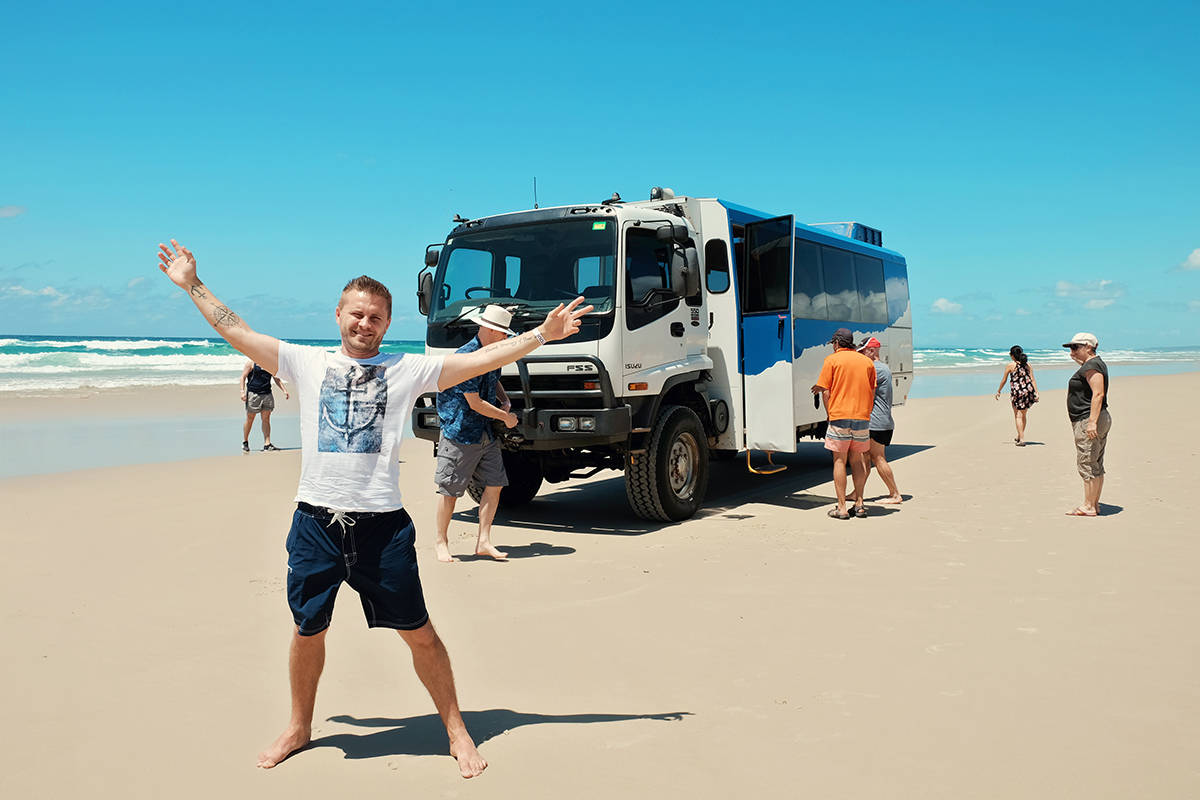 Here are 3 of our favourite options for a Moreton Island Day Trip: