If you thought Phuket in Thailand was not for families and children, think again because we're about to prove you wrong.
Searching for an ideal hotel while vacationing can be tricky, but it isn't impossible. At first, just like others, we were stuck with a long list of resorts and hotels in Phuket too.
Thankfully, we chose Sunwing Kamala Beach Resort, which didn't disappoint us. The resort was strategically set up for families and superb for kids.
So, we have shared our personal experience at this resort and everything that came with it.
Sunwing Resort Kamala Beach Review
Here is how to get to the resort and our honest, and detailed Sunwing Resort Kamala Beach review:
How to get from Phuket Airport to Phuket Sunwing Kamala Beach Resort
The Phuket Sunwing Kamala Beach Resort is situated right on one of the stunning beaches of Phuket, and it's all a ride away!
This beach resort can be easily reached from Phuket International Airport (HKT); the journey only takes 35 minutes if you ride by car or taxi.
Although there are other options like shuttles or public buses too, we would recommend that a first-time traveler should choose a taxi ride only. However, if you are a seasoned traveler, then you can do like we did and hire a car in Phuket so that you can have all the freedom in the world throughout your stay.
While on vacation, we want our journey to be as hassle-free as possible, and this is where Kamala Resort's airport transfer service can help.
It's a convenient travel transfer from the airport to the hotel, and the ride will be over before you know it.
Sunwing Kamala Beach Accommodation: Our Family Suite
When on vacation, especially on a family trip, comfort and luxury are all we seek. Fortunately, the Kamala beach resort gave us just that. We had opted for a family suite consisting of two bedrooms; by the end, we were happy with our choice.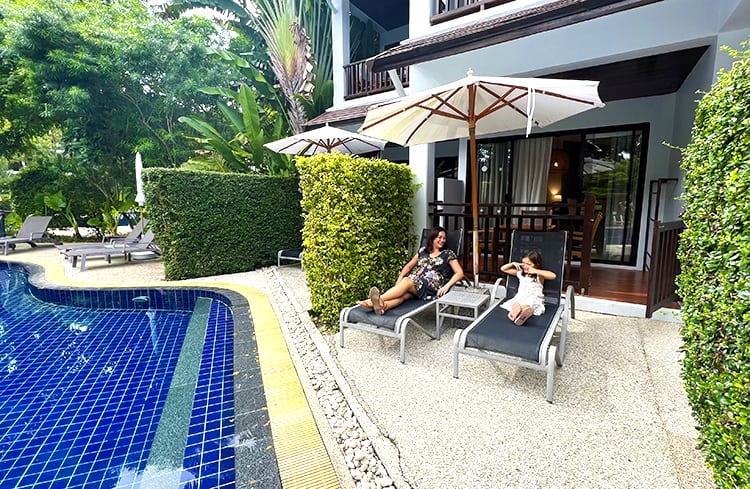 For our medium-sized family, the air-conditioned room was jam-packed with all the necessities. It was decent-sized, with large king-sized beds perfect for beauty sleep and kids to roll around. And the blackout blinds were great for avoiding unruly rays that are guilty of destroying happy little dreams!
Apart from that, the room even had a little kitchenette area with light kitchen equipment perfect for making coffee early in the morning. And the best part? You could enjoy the brew while gazing out from the room's balcony!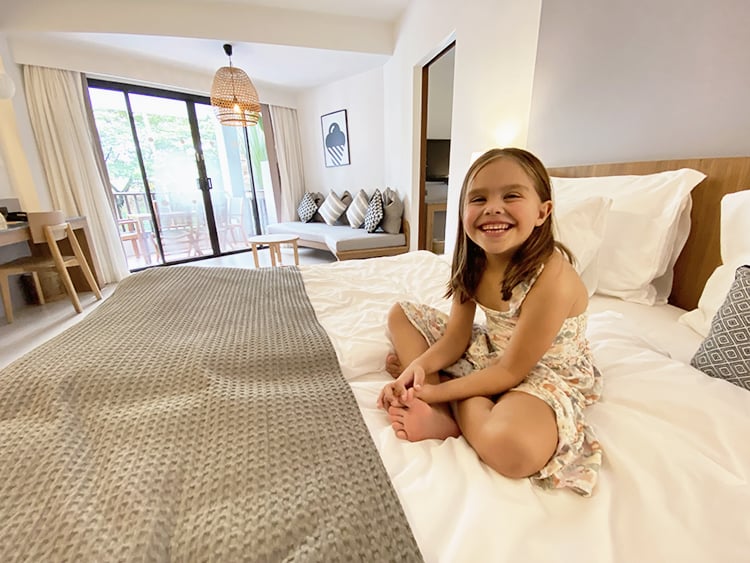 Moreover, the relaxing hot showers were excellent for unwinding and reminiscing about the day's Phuket adventures.
Yet, amidst all this goodness, we didn't like the little bit of noise that seeped through the walls during the daytime. As the room was closer to the pool, it got noisy while kids were bustling in the space.
Alternative Family Room: Happy Baby Studio
Traveling with a toddler? We know how frustrating it can be while searching for an ideal baby-safe room as you can't possibly travel with a cot or a stroller on vacation.
Luckily, Kamala Beach Resort features a studio room perfect for families with small babies.
We loved how the room was furnished with all the essentials that families with little kids might need. From baby cot, baby high chair, and stroller to cute children's crockery and cutlery, the room had almost anything we could think of.
It even had toys to keep the kids occupied while you had a one-on-one with your spouse!
Amenities
Phuket screams exotic beaches and vibrant nightlife, not kids and babysitting, which seems like an anomaly. We thank the heavens that this beach resort featured amenities for kids too.
Pools
Nothing beats the splish-splash fun for kids, and this resort houses eight such fun havens for children of all ages.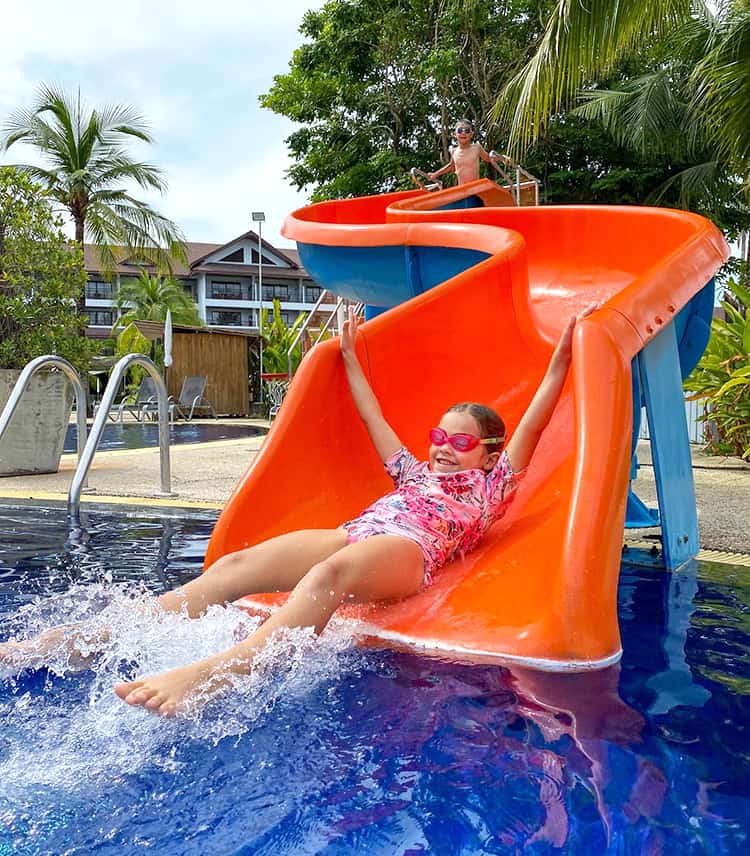 The imaginative pools with gentle sloping slides are perfect for kids. Avalee-Rose got so lost in the fun that she splashed for hours!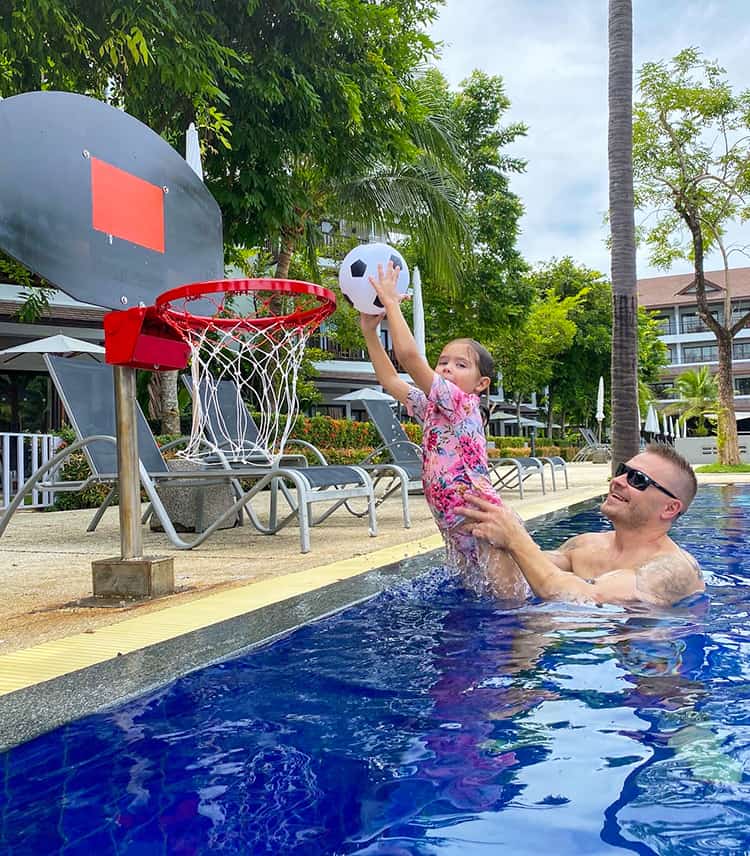 Kids Club and Teen Play Rooms
The beach resort houses a kids club and teen playrooms too, which are perfect for some kids-only time.
We know how kids can get restless to let their free spirits out, and playrooms are just the place for that. Besides, it also has a toddler area for small kids and is equipped with a big screen, a perfect movie lounge that keeps them engaged.
But all the fun and excitement aside, you should note that your attendance is necessary! If you're planning to leave the kids in the kids club to head out for some adult-only fun, then it won't be possible.
Gym
Didn't want to miss out on your daily workout sessions, even on vacation? Then don't worry as there's a gym to meet your family's health needs.
The gym is fully equipped with all the essentials needed to get your fitness goals straight back on the line.
Beach Massage
After a full day of exploring and hopping around Phuket, a massage is a must. So, pampering yourself and your kids with refreshing oil massages sounds like a perfect way to unwind.
From the famous Thai massage to other special massages to even foot massages, there are many options for you to pick and choose from. A foot massage seems particularly tempting when your feet cry in pain after an exciting day!
Where to Eat at the Resort
Check out where to eat in and around the Sunwing Kamala resort:
SOM's Kitchen
Our palette remembers flavors just like our eyes remember the magnificence of exceptional beauty! So, while at Kamala beach, we opted for SOM's kitchen, an affordable and popular restaurant right in the vicinity of the resort.
We had all our breakfasts here as they were included in our stay and even had lunch there once.
The buffet-style breakfast had small selections of continental and Thai with hot and cold options.
Although we liked the breakfast, each time we arrived, the trays were mostly emptied and we had to wait for the fresh top-ups, which was a bit inconvenient.
But we hope we could say the same about lunch as we didn't find it that appetizing. In our defense, we found the food a little too underwhelming for our palette, though it might be good for you.
Fino
There were other great options for dining in the resort, and Fino was one of them. It's a modern restaurant featuring international cuisine and authentic Thai delicacies.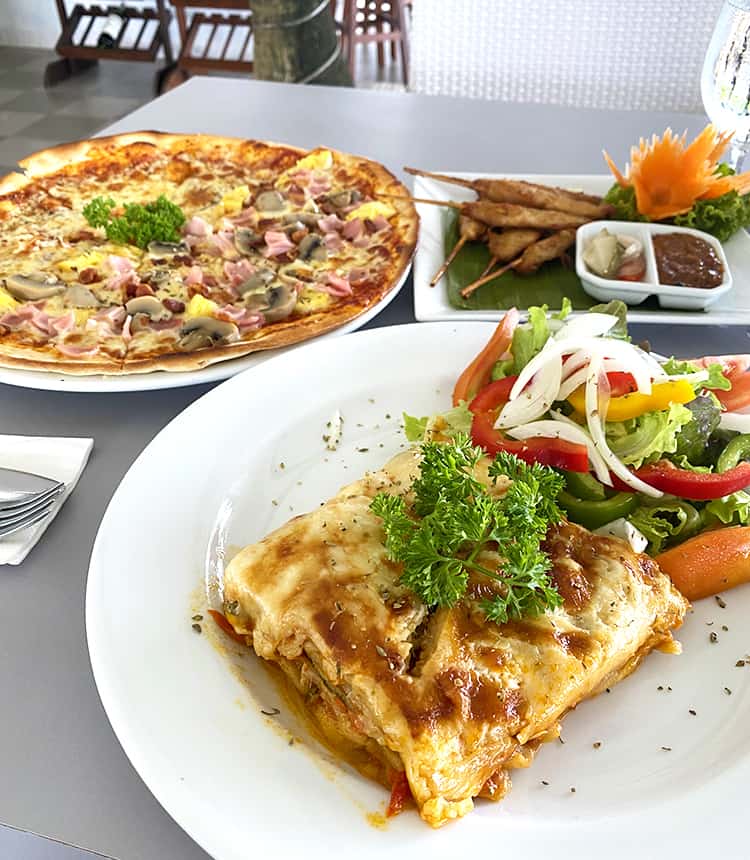 We found the ambiance to be particularly good, especially for a dinner date with your spouse. And the food was yummy here! Very much recommended.
Restaurants Close By
The Kamala Beach Resort has been voted for being great for walkers, and it really is seeing how many restaurants line up in its vicinity. We tried the most famous Lillo Island Resort and Bar, and it was unfortunately okay at best.
Even though the ambiance and the sunset were magical, the food wasn't. But we surely won't say this about Blue Manao. It was also close to the resort, and the food here was both delectable and cheap.
Our Personal Likes and Dislikes
Here are our personal likes and dislikes about our experience at the resort:
Our Likes
Here are our personal likes:
First off, let us start by saying that this resort is right on the beach and great for families.
If you're traveling with family and have a toddler, then there's no need to worry about the safety of your kid on this vacation to Phuket.
All essential amenities for kids are available.
From the family studio room to the kids club, the game room to the movie room – there are many options that you'll be particularly happy to explore with your kids.
There are even pools featuring gentle sloping slides, which provide an excellent opportunity for your kids to enjoy the splish splash.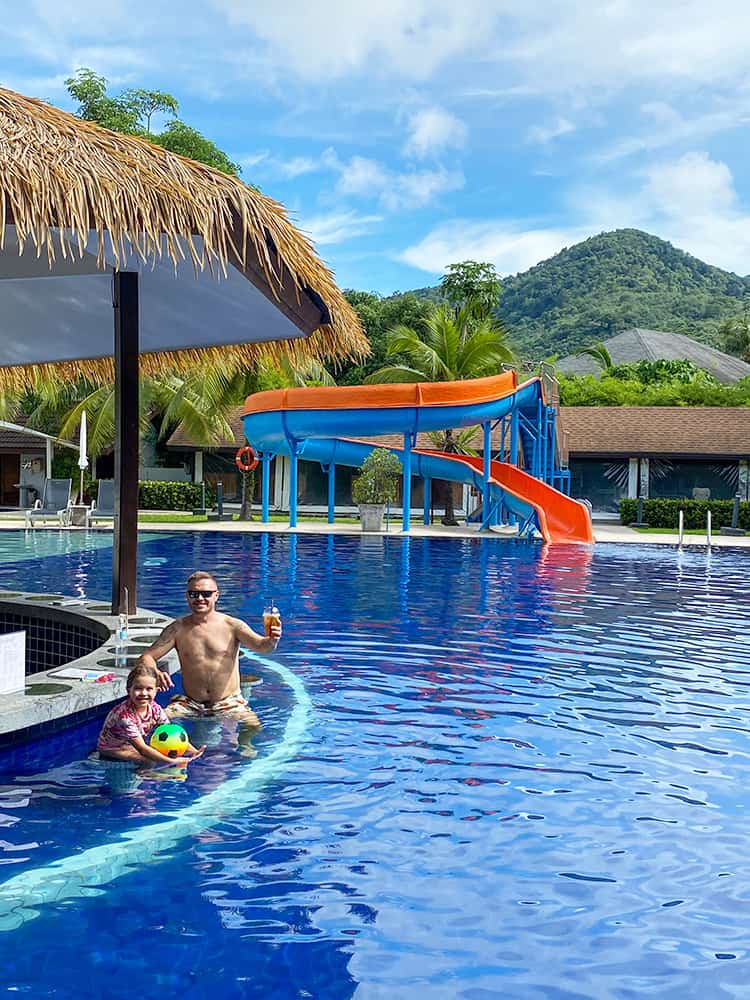 There are different pool toys too, like balls and basketball hoops for the perfect pool fun.
Beach massages are so relaxing that you'll probably doze off on the beds drowning in the fragrance of rich massage oils.
Another thing that we liked about this resort was its strategic location. It sits right in the center and lies close to many restaurants, shops, and public transport. And the best part is that it's all within walking distance.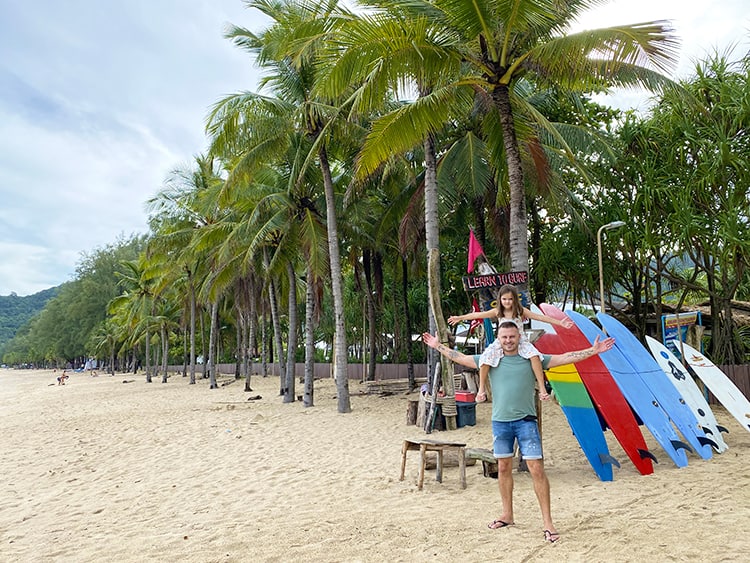 The family suite we opted for was simply incredible! It was spacious, well-equipped, and had excellent air-conditioning in both the rooms. It had perfect blackout blinds to keep out the stubborn light and let us sleep peacefully.
Furthermore, the TV even had a Chrome cast where we could stream movies or videos straight from our devices.
Besides that, the rooms were cleaned, and beds were made daily. Also, we were provided complimentary water.
Lastly, we'd like to express how accommodating and friendly the staff was. All our problems were solved with smiling faces which made our stay even more comfortable.
Our Dislikes
Barring the good, there were some things that we didn't like or thought were lacking in some regard at the Sunwing Kamala Beach Resort.
We didn't like how the buffet breakfast wasn't topped up well, and serving dishes weren't filled up every morning. We had to ask to do those, and the service was slow.
As we're on the topic of dining, we'd also like to mention the underwhelming flavors of SOM's kitchen. Personally, we think this should not have been the case, taking the restaurant's immense popularity into account.
Moreover, what we especially didn't like was the requirement of parents to be present in the kids club. Hmm… The whole point of leaving kids under others' supervision is to have some quality time alone.
Final Words
By now, you would've already realized what our stay at Sunwing Kamala Beach Resort was like.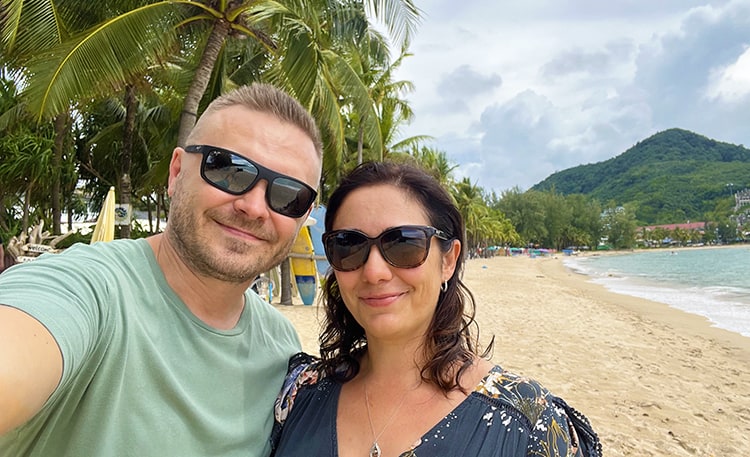 The whole experience was great, especially for people like us who have kids to look after even on vacation. We found everything easy and convenient as the resort was located at a very strategic location where everything could be accessed easily.
In all, we enjoyed our stay there, and we suggest experiencing this safe haven once you land in Phuket!