Are you looking for a perfect Valentine's Day romantic escape for you and that special someone?  No need to look any further than this unique Stanthorpe Accommodation!!

Experience camping like never before! Gone are the pegs, gone is the early bed time due to the lack of light, gone is the setting up and packing up!  Intrigued?    I know I was.
Simply irresistible, luxurious and the one to remember! Just a few words to explain my experience at this magical and utmost relaxing thing that is called glamping!
I had no idea that things like this existed, maybe only in some elaborate dream. To have a tent and combine it with luxury, to make your adventure glamorous and a first class one. Well, somebody did create just that and now it is available for all of us to experience. Trust me, you want to!
-I
Where is Stanthorpe:
Alure Stanthorpe is located about 2.5 hours drive West from Brisbane, Queensland in Australia. The drive itself is relaxing and takes you though some picturesque and spectacular scenery. However, our destination takes you deep into the Granite Belt wine region to tranquil bushland.
Only few minutes from the town of Stanthorpe and you will find yourself peacefully secluded from the world, ready to take in all that nature has in store and much much more!
–
Stanthorpe Accommodation – Alure Stanthorpe:
Let's just look at this picture and forget about writing anything else. Scroll down to the bottom of the page and book your stay now! haha.. Yup, that's what I thought when I first saw pictures of this awesome place.
This is not a tent camping. This is glamping!
This peaceful piece of paradise is set on a very well maintained 50 acres of land, far enough from the hustle and bustle of the town traffic. It is a wine country so you are smack bang surrounded by wineries and vineyards. With all the locally grown produce, self catering luxury and easy access to finest vino, what more do you want?
Did I mention that you are situated on a hilltop with pretty views of romantic sunsets or sunrises? Yup, I found this place quite something different and super cosy!
–
Luxurious Glamping Tent:
I have never been glamping, so I had never seen a tent of this grandeur. Needless to say, I need one and I want one. Just for those short gateways from the busy everyday life.
It is perfect, got to say 100% better than normal camping, purely for the fact, that you don't need to do anything, just show up!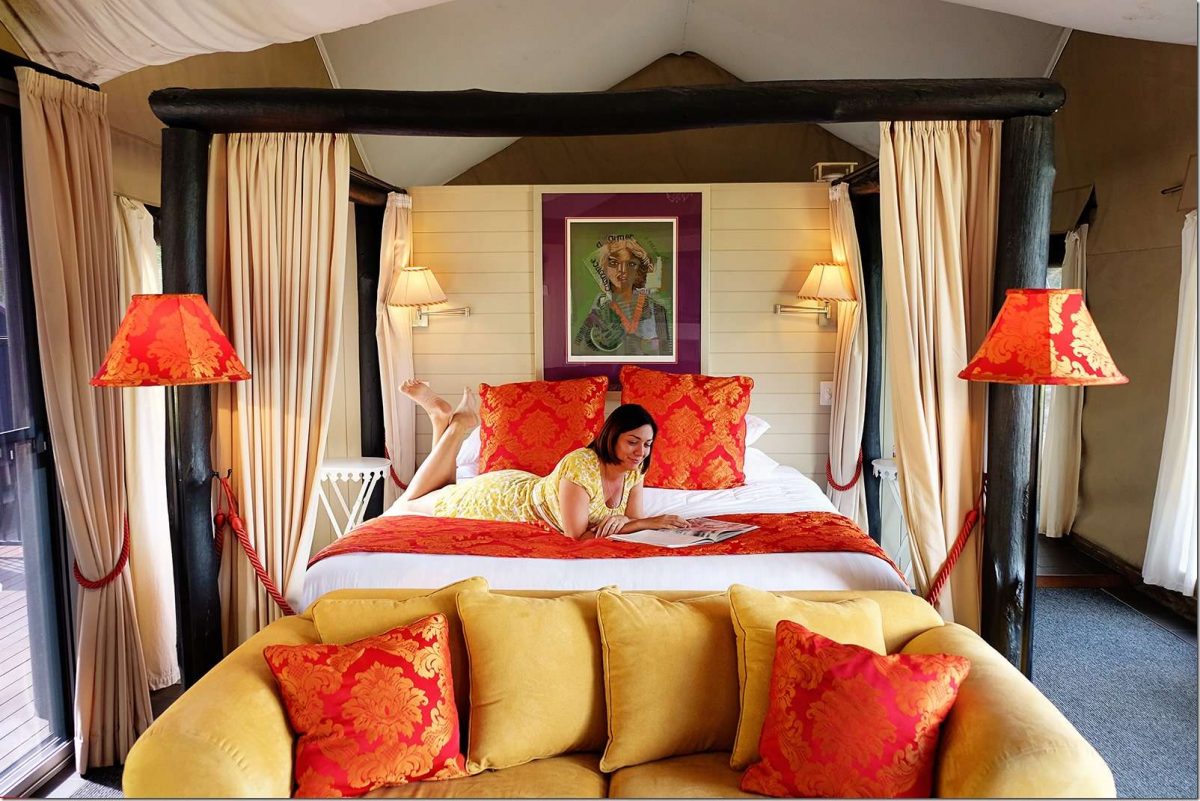 This Stanthorpe accommodation is a piece of art in itself!  It contains a large living room slash bedroom. There is a super comfortable king size bed (that didn't want to fit on the roof rack of my car) and a big flat screen TV with selection of DVD's in case you don't want to get out of bed. Warm colours of the décor together with a fireplace lit up at night making you feel warm and fuzzy, and super cosy. It is easy to see, how you can spark up a bit of romance right here, hehe..
Yup, we did plan to go out for dinner the second night, so we could try the local recommended top restaurants, but instead chose to stay in and simply enjoy where we were! I think you will be the same when you stay here. It's nice to not have to be anywhere and just stay.  It does help if you do some shopping in the town a bit earlier and stock up on some yummy goodies and some bubbly.
It's all about luxury here and spending time with your loved one. Only 3 couples stay here at any time. You might see a car drive past few times to the next villa, but apart from that you are free to listen to the sounds of nature.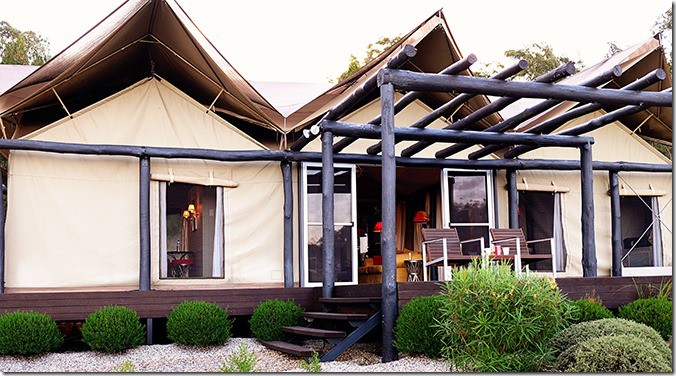 Your glamping tent has everything you need. Fully equipped kitchen with convection oven, dishwasher, coffee machine, fridge and all the pots and pans that you need cook and eat with. There is a laundry with washing machine and dryer. There is a bathroom with two sinks for him and her, shower and toilet.  Did i mention that you also have an Air Conditioner? Yes, everything!
Just a little tip for the evenings. When the night falls and you switch on the lights, make sure to zip the outside of the windows down. Little nature creatures will be locked out and you will be happy and cosy inside.
–
Breakfast and Relaxation:
Continental breakfast basket is included in the cost of the stay. We had some delicious freshly baked bread, croissants, Alure's own cereal and granola. Also from the basket  and already waiting for us in the fridge we found local apple juice, milk, butter, jams, honey and yoghurt.
To top it all, Alure provides you with an extensive menu and packages to suit all tastes and occasions. You want it, they got it covered.
And when you are full and happy to continue on your relaxation you can choose to spend your day lazing around on a back patio reading a book (also selection provided), or sipping on a vino in your private Jacuzzi. Say no more, pure bliss!
Make sure to chill out in the spa at night as well. Spectacular starry skies open up with all of its magnificence. Milky way accompanied with billion stars stare right back at you. If you are lucky, like us, you will be able to make a wish on your own shooting star.
–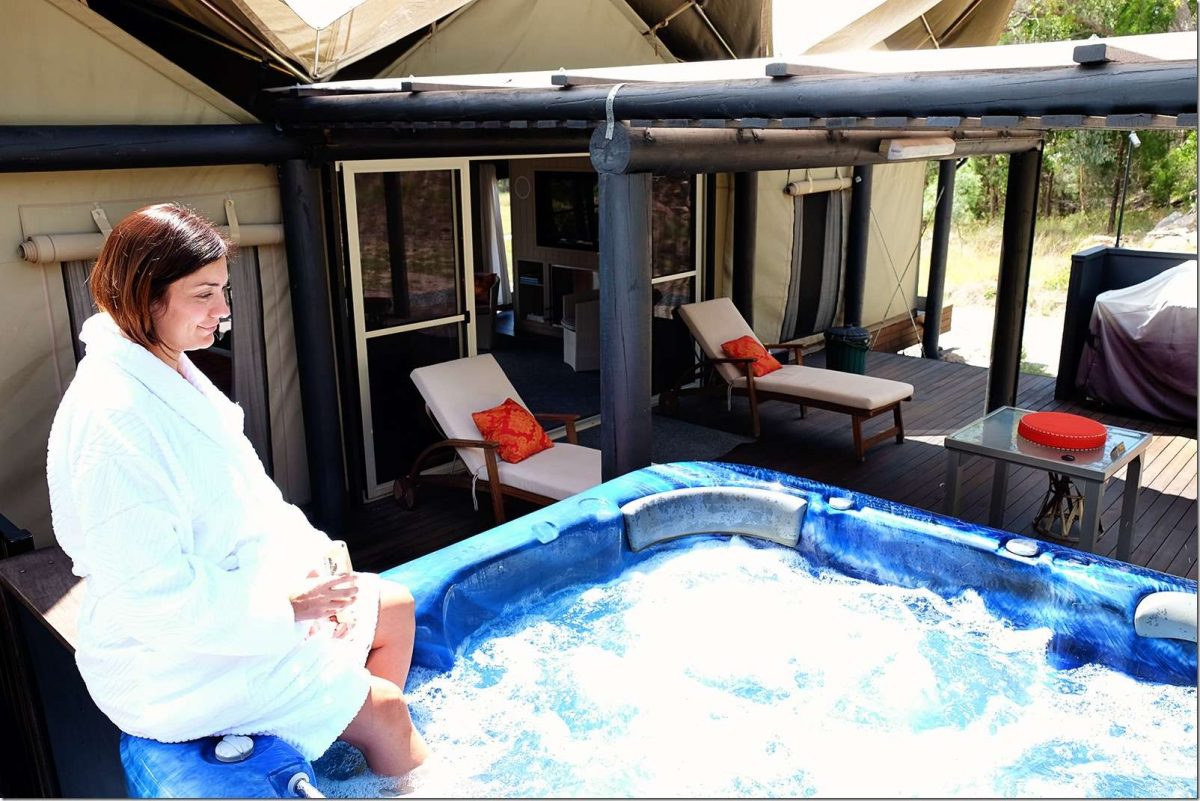 We loved glamping at Alure Stanthorpe! It was truly cosy, fun and an extraordinary and super romantic experience. We believe that this place is not only a perfect place to escape for your upcoming Valentine's Day, but also the best way to camp from now on!! I know it is for me!!
When are you going to make your way to this magical place?

Where do you see yourself spending the most time whilst here?
–
Things to do in Stanthorpe:
You are in the Granite Belt wine country and there is heaps more to do here, if only you step outside the tent for a bit.
Girraween National Park was a beautiful place, felt like we went back to the Flintstone era for a minute.
Choose one of a numerous wine tours.
Check out olive and fruit orchards, especially the big apple.
Indulge in some fine dining or snack at one of the cafes in the area.
Visit local farmers markets for some fresh produce and more.
–
Stay at Alure Stanthorpe if:
If you never experienced glamping before!
If you love luxury and glamorous accommodation.
If you love nature and you enjoy an early sunrise.
If you want to get away from the hustle and bustle of towns or cities.
If you love star gazing, especially from your private Jacuzzi
–
Booking information:
To book a stay at Alure Stanthorpe, click here.
Costs of Self-Contained Glamping Tent starts from AUD $380 p/n
Where: Alure Stanthorpe is located on 280 Mt Tully Road, Stanthorpe – Queensland, Australia.
Suitable as:  a parent (couples)-escape.
Wanderlust Storytellers recently stayed in this amazing Stanthorpe accommodation as guests of Alure Stanthorpe. As always, the content & opinions expressed here are entirely our own.