Wondering what are the best places to go for a short trip in Malaysia? 
If you're planning a tour of South East Asia, Malaysia is a country you just cannot afford to miss out on!
It is one of the hottest tourist hubs in Southeast Asia, offering a diverse array of activities and experiences to indulge yourselves in.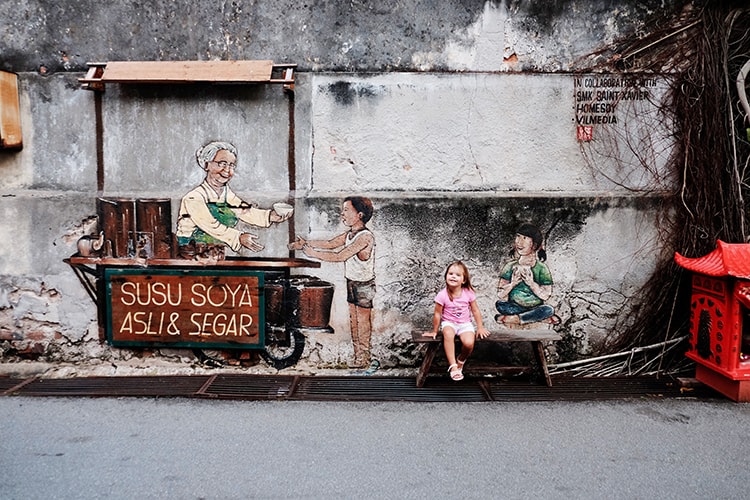 So just in case, you're unsure as to what would be an ideal itinerary for a short 3-day tour of the country, you've come to the right place!
We've prepared two fantastic Malaysia short getaway ideas which will allow you to get the most out of the three days you spend in this magical country!
2 Itineraries for a Short Trip in Malaysia
When people ask me "where to go in Malaysia for a short trip" I usually ask them to start off either from Kuala Lumpur or Penang.
While a short trip in Malaysia isn't necessarily the best way to experience the country, these two itineraries will most definitely allow you to get a decent feel of its land and its culture!
So let's get started!
Tip: Wondering where to stay whilst in Penang? Take a look at our Penang list of hotels with private pools.
Malaysia Short Trip Itinerary #1 From KL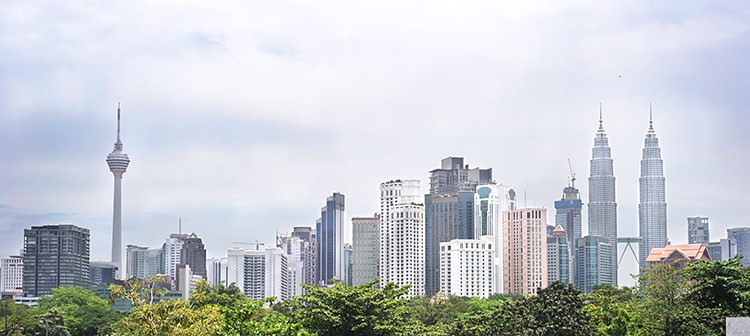 The first Malaysia itinerary which we've prepared is based on going from Kuala Lumpur, and will let you experience both the natural and man-made wonders that this country has on offer!
I suggest that you find yourself a lovely hotel or Airbnb right in the heart of KL and book yourself in for a 4-night stay so that you have 3 full days to explore.
Day 1 – Kuala Lumpur
We recommend spending the first day of your trip exploring the magnificent city of Kuala Lumpur. Make sure you start the day early as there's a lot of things to do and see in this city!
Start with a short walk through Merdeka Square, Kuala Lumpur's independence square, and then make your way to the Kuala Lumpur City Gallery situated right next to Merdeka Square.
Once you're done visiting those, head on to the Petronas Twin Towers – the most iconic landmark of this city. You can pick up a Petronas Towers tour ticket here.
Take a walk on the sky bridge connecting the two towers and then head on to the observation deck on the 86th floor for an amazing view of the city.
If you really love tall buildings, you can also visit the Menara Kuala Lumpur, the second highest building in the city.
After you're done visiting those, head over to Bukit Bintang – the most popular shopping district of the city. You can find everything from Hawker Centers and Shopping Malls to bars and night markets in this little part of the city.
End the day with a refreshing visit to the Orchid Gardens on Jalan Perdana Street.
Tip: Check out our experiences of things to do in Kuala Lumpur with kids here.
Day 2 – Batu Caves and Kuala Selangor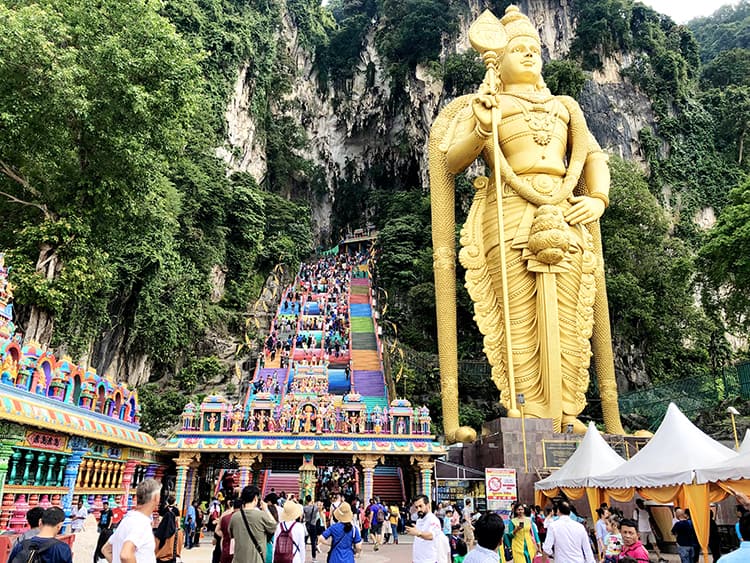 Spend the second day of your trip exploring the magnificent Batu Caves and the magical town of Kuala Selangor.
The Batu Caves are only a short ride away from Kuala Lumpur and are full of enchanting Hindu Shrines and Temples. The enormous golden statue of a Hindu God right at the entrance of the cave is sure to stay etched in your memories for a long time.
After you're done exploring the Batu Caves, head on to the town of Kuala Selangor which is about an hour away.
You can pick up a tour ticket for Batu Caves and Kuala Selangor here.
There are plenty of unique experiences which you get in this town, from the enchanting firefly colonies to the panoramic views from the top of the Bukit Melawati!
Tip: Check out our experience of Batu Caves and more on our best day trips from Kuala Lumpur post here.
Day 3 – Melaka
The last day on the trip is going to be a treat for all the history buffs out there. We recommend spending this day exploring the historic city of Melaka!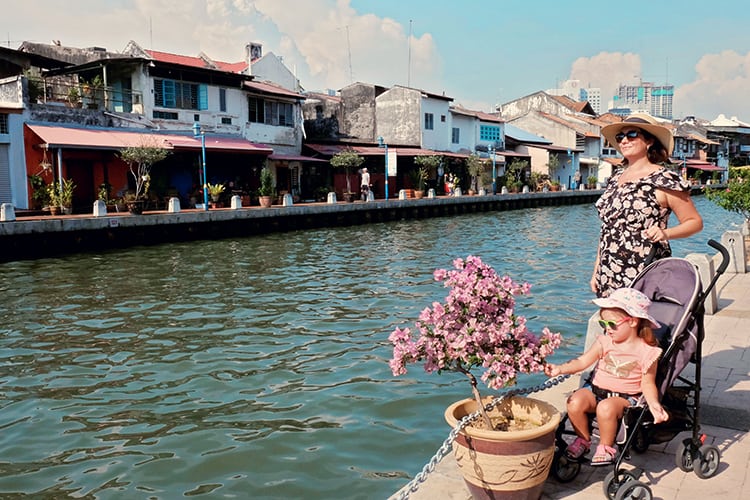 There's a lot of exciting things you can learn in this city while exploring landmarks such as the Melaka Sultanate Palace Museum, the A'Famosa Fort, the Stadthuys and a lot more.
We also recommend getting a taste of the local flavors in one of the dozens of restaurants or street stalls that dot every corner of the city!
You can pick up a tour of the historical Melaka here. Or if you wish to visit Melaka by yourself, click to see our list on the things to do in Melaka when you are short on time.
Tip: Check out best Melaka hotels here.
Malaysia Short Trip Itinerary #2 from Penang
The Second Itinerary, our Malaysia short trip suggestion, which we've prepared is based on going from Penang and offers a more nature-centric experience as compared to the previous itinerary.
Penang is one of the best places to visit in Malaysia in 3 days!
Day 1 – Georgetown
Start your tour of Penang with a visit to the colorful city of Georgetown!
After Kuala Lumpur, Georgetown is probably the most popular place for tourists in Malaysia.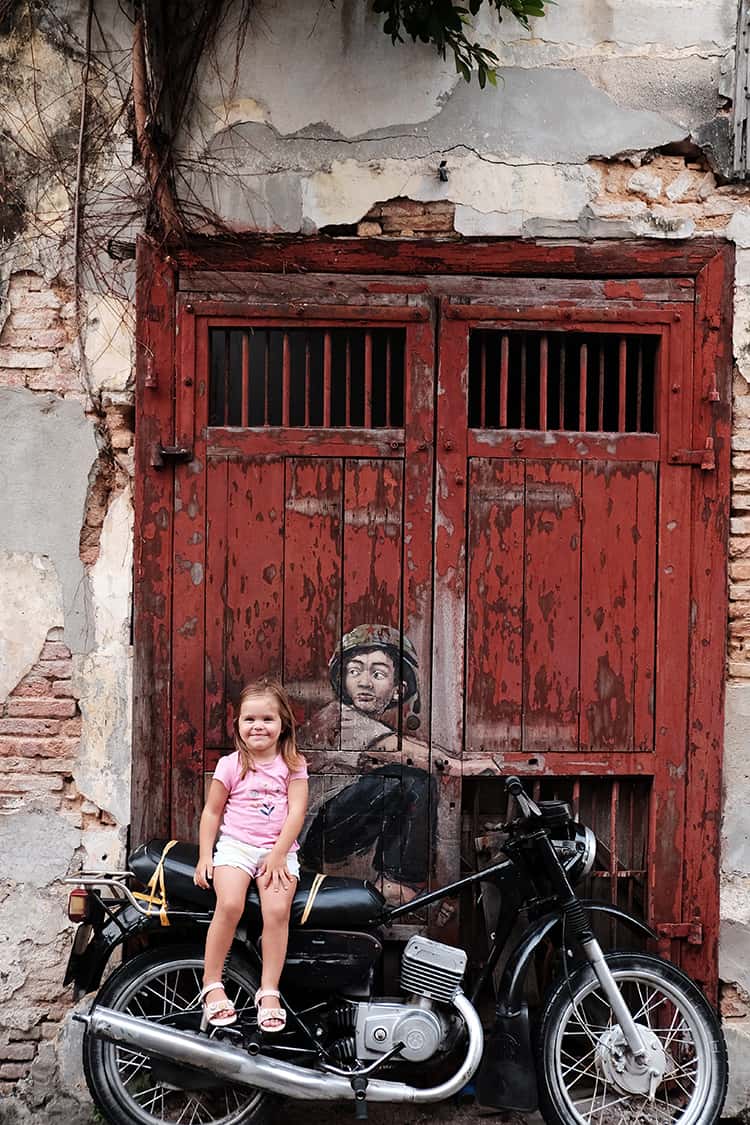 Full of beautiful colonial buildings and colorful street art, Georgetown is a classic example of a multicultural city with characteristics of Indian, Malay and Chinese culture blended into the overall ambience of the city.
Make sure to visit the clan jetties dotted along Georgetown's storefront and the Pinang Peranakan Museum on 29 Church Street.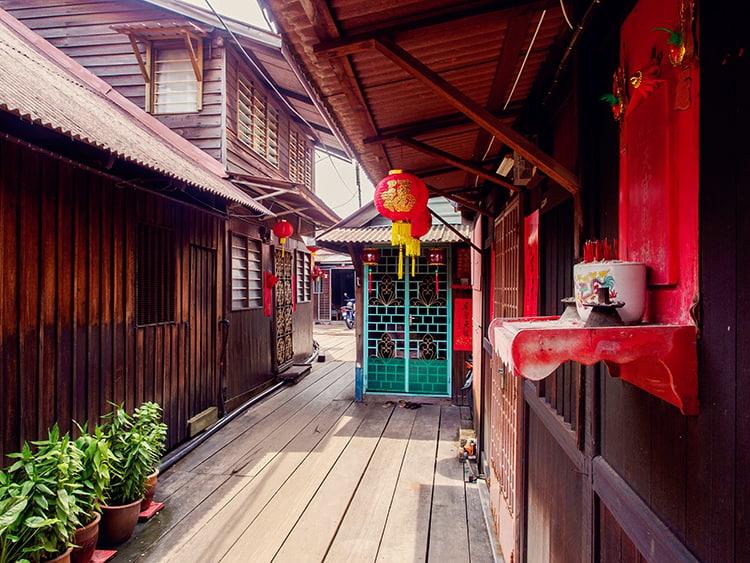 If you are interested in checking out some of the local stories and taste yummy George Town delicacies, you can pick up your tour for a Food Hop around George Town here.
Day 2 – Penang Hill and Kek Lok Temple
We recommend heading over to Penang Hill on your second day of the trip and explore the remarkable gifts of nature on display!
The simplest way of reaching Penang Hill is by taking a train from Georgetown. Start the day early and reach Penang Hill by mid-morning to start your trek to the top (or if you prefer simply catch the funicular to the top).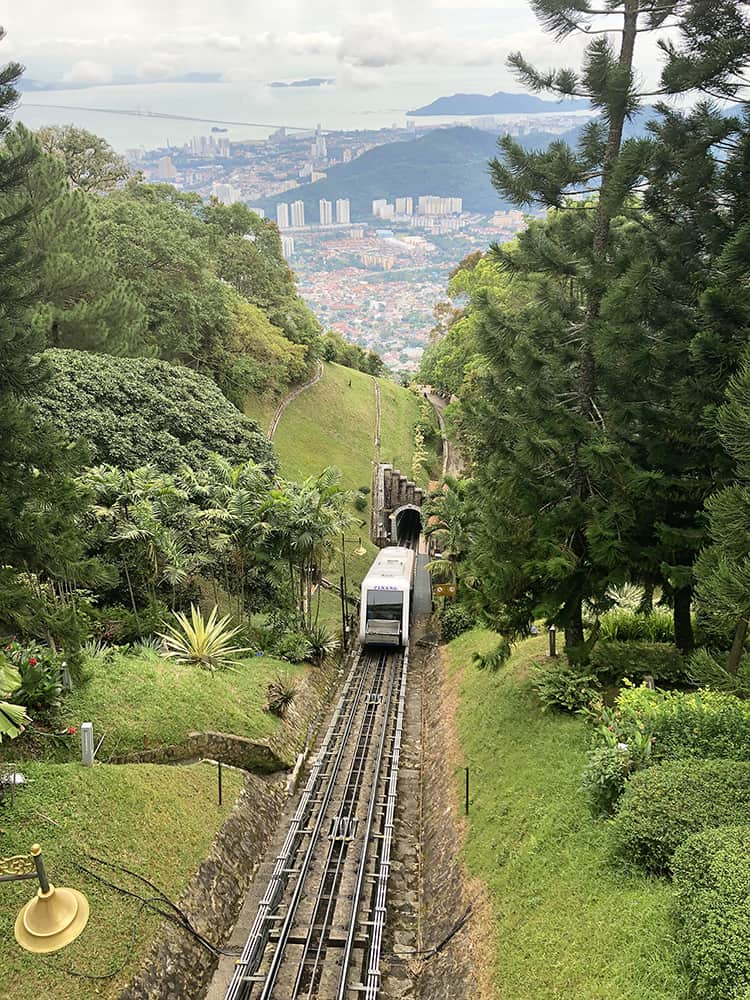 You can take any of the numerous densely forested walking paths that lead to the top of the hill. At 2732 feet (833 Meters) above sea level, the top of the Penang Hill offers stunning views of the entire island!
Visiting Penang Hill will take up most of your time on the second day, so we recommend a short stop at the Kek Lok Buddhist Temple nearby.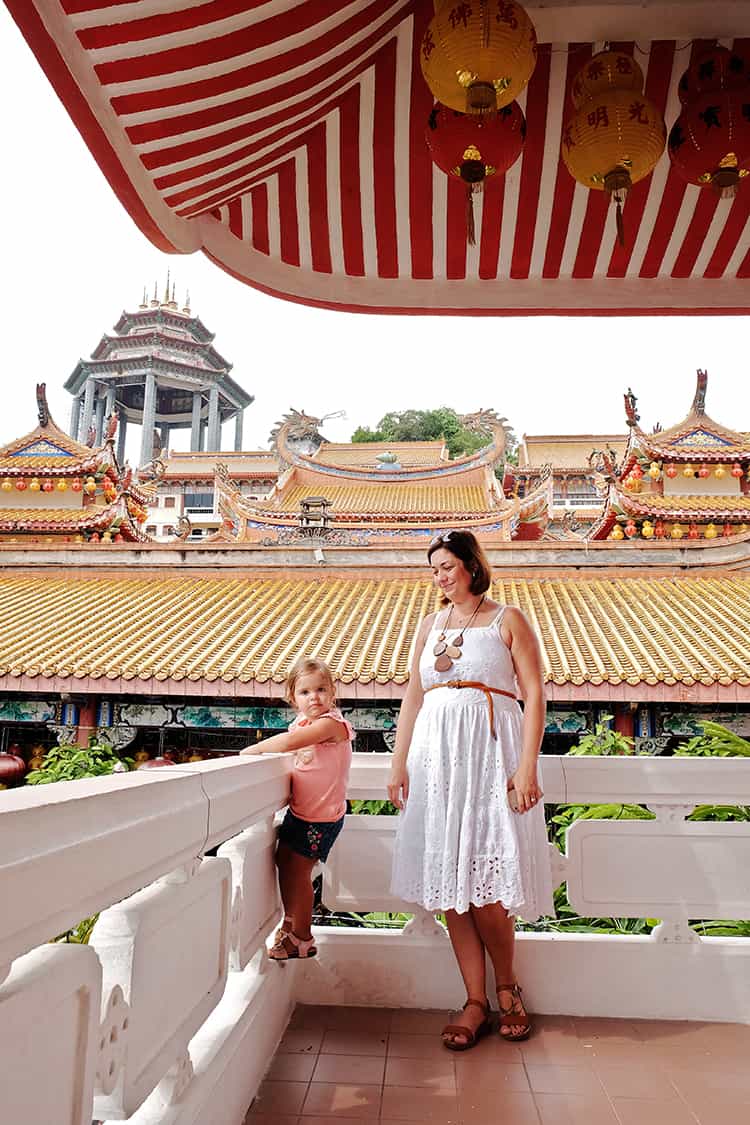 You can pick up your tour ticket for Penang Hill and Kek Lok Temple here.
Day 3 – Langkawi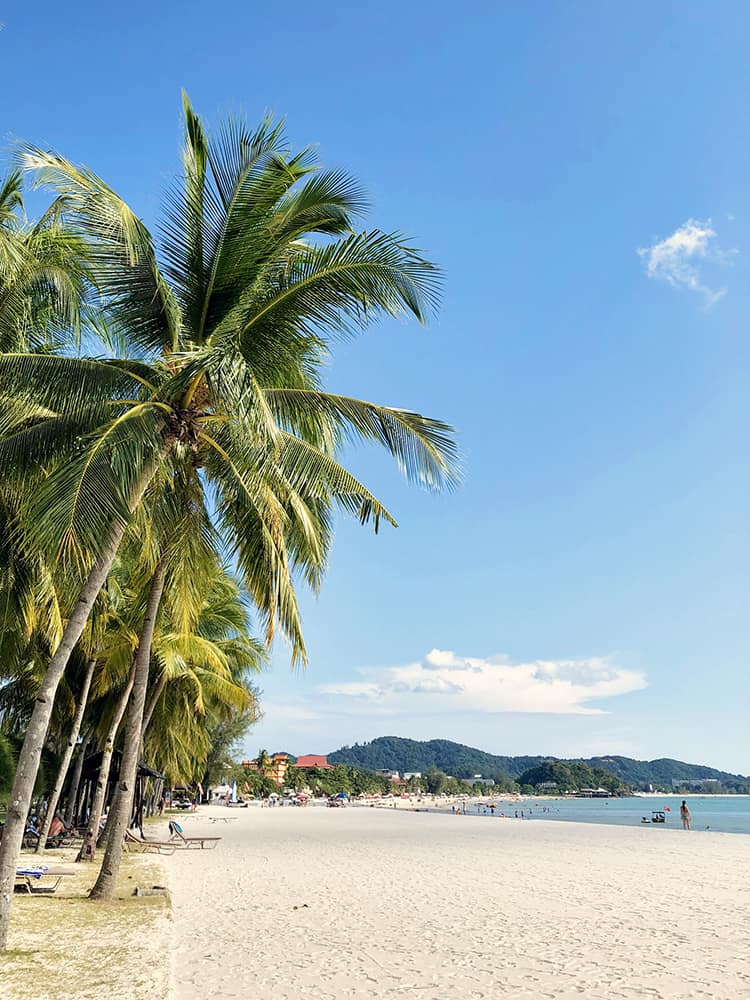 We suggest going for a day trip to Langkawi on your last day of the tour.
Once you reach Langkawi, we recommend taking the Cable Car and heading on towards the Langkawi Sky Bridge.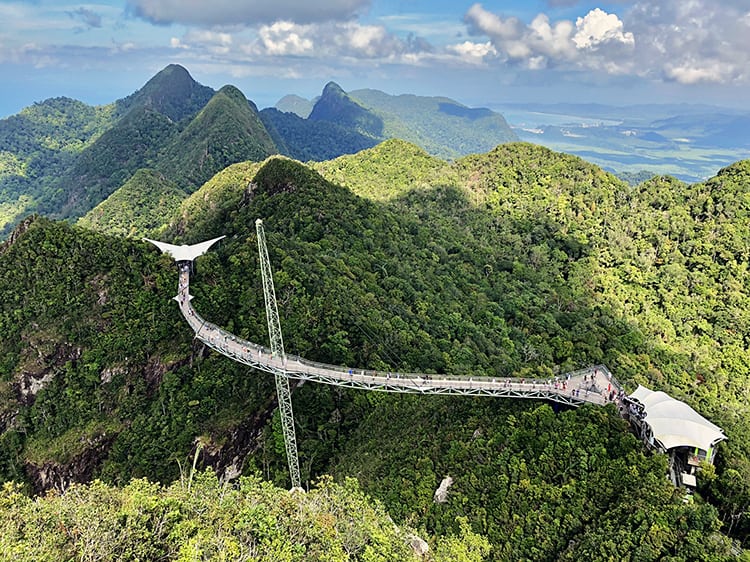 The Sky Bridge is an engineering marvel that is designed to allow tourists to walk across the high mountains surrounding the island. As you can probably imagine, there are some incredible views on offer!
Once you're done soaking up the beauty of Langkawi's lush green mountains, head on over to Tanjung Rhu – one of the most beautiful beaches in Langkawi!
You can spend the rest of the day relaxing on the white-sand beach or indulge in one of the numerous varieties of water sports available nearby.
You can pick up your tour ticket for Langkawi Sky Trail and cable car here.
Tip: Check out our experiences of Langkawi on our what to do in Langkawi post here.
Malaysia is an enchanting country, and exploring the whole of it requires much more than a short trip.
However, if a short trip is the best you can do, these two itineraries will allow you to get a very balanced experience of the country!
Do you have any other ideas of a short trip? Please share them in the comments below.