There are so many reasons why Hobart, Australia's second oldest city, should be on your itinerary whilst exploring Tasmania. A city filled with so much history, culture and one incredible local vibe!  If nothing else, it is essential to visit this city for its array of delicious food choices; together with the all-famous Saturday Salamanca Markets.  Of course the perfect place to 'park' yourself and book your Hobart accommodation would allow you to be situated in the midst of all of these hot spots!  The Salamanca Wharf Hotel does just that!
Click here to see the latest prices to stay at the Salamanca Wharf Hotel, Hobart
Top Choice among the Hobart Tasmania Hotels: Salamanca Wharf Hotel!
–
A review of the ultra comfortable Salamanca Wharf Hotel, Hobart! 
–
Where is Salamanca Wharf Hotel?
Salamanca Wharf Hotel is ideally located within Tasmania's premier entertainment precinct.   Within a brief easy stroll you will find yourself at the popular Salamanca Place, an area that is renown for its famous Saturday Markets, and one that is beaming to the brim with food cuisine choices to keep you eating for days!  The hotel is also right across from Hobart's waterfront, providing you with picture-perfect surroundings on that early morning walk.  We loved the location so much that we truly did not venture very far away from 'home'.  We had all we needed right at our doorstop and barely used our rental car at all!
More about the hotel:
Salamanca Hotel – One of the more modern of the Hobart Hotels
–
This unique contemporary self-contained boutique apartment hotel in Hobart is situated next to two original John Lee Archer designed sandstone warehouse buildings.   Even though this hotel is found within the cultural and historic heart of Hobart, the hotel takes pride in creating a modern and comfortable environment for all its guests.  Attention to detail will stand out in the room designs and the touches of luxuries found around the apartments.     You may choose to stay in a Studio Room, Premium Apartment or Loft Penthouse.
On the ground floor of the hotel, you will find the cozy, popular Salamanca Wharf Cafe.  This little restaurant is open for breakfast, lunch and afternoon snacking 7 days a week!  Look further down in the post to see our delicious and totally scrumptious breakfast we had at this adorable Cafe.
The room we stayed in | The Premium Apartment:
For our stay at the Salamanca Wharf Hotel in Hobart we had the pleasure of staying in one of their Premium Apartments.  The apartment has a separate bedroom with a super comfy and cozy Queen size bed.  We had such an incredible deep and refreshing sleep in this luscious bed.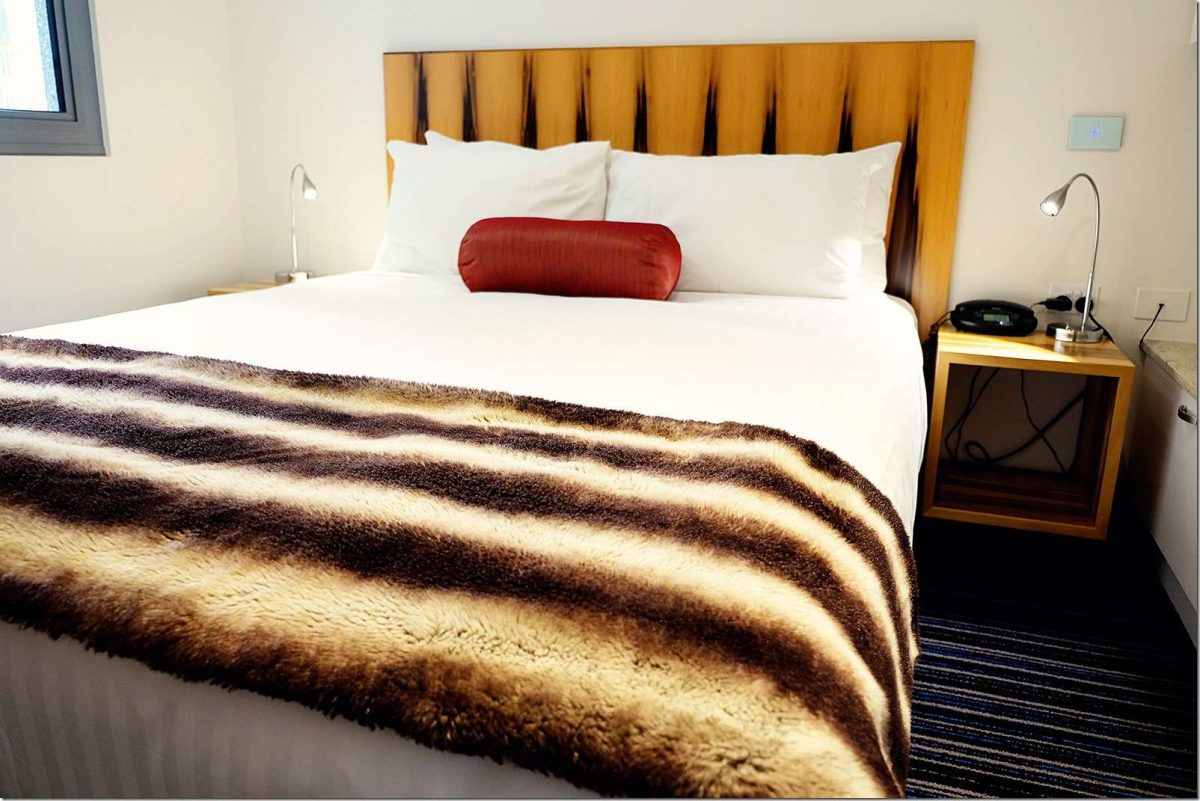 One of the best hotels in Hobart Tasmania
–
The uber modern lounge and kitchen is set in a separate area in the apartment.    The totally relaxing leather couch is a perfect place to 'park' yourself after a busy day of exploring the streets of Hobart.   The glow from the wooden floors with the gorgeous natural light streaming in from the floor to ceiling windows will awaken your senses and allow you to feel at total peace.  You can also slide open these windows to allow in a rush of fresh air.
Click here to see the latest prices to stay at the Salamanca Hotel Hobart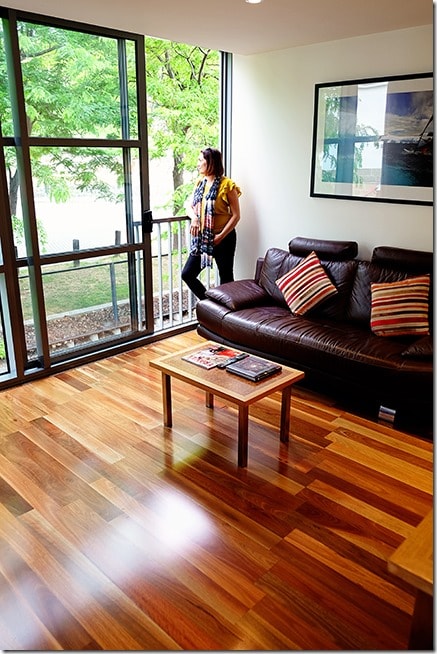 The apartment has been designed as a self-contained space, therefore you will find a beautiful stocked kitchen with all the appliances necessary for you to cook your own meal; if you feel that way inclined. (We just enjoyed eating up a storm and tasting all the local specialities on offer in Salamanca).  All throughout this apartment you will find luxurious touches to ensure your stay is super comfortable and relaxing.
Breakfast at the Salamanca Wharf Cafe:
We can highly recommend a delicious breakfast at Salamanca Wharf Cafe, located on the bottom floor of the hotel.  This breakfast actually happened to be my birthday breakfast so we went all out and splurged.  I had a plate of scrumptious waffles together with a healthier Muesli, yogurt and poached pear bowl.  Hubby, went all out with a poached egg, bacon and sourdought bread!  It was a PERFECT breakfast for a birthday …. or for any other morning for that matter!  It is evident in the gorgeous bright colours of their produce that they take pride in fresh local ingredients!  Make sure to order a breakfast or two here on your stay!
Suggested activities of what to do in Hobart:
Salamanca Market is only around 150m away from the hotel.  Make sure to book your stay for a Saturday to attend one of Australia's best known outdoor markets.  This market is brilliantly set in a historic neighbourhood and is home to over 300 stalls selling fresh produce, a variety of arts & crafts, some fashion and an array of tasty snacks.
MONA is Australia's largest private museum, and one that most locals will recommend you visit.  The museum is located on the Berriedale peninsula, a 30 minute ferry ride from Hobart.
Mt. Wellington is only a 25 min drive away from the city. If you're lucky enough to get a clear day, you will get some glorious panoramic views of Hobart.  We planned on heading up around dusk to see the sunset, but the weather did not cooperate well with us!
For more suggestions of what to do in Hobart, visit the Salamanca Wharf Hotel suggestion list here.
Stay at Salamanca Wharf Hotel if:
You wish to find hotels near Salamanca.
You are after a luxurious, comfortable stay whilst in Hobart.
You are after one of the best hotels in Hobart Australia
You love a mix of attention to detail with a splash of modern touches.
You are after incredibly friendly customer services.
You love breakfasts that will knock your tastebuds' socks off!!
Booking information:
Find more information on the Salamanca Wharf Hotel.
Follow them here: Facebook
Costs of Self-Contained Apartment start from AUD $245 p/n
Where: Salamanca Wharf Hotel is located on Castray Esplanade, Hobart – Tasmania, Australia.
Category: Couples Accommodation Hobart
Wanderlust Storytellers recently stayed in Hobart as guests of Salamanca Wharf Hotel. As always, the content & opinions expressed of this hotels Hobart post are entirely our own.