There is a fascinating story that lies behind the massive, majestic coloured sand hills that makes the Rainbow beach so unique, the legend and myth is Aboriginal in nature and goes like this…

Way back in Dream-Time, there was a beautiful black maiden named Murrawar who fell in love with the Rainbow who visited her every day. Burwilla, a bad man from a distant tribe, stole Murrawar for his slave wife. He had a boomerang, larger than a tree that was filled with evil spirit. 

One day Murrawar ran away along the beach and Burwilla followed her with his terrible killing boomerang. She called for help and her faithful Rainbow raced across the sea to her. The evil boomerang attacked the brave Rainbow and they met with a roar like thunder. The boomerang was killed instantly while the Rainbow was shattered into tiny pieces and lay broken on the beach to die. Here the rainbow lies waiting in the dunes on the beach, her colours forever seeped into the hills found here.  

Aboriginal women of many tribes made long treks to obtain a little bottle of these sands, to place in their hair in the belief that the brave Rainbow is their protector or good luck charm always.
With a location so rich in Aboriginal legends and myths, it is understandable why these beautiful colours of Rainbow Beach are now seen and admired by people from right across the world.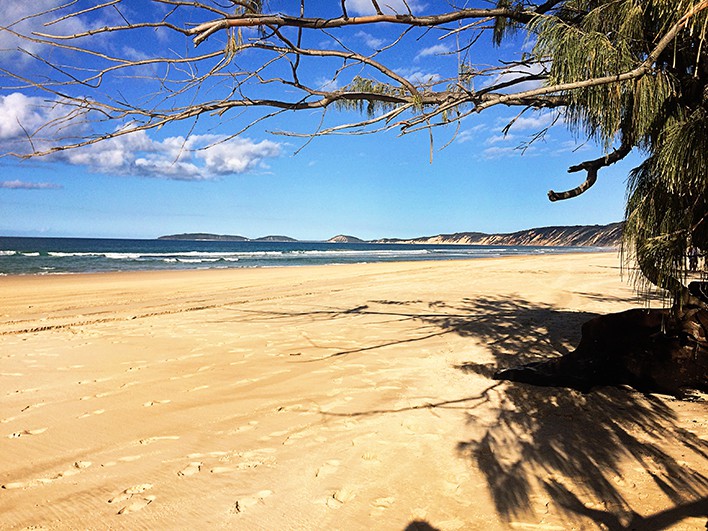 Dubbed as the "gateway to Fraser Island", Rainbow Beach, a tiny town at the base of the Inskip Peninsula,  is situated on the Queensland south east coast, north of Noosa and is the gateway to adventurous, picturesque Fraser Island. Just a 3 hour drive  from Brisbane, (see below for transport options) this one is a destination not-too-be-missed.
On our very recent visit to this gorgeous stretch of dune-filled coastline, we had tonnes of fun exploring all the hot-spots of things you simply HAVE to see whilst in this town, and it was the beach area that drew us in the most. 
There are a few different ways to make the most out of visiting these unique coloured sand dunes.
A Family Day out to visit Carlo Sandblow & see the Rainbow Beach Coloured Sands
–
1.  Carlo Sandblow
Spectacular birdseye view over the magnificant coastline and coloured dunes.
I'm not sure how to describe this natural wonder in order to do it full justice.  Sometimes even a thousand words cannot fully describe or explain a location so surreal.
The Carlo Sandblow is roughly 1.5 km from the township of Rainbow Beach, located at the top of Cooloola Drive.  A short 600m walk through the eucalyptus trees will bring you to an incredibly unique sight. 
Upon arriving at the platform in front of Carlo Sand blow, you will find a 'desert' of sea sand stretching out wide in front of you.  In fact, there is THAT much sand, that it is coined as one of the largest accumulations of wind-blown sand found along the entire Queensland coast. 
As soon as we arrived, our kids dived from the platform into the sand as if it was the big wide ocean!  They had never seen anything like this before, and we could see the amazement, wonder and excitement radiating out of their excited bodies!!  It would be no surprise that within no time at all, our two kids had scattered to different ends of this massive sand dune, ready to explore.
Can you spot us three girls??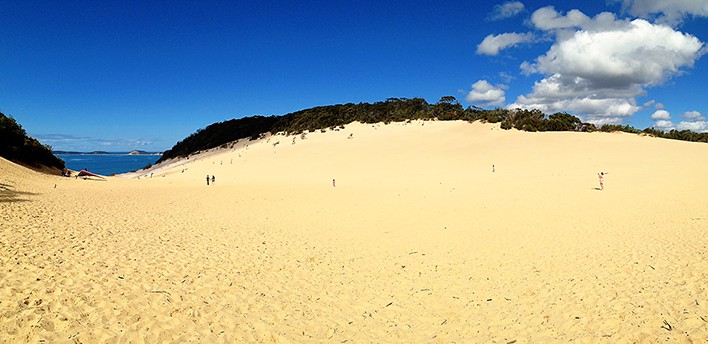 This spot is a popular little spot for hang gliders as well as for those adventurous in spirit to try out the sand tobogganing down the dunes.   But my absolute favourite thing to do here is to simply walk all the way to the edge of this sand blow, right to the point where the beach touches the sky. 
The glorious view from here, stretches across the whole coast line and gives you a superb view of the Coloured Sand Dunes that this town is so renown for.  The view here offers spectacular 360 degree views of the Rainbow Beach, the Coloured Sands, Double Island Point and Tin Can Bay.   If you squint you might even be able to spot the lighthouse right at the end.  We spent at least an hour here, just staring out at the beautiful view!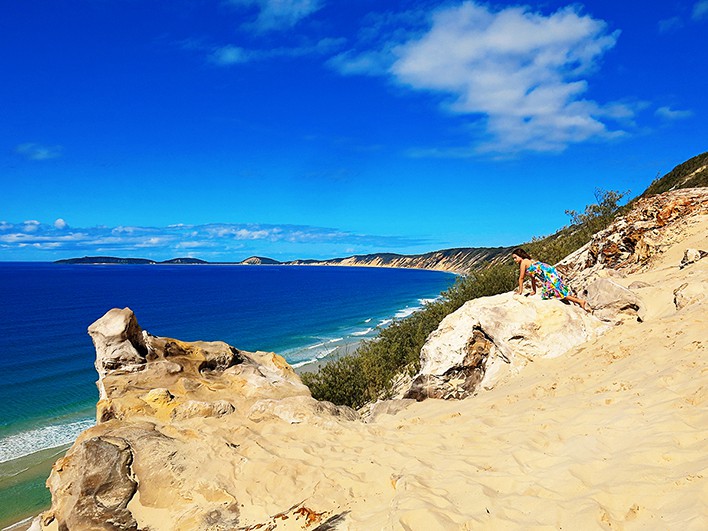 The ocean water displayed an incredibly range of dark blue, turquoise and teal colours.  The contrast of the pristine clear water against the glow of the yellow sand, simply set my senses alight.    We have also been told that you can often spot migrating whales here, so look out for them from around August to October.  We didn't spot any, but it is probably still early days for the migrating season.
The girls discovered that the rocks found here are made out of millions of sand grains and therefore easy to break apart, and they spent their time very busily making a cave in the wall of one of the larger rocks.  They had an incredible time, although you should have seen their sandy coloured faces at the end of this play!  
A word of warning, whilst it easy to walk down to the viewpoint, the walk back is uhmmm, *cough cough* challenging …. especially when you have two younger kids who feel the need to be carried or dragged when their little legs get tired!  Totally worth it though, when the reward is those incredible views!!
Tips:
We highly recommend visiting the Rainbow Beach Sand Blow either in the early morning or late afternoon to avoid the direct sun. Even on a warm winter's day we managed to work up a small sweat walking back to the pathway.
Bring lots of water, a hat and slap on the sunscreen.
Bring a boogie board to go sand tobogganing or get a unique viewpoint from a paragliding tour. (definitely something I want to do next time around!!)
Avoid the edges of the dunes as they can be unstable, so keep an eye on your kids when exploring there.  Don't try to access the beach from here.
Expect to spend around 1 hour here if wanting to explore the whole dune area.
For those not keen to hit the sand, the viewing platform at the end of the walk gives you a lovely view over the sandy landscape, together with a sneak peak view over the coastline in the distance!
2.  The Rainbow Beach Coloured Sands
Dodging the cars on the beach highway to explore the Coloured Sand Dunes from down below.
The next best way to see what Rainbow Beach has to offer is to go for a short stroll on the beach.  Back at the little coastal town, make your way to the Surf Club located on the edge of the beach.  From here walk around 2km to the South for see the spectacular Rainbow Beach coloured sands up close!  
Your walk will involve sharing the beach with what occasionally feels like a 4WD sandy highway, so whilst enjoying the unique experience of sharing the beach with the cars, try to stay to one side, whether at the dune edge or close to the waters.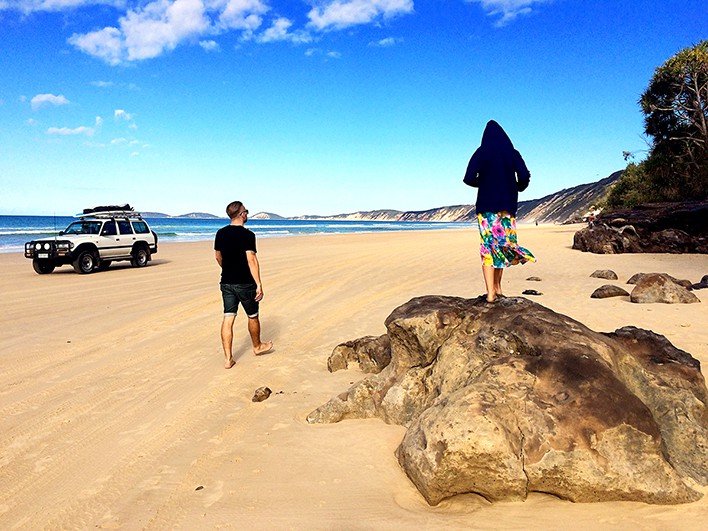 It is said that the Rainbow Beach Coloured Sand dunes can display as many as 72 different colours.  They are best seen at low tide and after some rainy or windy days … when the top layer of sand has been eroded away.  On our day of exploring we saw touches of black and red peeking out, but most of the exposed dunes showcased incredible layers of orange tones, bright yellow, light yellow and white range of sands.  Incredibly unique and surprising to see!
Our recommended Rainbow Beach Restaurant:
Arcobaleno Rainbow Beach
After a pretty full day of exploring and some grumbling in our bellies, we were pretty pleased to run into some locals who recommended some yummy lunch suggestions for us.  Our pick out of their recommendations was Arcobaleno Rainbow Beach, a quietly tucked away, beautifully decorated Italian restaurant.  Hidden away from the bustle, down a little alley close to the post office, you will find this Rainbow Beach restaurant that does incredibly sensational woodfired pizzas!!  Whilst their pizzas are a bit more pricey than the quick takeaways, the quality of toppings make them so worth while!  Their friendly service also made us feel right at home and they even had some toys for the kids to keep them busy!  And no, we were not sponsored by this restaurant.  We were simply incredibly happy customers!
Arcobaleno on the Beach – Woordfired Pizza & Pasta
''Next to the Post Office''
Open 7 days from 9am till late.
Dine in, Take Away or Delivery options.
(07) 5486 8000
Getting to and around Rainbow Beach
Whilst we recommend hiring a car in order to explore this area at your own pace, other options are available.  Greyhound has several daily services from Brisbane (around $49 pp), Noosa (around $32 pp) and Hervey Bay (around $26 pp).  
–
Other things to do at and around Rainbow Beach:
There are lots of walking tracks in the Cooloola Section of the Great Sandy National Park and you should be able to pick up a leaflet showing these walks from one of the visitors centres around town. Rainbow Beach Info says, "Areas of interest include Seary's Creek, Bymien picnic grounds, Lake Poona, Cooloola Great Walk and the Cooloola Wilderness Trail."
There are Surf and Sand Safaris which are half day 4WD tours driving south along the beach past the Rainbow Beach Coloured Sands to the Double Island Point lighthouse. Adults costs are $75 pp and kids under 12 are $45.  You can book these by phone on (07) 5486 3131 or via their website here.
If you are interested in driving on the beach yourself, 4WD-hire companies makes life easy with different package options.  Try

 

Rainbow Beach Adventure Centre

.

Rainbow Beach is one of the two places that have barge access to Fraser Island. You can organise 1, 2 and 3 day tours from there through your accommodation or the visitors centres.
Or if you simply want to take it easy and enjoy the atmosphere, why not go for a delightful horse riding tour on the beach sand! Rainbow Beach Horse Rides – Cost is $120 pp for a 1.5 hour beach ride.
Fraser Island from Rainbow Beach:
To read about what to do on Fraser Island, along the 75 Mile Beach, click here.
For information on some incredible inland destinations to check out on Fraser Island, click here.
With a destination that has so much to offer, from National Parks, freshwater lakes, natural wonders such as the Carlo Sandblow, Coloured Sand dunes, 4-wheel driving on the beach, dolphin tours, horseriding, all I can say is …. what the heck are you waiting for???