If you're looking for somewhere a little less traveled than Naples, Procida is the perfect spot. This charming Italian town is colorful and full of culture, with scenic views over the sea that will take your breath away.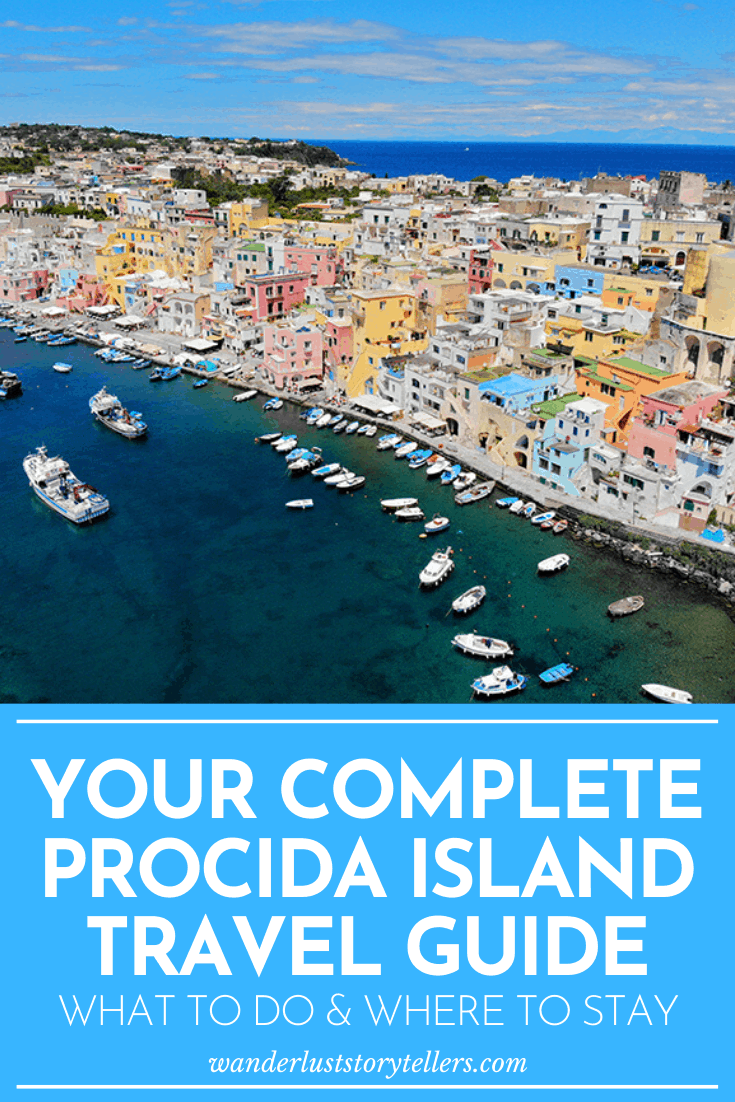 We loved Procida so much that we put together a comprehensive guide so that you know just how to explore the island too! Including how to get there, things to do, and the best accommodation options, this guide has everything you need. All you have to do now is pack your travel gear and go!
How to Get From Naples to Procida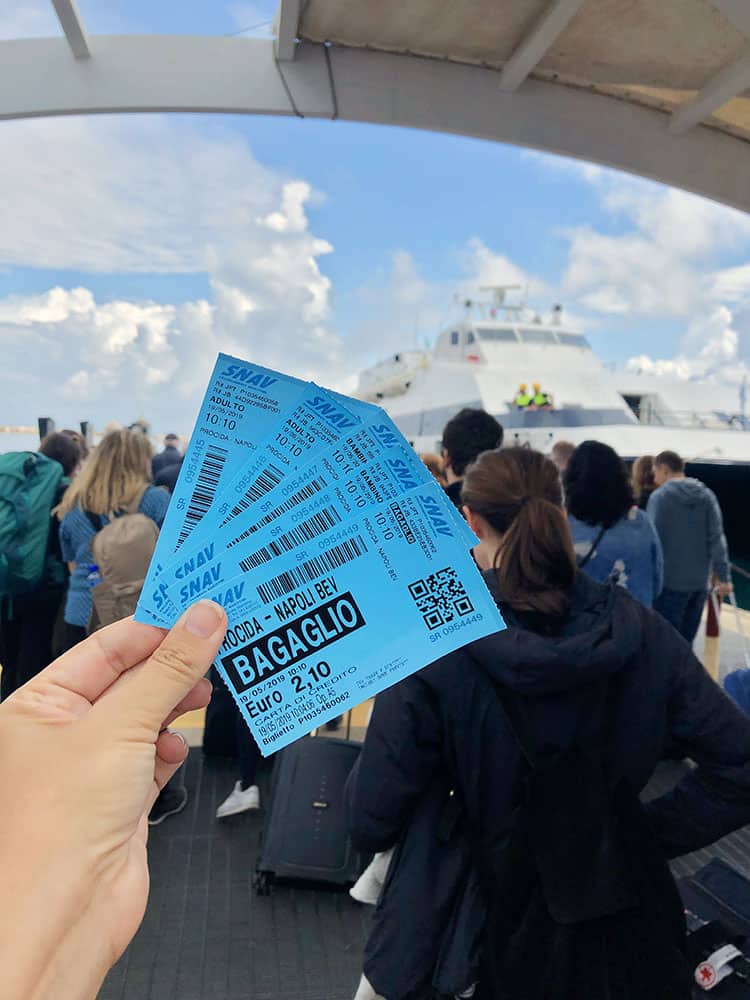 Italy is one of the best places to travel with kids, and Procida is no exception! Getting there is easy, it's only 40 minutes from the Bay of Naples by ferry. The ferry runs almost thirty times a day, so it shouldn't be difficult to catch one at your intended time.
You can book your ferry when you get to the bay, or book your seats online – certainly the better choice in peak season. Choose between a single-trip ticket and a round trip.
9 Best Things to do in Procida, Italy
Procida is so special, that we included it on our list of the best places to see in Southern Italy. Despite its size, there are many things to do in Procida! Including day trips and exploring, these are the best things to do in the coastal town.
1. Visit the Marina Corricella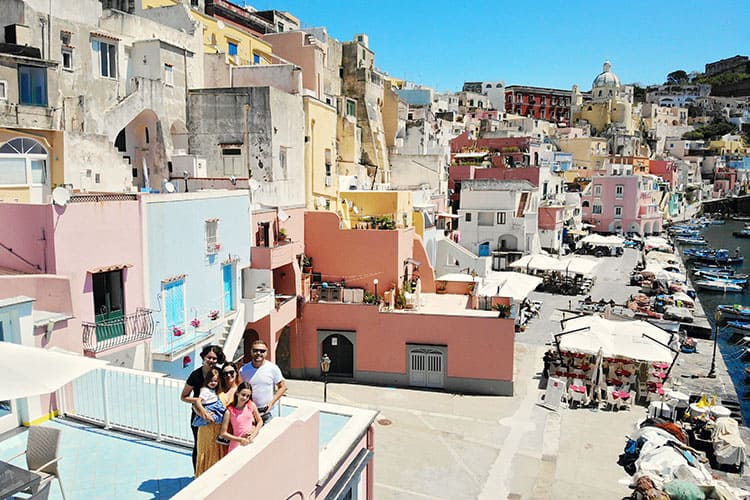 The best thing to do in Procida is certainly to visit its charming and colorful marina! The pastel-colored houses rise just above the Mediterranean ocean, and the fishing boats coming in and out of the bay just complete the scene.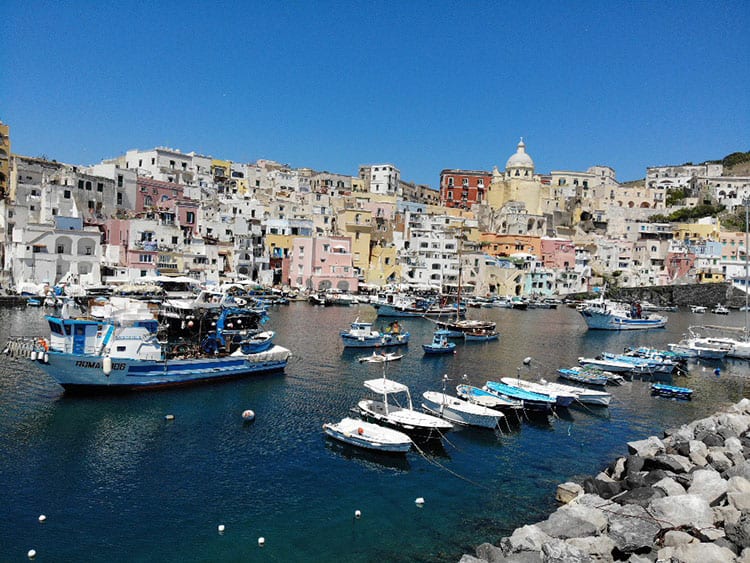 This is a perfect place to get gelato and stroll around, taking in the sights and sounds of the bustling marina.
_________________________
2. See Santa Maria Delle Grazie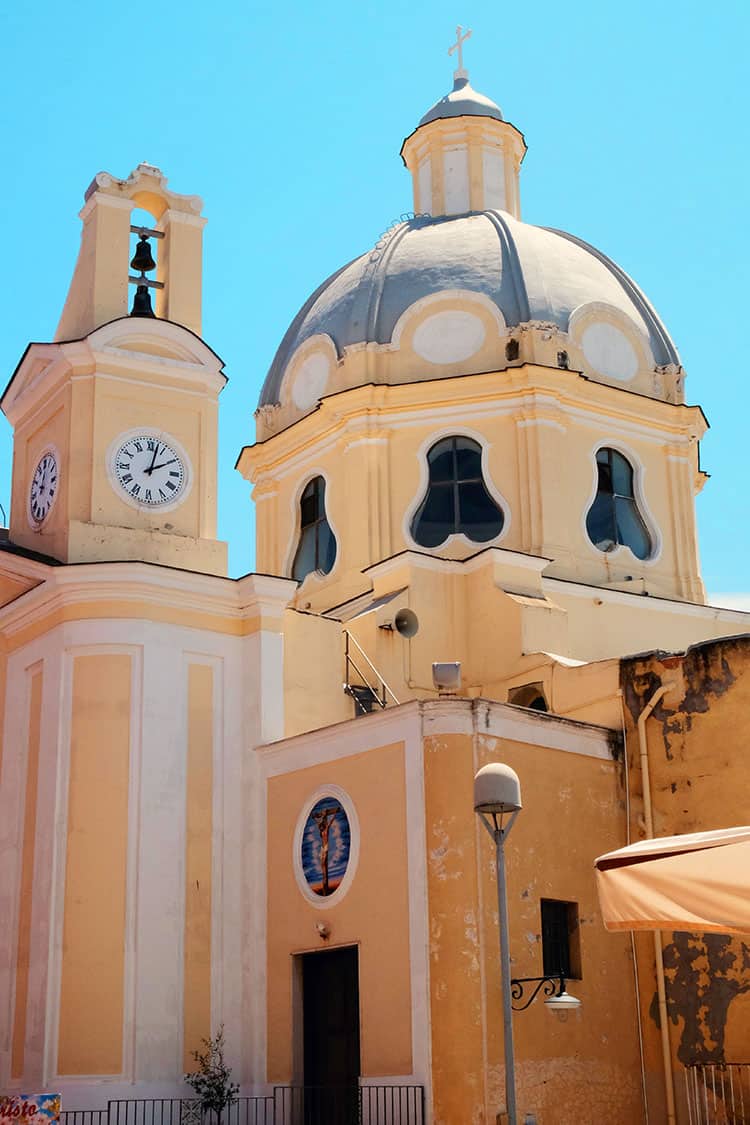 Overlooking the fishermen's' marina is the lovely Catholic church of Santa Maria delle Grazie. The architecture is wonderful and uniquely Italian, and its yellow coat of paint lends it a cheery feeling!
_________________________
3. Check out Casale Vascello
The heart and historic center of Procida island is Terra Murata. At the base of this ancient settlement, you'll find one of our favorite places in Procida – Casale Vascello! This is a large courtyard surrounded by terraced houses.
It's an amazing example of residential architecture combined with fortification, and it's really beautiful! The tall houses are brightly colored and make for the perfect place for a group photo.
_________________________
4. Walk up to the Palazzo D/Avalos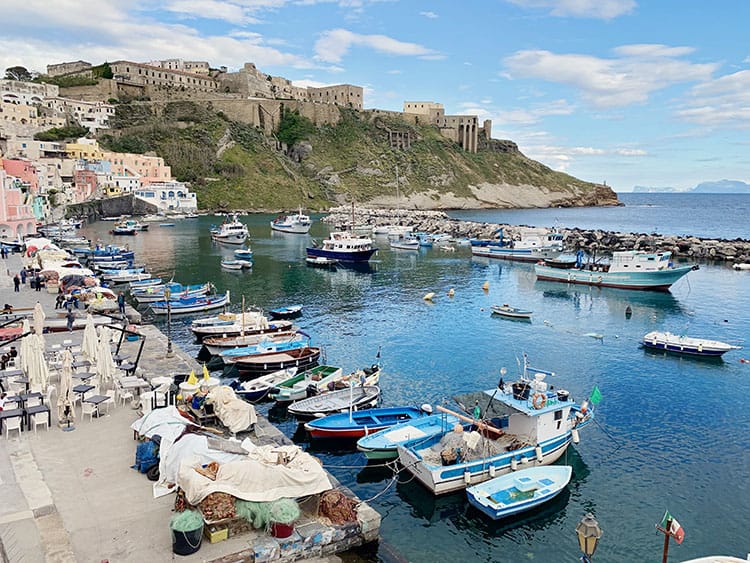 One of Procida's cultural gems, Palazzo D/Avalos is a must-see. The historic building has an archaeological museum, an art gallery, and a beautiful Mediterranean garden all on-site.
The views over the marina Corricella and the distant bay of Naples, Italy, are also incredible from up here.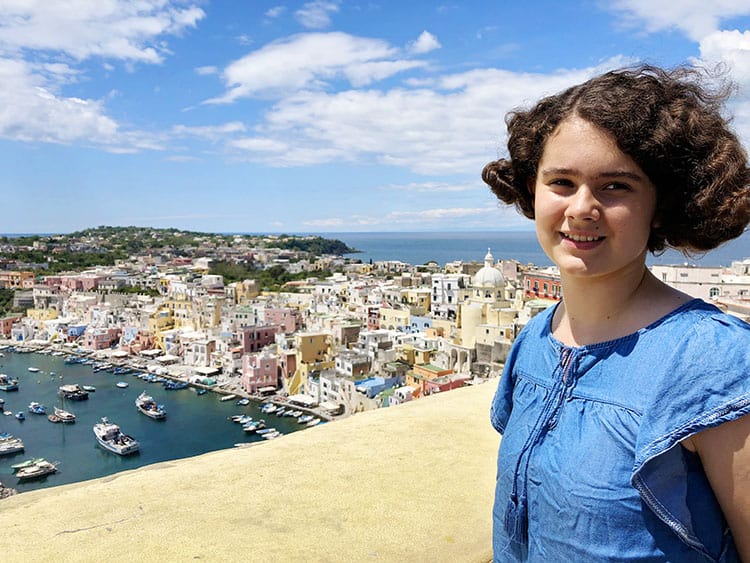 It's a short uphill walk from the center of town, but we certainly recommend making the trek!
_________________________
5. Head to Santa Margherita Nuova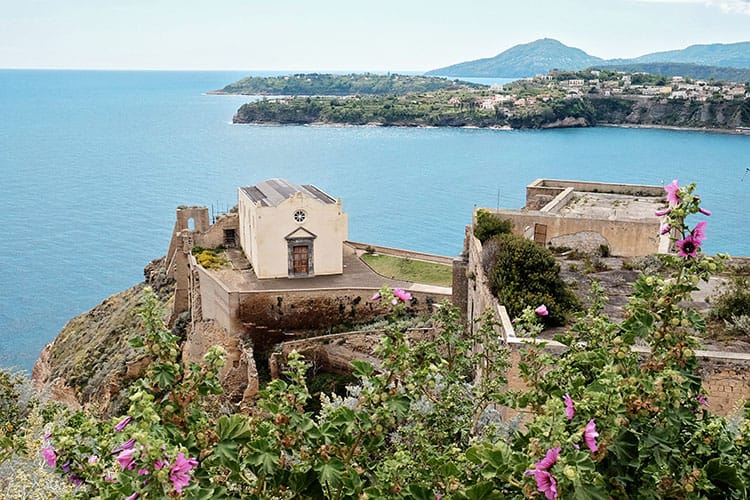 Sitting on a promontory over Procida, this historic monastery enjoys panoramic views across the sea. The walk there is lovely, and doable for all ages and levels of fitness.
The monastery dates back to the 1600s. Unfortunately, the original building suffered damage and was rebuilt in the 1990s. Still, it's well worth the walk for its fantastic location and perfect views.
_________________________
6. Marvel at Abbazia di San Michele Arcangelo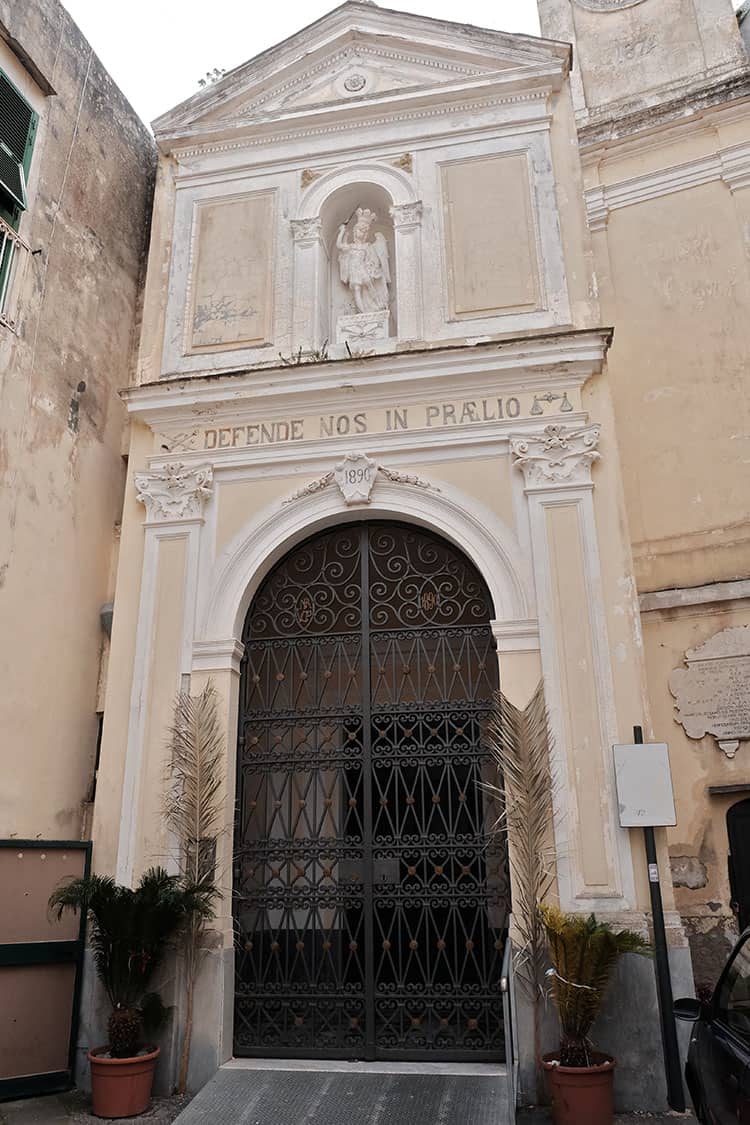 This gorgeous Italian church is one of the best things to see in Procida! The interior decoration is decadent, and the structure impressive. It is not as large as many Italian churches, but for such a small island town, it doesn't need to be!
_________________________
7. View Conservatorio Delle Orfane
This severe-looking structure is an interesting place to explore. With a rich and difficult history, it is worthwhile to tour the inside and learn about its past!
_________________________
8. Hop Over to Ischia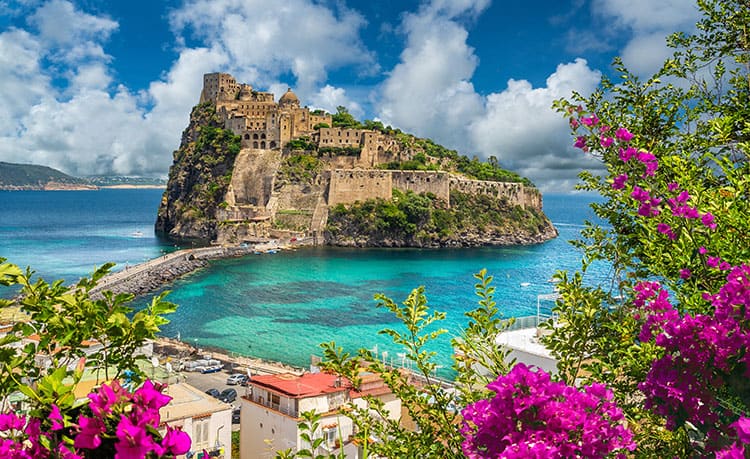 Rent a little boat and visit the island of Ischia! A volcanic island in the Gulf of Naples, Ischia is incredibly charming and beautiful. A half or full-day trip here is a great way to explore beyond Procida. You can visit the castle and the exotic gardens.
You can also visit the hot springs that bubble up on the island's Maronti beach! The waters are mineral-rich and azure blue. Find some gelato, and enjoy a perfect day out. There's plenty of things to do in Ischia.
_________________________
9. Go to Isolotto di Vivara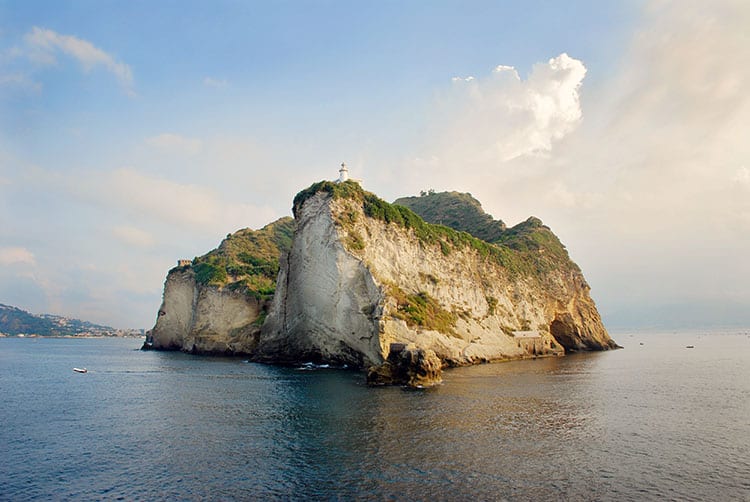 Another tiny island of Italy worth visiting is Vivara! The whole island is a nature reserve, making it a fantastic place to enjoy a hike and appreciate untouched beauty. The trip there is also beautiful.
_________________________
Where to Eat in Procida
Like most Italian towns, Procida has some mouthwatering foods. Enjoy pizza and local delicacies, and of course, gelato!
Pasticceria Bar Roma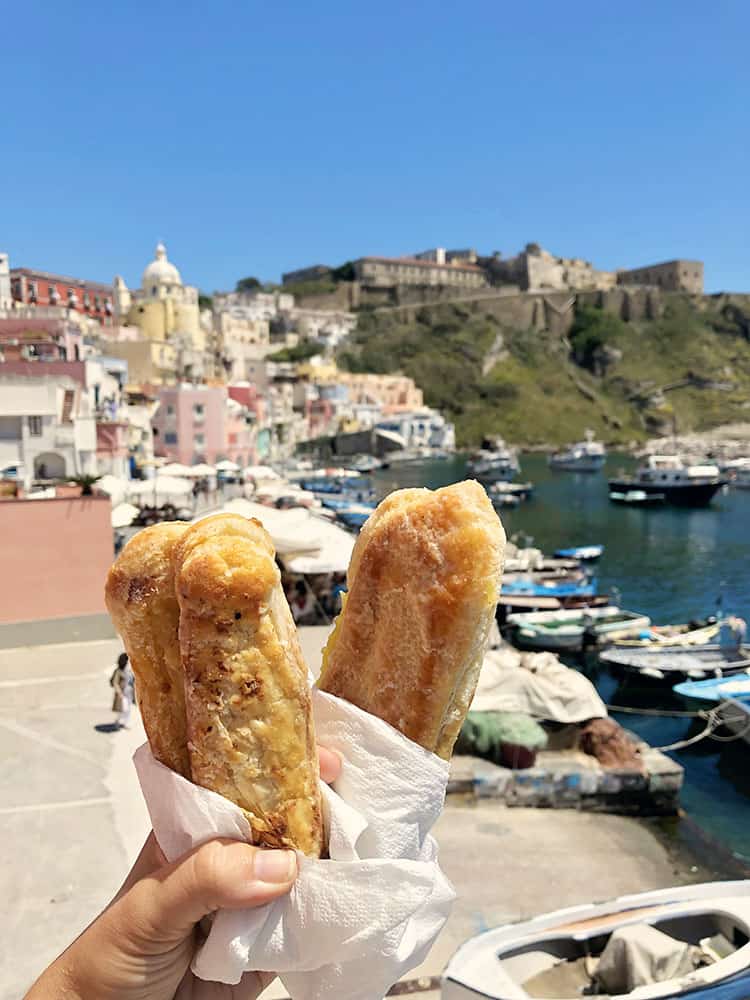 This lovely little café and cake shop is the perfect place to go for coffee and delicious pastries! There are many great options, but our favorite was the local specialty, Lingua – a scrumptious pastry you won't find anywhere else.
_________________________
Fuego Ristorante Pizzeria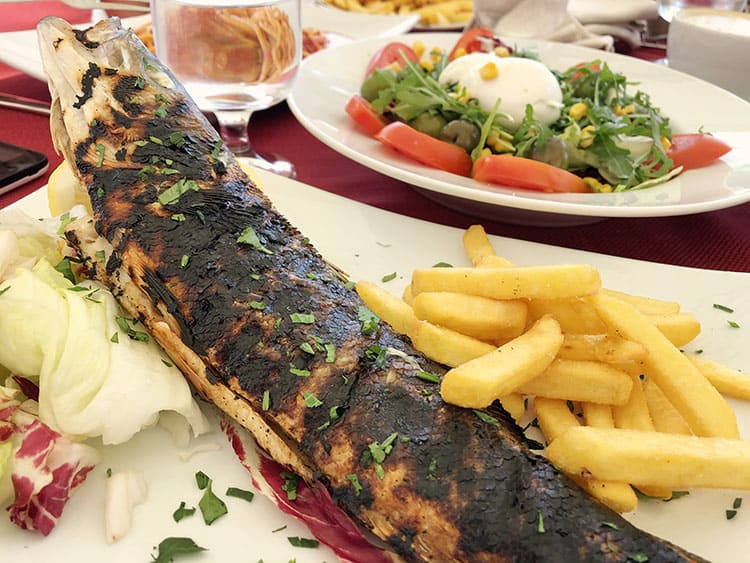 The perfect Italian lunch is always pizza! Fuego Ristorante is the best pizzeria in Procida, with some amazing pizza options and a great vibe. The children will love it, and so will you.
For those of you who might be pizza-ed out, you will be glad to know that they have some other great dishes as well. Whilst our kids enjoyed pizza or pasta, we really enjoyed their grilled fish.
Don't forget to try the Lemon Salad whilst on Procida – it is a local speciality!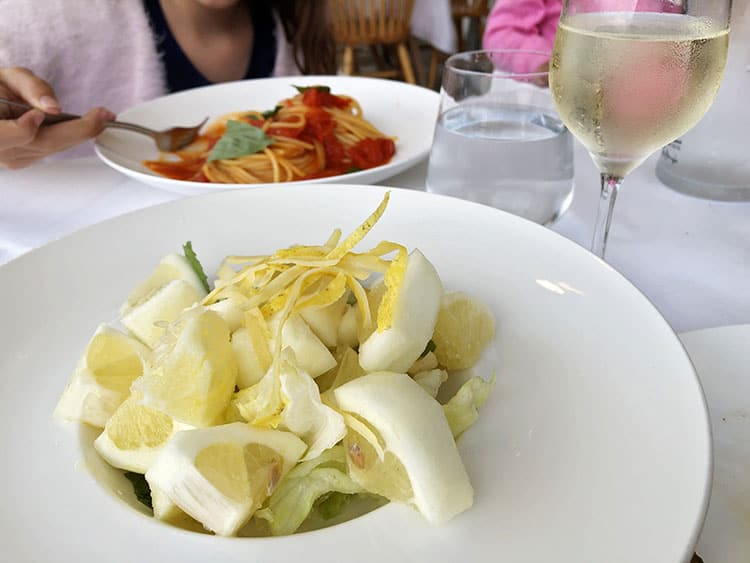 They are open at 12 – 3 pm, and open again for dinner, in typical laid-back Italian fashion.
_________________________
Chiaro di Luna Bar Gelateria Artigianale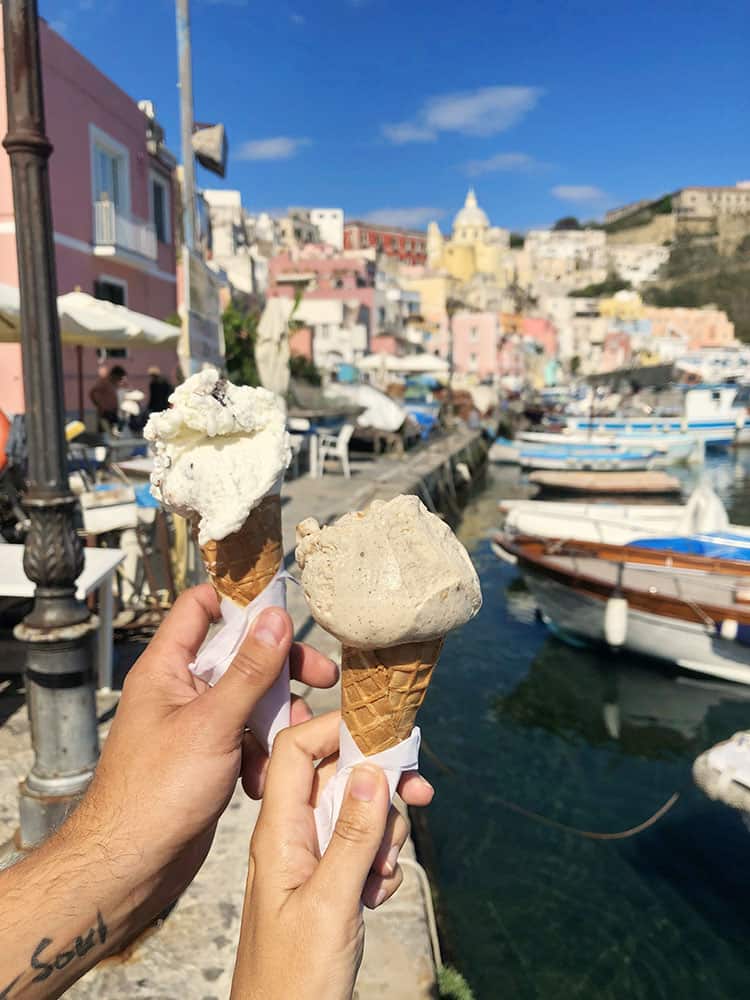 In Italy, it's important to eat gelato every day, in every town you visit. This charming gelateria is Procida's most popular ice cream shop, and for good reason. There are chairs and tables where you can relax, and the freshly made gelato is exquisite.
If you are spending a few days in Procida, you will definitely be coming back here for more! There are just so many exciting flavors to try.
Where to Stay in Procida, Italy
Hotels in Procida have gorgeous views over the bay and great service. These are our favorite hotels, and the fantastic apartment we stayed at.
1. Hotel La Casa Sul Mare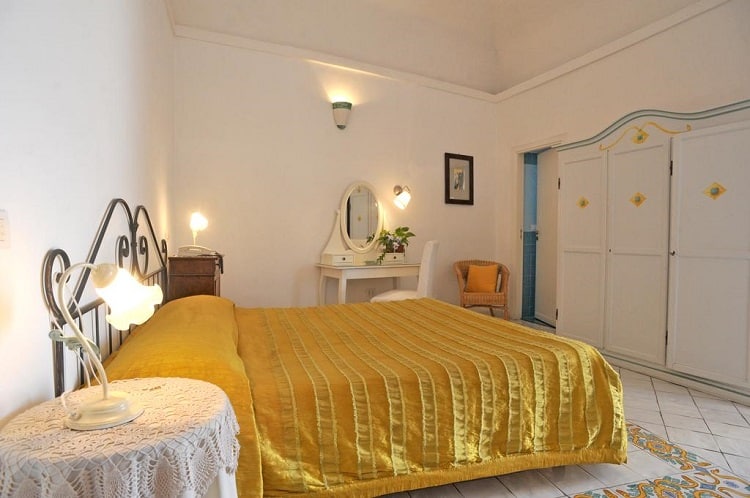 This 4-star hotel is an amazing place to relax and enjoy your picturesque Italian holiday. With ocean views, a central location, and a charming garden, it's a sure winner.
Why should you stay here?
Daily breakfast is provided
Rooms are large, clean and comfortable
Free Wifi and air conditioning
Amazing staff and service
Check out the current prices for the Hotel La Casa sul Mare here!
_________________________
2. Chora Kalè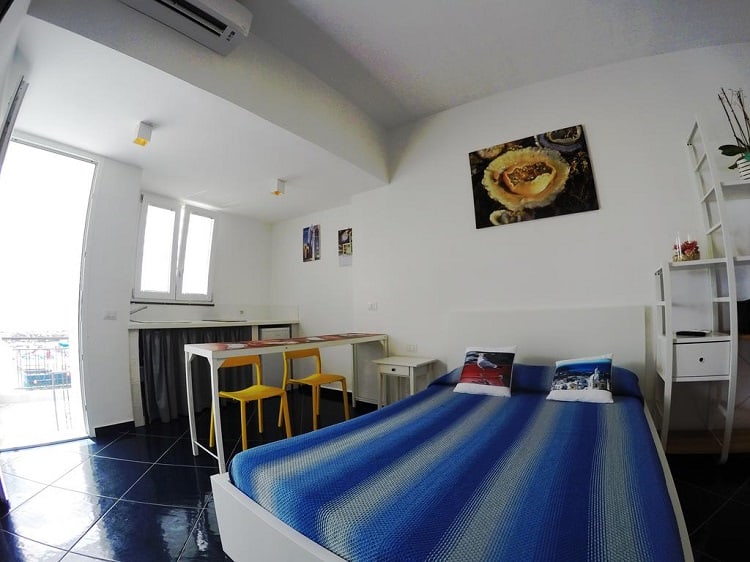 One of the best hotels in Procida, the 4-star Chora Kalé has everything. All units have their own bathroom, kitchen, and balcony. Ideal for couples and families, there is even an in-house restaurant and service.
Why should you stay here?
Great service
Central location with a wonderful view
Rooms are large and clean
Check out the current prices for the Chora Kalè here!
_________________________
3. Corricella Exclusive Loft – Gioia Apartments
We find that apartments are usually a better option for families! This one is phenomenal, with a balcony and views over the Bay of Naples from every large-windowed room. The decor is bright and airy.
We stayed here for a week and absolutely loved being in the centre of all the activity on the Marina. Check out our views from our rooftop patio!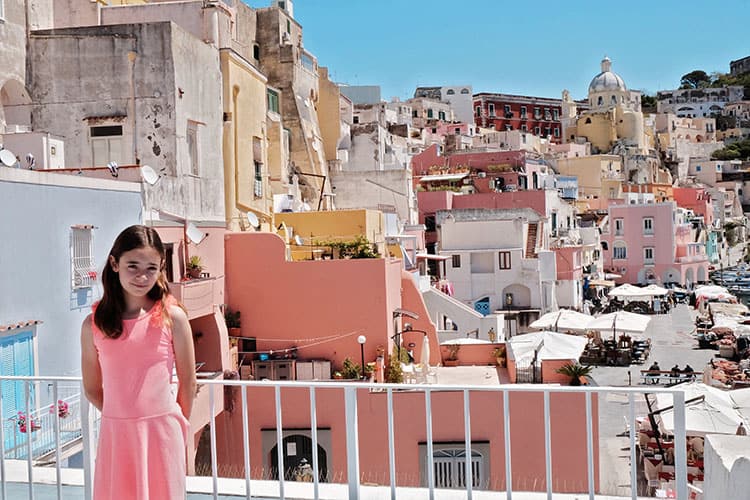 Why should you stay here?
It's comfortable and private
There's a kitchen, washing machine, and two bedrooms
Large balcony on the top level with incredible views over the colorful marina
Check out the current prices for the Corricella Exclusive Loft here!
_________________________
4. Hotel La Corricella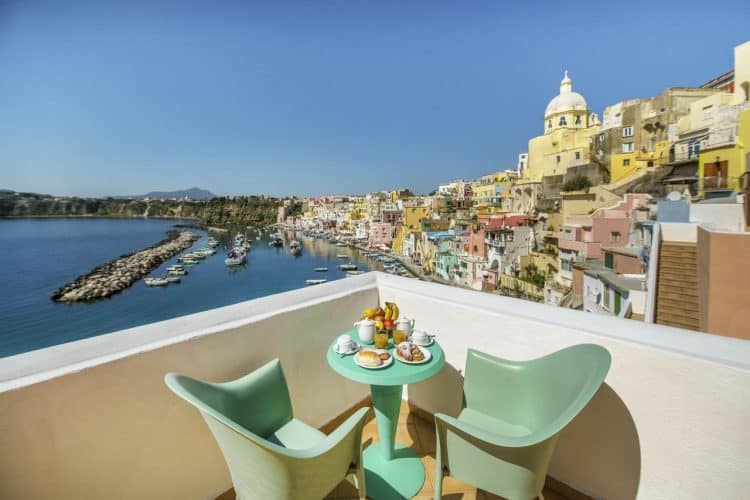 Charming and unique, this 3-star hotel offers an intimate atmosphere and amazing views. The rooms have all the amenities you could want. A daily Italian breakfast is served out on the terrace, where you can see the whole of Procida!
Why should you stay here?
Perfect for couples, with an intimate setting and perfect views
Central location
In-house restaurant and bar
Check out the current prices for the Hotel La Corricella here!
Our Favorite Island of the Bay of Naples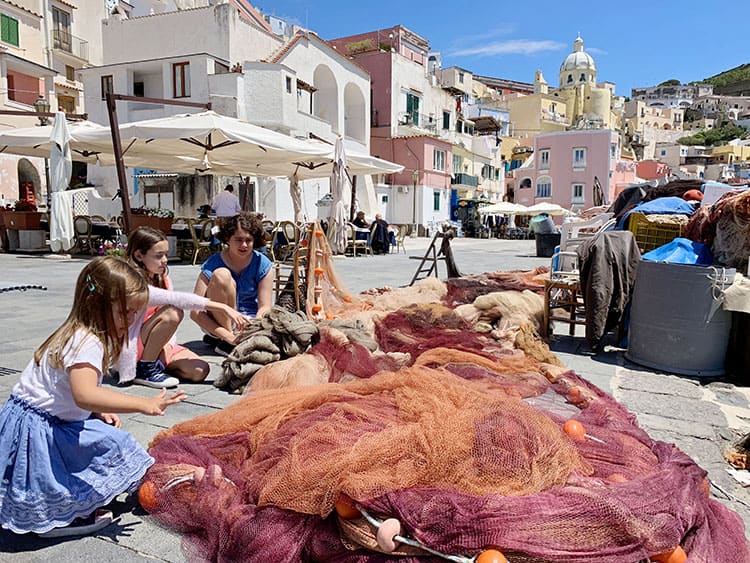 Procida Island, Italy, is so well worth exploring, whether you're traveling alone, in a couple, or with kids. It may not be the kind of place you would normally take your children. But with a little gelato, pizza, and adventure, there's more than enough for them to enjoy too.
If you don't have the time to spend a few days in Procida, don't worry! You can fit most of the activities into a day tour from Naples.