A holiday in beautiful Portugal is a fantastic choice whether you plan on traveling solo, with a group of friends, on a couple's retreat, or with kids!
There are plenty of things to do and sites to visit, either way, you just have to know where to look!
If children are included in your traveling party, some research beforehand might be essential, and we are here to help you with that!
5 Things To Do In Portugal With Kids
Here are a few great things to do and places to see while exploring Portugal with kids! This list of great places to explore are a few of our favorite things to do whilst traveling with children in Portugal.
1. Oceanario de Lisboa
Every kid loves marine life – the striking blue of the ocean, colorful fish, unusual plants, and fascinating facts about the bottom of the sea.
Here, in Oceanario de Lisboa, the children, along with the adults, will get to enjoy the marvelous aquariums and fish tanks, as well as impressive exhibits, and hear stories of everything aquatic.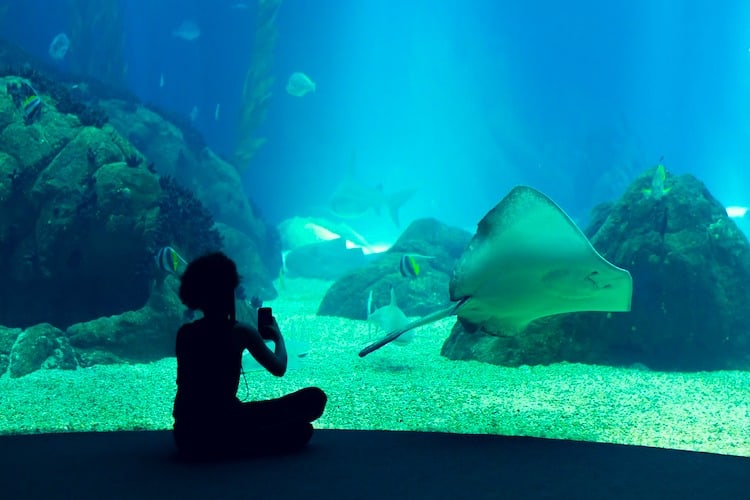 What parents also love for their kids is that a tour here is not only fun and exciting but educational too. Tourists are encouraged to learn more about ways to protect the natural heritage and change their daily habits accordingly.
With colorful imagery and engaging storytelling, families are more likely to learn about what we can do to protect these stunning creatures roaming the waters.
So, definitely purchase a ticket, and be ready to learn!
2. Ponto de Dom Luis I
Dom Luis Bridge, or Ponto de Dom Luis I, is a fascinating piece of architecture, spread from Porto to Vila Nova de Gaia city, and families love to take a stroll here.
The impressive bridge is double-decked and arches above the River Douro. It was also the longest bridge of this type once, at 172 meters! Everything about it is fascinating, for kids especially.
There is the fact that you cross a river and boom! Magically, you are in another city, with Ponto de Dom Luis I serving as a portal in between.
People are also captivated by its size and height.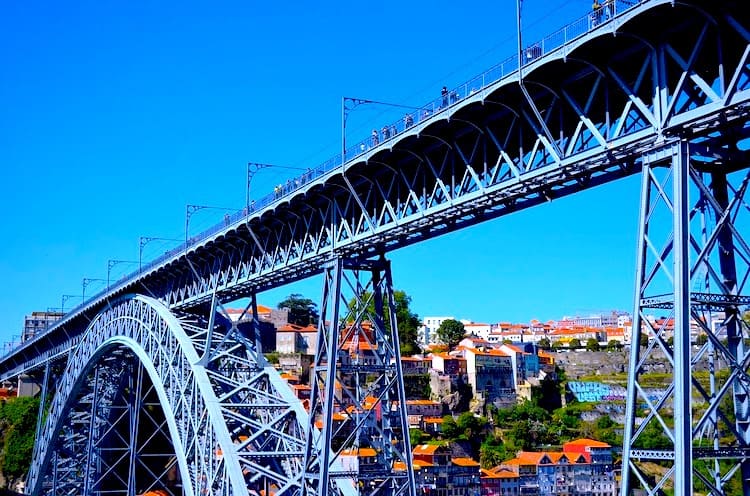 You should stop for a second when you get to the middle. The views are absolutely precious and breathtaking, with the panorama of Porto on one side and one of Gaia on another.
And if you peek forward, the river looks strikingly beautiful, perched between two buzzing sides, calm in its blue exterior and still waters.
If you wish to visit the Ponto de Dom Luis I, we recommend you stay close by. I'm sure that your kids would love a hotel in Porto with a pool.
3. Quinta da Regaleira
Visiting at least one magnificent castle must end up on your Portugal tours! The prominent monstrosity is located near the center of Sintra, Portuguese Riviere.
Considered to be one of the most important places to visit in the country, Quinta da Regaleira carries a great deal of history and magic to it.
Unsurprisingly, the castle was declared UNESCO World Heritage Site and given the name "Cultural Landscape of Sintra."
Apart from exciting tours inside and the time inspecting gorgeous grounds outside, children are also fascinated by the overall appearance of the fortress.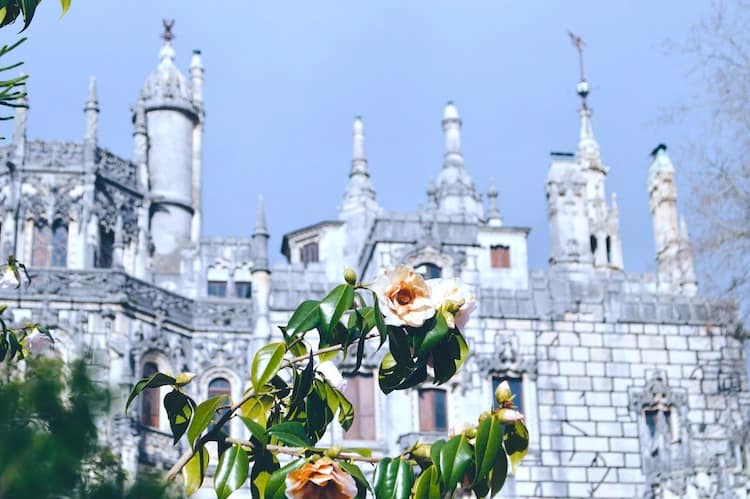 You guessed it! It reminds everyone very much of a fairytale castle. And whether or not your children are at the fairytale part in their lives, the architecture of Quinta da Regaleira is almost as alluring as the Disney castle!
The property consists of a Romantic palace and a chapel, a luxurious park nearby, and other impressive constructions. In addition, you will come across fountains, lakes, benches, and grottoes.
It is time to have a magical family adventure!
4. Lagoa do Fogo
Lagoa do Fogo, or the Fire Lake, is a crater lake within the Agua de Pau Massif stratovolcano, right in the middle of Sao Miguel island.
Lagoa do Fogo attracts tourists and even those teaching English jobs abroad, with its most scenic landscapes, natural beauty, and clean air.
The whole area is safe and family-friendly, so it is a good idea to take the children to admire the otherworldly beauty of something so pure and untouched.
Literally! The lake is protected by the government so that no one alters the areas around it and does not start any construction work.
Lagoa do Fogo is one of the largest water bodies in the region of Azores, but that is not all the children will find fascinating!
Once the little travelers know that there was once a volcano, with the last explosion in the 16th century, their interest peaks in lounging at such a scandalous place! That is, of course, where Fire Lake got its name.
It is truly outstanding how something as uncontrollable as a volcano created something so beautiful and serene in its wake.
You can easily include the lake as part of a 7-day Azores itinerary. So my recommendation is to rent a car and enjoy a gorgeous road-trip vacation so that you can also visit other places such as Ponta Delgada, the North Coast of São Miguel, & more!
5. Monte Palace Madeira
These stunning gardens in Madeira are a florist's wildest dream! With an incredible selection of exotic plants and flowers, Monte Palace will make you feel like you are walking through the very well-groomed and designed jungle.
While not all children are interested in botany and pretty flowers, they will definitely be excited by the possibility of seeing a great amount of wildlife living here on the grounds.
Swans, peacocks, and chickens are free to walk the property; their elegance and splendid sizes are incredibly eye-catching and glorious.
The animals are brought to Portugal from many different regions of the world.
For example, the black swans occupying the grand lake originate from Australia, Tasmania, and New Zealand, while the white ones are here from Iceland and Scandinavia.
Looming over the gardens is the Monte Palace Madeira Museum, where you will get to enjoy rare exhibitions and explanations about the wildlife here.
In addition, there is a whole floor of sculptures, while others display a unique collection of minerals gathered from various places in the world.
Monte Palace Madeira was constructed and perfected over many years, and the families usually spend a lot of time inspecting the animals and the greenery. Click here to find more information on what to see and do in the Madeira Islands.
So, grab your companions, and let's travel to this magical and verdant corner of Portugal!
Now that you are well aware of how suitable Portugal is for taking the kids to, all it is left is to fill out your itinerary with these fun places and activities, and we guarantee – this will be the family holiday you will never forget!