Driving across the country sides of Tasmania, in a place called White Beach, there is a place called Harpers on the Beach. Gorgeous little place. Our Port Arthur accommodation option whilst exploring the Tasman Pensinsula.
Harpers on the Beach is a bit of luxury that you simply need to experience. It was truly a delight staying here! Warm and friendly feel of the beach house, together with near-new gadgets in our suite.  You will surely be right at home whilst staying at Harpers!
–
Where is this Port Arthur Accommodation option?
Harpers on the Beach is only 10 minutes away from Port Arthur.  There are so many places to see in close proximity; such as Devil's Kitchen, the Tasman Arch and not to mention the Remarkable Cave (read our post about these Tasmanian attractions here). You can also go on a famous tour along the Tasman Peninsula coastline with Pennicott Wilderness Journeys.  More about those in posts to come soon.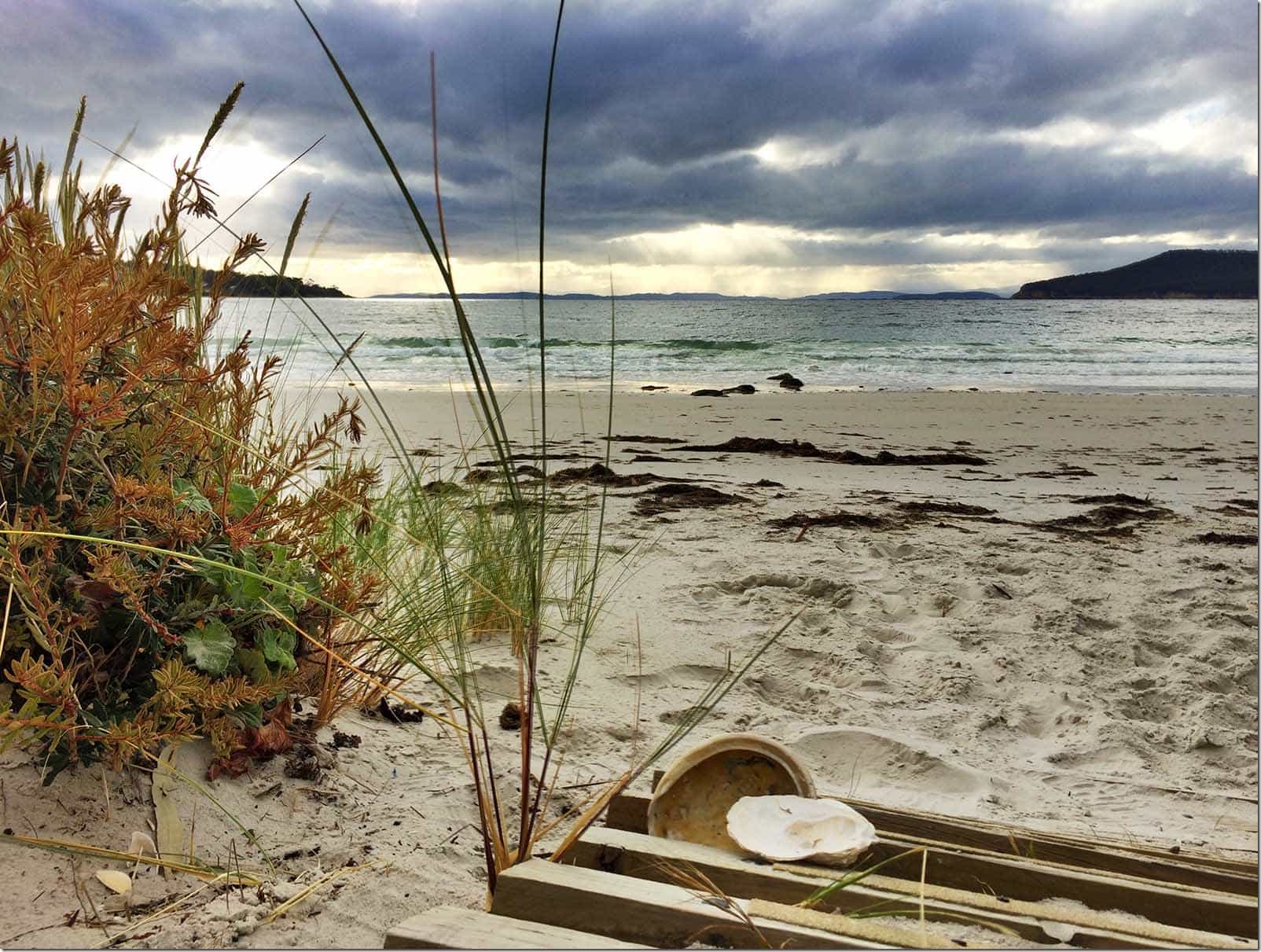 The location here is simply spectacular and breathtaking! It is right on the White Beach, a gorgeous stretch of unspoilt beach, just behind a little sand bank and surrounded by native vegetation. Cosy, relaxing, secluded and for the lack of a better word 'perfect'!
Sometimes apparently you can see the green colours of the Southern lights across the sky. We weren't so lucky though.
–
Harpers on the Beach:
Harpers on the Beach is run by two amazing hosts.  Jill and Jonathan will welcome you graciously with open arms and do everything in their power to make your stay memorable. 
The main building has three luxury queen en suite rooms (two of which have ocean views). These three are joined to the main dining area, lounge and verandas. There is also a Beach Cottage available to stay in.  This one has 2 queen bedrooms and I got to say I really liked the funky 70's beach shack feel to it. Very cool indeed!
And lastly, there is a gorgeous and luxurious Beach Studio, next to the main house, which we had the pleasure of spending a night in.
–
Our Beach Studio:
Upon arrival, we were greeted with coffee, tea, delicious home baked scones and Harper's own freshly-made strawberry jam. YUMM!!! (We bought few jars by the way!  Simply addictive!)   You can order drinks and all sorts of yummy snacks or cakes from their in-house menu, all for at a very reasonable cost.  Well worth it, spoil yourself!!
The studio was just incredible! When you walk in the first thing you see is a massive whale on the wall, which strangely suits all the homely decor perfectly. Such a cool idea!
This studio has the most incredibly comfortable bed!  It was so hard to get out from the cosy bed in the morning!  We made good use of that beautiful red couch as we spent our night watching a few of the movies that are free for loan from the main house (There is also a whole stash of DVD's in the drawer).  There is also a fully equipped kitchen for those of you that love to cook.  You will find all sorts of special treats in the cupboard, such as homemade rusks and treats!!!
–
Breakfast:
8 am on the dot, as requested the previous night, we were greeted by Jonathan who brought us a menu for breakfast selection.  The first course included a selection of cereals, toast, fruit, coffee and a freshly made banana smoothy.  The second course was the yummy cooked breakfast options: poached eggs, bacon, sausage and mushrooms seasoned with freshly picked herbs for me. For Jolene a vegetarian option with baked beans, roasted tomato and delicious crispy rosemary seasoned potatoes. YUMM!!
The breakfast was thoroughly satisfying, fresh and delicious!
The menu has a selection of dinners as well. So make sure to check out the meal choices on there too.
–
Leisure Facilities:
I think relaxation is the main choice here at the Harpers on the Beach. If the long walks on the beautiful beachwear you out, you can always find a book and chill out for the afternoon in this perfect setting. Now, tell me if I really have to say anything else to add to this picture.
Jolene was very excited to hear that the hosts Jill and Jonathan grow their own veggies and herbs. It is always more delicious and flavoursome to eat fresh produce.
Say no more. Our Tasmanian road trip has taken us to some pretty awesome places. Our White Beach accommodation has been very welcoming, warm, relaxing, and totally awesome!
–
Stay at Harpers on the Beach if:
You are looking for accommodation close to Port Arthur.
You are searching for a stylish and luxurious place to stay.
You enjoy staying on the beach and listening to the sounds of the crashing waves.
You love good, homely and organic food.
You love strawberry jam, cause you will be delighted here!
–
Booking information:
To book a stay at Harpers on the Beach, click here.
Costs of Guest Rooms start from AUD $160 p/n
Costs of Beach Cottage start from AUD $160 p/n
Costs of Beach Studio (the one we stayed in) start from AUD $220 p/n
Where: Harpers on the Beach is located in White Beach, 10 minutes drive from Port Arthur Historical Sites.
Suitable as:  a parent (couples)-escape and family holidays.
–
Wanderlust Storytellers recently stayed in White Beach as guests of Harpers on the Beach. As always, the content & opinions expressed here are entirely our own.