Germany is an amazing destination for a vacation. From the charming towns of Bavaria to the majestic castles in the Rhineland, the country offers something for everyone.
With so many sights to see and experiences to enjoy, it can be hard to narrow down your list.
To help make your decision easier, here is a list of the top 3 things to see on your German vacation.
Top 3 Cities To Visit In Germany For First-Timers
We have put together the best sites and must-do activities for your vacation to Germany. These sites will be enjoyable for solo travelers, groups, or families.
These cities are fantastic to visit during every season of the year, however, our favorite time to travel is in the Spring. See what to expect from a trip to Germany in Spring here.
1. Munich
The Bavarian capital of Munich is an absolute must-see for any trip to Germany. Rich in history and culture, Munich has something for everyone.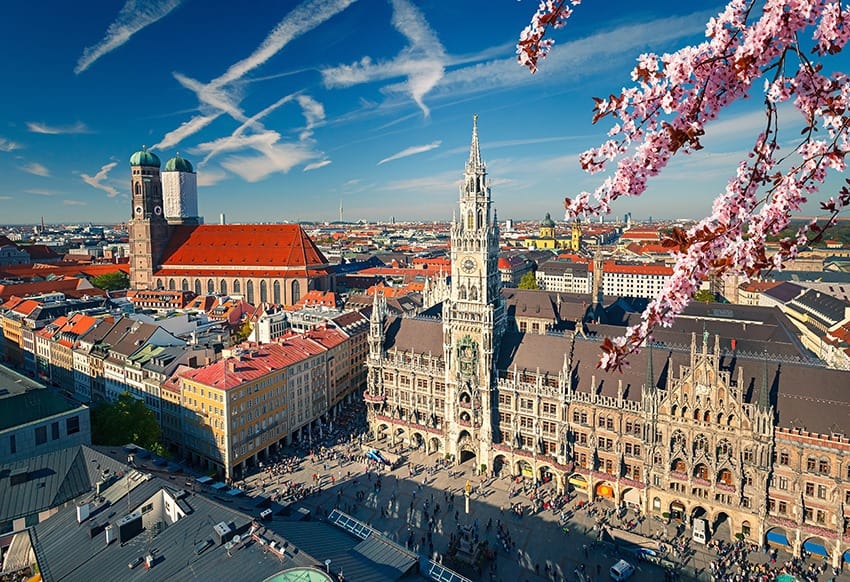 Start off by exploring the city's top attractions, like the Marienplatz square and its beautiful neo-Gothic Town Hall, or take a stroll down the world-famous Theresienwiese park and admire its vast array of carnival rides, food stands, and beer tents.
If you're looking for some more traditional entertainment, head to one of Munich's many museums, such as the Deutsches Museum and its interactive exhibits, or the Alte Pinakothek and its immense art collection.
For those wanting to explore further afield, Munich is surrounded by the stunning Bavarian countryside. Take a day trip to the picturesque towns of Garmisch-Partenkirchen or Oberammergau, or simply hop on a train and explore what the region has to offer.
2. Berlin
Your Germany vacation will be incomplete without going to Berlin, you simply can't miss out on this incredible city. This vibrant metropolis is home to a wide array of attractions and activities, so there's something for everyone.
From iconic landmarks such as the Brandenburg Gate to the artistic flair of Potsdamer Platz, a visit to Berlin will make your German vacation one to remember.
Top things to do include visiting the Reichstag, and the picturesque Tiergarten Park.
The iconic East Side Gallery is also a must-see, with its collection of artwork along the Berlin Wall. The Berlin Cathedral and the Berlin Zoological Garden are also well worth a visit.
The city's cultural offerings are another great draw. Take in some of the world-class museums and galleries, or explore the theatre scene at venues like the famous Volksbühne.
If you're looking for some late-night fun, head to one of the city's trendy clubs for some top-notch music and dancing. For those who love food, Berlin has plenty to offer.
The city boasts a vast array of traditional German eateries, as well as plenty of international fare. Don't forget to try some local specialties, like currywurst and schnitzel.
3. Hamburg
Hamburg is a vibrant port city that is known for its rich culture and stunning architecture. Located in the North of Germany, Hamburg is one of the largest cities in the country and a great destination for travelers.
There are plenty of attractions to explore here, from historical landmarks to contemporary art galleries.
One of the top things to see in Hamburg is the iconic Town Hall. This Gothic building is located in the centre of the city and was built between 1886 and 1897.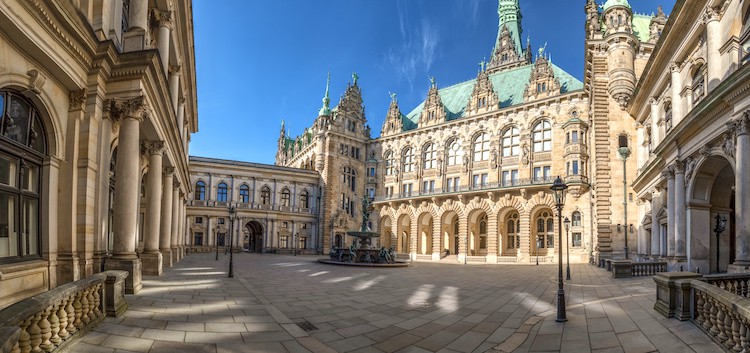 It is considered to be one of the most impressive town halls in Europe, with its intricate facade and soaring towers. Inside, visitors can explore the many impressive chambers and galleries, as well as catch a glimpse of the grand ceremonial hall.
The world-famous Reeperbahn is another must-see in Hamburg. This is the city's entertainment district, full of colourful street art, live music venues, and plenty of nightlife. It is also home to the infamous red light district, offering an interesting insight into a different side of the city.
The harbor area is also worth exploring while in Hamburg. Here, visitors can take a boat tour around the harbor to get a unique view of the city's skyline.
Stroll along the picturesque promenade and soak up the atmosphere, or head to Landungsbrücken pier to take in some of the incredible views.
Final Thoughts
Germany is a country full of beautiful cities and towns that have so much to offer any traveler. From visiting historic buildings or enjoying the vibrant nightlife, there is something for everyone.