Are you planning a family holiday in Malaysia? Wondering what are the best places to visit in Malaysia with your family?
Everything about Malaysia screams diversity.
A melting pot of a plethora of different ethnicities, Malaysia is home to a vast medley of various religions, cultures, cuisines, and ways of life — all of them living in harmony and complementing each other.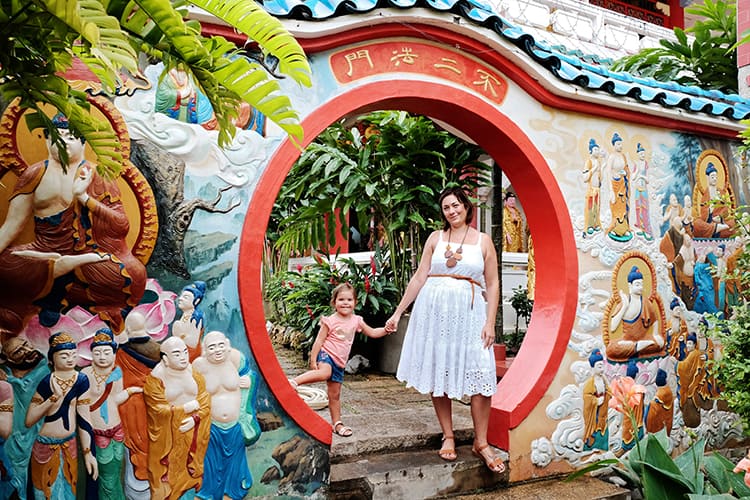 A perfect place to visit with your family!
The diversity isn't merely restricted to ethnicities only though.
From mountains to fertile highlands to tropical rainforests to sun-soaked beaches to urban big-cities, Malaysia has something for everyone.
Clean, wholesome fun for the whole family.
7 Best Places to Visit in Malaysia
Here's our list of the best places to visit in Malaysia with your family.
1. Johor Bahru
Although we aren't huge fans of the city itself, it more than makes up for it with all its kid-friendly attractions.
Legoland
Take a trip down to Malaysia's very own Legoland with your family.
A theme park with more than 70 rides, shows, and attractions including a water park, Legoland is guaranteed to make your children's wildest dreams come true.
Become a firefighter or ancient knight slaying fire-breather dragons or a fighter pilot — it's all possible at Legoland Malaysia.
>>> Grab your tickets online here.
Thomas Town
Get your dose of family fun at this theme park where your children get to hang out with Thomas and all his friends.
Hop on Bertie the Bus or jump on Harold's Helitours and go for a ride on the Island Of Sodor. The Crane Drop Ride and the Ferris Wheel Windmill Ride are sure to make your children scream with exhilaration.
Be sure to also check out the Sario Hello Kitty Town and the Zoo, if you've got time left over.
>>> Grab your tickets for Hello Kitty and Thomas Town online here.
2. Kuala Lumpur
A trip to Malaysia would be incomplete without a visit to Kuala Lumpur. There's plenty to do here for the whole family.
Kidzania
Kidzania is a mini-city that's built and run by kids. Your kids can try out various adult jobs like being a fast-food worker, a fireman, or a beautician.
Let your children roam around and explore the whole place. There's plenty of adult supervision everywhere to ensure no harm comes their way.
>>> Grab your tickets online here.
Petrosains Discovery Centre
It's a great hands-on Science Museum that will bring out the Einstein in your little kids. There are so many exhibitions here, that there's something for every kid, regardless of their age.
It's a great hands-on Science Museum that will bring out the Einstein in your little kids. There are so many exhibitions here, that there's something for every kid, regardless of their age.
For example, there's a hurricane simulator, an International Space Model or you can even build your own model car.
The Petronas Towers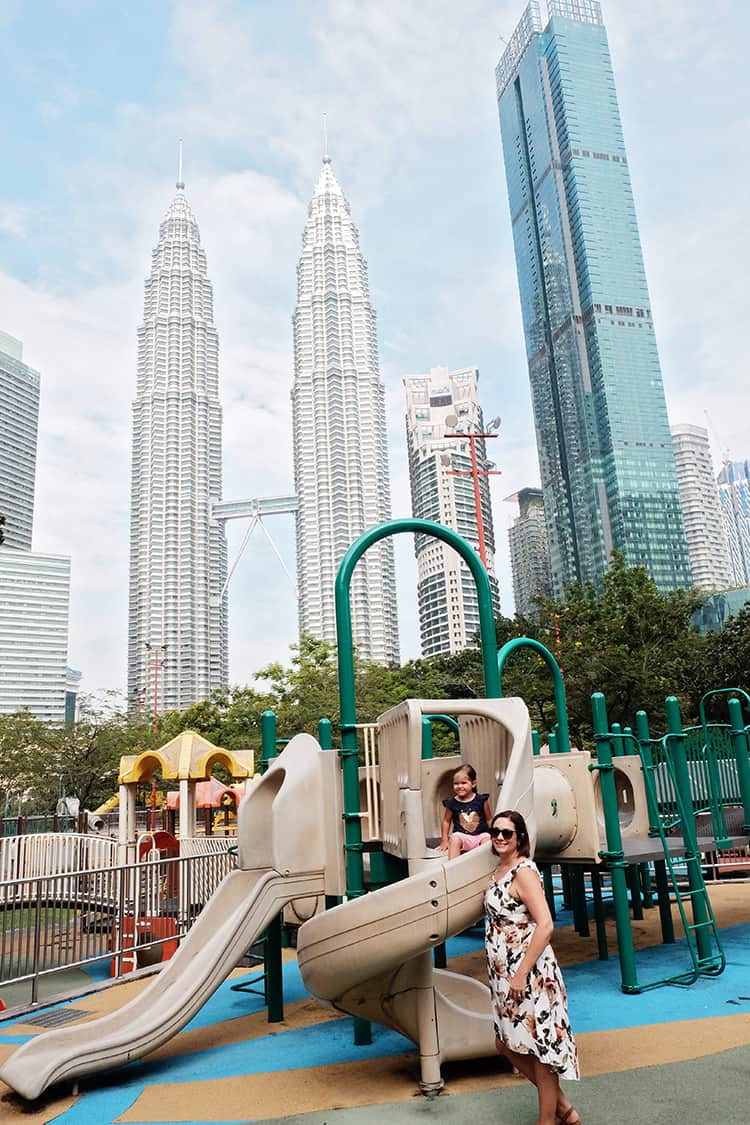 Smack-dab in the middle of the city, the Petronas Towers are the tallest twin towers in the world at 88 stories high. It might just be the most well-known landmark out of all of the amazing landmarks in Malaysia. Gaze upon it from below or go up to the Skybridge to get a panoramic view of the whole city.
The Kuala Lumpur City Park is right next to it, very close to the shopping center. It's a giant playground that even has a shallow pool with a small waterfall. Check out the Fountain Show at night as well.
Tip: If you are interested in any additional things to do around the city, check out our post about the day trips from KL here.
3. Langkawi
Langkawi, in the Andaman Sea, is an archipelago comprising 99 islands with beaches, rainforests, and mountains. It's the best place to let your hair down and get some R&R.
Cable Car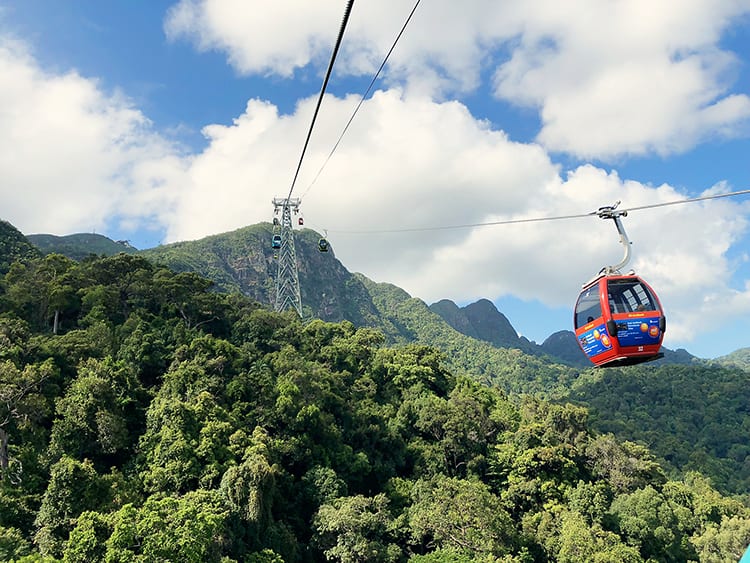 While you're here, you must check out the cable car. It's a 15-minute ride to the top of Mount Cincang offering unparalleled views of the lush rainforests, islets, and waterfalls below.
You will also find the Sky Bridge up here too – although I was too scared to take my toddler on a walk across it.
Underwater World Langkawi
This enormous aquarium is home to 500 species of marine animals, like seals, penguins, seahorses, flamingos, and many more.
The highlight of this aquarium is a 15-meter walkthrough tunnel where you can get up close and personal with giant stingrays, huge sharks, and sea turtles. Imagine how much fun your family will have posing for pictures with the sea life here.
>>> Grab your tickets online here.
Langkawi Wildlife Park & Bird Paradise
This aviary hosts over 2,500 birds from 150 different species, like Eagles, Toucans, Hornbills, Parakeets, Owls, etc. Some of these species are native to the islands, which you've never seen before.
There's also a man-made waterfall, where the birds are free to fly around and interact with visitors.
>>> Grab your tickets online here.
Pulau Payar Marine Park
Head on over here if you're into watersports like snorkeling and diving. Abound with bright, colorful corals; the Coral Garden is a sight to see.
>>> Grab your tickets online here.
Tip: If you are interested what's the best time to visit than check out our post about when is the best time to go to Langkawi here.
4. Penang
Penang Island is famous for its historical George Town (with its British colonial architecture and Old Hindu and Chinese temples), its beaches and diverse cuisine.
Entopia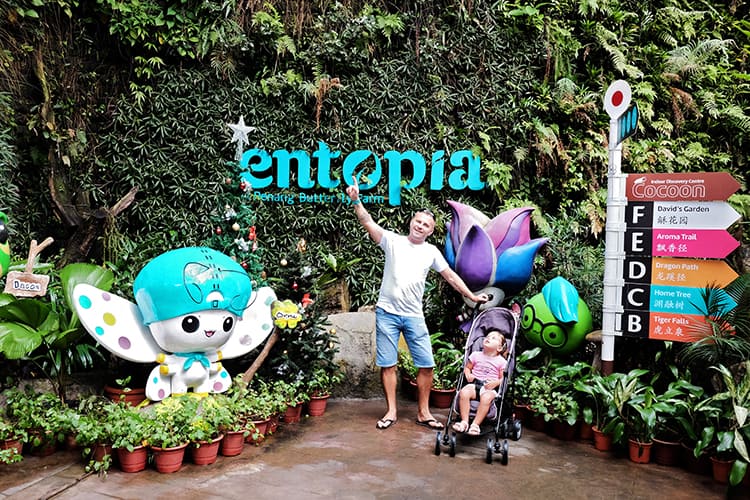 Entopia is a living garden, which has up to 15,000 free flying butterflies of 60 different species. This garden recreates the natural habitat of a huge number of creatures from insects to reptiles.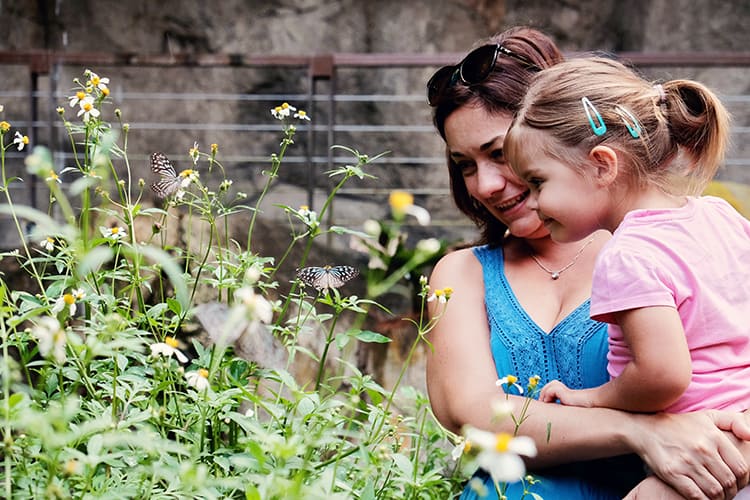 If you want your children to learn about nature and all its unsung heroes, make sure you don't miss out on this one.
We all loved it here, but our 2-year-old was in absolute butterfly heaven.
>>> Grab your tickets online here.
Penang Hill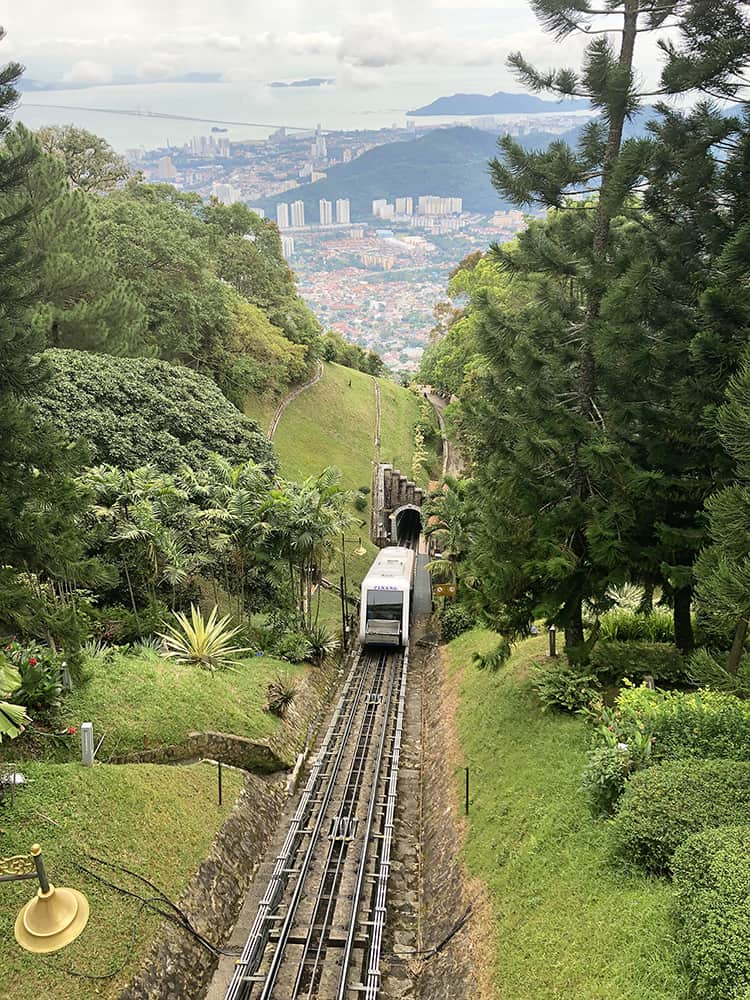 Take a trip to the top of Penang Hill on a funicular train ride. It's a one-of-a-kind tram with a very steep incline.
Once there, you can check out the historical and religious landmarks at the top or enjoy the rich flora and fauna along the nature walk. There are also play parks for the kids to enjoy up there as well.
Need some more help with what else to do in Penang and where to stay? Here is our 3-day Penang itinerary and our blog post on the best hotels in Penang with private pools.
5. Petaling Jaya
Often forgotten by most travelers, Petaling Jawa was developed as a satellite township for Kuala Lumpur.
Sunway Lagoon
A sprawling amusement park, it has a water park, a horror-themed 'scream' park, and an 'extreme' park with sports like paintball, kayaking, go-kart, and bungee jumping.
It even has a large zoo with a broad range of birds, reptiles, and mammals. Be sure to check out the white lions.
This park is located 45 minutes away from KL, so makes for a great day trip for the kids.
Tip: Don't wait in a long queue with your kids. Grab these tickets online, skip the queue and show the mobile voucher to them at the front to change it over for wristbands.
6. Kuching
It's a popular destination as it serves as a gateway to Sarawak.
Semenggoh Wildlife Centre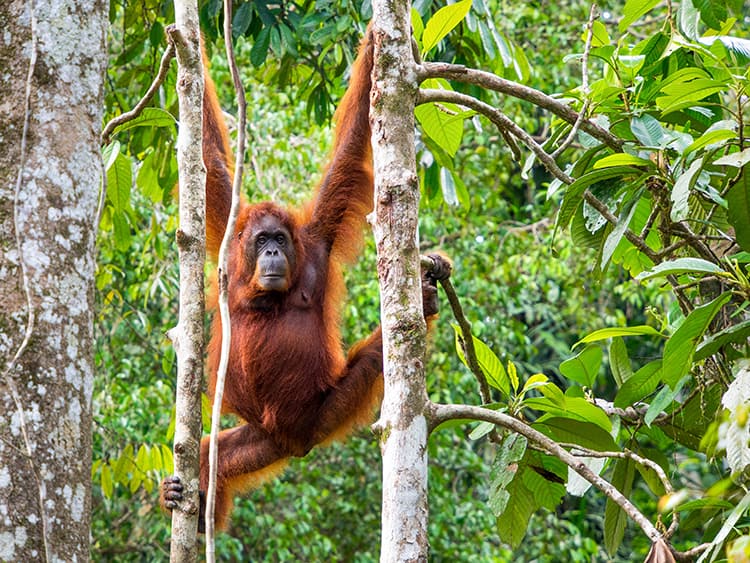 Established in 1975, this is a large rehabilitation centre for injured and orphaned orangutans.
It's meant to rehabilitate Orangutans and educate visitors at the same time.
Take a jungle trek and get a close-up view of the numerous Orangutans in this animal reserve.
Tip: I love booking the Semonggoh Orangutan Rehabilitation Centre Tour from Kuching on Viator because it includes hotel pick up and drop off from Kuching (I can't be stuffed dragging my toddler onto a bus).
7. Perhentian Islands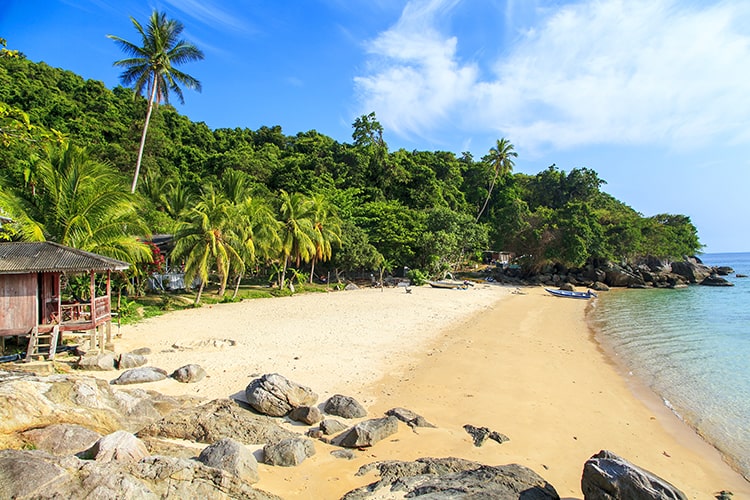 These are a group of stunning, coral-fringed islands which will make the perfect ending to your trip. No huge moments, viewpoints, or other distractions, it's just you and the endless ocean.
White, sandy beaches flanked on one side by jungle-covered hills; it's the ideal place to get in some quality family time and detox from the hustle-bustle of life in the city.
How to Get There:
The best way to get to the Perhentian Islands is to fly to Kota Bharu. Next, grab this cheap transfer from the airport to Kuala Besut jetty. And then hop on a speed boat for 30 to 45 minutes to reach the islands.
Or Book Organized Transfers to Make Life Simple:
Final Words
Knowing where to go whilst traveling in Malaysia, can and will make a big difference between a successful trip or a hard-going one.
And choosing to include the above best places to visit in Malaysia with your family in your itinerary, is definitely going to ensure the smooth and pleasant holiday that you deserve.
Rest assured, a family holiday in Malaysia is going to be a memorable one!
Over to you:
Which of our best places to visit in Malaysia got your attention the most?
If you have already been to any of the destinations listed above, please share your experiences in the comments below.