We spent 7 magical nights in Phuket and loved the resort that we called home for that week.  Novotel Phuket Resort is in the best location to stay in phuket!
Spread out across 8 acres of lush tropical garden, this hotel is within walking distance to Patong Beach and close by the famous Bangla Road (without having to listen to the noise of the party-goers all night long!).   The hotel made the perfect base for us to explore all that was on offer in the Phuket area!
Click here to see the latest prices to stay at this Novotel Resort in Phuket.
____________________
____________________
–
Novotel Phuket Resort Patong Beach Review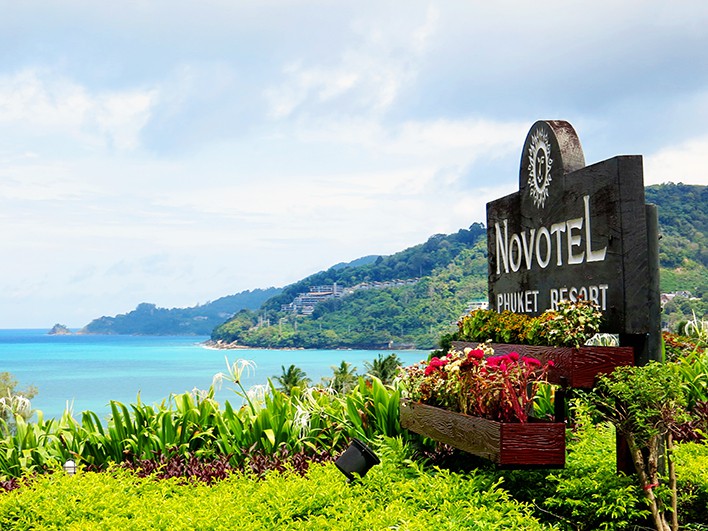 Novotel Resort Phuket Views!
 –
Hotel Novotel Phuket Resort Rooms:
When the location isn't perfect enough, this gorgeous resort offers ocean-facing room with one incredible view over the ocean and coastline of Phuket.  We spent most afternoons simply 'hanging' out on our patio with a Singha in hand, watching the magical colours in the sky as the sun set over the ocean, some tropical palm trees in the foreground adding to the holiday feel.
Hotel Novotel Phuket Resort Rooms
–
Novotel Resort Phuket's Leisure Facilities
Whilst we actually didn't end up spending as much time in the three tiered pool as we were planning on, we did enjoy cooling down whilst enjoying some delicious Pina Colada Cocktails in the pool.  Lucky for us, like us, most people were probably out and about enjoying what Phuket has on offer, so we felt like we had the pool entirely to ourselves, which was very relaxing. 
Click here to see the latest prices to stay at Novotel Phuket Resort Accommodation.
For us, this was a great start to our day, yes those cocktails were enjoyed in the morning!!  After which we made our way off hotel grounds, to explore some of the Phuket tourist attractions!
One of the three swimming pools at our accommodation Phuket
Enjoying cocktails in the pool at the Phuket Novotel Resort
–
Novotel Phuket Resort Booking Information:
Rooms from AUD $109 p/n or US $80.60 p/n – This includes a delicious and yummy buffet breakfast each morning.
Suitable as either a parent (couples)-escape or for a family stay.
The Novotel Phuket Resort spreads across 8 acres of lush tropical garden and is within walking distance to Patong Beach and the entertainment and shopping areas. The resort boasts 215 beautifully furnished rooms with private balconies and spectacular views of the Andaman Sea and Patong. The resort is the only one of its kind in Phuket to offer three tier swimming pools with connecting waterfalls. Additionally, guests can enjoy a range of food and beverage outlets and take advantage of the quality facilities on hand. Their convenient location, state-of-the-arts facilities and guest-centered services provide a memorable stay. (source: Agoda)
Highly recommended from us!  The rooms were beautiful, the view was amazing!  The breakfast was yummy and we found the staff incredibly friendly and helpful.  If you stay here please let us know if you loved it as much as we did!
To read some Novotel Phuket Resort Reviews, click here.
–
How to Get to Phuket
You will need to catch an internal flight to Phuket Airport.  The flights are typically pretty frequent and also very affordable.
We high recommend using CheapFlights to find your cheap domestic flight!  They currently have tickets for sale for around US $50 – BARGAIN!!
From the airport you have the option of either taking a Taxi from Phuket Airport to the Hotel (if you are brave enough!) or to organize a private transfer (around US $100) ahead of time.​  The trip will take you around 1 hour.
We love having our hotel transfers organised ahead of time! It simply means that our trip will run so much smoother!! Plus we love to use professional drivers that will actually get us to our destination safely!  (If you have ever been in a car in Thailand, you will totally understand what I mean!! Their driving is CRAZY!)
For a transfer service that is always reliable and that offers exceptional service, we highly recommend Blacklane! Your transfer from Phuket airport to Novotel Phuket Resort will cost you around US $100.
Reasons why you will LOVE Blacklane:
They offer complimentary wait time
There are no hidden charges, their rates are all-inclusive and affordable
Their drivers are professional
Free cancellation up to 1 hour before your pickup!
–
Denotes affiliate links, whilst we do earn a commission, we recommend this resort because it is a resort that we loved staying at.  Our stay there was not sponsored in any way and trust that you will love staying here too.