Arizona, the sixth biggest state in the US, has an outstanding blend of diverse landscapes, eclectic culture, and rich history.
The state, sometimes known as the Grand Canyon State, was previously home to a number of Native American tribes. As one of the "four corners" states (the other three being Utah, Colorado, and New Mexico), Arizona offers a wide range of outdoor activities.
The state provides everything you need for a fantastic vacation, whether it's pursuing a glow-in-the-dark scorpion in the Sonoran Desert, visiting the Lower Antelope Canyon, ballooning over the desert, or exploring the rural highlands.
Apart from the many natural beauties that are well-known across the world, Arizona offers a wealth of hidden gems that most of us are unaware of.
Phoenix is a metropolitan but quiet city. As a popular tourist destination, the city has a lot to offer. Let's take a look at some of Arizona's hidden gems and discover what the state has in store for us.
1. Luxury Hotels
There are lots of locations to make you feel like you're a thousand miles away from home, whether you're visiting Phoenix or planning a staycation.
It is not difficult to discover luxury hotels in and around the Phoenix metro region. The most difficult decision one may have is to choose which of these pampering castles to visit.
The Valley's sunny, dry climate makes it a popular tourist destination all year. Local luxury hoteliers take pleasure in making their establishments welcoming to customers seeking five-star leisure and relaxation.
Arizona Grand Resort & Spa
If you're planning a family vacation or spending time in Phoenix, Arizona, we strongly recommend staying at the Arizona Grand Resort & Spa to enjoy luxury and all of the conveniences of home.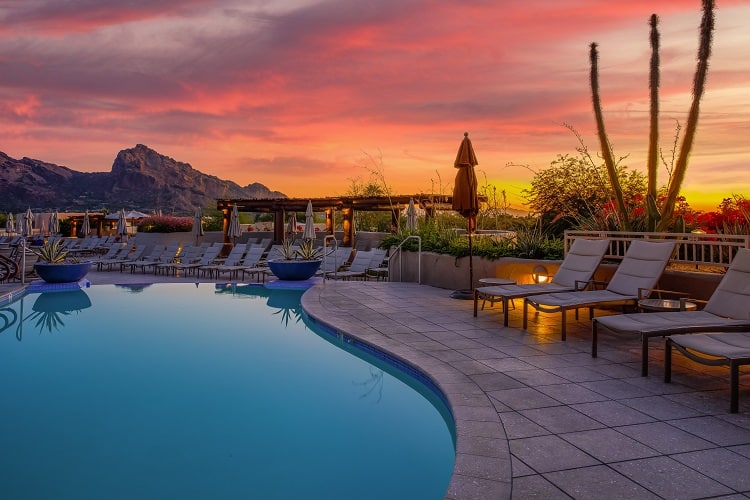 A golf course, a full-service spa, and six outdoor pools are available at Arizona Grand Resort & Spa. Staff at the front desk are available to answer queries 24 hours a day, seven days a week, and can help with excursions or tickets, dry cleaning/laundry, and baggage storage.
A free water park, a lazy river, and a children's pool are among the other features at this hotel resort. While you are staying at the Arizona Grand Resort and Spa, you can also enjoy a tone of attractions for big kids that are located nearby. Check out this helpful map, it shows a lot of wonderful places to play for the big kids.
There are two onsite eateries at this resort, which are ideal for a quick bite to eat. A beverage from the bar/lounge or coffee shop/café will entice your taste buds. For a charge, you may start your day with a complete breakfast.
2. Fireflies
Fireflies is a 25-square-foot exhibition with mirror-lined walls, a black Acrylite roof, a polished black granite floor, and 250 LED lightbulbs that are programmed to alternate colors, creating an ethereal experience that can overwhelm anyone's sense of time and space at the Phoenix Art Museum's Contemporary Art Wing.
The show was created by Yayoi Kusama, an 86-year-old Japanese artist who rebelled against Japan's strictness and chose to live her life in the "Big Apple," where she investigated the daring avant-garde art scene and hung out with figures such as Joseph Carnell and Eva Hess.
In exchange for ending the Vietnam War, Kusama allegedly wrote to Richard Nixon, offering him intense "sexual closeness."
The artist, who is currently in Japan for mental health reasons, works willingly from her hospital and continues to hold the status of "one of the greatest living painters of all time."
3. Her Secret Is Patience
Her Secret Is Patience, a huge artwork made by Janet Echelman and displayed at Phoenix Civic Park Space is named after a famous Ralph Waldo Emerson statement.
The gigantic structure, which stands 145 feet tall and 100 feet in the air, is built of polyester twine netting, galvanized steel, and a clever mix of lights.
The installation, which was created by Echelman, is a collaboration of architects, lighting designers, planners, engineers, and fabricators.
The artwork was created to mimic "shadow drawings," which were inspired by the state's cloud shadows. During the day, the building dances with the breeze, and at night, it glows with a variety of brilliant lights.
Not only that, but the lights change color with the seasons.
4. Phoenix Art Museum
Despite being the biggest art museum in the Southwest, the Phoenix Art Museum is still regarded as a hidden treasure in Central Phoenix. Some people associate the word "museum" with the word "snooze," but this is not the case.
They offer the usual tours, talks, videos, special events, and so forth, but they also have some pretty amazing exhibitions.
There's also a musical instrument museum that's regarded as one of the best in the country. The Thorne Miniature Rooms of antique interiors cater to those who are obsessed with miniatures.
While the museum's collection of American, Asian, European, Latin American, Western American, modern and contemporary art, photography, and fashion design products may already be on your radar. On the other hand, Palette, the museum's Arizona-inspired farm-to-table restaurant, may not be.
They feature $5 bloody Mary's and mimosas during their weekend brunch, in addition to the seasonal menu of beautifully delectable organic veggies, homemade sauces, local meats, and Arizona-made beers and wines.
On Wednesdays from 3pm–9pm, the museum provides "pay-what-you-wish" entry, while First Fridays from 6pm–10pm are always free. You may receive a "Culture Pass" for free admission for two people if you have a library card.
5. Desert Botanical Gardens
Desert Botanical Gardens is more than just a prickly yard, whether it's a day out with the family or a date night with your significant other.
Hike to the top of the Sonoran Desert Nature Loop Trail for mountain vistas, and then visit the Harriet K. Maxwell Desert Wildflower Loop Trail to observe the wildflowers and flowering cactus.
From October 12, 2019, through May 10, 2020, you may see the Wild Rising by Cracking Art display, which has over 1,000 animal sculptures made of colorful and recyclable plastic.
In addition, there is live local music in the garden. Gertrude's provides farm-to-table breakfast, lunch, and supper, beverages, and children's meals.
The Desert Botanical Gardens are on many "must-see" lists, but the Garden Shop is the "hidden treasure" here, where you can stock up on watercolor cactus prints, innovative outdoor lighting, and prickly pear goods ranging from margarita mix to BBQ sauce. A Culture Pass is also accepted at the gardens.