Filipinos are awesome when it comes to kids, especially foreign kids. When a kid starts to cry or throws a tantrum, expect that a Filipino mother would immediately step in and try to pacify the whining kid.
Filipinos naturally gravitate to kids and they also have very high tolerance so be it on a flight in the country or on a public transport, rest assured that when your kids start to throw your world upside down, some fantastic Filipinos will be there to help.
The Philippines is a kid-friendly destination. With 7000 islands to choose from, there are plenty of options for fun, cultural immersion, historical learning, nature trips, adventure, beaches and islands that the entire family can enjoy.
Compared to other South-east Asian neighbors (for example Thailand), Filipinos are friendlier to foreigners because they can easily converse in English and so it is no wonder that Filipinos will not hesitate to talk to foreign kids if it means practicing their English.
Here is our guide for when you travel in the Philippines with your kids:
What you need to know before visiting Philippines with kids?
1. Accommodation
No matter where you decide to stay or which destination you want to focus on, you will be able to find resorts and hotels that offer family rooms. Filipinos normally travel as a family so it is easy to find and book a family room anywhere in the country.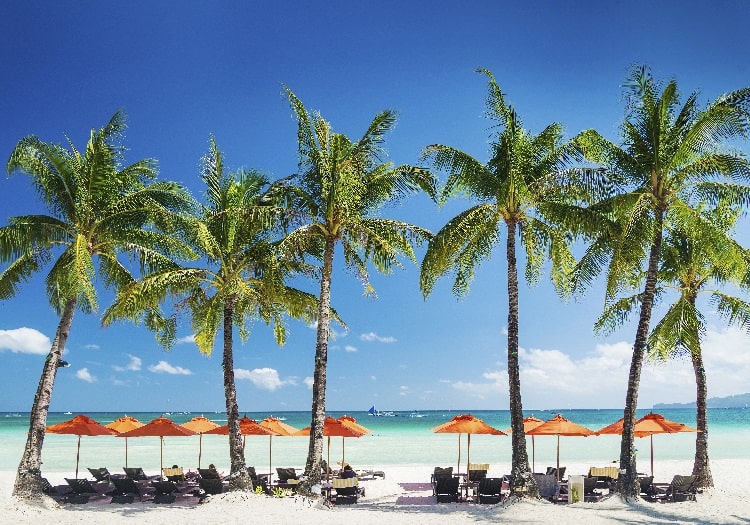 If you have an infant with you, a crib or a cot can also be arranged upon request. Kids below a certain age are usually free of charge and they can share a bed with their parents or an additional bed can be provided for a very minimal charge.
Kid-friendly hotels and resorts also provide amenities that kids of all ages can enjoy like kiddie pools with slides, playgrounds, kiddie rooms with mini-library and kiddie games. If you choose to stay in more popular family destinations like Boracay, Palawan or Cebu, there are also plenty of options for kiddie breakfast already included in the room rate. Staffs are also trained to babysit infants and toddlers when necessary.
You can also get creative and try out a liveaboard trip. Not sure where to get started? Here is a great guide on how to find the perfect liveaboard trip in the Philippines.
2. Restaurants
Filipinos love to eat out with their families so it is common to see toddlers and small kids eating in restaurants with their parents. Kids like to play and there are a lot of fast food options that offer playrooms inside the restaurant so kids can have fun while parents are still finishing their food.
If you are not a fan of fast food, there are some restaurants or cafes where kids can read books, do some art, like coloring and drawing while other places offer opportunities to interact with pets such as cats or dogs.
Should you need a baby high chair in restaurants, you can easily request for it. Kiddie menus are not very common in a lot of restaurants though except in fast food restaurants where kids also get a toy with their meal. If you are staying in an in-house restaurant, you may request for a kiddie meal and it will likely be granted for a minimal charge.
3. Food
Thailand and Cambodia would be better perhaps in terms of healthy stuff for your kids. Filipino foods typically involve processed meat products that kids naturally love but they are not very healthy. A lot of the food in the supermarkets as well as the ones cooked in restaurants are added with sugar (because Filipinos have sweet tooth).
It is also common to find fried stuff anywhere so if you are after the healthy stuff, it is better to refrain from going to fast food restaurants and just cook the meal yourselves. Natural sugars like fruits and vegetables are plenty though so instead of feeding your kids some candy or chips, give them fruits and veggies instead.
4. Supermarkets
There are numerous malls and supermarkets in the Philippines and you can easily find your favorite brands in the country. Compared to Cambodia and Thailand, western brands are easier to find in the Philippines. Baby formula and diapers along with popular baby foods are quite common.
However, if you are looking for special items like soy milk with no sugar or special kind of fruit purees, you will have trouble. Sizes for disposable diapers also vary and if you have a big kid for their age, you might not find the nappy easily.
5. Transportation (Ease of Travel)
Going from one place to another in the Philippines especially with the whole family is chaotic. Thailand and Cambodia have better transport options and faster transfers than the archipelago Philippines. If you will use public transport with kids, you will have plenty of trouble as buses and trains are often too congested for comfort in the metropolis. Taxis are readily available but finding a baby/kiddie seat is impossible.
Airports are not so bad as they provide child-friendly facilities and it is also the fastest way to travel. Ferries can be good if your destination is close to each other. Other than that, the best option is to rent a car or a van for a private transport if you have a driving license.
6. Tours and Activities
The Philippines have more child-friendly destinations than Thailand or Cambodia. Having blessed with more shoreline than other south-east Asian countries (except Indonesia) there are plenty of water parks and beaches for kids to enjoy in the Philippines. There are also malls with amusement centers, parks, and kiddie rides.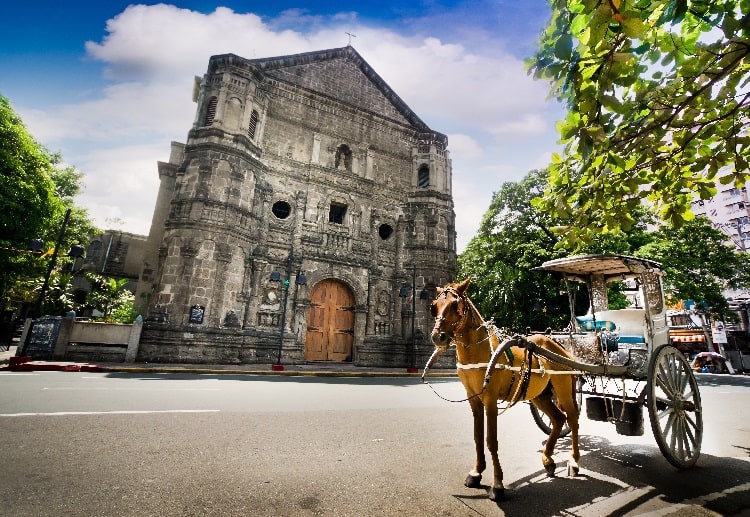 Each destination have comprehensive historical archives for museums and library, there are also plenty of options for kiddie zoos as well as octogenarian. The Philippines is not as well-organized as Singapore but it is a great destination for kids of all ages.
You will not find Disneyland in the Philippines but there is a good alternative known as the Enchanted Kingdom which is about 2 hours away from the capital, Manila.
7. Kids in public
As mentioned before, Filipinos are more tolerant of whining kids or kids with tantrums. They will easily approach you or your kid and talk which is most likely not the case in other Asian nations. The reason for this is that Filipinos are conversant in English and so they are not afraid to proactively offer some help when needed.
If you also need to breastfeed your child, you can do it easily in the Philippines and people will not look at you as if you are a novelty. It is something you can openly do in the Philippines as there are designated spots for breastfeeding in the malls and other public places with the exception of Muslim areas in the south.
8. Child Health Concerns
While hospitals are readily accessible in the country, you cannot easily find them in remote areas.
If your child has special medical needs, it is important that you bring it with you at all times to prevent any problems especially when you cannot easily find the specific medicine in the country.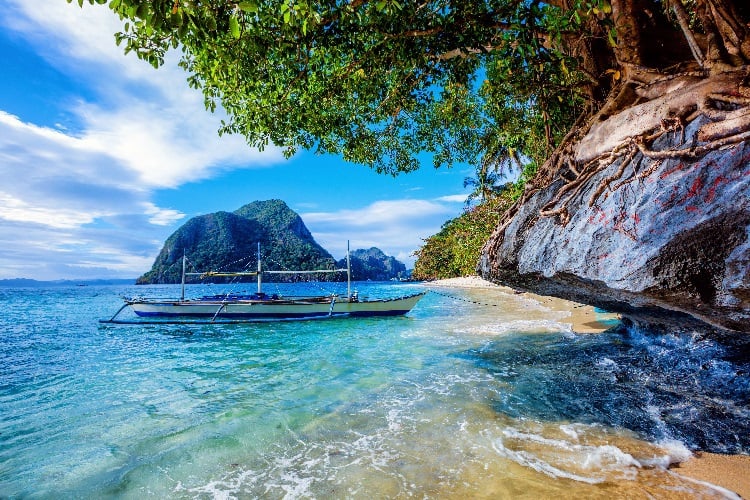 For example, it is easy to buy inhalers in the cities but when you venture into the more remote areas in the province, you will not find inhalers easily.
The same is true with insulin shots.
Sunscreen is also a bit of a novelty in the mountains so make sure to bring your own supply if you plan on going for the off-the-beaten tracks.
Before your travel, make sure that your kids are updated on their vaccines and if you are not sure, check the list of required vaccinations first to ensure that your kids are protected from diseases.
Do not forget to bring medicines against diarrhea as kids can easily have upset stomachs when they eat something unfamiliar to them or drink water from the tap.
And lastly, never visit the Philippines without travel insurance. You can find the best travel insurance for the Philippines here.
9. Culture and Traditions
It is easier for western kids to adapt in a Christian environment but the culture of countries like Thailand and Cambodia tends to be more appealing to them because it is different. Kids love to learn about culture differences and they can easily have interest when they see colorful statues and architecture of temples than Christian churches that they often see in their own country.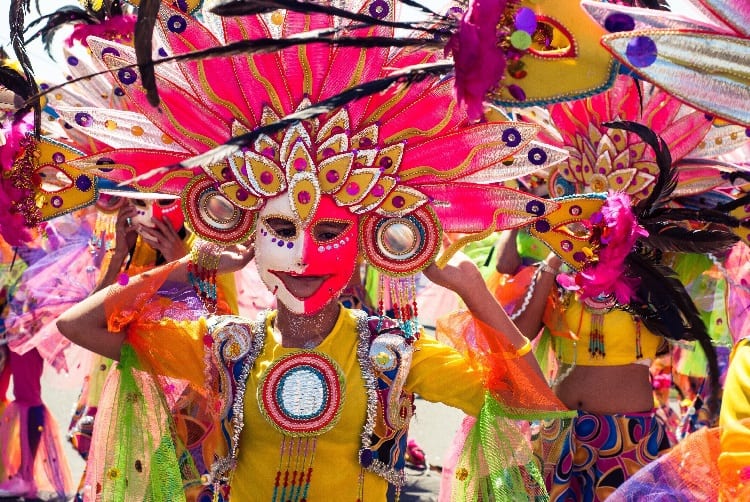 Likewise, Asian kids can find it fascinating to look at Christian churches when they often see Hindu temples in their own country. The Philippines doesn't only have churches, Filipinos also have beautiful traditions and festivals that kids would love to partake in.
Whenever there is a "fiesta" (local feast) students from different schools go on the street and participate in a street dance with colorful costumes and make-up. In some places, there will be lots of kiddie shows/programs to entertain the kids and there will be a lot of cheap items sold on the streets like kiddie toys and clothes.
10. Document to Obtain before coming in to the Philippines
Similar to adults, kids are entitled to specific number of days with visa-free entry into the country provided they come from countries with diplomatic ties with the Philippines. Otherwise, they will have to secure a tourist visa. Passports should be valid at least 6 months after arrival.
If the child is under 15 and is traveling with only one parent, a waiver of exclusion must be obtained for the child to be granted entry into the country.
Over to you:
Did you find the above guide helpful? If there are any additional things that would make our list more complete, please do not hesitate to share them in the comments below. Thanks!