Do you get nervous before an international flight?
Do you have moments where you doubt whether you have ticked every box while trying to get organized for a holiday?
Being nervous and having anxiety is not fun!  Why not use our overseas travel checklist to help ease those doubts and worries!! 
Please find a FREE printable travel checklist below!
Travelers Checklist for "Before you go."
We all get some level of nerve before an overseas trip. We all have a nervous moment where we wonder if we have organized everything we need to.
Sometimes a little travelers checklist can help remove the anxiety associated with international trips!!
So please feel free to grab this checklist as a printable! –
Your Travel to-do list for a Month or Two Before

 Make sure you have up-to-date photo identification –  Make sure your passport is valid for the entire duration of your trip! 
Make sure to have more than one photo identification on you … just in case!

Find out whether a Visa is required for your trip

 Check with your doctor about recommended vaccinations for your destinations – It is important to get the vaccines sorted out the way in advance of your trip (try to get it done 6-8 weeks pre-trip). 
Book a visit to the doctor to figure out which shots are recommended.  Do research to see which pharmacies have them on offer for the cheapest! 
If you need to carry special medicine, you might need to get a doctor's letter explaining why you are taking them overseas!

 Make sure you have travel insurance – Travel insurance is vital to protect yourself against financial risks attained while traveling.
Don't leave the country without travel insurance; always be prepared in a foreign country.  
For our Australian readers, we can recommend CoverMore Insurance, and for our readers from USA, we suggest you look into Allianz Travel Insurance.

Start creating your holiday itinerary – Figure out where you want to go and what you want to see and do while on your holiday.

 Book accommodation – We love two sites for researching and booking hotels. If we know where we want to stay, we usually tend to book our hotels on Agoda. 
They also allow you to link up your travel rewards cards to earn some points! They offer fabulous prices, are easy to use, and are reliable!

 Book your Tours – We love to book at least one tour on each international trip simply because we learn so much about the country from the tour guide! 
Viator is great for finding tours; they have an extensive range and are a trusted brand we use and love!

Organize car hire if needed – Once you have your itinerary sorted, figure out if you want to rely on public transport or the flexibility and freedom of renting a car.

 Book your Airport Transfers – If you are not planning on renting a car, you might like to pre-organize and sort out your airport transfers. 
The easiest way, but also the most expensive, is to organize it through your hotel simply.

 Register your travel and contact details with DFAT – Because it is better to be safe than sorry! 
Ease of mind that in an emergency, you can be located, and your family can be sure you are safe.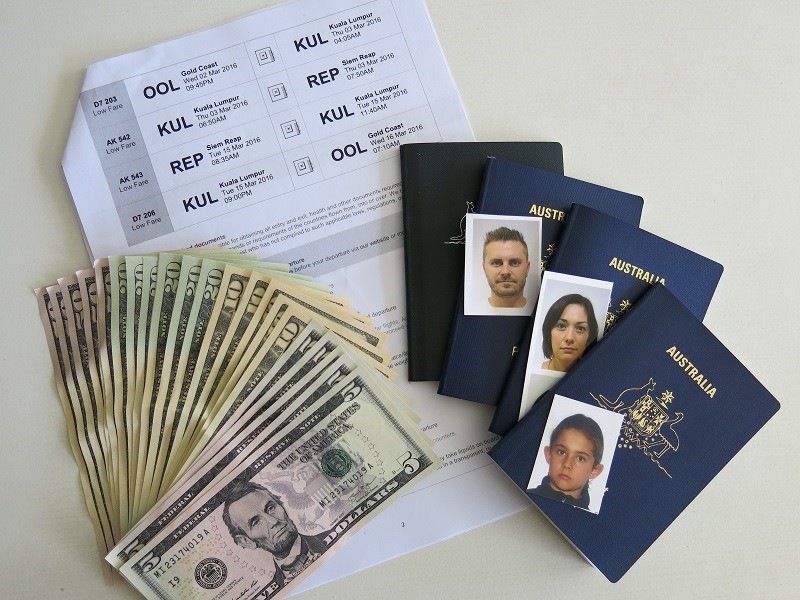 Your Travelling Overseas Checklist for the Week Before

 Let the airline know of any special requirements you have – You might have some questions if you are traveling whilst pregnant or if you are traveling with a bubba! 
Also, let them know of any special dietary requirements.

 Exchange some money – Depending on where you are going, the currency might have to be ordered and will take a while to arrive, so get this sorted at the start of the week! 
We love getting our money exchanged at the post office as they offer great rates and charge no exchange fees!

 Make copies of important travel information – Copy your passport, insurance policy, itinerary, traveler's cheques, visa, and credit card numbers.
Carry one copy separately from the originals and leave a copy at home with a friend or family member.

Organize your Electronics – Start charging up your camera's batteries and sort out any pieces of electronic equipment that you might like to take with you.

 Look up your country's customs laws – If this is your first time traveling overseas, you might like to familiarize yourself with your country's customs laws! 
Australia customs laws are especially strict with what you can and can't bring back with you.

 Pack your carry-on luggage – Make sure your carry-on meets the size and weight requirements of the airline you are flying with! 
We love to carry all our valuable and electronic items with us in our carry-on, so tend to opt for the carry-on suitcases on wheels as our choice of carry-on.

 Pack your checked luggage – Make sure that you have an allowance for checked luggage (budget airlines offer checked luggage at an extra expense). 
It is important to have quality luggage bags for your checked luggage as they get manhandled a bit!
We love using packing cubes when we pack, keeps things nice and organized!  Read about the top packing cubes for 2023 here!
Don't forget to weigh your bag and add a nametag!
After more tips on how to pack your suitcase? Here is a great guide containing 32+ packing tips.
Going Overseas Checklist for the Day of Departure

Make sure you have your ticket, passport, and insurance policy packed in your carry-on luggage.
We love to use a family passport holder to keep all the passports and documents organized.

 Sort out your wallet or handbag!  Leave behind things you don't need and only take the bank cards you plan to use. 
Remember to have both local currencies as well as international currencies on you.

 Wear comfortable clothing and shoes – Make sure that you are comfortable in whatever clothing you choose to fly in! 
I like to take a jumper and a pair of socks on the flights as I'm always either too hot or too cold on the planes!

Check the flight status! – Important as flights can be delayed by hours, and it is better to relax at home than wait at the airport!

Check-in online – Check if you can check in online with your airline.

 Check to see when you can check in – Make sure that you arrive with ample time to book into the airport for your flight! 
Do check with the airline when they want you there. Generally, it is 2-3 hours before an international flight.

Don't forget to take a car seat if you are traveling with a little one, or a travel booster seat if your child is older.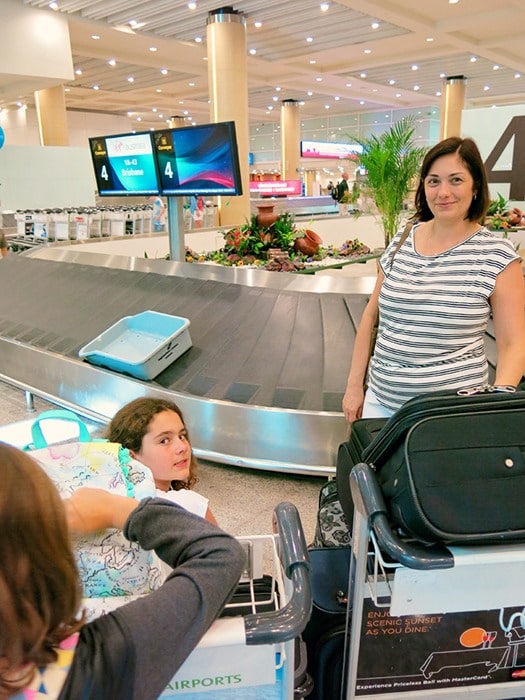 Over to You:
Did you pick up on anything important I might have missed on our checklist for traveling overseas? Please leave a comment and let us know!!