Gorgeous rustic little canals and picture-perfect walkway bridges.  Romantic little cafe's scattered along stunning lanes.  The colours of the buildings, the textures that makes up their walls.  Not even to mention the most lovey-dovey romance-oozing luxurious gondolas to treat yourself with.  Where else but in Venezia Italy?
What the heck is not to love about Venice?  How is it possible to not find romance in Venice with your loved one, to rekindle the fire, to remind yourself why you fell in love in the first place.  If you are in need of a bit of something extra special in your relationship, it might just be time to visit Venezia!!

–
Visit Venezia Italy | One of the Most Romantic Cities in the World!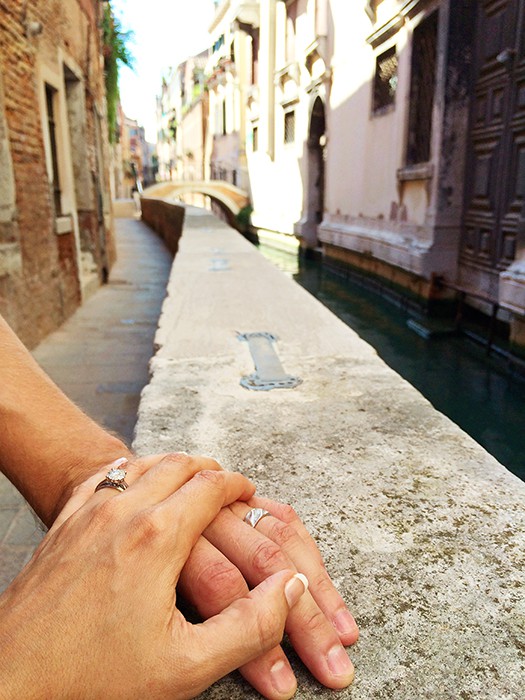 I should warn you, that this post is going to be drooling with kisses, hugs, poses and anything that showcases the concept of 'love'.  So prepare yourself, to immerse yourself in romance.  After all we had an incredible honeymoon in Venice, Italy.   So this is our personal story and experience of romantic Venice.  And this is, my dear people, an incredibly romance-oozing post.  For those of you not in the mood for a little romance, why not hop over to our 'Top 10 attractions you must see in Venice' post!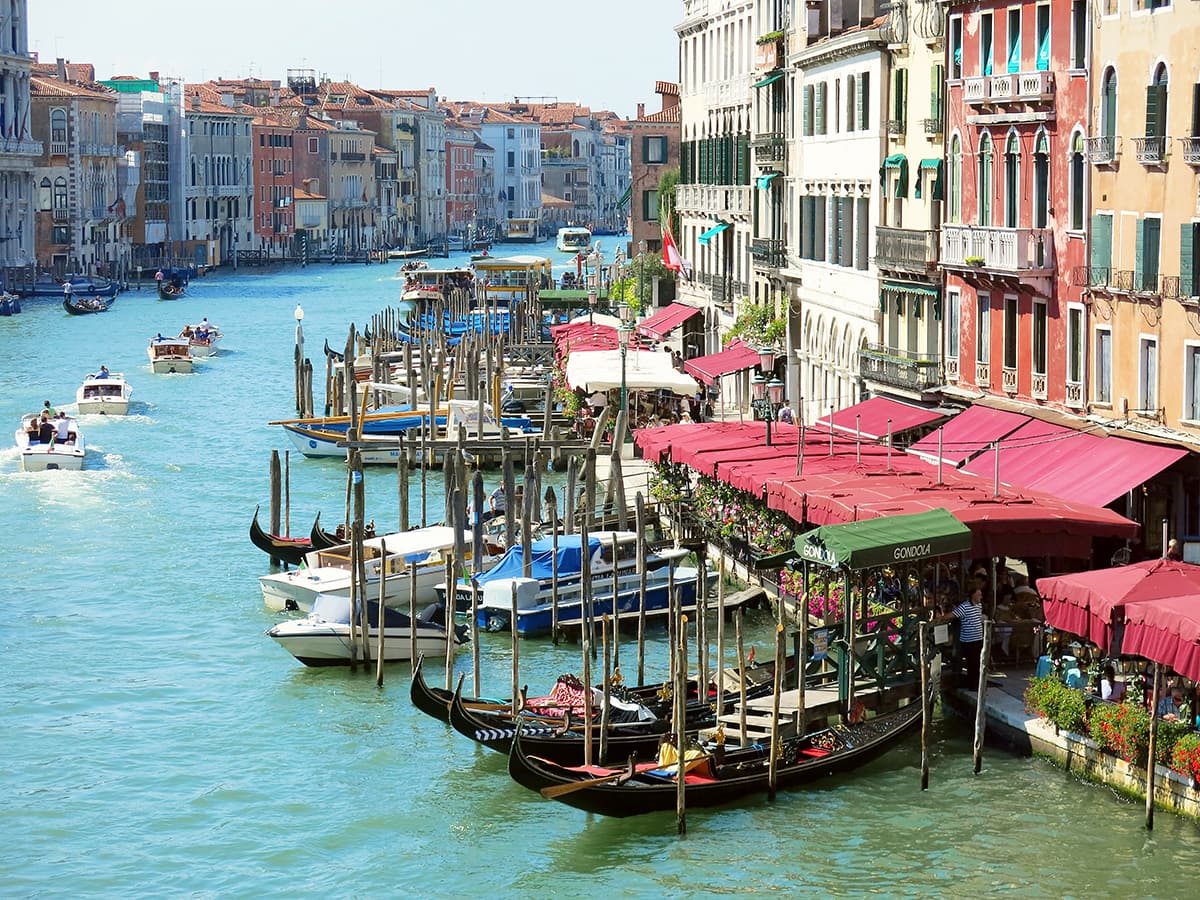 We saw Italy in a rush!  It wasn't until Venice, booking into our super romantic canal facing room, that we really started to relax on our honeymoon.  I think that is mainly due to the fact, that this gorgeous little city 'forces' you to relax.  It forces you to slow down your pace, as the only means of exploration is by foot or boat.  It forces you to slow down as you keep stopping to take in the mere beauty of this place.  Here you simply can't help but stop at every corner to snap some kissy-lovey sort of pictures of Venice; pictures in front of every canal, every gondola, every touristy-site.
Now if that wasn't enough, imagine yourself together with your love simply and purely enjoying the street scattered lovely cafe's that you can find throughout Venice.  Enjoying the delicious comfort food of handmade pizza and pasta.  Trying out the multitude of wine's on offer.  Every meal, here, turns into a romantic affair.  And treating yourself to local yummy Venetian delicacies a must!
Next, join us for probably THE most romantic thing you could possibly do in Venice, the Venezian Gondola ride!  Yes this is a bit pricey and totally touristy, but gosh is it worth it!  The trick is to make sure you get a Gondola in less traffic areas.  You will find Gondola traffic jams by the Bridge of Sighs, so try to avoid that.  Make sure you ask your Gondolier to take you to quieter areas.  We even got a little free Serenade from our Gondolier!  It had us giggling and smiling away.  This ride is totally relaxing!  Plus it is meant to be good luck to kiss under the bridges of Venice, so hey, we kissed under each and every one … a few times …. cause why not!! Only in Venezia Italy right??
One of our favourite 'hang-out' spots was the Venice Rialto Bridge.   I think we stood on this bridge gazing dreamily at the Grand Canal at every time of the day.  In the morning the water twinkles from the kisses of the sun, the canal is busy with commotion of people making their way onto the Venetian Lagoon grounds.  Late in the afternoon when the light is less harsh, the gorgeous vibrancy of the colours from the buildings bring a different kind of magic to light.  At night time, gosh, the romance of the lights shining on to the quiet of the canal is simply indescribable.

Another popular spot for romance is right in the San Marco Square.  It is world-renown for a reason.  It is luxurious and beautiful, unfortunately everything here comes at a luxurious price.  But save your pennies and spoil yourself at the square.  Sit down at one of the restaurants without an orchestra to avoid the 'tag-on-fee' for the music, and simply sit back and absorb the atmosphere.
One of the beauties of Venice is the mere fact that simply wandering around is romantic; whilst you are roaming the streets hand in hand, getting lost, exploring, soaking it all in, don't forget to make your way to the most trafficked Gondola area – The Bridge of Sighs.  I think we were amazed at how many people crowded around this areas of Venice.  It's a good spot people watch too.
But mostly, overall, what we encourage you to do is to just enjoy, to laugh, so giggle, to kiss, to hug.  Relax, chill out and eat and drink and be merry.  After all, this is Venezia Italy, a once in a lifetime opportunity to be in an incredibly unique little city.  A unique opportunity to let go of all the hassles of normal life, because here, you will feel miles away from the normal responsibilities in life, here you can be silly, you can be free and you can be absolutely totally head-over-heels in love.
–
Further Suggested Reading: The Romance of Venice by 50 Shades of Age
–
Over to you who has been to Venice and who desperately NEEDS to be there right now??
For more of our honeymoon stories of Italy, click here!