What do you imagine when thinking of the words "luxury beach vacation?" Sun-kissed nose and sandy toes? Yes, you can definitely consider On The Beach Noosa Resort for your next family or couples vacation.
Imagine waking up in the morning to the smell of the salty sea, the sound of birds greeting you, and a gorgeous view of a golden sandy beach. And that's just the beginning!
Noosa is a spectacular location situated snugly along Queensland's Sunshine Coast in Australia. On The Beach Noosa Resort, as the name tells you, is a luxury beachfront resort that takes pride in its spellbinding interiors, which take inspiration from the coast.
On The Beach Noosa Resort Review
Here are all the things you need to know about On The Beach Noosa Resort, including how to get there, about the resort and our personal things to look out for:
How to get to On The Beach Noosa Resort
Depending on whether you're coming from Sunshine Coast Airport or Brisbane Airport, there will be several options to get to the resort.
From Sunshine Coast Airport
On The Beach Noosa Resort lies 34.6 km from Sunshine Coast Airport. You can take a bus, which would take about an hour, depending on traffic. However, if you're traveling with your family and have lots of luggage, it might be best to book a car. This shouldn't take more than half an hour.
From Brisbane Airport
Several buses shuttle from Brisbane Airport to the resort, however, be prepared to spend at least four and a half hours for this journey.
On the plus side, it gives you a chance to enjoy the spectacular views of the coastal town of Noosa.
Taking a car will get you to the resort faster, in about two hours. The distance between Brisbane Airport and On The Beach Noosa Resort is 139.1 km.
On The Beach Noosa Resort
On entering the premises through a slightly hidden entrance, get ready to be greeted by friendly staff who will guide you to your selected accommodation.
Depending on your preferences, the options range from fully self-contained apartments, beachfront studio apartments, one or two-bedroom penthouses, and studio penthouse apartments.
Each living facility faces the Main Beach, which is just a few, sandy-toed steps away from the ground level.
Take a few more steps, and you'll arrive at the cosmopolitan Hastings St. There are a plethora of exotic, fascinating, and luxurious options to choose from.
Alfresco cafes, trendy bars, upmarket boutiques, and award-winning restaurants are scattered for tourists and locals to enjoy.
Beachfront Spa Studio
For those who are planning a honeymoon, couples retreat or just a weekend getaway with your significant other, the Beachfront Spa Studio may be the ideal option.
For our stay at the resort, we have chosen the Beachfront Spa Studio located on the first floor.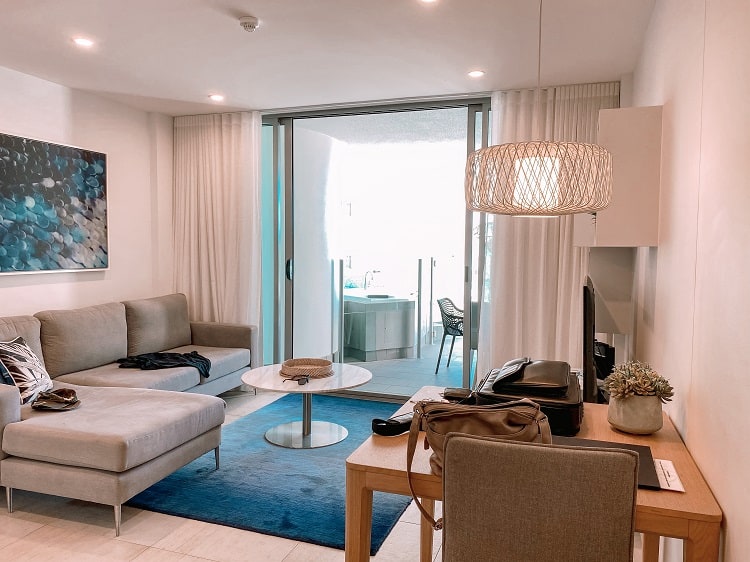 This contemporary first-floor studio apartment offers outdoor dining, a massive king-sized bed (two king-singles put together), a small one-sink bathroom with a see-through glass shower, and its signature private balcony with a jacuzzi.
But it doesn't end there – the open-plan room is ideal for couples and singles alike. The interior decor instantly catches the eye, and it is easy to observe how they have taken inspiration from the Noosa surroundings.
Shrouded with elements of the sea, the green forests and the clear skies, each room has a luxurious yet tropical essence. Head over to the outdoor balcony where you will find a private spa bath and great views of the ocean.
Things that you should know: 
Studio Apartment is relatively small, but good enough size for a couple
The bedroom is located directly next to the entrance, which (on our stay) was noisy with the other tourists opening and closing doors, and late-night "back from the clubs" passer-bys
The spa takes a while to fill up, about a "wine glass of time"
Beds were not the most comfortable
Noosa Couples Getaway
When traveling with your partner, the Noosa Couples Getaway is an experience you shouldn't miss.
During our three-night stay on the Noosa Couples Getaway package, we each enjoyed a consecutive half-hour massage.
Massages are such a great way to bring instant relaxation to a holiday. It can be tricky to choose the right types of massages – my favorites are hot stone massage and aromatherapy massages.
You can also opt for a one-hour massage instead (which comes at additional cost), and you can enjoy it all in the luxury of your room.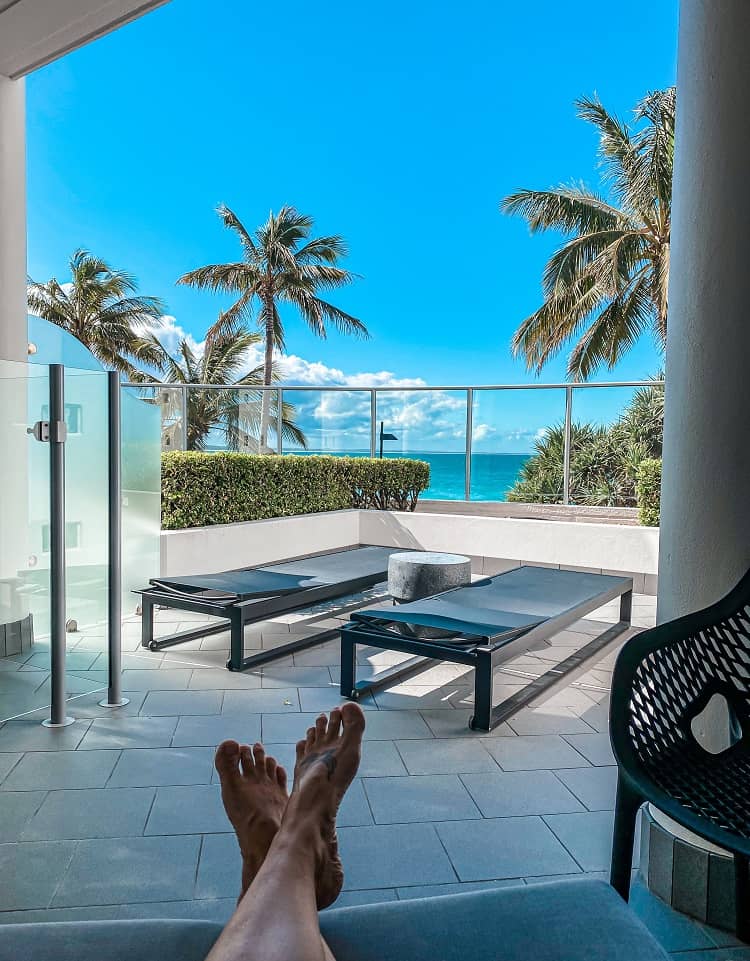 Not to forget the welcome hamper that contained dazzling goodies handpicked by the hotel staff especially for couples. Long story short, this package may turn out to be something right out of your favorite dreams.
Amenities
Check out a few added bonuses of the resort here:
The Pool and Jacuzzi:
Although the beach is just a few steps away, plenty of tourists insist on enjoying the pool and the large jacuzzi in the resort premises.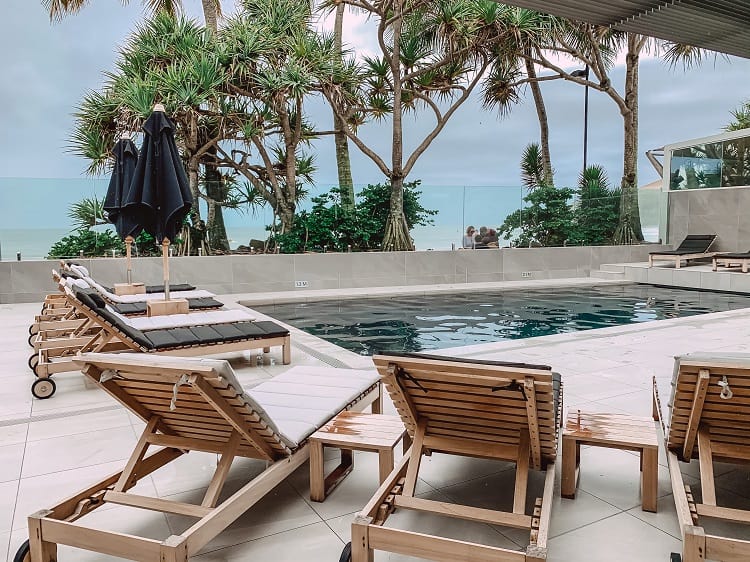 Both the pool and the jacuzzi at On The Beach Noosa are not only heated but also offer a somewhat private experience, away from the busy Noosa Main Beach.
Picture yourself lounging by the pool after taking a couple of laps, drink in hand, sunglasses on, enjoying the beauty of coastal Noosa.
Privacy of Your Apartment and Balcony:
Let's not forget the sun lounges placed in every balcony, jacuzzi, king-size beds, Cable TV and something we all look for – free WiFi.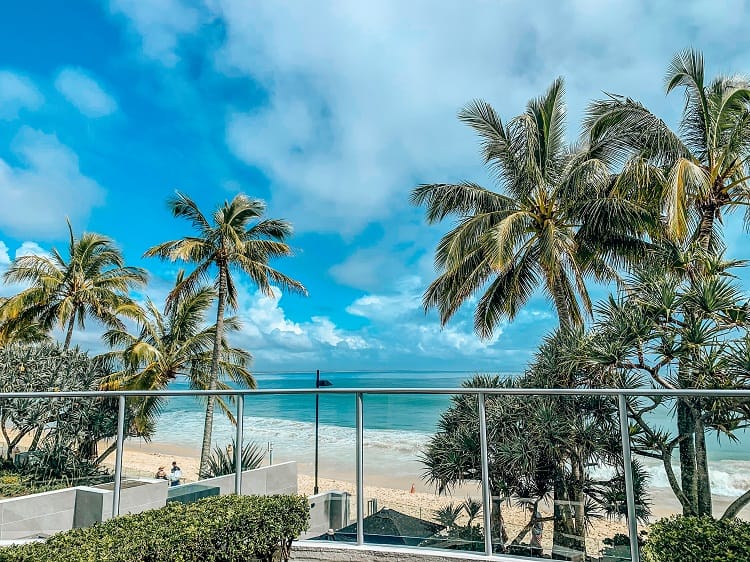 A Gym:
For those of you that like to stay in shape whilst on a vacation, you can also maintain your muscles at the small but fairly contained resort gym.
Massage
What luxury vacation is complete without a massage? In this resort, you can take advantage of some of the most skilled yet gentle masseuses who will rub, oil, and knead all your tensions away.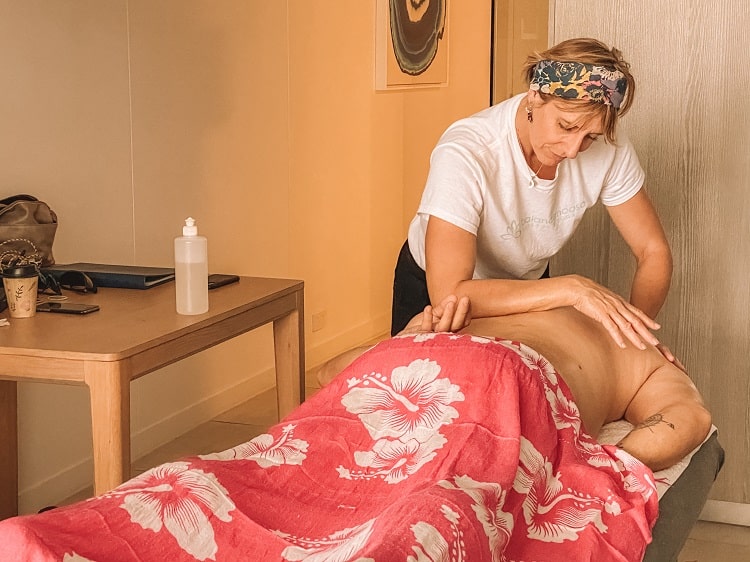 Couples who opt for the Couples Getaway Package will enjoy a 30-minute massage from Ali at Balance Noosa – the resort's very own spa.
Where to Eat
Finding the right place to eat is always stressful, but what do you do when there are half a dozen options of the most exotic, top-rated restaurants in town?
Whist at On The Beach Noosa Resort, you will find some of the most delectable and mouth-watering cuisines – from local, fresh produce, to exotic, modern Asian cuisine with a twist.
Take a short walk to Hastings St. and you will find yourself immersed in the local cuisine and culture, expertly plated and fresh as the sea.
Breakfast Options
Here are the breakfast options that we have tried out for you and recommend for your stay at this Noosa beach resort. Both of those highly-rated restaurants are located directly below the resort, which is perfect and very convenient:
Boardwalk Bistro on Hastings Noosa
Boardwalk Bistro not only hosts their own restaurant and bar but also hosts events and weddings on a regular basis.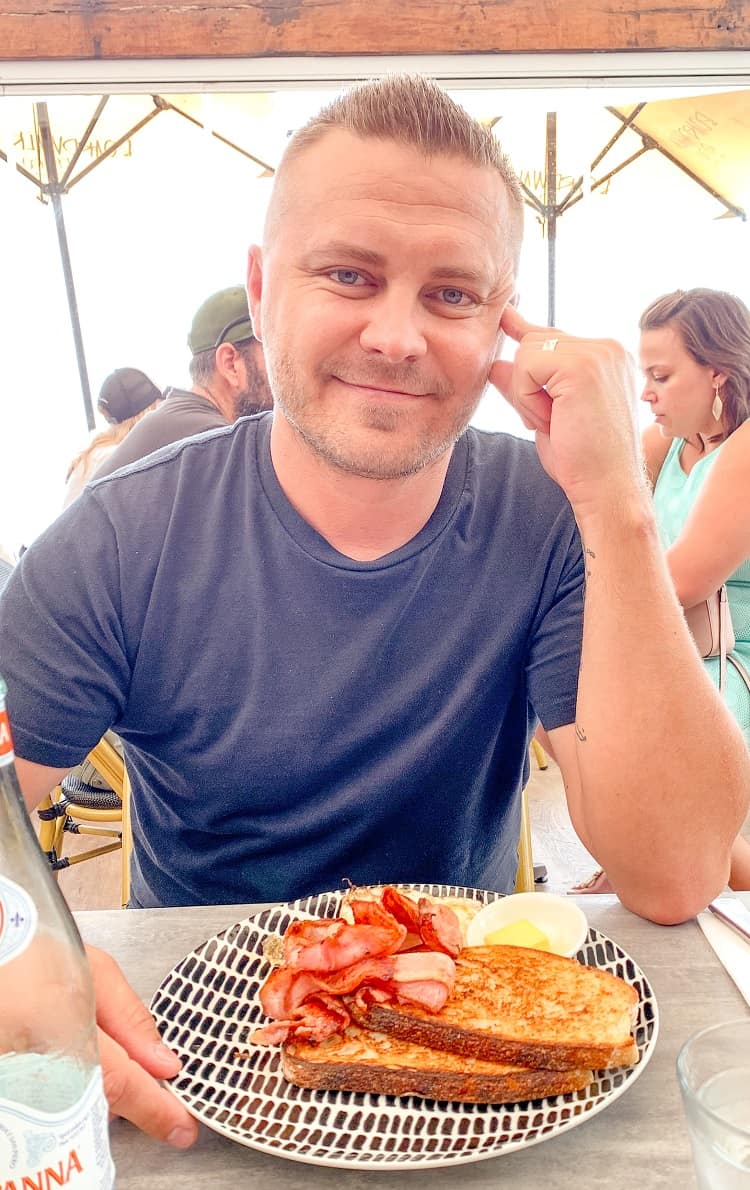 Their decor soaks up elements of the atmosphere while always giving a sophisticated feel. From oysters to burgers, there's not much you can miss at this dining venue.
Breaky here is well presented and hits the spot, all whilst you enjoy the beachside bistro vibe.
Bistro C Noosa
Overlooking the Laguna Bay, Bistro C offers an outstanding outdoor & indoor venue for breakfast, lunch and dinners. Their award-winning cuisine should definitely be part of your trip to Noosa.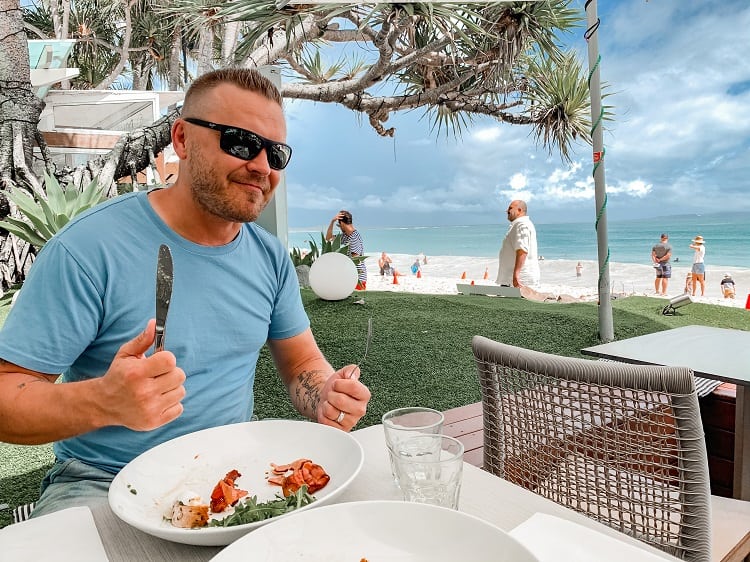 Bistro C is one of our absolute favorite ones on the whole of the Sunshine Coast and we recommend it highly. More for dinners though, as the breakfast can feel a bit rushed and they don't do fried eggs (which I like) and only poached or scrambled.
Dinner Options
Here are our favorite and recommended places to eat in Noosa. And yes, all of those restaurants are within 100 meters away from the resort:
Seasons Noosa
Looking for a laidback dining experience while enjoying both the mesmerizing sounds of waves as well as the views of the picturesque Noosa beachfront?
Seasons Restaurant is the ideal place to enjoy the best cuisine and beachfront experience – all in one.
Bistro C Noosa
The beachside restaurant and bar offer palatable delights while providing direct access to the stunning Laguna Bay in Noosa.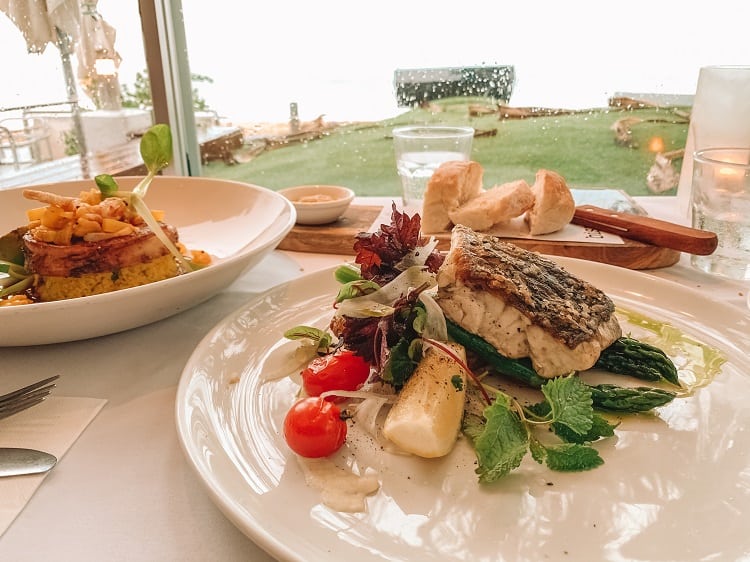 This restaurant, as I mentioned before, is our top dinner restaurant on the Sunshine Coast. Although the menu is relatively small, they focus on providing your taste-buds with bags of flavor and dishes cooked to perfection.
I am not just talking it up here, I genuinely love to eat here!
O-Ren Noosa
In the mood for modern Asian cuisine with a twist? Consider O-Ren Noosa for dinner, where you'll not only find some of the most exotic and intriguing Asian dishes, but also handcrafted beer and other delicious cocktails.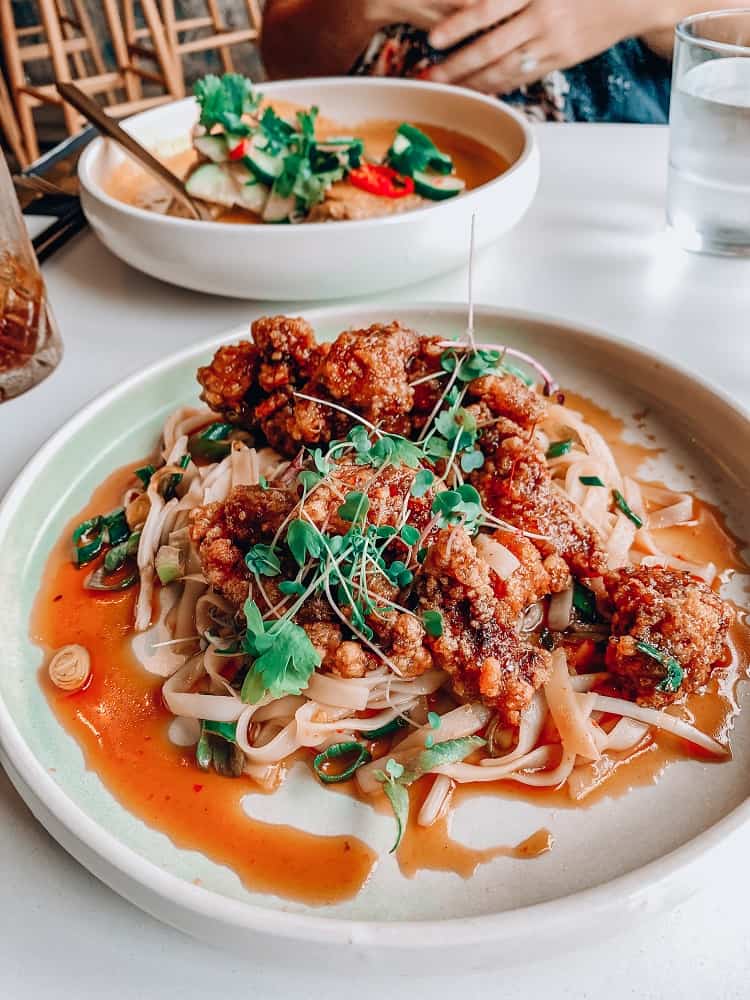 Our recommendation, Litchi Martini and Caramelized Beef (if it is still on the menu).
Final Words About the Resort
From heated pools to horseback riding, cruises to boat rides, and a chance to experience the local delights, Noosa offers tourists a peek into paradise on earth.
There are various packages and accommodation options depending on whether you are traveling alone, with a partner or with family.
Book your stay through the On The Beach Noosa Resort to avail their thrilling offers such as gift vouchers, special packages, and welcome gifts.
Things You May Want to Do Whilst Visiting Noosa
Check out some of the most popular things to do around Noosa on the sunny Sunshine Coast: