On our latest trip to Indonesia, we wanted to venture further than Bali. We decided to extend our trip to both Lombok and Gili Trawagan Islands. We knew that we were in desperate need of a truly relaxing beach holiday; but we also wanted to enjoy our time on the beach away from the tourist hoards!
For us that meant that a good week on Lombok island was needed. For those of you who don't know, Lombok has truly stunning white sandy beaches on offer. The most beautiful of these are located in Lombok's Kuta area.
There you will also find Novotel Lombok. This hotel has its own private white sandy beach, which means that you can find your beach oasis without even having to make any effort of going elsewhere.
Novotel Lombok Resort and Villas is perfect for families (and couples). On top of the private beach, this hotel also has 3 outdoor pools, and inclusion of plenty of included activities, some yummy food and beautiful resort rooms. It is a top choice hotel for those who wish to relax and unwind.
Novotel Lombok Review
Check-out the exclusive resort video from Luxury Escapes below!
–
Location
Novotel Lombok Resort & Villas is located close to Kuta in South Lombok. Just 20 minutes from Lombok International Airport, the resort is within easy reach and located in a popular area; surrounding by plenty of options of things to do and places to see (if you happen to venture off the resort grounds, that is!).
Whilst Kuta is pretty touristy, we did really enjoy our time there, but it is always important to remember that people can experience places so differently. Here is a great article by Amélie who didn't enjoy her time as much at Kuta.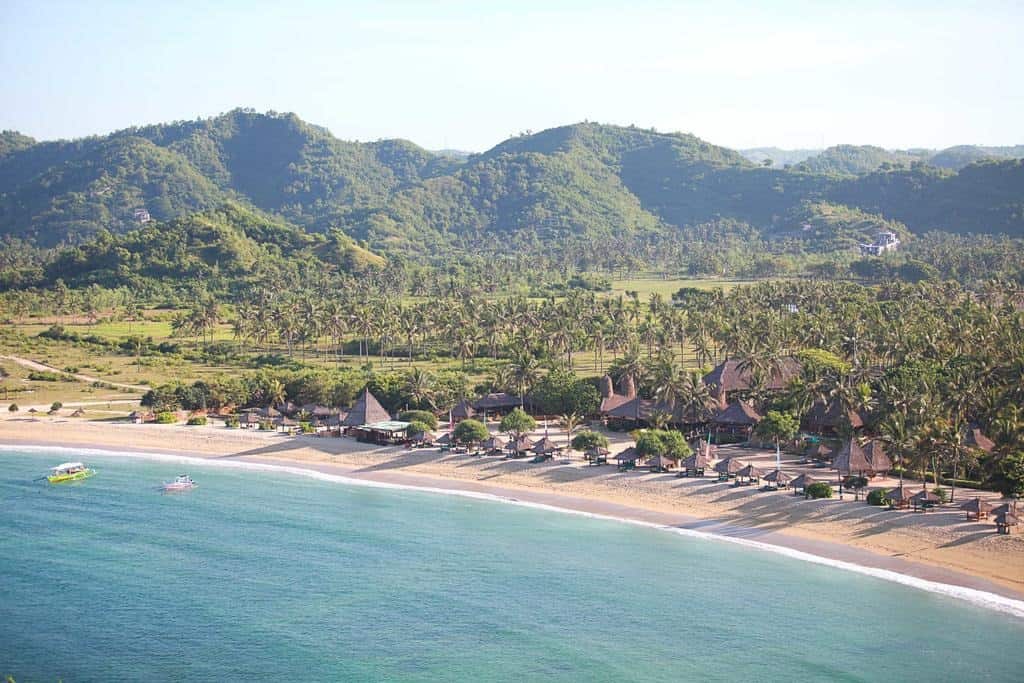 __________
FURTHER READING
For information how to get from Bali to Lombok, check out the link below:
For information on the best things to do in Lombok, click here:
__________
What you will love about Novotel Lombok
The best thing about this resort is that it offers everything you could possibly need on its own grounds.
After a beach day? Well head to their private beach section
Want to laze around next to the pool? Choose one of the three outdoor pools on offer. I'm sure you will find yourself at the edge of their infinity pool on more than one occasion.
Do you enjoy staying busy with organized activities? The resort has an never-ending list of daily free activities on offer. It might be challenging to figure out which ones to choose; from sunset tours, to monkey feeding, to visiting the beautiful beaches close by. Maybe you prefer to partake in some cultural activities to learn more about the Sasak culture; watch the coconut climbing demonstration or visit a Sasak traditional village. As I said, your choices are endless (very nearly!)
Want to get pampered? The day spa have a wide range of services on offer!
For those who are travelling with kids, you will be stoked to hear that the resort also has a kids club, kids play area as well as various kids activities on offer.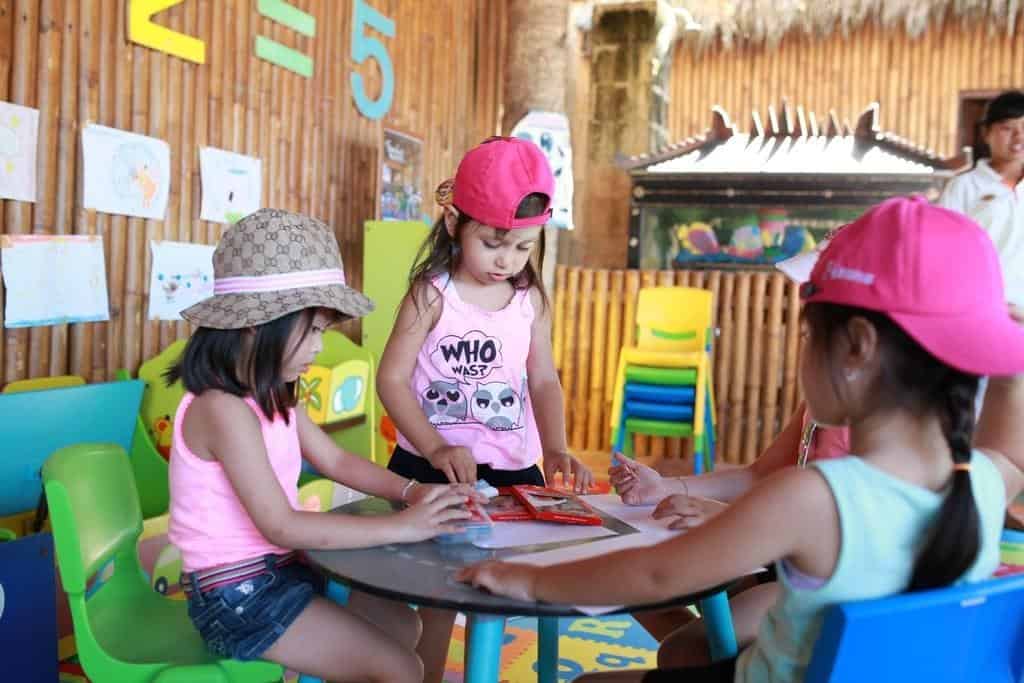 For those of you who love to be more adventurous, you might like to try out some of their water sports, scuba diving or kayak activities.
The Rooms
With 4 star facilities, the hotel blends traditional Sasak style, tropical gardens, and spacious modern designs.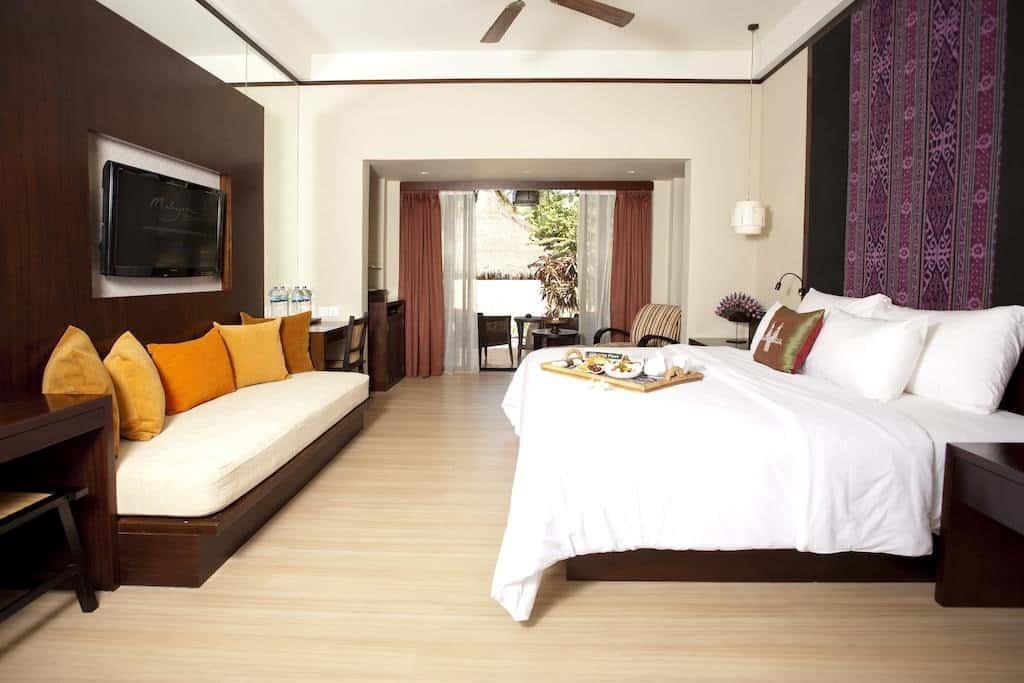 The Novotel Lombok resort has rooms to suit 2-4 guests, which means that they are perfect as a couple escape or for a family holiday. All rooms are spacious and have ample storage for those who likes to unpack. The rooms are comfy, modern and feature a contemporary design.
Connecting rooms are also available for larger families or for those who enjoy travelling with friends. Some rooms have a private terrace, which in our opinion is worth the little bit of extra money.
For those who love a bit of luxury, might we suggest that you book yourself into one of their beautiful one bedroom villas. Some of the villas at Novotel Lombok Resort have their very own private pool! Gotta love that!
Perfect for Families
Novotel Lombok is a great hotel for families, and happens to be pretty popular amongst families. The resort truly caters for family holidays by offering free accommodation and breakfast for up to two kids (under 16). You can also grab a second interconnecting bedroom for 50% off the normal rate.
Your children will have a fabulous time playing in one of the pools or building some sand castles on the beach sand. The kids club will most definitely be a hit for both the parents and the children! I really love how the included activities at the resort is perfect for both adults and children and some are educational as well, which means that you kids will come back home with some great Sasak knowledge to share with their school friends.
The Verdict on Novotel Lombok Resort and Villas
Novotel Lombok Hotel is the perfect place to stay in Lombok. It is a resort that offers everything on grounds, from pools, a private beach, restaurants, a day spa, a gym, a kids club and so much more. It is the best hotel for those who enjoy participating in a range of activities as well as for those who simply wish to enjoy a bit of a luxury and relaxation.
Leave us a Comment:
Does this look like the resort that you would enjoy staying at?