You can easily journey from the one side of Bali to the other in the space of one day!  This full day Bali tour, which takes you through the central mountains to Singaraja and Lovina Beach on the North Coast, is ideal for escaping the 'normal' busy touristy spots, whilst getting to see what rural Bali has on offer! 
Whilst this full day Bali tour is pretty lengthy – around 10.5 hours – You will be completely relaxed whilst staring out of the window of the minibus, completely absorbed in the tranquillity of the rural Balinese landscape.
The tour will take you on an exploration of the countryside and beaches of the North Coast through a journey of the towns of Singaraja, Lovina and the mountain resort of Bedugul whilst also giving you a taste of some rainforest and one spectacular waterfall!
We had a fabulous day exploring the quieter areas of Bali and highly recommend this North Coast Bali tour to explore beyond the touristy Kuta and Ubud regions of Bali.  You can book your tour through Viator here*.
Tranquil full day Bali Tour: Singaraja and Bedugul North Coast Bali Tour
Candi Kuning Fruit and Flower Market
The Bali tour starts with a pickup service from the hotel you are staying at.  We were staying at Sol Beach House Benoa in Nusa Dua and as the lobby is pretty comfortable, we enjoyed lazing around until our tour leader came and collected us.  We were also fortunate to find that we were the only people on this tour, which meant that we had the entire minibus to ourselves!  Ahhhhhh BLISS!!!!
The drive towards your first stop will take you winding through some roads in some interesting neighborhoods in Bali, we truly enjoyed watching the Balinese going about their daily activities!  We were even fortunate enough to see a funeral progression going on!  With a culture so different to our own, we were keen to learn more about what exactly was going on in this progression and our tour leader was incredibly eager to share his stories and culture with us! 
The drive will eventually take you up into the mountains.  Here you will find that the vegetation starts changing.  Here in this rural area, you will find farming plots that are growing various vegetables, such as potatoes, cabbages, and maize.  Even higher and higher you will go up the steep mountain of Pacung until you find typical mountain vegetation such as alpine with mosses, ferns, and creepers.
You will be pretty grateful when that first stop comes into view as it is definitely time to stretch those legs!  This stop is at the Candi Kuning Fruit and Flower Market and here you will find various stalls together with a flock of determined watch hawkers.  I think I was fortunate that I had a brother and father on the tour with me who actually enjoyed investigation the 'knock-off' watches that was for sale.  So the hawkers all grouped around them, leaving me free to wander around the various stalls. 
As with all markets in Bali, the stall merchandise is mostly geared towards tourism and even though you are so far away from the famous Kuta, you will find a similar type of stalls and merchandise available here.  Remember that the Balinese loves to barter, so have a bit of fun with the ping-pong game of pricing.
The stalls that I truly enjoyed was the fruit stalls.  And it was an excellent opportunity to try out some of the island fruit that I had never even seen before.  Some of which I enjoyed (Mangosteen is yumm, even though its texture is a bit weird!  Salak is delicious and sweet, and reminds me of Lychees) and some of which I weren't too keen on.  I truly believe though that you need to be brave and give local fruit, local cuisine and other delicacies a try whilst travelling, so go on and test those tastebuds!  We ended up buying a selection of fruit for our trip, healthy snack food!  YUMMMM!
I think we only spent around 20 minutes here at the markets, before heading back to our minibus and asking our Bali tour leader to move on.  The joys of being the only people on a tour!! 
Oh I should mention, that there are toilets here that you can use, and they do have westerner loo's – however you will need to pay to use them, so make sure to have some coins on you for this tour.
Lake Beratan & the Famous Ulun Danu Temple
Another drive and time to relax in the mini-bus as you watch the scenery zoom past your window.  The next stop is the gorgeous mountain resort of Bedugul.  Bedugal is located 850m above sea level.  And here the tourist focus point is the peaceful Lake Beratan. 
Lake Beratan fills the ancient crater of Mount Batukaru and here you will find a small strip of land and on it, lives the popular Ulun Danu Temple.  The people built this temple in honour of the Goddess of Water.  This temple is an incredibly famous photographers' delight, especially if you can grab a photo of her on a clear day at sunrise or sunset.  She is pretty delightful!
There are more to see here than just the Temple on the lake, however, so take some time and enjoy a leisurely stroll around the grounds.  It was really peaceful and quiet when we were here.  Not sure if the moody cloudy weather had anything to do with it, but it was really nice to explore a site without a crowd of tourists on top of you.
Twin Lakes View Bali
More driving as you head towards the opposite side of Bali and along the way, if time permits, you will make a stop at a gorgeous lookout point!  This lookout gives you a beautiful view over the 'Twin Lakes'.  Lake Buyan and Lake Tamblingan reaching out towards each other, but separated by a rainforest-covered hill.  Together with this incredible view, you will also find Balinese hawkers, trying to persuade you to hold one of the various animals such as Bats, Snakes, Iguanas on offer, all in return for payment for a photo. 
The stop at Twin Lakes View, Bali will be short before continuing on your way to Singaraja.
(Photo Source: Michael Sauers Flickr)
Lunch at Lovina Beach
You will drive through the old town of Singaraja, Bali's former capital, whilst heading towards Lovina Beach.  But before you get there, it is time for some warm Thai food in your bellies!  I'm not sure what the restaurant was called.  The food was nice, but nothing to rave about!  The atmosphere was lovely though! (Ps. Lunch comes at your own expense and is not included as part of the tour price).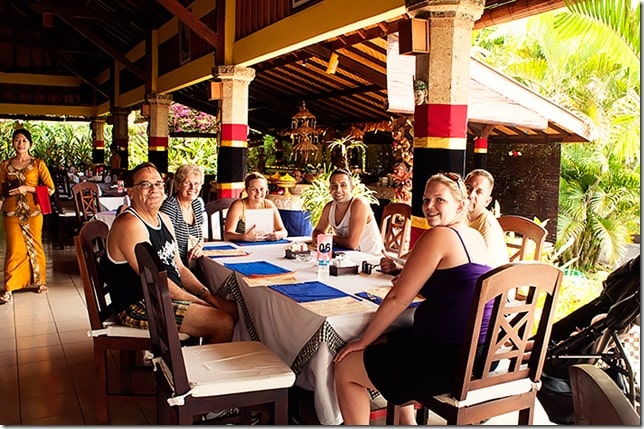 Lovina Black Sand Beach
In the western part of Singaraja, you will find Lovina, which is a long stretch of black sand beach that encompasses Anturan, Tukad Mungga, Kalibukbuk, Kaliasem and Temukus villages.  This black sand beach is the most popular one in Bali.  The ocean has no waves and comes across as pretty serene and quiet.  The section of beach that we visited was pretty much deserted, the only people around where a few Balinese hawkers, trying to sell off some white and black 'pearl' jewellery.
I'm going to be honest here, I had never seen a black sand beach before, and it sounded incredibly impressive.  I was pretty keen to see this beach!  The photo above is the photo we got on the day.  And whilst there were black rocks, I really did not find this beach impressive and could not believe that we had spend half a day driving towards this beach?  I didn't get it!
Anyways, for the sake of the argument, I went and found a photo of the black beach from Flickr.  And Susan Catherine Weber's photo definitely does the 'black sand' beach more justice.
(Photo Source: Susan Catherine Weber Flicker)
I'm still not feeling overly excited, but I guess I can tick the box that says 'seen a black sand beach' and just move on with life!
As a result, I think we only spent about 5-10 minutes here before moving on.
Gitgit Waterfall
The last stop of the day, Gitgit Waterfall.  It is a little bit of a hike to Gitgit Waterfall, I really enjoyed the walk, which takes you downstairs and past some market stalls.  I found the most adorable Balinese kids here who were hawking off shell bracelets and necklaces that they had made themselves.  So I grabbed two to take home for my daughters as memorabilia. 
You will also walk past some gorgeous rice paddies whilst heading towards a rainforest section.
And at last you will see the almighty Git Git Waterfall plummeting down the cliff side.  The waterfall was beautiful and the power of the water was so extreme that the sound would roar when you stood close to the base, the wind from the fall will mess around with your hair and you will leave a little bit soaked from the spray of the water!  It was a great way to cool down after a pretty hot day in Bali!
Be prepared though as the walk back, will take you UP the stairs you came down on, so it might take a bit of huffing and puffing to reach the minibus again!!  However, once there, it will be time to sit back and relax whilst journeying all the way back to your hotel! 
Wondering where to stay? Why not check out our list to help you find the best resort in Bali for families.
We had a splendid day on this full day Bali Tour.  True!  The 10.5 hour day was pretty exhausting and we all hit our pillows a bit earlier than normal, but it is a tour that I highly recommend as it truly gives you a beautiful 'crash course' as to what the Island of Bali has to offer!  There is more to this island than Kuta and Ubud people!  And it is time to explore!
Singaraja and Bedugul North Coast Bali Mountain Tour
 

–

BOOK NOW

!*

Viator Tour Information available here*.

Price: AU $86.51 or US $61 p/p

Bali North Coast Tour Length: 10.5 Hours

Departure point: Tour departs from all major hotels in Kuta, Legian, Sanur, Nusa Dua, Seminyak

Departure time: 8.30am

Inclusions
Professional guide
Entrance fees
Hotel pickup and drop off
Exclusions
Gratuities (optional – but it is kinda expected)
Food and drinks
Who has Bali on the wish list?

Does this full day Bali tour look like something you would enjoy?