Britain isn't just history, culture and cities – in fact, there is far more on offer here!
The UK is not always fully credited with the natural beauty that it possesses. It boasts some of the most breath-taking, epic scenery and the wildest places you could hope for.
There are 15 protected national parks in Britain, each one stunning and totally unspoiled, and all offering something different. 
The Most Beautiful National Parks in Britain
National parks are the perfect place to practice outdoor activities like climbing, running, mountain-biking or even trying scenic yoga. Visiting them makes the perfect break from any mentally taxing activity, whether that be your job or another mental activity like poker or other brain games.
You can enjoy a break, have a walk, and take in the wonderful scenery, practicing the same five minutes of a yoga routine that you usually do at home and stopping for yoga-with-a-view – it's guaranteed to make you feel totally alive.
Alternatively, if you are looking for something more dynamic, then there are plenty of options available.
All the national parks in Britain are ideal locations for a whole host of activities! Let's take a look at some of the best options you have at your disposal and some of the activities that are bound to whet the appetite of any outdoors-lo ver.
---
Scotland
Scotland, perhaps, offers the most awesome scenery in the UK. It's home to the UK's highest mountain, Ben Nevis, and wildlife like golden eagles, sea eagles and wildcats, which you can't find anywhere else in Britain.
Scotland has just two national parks, but both are wild and wonderful. The Cairngorms is the largest national park in the UK and you can find five of Scotland's tallest peaks in this park.
Loch Lomond and the Trossachs is an area of tremendous untamed beauty and offers superb hiking opportunities that will thrill nature lovers.
Hikers should remember to always take care when exploring the highlands and climbing peaks; while enjoying the views and vistas, remain aware that weather conditions can change rapidly.
---
Wales
Wales boasts some of the most picturesque and diverse parks on the list. There are three national parks in Wales and you could easily argue that they are three of the best parks in the whole of Britain.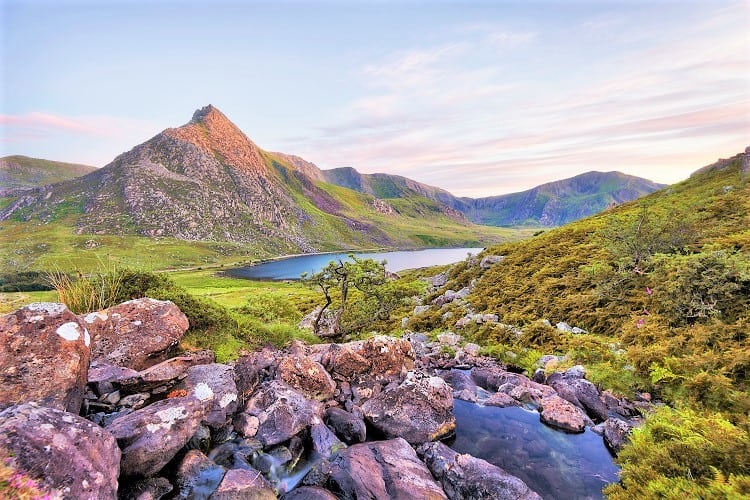 Pembrokeshire, the Brecon Beacons and Snowdonia all have different characteristics. If you want dramatic coastline and one of the most beautiful sections of the UK coastal path, then look no further than Pembrokeshire.
If it's moorland, rugged and rolling, green mountains and great hiking you are looking for, then you will be satisfied with both the Brecon Beacons and Snowdonia.
Although, if there is one word of warning necessary before setting foot in any of the lush Welsh parks, it would be to pack good waterproofs and suitable footwear, as there is a good chance you will see some wild weather conditions.
---
North of England
The north of England has perhaps the densest population of national parks in the UK and among them are some real gems, including the Lake District, the Peak District and the North York Moors to name but a few.
The Peak District is famous for its caving, with the deepest cave there over 400 metres underground.
The Lake District lives up to its name and is home to sixteen vast lakes; it is officially a UNESCO protected area and is the perfect place to practice sailing, fishing and paddle-boarding among a long list of other outdoor activities.
If history interests you, then the Northumberland National Park ticks a lot of boxes with castles and plenty of Bronze Age sites to be found there.
---
South and South West of England
The majority of national parks are on the west side of the UK due to the dramatic and vibrant landscapes of the countryside found there. Two of the most photogenic parks on the list can be found in the south-west of England in Devon.
Both Exmoor and Dartmoor are very close to each other and are both very similar. Both parks centre on rivers that snake through moorland and the high ground is dominated by tors (volcanic rock formations).
Both moors offer great scope for hiking, off-grid camping, and activities like bouldering. Dartmoor, in particular, has fantastic canoeing potential. The New Forest, one of the most accessible parks in the south, is famous for its ponies.
The South Downs National Park forms part of another stunning coastal park with the iconic white cliffs, so typical of the south of England, which are bound to excite any visitor.
---
Final Words
With plenty of options spread right across the UK, you don't have to travel large distances to find one and with so many available, you can make a checklist and aim to discover them all.
So, get ready to pack up the car and hit the road!