Switzerland is one of the world's prettiest countries. Its landscape of impressive mountain ranges and beautiful villages is sure to impress.
With so much beauty waiting for you to discover, it's not easy picking your ideal vacation destination in Switzerland.
But don't fear. We've found the 22 most beautiful places in Switzerland that you should see. From the highest railway station in the world to the turquoise waters of Lake Brienz and Lake Thun.
Here is a list of the prettiest places in Switzerland. Pick your favorites and add them to your itinerary.
---
22 Of The Most Beautiful Places in Switzerland to Visit
Switzerland is one of the most beautiful countries in Europe and is well worth at least 2 weeks of your time.
We rented a car for our Swiss vacation and absolutely loved the scenery from the car once you get off the main roads. There are so many gorgeous towns to see.
Below is a list of the best places in Switzerland to include in your itinerary.
The list has a range of unforgettable sights, from the most beautiful cities in Switzerland to the most mesmerizing lakes, mountains, and castles.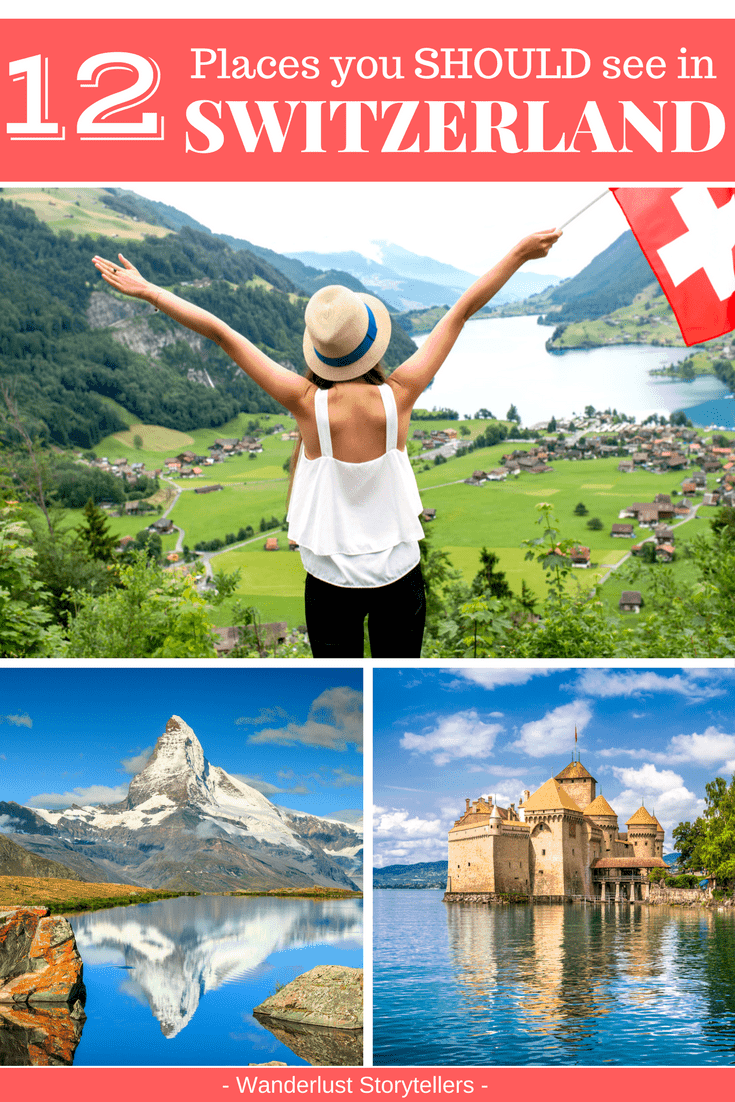 We like to scout out destinations that are still off the beaten path. That said, we've also included a range of famous places in Switzerland that will never lose their charm.
Here are 22 of the most beautiful places in Switzerland to visit. Which of them will be the most beautiful place in Switzerland for you?
1. Jungfraujoch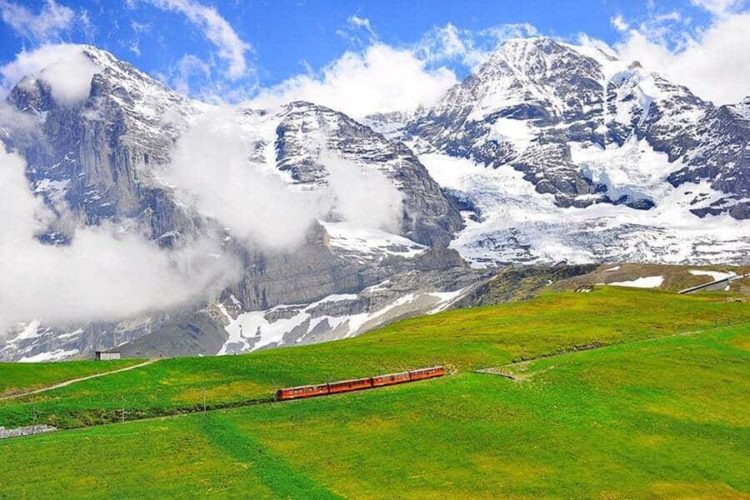 Known as "The Top of Europe," Jungfraujoch might be the most beautiful place in Switzerland.
Your journey to Jungfraujoch begins with a scenic ride up the etched mountainside to its peak. The ride alone makes the town a must-see.
It's a slow ascent up the Jungfraujoch mountain as you climb 3,000 meters to the tallest peak in Switzerland.
Once at the top – roughly a two-hour ride from Interlaken – you can take in the breathtaking scenery around you.
The Sphinx Observatory is the best place to admire the Swiss Alps.
Europe's longest glacier, the Great Aletsch Glacier, is also located just below and has been named a UNESCO World Heritage Site. So you can imagine the views from up top are spectacular.
If you want a slightly more adventurous activity, walk along the Eiger Trail or Panorama Way. Just remember it's cold up there, so pack warm clothes.
After more activities? You can discover a winter wonderland at the Ice Palace or tickle your tastebuds at Lindt Swiss Chocolate Heaven.
The kids will have a lovely time at the Snow Fun Park – but we had as much, if not more, fun than Katie, Lily, and Avalee.
You can also take a 60-minute hike to Mönchsjoch Hut for fantastic views of the Valais Mountains.
If all these gorgeous views and activities aren't enough, you can also take the gondola ride to see the Lauterbrunnen Valley.
Best Way to Visit Jungraujoch Via a Day Trip
The best and easiest way to visit Junraijoch is on an organized full-day tour from Zurich. From Zurich, you will travel in a luxury coach to Interlaken, and then on to Grindelwald.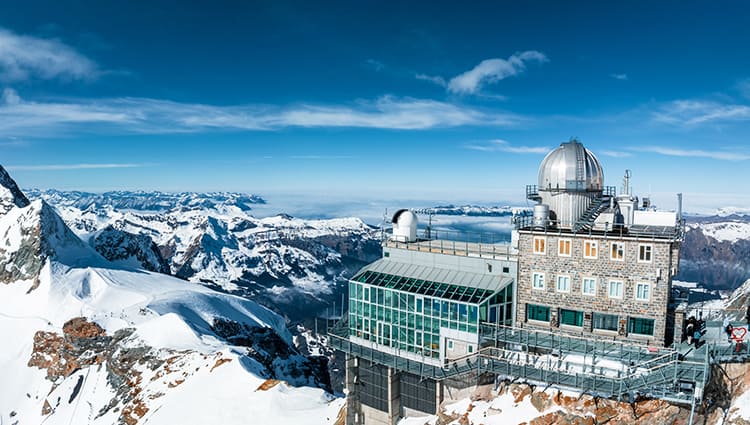 From Grindelwald, you will board the gondola Eiger Express for a stunning ride to the Eiger Glacier station, where you will change to the cogwheel train to Jungfraujoch.
Once in Jungraujoch, you will see the glorious panoramic views from the Sphinx Observation Terrace and enjoy a stroll through the tunnels of the Ice Palace in the glacier, before heading on to Lauterbrunnen, and then back to Zurich.
---
2. Lauterbrunnen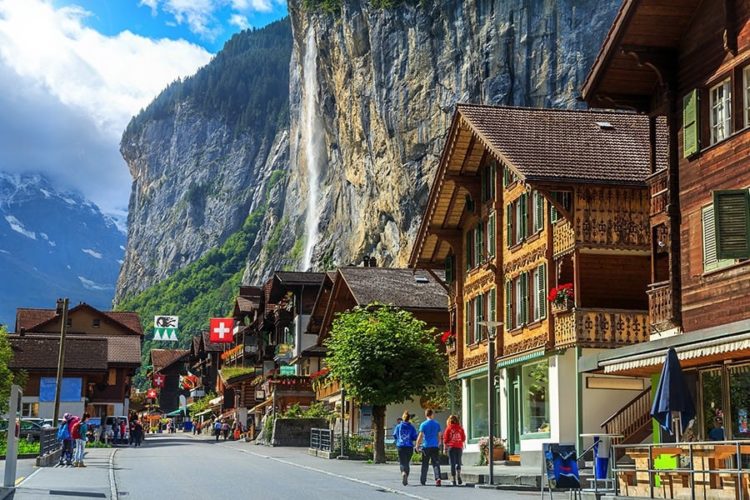 Lauterbrunnen is deservedly second on the list of the most beautiful places Switzerland has to offer! Situated in the Swiss Alps, this village is set in one of the most impressive trough valleys in the Alps.
Surrounding the village, you find dramatic rocky cliffs and the famous 300-meter-high Staubbach Falls.
There's even a hike that leads underneath the falls, where you can snap some legendary family photos.
You can also take a moment to be in nature at its built-in rock gallery, where you can look at the town from behind the falls.
If the unique setting of this village is not enough for you, you can also visit the viewing platforms close by to see the sensational glacial waters of Trümmelbach Falls as they rush through the mountain crevices.
Or, you could challenge yourself and scout out all 72 waterfalls in the Lauterbrunnen Valley. Most notable is the Trummelbach Falls, a 3.5 km flat walk from Lauterbrunnen that has ten glacier-fed waterfall caves.
You can also enjoy a short but exciting adventure to the town of Isenfluh, 400 meters above Lauterbrunnen.
The drive alone is unbelievable, as you travel through a 1.2 km loop tunnel and several hairpins to reach the town.
The views of Lauterbrunnen, the most beautiful village in Switzerland, are stunning, and a family photo is called for.
Last but not least, don't forget to grab a cable car from Stechelberg village to Schilthorn mountain for views over the glorious Bernese Alps.
How Long To Stay For
We recommend you stay here for 2-3 days in order to enjoy the hikes, and scenery and to explore villages close by.
Where to Stay in Lauterbrunnen
The best hotel to book for your stay is the popular 4-star Hotel Oberland.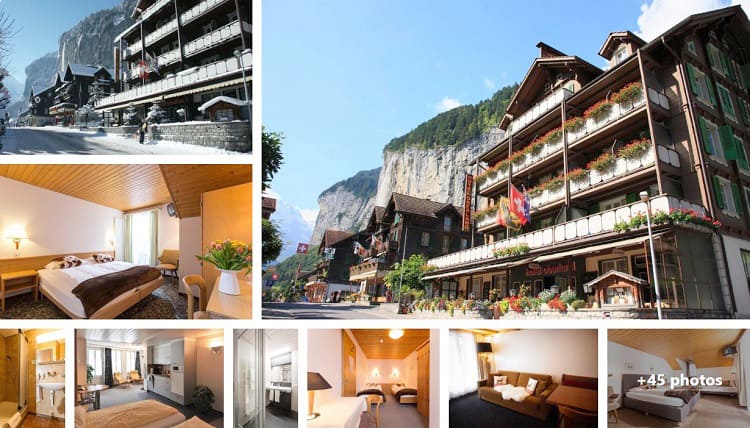 The hotel is conveniently located and some rooms have a balcony with gorgeous views.
---
3. Interlaken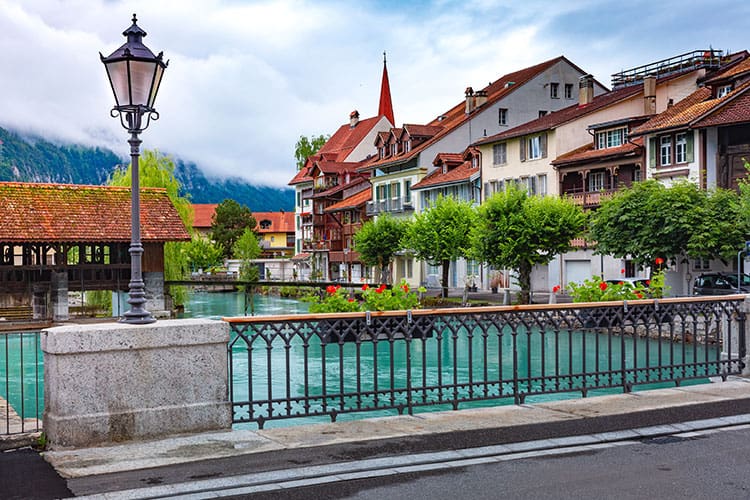 Located between Lake Brienz and Lake Thun is Interlaken, one of Switzerland's most beautiful places for sure!
This resort town is stunning, with acres upon acres of open space, flower gardens, and the peaks of Eiger, Jungfrau, and Monch towering over the city.
The best place to see the colorful gardens of tulips and petunias is at Höhematte Park. If you want the best vantage point of Lake Thun, walk across the Sigriswil Panorama Bridge.
The best way to see Lake Brienz is by kayaking, as the pine-tree-lined lake offers a breathtaking reflection of the countryside.
For something more hidden, visit the St. Beatus Cave and waterfalls to admire flowing water and unique stalagmites and stalactites.
There are also over 45 modes of transport throughout the city, including cable cars and railways, so you'll never be stuck in one place for long.
Interlaken is one of the most beautiful places in Switzerland in summer however in winter it is fantastic for snowboarding.
Other activities include paragliding, you can also enjoy a gentle walk to the ruins of Unspunnen Castle. These ruins are only 3 km from central Interlaken and provide a lovely reprieve from the city's busy streets.
With all this, you can't say you've been to Interlaken until you've visited Harder Kulm. You'll enjoy breathtaking views of Interlaken, Lake Thun, and Lake Brienz from the panoramic viewing deck.
Tours To Book To Get The Most From Your Stay
Grab Your Boat Day Pass on Lake Thun and Lake Brienz. This beautiful trip is available during the summer months (April-October). See famous sights such as the St. Beatus Caves, the Giessbach Falls, and many castles around the lake. The views over the Bernese Oberland mountains are glorious from the lakes.
How Long To Stay For
We recommend you stay for 2-4 days which will give you enough time to enjoy the town, and the lakes and tackle some hikes in the mountains.
Where To Stay In Interlaken
The best hotel to book for your stay is The HEY Hotel.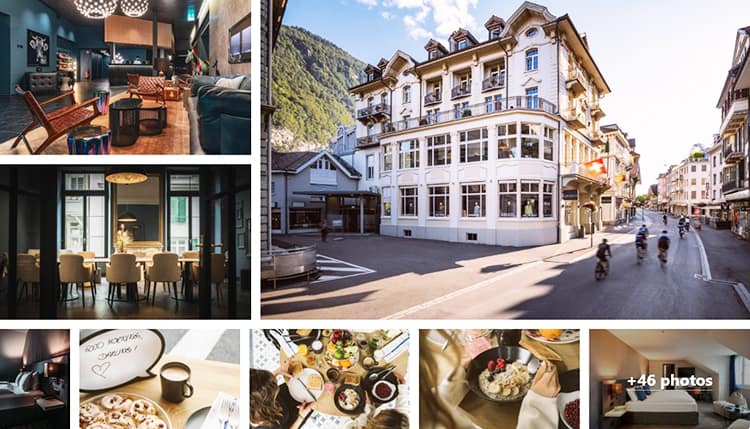 The hotel is in the center of the town, has comfortable rooms and it's only 400 meters from the Interlaken-West train station.
---
4. Lucerne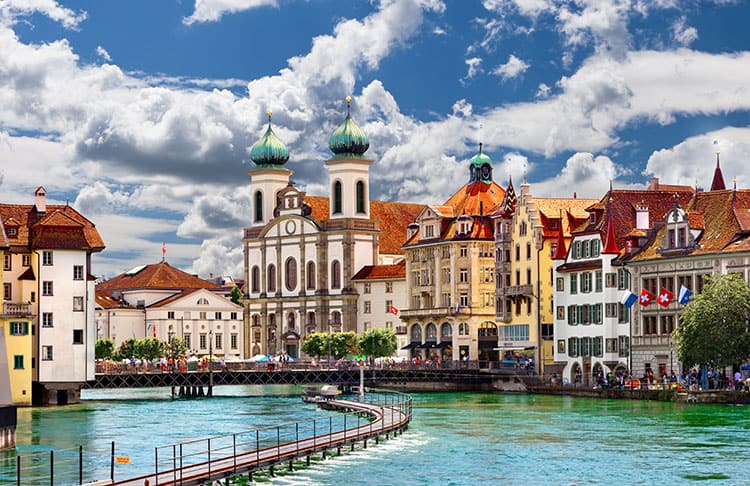 Lucerne is a town that will live long in your memory, as it has for us. Lucerne is one of the top places in Switzerland!
This medieval town is surrounded by mountains and peppered with historic buildings and covered bridges.
Cars aren't allowed here, so you can easily walk around as pedestrians truly have the right of way.
As one of the top historical places in Switzerland, this town is most famous for Chapel Bridge and the Lion Monument.
If you want spectacular views of the area, including Lake Lucerne, you can ride up Mt. Pilatus by cableway.
Alternatively, travel up to Mt. Pilatus' viewing area on the steepest cogwheel track in the world, with an average gradient of 48%.
Alternatively, you can discover the awe-inspiring natural potholes at Glacier Garden.
A fabulous way to explore this wonderful city and some of its top landmarks and sights is via a self-guided walking tour. Just to name a few, you'll see the historic Musegg Wall surrounding the city.
You'll also see the Romanesque Basilica of Hofkirche and the breathtaking Jesuit Church along Lake Lucerne.
Let's just say this is a destination that's well worth the trip. You simply need to kayak along Lake Lucerne to know what we mean.
Click here to grab some info on planning your walking tour of Lucerne.
Tours In Lucern That Are Fun
How Long To Stay For
We recommend you stay for at least 2 days, which will give you one day in the city and one day for a day trip to one of the mountains.
Where To Stay In Lucerne
To ensure you have the best stay book your stay at Hotel Schweizerhof Luzern.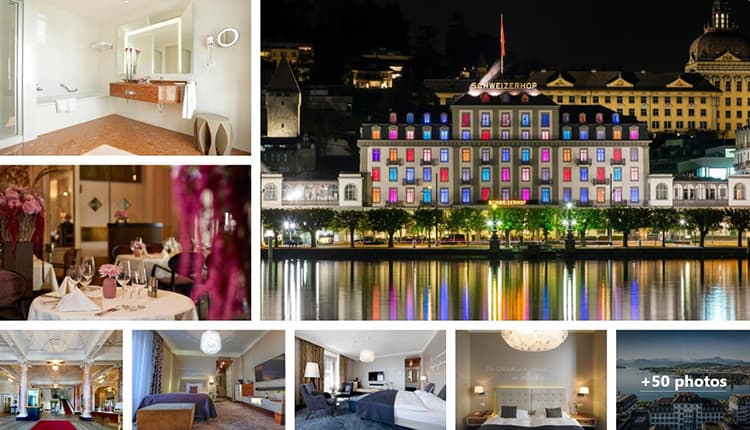 The location is excellent, the customer service is top-notch, the rooms are comfortable and the views are gorgeous.
---
5. Bern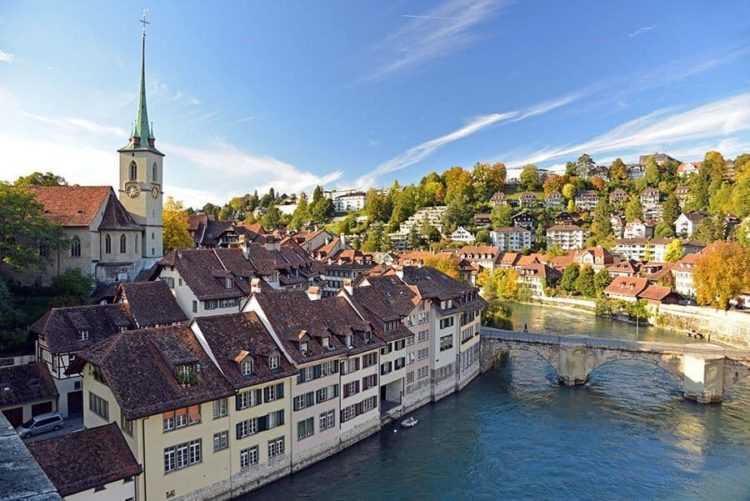 If you are looking for more of Switzerland's beautiful places, you cannot miss out on Bern!
The capital of Switzerland, Bern, is a UNESCO World Heritage Site, and for a good reason, as the old town has breathtaking architecture.
The tallest cathedral in Switzerland – the Cathedral of Bern – is in the heart of the city, with exquisite relief sculptures on its facade.
If you climb to the top of the cathedral, you'll get majestic views of the Aare River, which flows through the city.
There are also 16th-century towers and cobbled streets that add to the unique feeling of this lovely city.
A popular attraction is the medieval clock tower, Zytglogge, which has moving puppets. It's quirky and a great way to entertain the kids during the day.
In addition to all of this, a variety of impressive museums and galleries are located here.
This city is great if you want to see massive collections of Swiss art and sculptures. These museums include the Bern Museum of Art and Zentrum Paul Klee.
For an escape to nature, head to the Rosengarten and smell the vibrant flowers.
Exploring all the fountains across town is a fantastic way to discover the city. Let's not forget that visiting the Federal Palace is a must for all architecture lovers.
It's also a great idea to check out the local markets. The best one is in parliament square, Bundesplatz.
Visitors can buy all sorts of unique items to take back home while getting an intriguing view of the Bundeshaus parliament building.
Best Way To See Bern
You can easily see Bern in one day, so it is totally possible to organize your visit to Bern from Zurich as a day trip.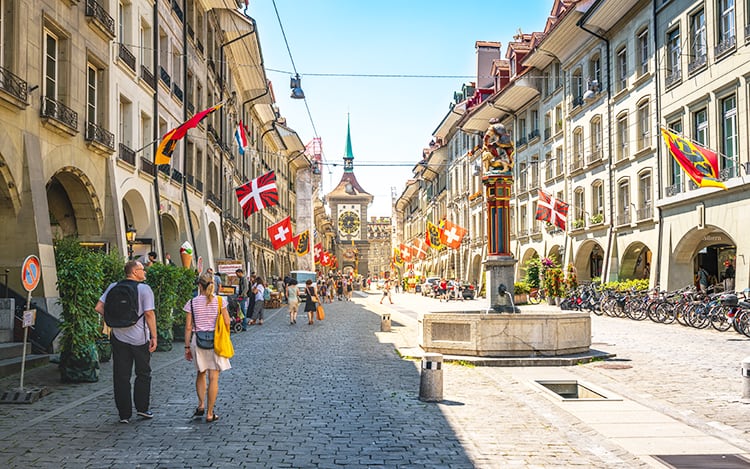 To get the most out of your day we highly recommend you book a guided tour.
---
6. Lake Geneva (lac Léman)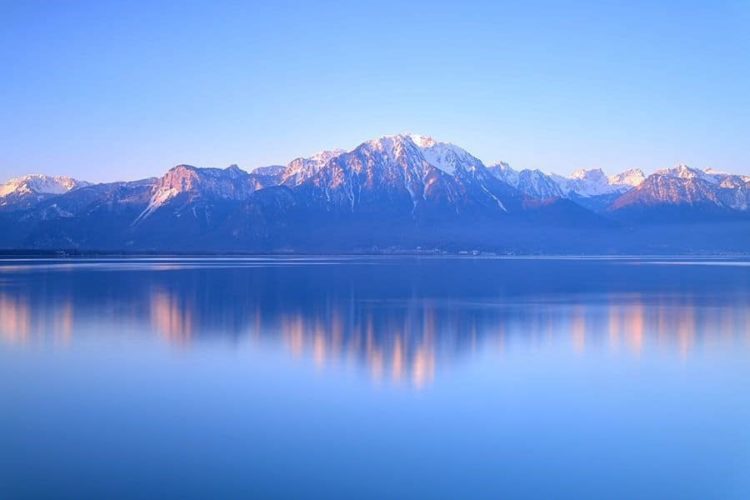 It's safe to say that Lake Geneva (lac Léman) is regarded as one of the most famous places in Switzerland.
As a result, it's typically one of the most visited places in Switzerland. This body of water is the largest Alpine lake in Europe, covering a staggering 580 km².
One of the most famous attractions of the lake is the Jet d'Eau. This fountain shoots water 150 meters high and provides the perfect backdrop for a family photo.
However, if you want stunning views of the lake from above, take a cable car up to Glacier 3000.
It's the highest point surrounding the lake, and its year-round snow-capped peaks make it a fantastic viewing point, be it summer or winter.
Those who visit the lake can also take advantage of all the things to do in the city of Geneva, including visiting the Grand Theatre and the Opera House.
You can also explore famous sights like Château de Chillon on a small island just off the shore of Lake Geneva.
Lake Geneva is one of the most beautiful lakes in Switzerland due to the majestic Swiss Alps as a backdrop to this lake.
The best way to enjoy all Lake Geneva offers is on a boat cruise, as you can see everything from the water.
This is one of the prettiest places in Switzerland by far!
Best Way to See the Lake Geneva
The lake is only around 50 min from Geneva.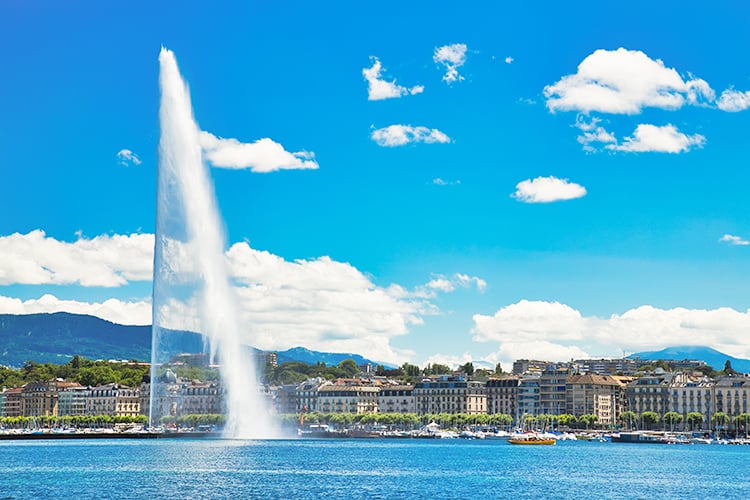 To get the most out of your day trip to the lake, we highly recommend you pre-book your cruise.
---
7. The Matterhorn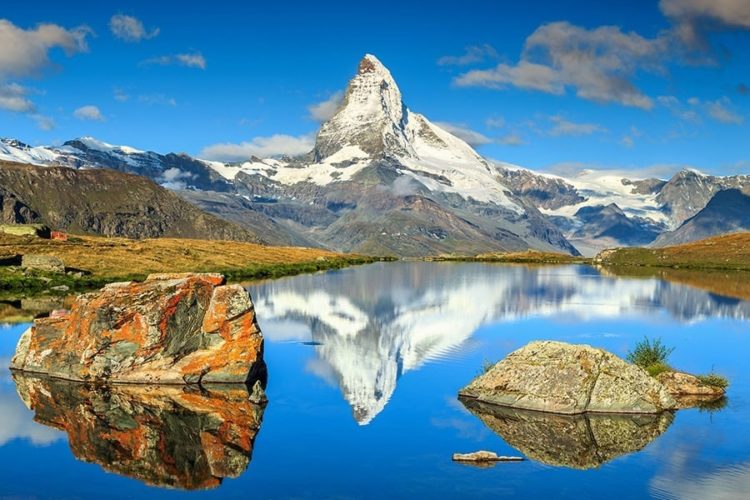 The Matterhorn is one of the most iconic symbols in Switzerland and one of the most picturesque places in Switzerland.
The peak of The Matterhorn is one of the Alps' highest points that borders Italy and has a height of 4,478 meters.
The steep faces of it are each pointed in four different directions like a compass. It's a fascinating sight we'll never forget.
At the foot of the Matterhorn is the village of Zermatt. It's known for its chalets and horse-drawn carriage rides. Motorized vehicles are not allowed in the village, which preserves its peacefulness.
The Matterhorn is much more than a pretty sight, as Zermatt provides several fun activities for the entire family.
You can take on the 5 lakes hike, with each lake providing majestic views of the Matterhorn.
Skiing and snowboarding are also really popular, and taking the Matterhorn Glacier Ride is another fun activity that'll give you glorious views of the valley below.
This is a popular destination for travelers year round and is one of the sights Switzerland is famous for.
Tours To Pre-Book
Where to Stay In Zermatt
The most convenient place to stay close to Matterhorn is Zermatt. We recommend you stay for 1-3 nights in this picturesque town.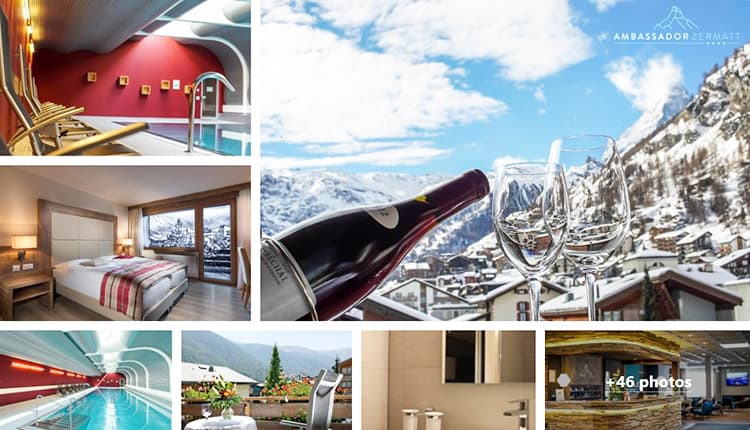 We recommend you stay at Hotel Ambassador Zermatt. The location is excellent, the rooms are comfy, the views are stunning and it has both a pool and sauna to enjoy.
---
8. Chateau de Chillon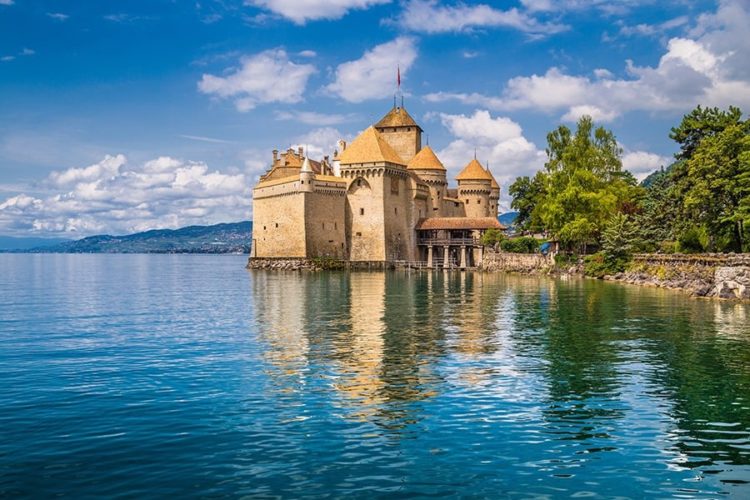 Okay, we've already mentioned this in the Lake Geneva section, but it honestly deserves its own place on the list. Located close to Montreux is the Château de Chillon, also known as Chillon Castle.
This is one of the most scenic places in Switzerland, with the Alps in the distance and the turquoise water of Lake Geneva all around.
It features three courtyards and 25 buildings. There are also underground rooms, murals, and impressive paintings.
The castle has a lot of history as it was a stronghold for the Dukes and Counts of Savoy back in the 12th century.
As a matter of fact, the castle has never been captured by invaders, but that's not the most interesting nugget of history about this place.
It was even used as a prison – a rather nice one – back in the 16th century.
It's complex history and picturesque setting have also made it a famous sight of inspiration for artists over the centuries.
You may recognize it in the works by Gustave Courbet or the writing of Jean Jacques Rousseau.
So when you pop over to Lake Geneva, it's a no-brainer to pay a visit to Chateau de Chillon.
---
9. Mürren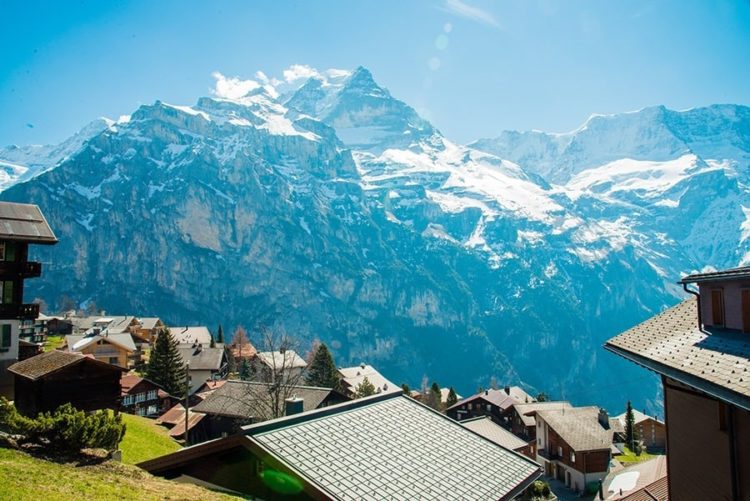 If you're looking for the most beautiful spots in Switzerland, you'll be happy with this one! Mürren is a cozy Swiss mountain village located at the foot of the Schilthorn peak.
This village is one of the prettiest places in Switzerland. It is so scenic that it has even been featured in a James Bond film, On Her Majesty's Secret Service (1969).
The Piz Gloria revolving restaurant featured in the film contains the Bond World 007 exhibit. It offers incredible views over Eiger, Mönch, and Jungfrau, right to Mont Blanc and into the Black Forest!
You'll see all its beauty during the various treks in the area, with the Via Ferrata Mürren-Gimmelwald being a great family hike.
And if you want a lovely day of gentle skiing slopes perfect for the whole family, head to the Maulerhubel and Winteregg chairlifts.
If skiing's not your thing, you can always go to the Apollo Slope at Schiltgrat for a day of tobogganing.
But if you just want a day in the snow, Allmendhubel overlooks the town and provides a fun space for everyone, with a lovely restaurant and playgrounds.
You can even enjoy the gentle 20-minute walk along the Flower Trail, where you can admire the alpine wildflowers and herbs.
How Long To Stay For
We recommend you stay for at least 2 days, which will give you enough time to walk around Mürren, Gimmelwald, and Wengen.
Where To Stay In Mürren
The best place to book your stay at is the Eiger Mürren Swiss Quality Hotel.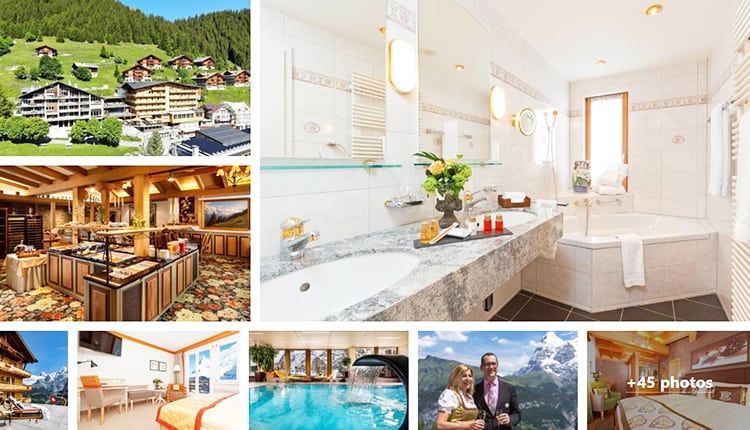 The hotel is excellent and has stunning views of the Eiger, Monch, and Jungfrau.
---
10. St. Moritz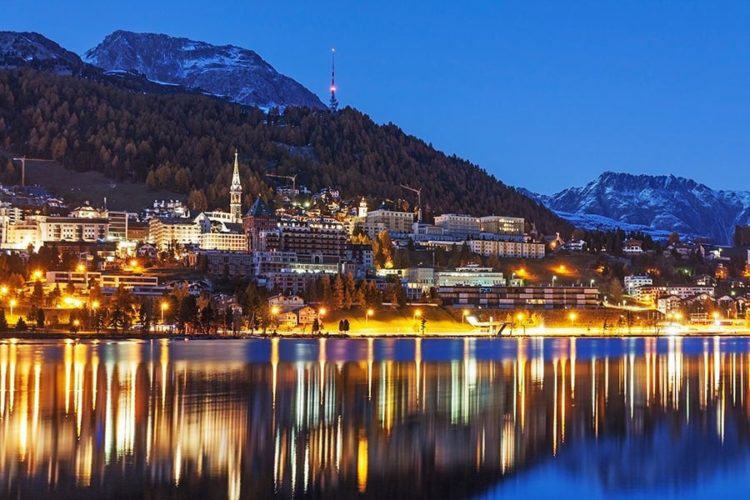 With its jagged peaks, impressive glaciers, beautiful lakes, and lush forests, St. Moritz is one of the top mountain destinations in the world.
It has even hosted two Winter Olympics, so you can imagine the winter sports here are off the charts.
It has two parts: St. Moritz Bad and St. Moritz Dorf. The former sits on the valley floor and has more affordable accommodations, while St. Moritz Dorf provides fantastic views of the lake.
This is a popular destination throughout the year, and during the winter, visitors can enjoy everything from bobsledding to skating. A popular activity is tobogganing on Cresta Run.
Visitors can enjoy glacier skiing, watersports, and hiking during the summer. One of the best hikes is along St. Moritz Lake, as the pine-lined waters glisten in the sunshine.
If you're looking for some activities that don't involve snow, you can also visit the region's many galleries and museums.
Take a short trip to the Segantini Museum and look at the famous works of Giovanni Sergantini.
Or head over to the Engadine Museum, which hosts over 4,000 artifacts representing local life from the 13th century to the 19th century.
Also, you can travel to the town on the Glacier Express, one of the most famous railways in the world. It's known for its majestic scenery, which we can attest to. It's breathtaking.
This is one of the super nice places in Switzerland to visit!
How Long To Stay For
We recommend you stay for 2 days, however, if it is winter and if you want to enjoy skiing you can easily stay here for at least a week.
Where To Stay in St. Moritz
Make sure to book your stay at Hotel Steffani.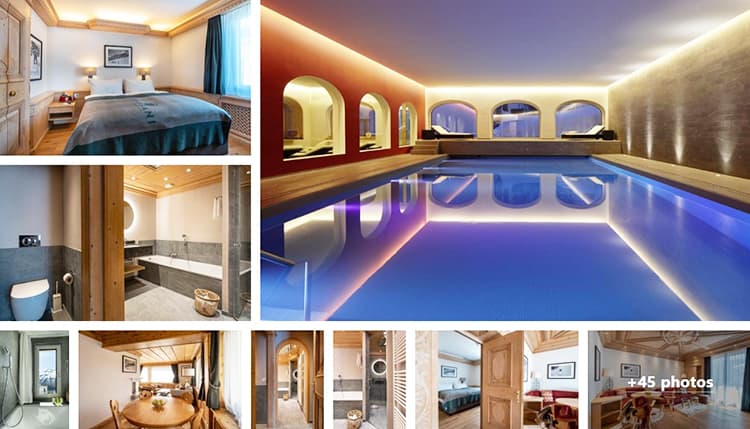 The interior of this hotel is gorgeous, but it is the views from the balcony that will blow you away.
It is only e00 m from the funicular to the Corviglia Ski Area and has a spa area that you can relax in after your active days.
---
11. Ticino & Lake Lugano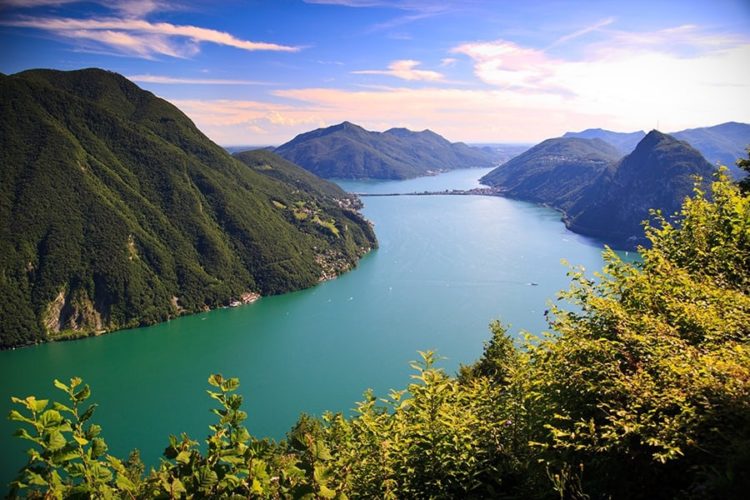 Some of the most beautiful landscapes in Switzerland are in Ticino. Say no more; this is hands-down one of the most amazing places in Switzerland.
This is the only canton that officially speaks Italian in Switzerland. It's not surprising as Ticino is located on the Swiss/Italian border.
The area is well-known for its food, as it has a Mediterranean flair with its palms, figs, and citrus tastes.
When not indulging in Ticino's tasty delights, visit the three castles of Bellinzona, which are all UNESCO World Heritage Sites.
We also highly recommend renting a boat to see Lake Lugano. This gives you a panoramic view of Monte San Salvatore's snow-capped peaks.
For a fun way to explore the lakeside, you can always look for the 14 Swing the World Project sites.
They're all in particular scenic areas of Ticino, providing a fantastic opportunity to snap some memorable family photos.
Those who come here will often rent a boat to see Lake Lugano. This gives them a panoramic view of Monte San Salvatore's snow-capped peaks.
The gorgeous sites aren't done just yet. On your way between the towns of Lugano and Ticino, it's hard to miss Sant' Abbondio / Gentilino church.
The cypress-lined avenue leading to the church perfectly represents why Ticino is often referred to as the Tuscany of Switzerland.
It's easily one of the most scenic places in Switzerland.
---
12. Gruyeres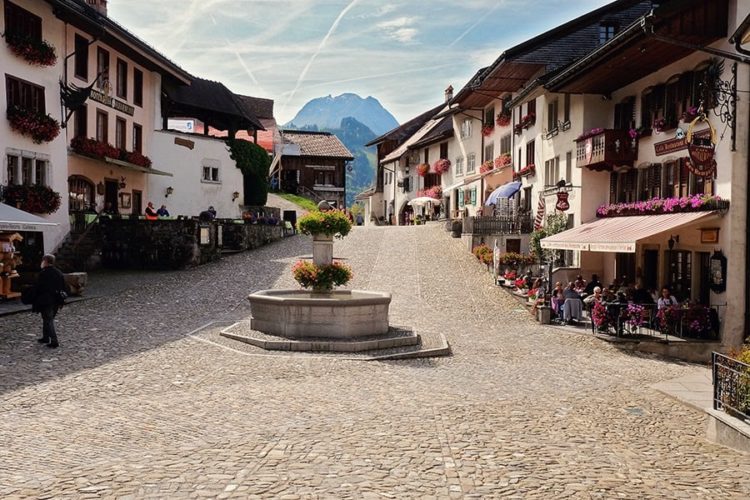 Gruyeres could be the most beautiful town in Switzerland. This town has a lot of medieval characters, with ancient buildings and sweeping views above the Saane River.
A popular attraction is a 13th-century structure, St. Germain Castle, which has been turned into a museum. You can go here to learn more about its culture and history, which is just as interesting as the town looks.
It also features artworks related to the once-popular film Alien (1979). Yes, this is the town where you can find the only museum of H.R. Giger.
This fact alone makes Gruyeres one of our list's best places to visit in Switzerland.
Another exciting place to go is The Tibet Museum. Visitors can view Buddhist sculptures as well as some Himalayan ritual objects. It's a pretty interesting-sounding town, right?
Well, its quirkiness doesn't end there. Gruyeres is one of the top popular places in Switzerland due to its connection to the well-known Gruyere cheese.
So make sure to enjoy a cheese fondue for lunch to get into the atmosphere of all things cheesy.
I love trying local food whilst traveling! I tried the fondue and whilst it was nice, the cheese was a bit too rich for me, so my recommendation is to order a fondue for the table, rather than as your meal.
More classic things include visiting Gruyeres Castle or walking through the cobblestone streets of this breathtaking town.
And just outside the town, you can learn all about the art of chocolate making at the Maison Cailler.
Let's not forget the relaxing stroll you can enjoy around the town. The path is known as Les Grands Chemins and passes the old city walls and Ramparts, which you can climb for even better views.
We found that we really only needed about half a day in Gruyere before we felt satisfied enough with our visit to move on. So my recommendation is to visit this town on a day trip.
The best way to visit this town is on a day trip from Geneva. You can read more about a day trip to Gruyere on our blog.
---
13. Creux du Van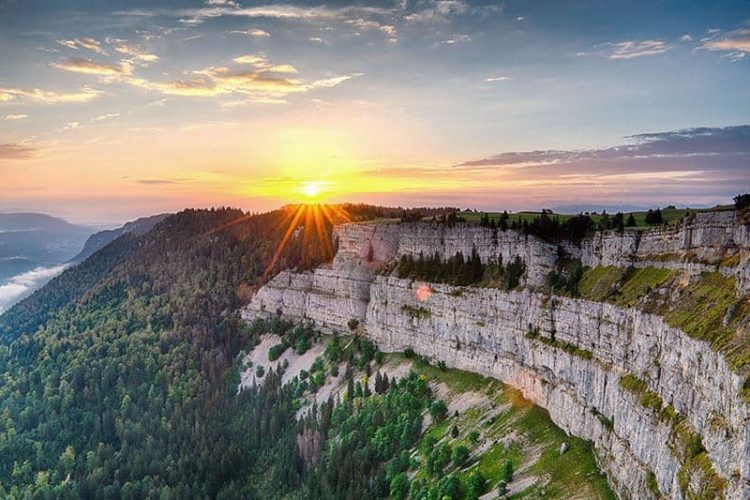 One of our readers contributed this beautiful sight, and we wanted to add it to our list as it offers something completely different from the places listed above.
The Creux du Van is a truly spectacular natural rocky cirque created by the constant erosion of water and ice. It measures approximately 1,400 meters wide and 150 meters deep, and it's truly unforgettable.
It is well known as the amphitheater of Switzerland and located in the Val de Travers district in the Swiss canton of Neuchâtel.
Interestingly, there is a spring at the bottom of the basin where the water is four degrees above freezing year-round.
This spring — known as the Fontaine Froide — is a spectacular sight, which you'll pass over during a hike of the region.
Although it may look inviting, trust us, the water is pretty chilly.
You will need to climb precisely 725 meters to find yourself standing in the middle of an arena.
Once you are there, you can also hike along the edge. So, Creux du Van is a great excuse to get out and enjoy some stunning scenery.
Creux du Van also has some lovely farms in the region that the kids will enjoy.
Les Oeuillons is one such farm, you'll spot when walking down the cirque along the Path of the 14 Bends.
It has quaint barns with cows, pigs, goats, chickens, and sheep, making it the perfect halfway stop for the family.
Keep an eye out for the region's diverse wildlife. The most recognizable animal is the bouquetin – also known as the ibex – with its large curling horns.
They're so agile you may even see them running along the Creux du Van cliff face.
Let's just say it's a day outing you'll never forget.
---
14. Grindelwald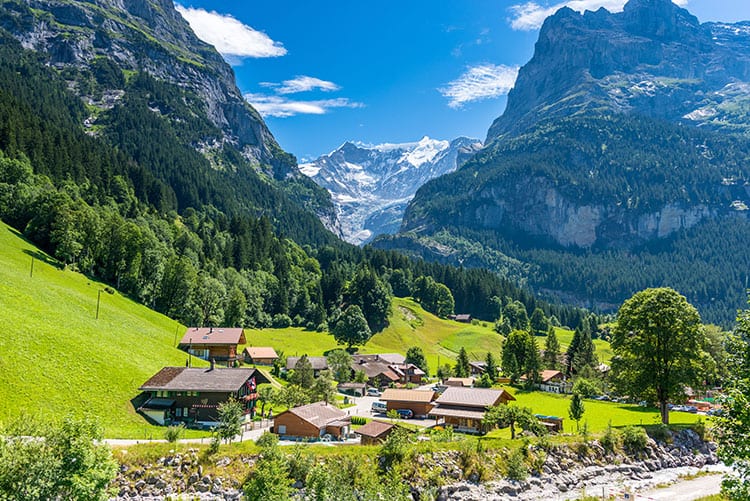 The village of Grindelwald is another beautiful place in Switzerland for adventurers and nature lovers to visit.
This lovely green valley is part of the Jungfrau region of Switzerland, so be prepared for stunning mountain views and plenty of snow activities.
Grindelwald also boasts the Kleine Scheidegg-Männlichen, the biggest ski resort in the region with 110 km of skiing runs.
Many people come here to climb the iconic Eiger mountain that forms part of the Bernese Alps or take on the Wetterhorn peak that towers over the village.
And, of course, the famous Jungfraujoch is a short cogwheel ride away.
In summer, you can run, hike, or mountain bike on plenty of trails.
The Grindelwald First is a relatively small summit, which makes it perfect for a short outing or a fun cable car ride. There's even a restaurant at the top.
For something out of a storybook, head 10 minutes out of town to the Gletscherschlucht. This rocky ravine is iconic, with the Lower Grindelwald flowing through its cracks.
There's a kilometer hike into the ravine thanks to walkways.
And for adrenaline seekers, you can hit the "SpiderWeb" in summer and suspend over the roaring water below.
Top Tip: For breathtaking views of the iconic Wetterhorn, Finsteraarhorn, and Schreckhorn peaks, visit Bachalpsee Lake. These mountain peaks reflect perfectly in the lake. It's a magical sight.
Tours To Pre-Book
Best Way to Visit Grindelwald
The best and easiest way to visit Grindelwald is on an organized full-day tour from Zurich.
This day tour includes multiple stops at places like Interlaken, Grindelwald, Jungfraujoch, and Lauterbrunnen.
---
15. Sion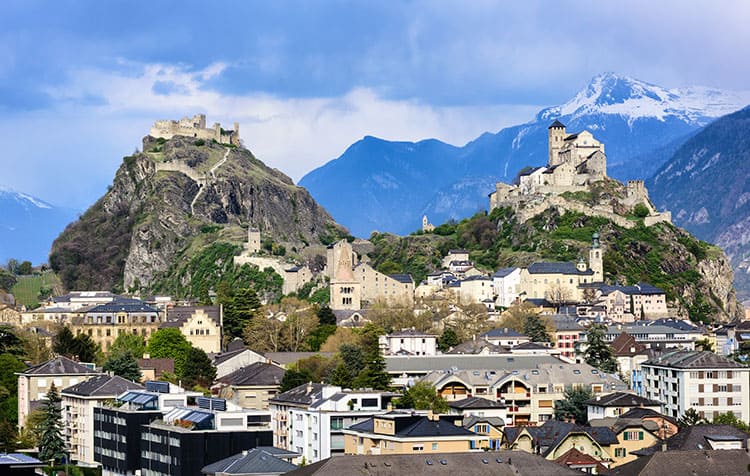 Thanks to the two medieval castles on the hills overlooking Sion, you can spot this fascinating town from a mile away.
This is one of the best villages in Switzerland to visit if you enjoy culture and history. Two prominent hills rise up in the middle of the town, each with a castle built on top.
Tourbillon Castle was built in the 13th century and boasted high stone walls and towers.
The steep terrain around it naturally defends the impressive structure.
You'll have to climb steep stairs to reach the top and see the castle up close, so get ready for a workout of note. 
On the opposite hill, facing the castle, sits the fortified church, Valère Basilica. Inside you'll find a 500-year-old organ — one of the oldest functioning organs in the world.
There are also plenty of other historical monuments and excellent wine farms to explore in Sion.
Most notably, the winery Les Celliers de Sion has a cellar right at the heart of the town with a 100-year-old history.
Then there's always the Bisse du Torrent Neuf. These are old irrigation channels carved into the mountain faces that fed water to the vineyards of the Valais region.
This may all be interesting for the adults, but the kids may not be so keen.
So, amongst the sightseeing, pop over to Domaine des Iles for a day of fun in Sion's premier adventure park.
Interesting Tours to Add to Your Itinerary
How Long To Stay For
We recommend you stay for at least 2 nights.
Where To Stay In Sion
The best hotel to book your stay at is Hôtel des Vignes.
The rooms are big and spacious, the location is great and they have a good on-site restaurant.
---
16. Basel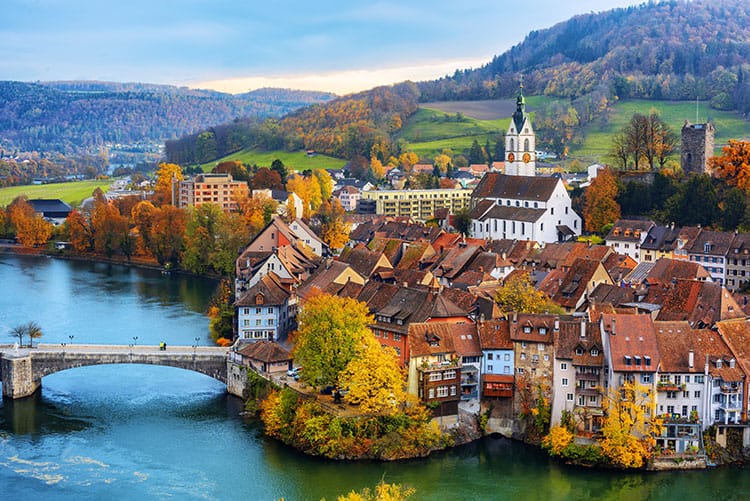 Although Basel is the third-largest city in Switzerland, it is still a beautiful place to visit and enjoy the lovely scenery.
It is located on the river Rhine, giving visitors many peaceful spots to relax on the riverbank. Or, in the summertime, you can join the locals for a swim in the famous river.
You'll see plenty of bobbing heads and blue bags — known as Wickelfisch — in the river, so it's an excellent opportunity to mingle with the locals.
Basel is also famous for its fantastic art scene — there are over 40 museums in the city, many of which are dedicated to art.
You can walk around Basel's Old Town to see a fantastic variety of architecture. There is a large market square and an impressive town hall built from Redstone, among many other sights.
The city prides itself on being green. Visitors will enjoy seeing the many parks and the flourishing botanical garden in this beautiful Swiss town.
The Cloisters of Basel Minster has a gorgeous garden you can explore, as well as some breathtaking architecture.
And if you want a truly unique experience, one that can only happen near Basel, visit the Dreiländereck.
This is where the borders of France, Switzerland, and Germany meet, so it's the one place where you can be in three countries all at once.
Interesting Tours to Add to Your Itinerary
How Long To Stay For
We recommend you stay for at least 3 full days, which will give you enough time to see the Old Town, the Rhine River, and to explore the countryside of the German and France border.
Where To Stay In Basel
Book your stay at Hyperion Hotel Basel. It is a very popular hotel in an excellent location in Basel.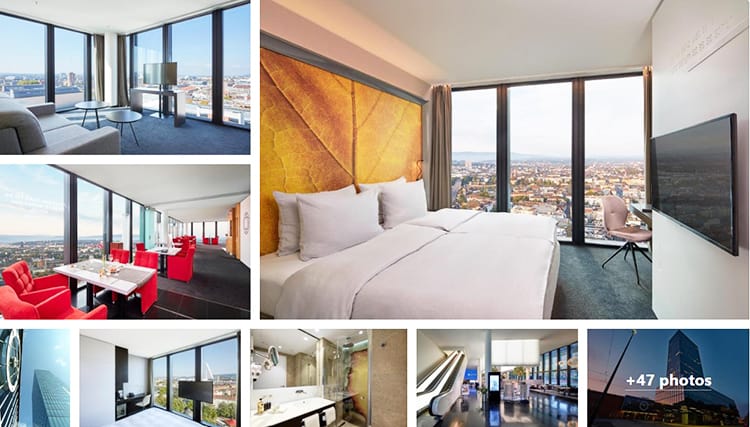 It has a complimentary mini-bar, a great breakfast, and parking for those arriving with a car.
---
17. Soglio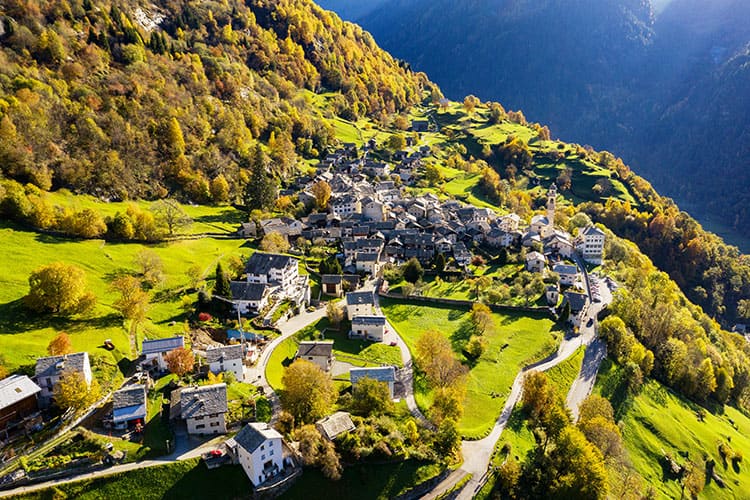 The small village of Soglio is one of the most picturesque places in Switzerland.
From the charming old stone houses to the breathtaking views of the Alps, you will surely agree with famous painter Segantini that this is the "gateway to paradise."
Soglio is located very close to the border with Italy. Only 300 people live in this sunny village that lies against the mountainside.
There isn't much to do here, but just taking in the beautiful scenery is more than enough. 
The village sits on a ledge so visitors can enjoy fantastic views of the green valley and the Alps in the background.
The Church of St. Lorenzo, with its steeple overlooking the valley, is a well-known Soglio landmark.
We highly recommend walking through the church's cemetery for sublime views of the valley and Alps.  
The rest of the village is filled with cobblestoned streets and traditional houses that are very pretty to wander through.
Although the town is simple and quiet, you can still enjoy unforgettable hikes in this mountainous region.
A ten-minute walk toward Val Bregaglia gives you the best views of Soglio, while the Casaccia to Soglio hike offers a spectacular display of the Alps.
The region is also well known for its chestnuts.
The Chestnut forest of Bergell is only 1.2 km away from Soglio and rests above Castasegna on a gentle terrace.
This is the perfect place to learn all things chestnuts or just enjoy a walk through the evergreen forest.
---
18. Stein am Rhein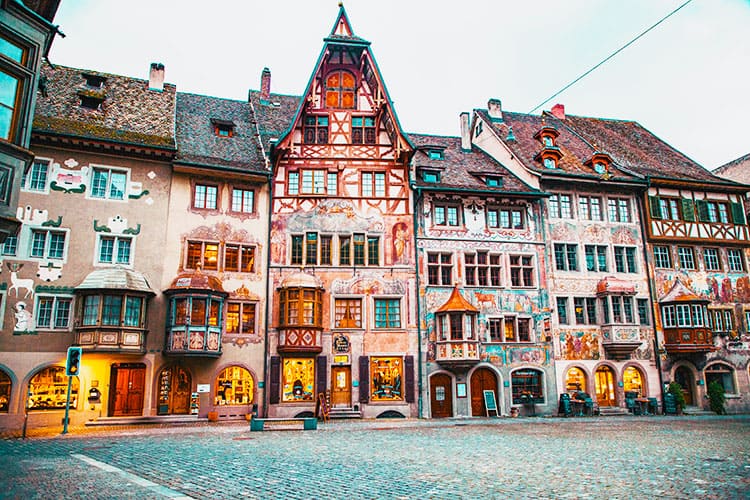 For some of the most beautifully preserved medieval structures in Europe, you must see this lovely town called Stein am Rhein.
It is located in northeastern Switzerland, next to Lake Constance and the Rhine River.
The town is famous for its half-timbered houses with their exquisitely painted facades. 
You can spend hours walking around the Old Town, admiring the medieval architecture and the detailed frescos painted on each building's facade.
The best place to visit for these frescos is the Town Hall.
You can also visit the magnificent 13th-century Hohenklingen Castle, built on a hill overlooking the town.
It's not a bad idea to explore the town by looking for its iconic gates.
These high fortifications all have their charms, but Untertor and Obertor are the most recognizable of the lot.
Or, walk closer to the sparkling blue Rhine and see the white walls of St. George's Abbey.
This old Benedictine monastery dates back to the year 1007. Exploring the Rhine River shouldn't end here.
This meandering body of water has been a source of inspiration for many years, and not much has changed.
Whether you catch a boat cruise along the river or visit the Rhine Falls — the most powerful in Europe — you'll be left in awe of its beauty.
Book Your Day Trip From Zurich to Stein Am Rhein
---
19. Ftan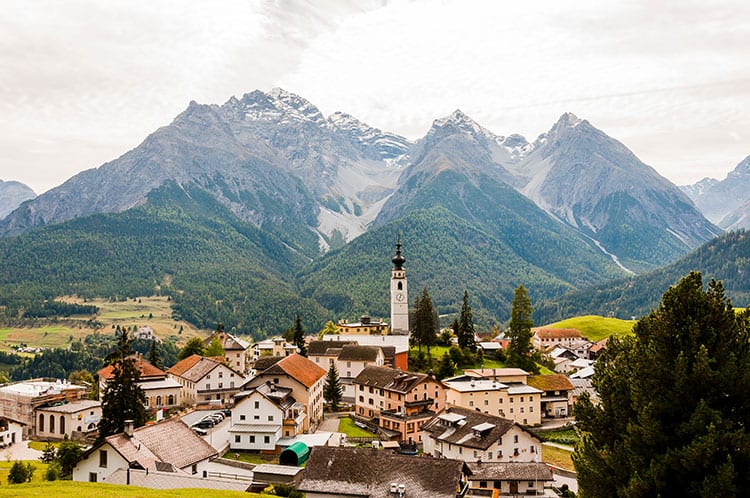 Do you want to experience the serenity of traditional village life and stunning views of the surrounding landscape?
If so, then visit Ftan, a charming small village in the beautiful Lower Engadine Valley.
This valley is home to many small villages and beautiful stretches of unspoiled nature.
With only about 500 inhabitants, Ftan is one of the smaller villages in this region.
Its isolated and picturesque setting may even remind you of the classic movie Heidi (1968).
You'll be amazed at the stunning mountain backdrop that blesses this village.
Once inside, you can walk around and admire the original Engadin houses. The old Protestant church is also a prominent landmark of Ftan.
Hundreds of tourists flock to the village for the skiing season in winter.
The Motta Naluns ski resort sits just a few hundred meters above Ftan, giving you easy access to ski lifts and 70 kilometers of slopes. 
As for the scenery, it doesn't get much better than at the Silvretta-Stausee.
You'll be able to enjoy this lake with its majestic views on the Fimberpass trail, which passes through the lush valleys of the region. 
Another fantastic way to explore the region is by visiting its popular restaurants throughout the valley.
The Wiesbadener hut offers up some scrumptious Swiss meals with breathtaking mountain views.
The Heidelberger Hut also provides a unique dining experience at the top of Fimber Pass.
Simply put, this is a beautiful town to visit all year round.
---
20. Swiss National Park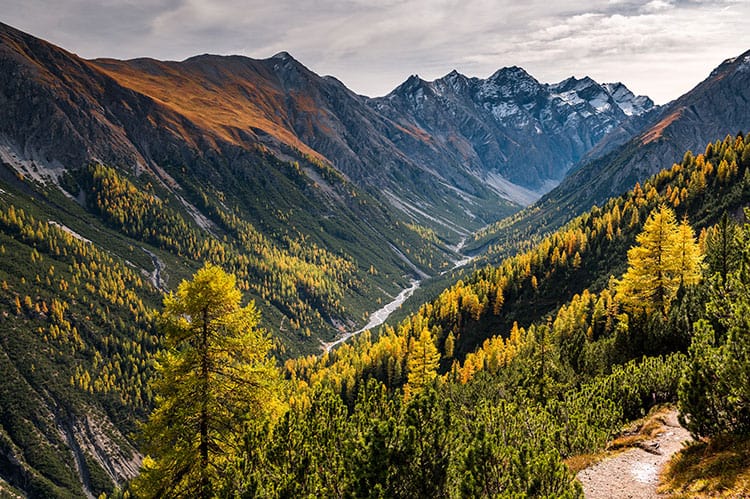 You can't go wrong with a visit to this mesmerizing part of Switzerland.
The Swiss National Park is the country's only national park and is recognized as a UNESCO Biosphere Reserve. It is also one of the oldest parks in Europe. 
Thanks to the strict rules enforced by the park, this is an area of stunning, raw alpine beauty.
The picturesque greenery, majestic rivers, and snowy peaks span 170 square kilometers of the Western Rhaetian Alps. 
There are 80 kilometers of hiking trails for you to explore — and you'll come across countless types of wildlife, including ibexes, golden eagles, and wolves.
Be wary of some of these animals, as they can be dangerous if provoked.
Some of the top trails in the park include the around the sapphire Lakes of Macun or the easy and panoramic Alp Trupchun hike.
You can also admire the Elbe Sandstone mountains of the region and the vibrant Kamenice Riverbank.
There's more, as the Pravcická Brána is Europe's largest sandstone arch and the perfect place to snap a memorable family photo.
The park is family-friendly, and cozy mountain huts are available for the night.
You'll want to stay as long as possible and absorb all of Switzerland's natural beauty.
---
21. Appenzell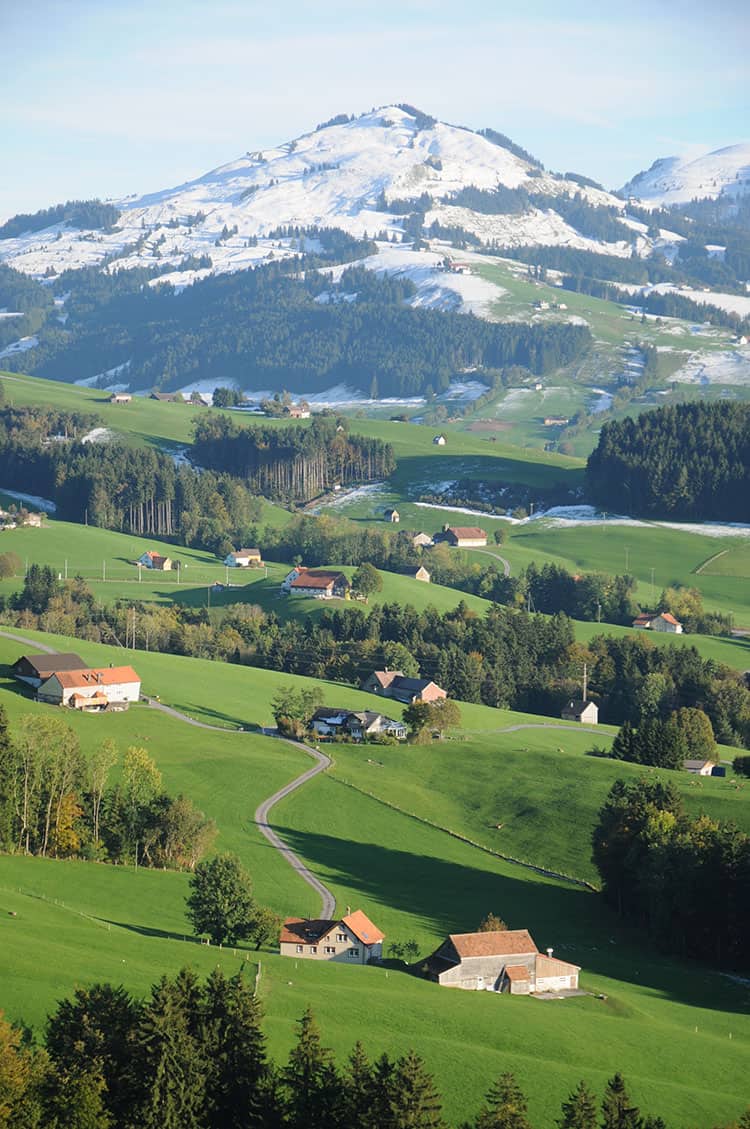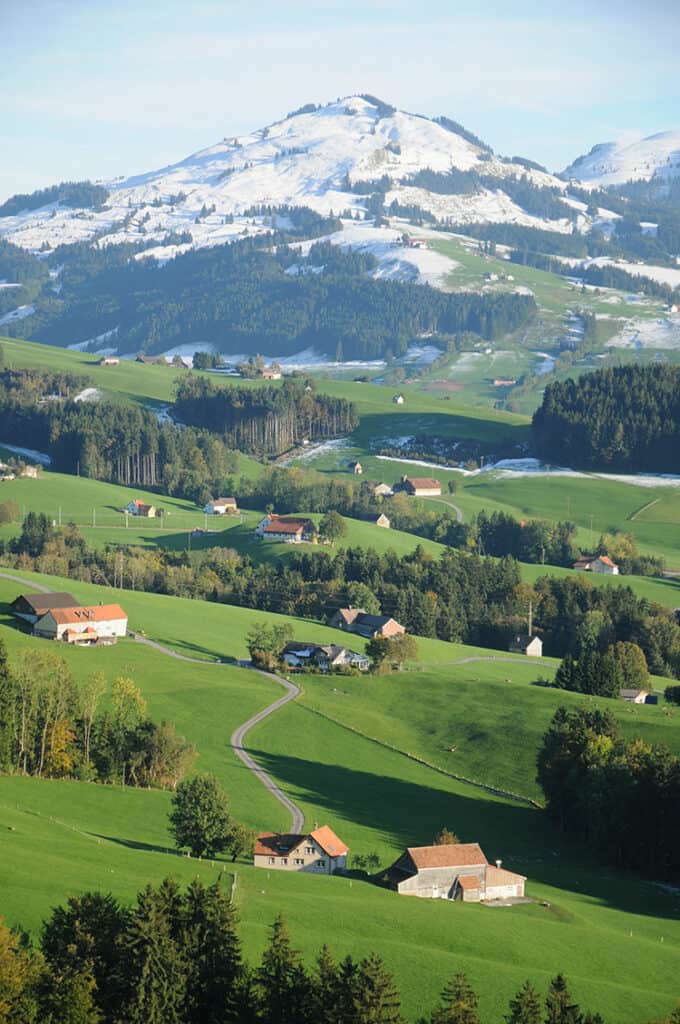 You may not have heard of Appenzell before, but after reading this, it'll forever be on your mind.
It's a quaint medieval town in the northeastern part of Switzerland and provides the perfect base for any outdoor activity.
It's just a short cable car ride away from the Ebenalp Mountain peak, where you can observe the beauty of Appenzell from above.
You can also visit the Ebenalp Wildkirchli, an old religious cave in the heart of the mountain.
A lovely spot to grab a bite to eat is at the precariously situated Aescher.
This is easy "the world's most interesting restaurant" as it nestles under the arched cliff of Ebenalp and serves up classic Swiss food.
You'll also want to visit Lake Seealpsee, with its sapphire green waters that are simply picture-perfect.
It's not just about outdoor adventuring, as Appenzell's city center is a lovely car-free spot that's definitely worth exploring.
The buildings all have traditional Swiss designs, with colorful facades and intricate designs.
The main spot to see these glorious buildings is at Hauptgasse.
We also recommend taking some time to walk along the picturesque riverside.
Some sections have gentle rapids with the white water rushing away. The cute buildings that line the river make it an adorable site.
It's a fantastic spot slightly off the beaten path, but you'll love it just as much as our last destination.
Interesting Tours to Add to Your Itinerary
Where to Stay In Appenzell
The most exceptional hotel to book for your stay is the 4-star Hotel Walhalla.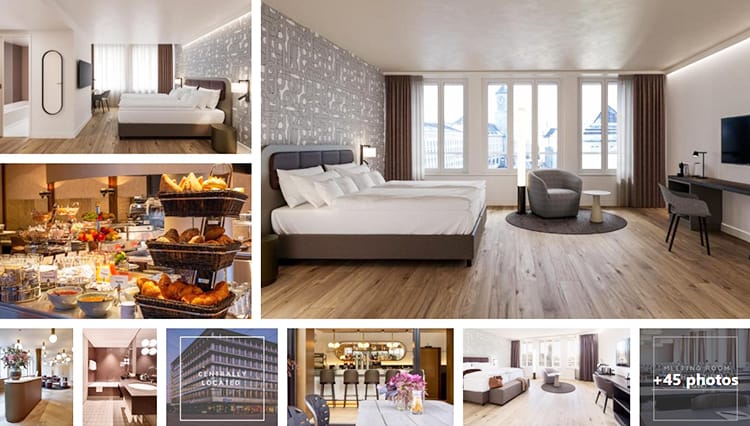 The hotel is centrally located, has big-sized rooms, and can sleep up to 5 people.
---
22. Zurich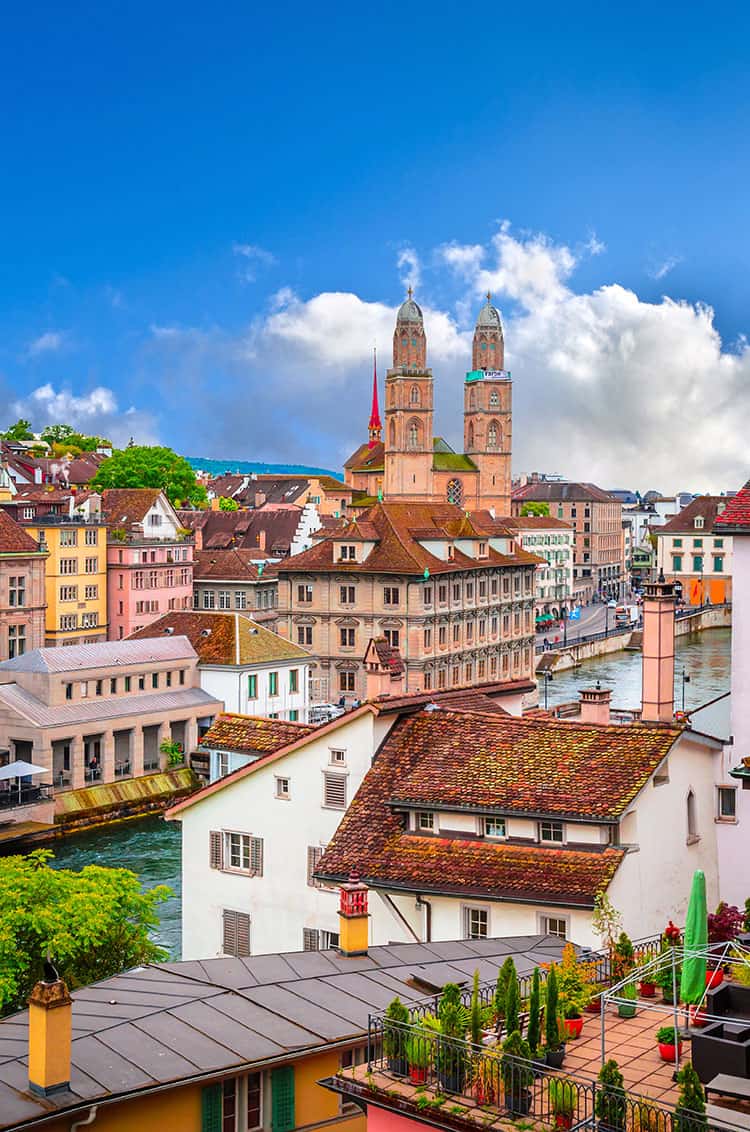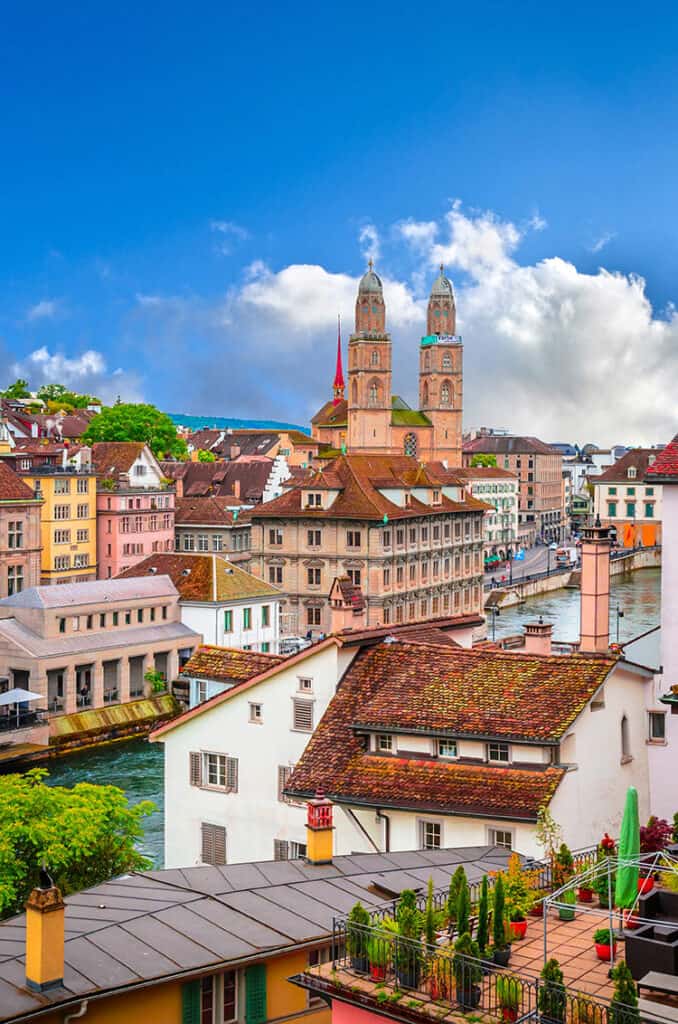 Zurich's Aldstadt's picturesque lanes line the effervescent Limmat River. And that's not even the best part of this global center for banking.
This city has plenty of history and museums that'll make the art novice fall in love. Some top spots include the Rietberg Museum and the Swiss National Museum.
If you walk the picturesque streets of the Niederdorf neighborhood, you can admire quaint cafes and trendy shops.
You can also snap some photos of Grossmünster, a Romanesque church that dominates the neighborhood's scenery.
For another breathtaking church, head to Fraumünster, where its turquoise roof mimics the waters of the Limmat River. It also has Giacometti's stained glass windows, making it a magical experience when inside.
St. Peter's is yet another fantastic church in Aldstadt that dates back to the 8th century.
These are all popular attractions, so if you want something more unique, you can always head to the FIFA World Football Museum.
There are also plenty of outdoor activities, such as swimming in the Limmat River with the locals – much like in Basel.
You can also visit the University of Zurich Botanical Garden, which is a breathtaking and quiet space in the heart of the city.
No matter what you decide to do in Zurich, you'll notice it's a spectacular city you'll be glad you didn't miss.
One of the best thermal baths in Switzerland is located in the heart of Zurich. Find some time for relaxation and health and book a day at Hürlimannbad & Spa Zurich.
Also, you might be interested in checking out our Switzerland in 7 days itinerary.
Interesting Tours to Add to Your Itinerary
How Long To Stay For
We recommend you stay for at least 2 days, but would definitely add more if you want to include some day trips to some of the other beautiful destinations listed above.
Where To Stay In Zurich
Book your stay at H+ Hotel Zürich. It is a very popular hotel is located 2 min away from a tram stop.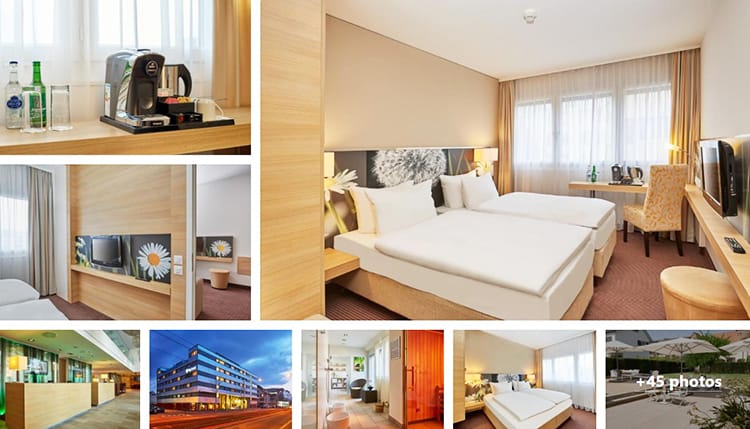 The rooms here are spacious, breakfast is delicious and the staff are friendly and helpful.
---
Questions About The Top Places To Visit In Switzerland
Wondering which of the many places on this list to see first? We will answer your questions below.
1. Is Switzerland Worth Visiting?
Simply put, Switzerland is definitely a country worth visiting.

There's plenty for everyone to enjoy here, from its beautiful towns to the unforgettable scenery. It's also an excellent destination for a history buff, as its church's monasteries, Aldstadt, and cogwheel trains can attest.

You also won't run out of outdoor activities, with plenty of hikes and skiing spots throughout the country. Let's not forget the paragliding and tobogganing that adds to Switzerland's appeal.

We can safely say you'll remember every moment of your Swiss vacation. We certainly did.
2. Which Part Of Switzerland Is The Most Beautiful?
This is a tricky question to answer, as everyone will have a different opinion. But based on our experience, it's the Bernese Oberland Region.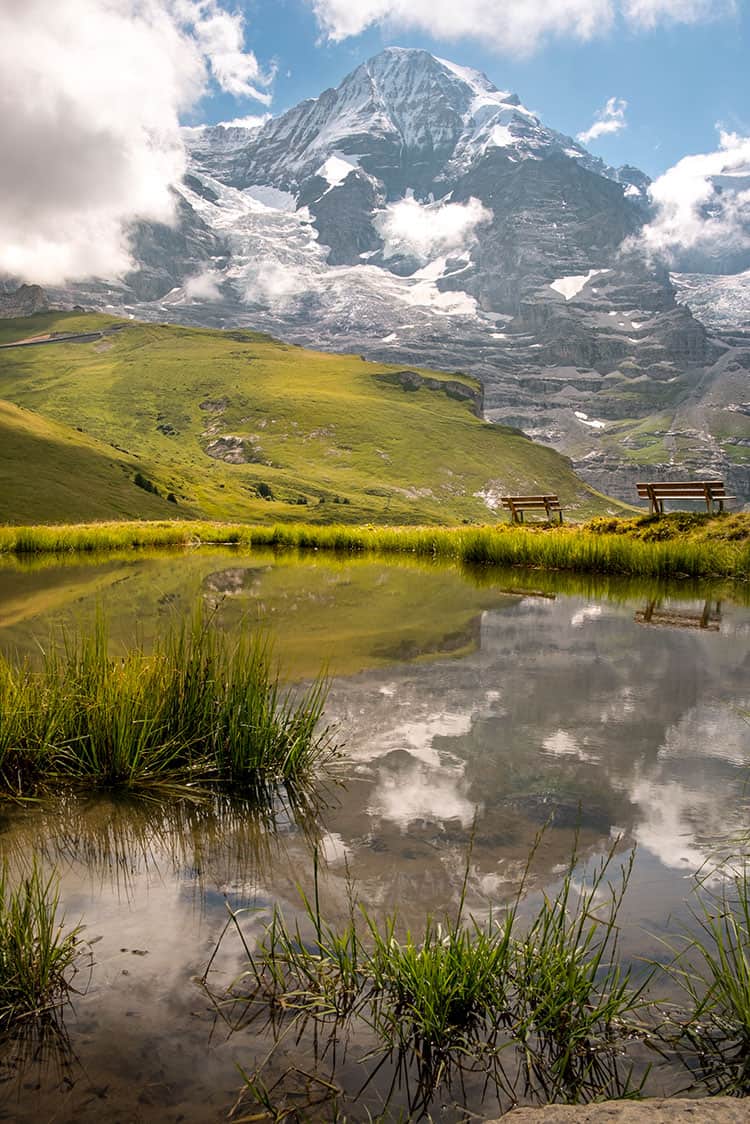 Scenic view on majestic mountain Mönch

This is where you'll find intriguing towns like Lauterbrunnen, Interlaken, and Jungfraujoch. As we've explained, each place has its charms, from unique mountain ranges to picturesque waterfalls.

There are also plenty of winter and summer sports for you to enjoy. Each season also brings a unique level of beauty, from the snow-capped mountains in winter to the fields of wildflowers in summer.

3. Which Town Is Best To Stay In Switzerland?
We think Lucerne is your best bet of all the gorgeous towns to stay in in Switzerland. For starters, the town is pretty much in the center of Switzerland, so you've got easy access to the whole country.

Zurich is only 40 minutes away, while Lake Geneva is the furthest destination from Lucerne, with a travel time of just over three hours.

Aside from its central location, the town itself is simply breathtaking. We've already told you all you can see, so you know exactly what to expect during your stay.
4. What is the Best Time To Visit Switzerland?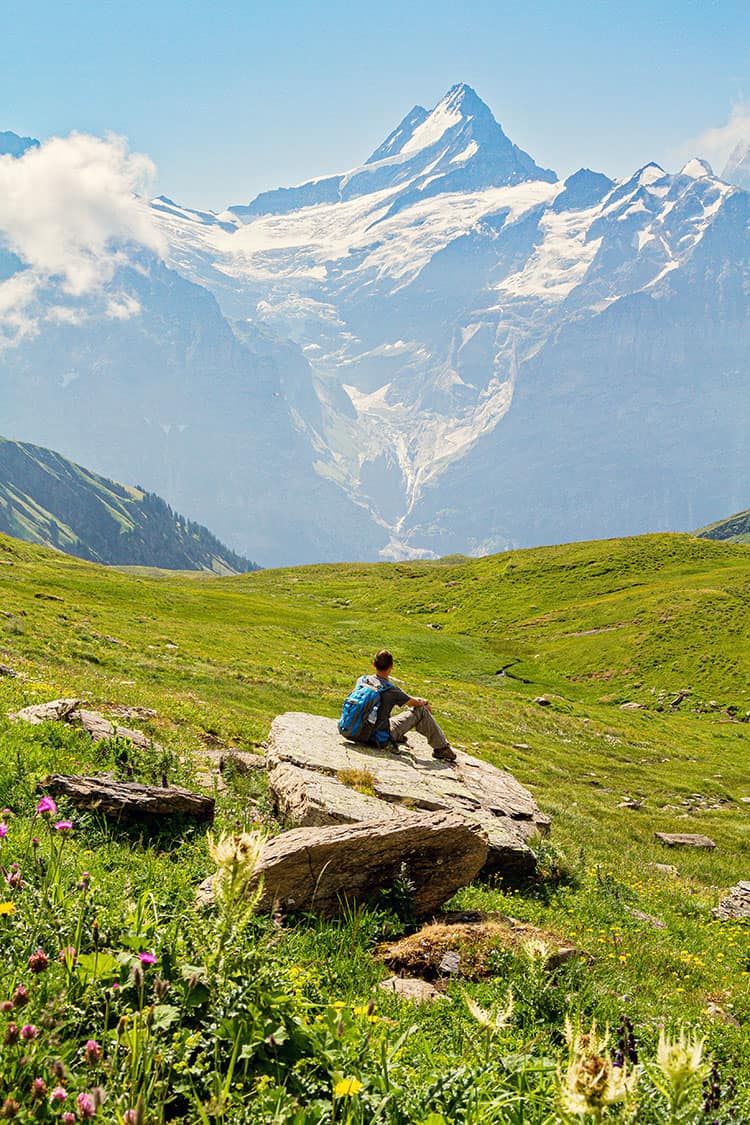 There's no right or wrong answer for this one, so we'd rather give you a hint of what each season has to offer.

Between April and October, you'll have sunshine and warm weather, with hiking and cycling as the top activities during this time. Spring, between March and May, offers stunning wildflowers that paint the prettiest picture you'll ever see.

If you enjoy the cooler side of life, going to Switzerland in winter – November to January — is your best bet.

There are loads of winter sports for you to enjoy, but if you go to regions like Jungfraujoch, you can enjoy winter sports all year round.

Tip: Here is our full blog post on the best time to Visit Switzerland.
5. How Many Days Are Enough For Switzerland?
You can see a lot of the country in five to seven days, but we suggest spending up to two weeks.

Two weeks lets you explore a broader spectrum of the country, from Lake Geneva to the bustling streets of Basel. You also won't have to rush your trip — which can easily happen – so you can spend a day or two in each destination and explore it thoroughly.
6. Is Switzerland Cheap For Tourists?
Okay, we'll cut to the chase and just say Switzerland is not cheap. It's actually one of the most expensive places you can visit, especially in Europe.

Food, accommodation, and everything in between all adds up, and finding a 'cheap' restaurant or hotel is pretty difficult.

That said, there are some ways to save when traveling through Switzerland, be it transportation or accommodation.
7. What Is The Best Way To Travel Around Switzerland?
Switzerland has one of the most well-maintained train systems in the world. This means you can easily get to almost every area of the country by train.

Trains also allow you to carry more luggage than by bus, and you'll generally have more space. Before we forget, the train rides are also the most scenic way to travel the country, as they pass through the valleys, past lakes, and between spurs.

You can also get this Swiss Travel Pass, which grants you access to all the country's public boats, trains, and buses. This pass also helps you save a lot of money — trust us, we know.
8. What Do You Need To Know Before Going To Switzerland?
As Switzerland is a pretty pricey place to visit, you can imagine there are a few things you should know. For starters, we highly recommend the Swiss Travel Pass we suggested in the last question. 

It's also a great idea to cook your meals. Although it's nice to visit a restaurant now and then, making your meals can help you save a lot of money.

It's also a good idea to pack warm clothes, even if you visit in summer. There are many areas that still snow in summer — we're looking at you, Jungfraujoch – so warm clothes will always be a must.
9. What Is The Most Beautiful Town In Switzerland?
From 2015 to 2019, the people of Switzerland voted for their most beautiful town in a yearly competition. Since then, the competition has changed to vote according to a theme, eg. the most culturally active town. 

While the competition was active, the most beautiful winning towns included Trub, Oberhofen, Schwellbrunn, Morcote, and Soglio.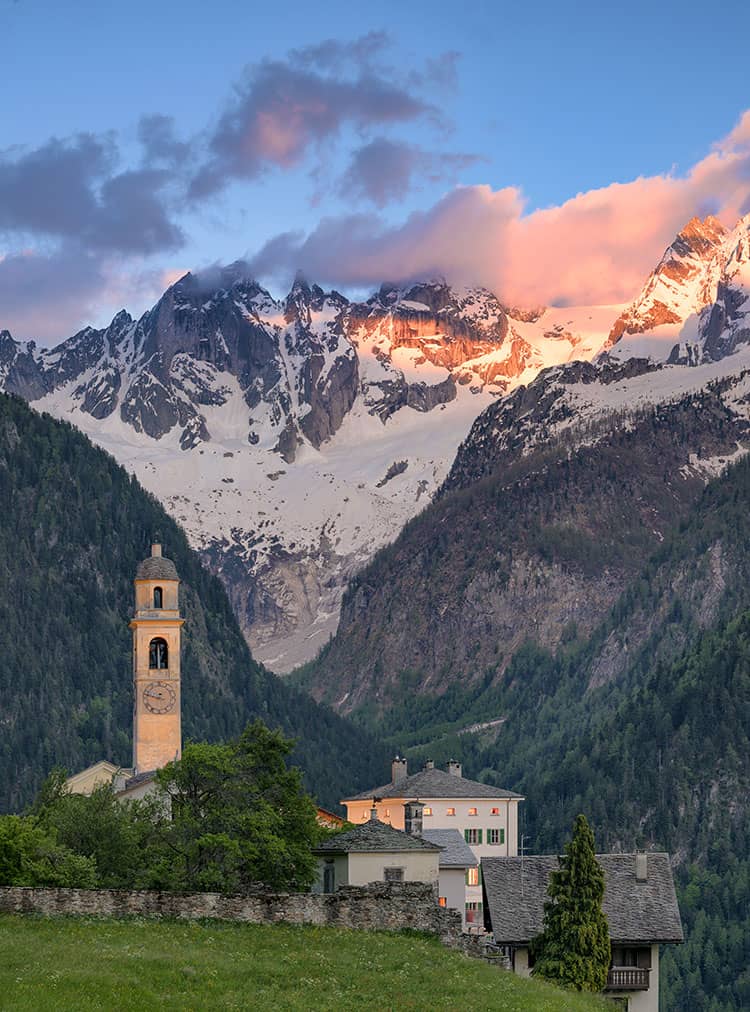 It's really hard for us to choose the most beautiful Swiss town—so many offer breathtaking scenery. But if we have to pick just one, it would be Lauterbrunnen for its stunning views.
10. What Is the Best Village In Switzerland?
If you want to head away from the larger cities and towns in Switzerland, many beautiful small villages are waiting to be discovered. 

With only a few hundred residents around, you're sure to find peace while you enjoy a beautiful sightseeing trip. 
Once again, it's difficult to choose between all the picturesque villages hidden among the mountains. But we think that Soglio is a great choice. 

Soglio has it all—historic architecture, beautiful hiking trails, and panoramic views everywhere you look! 
12. Which Valley Is The Most Beautiful Valley In Switzerland?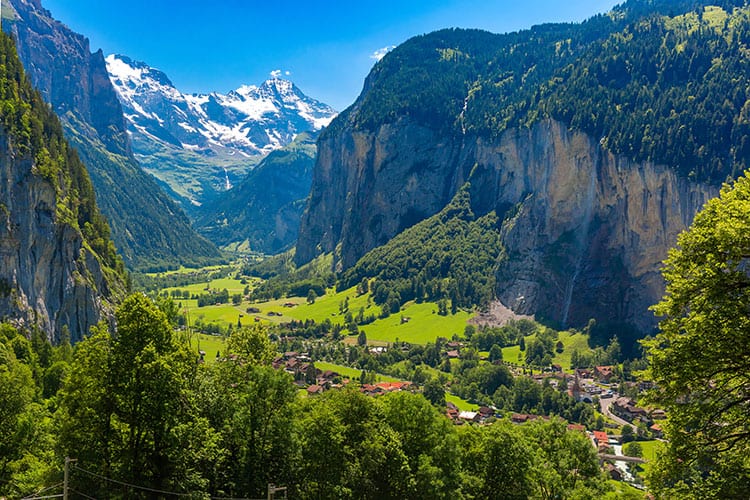 We know we've already mentioned Lauterbrunnen, but it is hands-down the most beautiful valley in Switzerland. 

It is a wonderful experience to walk around town and see the majestic snow-capped mountains looking down on you from all sides. 

The lush green valley is called 'the valley of 72 waterfalls', as that is how many stunning waterfalls you can see here!
11. Which Destination Is The Most Romantic Place To Visit In Switzerland?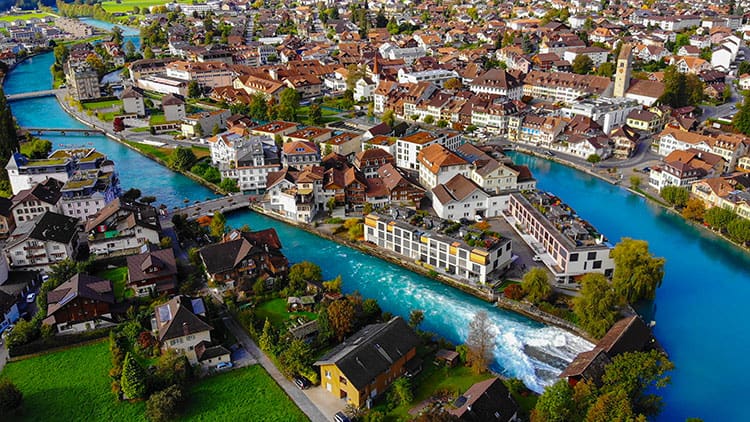 Interlaken

Whether you want to spend some quiet time with your partner in a scenic location or go on amazing adventures together, Switzerland is certainly a top place to go! 

There are many romantic places to choose from—the serene Lake Lucerne, the historic Old Town of Bern, and many more. 

Our top pick would be Interlaken. This beautiful town set between two lakes will give you lovely views for your entire stay. There are plenty of fun things to do together and many romantic hotels to choose from.

This is a great honeymoon destination! 


---
Final Words
We all know that Switzerland is an incredible country to visit.
Even though it might be one of your more costly holidays, this country truly has a diverse range of incredible destinations that will surely leave a long-lasting impression on your memory bank.
Switzerland has always been one of the top destinations to travel to. If this list of the most beautiful places in Switzerland has proven that to you, then I"m not sure if anything will.
Are you looking for more? Check out our Switzerland Blog Posts to help you plan the ultimate Alpine vacation.
Save this Post for Future Reference: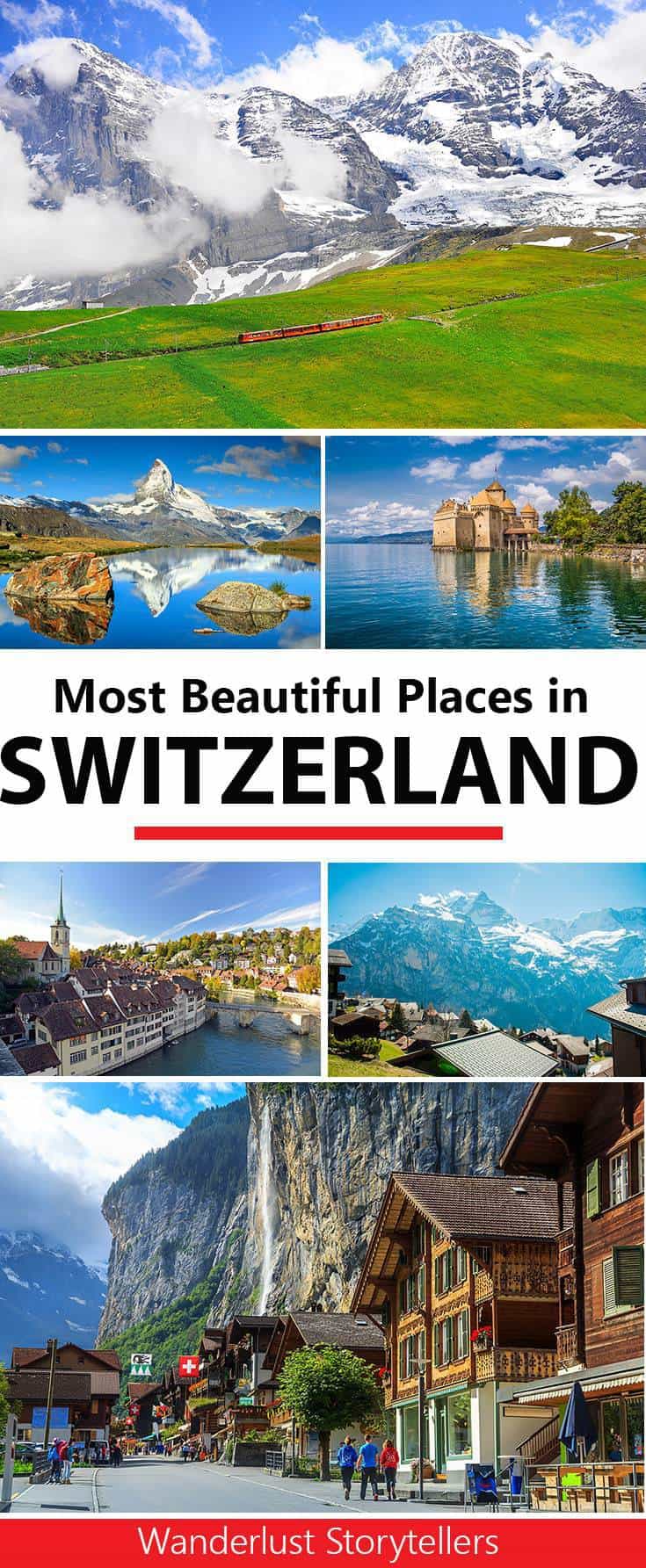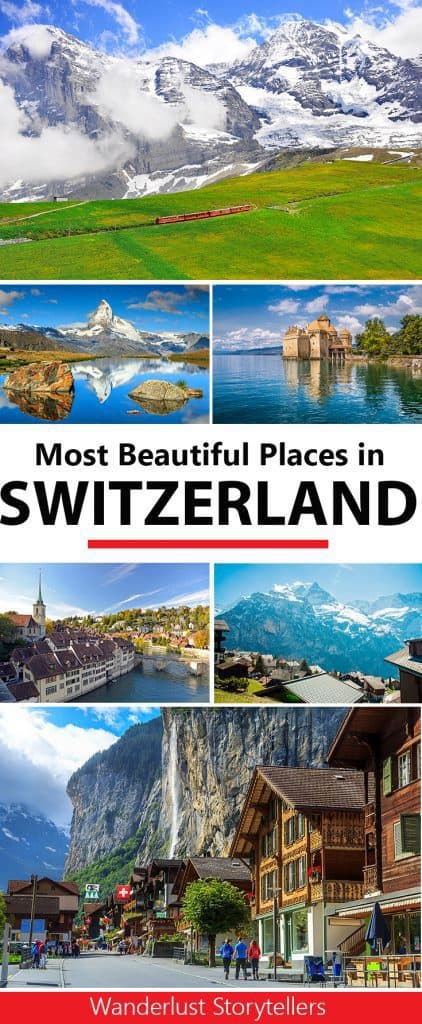 Over to You:
We are curious to know which destination you would place as the most romantic place in Switzerland.
Which other most amazing places in Switzerland would you add to our list?
What would they be if you could only choose three nice places in Switzerland to see on your next trip?
Which one from our list is your number one Swiss most beautiful place?