Heading to Bangkok for the first time? Not only is Bangkok one of the best places to visit in Thailand for first-timers, it also has some incredible day trips to enjoy and this particular day trip happens to be my favorite.
Let me take you on a little adventure on a Bangkok day trip to visit the ultra-unique and popular Damnoen Saduak Floating Markets as well as an educational stop at the River Kwai Kanchanaburi.
An amazing Bangkok Day Tour to visit Floating Markets & River Kwai
Looking for some fun day tours to include during your visit to Bangkok? This one was our favorite. Here is also plenty of other ideas of attractions near Bangkok to include in your itinerary.
---
Damnoen Saduak Floating Markets
Our Bangkok tour started at the doors of our awesome Bangkok hotel Siam @Siam Design Hotel & Spa, located right in the heart of the city. We got picked up by a minivan with the most comfortable chairs we think we have ever sat on, so we knew straight away that it was going to be a luxury ride to our destinations.
First on our list was Damnoen Saduak Floating Markets. We read about this place before we came to Thailand and it was a 'must see' whilst on our travels through Thailand.
Within only a few steps from our car, past a few market stalls and into a long boat to explore this popular and unique market.
I don't know if it was our permanent smiles plastered all over our faces that was so contagious or if all the Thai people are simply happy sort of people, but we had an absolute ball with our boat driver, whilst exploring all these little market canals!
Traffic in Thailand is something that we tried and tried to figure out. Is it "one horn" to get out of the way, "two horns" to thank you, "three rapid horns" to I'm letting you in, or the other driver does something totally different. haha. I take option three. No rules. This extends to the 'road' rules here too.
The canals, although congested-like-crazy at times, provides you with a very unique and unforgettable experience of being completely absorbed in the local traditions, culture and spirit. There is something about this place that makes you want to go back and see it again and again. It's definitely not the colour of the water in the canal, but the atmosphere of the surroundings.
And the food… Every corner you take on this mini Thailand style Venice, if I may say so, is lined with little shops full with souvenirs, hats, scarfs, figurines and many, many other items. However, what we came here for was not the shopping, but the food!!
Travelling to all the amazing places in the world goes hand in hand with indulging yourself in local cuisine. You simply must try it all, well I haven't tried the bugs and other creepy crawlies on offer, but you must try most things right? haha..
We found the most delicious Tom Yum soup at one of these food stalls. There was so much to eat here. To name a few, we had freshly fried seafood, crispy succulent chicken legs and skewers, weird vegetables and funky looking fruit that I don't remember names of. However, one little bowl of 50 baht (approx 2 cents AUS) of Tom Yup soup was hands down the best oriental soup we have ever eaten in our life. Yup, we tried to find more of this style of Tom Yum soup in different destinations on our Thailand trip, but like regions changed, the flavours did too.
Look at that smile. That's got to be a Tom Yum smile, right? haha.. Ok, maybe that wasn't funny, but the soup was really Tom Yum!! haha..
Further Reading: Prefer to stay away from crowds of tourists? Then the smaller and more local Tha Kha Floating Markets might be for you.
---
The River Kwai Kanchanaburi
With happy full bellies, we journeyed onward, this time for a historical journey to Kanchanaburi River Kwai or Khwae Noi. Now, I got to say we did not know much about this place when we got here, but we are very glad that we had a chance to learn about the history here.
During World War 2, Japanese used the prisoners of war to build a railway from Thailand to Burma. The reason for the railway was to supply their army and eliminate the dangers of sending supplies by sea. Many of the prisoners died here from appalling conditions during the construction and that's how the line got to be known as the "Death Railway"!!
The historical significance of the River Kwai Kanchanaburi brings hundreds if not thousands of tourists here on the busy days. Even though this place is filled with visitors and small shops that surround the station, the focus here is on the railway, the bridge on the river Kwai and the memory of those who build it.
Just like many celebrities that walked on this bridge on their travels, can also now proudly say that we walked to the middle viewing platform, where we were lucky to see the train go past us. Knowing a bit of history behind this place, makes you look at things you see from a different perspective. Appreciation for what we have I think comes to mind.
For us, Thailand was all about the culture and I think we found culture at these two awesome destinations!! What a brilliant day away from the hustle and bustle of the crazy Bangkok city. Totally recommend a journey outwards to visit both of these sights.
Additional Tip:
If you are staying in the city of Bangkok, the best way to get around town is by taxi. The traffic is hectic, so having the local driving you around is the best option.
Further Reading:
---
Which of these two destinations on our Bangkok Day Tour grabbed your heart the most?

Are you hungry for Tom Yum soup?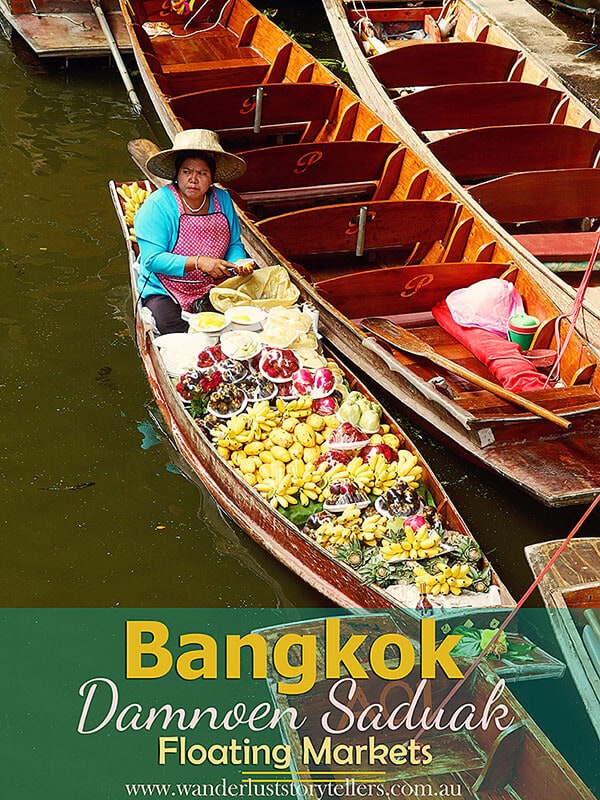 ---