Basking in the sun and listening to ocean waves- that's what we call the perfect holiday combo!
And if you agree, it is time to add Mooloolaba to your list of holiday destinations.
Located on Queensland's Sunshine Coast in Australia, the vibrant suburb of Mooloolaba boasts a sunny beach, a fish-filled river, and a mesmerizing view of the ocean.
Hence, it is a hotspot among water sports enthusiasts and those who just want to escape from the bustling city life.
How to Get to Mantra Sirocco Mooloolaba
The Sunshine Coast Airport connects to all of the main tourist attractions in Queensland, including Mooloolaba.
You can opt for the Con-x-ion bus service or any private transfer service to get to Mooloolaba from the airport. The airport is about 15 km away from the suburb so it shouldn't take more than 20 minutes to reach any of the hotels.
Mantra Sirocco Mooloolaba Review | Good and Bad
Apart from the comfortable accommodation and amenities offered by Mantra Sirocco, another major factor that influenced our decision to stay here was the convenient location.
It is situated across the Mooloolaba beach with plenty of shops and restaurants around the vicinity.
Accommodation
We chose to stay in a 2-bedroom apartment in Mantra Sirocco to take advantage of the beautiful ocean view and generous sunshine that Mooloolaba offers.
However, large groups of visitors have the option for 3-bedroom apartments and penthouses with a rooftop spa and barbeque area.
Please note that not all of the apartments look alike. As they are all privately owned, they are all furnished differently and all contain different kitchen necessities, including cookware, glassware, and so on.
Our Experience:
When we arrived at the apartments, our first impression was shocking. So, let me tell you a little story here:
Please note: that we don't like to complain, but we need to tell you the full truth of our experience and what to expect when you book your stay at the Mantra Sirocco Mooloolaba.
Apartment No.1
The apartment that we got was in no way to the standard that we are used to. The place was not well looked after and we simply did not want to stay there at all. Let me tell you why?
As we walked in, the place instantly looked dated, some of the furniture including the dining chairs were really grubby and wobbly, rusty, broken and dirty.
Outdoor the chairs were broken and dated.
Bath tub in the main bathroom mouldy and univiting
Walls and ceilings close to the air-conditioning wents grubby and dirty
Kitchenware rusty, cuttlery incomplete and dirty, oven dirty and unusable, very old plates and cups (like from the 80's diner), glassware and cups all grubby
Walls and floors all along the hallway diry and grubby as well, to mention a few things
Uncomfortable beds with squeeky springs, no blockout blinds
Apartment No2.
After we complained that we didn't want to stay in this apartment, we were offered an alternative one. I got to say, we did hesitate, but decided to take them up on the offer and after a few hours, the second apartment was ready for us.
As we arrived, we still saw cleaning ladies scrubbing the place as clean as possible.
Although the apartment was cleaned, and it looked much better than the previous one, we also found a number of things that we weren't 100% happy with (unfortunately).
Here is a little heads up:
Old and dirty appliances, dirty oven (unusable) and the toaster as well, missing dining chair foot protectors, wobbly and squeeky on the floor chairs
Uncofortable beds with squeeky springs, and very old, metal frame bunk bed, which was also noisy and squeeky for the kids – we opted out to put spare doonas under the sheets to add some softness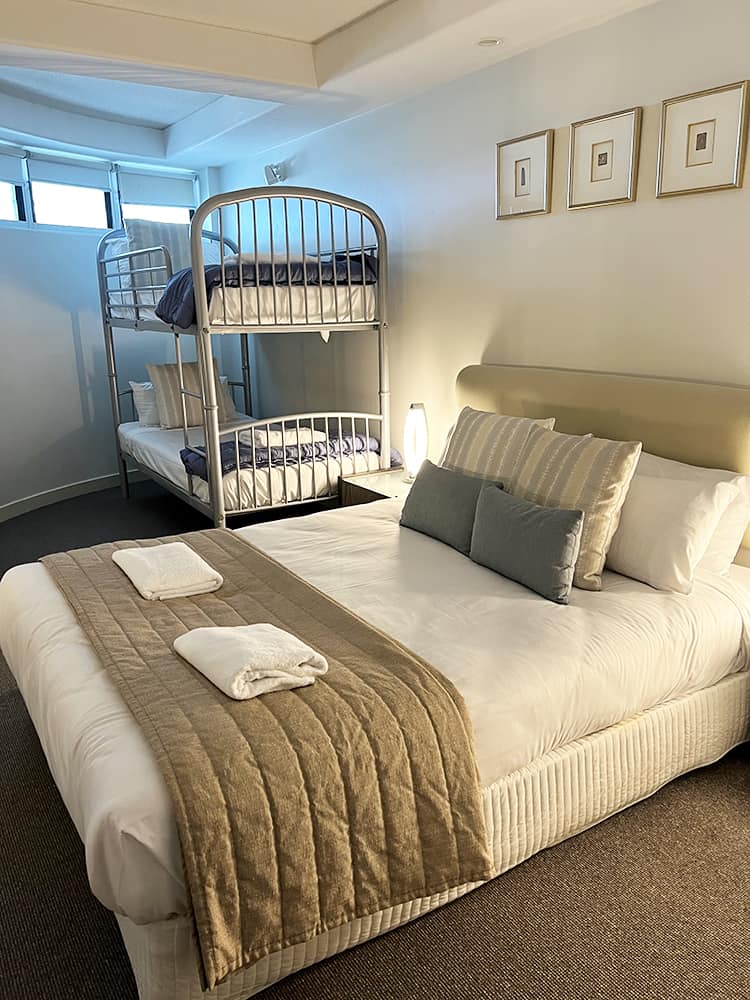 Very old plates and cups from the 80's diner (again), we had to wash all the utensils, cookware, cups and glasses before use
No block out blinds in the main bedrooms, had to resort to taping up black garbage bags on the windows to stop the sunlight waking us up too early. That was fun…
There was only one daybed (one-person) on the balcony, and there was no availability of spares
Wifi comes aiwth the room rental, but only 1GB per day, and thatn you have to pay expensive prices for a small amount of GB's
Substandard cleaning – walkin on th efloor bare feet in the apartment for half a day leaves you with charcoal feet
Other tips: One of the few drawbacks of Mantra Sirocco would be the absence of any facilities for visitors with reduced mobility. Albeit not a deal-breaker, the hotel also does not offer a separate area for smokers. So, keep in mind that all of the 66 rooms segregated across ten floors are non-smoking rooms.
Amenities
All of the rooms in this property are equipped with facilities like air conditioning, WiFi 1GB per day only (extra cost for extra GB's, cable TV, dishwasher, refrigerator, and a private balcony.
Pool
And if you don't want to pile on any extra kilos during your leisurely stay, head over to the heated swimming pool or the fitness center to burn some calories.
Yes, the pool is nice and we had plenty of splashing around in it with the kids. However, when it comes to spending time around the pool, there is simply no space to veg out. Only a few plastic chairs here and there.
Babysitting
A big plus, there are babysitting services provided by the hotel. We did not use them, but, those traveling with young children can send them to the friendly babysitting staff while stepping out to grab some wine or pick up souvenirs.
Tip: Please make sure to pre-book babysitting before you come to stay here.
Where to Eat
Here are some of the options for yummy food that we have tried out, whilst staying at the Mantra Sirocco:
Giddy Geisha
This is now one of our absolute favorite restaurants on the Sunshine Coast. Hands down delicious Asian-fusion food.
On our list we recommend wontons in yellow curry, eggplant chips in sticky sweet sauce, and, of course, check out the selection of tasty cocktails as well.
Check out their prices and menu here.
Ninth Street
Yes, this is an awesome choice for good burgers. What can I say here, simply good!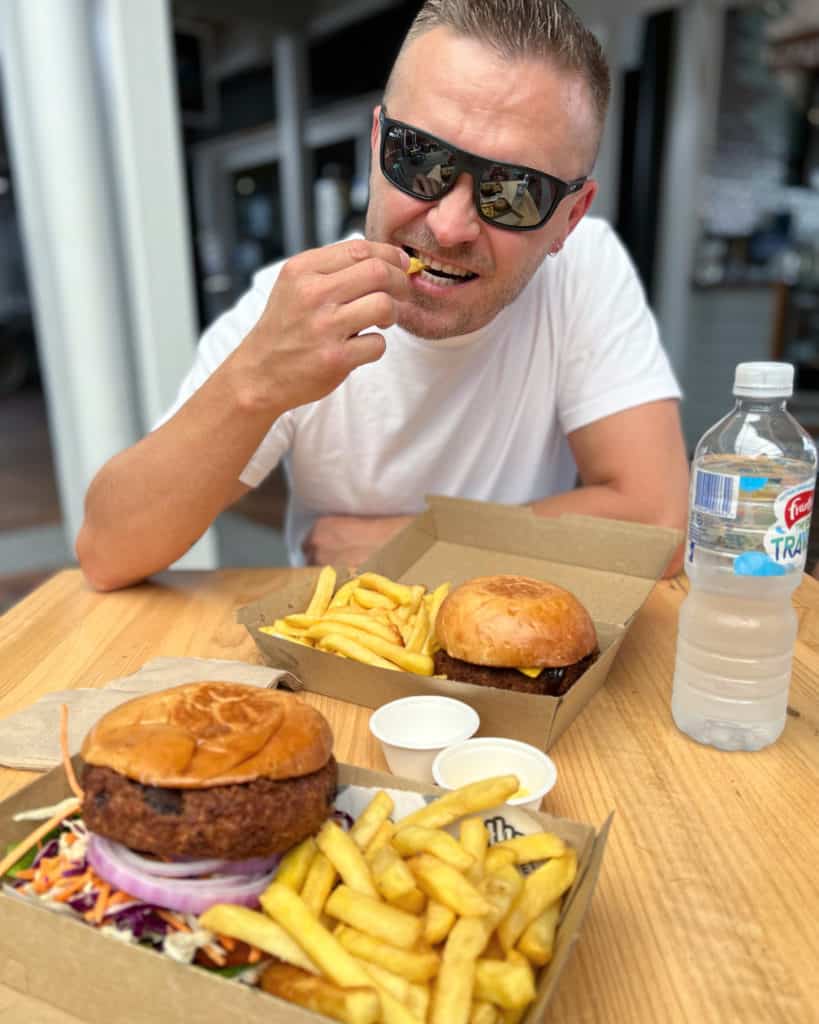 Check out their prices and menu here.
Roots Cafe and Bakery
Now, this place has supplied us with a selection of scones, caramel biscoff puffs, croissants and so much more. Do I need to add more to this? It is the place to get your sweet-tooth fix.
Check out their site here.
What to do on the Sunshine Coast:
If you are looking for things to do in the area whilst staying in Mooloolaba, check out the following:
Final Words
Overall, our visit to Mooloolaba was very memorable and for a few different reasons.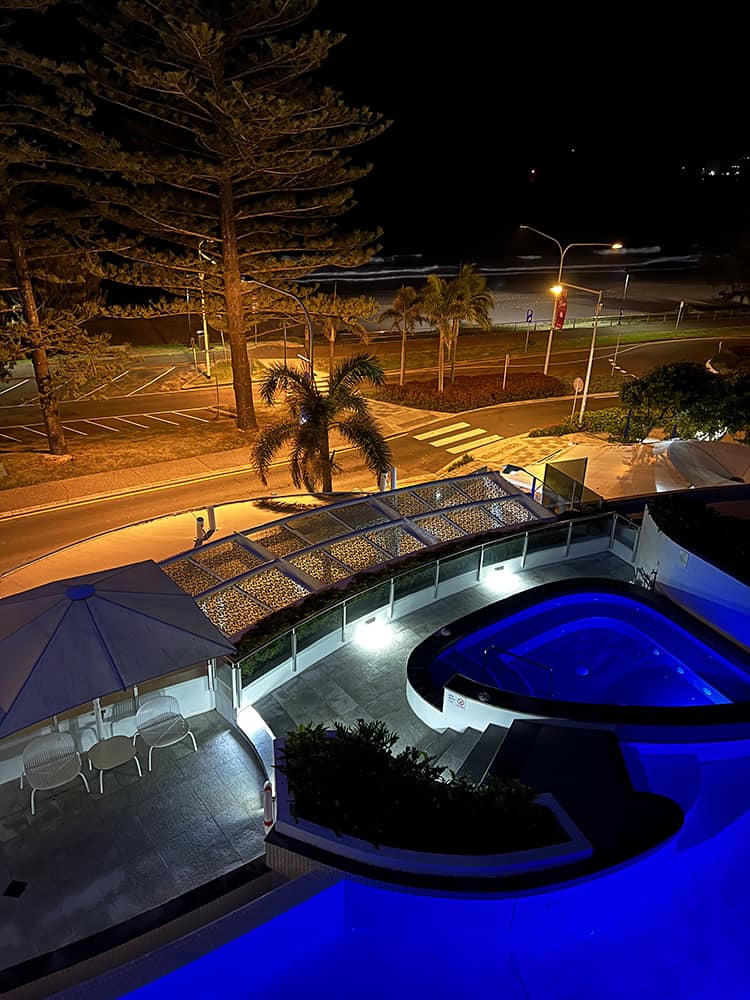 When it comes to beachfront apartments, this one is good!
When it comes to the price? Well. Let's put it this way. The standard and the quality needs to be lifted much higher than what it is.
We would also like to mention the pleasant staff for extending a helping hand whenever and wherever required.
Hence, despite lacking in a few factors, we would recommend Mantra Sirocco to anyone who wishes to visit Mooloolaba. You are sure to have a good ocean view and a good splash in the pool, despite a few hiccups with the apartments.
Until later, happy travels everyone.